The Dodge Magnum SRT-8, 2006-2008
Like the 300C SRT-8, the hottest Dodge Magnum had a 425 horsepower, 6.1 liter V8 engine. With 72 square feet of cargo space, the Dodge Magnum SRT-8 could run the quarter mile in under 14 seconds
Dodge claimed 0-60 mph "in the low 5-second range" and 60-0 mph braking in around 110 feet, as well as SRT's signature performance test of 0-100-0 mph in the mid 16-second range.
The SRT powerplant continued the 426 Hemi's orange-painted cylinder block and black valve covers, matching the legendary "Street HEMI's" 425 horsepower rating as well, with lower displacement, better fuel efficiency, and superior driveability, and no need for frequent tune-ups.
The SRT-8's 85-horsepower gain over the 5.7 Hemi came from increasing the compression ratio (from 9.6 to 10.3) and displacement, redesigning the cylinder head, intake and exhaust systems for increased flow, and increasing the maximum engine speed. The cylinders were bored by an extra 3.5 mm.
Engine
Power
(hp @ rpm)
Torque
(lb-ft @ rpm)
0-60
(seconds)
0-100
(seconds)
top speed
(mph)
EPA
Mileage
5.7 V8
340 @ 5,000
390 @ 4,000
6.5
16.3
143
17/23
SRT8
425 @ 6,000
420 @ 4800
5.1
12
165
14/20
The intake manifold was designed with larger-diameter and shorter runners for higher-speed tuning; air flew through larger valves and reshaped ports into exhaust headers made of individual tubes encased in a stainless steel shell. Finally, a large-diameter (2.75-inch vs. 2.5-inch) exhaust system ended with 3.5-inch chrome tips.
More information on the SRT 6.1 Hemi is on our Hemi engine page.
The same five-speed automatic transmission was used, with a recalibrated AutoStick®, for automatic or manual shifting. A heavy-duty four-flange prop shaft sent the torque from the transmission to an upgraded differential and axles.
Chassis setup included retuned dampers, spring rates, and suspension bushings, with large-diameter anti-sway bars. The ride height of the Magnum SRT8 is one-half inch lower than the Dodge Magnum, while the Electronic Stability Program (ESP) was retuned. New, unique 20-inch forged aluminum wheels were available with high-performance Goodyear F1 three-season tires with asymmetrical tread or four-season tires, measuring 245/45/20 in the front, and 255/45/20 in the rear.
All four wheels used red-painted Brembo calipers with four pistons for even clamping performance — 360 x 32mm vented rotors up front, with 350 x 26mm vented rotors in the rear.
2006-2007 Dodge Magnum SRT8 Body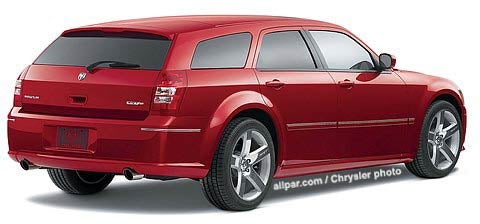 The front fascia had integrated ducts to cool the brakes, a front air dam to reduce lift, and, in the back, an integrated wake modifier and cutouts for the exhaust tips. Other unique trim included a body-color grille insert with chrome trim, satin-finish front and rear bumper inserts, body-color mirrors and door handles, and SRT badging. In 2006, only three colors were available: silver, black, and Inferno Red. For 2007, silver steel blue was added, and Inferno Red was replaced by TorRed; those colors continued into 2008. Claude Lacombe pointed out that, of 240 2008 cars made: 124 were black, 52 were TorRed, 34 were silver, and just 29 were steel blue.
The 2006 Dodge Magnum SRT8 had power-adjustable, bolstered sport seats in the front with performance suede inserts; all seats had contrasting red stitching. "Carbon fiber" leather trim helped the steering wheel grip, and faux carbon fiber on the center stack set the car apart from the standard models. Interior colors were gray — dark and light gray. Gauges were a 180-mph (300 kph) speedometer, with a standard tachometer.
Standard features of the 2006 Dodge Magnum SRT8 included AM/FM radio with six-disc CD changer, steering wheel-mounted audio controls, power adjustable pedals, and rear cargo net. Options included power sunroof, heated seats, side airbags, and the Trailer Tow Group which included load leveling and height control.
The maximum trailer weight was 3,800 lb (1,724 kg).
Transmission gear ratios are on the W5A580 page; final drive ratio was 3.06 with overall top gear of 2.54. The car used a 160 amp alternator with a 600 CCA battery (H7 case). The drag coefficient (cD) was 0.358 and weight was around 4,260 lb, distributed 53/47 front/rear, well above that of the V6 Magnum. Ground clearance was 5.1 inches, height 57.9 inches. The gas tank held 19 gallons (72 liters). Other specifications were presumably similar to the standard Dodge Magnum.
The SRT8 was almost a steal at $38,345, compared with similar cars. That price included four-wheel antilock brakes, stability and traction control programs, tire pressure monitor, vehicle information center (to gain performance measures in 2008), solar control glass, rear wiper/washer and defroster, tilt-telescope steering column, air conditioning, power locks and windows, cruise, satellite radio with Boston Acoustics speakers, wheel-mounted audio controls, full lighting package, rear vents, fog lights, power heated folding mirrors, 20 inch wheels with low-profile tires, spoiler, and the ever-popular but often not included floor mats.
2008 Dodge Magnum SRT8 changes
For 2008, the Magnum SRT8 was restyled with a new hood, grille, front fascia, and newly functional hood scoop; the grille kept its black honeycomb insert, but squared off the front end more. Tires kept the same size, using Goodyear F1 radials. Inside, the SRT8 gained agate-color accent stitching, carbon fiber leather-trim door handles, and LED-lit cupholders and door map pockets. 0-100-0 was now quoted as being done in under 17 seconds rather than mid-16s. The acceleration times and braking distances were, according to Chrysler, carried over unchanged.
While the front fascia went from a gentle downward curve to a much blockier design, with completely different headlights and the addition of a hood scoop, the coefficient of drag was unchanged in Chrysler's presumably and frequently inaccurate press materials.
The new Performance Pages provided 0-60 times, quarter miles, braking, and G-forces.
Production figures were supplied by Claude Lacombe, and are from Chrysler records; rear wheel drive unless otherwise stated.
| | 2006 | 2007 | 2008 |
| --- | --- | --- | --- |
| Magnum SRT8 | 2,970 | 921 | 240 |