Dodge Monaco Police Cars
During most of its time as a C-body, the Dodge Monaco was considered too luxurious for use as a squad; before 1974, the big Dodge squads were almost always Polaras. (The 1973 Monaco could have been special ordered as a squad, but I have never seen one so equipped.)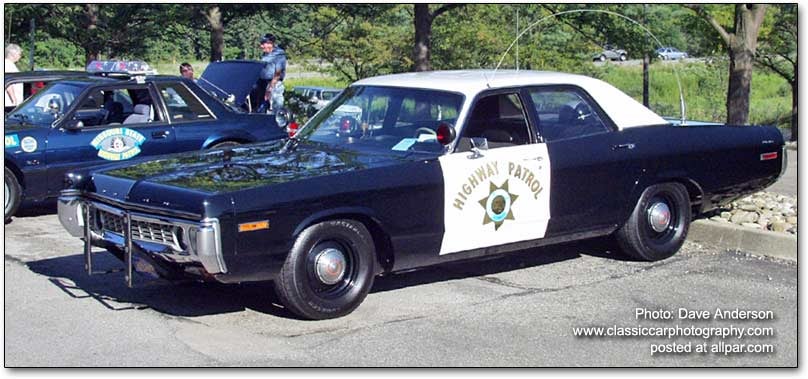 The 1974 model year had no Polara in the lineup; in essence, Dodge dropped the Monaco into its slot, lowering the trim accordingly, and replaced the "true" Monaco with the Monaco Brougham (later to become the Royal Monaco).
I owned a civilian 1974 Monaco Brougham in the early 1980s, and have always been grateful that it had not been my first Chrysler product, as had it been it would probably also have been my last. It is hard to believe that my stone-solid 1972 Polara was built in the same plant, or that my 1974 Dodge Coronet, which was as reliable as the sun coming up, was built by the same manufacturer in the same year.
Cars the size of the C-body would have sold poorly in oil-embargo year 1974, no matter what their virtues. The 1974 Monaco, and to a lesser extent the 1974 Fury models, had an additional handicap in that they bore an exceptionally strong resemblance to the 1971-72 fullsize Buicks... a three-year-old GM look for the price of a new car. It seems like most of the Plymouth and Dodge C-bodies of this era I saw on the West Coast were squads.
Another disappointing change for 1974 was the deletion of the temperature gauge as standard equipment on Plymouth and Dodge C-bodies: they now had a fuel gauge and ammeter, plus idiot lights for oil pressure and temperature. In a reversal of recent tradition, the Chrysler Newport and New Yorker got the temp gauges the Plymouths and Dodges lost, after an absence of nine years, while the 1974-75 Imperials, which shared the instrument cluster with lesser Chryslers for the first time since 1956, lost their oil pressure gauges. An oil and temp gauge combo was an option on Furys and Moncaos in this era; located in the hole to the left of the speedometer usually occupied by the clock, most of the squads I've seen had this option, but not all. The extra gauges were also offered as part of the trailer package on civilian Furys and Monacos, but not seen as often there.
In 1975, the various C-body Fury models were consolidated under the "Gran Fury" name, while the "Fury" name drifted down to the B-bodies, replacing Belvedere. Dodge B-bodies were in transition as well, as a Coronet 2 door hardtop reappeared for 1975 only... rebadged as a "Charger" for 1976 (not to be confused with the Cordoba-based Charger SE).
1975 was also the year the California Highway Patrol started large-scale tests of the B-body Coronet platform. Prior to this, CHP had insisted on a 122" wheelbase as a requirement for squads purchased by them. Some of the contortions Chrysler put itself through to satisfy their largest squad customer were interesting to say the least. The 1960 CHP squads were a strange mix of Polara body and Dart front clip, which tended to look like they were made out of two different cars after they were retired, especially with the Earl Scheib paint job most typically seen on retired squads in those years.
In 1961, Dodge had built a Polara squad specifically for CHP. This model did not appear in the 1961 Dodge police car catalog but was specifically created for this large customer. (CHP had this level of pull with other manufacturers as well... in 1955, Buick made a small run of Century 2 door sedans specifically for CHP, despite not officially offering this model. Should you ever see a 1955 Buick 2 door sedan with four portholes, you now know its likely history.)

In 1962, Dodge initially did not offer a car of any sort with the 122" wheelbase (the Newport-based Custom 880 came out in midyear and was not offered as a police package until the following year), which left CHP running Chrysler Newport Enforcers for 1962. But the year that forever defined how far Dodge was willing to go for its biggest fleet customer was 1965, when the new C-body Polara came out with a 121" wheelbase. CHP stuck to their guns at 122", at one point asking about a squad version of the 1965 Newport (the Chrysler Enforcer squad having been dropped at the end of the 1964 model year). Finally, Dodge blinked at midyear, stretching the wheelbase of the existing police package Polara to give CHP that extra inch. With all this stubborn history, and with the Monaco still in the catalog at 122 inches, CHP's large-scale tests of the 116" wheelbase Coronets truly suggested the end of an era.

CHP had believed a minimum of 122" was necessary for a road-hugging stance on the freeway, and to minimize driver fatigue. I believe they came up with this figure as an outgrowth of research done by legendary LAPD squad guru Ray Moore, who believed different cars were best for different uses and that one car could not do it all. Moore strongly believed in larger cars for freeway work.

My uncle, Larry Echols, was a CHP officer during this era, and while he primarily rode a Harley he often found himself inside a squad in bad weather. He loved the Polaras, the 1969 being his all-time favorite, and would go out of his way to avoid having to take a 1972 Polara since it had noticeably less power than the 1971. He described the Olds squads as smooth and powerful but not holding the road as well as the Dodges. He didn't like the Mercurys at all, and claims to this day that he was once outrun in a Mercury by a 304 Gremlin.
1976 saw the Plymouth and Dodge C-bodies take on an identity more their own. It seems to have been recognized that the 1974-75s looked too much like each other, not to mention certain Buick models. The Gran Fury reverted to dual headlights in an attractive front end refreshening, while the topline Royal Monaco brought back the hideaway headlights that had been a Monaco hallmark in 1972-73. The opening credits of "Hill Street Blues" opened with a face-on shot of a Royal Monaco squad with all lights blazing, including open hideaway headlights. (Steve Gibbs wrote, "I drove a 76 Royal Monaco for the Marion County Sheriff's Department in Indiana. It was a great car, but we all disconnected the hideaway headlight flap as it had a bad habit of freezing shut in winter.")
1977 marked another move downmarket for the Monaco name, which now appeared on B-bodies, replacing Coronet. The C-body Royal Monaco and its Gran Fury counterpart remained in production through the 1977 model year, while Chrysler-badged C-bodies lingered through 1978. I am told a Newport squad was offered in 1978, but I have never seen one.
The Washington State Patrol bought Royal Monacos in 1977... these were beautiful cars in solid white with big meaty tires and those sweet hideaway headlights. These were popular with cab operators in Seattle when the Washington State Police retired them, although gas mileage in the city must have been abysmal.
The 1977-78 B-body Monacos were also the last of an era, with a body that dated back to 1971 and powerplants including the 440. Car and Driver tested one of the last police package Monacos in 1978, and raved about it (with one exception that I will revisit later). The quote from this road test that has stuck in my head all these years later: "Finding an American sedan with a genuine 150-mile speedo is as much a shock as finding Idi Amin in bed with your sister." (Standard 1977 Monacos appear to have used a 140 mph speedometer, as in earlier years, and had a top speed, according to Car and Driver, of 126 mph. — ffd1956)
The one inane exception to this rave review came at the hands of Car & Driver writer David Abrahamson, whose snivels about "incomplete instrumentation" made it clear that he had never set foot behind the wheel of the Monaco squad, which boasted gauges for fuel, temperature, amps and - yes! - oil pressure. Clearly Abrahamson phoned it in, with snide comments that may have applied to most American cars of the era, but not to MoPars in general and certainly not to the squads. Abrahamson's byline disappeared from Car & Driver shortly afterwards.
Models of this last generation Monaco squad were made by MPC, but must be considered with caution. The first offering of a Monaco squad model (which may have been a "Dukes of Hazzard" model) was a strange modification of the existing Monaco 2 door hardtop mold into a phantom 4 door with the 2 door tail treatment and a roofline much like that of a 1973-75 fullsize Ford 4 door sedan. The "T. J. Hooker" Monaco squad more accurately depicted the 1977-78 B-body 4 door sedan lines and tail treatment.
Additional Monaco squad information
The Dodge Monaco became famous with its use in the Blues Brothers movie, which also featured the St. Regis (most of the St. Regis squads filmed in the movie seemed to get wrecked in one way or another). It was nearly identical to the Plymouth Fury which populated TV shows such as T.J. Hooker and Hill Street Blues.
The 1974 Dodge Monaco driven by the Blues Brothers was a 440 (Dan Ackroyd himself mentioned this at the beginning of the movie), ostensibly purchased from the Mount Prospect police.
Former patrolman Curtis Redgap wrote:
I ordered several dozen of the same for my former department. 1974 was the new body style, as set apart from the string of re-styles from 1969 to 1973. It was also the year of the last of the lead gasoline 440s.

They were decent cars, but several came through with Plymouth nameplates on the Dodges, and vice-versa. We all laughed, but it shows the state of Chrysler's quality about then. They were running on reputation, and, thankfully, 1960s engineering for the engine, transmissions, brakes and axles.

Not much else could be said to recommend these vehicles highly except, for their time, they were the fastest, best handling four door sedans available in the police pack.

I know of the existence of three Mount Prospect ex-patrol vehicles. One is owned by the House of Blues at Walt Disney World, and two are owned by Universal Studios. Two are authentic, but one of the Universal cars is a replica, with a 360 two barrel and single exhaust... (horrors... I hate to think that this was an actual unit somewhere).

Oh, by the way, in the filming of the Blues Brothers movie, Universal managed to mangle eight, yes, eight, magnificent ex-patrol cars. All destroyed beyond redemption. Sad.
After patrolling for 8 hours in a hulking big 440 powered rear wheel drive sedan, I loved jumping into my 340 Duster and smoking most of the so-called muscle cars with it.
I don't know where the concept arose that the MoPars did not handle well, only able to go in a straight line. The torsion bar suspension was the best out there. I recall grabbing a Corvette, right after we got our first 440 powered Plymouth. The guy had bugged me for months, blowing down the freeway and leaving us in the dust. We could not catch up to him, period.
Within a week of using the 440, I was on freeway patrol. I used to sit on this long entrance ramp, above the traffic, and pick out the speeders. Sure enough, he blew through about 80 in a 45. I hit the bottom of the ramp at 105 miles an hour. So fast, it almost shocked me in fact. Big MoPar was faster than I expected, at the time. I caught up to the guy in about a quarter mile. When he punched his 'Vette, I punched the 440, and practically drove him off the freeway, it jumped so quickly.
Thinking he could dump me, he exited and headed for the country roads. After about a mile or so when he could not shake me with the twistees and turns, he gave up. He got a suspended license for two years, and some pretty hefty fines.
With any of the MoPars, if you went into a corner at 80, I could go through it at 90. They were that good. It always irritates me when some buffoon writer knocks the MoPars for not handling well. He should have been trying to drive a Ford of the same era!