The history of Chrysler, Dodge, and Plymouth police cars
by Jim Benjaminson
courtesy of the Plymouth Bulletin
Police cars, like police work, have changed over the years. An early-day North Dakota federal officer, Lester Eddington, wrote, "we did not wear uniforms, just carried Customs caps to use while stopping cars." Many times, the officer would pull alongside the offending vehicle and display his badge to tell the driver to pull over.
Even more dangerous was the practice of stepping out into the lane of traffic to hold one's hand in the air, ordering the offender to stop.
Rarely was an early-day police car equipped with a two-way radio, or even a receiving only (one-way) radio! The officer was not protected from any prisoners in the back seat; there is no evidence of any sort of cage or barrier in early police cars. Many departments used the close-coupled business coupe for police work, with a transported prisoner sitting directly alongside the officer.
The earliest reference we could find of Plymouth police cars was of the use of 1932 PB coupes by the Washington State Patrol. Not until the 1950s did the term "police package" came into common usage. Most of these cars were equipped with the largest possible engine, plus a handling package not available to the general public. In later years these were muscle cars in every sense of the word, except that the muscle was hidden in a four-door sedan rather than a convertible or hardtop coupe.
The Greeley, Colorado, police department pitted 1935 Chevrolet, Ford and Plymouth models against each other before deciding on which make to buy. The three cars were paced over a level one mile pavement course.
From a standing start, the Chevrolet covered the mile in 80 seconds, reaching a top speed of 78 miles per hour. The Ford ran the mile in 68 seconds, topping out at 82 mph while the Plymouth clipped through the mile in just 60 seconds, reaching a top speed of 90 miles per hour. (Other Plymouth numbers were 0 to 60 mph in 20 seconds; 0 to 75 in 42 seconds; 0 to 80 in 51 seconds; and 0 to 90 in 60 seconds.)
| | | | |
| --- | --- | --- | --- |
| | Chevy | Ford V8 | Plymouth Six |
| Full Mile - Time | 80 seconds | 68 seconds | 60 seconds |
| Full Mile - Final Speed | 78 mph | 82 mph | 90 mph |
Plymouth turned out some special cars for police work. One of the first was the Wichita, Kansas, police department's 1934 PE four-door "Flame Car." Flame Cars were factory attention getters designed to boost traffic into dealers' showrooms. All were painted a flamboyant paint referred to as "the pumpkin color."
Many came with mirrored windows (you could see out from inside the vehicle but no one could see in), but these had to be replaced before the car could be sold since they were illegal for most uses. However, Wichita kept these windows and fitted a loudspeaker system. An officer would park on a street corner and, unseen, watch for violations. Seeing one, he would pick up the microphone and draw attention to the offending driver's actions by pointing them out to all other drivers in the vicinity!
By 1935, a popular seller was the armour-plated Plymouth, followed in 1936 by an ambulance conversion aimed directly at the police sales market. A high compression cylinder head and heavy duty taxi-oriented items also helped boost Plymouth's sales in police markets.
DeSoto police cars of the Eastchester, New York, police department were the first in the world to install three-way radio communication, allowing car-to-car or car-to-base communications.
The business coupe was the most popular style for police work during the early years. When the North Dakota Highway Patrol purchased its first Plymouth, it was a 1937 P3 business coupe. It was joined in 1939 by three 1939 P8 Deluxe two-door touring sedans - the first sedans used by the patrol. Over the years since, nearly all police cars have been sedans.
Plymouths were popular "scout cars" with the New York City Police Department, which continued to make yearly purchases of specially painted business coupes. These cars, beginning with the 1938 model year, were painted an odd three-tone color combination: the hood and roof areas were painted white, the body sides were green and the fenders a contrasting black.
Joe Schaap wrote that the New Jersey State Police used the 1955 Chrysler Windsor.
In 1956, Chrysler's first official police package was offered on Dodge Coronets; and Plymouth openly advertised its products through special police car and taxi sales catalogs, seling not just one "police car" but a fleet of different police cars to meet the needs of the various agencies to which the vehicles were to be sold.
A year later, Dodge added the 325 Hemi, with a variety of performance packages and a top power rating of 310 hp. By 1959, a B-body Dart Pursuit was available; most agencies chose the 325 hp 383, though there was a special 330 hp 383 with tuned intakes that had better highway performance. By 1962, Dodge had squads with 28 state police departments. (This paragraph based on Dodge, Plymouth & Chrysler Police Cars 1956-1978, by Cpl. Edwin J. Sanow and John L. Bellah)
1957 was the big year for Plymouth to enter the police market, which it dominated for many years. As Curtis Redgap wrote in his Insider's Guide:
Plymouth's "Police Pursuit" package for the 1957 models was every bit as tough as the Dodge, and if you equipped it with the 318 cubic inch 8 barrel, 290 horse V-8, faster than a D-500 Dodge.

Plymouth put together a series of packages that appealed to a cross section of police work. Most fleet managers are leery about multiple carburetor packages, which tend to be difficult to keep in tune, hence the single four barrel on the 301 — the package that Plymouth sold the most of in 1957. Plymouth also put 12 inch brakes on all its Pursuits, where Dodge stayed with the 11 inch drums until the Polara model of 1961.

Plymouth had their six cylinder Sentinel package that revolved around economical city operations, much like a taxi. Then they had their "Metro Patroller," that concentrated on the Sheriff's Departments, which usually had city, suburbs, and wide open spaces to cover. Its featured engine was the Hi-PO 301 V-8 with the four barrel and dual exhausts. Then, of course, was the State Police/Highway Patrol "Pursuit Special" that centered on the 290 horsepower Fury V-800.

By 1959, Plymouth's marketing strategy set the tone of fleet purchases that still lasts into today's markets. You could buy whatever you wanted, but with the most popular options on the packages, it not only allowed for lower bids, it made the fleet manager's job a whole lot easier. Dodge was making the headlines, but Plymouth was making the sales orders by out delivering Dodge at a 4 to 1 unit rate!
1960 saw the first and last official Chrysler police package with the Chrysler Enforcer. It only lasted a few years.
The 1960 Plymouth police cars came in three models: the Patroller Special, the Patroller 30-D Economy Six, and the Pursuit Special Golden Commando 395.
The Patroller Special had a 230 hp 318 V8, while the 30-D was powered by the new 225 cid 145 hp slant six engine, for cities where top speeds were not crucial. The Pursuit was at the other extreme, with the 361 cid 305 hp V8. (The "395" referred to the foot-pounds of torque.) Advertised as having "lightning-like acceleration" and "eye-popping getaway," the Pursuit Special was recommended "specifically for patrol service on expressways, highways, super highways and turnpikes."
In addition to sedans, there was a line of wagons for ambulance use, fitted with heavy duty components designed to withstand the rigors of police work.
Based on Dodge, Plymouth & Chrysler Police Cars 1956-1978: Mopar squads got the big-block 413 in 1963, generating 360 hp and 470 lb-ft, and running a quarter mile in 16 seconds. By 1965, when Plymouth had a Belvedere and Fury Pursuit with an optional 330 hp 383, Mopar squads were used by nearly every state. The Dodge Polara pursuit, with a 413, managed the quarter mile in 15 seconds flat, with a top speed of 129 mph.
The 1963 parts manual shows just how much was available to police departments buying the Plymouth Patroller or Dodge Pursuit. Engines were the 225 slant six, 318 V8, 361 V8 (two barrel), 383 (two or four barrel — only Plymouth had the two barrel), 383, and 413. The parts book claims that only the Dodge 880 had the 383 and 413 options. There were special torsion bars and springs, standard 8.75" axles, special brakes and linings, special clutches, heavy duty Leece-Neville alternators, fans, and radiators, calibrated speedometers, revised exhaust systems, different carburetors, police steering systems, 15-inch wheels, and heavy duty automatic transmissions. The Chrysler Enforcer was also available, with the 361 two-barrel for ordinary patrols and the 413 four-barrel for pursuits.
The 1966 Dodges were available with the 440 Wedge, a new addition to the options list and the top police engine until 1978. The 1966 Polara Pursuit, the only car to get it that year, claimed 365 hp and 480 lb-ft using a single carburetor. Other squads could get a 330 hp 383, which brought them from 0 to 60 in 7.7 seconds despite their bulk.
According to Rex Sagle, the 1966 Polara was also avaialble with the 426 Wedge engine — at least, to the California Highway Patrol, which standardized on that model, with front disc brakes and a double pulley for the alternator. He wrote that other agencies could not get those options.
In 1967, the 440 was available on the Polara and Fury I, in two forms: the 350 hp standard-cam and the 375 hp special-cam.
1967-1976 engine and squad car specifications.
1968
In 1968, Plymouth became the most sold police vehicle in the world; USA, Mexico, and Canada. By 1970, when you asked for police assistance, the officers arrived in a MoPar 85% of the time. From then, MoPar never looked back until the end of their rear wheel drive cars came in 1989.
In 1968, the Belvedere Pursuit was released with a 330 hp police engine and a package that functionally resembled the Road Runner. The 1968 Polara 440 was one of the fastest squads ever made, and handling and braking of all the full-sized squads was said to be quite good.
A 1968 California Highway Patrol file supplied by Rex Sagle shows specifications for that agency's cars. It included a requirement for having front seats with at least an inch of foam padding, and noted test figures for the cars (tested in September 1967), all of which had at least a 122-inch wheelbase: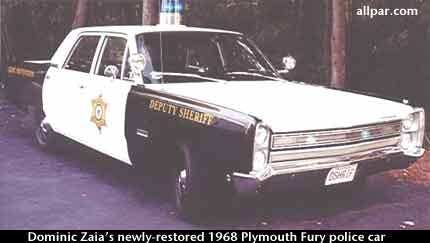 The agency required engines of at least 420 cubic inches (no 383), to run "knock-free" on 100 octane fuel — witih a single carburetor. Acceleration had to be a minimum 82 mph quarter-mile (standing start), with a speed of 115 mph in one mile and 125 mph at the end of two miles, from a standing start (three-mile speeds are listed above). Brakes had to be capable of four "impending skid" stops from 90 to 0, at two minute intervals, followed by a panic stop from 60 mph. Then, after a five minute rest, the car had to be retested for stopping in a straight line. They also tested self-adjustment features to make sure the brakes would not drag after being adjusted with the brakes hot.
| | | | |
| --- | --- | --- | --- |
| Car | Quarter mile | Speed after 3 miles | Track time |
| Dodge 440 E86 | 95.68 | 146.7 mph | 1:06 |
| Dodge 440 E85 | 92.84 | 134.9 | 1:09 |
| Chrysler 440 E86 | 95.54 | 144.6 | 1:08 |
| Mercury 429 | 95.09 | 140.4 | 1:14 |
| Mercury 429 Cobra | 94.62 | 137.4 | 1:15 |
| Olds 455 RI | 92.77 | 133.4 | 1:18 |
Sergeant Robert Phillips, who ran CHP testing, wrote that the Dodge came out best of the 1968 cars; he noted that the Mercury had brake issues and "a broadslide during the test, where lack of rear end stabilization was noticed." He also noted that the Olds did well in a stragiht line, but handling was "the poorest of all makes tested" (though he felt the agency could fix that).
1969
courtesy Seth Ellestad
Squads in this era were normally available as two- and four- door sedans in lowest trim levels, and in base or pursuit-class versions, and as Emergency Wagons, specially modified station wagons.
1969 was the year of the ultimate squad; for a quarter century afterwards, nothing could match its performance capability — the 1969 Polara Pursuit. The 1969 Polara Pursuit, with its 375 bhp 440, sleek new "fuselage" bodystyle, and standard 3.23 axle, could do 0-60 in 6.3 seconds, the quarter mile in 14.3 seconds (at over 99 mph), and run out to a top speed of (or, by some accounts, above) 147 mph.
It took a 25 years, a Corvette engine, and a four-speed transmission for any other police cruiser to come close to those figures. In LAPD use, the 383-engined Belvedere Pursuit was extremely successful and well-liked, gaining the (accurate) nickname "four-door Roadrunner."
Update: Rex Sagle, a participant in the testing, added, "The top speed of the Dodge Polara pursuit car was 147 mph. I owned two at one time in my life, both were clocked in excess of 150, nothing like my Superbird, but still a great vehicle. It was not until the four door Hemi Charger reached 150 mph in 2006 that the 1969 Polara record was broken."
Why the 1969 CHP Polara was such a big deal (by Mike Sealey)
For decades, it held the record on the Chrysler test track in Chelsea, MI for highest top end achieved by a factory-built four door sedan (149.6 mph).

CHP and LAPD were prized enough customers that Chrysler made specific parts for each department. CHP even had its own cam grind.

Had there been a 1970, the Polara might have been even hotter. However, California Governor Ronald Reagan insisted that all state agencies buy from different sources; so CHP got 428 Mercury Montereys in 1970. These were a disappointment. (My uncle, a former CHP officer, told me Chrysler that tried to convince CHP to enter into a five-year contract, and offered to make stuff even beyond their normal products, but the state refused to go beyond year-by-year.)

The 1971 was a little less powerful, although not as (relatively) gutless as the 1972 and later. Chevron dropped its Custom Supreme gasoline in 1970-71 to start selling unleaded from that pump. The 1971 had a slightly lower compression ratio, made necessary by lower octane premium fuel.
The lineup included four cars; as squads, most luxury features were yanked from the high-end Polara and Fury, leaving only beefed-up drivetrains (not necessarily with higher power) and suspensions, with some extra features for squad use (e.g. electrical system changes).
| | | |
| --- | --- | --- |
| 1969 Model | Classification | Wheelbase |
| Dodge Polara | Full-Size | 122" |
| Plymouth Fury | Full-Size | 120" |
| Dodge Coronet | Mid-Size | 117" |
| Plymouth Belvedere | Mid-Size | 116" |
A Sure-Grip differential was optional on normal fleet cars, standard on pursuit vehicles. Axle ratios were:
| | | |
| --- | --- | --- |
| Transmission / Engine | Standard | Optional |
| Manual 6 | 3.55 | 3.23 |
| Manual 8 | 3.23 | 3.55 |
| Automatic | 3.23 | 2.94 or 3.55 |
Engines included the venerable Slant Six; the "economy" 318 V8; the low-buck, performance-workhorse 383; and the powerful 440.
| | |
| --- | --- |
| 1969 Fury | hp |
| 318 (std) 2-barrel | 290 |
| 383 2-barrel | 290 |
| 383 4-barrel | 330 |
| 440 4-barrel | 360 |
| 440 HP 4-barrel | 375 |
Suspension upgrades included heavy-duty shocks, extra-heavy-duty springs, a stiffer front sway bar, optional rear sway bar, and extra body welds and reinforcements. Squads also had semi-metallic police brakes, a heavy duty cooling system, heavy duty seats and trim, and a heavy-duty electrical system including a bigger battery and high-output alternator. TorqueFlite automatic transmissions were specially calibrated for police use.
From Jim Benjaminson: By 1969 the V8-powered Plymouth was called the Fury Pursuit and the six, the Fury Patroller. The smaller Belvedere was available in either Pursuit or Patroller trim as well as in a line of Emergency Wagons. Belvedere buyers had to settle for the base 318 or the two 383 options. Patroller models were relegated to the 225 cid 145 hp slant six.
1970 Mopar squads (courtesy Seth Ellestad)
There weren't many changes for 1970, though engines began to lose compression to comply with new emissions standards. Models and axle ratios were identical to those available in 1969. Power ratings remained the same, but they lost a few horses to the lower compression ratios. The big 440 HP (high performance) Pursuits could still make it up to about 141 mph. The 1970 Olds Delta 88 Police Apprehender, with the 390 bhp Interceptor 455, had a similar estimated top end. GM waited until '71 to begin dropping the compression ratios on their high-power engines.
Most Chryslers had minimal changes from the previous year, just to keep them recognizably new models, but the 1970 Coronet was now visibly different from its Plymouth relative, with a new, unusual "twin loop" front-end styling job. Most reviewers found this both strange and unattractive, though it had an aerodynamic benefit, giving the Coronet a small but definite performance advantage over the Belvedere.
1971 Dodge and Plymouth police cars (courtesy Seth Ellestad)
| | | |
| --- | --- | --- |
| 1971 Model | Classification | Wheelbase |
| Dodge Polara | Full-Size | 122" |
| Plymouth Fury | Full-Size | 120" |
| Dodge Coronet | Mid-Size | 118" |
| Plymouth Belvedere | Mid-Size | 117" |
1971 marked the end of the high compression era, although Chrysler had slowly started lowering compression ratios beginning the year before.
The big block 383 and 440 used different pattern heads to better meet emission strandards, switching from the 906 casting units, that had helped power the awesome 1969 Polara 440 Pursuit, to the 346 heads which helped the engines run cleaner. A new engine, the 360 small block, equipped with a 2-barrel carb and single exhaust, became optional on the Fury and Polara squads as a mid-range lower compression optional police engine. This was the beginning of a highly succesful police car motor.
New this year were net horsepower ratings, giving a more realistic measure of useable engine power than the previous gross rating method (by taking into account the various mandatory accessories — water pump, etc.). For 1971 only both rating systems were used side-by-side, no doubt to ease the shock of auto buyers.
1971 was a year of very little change for Chrysler's full sized cars, and even the obligatory sheetmetal alterations looked little different than last year's. However, the Chrysler intermediates were all new. They were wider and larger and were given "fuselage" styling that resembled the current full size cars much more closely. They were also given a one-inch longer wheelbase, and the Plymouth version, formerly called "Belvedere," was now known as the "Satellite." Axle ratios were similar to those available in 1969 and 1970.
Curtis Redgap noted: We had some 1971 Plymouth Fury I patrol units that had gotten 360 V-8s instead of the 440. We tried one of them out, and kept the lot! They ran very well, with a four barrel carb and dual exhausts — they performed close to the 440. I have never been able to find a publication that lists this engine, nevertheless, we had twelve of them. Perhaps an experiment.
Plymouth again beat Dodge by offering the police package in the A38 group. It could be had on any model car, not just the base cars. Gave the Chiefs, Detectives, and the higher ranks a plusher ride, but it was still a cop car.
In New York City, the 1971 Plymouth Fury was the first police car to use the Signal 377 High Skirt revolving "bubble gum" lights, designed to be easily viewed from the front. The colors were green, black, and white, a color scheme originally created in 1938 and well out of date when it was retired in 1972. Precinct cars were slant sixes; highway cruisers had pursuit V8 packages. Stewart Warner speedometers were carefully calibrated.
Details on the 1971 Dodge squad cars, with specifications and photos
CB radios in police cars (by Wes Notovitz)
The police used pretty much any brand CB radio on the market in the 1970s. Most of the antennas were trunk lip mounts like the Hustler, or the more common types available most anywhere. Magnet mounts were not uncommon. Many of the CBs in state cruisers were property of the particular trooper as the agencies often wouldn't buy them.
The 23 channel models were fairly mainstream in 1974. It was shortly after then that the 40 channel models were first marketed after the FCC allocated more channels to the Citizens Radio Service.
If you want one, start checking the flea markets. I always see older ones. I picked up a 23 channel compact Radio Shack model last year for $2 that works perfectly. I used it in one of my copcars.
In the 1970s, they all carried a two way public safety radio for dispatch and communications, but CBs were not standard equipment. During the heyday of CB in that era (one I remember quite fondly), you most commonly found them in patrol cars, state police, highway patrol,and sheriffs that ran interstate highways to keep in step with the truckers who used them a lot to try and foil speed traps. Occassionally, rural departments might have had them, but urban departments generally did not use them.
1972 AMC, Dodge, and Plymouth pursuit vehicles (courtesy Seth Ellestad)
Starting in 1972, engines had to be tuned for more stringent emissions standards and had to run on low-lead gasoline. Compression ratios dropped, and net measure became the only system used to rate power output. The venerable 383 engine was at long last discontinued, but a bored-out 400 version suited for low compression replaced it.
1972 was a year of little styling change to the midsize cars, while the fullsize cars sported noticably altered sheetmetal. The Plymouth Fury got a twin-loop grille that, while although not completely separated, resembled that of the 1970 Coronet. Higher line Furys used the same basic grille with hidden headlights. The Polara also got a rather odd new styling job front and rear. The grille and front lights were now dropped down to be integral with the front bumper, and the taillights were put into the rear bumper.
The midsize squads finally became available with the high-power 440ci block. This, despite the power loss of the past few years, made them lightning quick. Even the big Polara with the 440 E86 could still reach over 130mph and run 0-60 in around seven and a half seconds (about the same as a 2001 Chrysler 300M).
1973 Plymouth patrol cars
By 1973 the Belvedere pursuit had been replaced by the Satellite Pursuit, which was, itself, to be eliminated in mid-1974 (at least in name; the B-body would live on, using the Fury name.)
Curtis Redgap noted:
In 1973, power was down, but the Polaras were powerful and fast. The 1973 Fords were nowhere that year, with their poor disc brake performance, and low power. The Ford 460 ci police interceptor of 1973 produced 219 net horsepower. The 429, in its last year in police trim, produced a mighty 202 horsepower. These figures increased slightly over the next couple years due to different rating systems. All Ford squad engines were 8.0 to 1 compression.

Road & Track tested several police packs in 1973, as cited by Ed Sanow. The 460 Ford Torino went up against the 360 Dodge Coronet, as well as the 401 Matador. The 460 Ford ran a mid 16.47 second quarter, 84 miles an hour at the trap. The Dodge (with 100 fewer cubic inches) ran a 16.60 second quarter, also 84 miles an hour. The Matador whipped them both with a 15 second quarter, 88 miles an hour. The California Highway Patrol test of the Dodge Polara with a 440 ran to 60 in 7.7 seconds, did the quarter in 15 seconds with a 90 mile an hour trap, and ran it out to 129 miles an hour, beating all others, again.

This 1973 Plymouth Fury, with the 400 engine and automatic, was notable for a few reasons: it was the first year of the famed (and much more modern) blue-and-white paint scheme with snazzy wide stripes; it was the first year for air conditioned patrol cars; and it used electronic sirens, with both hi/low-toned and "yelp" sounds. They were also the first ones not marked with precincts or command numbers, though these returned for 1978. Again, highway units used special speedometers with miles and kilometers per hour, and precincts used mile-per-hour gauges. They had more modern light-bars on the roof to go with the new sirens and, as usual, Motorola radios.
Comparison to Fords of the late 1960s / early 1970s (by Curtis Redgap)
Ford never did well, not so much as to the engines or speeds, but for their poor braking performance. Some testing agencies rejected Ford out of hand due to their brake deficiencies. Once speed is achieved, it is a matter of stopping, and I know from experience that Fords were shunned by patrolmen, given choices of other vehicles.
The New York State Police were given a special 1968 Plymouth Fury I that had a 426 Hemi engine in it, dual carbs and all. It allegedly reached reached 155 mph speeds in straight line testing on the I-81 Northway. The SP rejected it due to the dual carb set up, poor mileage, and high cost of the engine option, as I recall.
The Ford 429 was fast, but a good 440 would easily whip the 429, 428, and probably run close to the full bore 427. Most police units were equipped with the 390. A 383 would eat them for lunch, out drag them and run them out top end. I don't know why. GM and Chrysler always had more "pop" in stock form than the police edition Fords.
1974-1979 Chrysler Corporation squad cars
The 1974 Dodge Monaco squad was immortalized by the Blues Brothers, who drove a nearly indestructible 440 version in the movie.
In 1974, there were 15 police engines, including a four-barrel 360. On top was the 275 hp 440 and a 250 hp 400, available in both full sized and intermediates. The Los Angeles Sheriff's Office found the 440 to beat the Matador 401 and Montego 460; the 360-equipped, 200 hp Dodge Dart squad outran a 350 cid Nova, running from 0 to 60 in 8.1 seconds.
Jim Benjaminson: 1974 saw Plymouth sell more police packages than any other car maker. The Fury Pursuit came with a standard 360 V8 while the smaller Satellite Pursuit was offered with a choice of a slant six or 318 V8.
Curtis Redgap wrote:
For my county in 1974, the bid price for the Dodge Monaco, and Ford CVPI (neither Plymouth or Chevrolet bid that year, and Plymouth had not bid since 1971) came within $5 of each other for the total per unit bid. I gave Monaco the nod because of the 440 V-8, and as we all knew, better brakes.

Once the bid became public, Ford Fleet actually called the County Manager, and offered to set their bid price $100 lower, because of a so called "irregularity" in their process. He called me up to his office, and tried to intimidate me to accept the Ford offer. Once the bid is accepted, that is the bid, by law, unless there are notable exceptions, like items left out, or clear mistakes in equipment. It cannot be altered, unless you bid it, equally, again. Bids are submitted sealed to the bid manager (me).

I spoke with the Chrysler Fleet Zone Manager and told him what had happened. He said that they would not hesitate to bid again, if it was rebid. They would not, however, violate state law by changing the bid amount outside the bid process.

That, in my mind, cemented the deal. We got the Monaco, and kept Chrysler products up through 1989, even after I retired. The county Sheriff, who also happened to be the Republican Party Leader, (and could fire the manager, no confidence vote) stood firmly behind my choice. Needless to say, I was never questioned nor asked to explain choices for bids again, not even by the Sheriff. I also took a lot of heat because they were such terrible quality!
The Pursuit models used all the "standard" heavy duty equipment normally expected to be found on such cars. But what if a buyer didn't want to purchase a regular sedan for police work? Plymouth obliged by making option package A38 available, effective with the 1974 model year; it could be had on any Fury I, II or III two-door hardtop, four-door hardtop, four-door sedan or station wagon. Together with a "special handling package," the A38 included a battery heat shield, police brakes, 140 mph calibrated speedometer, firm power steering, and heavy duty seats.
The A38 package was continued into 1975. Buyers could get the same equipment on any Fury, Fury Custom, Gran Fury, or Gran Fury Custom with power from 318, 360, 400, or 440 cid engines.
1975 saw a major drop in power, as the 360 fell to 190, the 400 went to 245, and the top 440 only made 250 hp. With the loss of the Satellite, Plymouth offered a Fury squad; its full-size was a Gran Fury.
Jim Benjaminson: For 1976 the Plymouth police car range was increased to include not only the Fury and Gran Fury Pursuits but also the Chrysler Newport Pursuit and a Valiant Pursuit. The Valiant was available with slant six, 318, or 360 engines [this rare car would be surprisingly potent]. The A38 police package could be had on any other body style. Ditto for model year 1977, which saw 17 Chrysler police packages, led by the 245 hp 440.
The Volare squad replaced the Valiant after 1976 — though the Valiant pursuit package had only been introduced in 1976! Not many Volares were actually used, though there have been sightings (including the movie Strange Brew). These seemed most popular in the Northwest and Canada.
Mike Sealey added: "About 1976, Seattle's police department obtained a Chevy Nova with the 350 and 9C1 police package for testing, and Chrysler loaned them a 360 Volare with the A38 package. The F-body won, and the 1977-79 fleet was all Aspens."
For 1978 Plymouth offered the Volare Pursuit in addition to the Fury Pursuit; the Aspen and Volare replaced the Valiant and Dart as compact squads, but, like their predecessors, were quite rare.
As well, there was a new addition to the line, a full-size Plymouth Voyager van known as the Law Enforcer. In its long wheelbase form, the van was perfect for transporting large numbers of prisoners.
The 1978 Dodge Monaco and Plymouth Fury were said to be among the best Mopar squads, having the 440 and 400 in their last years. The 440, thanks to Lean Burn and new catalytic converters, was back up to 255 hp. The Fury, in its final big-block year, beat the best of its competition in the Michigan State Police tests, recording a top speed of 133 mph and reaching 100 mph in under 25 seconds. Plymouth captured 80% of the police car market in the United States in 1978.
The Royal Monaco, a popular police car, made many appearances in The Blues Brothers, in chase scenes that were filmed at over-100 mph speeds.
The 318 saw its first duty as a pursuit in 1979, when Chrysler added a four-barrel carb to it, raising it to 155 hp. It propelled squads for ten years, until 1989, when the Volare's successor (Diplomat/Gran Fury) went out of production. The 360 was the top engine, pumping out 195 hp (190 in California); it was capable for duty in the lighter St. Regis (seen frequently in Hill Street Blues), and could move a Volare to 100 mph in under 23 seconds -- better than the 1978 Fury 440.
Mike Sealey wrote:
Seattle ran a full fleet of A38 Dart police cars, and seemed happy with them. Seattle had previously used B-bodies (the last ones were the 1973 Satellite) for police duties, while most other municipal cars were slant six Darts. In 1973, they obtained what I believe was an experimental police-package Dart for evaluation, their 1974-76 squads were all Darts. (Seattle city streets are hilly and often curvy, so handling was more important than top speed).

The freeways were the province of the Washington State Patrol, which mainly used 440 C-bodies at the time. SPD switched to 9C1 Malibus in 1980, went back to MoPar for 1982 Diplomats, switched to the Fairmont-based LTD LX in 1983, and then used Gran Furies through their end in 1989.
AMC squads (Curtis Redgap)
AMC made a brief forey into the police car market. One of the biggest customers was the Los Angles Police Department, along with several Southern California agencies, and the Los Angles Sheriff. The first purchase for LAPD came in 1972.
AMC used a 401 cubic inch V-8 that blew Mopar and everything else out of the water. It got to 60 in 7 seconds flat; top speed was about 125 miles an hour, which the Matador could reach in about 43 seconds. This was faster than the 1970 Plymouth Satellites that were so well liked by the officers [webmaster note: in 1970, the LAPD used Mercury Montegos, which Ron Hurwitz called "a disaster," while detectives used Plymouth Belvederes].
AMC equipped the cars right, with all the goodies that Chrysler had. Since AMC had Chrysler Torqueflite transmissions, it was virtually assured of little trouble in that area. The Matador was purchased by LAPD again in 1973, and again in 1974. They were the biggest users. A change in the body style for 1974 added weight, and for some reason the reliability was not as good as the previous two years. The increased weight affected handling and performance. No Matadors were purchased after this, and the model faded after a couple more years.
1980-2000 history • Central squad and pursuit cars page.