1971 Dodge police cars: Dodge Coronet, Polara, and Sportsman
The 1971 Dodge car and van lines included police versions of the midsize Coronet and the large Polara. For the moment, there were no police versions of the compact Dart.
Police car engines ranged from the slant six (in the Coronet) to the 440 (only in the Polara). The largest set of engine options was in the Dodge Polara — with six to choose from.
Dodge bragged, "Both Polara and Coronet provide the engines, transmissions and rear axle ratios to make it difficult or impossible for another car to outrun a Dodge police car [and] to provide the kind of top-end speed required."  Many city departments likely chose the economical two-barrel 318 V8, which Dodge claimed was "fully capable of competing with many six-cylinder engines in miles per gallon, while completely outclassing them in performance."
For pursuit, departments would be better off with the 300 horsepower 383, or the 440s; the top-end 370 horsepower 440 had a special cam and higher compression.
The standard police upholstery was heavy-duty cloth (gray in Polara and tan in Coronet) and vinyl. An extra-tough, heavy-duty all-vinyl trim was standard in Coronet Emergency and Patrol Wagon, and optional in others. Polara buyers could get a comfortable regular-duty cloth and vinyl trim in blue and tan; the civilian interior was optional. In standard police seats, almost two inches of air-foam cushioning was placed over the front heavy­duty seat springs.
Powertrain options included 60 or 65 amp alternators (65 amp not available with power steering, or with air conditioning on slant six or 318); Sure-Grip 3.23:1 differential; slip fan drive (383 or 440 only); maximum cooling capacity; police tires; and hand-operated fast-idle throttle control to keep power up for gear such as the light bar or air conditioning.
Keys could be made the same for all locks on the car; or the same for different cars in the same fleet (the power tailgate window on Coronet wagons was always different). Comfort-and-convenience options included air conditioning (including a 60-65 amp alternator); a variety of mouldings; tinted glass; and power steering. Wider tires and wheels were available — according to the Dodge brochure, on 14 inch Coronet wheels or 15 inch Polara wheels.
For "cop equipment," buyers could get a radio interference suppression package, oil pressure gauge (except if the clock was ordered), five or six inch diameter spotlights on either or both sides, and roof light wiring. All V8-powered cars came with a seven-blade fan, optional on the slant six.
Sportsman vans
To move officers or prisoners around en masse, the police could get Dodge B-vans, in two wheelbases and lengths. Trim levels were, from top to bottom, Royal Sportsman, Custom Sportsman, and Sportsman; these all came with windows all around, both driver and passenger front seats, and a rear bench seat for 5-passenger seating. (Optional arrangements increased the capacity to 8, 12, or 15 passengers).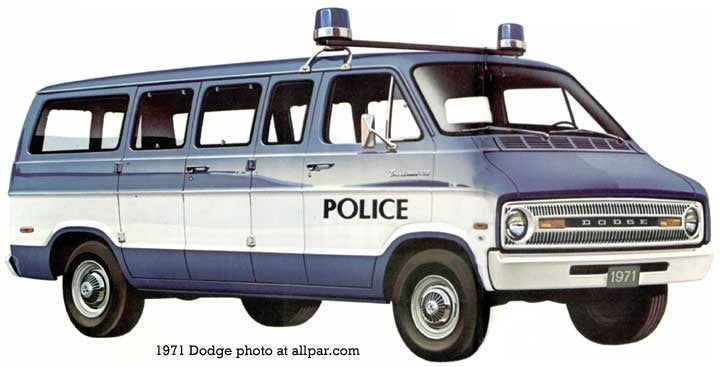 The Tradesman vans had more window combinations; all but the driver's seat were optional on these, and all seats were covered in vinyl.
Engineering
The heavy-duty 3-speed automatic transmission was standard on all Polaras and Coronets. Most vans came with the A-230 heavy-duty, fully synchronized three­speed manual transmission, with a column shift; it was not sold in the cars. The A-250, synchronized only in second and third gears, was standard in the base and Sportsman 6-cylinder vans.
The Dodge Polara and Coronet bodies were passed through seven huge tanks, to clean, "bonderized," and coat them with corrosion-resistant primers; the paint was an acrylic enamel.
Suspensions were torsion bars up front, leaf springs in back, set up for better launches than competitors of the times (mainly thanks to Chrysler Corporation's usual asymmetrical rear leaf-springs and rear axle pinion snubber), and a superior handling/ride balance. The torsion bars, also standard for Chrysler, made it possible to lower the engine mounting for a lower center of gravity. Police models did have heavy duty shocks: 10/16" diameter up front and 13/8" in back for Polara, and 1" front and back for Coronet.
Diagonal struts braced the front suspension against impacts, with rubber biscuits at the attachment points to absorb road shocks. Angled upper control arms exerted a lifting force when the weight shifted forward, reducing brake dive; and rear leaf springs had a long flexible rear section and a short, stiff front section for stability and ride. On V-8 sedans, an extra-stiff design was used for reduced sway. Springs were spaced wide apart for bracing against body lean.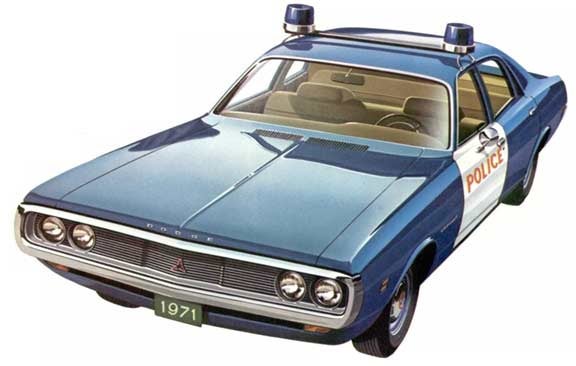 Fade resistant heavy-duty brakes had automatic adjusters and bonded brake linings, with 220.1 square inches of effective lining area in both cars. Polara's power brakes were disc in front and drum in the rear; Coronet buyers could order front discs as an option. 14" x 5 V2" JJ wheels were used on Coronet, 15" x 6" JJ on Polara.
Both the spark cables and spark plug insulators were enclosed by a spark-plug cover.
Changes from 1970
There were few changes from the 1970 Dodge full sized cars to the 1971s, but the mid-size cars were all new; the 1971 Coronets were wider and the wheelbase was one inch longer, with "fuselage" styling that matched the full size cars. The Plymouth Belvedere was no longer sold; instead, buyers found the Plymouth Satellite, and Plymouth buyers could order the A38 police package on any trim level, for the first time.
Net horsepower ratings, showing power "as installed," with all accessories, was used side by side with gross horsepower for the first and only time; the 1972 cars would only show net horsepower. Past cars had only shown gross numbers.
The 383 and 440 switched to different heads to better meet emission standards. The new 360, with a two-barrel carburetor and single exhaust, was optional on the Fury and Polara squads. Retired officer Curtis Redgap commented that the Fury I, with the 360, ran well with the four-barrel carburetor, and was not far off the 440 times. He also noted that Plymouth beat Dodge by offering the police package in the "A38" group on any trim level, not just on the base cars.
1971 Dodge police cars: engine choices and specifications
| | | | | | | | | |
| --- | --- | --- | --- | --- | --- | --- | --- | --- |
| Engine | 225 | 318 | 360 | 383 | 383 | 440 | 440 | 440 |
| Dodge Polara | N/A | Std | Opt | Opt | Opt | Opt | Opt | Opt |
| Dodge Coronet | Std | Std | N/A | Opt | Opt | | | |
| Dodge Sportsman | Avail. | Avail. | | | | | | |
| Gross Horsepower | 145 | 230 | 255 | 275 | 300 | 335 | | 370 |
| Net Horsepower | 110 | 155 | 175 | 190 | 250 | 220 | 250 | 305 |
| Gross Torque (lb-ft) | 215 | 320 | 360 | 375 | 410 | 460 | | 480 |
| Net Torque (lb-ft) | 185 | 260 | 295 | 305 | 325 | 350 | 380 | 400 |
| Carburetion | 1 bbl | 2-bbl. | 2-bbl. | 2-bbl. | 4-bbl. | 4-bbl. | 4-bbl | 4-bbl. |
| Compression Ratio | 8.4 to 1 | 8.6 to 1 | 8.7 to 1 | 8.5 to 1 | 8.5 to 1 | 8.8 to 1 | 8.8 to 1 | 9.5 to 1 |
| Exhaust | Single | Single | Single | Single | Dual | Single | Dual | Dual |
| Fuel | Reg | Reg | Reg | Reg | Reg | Reg | Reg | Premium |
| | | | |
| --- | --- | --- | --- |
| Specifications | Polara | Coronet | Coronet Wagon |
| Wheelbase | 122." | 118" | 118" |
| Length | 220.2" | 207.0" | 213.4" |
| Width | 79.2" | 77.7" | 56.4" |
| Track-Front | 62.1" | 59.7" | 79.2" |
| Track-Rear | 63.4" | 62.0" | 60.1" |
| Height | 54.9" | 53.7" | 63.4" |
| Front Seat height | 9.2" | 8.6" | 8.6" |
| Rear | 11.5" | 11.3" | 11.3" |
| Front Headroom | 39.2" | 38.6" | 39.6" |
| Rear .. | 38.4" | 37.3" | 39.9" |
| Front Legroom | 41.8" | 42.3" | 42.3" |
| Rear | 39.1" | 36.5" | 36.5" |
| Front Hiproom | 63.2" | 59.2" | 59.2" |
| Rear. | 63.4" | 59.2" | 59.2" |
| Front Shoulder Room | 63.2" | 59.2" | 59.2" |
| Rear | 62.7" | 59.3" | 59.3" |
| Back of second seat to end of tailgate | | | 84.8" |
| Back of second seat to closed tailgate | | | 59.3" |
| Width of opening at belt. .... | | | 46.0" |
| Back of front seat to end of tailgate | | | 116.7" |
| Back of front seat to closed tailgate | | | 94.3" |
| Width between wheelhousings | | | 48.5" |
| Maximum height of opening | | | 28.4 |
| Capacity (cu. ft.) usable | | | 91.3 |
Engines used in Plymouth, Chrysler, and Dodge squad cars for 1971
Type
Size
Horsepower
Available in
E24
225
145/110
Fury, Satellite, Coronet
E44
318
230/155
all but pursuits
E57
360
255/175
Fury, Polara
E61
383-2V
275/190
Fury/Polara/
Satellite/Coronet
E63
383-4V
300/250
Satellite/Coronet pursuit, Fury/Polara
E85
440
335/220
Fury, Polara
E85
440
335/250
Fury/Polara
E86
440
370/305
Fury/Polara pursuit only
Squad cars | Insider's Guide to Chrysler | Rear-Drive Chrysler, Dodge, and Plymouth cars