The Dodge Charger police cars
2011 Dodge Charger police cars | 2011 Dodge Charger home | Where Chargers are used | 2006-2010 ChargerCompetitive comparisons 2007-09 | 2010 Comparisons | 2011 Comparisons
For 2011, the Dodge Charger squad kept the front bucket seats, even though GM and Ford's new cars use bench seats (a rear vinyl bench rear seat is available). The flex-fuel V6 is rated at 291 hp, 260 lb-ft of torque; the V8 at 370 hp, 395 lb-ft (lower than the civilian Hemi).
For 2009, the Dodge Charger police version got an upgraded Hemi engine with variable cam timing and numerous performance and reliability upgrades; Hemi power went up to 368 horsepower and 395 lb.-ft. of torque, and gas mileage was rated at 16 city, 25 highway. For 2010, power reportedly dropped back down to 360 hp even as it rose on the civilian version (with Challenger hitting 379 hp).
The Dodge Charger V6 appears to have a 2006 fleet (police) price of about $22,000; adding dual spots is another $175, and side airbags another $360, with rubber floor mats $70. The Charger was priced to compete well against the Crown Victoria/Police Interceptor and Chevy Impala, and is really quite a bargain considering braking and acceleration. There are additional discounts for fleets ordering five or more vehicles. In some cases, Ford and Chevy have priced their vehicles lower this year, though - a good couple of thousand dollars apiece lower. In the long run, if the Charger holds up under police use, that money could be well spent (preventing a single accident due to improved brakes could more than pay for a few cars' premium.) Nationally, 75% of Charger squads are Hemi-equipped.
Brake issues
From my personal experience, the brake dust is an issue, but braking performance is unbeatable. The premature wear, dust, and noise are related to the fact that these are super high performance brakes that make no compromise on stopping ability. But, due to the fact that these are patrol cars and not race cars, Chrysler realized the performance could be dialed back and address the complaints of those who drive the cars every day.

I do not think that this is a design flaw or fault - but simply a matter of priorities. Dodge had ranked performance above all else. Customers wanted performance, but placed a higher emphasis on longer wear, less noise and less dust.


By the way, I really like this Charger. The overall performance of the car is sensational compared to the Fords I have been driving for most of the past 19 years.
Another officer wrote:
Our first Chargers were going 6-8 k miles and then wearing out. Of course this is hard driving. Dodge changed the brake pads last year - they don't stop quite as fast but last longer; departments complained - they listened - but cut braking. So did we come out ahead? It's never really been a biggie for us.
Service bulletin TSB 05-001-07, issued in 2007, covers 2006-2007 police Dodge Charger and Magnums built before April 2007, essentially prescribing a new front brake pad with a different compound (used in the Dodge Charger Daytona). The kit is part number 05142559AA and should extend pad life by at least 30%, greatly extend rotor life, and reduce noise. There is no loss substantial of effectiveness; the new brakes still outperformed all competitors in Michigan State Police tests.
The rotor is the same, but the TSB recommends using new rotors when installing the new pads or when maintenance is needed — machined rotors in this application can warp rapidly. The company recommends that if buyers must machine their rotors, they turn them with an on-the-car lathe.
Changes
The electronic architecture changed dramatically in the 2008 Charger, resulting in a new upfitter's guide; changes to the ESP included removal of the "completely off" mode, replacing it with a "mostly off" mode. The standard ESP program was specifically tuned for the police; and engine idle hours are now along with total operating hours (older models can be retrofitted to show engine idle time). Police units can choose to have a 129-mph speed limiter (replacing the standard 150 mph unit), and the key fob can now open the trunk if the key is not in the ignition.
A "street appearance" package was made available in mid 2008, including SXT badging, fog lights, and normal street trim, to make undercover cars more undercover.
2009 models may have a new, better-cooled caliper and rotor to extend life; they come with a power boost to the Hemi engine (to 368 horsepower and 395 lb.-ft. of torque), which also increases gas mileage. Accompanying the power boost is a change to the final drive ratio, for gas mileage, leaving acceleration identical; the suspension was also modified to be more compliant, without losing cornering capability. Very popular options were made standard and very unpopular options were dropped completely; spotlights will all be black. Two new colors, tan and medium-brown, are available with 50-unit minimums, and electric and midnight blue were given 50-order minimums as well.
Armored front door panels are apparently being investigated by Chrysler for future use, to match Ford's optional ballistic panels.
Pricing
According to the Oregon State Police, the 2006 Ford cost $29,600 when fully equipped, compared with the Hemi Chargers at $30,600 fully equipped (making the purchase of 43 Chargers a cinch). Oregon adds:
Prisoner partitions.
Emergency lighting system and siren.
Radio communications equipment.
Rear plastics prisoner transportation seats using factory installed safety belts.
Radar and in-car video systems. (Thanks, Thomas Obuck)
GM has aggressively been marketing Impalas, reportedly going as low as $17,000 in one state bid. We were told that the fleet price for Fords under one state bid was under $19,000, while the best deal on Charger V6 models appears to be over $22,000. We think the extra price is worth it, given the gas mileage, braking, and cornering.

2005 competitive comparison and testing; problems
Due to the number of tables, this has been moved to a separate page - it is very detailed and well worth a look!
To summarize, the Hemi blows away all competition, and the Charger V6 is similar to the Fords in performance, 2 mpg better in gas mileage, and 10 feet faster in braking from 60 mph. Again, see our 2005 Michigan State Police and California Highway Patrol testing page.

We did get this input (from 2005) however:
I have one of the "pilot" project Hemi-Chargers for a state patrol. We are having a terrible issue with the brakes - many Troopers are going through brakes at 3-4,000 miles on the Chargers when 15,000-20,000 under normal pursuit wear was standard for the Crown Vics. Dodge does not have a fix as of yet - they will need to overcome this. Other than that I love the Charger - the ride, acceleration and handling during normal and emergency driving is excellent - (wish they would have left a cup holder for us though...)
Departments using the Charger
This section has been moved to the "Where Chargers are used" page.
How the Magnum and Dodge Charger were converted for squad-car use
The Packaging, Design, Fleet, Vehicle Completion Center (VCC) and Advance Vehicle Engineering groups within Chrysler Group worked together for many months. Chrysler discovered and started to resolve design issues after extensive discussion with law enforcement groups, including the California Highway Patrol and Michigan State Police, as well as the Auburn Hills Police (who received several free Magnums), the Los Angeles County Sheriff's Department, the Florida Highway Patrol, and the Pinellas County Sheriff Office.
Chrysler used a issue tracking system (NITS) to identify pre-production issues. For example, the center console did not properly balance the "gear" of a police car, like the computer and the siren controls. The Design and Engineering group built a solid plate to be placed on the console to hold the gear, making Chrysler the first auto manufacturer to offer this accessory with no third-party upfitter needed. However, the gearshift needed to be placed on the steering column.
Many departments require a full-size spare. The teams were able to re-position a new full-size spare at an angle below the cargo compartment.
Two police-use lighting features are a dark running mode (all lights other than gear indicator shut off) and a bright mode (all lights on) accessible via the switchbox in center, along with switches for strobes, wig-wag, alley (side lights), etc. Other standard police gear includes the between-seats mounting bracket and protective plastic screen between front and back seats.
To make maintenance easier, Dodge added an engine-hour meter. For durability, external oil coolers were used for not only oil and transmission fluid, but for the power steering for long high-speed pursuits. Heavy duty cooling and air conditioning are also standard; and for safety that taunts the slow-stopping Fords, Dodge used even bigger brakes than the Viper has, with dual piston calipers up front, stopping 18 inch steel wheels. Safety continued with a rollover bar.
DCX electronic architecture and sirens
Chrysler's team of engineers and packaging experts came across an issue with the CAN-BUS architecture electrical system: it did not enable siren controls and various electrical systems to be hooked up, and control specifications vary from state to state. Sometimes vehicles require the sirens to shut off when the car door is opened, while others have the horn enabling the sirens to engage. There had to be a way to allow for these differences.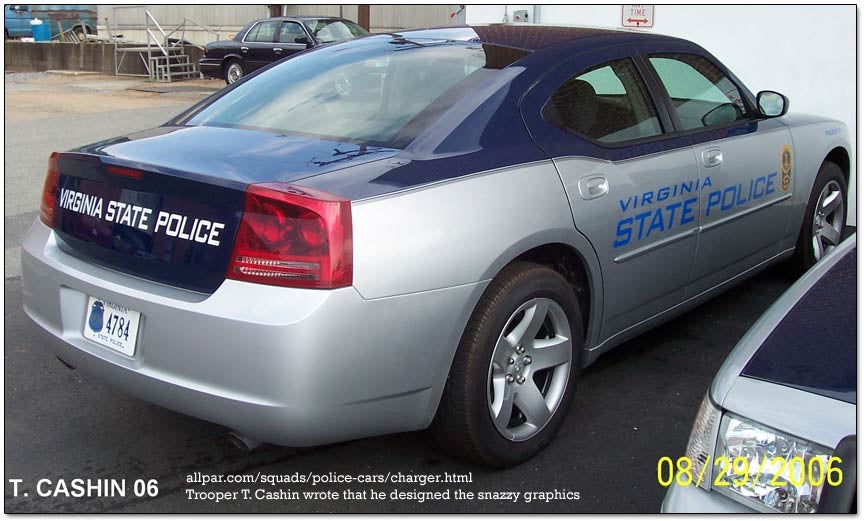 In a police vehicle, the sirens, lights, wig-wags (headlights blinking one at a time) and other controls need to be plugged into an aftermarket relay system in order to function using the vehicle's electrical system. When upfitters installed equipment on other CAN-BUS vehicles and things malfunctioned, there was no obvious cause, raising questions about the party responsible. Chrysler engineers created a universal control system, to enable a central location within the vehicle to handle all user electronic functions; it also added changed the wiring loom to make it easy to add new accessories. This was another area where Chrysler became the first in the industry to supply a system usually provided by an aftermarket upfitter.
Dodge Charger squad cars
Curt Booker of the Connecticut State Police wrote:
Overall, I like the car, as I've just come out of a Camaro Z28. The Charger is not as fast as the Camaro off the line nor at top speed but I also know that the Charger is much larger and heavier, and more comfortable. I know that Dodge has set these cars up high in anticipation that officers often drive over curbs and sidewalks but at the higher speeds the car becomes somewhat "floaty" like a boat. I wish that we could have been given the option of having the car lowered as it would have given us better handling. I personally would've liked a little stronger exhaust note from such a strong looking vehicle but overall I love the car.
While many will opt for the 3.5 liter V6, the Dodge Charger police vehicle will be available with a 5.7-liter HEMI V-8 engine that produces 340 horsepower at 5000 rpm and 390 lb.-ft. of torque at 4000 rpm. Dodge Charger police vehicles equipped with HEMI engines will be able to go from zero to 60 mph in just 6.0 seconds, while multiple-displacement will keep gas mileage from being unreasonable.
The 3.5 liter V6 is the base engine, with 250 horsepower at 6400 rpm and 250 lb.-ft. of torque at 3800 rpm. Both have an electronic five-speed automatic, heavy-duty brakes and linings, an Electronic Stability Program (ESP) with Emergency Brake Assist, All-speed Traction Control, and four-wheel Anti-lock Brake System (ABS). Combined, these features provide balance and control for in a variety of surface and weather conditions.
Production began in the fall of 2005 at the Brampton Assembly Plant in Brampton, Ontario (Canada).
Charger patrol car specifications
Dodge Charger squad car - standard equipment
160-amp high-output alternator
160-mph or 260-km/h (certified) calibrated speedometer
18x7.5-inch steel wheels
3.5-liter V6 engine with 250 hp @ 6,400 rpm and 250 lb-ft of torque @ 3,800 rpm
800 CCA battery
AM/FM stereo radio with CD player, changer controls, four speakers, and clock
Bright hubcaps
Cloth front bucket seats with manual lumbar and rear fixed bench seat
Column shifter
Easy path wiring grommet between underhood and passenger compartments
Electronic Stability Program (ESP) with Emergency Brake Assist
External Oil Coolers: engine oil, transmission fluid, power steering fluid
Five-speed automatic transmission with overdrive
Four-wheel antilock brakes with All-Speed Traction Control
Four-wheel independent performance suspension
P225/60R18 BSW V-rated performance tires
Police equipment mounting bracket
Rear trunk-lid key lock cylinder
Separate key and key fob
Severe-duty cooling system
Pursuit Dodge Charger - standard electrical equipment
100-amp battery power feed in trunk
Center instrument panel stack power connector with three 20-amp-fused battery feeds and three 20-amp-fused ignition feeds
Dome lamp door switch deactivated
Dual spot lamp Prep Package
Emergency rear door lock override
Ground stud in trunk
Integrated engine hour meter
Police equipment interface module
Rear inside door locks and handles deactivated
Rear windows inoperative from rear seat
Separate fuses for left and right battery-fed spot lamps
Software-controlled alternating head- and taillamps (wigwag)
Stealth mode switch (turns off instrument cluster and radio indicators, PRNDL dims to lowest legal limit)
Three pairs of twisted 18-gauge wiring for sirens, speakers, or controls provided from interior to front bumper
Underhood lamp

Police car options
18-inch bolt-on wheel covers
5.7L HEMI® V8 with Multi-Displacement System - 340 hp @ 5,000 rpm, 390 lb-ft @ 4,000 rpm
Cloth 60/40-split fold-down rear seats
Cold Weather Group
Easy-clean black vinyl floor covering
Entire fleet keyed alike (without alarm)
Front door body-side molding delete
Full-size spare tire and wheel with battery cover and cargo compartment floor mat
Heavy-duty cloth front bucket seats with manual lumbar adjustment and fixed vinyl rear bench seat
Independently switched white and LED red dome lamp
Power eight-way driver's seat
Security alarm system
Spot lamp driver's side or dual (Black or Chrome)
Supplemental side-curtain air bags, front and rear passenger
Switchable daytime running lamps (U.S. market only; DRL is standard in Canada)
Trailer tow prep group

For more information
Squad cars | Insider's Guide to Chrysler | Rear-Drive Chrysler, Dodge, and Plymouth cars