1976 Police Pursuit Packages
and the Plymouth Valiant and Dodge Dart police cars
by David Zatz
Chrysler Corporation dominated the police car (and taxi) business throughout the 1960s, 1970s, and early 1980s, with U.S. market shares ranging from 45-60 percent.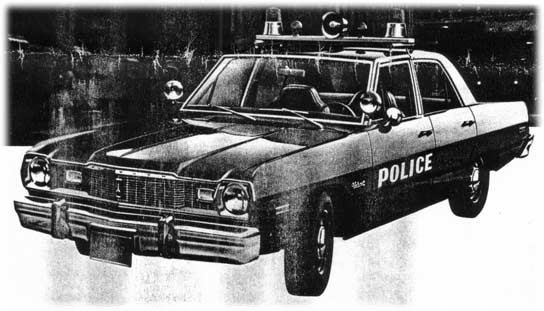 The sudden oil crises of the 1970s, where gasoline was expensive and often not available, threatened the dominance of traditional squad cars. Automakers rose to the challenge; GM, Ford, AMC, and Chrysler all set up smaller cars with ruggedized bodies to serve alongside the traditional intermediate and large cars.
The Plymouth Fury and Dodge Monaco (now downsized to the B body) were the standard police vehicles in the late 1970s, thanks to their good cornering, tough bodies, and comfortable interiors. The Valiant had a strong showing in some parts of the United States, but succeeded most in Canada.
There was only one official Valiant police pursuit car — the 1976 model. Legroom was fairly close to the 18-inch-longer Fury, whose greater length was mainly in the hood and trunk. The narrow width of the Valiant reduced shoulder and hip room, though with four passengers, that was likely not an issue most of the time.
The pursuit version could be ordered with a 360 four-barrel V8 engine, normally not placed in Valiants (but used in Dusters). It was accompanied by police extras in the suspension, steering, and body. A dual exhaust was standard outside California.
Valiant pursuit cars with V8s used a wide 70 series police radial (with two plies of fabric cord and four full-width textile cord belts under the tread). The calibrated speedometer ran up to 120 mph rather than the usual 100 mph, while the power steering had a (desirable) firm-feel chuck and an oil cooler. The radiator was larger (22" with slant six, 26" with V8); heavy-duty brakes included front power discs with metallic linings and rear 10 x 2.5 inch drums with automatic adjusters. Interior trim was vinyl, in gold, green, or black, with heavy duty front cushion springs and air foam cushioning, and a full foam front seat-back.
Plymouth took their squads seriously in those days. The police cars had added structural welds, a heavier duty alternator (100 amp in all but Valiant, which had 65 amp), heavy duty brakes, maximum capacity radiator with seven-blade fan and shroud, grass shield for catalytic converters, dual horns, power steering pump cooler (on V8s), firm-feel police power steering chuck, heavy duty seats, heavy duty stop light switch, transmission oil cooler, and a special handling package with heavier duty sway bars, torsion bars, leaf springs (with lowered front eye attachment), upper control arm pivot reinforcement sleeves, and large 1 3/16" front and 1 3/8" rear shock absorbers. (The big Chrysler was an exception to this handling package).
The Valiant 500 amp battery with heat shield was reserved to the B and C cars; the auxiliary oil cooler was kept for 400 and 440 dual-exhaust engines; rear crossmember reinforcement (or extra welds) was reserved for the bigger cars, along with a heat reflective rubber splash shield and thermostatic ignition control valve.
1976 options included air conditioning, locking gas caps, tinted glass, and automatics with low-gear blockouts.
Special order items included the remote trunk release, single keys for all locks, single keys for all cars in a fleet, radio suppression, roof reinforcement, screw-type stainless-steel hose clamps, spotlights, special paint, siren bracket, instrument-panel radio speaker, horn and siren switches on the steering wheel ring, extra dome lights, extra radio provisions, exhaust system bonding, stop and turn lights on the shelf panel, extra holes for wiring, and special seats.
Valiant missed out on the fast-idle throttle control with a manual lock for quick getaways, right remote mirror, automatic parking brake release (Fury didn't get it either), and auxiliary transmission oil cooler.
The pursuit package (code A38) included standard and optional wheels and tires. Valiants got 14 inch wheels — D78 for slant sixes and ER70 for any V8s. All other police cars had 15 inch wheels. Certified replacement tires for cars traveling over 100 mph were provided on the V8 sedans, optional on slant-six Valiants. Rear sway bars, not standard on all vehicles, were standard on all V8 police sedans, but Chrysler recommended that it be removed if bias-ply tires were used. (Rear sway bars were also part of the towing and radial-tire package for civilian cars.)
| | | | | |
| --- | --- | --- | --- | --- |
| Specification | 1976 Valiant | 1976 Fury | 1976 Gran Fury | 2006 Charger |
| Wheelbase | 111 | 117.5 | 121.5 | 120 |
| Length | 200 | 218 | 222 | 200 |
| Width | 71 | 78 | 80 | 74.5 |
| Headroom, front/rear | 38/37 | 39/37 | 39/38 | 39/36 |
| Legroom, front/rear | 42/35 | 42/35 | 42/37 | 42/40 |
| Shoulder room, front/rear | 55/56 | 59/59 | 61.5/62 | 59/58 |
Police 1976 Dodge Coronet / Plymouth Fury
The B-body police cars for 1976 continued and started to gain in popularity due to fuel prices; they were the most popular solution for departments, a middle ground between the old full size cars (still available) and the rare compacts.
The California Highway Patrol (CHP) tested the 1976 Dodge Coronet (with a 440 V8) and found it to be comparable to the 1973-74 cars, and better than 1975. The top speed was 125 mph (after two miles from a standing start); the shorter wheelbase of the Coronet, four inches less than the 1975 Dodge Monaco, and a quicker steering ratio made the cars feel as though it had a light rear end, but in testing this was not an issue. The 6.75 inch ground clearnace was half an inch lower. Headroom was the same as the 1975 Monaco; legroom increased by an inch; both outside mirrors had remote controls; and the seats had more comfort, with the split allowing separate adjustments. The CHP bought 1,511 1976 Coronets, at $4,530 each — $282 less than the 1975 Monaco — and estimated an additional savings of half a million dollars in operating them.
1976 Chrysler and Plymouth police car engines
A large number of engines were available in 1976...all the figures below are conservative net horsepower figures. Chrysler advertised that all the pursuit engines (360/four barrel, 400 four-barrel, and 440 four-barrel) had a double roller timing chain, hot-pressed valve springs, chrome-flashed exhaust valve stems with hardened tips, windage tray between crank and oil sump, molybdenum-filled top rings, and a shot-peened cast iron crankshaft. On the 440, special connecting rods, high-strength rocker arms, high-load valve springs, and heavy chrome oil ring rails were used. On the 360, silichrome-1 high temperature steel intake valves were used along with heavy chrome oil rings.
Code
Engine
Carburetor
HP
Torque
Available In
Calif
Code
Calif.
HP
Calif.
Torque
E25
225 six
1-bbl Holley
100 @ 3,600
170 @ 1,600
Valiant, Fury
E24
90
165
E44
318
2-bbl Carter
150 @ 4,000
255 @ 1,600
Valiant, Fury
E44
140
250
E57
360
2-bbl Carter
170 @ 4,000
280 @ 2,400
All but Valiant
E56
175
270
E58
360
4-barrel
Dual Exhaust
220 @ 4,400
280 @ 3,200
All
E58
175
270
E63
400
2-barrel
175 @ 4,000
300 @ 2,400
All but Valiant
E64
400
4-barrel
210 @ 4,400
305 @ 3,200
All but Valiant
E64
185
285
E68
400
4-V dual exh.
240 @ 4,400
325 @ 3,200
Fury, Gran Fury
E85
440
4-bbl
205 @ 3,600
320 @ 2,000
Wagons only
E85
200
310
E86
440
4-V dual exh.
255 @ 4,400
355 @ 3,200
Gran Fury, Newport
E86
250
350
n/a
5.7
EFI
340 @ 5,000
390 @ 4,000
2006 Dodge Charger
n/a
340
390
* Dual exhaust
Steve added:
I was pleased to see a posting for my Pursuit Valiant on the Web. At many famous shows, Spring Fling being one, the car generated absolutely no interest.
There are some real differences between my car, a '76 Valiant Pursuit, and the civilian version. My car, as weighed on an NHRA certified scale, weighed 3680 lbs with a virtually empty fuel tank. My civilian car, also a low price class four door, only weighed 3350, and that was with approximately 1/4 tank of fuel. Over the years I have documented differences in the unibody structure when comparing the Pursuit to the civilian model.
Where the front frame rails attach to the underside of the floorpan at the firewall area, my pursuit has extensive reinforcements. These reinforcements are similar to those added to many "E" body convertible cars with hemi engines and earlier "A" body cars with big blocks. While similar, the reinforcements on my pursuit are more extensive and of thicker sheet metal.
The rear sub frame area at the leaf spring attachment points are also reinforced similar to the cars above. My pursuit also uses thicker sheet metal for the outer skins of the rocker panel areas. Finally the cross brace located behind the vertical portion of the back seat is of thicker material than my civilian model although the stamping looks identical to my civilian model.
I disagree with two statements in the pursuit narrative. First, the E58 360 engine was absolutely available in all civilian cars if ordered. Second, the rear sway bar was not included in the tow package for civilian cars, regardless of what the factory literature might say. The 1976 "A" body pursuits were the only "A" bodies ever available with a factory rear sway bar.
In over twenty years of buying/selling/reviving Valiant and Darts specifically I have only seen five of these cars. Four of the five were seen at Pick-a-Part auto salvage in Wilmington, CA. and were crushed. All of these cars had sequential build numbers with the first four digits 1999... They also all shared a "G", or St Louis factory code.
Versus 2006 Dodge Charger
The recent trend towards reducing front and rear overhangs becomes obvious when one compares the 1976 Valiant to the 2006 Dodge Charger squad car: with 9 inches more wheelbase, the Charger has the same overall length! Just about all came out of the rear overhang, which was rather excessive in 1976 (partly a limitation of leaf-spring technology). The 2006 Charger rides about the same wheelbase as the old C-body Gran Fury, but is a whopping 22 inches shorter. The Charger is between the width of the Valiant and Fury, with about the same headroom, but even better legroom than the big Gran Fury, thanks to modern design efficiency - the engine bay is smaller, thanks mainly to the lack of a need to design for 440 cubic inch engines. The trend to thinner doors is also shown in the large shoulder room.
Squad cars | valiant.org | Rear-Drive Chrysler, Dodge, and Plymouth cars