Discussion Starter
·
#1
·
I posted the following elsewhere previously.
I'm somewhat of a history buff with automotive technical developments, with Chrysler being the first in many fields. American Motors had wanted to install the Bendix/Electrojector system on 1957 Ramblers but decided against it at the last minute, despite appearing in many sales brochures. Chrysler Corporation went forward with Bendix/Electrojector installation on 1958 models - records state the system was installed on 35 cars across all lines. All but one was converted back to the dual carb setup, and two 'numbers correct' cars survive today after being converted back to the original Electrojector systems they were originally equipped, with modifications, as noted.
Some background on the Electrojector system and Tom White's 1958 Desoto Adventurer Convertible.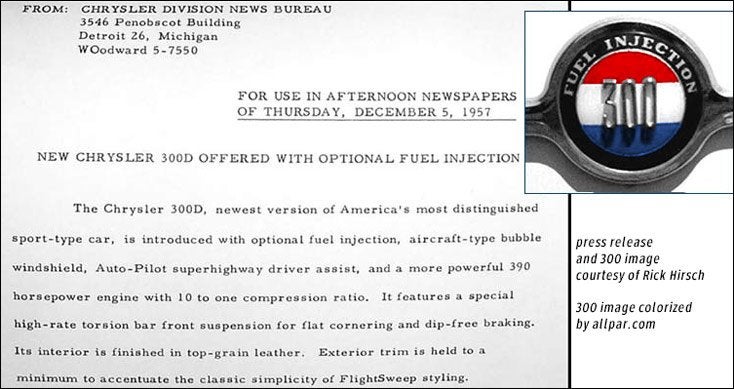 1958 Chrysler-DeSoto Electrojector - World's First Electronic Fuel Injection By George Mattar; reprinted by permission of Hemmings Classic Car, a publication of Hemmings Motor News. Copyright © 2005 American City Business Journals Inc. More images provided by Jim Benjaminson, Don Verity...
www.allpar.com
As a side note, commercially viable EFI for automobiles didn't come about until Bosch introduced the Jetronic EFI systems in the late 1960s.
A truly fascinating story of a 1958 Chrysler 300D on Jay Leno's Garage Youtube channel.
Note the dual distributors - one for ignition and one for the fuel injection.
Also note some of the factory options, such as the
Benrus Clock in the steering wheel hub
, as well as the dash mounted clock. Highway HiFi is also depicted.
Tom White's Adventurer Convertible