1960 Dodge cars: Dart, Polara, and Matador
1960 brought
unibody construction
to Chrysler, increasing legroom, easing entry and exit, and providing better sound insulation and cornering as frame and body were integrated. Dodge claimed that the 1960 Dodge's unibody construction was "twice as strong and twice as tight as ordinary body-and-frame construction. Braced in every direction with rugged box-section crossmembers, the Dodge Unibody enclosed the passengers inside a rigid framework of steel."
Miraculously, the company managed to convert its entire product line from body on frame to unit-body without incident.
Body rust was fought by having heavy-gauge body sill members replace former rocker panels. These, and all other underbody areas, were not merely sprayed, but dipped
and
sprayed in a new 7-step corrosion protection process which included a new rustproofing primer.
Engineering firsts for 1960 included:
Using an AC alternator instead of a DC generator that kept electrical current flowing, even at idle, in a full mass production, nonluxury car.
Ram tuned regular production engines that got a "supercharged" effect without having the mechanical components of an engine driven blower.
Overhead valve six cylinder engines canted 30 degrees to lower the hood lines ("slant six").
Mass produced unit bodies designed using computers.
Outside sheet metal didn't have to be part of the overall structure for strength of the unit body.
A seven step series of body structure rust proofing bathes that employed an electrostatic charge to insure sealant bonding to the structure metal. About the only component of the body that wasn't dipped was the top of the roof.
1960 was not a banner year for Chrysler Corporation, though it was better than 1961, and the corporation made a hefty profit - $32.2 million ($3.61 per share) on $3 billion of sales, representing 1.2 million vehicles sold worldwide. Chrysler had over 105,000 employees in the United States alone, with a $695 million payroll. The company made not just cars, but powdered metal parts and
Oilite bearings (through Amplex)
,
tanks
,
rockets
,
boats
, and
commercial and residential air conditioners
.
Plymouth
remained the leading division, though Dodge was catching up quickly - thanks entirely to the new Plymouth-based Dart. Worldwide, Dodge sold 424,645 vehicles. Of their 297,500 U.S. car sales, though, 262,300 cars were Darts.
507,177 Plymouths were sold worldwide in 1960, with the
Valiant
being Plymouth's best seller by a huge margin.
Other divisions were minor:
DeSoto
had its last serious model year with 21,584 cars sold, Chrysler accounted for 94,620 sales, trucks checked in with 82,173 (split between Dodge and Fargo), and, finally, 16,802 of the premium Imperials, said to be the best cars built or sold in America, left the lots. Chrysler also sold 36,310 Simca and Fiat cars and trucks in North America.
The Chrysler Corporation line was "clean sheet" in terms of styling, with Virgil Exner taking full control and producing a truly distinctive line of cars - as unique outside as their engineering was inside.
Dodge Dart
1960 was the debut of the
Dodge Dart
, which was essentially a restyled Plymouth with few other differences. Here's what Dodge PR men wrote:
Here for the first time is traditional Dodge luxury, distinctive Dodge styling and modern compactness, all in a car priced model-for-model right down the line with the low-price field.

Dodge Dart is a completely new line of cars. It's new in styling, new in engineering, new in its whole concept. Yet it carries on the Dodge tradition of fine craftsmanship and outstanding performance.
The Dodge writers noted the forward thrust of the headlight enclosures, for a look of "leaning into motion," and pointed out the lack of hard-to-clean nooks and crannies. They pointed to the "floating bumper" style, with "unique aluminum grille arcs." Chrome was set on a base of double-thick nickel plating for added life.
Compound windshields wrapped around the sides and up at the top to give the driver better visibility. Larger rear windows, standard on Phoenix hardtop models, curved high up into the roof.
Big new rear lights and a standard backup light were used for safety, and a center-fill fuel tank eliminated the fuel pipe's intrusion into the trunk.
All engines used regular gas. A new slant six was created from the Valiant's 170 cubic inch overhead valve canted six cylinder, by raising the block height and then stroking the rod length to create the 225 cubic inch canted six engine. The 225 was available across the board in any model in the Dart.
The 145-horsepower Slant Six delivered 24.74 miles per gallon in the 1960 2,061-mile Mobilgas Economy Run. The 318-cubic-inch V-8 with two-barrel carburetor pushed out 230 horsepower (gross) and, in the 1960 Economy Run, recorded 22.29 miles per gallon with an automatic transmission. The four-barrel version delivered 260 horsepower. Several V8s were also available.
Interior styling was designed to match external styling themes. Three-dimensional door panels gave depth, while the "Driver Centered" instrument panel had an elliptical motif with individually cowled instruments, designed to be easy to see and reach, day or night. The unique "see through" speedometer was on top of the basic panel where it could be read at a glance.
A new, deeper steering wheel with a deep-dished, four-spoke design provided a broad impact area for injury prevention. Grip edges of the rim were textured for safe, sure control. The sweeping design of door panels and interior fabrics were repeated in the steering wheel.
The Dart line included three models, but only the Seneca and Pioneer were available as station wagons, including the largest cargo space in their price class (95.8 cubic feet). The conventional roll-down rear window was easy to use with one hand; power operation was standard on the Pioneer three-seat wagon (and was an option on the others). The third seat was easy to store in the floor (most competitors required lifting out the seat and storing it elsewhere).
The low, level, sturdy tailgate was supported by the bumper for greater strength. The tailgate was counter balanced to operate easily.
Three automatics were available in 1960 and 1961 for the Dart:
Torqueflite 6 - The new A904, but without the park sprag and with the driveshaft emergency brake, for the slant six engine. The Dart still had Lockheed brakes.
Powerflite - Chrysler's 2-speed automatic, used only on V8 models.
Torqueflite - The cast-iron case version, used only on the V8 D-500 models. The D-500 transmission had a high gear governor that raised shift points to higher engine speeds.
Engines were:
Compared to Ford and GM:
Ford
Dodge
Chevrolet
Base V8
Thunderbird 292
185 hp, 292 lb-ft
Two stage fuel feed; slow reacting choke
Red Ram 318
230 hp, 340 lb-ft
Three-stage fuel feed; choke in manifold
Turbo-Fire 283
170 hp, 275 lb-ft
Slow reacting choke
Top V8
(Dart)
352 cid V8s

Up to 360 hp, 380 lb-ft

Tuned for high-rpm ranges
Ram Induction D-500 361
310 hp, 435 lb-ft
Tuned for mid-rpm ranges
Super Turbo-Thrust
280 hp, 355 lb-ft
Not really a turbo
Six Cylinder
Mileage Maker 223
145 hp, 206 lb-ft
Manual choke
Slant Six 225
145 hp, 215 lb-ft
Light; efficient manifolds
HyThrift
135 hp, 207 lb-ft

Choke fed by tube
With regard to pricing:
| | | | | | | | | | |
| --- | --- | --- | --- | --- | --- | --- | --- | --- | --- |
| Low Line | Fairlane | Seneca | Biscayne | Fairlane 500 | Pioneer | Bel Air | Galaxie | Phoenix | Impala |
| 2-door Six | $2257 | $2278 | $2262 | $2334 | $2459 | $2384 | | | |
| 4-door Six | 2311 | 2330 | 2316 | 2388 | 2459 | 2438 | $2603 | $2595 | $2590 |
| 2-door V-8 | 2370 | 2397 | 2369 | 2447 | 2530 | 2491 | 2723 | 2737 | 2704 |
| 4-door V-8 | 2424 | 2449 | 2423 | 2501 | 2578 | 2545 | 2716 | 2715 | 2697 |
Dodge also noted:
Up front, the driver finds it easier to get in or out of Dodge Dart than Ford because of more steering-wheel clearance. Like Dart, Ford has eliminated the jut-back windshield comer post. Rear-seat passengers find entry easier in Dodge Dart because of the unit-body sill. It's noticeably narrower than the sill required by Ford's frame side rail plus rocker panel.

Dodge Dart has the advantage in steering-wheel clearance, plus a higher and wider front doorway than Chevrolet's. And, Chevrolet has a jut-back windshield post. In the rear, Dodge Dart also has the advantage with a wider and higher rear door than Chevrolet's. Separate side rail and rocker panel also gives Chevrolet a wider sill than Dodge Dart's all-in-one rail and panel.

Dodge Dart has the advantage over Ford in headroom, legroom, shoulder-room, hiproom and seat height. Dodge Dart has more cushion depth and more thigh support than Ford.
Chevrolet has the advantage over Dodge Dart in shoulder-room and hiproom. Dart leads in headroom, legroom and seat height. Chevrolet lacks the cushion depth and thigh support you find in Dodge. Dart also provides a custom-positioned front seat at no extra cost.

Ford's and Chevrolet's spare tire takes up floor space in the main area of the trunk, and the Ford trunk compartment is only 16" high, so a standard 18"-high suitcase cannot be carried upright. The lift from the ground up and over the sill of the trunk is 31" for Ford, and 30" for Chevrolet (nearly 40" at the edges), but just 26" for Dodge - which has a 20" trunk height.
With regard to safety, 68RT wrote, "They drilled out the sides of the [front sub]frame to make a collapsible area so the main frame would not be tweaked in a frontal accident. She was in an accident bad enough that all frontal sheet metal needed to be replaced but the front suspension was still in perfect alignment."
Dodge Matador and Dodge Polara
The standard-sized Dodges were not given their familiar names (
Coronet
,
Royal, Custom Royal
and Lancer); instead, there were two models, Matador and
Polara
. Their styling was similar to the Dart.
For the standard 1960 Dodge - Matador and Polara - the company wrote: "Coming or going, the '60 Dodge has the look of success about it. Its tasteful use of chrome, its low, wide look of solidity, its smooth, taut, elegant lines make it the styling standout of its price class! Never before in even the highest priced luxury cars on the road has there been such a solid, sub­stantial look coupled with the
Real
beauty of the '60 Dodge."
Polara was above Matador, and added a four-barrel carburetor, fin ends with a lighted red deflector (as well as chrome on both models), a chrome rear window molding, door garnish, and roof rail, a standard large rear window, and a 383 V8 instead of Matador's standard 361, giving it a 30 hp and 35 lb-ft advantage. Exterior dimensions were nearly identical and interior dimensions
were
identical. The Matador with base V8 had a two-speed automatic; Polara always came with a three-speed, as did the slant six and D-500.
In the front was the new "floating bumper" styling, smooth, sweeping lines, bumper impact pads, twin headlights in chrome bezels, and new fender guides. In the rear were "dynamically balanced integral fins," large new tail-lamps, "jet-tube" styling, and fin accent lighting.
All 1960 models had a huge front window, with hardtops having a matching rear window; the windshield curved around the sides and up into the roof for greater visibility. Interiors were designed for a rich look with a variety of colors, and easier to use (and see) controls, knobs, and instruments. Stylists tried to make the interiors and exteriors share themes and looks.
The instrument panel itself was "driver centered," with sculptured lines, greater use of texture, and finely detailed knobs and switches.
Matador and Polara were both available as four-door sedans, two and four door hardtops, and wagons. The Matador had chrome fin ends, the Polara adding a lighted rod deflector. Both used V8 engines, the Matador a 295 horse, 390 lb-foot 361 cubic inch unit with a two-barrel carburetor, the Polara with a four-barrel 383 putting out 325 hp and 425 lb-ft of torque.
The Polara station wagons had semi-hardtop styling. On both Polara and Matador, the rear window rolled down, and the third seat could be stored under the floor. A counterbalanced tailgate supported by the bumper was designed for greater strength and easy operation.
Engineering and manufacturing details
The 1960 Dodge used improved epoxy primers that resisted chemical action, reinforced to provide a claimed 25% more gloss that would last twice as long. Chrysler claimed that "the Dodge Unibody encloses the driver and his passengers inside a rigid framework of steel. Separate frame-and-body cars lack this all-around, full-width passenger protection... the floor can be dropped down into the space otherwise used for the separate frame. This enables more legroom and higher, more comfortable seats without sacrificing headroom."
Using plastic scale models in development cut the time required to thoroughly test new models, getting a jump on competitors. Crash testing was done with these scale models as it is now done with computer models.
Redesigned roof pillars, better use of interior space, and improved seating angles, front and rear, improved riding comfort. A new windshield post with only a slight arc eliminated the "knee-knocker", allowing easier entry and exit. A new center post in 4-door hardtops eliminated the web for easier access and better foot room.
Front and rear doors opened wider, staying open at either of two positions. Hinges were larger and stronger. Helper springs assisted in closing.
New features included doorways cut higher into the roof, for easier access. Legroom was increased by lowering the floor pan, and the floor tunnel was narrowed by an inch for greater foot room. Built-in rear-seat footrests provided extra roominess. Narrower door sills were easier to step over.
Safety-recessed outside door handles opened easily with a one- or two-finger pull and had no projections to snag clothing. Locks on front door handles had shutter seals to prevent lock freeze-up in winter.
The front seat could be moved up, down, forward or back, or angled.
The vent windows had new latches that pulled open for easier operation; weather-stripping was also revised and improved. Tempered safety glass in side windows withstood up to eight times more impact, without breaking, than competitive laminated safety glass; and when it did break, it did not form shards but relatively harmless clumps.
A repositioned rear-view mirror gave more view of the road behind. The defrosting action was faster and more complete. Electric windshield wipers maintained steady speed regardless of engine load (Ford used vacuum operated wipers; Chevrolet used electric motors). The larger windshield required 16-inch wiper blades, longer than most competitors, dirven by electric, wide-arc wiper arms.
Rust was fought by using new weatherstrip seals for all windows; eliminating holes through the cowl by putting retaining brackets in the engine bay; using weld-on clips instead of holes to attach chrome mouldings; using drain troughs; and providing rubber-sealed cowl openings for pass-through wires and cables.
Front suspension
The
"Torsion-Aire" suspension
was refined for better ride, handling, stability, and more level starts and stops. Tempered steel torsion-bar springs absorbed road shocks and bumps, and resisted lean on turns. Anti-dive upper control arms kept the car's nose up during sudden stops. Front-end components stayed in alignment longer, with less maintenance and adjustment. Rubber cushions and nylon bearings isolated road noise and minimized friction.
Dodge described how torsion bars work: "When you twist a length of rubber hose, you can feel the spring action, as the hose tries to retain its normal position. Torsion springs act in the same manner. Bumps are absorbed by the twisting action of the torsion bars."
Dodge wrote:
Ford and Chevrolet come closer to Dodge's Torsion-Aire ride. Ford has gone to a rear suspension similar to Dodge's, while Chevrolet has added stability to its four-coil-spring suspension with a front stabilizer bar and rear control arms. All three cars give a smooth ride on smooth roads. Here are the elements that make Torsion-Aire better:

Dodge torsion bars smooth out bumps with more positive control than coil springs. Rubber-cushioned diagonal struts help pull the front wheels over bumps.

Dodge rear leaf springs, with axle mounted forward of center ("asymmetrical" springs), help keep the car level during sudden starts and stops-and let the rear wheels glide over bumps instead of bouncing.
Oriflow Shock Absorbers control spring action better than valve-type shock absorbers-do not "bottom" on bad bumps.

In this test, cars were driven at the same speed around an un­banked circle. Test drivers kept the inner wheels at the white line. Ford and Dodge Dart show about the same amount of lean. Chevrolet with its coil suspension, front and rear, shows somewhat more lean on the turn than either Ford or Dart.
Widely spaced upper and lower ball joints provided a wide base of support for the front wheels to improve stability and reduce undesirable wheel motion. Rubber-isolated nylon bearings allowed easier action than metal-to-metal, spring-loaded joints.
Used throughout the front suspension, rubber bushings eliminated the need for lubrication, reduced friction, and absorbed road shocks. There were only eight lubrication points on the Dodge running gear; most other cars of the time had at least 16.
Torsion bars absorbed road shocks with less bounciness than coil springs. They needed only minor adjustment to compensate for any change in resilience, and allowed a lower engine mounting than with coil springs ... a safer, lower center of gravity. The extra space provided a better location for steering linkage which resulted in easier steering.
Rubber-cushioned struts ran diagonally from each lower control arm to the front crossmember of the underbody structure. They braced the front suspension against backward push, when the front wheels hit a bump.
The rear suspension used a Hotchkiss drive, which uses the cushioning effect of the rear springs to check the shock of starting and stopping. This lightens the strain on engine, transmission and drive train.
Dodge took the springs out from underneath the car and moved them up alongside of the wheels, keeping weight closer to the road and adding stability.
A wide spring base helped rear-end stability. Dodge leaf springs were set wide apart, and paralleled to provide maximum twist resistance. Competitive coil springs, set closer together, had little resistance to twist and lack ability to keep the car from tilting.
The forward ends of Dodge rear springs now floated in thick rubber bushings to absorb wheel and drive train vibration, improve handling, and soften the ride.
The short section of the spring ahead of the axle was stiffer than the long, more flexible section of the spring behind the axle. This feature helped to keep the car on even keel during sudden take-offs and during braking.
Steering was updated as well, with equal length tie rods for balance, widely spaced ball joints for jolt protection, roller bearings and low-friction oil seals for long life.
A low-friction manual steering gear was tougher but used new low-friction needle bearings (rather than bronze bushings) and had a higher steering ratio.
Power steering was also available, with a new power piston steel to reduce effort.
Brakes and wheels
Brakes were set up with a flexible web that let brake shoes adjust their shape to conform to distorted drums; each backing plate had three platforms for each shoe, to bear against corresponding projections in the shoes. This ensured that the entire shoe would make contact, unlike competitive designs. Cyclebond lining, bonded to the brake shoes, was usable for virtually its full thickness (no waste-space rivet holes) - a feature used by Ford only in their taxis.
New brake shoes had no lining overhang. New spacing of support plates eliminated any plate-to-web interference. Design changes were meant to reduce the need for brake adjustments, while a unique-in-class two cylinders per front wheel brake put more stopping power up front. A new independent parking brake was easier to operate and provided a margin of safety, since competitors used the normal brakes with their parking brake; however, putting the parking brake on the driveshaft would be somewhat problematic for many customers in the long run, and the company later returned to a more ordinary setup.
Power brakes included a reserve tank with enough vacuum for several normal stops in case the engine should stall.
Safety rims were designed to hold deflated tire in place so in case of blowout driver can bring car to a safe, controlled stop (competitive cars still had standard rims). Wheels used tapered bearings to reduce friction and have a longer life.
Sound insulation
All suspension system elements were mounted in rubber to isolate road noise and vibration. Rigid, welded construction cut down on rattles and squeaks. Sound­proofing and vibration damping did the rest; an inch-thick Fiberglas blanket with asphalt-felt pad arid pressed board faced the cowl and side cowl panels, and a laminated Fiberglas underhood pad, 1-inch thick, was optional.
Sprayed-on mastic sound-deadener covered the entire floor pan. Mastic-felt pads were cemented to the floor pan at toe boards, front and rear footwells, and under seats. Jute padding was cemented underneath carpet.
Blanket insulation, a half-inch thick, completely lined the underside of the roof panel. An asphalt-impregnated felt pad covered the entire underside of rear package shelf.
Mastic sound-deadener was sprayed onto wheel housings, top side of floor pan, engine side shields, front and rear doors, quarter panels. An asphalt-impregnated felt pad covered the gas tank to muffle the sound of sloshing gasoline.
Engines
Dodge wrote this about its engines: "So durable are they that the standard 25,000­ mile laboratory tests for wear had to be changed to 50,000-mile and 100,000-mile checks-because no discernible wear showed up until long past the 25,000-mile figure."
New engine mounts were dubbed "Free Flight Power;" they used more rubber to control vertical and rocking engine movement. The rear engine mount was spring-reinforced to allow limited engine movement, but suppress vibrations from the drive train; a rubber block above the spring prevented high-frequency vibrations from passing to the body.
The 1960 Dodges had new exhaust systems, using aluminized steel to double life expectancy; they were routed through the propeller shaft tunnel, to protect against road damage. New loop-type exhaust hangers had flexible hollow rubber and fabric loops that allowed freedom of motion and minimized vibration, isolating the car body from noise and heat.
1960
Dodge V8s
D500 (1)
D500 (2)
Ram-Fire
Red Ram
Super
Red Ram
Truck
V8
Cubic Inches
361
383
383
318
361
318
Bore x Stroke
4.12 x 3.38
4.25 x 3.38
4.25 x 3.38
3.91 x 3.31
4.12 x 3.38
3.91 x 3.31
Compression
10:1
9:1
10:1
9:1
10:1
8.25:1
Carburetor
Dual 4-barrel
4-barrel
2-barrel
2-barrel
2-barrel
Gross hp
310 @ 4,800
330 @ 4,800
325 @ 4,600
230 @ 4,400
295 @ 4,600
[email protected] 3,900
Max torque
435 @ 2,800
460 @ 2,800
425 @ 2,800
340 @ 2,400
390 @ 2,400
286 @ 2,400
The Super Red Ram V8 was standard on Matador, the Ram-Fire V8 on Polara; the old flathead six was used in trucks, while the brand-new slant six was used on the Dart. The D-500 was optional on the Dodge Phoenix. All engines had wedge-shaped combustion chambers, except for the dome-shaped Red Ram and the truck engines.
Cooling varied by engine, with the slant six having "semi-series" cooling, with some coolant going into the head passages after going through the cylinder water jackets; the 318 had "bypass" circulation with some coolant going to the head passages and some going to full-length cylinder water jackets; and the 361 had "series flow" with coolant going through the water jackets and then the head passages. All had 180° thermostats and a controlled pressure system.
Filters varied by engine, with the slant six getting a reusable fuel filter in the tank and full-flow oil filter. The 318 got a fuel filter in the gas tank and a 15 micron filter at the carb; and a shunt-type oil filter so that oil flow was assured even if the filter clogged. The 361 had the gas tank fuel filter plus a throw-away cartridge type 15-micron filter at the carburetor, with a full-flow oil filter with bypass.
1960
Dodge Sixes
Slant Six
Truck Six
Cubic Inches
225
230
Bore x Stroke
3.40 x 4.125
Compression
8.5:1
7.9:1
Carburetor
1-barrel
Gross hp
[email protected],000
120 @ 3,600
Max torque
215 @ 2,800
[email protected] 1,600
Slant Six
The
slant six
was brand new, and would remain the top American straight-six through the 1970s. The engine was slanted 30 degrees partly for ease of service - every component and accessory was on the outside of the engine, with spark plugs, distributor and ignition coil close together to simplify ignition wiring - and partly to allow for efficient manifolds. Intake and exhaust manifolds had separate, tuned tubes for each cylinder, with large radius curves to minimize back pressure and power loss, and nearly equal lengths to assure that each cylinder got the same amount of air-fuel mixture at the proper time. GM and Ford made the same tube serve more than one cylinder, or had sharp bends and varying length tubes, which reduced their efficiency.
The slant six used wedge-shape combustion chambers; a thermostatically operated valve that used exhaust heat to better vaporize fuel; and an automatic choke with a sensing element in the exhaust manifold to open the choke quickly. Tuning the manifolds provided strong torque in middle speed ranges for quicker passing.
The crankshaft was supported from below by the solid metal of the engine block, to keep it in alignment. The lower end of the spark plug tubes were used as the spark plug gasket, and the upper end was sealed by a neoprene ring-shape gasket and by a rubber boot molded over the spark plug cable. Contained within the tube, the spark plug was moisture-proofed.
Tin-plated aluminum-alloy pistons had cast-in steel struts for thermal control. There was a chrome plated top ring, a tin-plated second ring and a sectional oil control ring with chrome-plated steel rails for long, trouble-free service life with low oil consumption.
Red Ram V8 (new for 1960)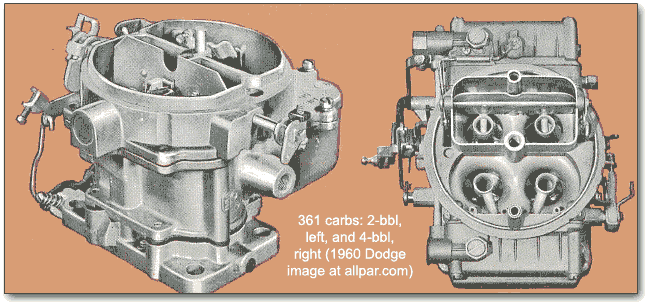 The 318 cubic inch 2 barrel V-8 had been based on a rebore of the Canadian 303, and was introduced in 1957 as the high performance Fury engine. With the two barrel, the 318 had an output of 230 horsepower and 340 lb-ft of torque, running on regular gas. A dealer installed option was the Power Pak which consisted of a 4 barrel carburetor, dual exhausts, and a remade distributor. That raised power to 260 horsepower.
A high-lift camshaft opened intake and exhaust valves wider than in competitive engines for more flow from the same size valves. Baffles in the manifold helped distribute engine heat, in the manifold and under the carburetor, for a leaner air-fuel mixture, particularly during warm-up. A manifold heat control valve provided quick car­buretor warm-up by directing hot gases from the exhaust manifold through a closed passage under the carburetor, when the engine was cold.
Dome-shaped combustion chambers allowed large valves for free engine breathing; the dome shape retarded carbon formation.
Lightweight aluminum pistons had internal steel reinforcement to control expansion due to heat. The oil ring had an expander sleeve for more effectiveness. The valve train used short push rods for less adjustment, less noise, and less wear; a "hot" cam was used, and the crankshaft was made of drop-forged steel for strength.
The Red Ram two-barrel carburetor had new three­ stage (rather than two-stage) metering rod to provide greater fuel economy. The extra stage was a fuel-saving half-open position for moderate acceleration.
Super Red Ram
The
Super Red Ram V-8 engine
used in Matadors, and the Ram-Fire V-8 engine used in Polaras, were identical except for displacement and carburetion. Pistons, pins, rings, and connecting rods were selected from matching sets to meet standards for size and weight. These assembled components, together with the torque converter, were installed into the engine block and then electronically balanced.
The two barrel version had 265 horsepower. With a four barrel and dual exhausts, it achieved 305 horsepower. There was also another option that was not put in the customer books. It was a dealer installed unit that consisted of a set of twin 4 barrel carburetors on a special manifold. Previous editions of this same unit on other 361 engines claimed 340 horsepower.
A modified wedge design produced high turbulence for complete combustion and carbon reduction. Compact and lightweight, the intake manifold had a two-square-inch direct path for the fuel-air mixture to travel; a separated-branch design permitted a tight seal without gaskets. This central­outlet location provided minimum back pressure, lengthening exhaust-valve life and adding power.
The crankshaft was supported from underneath by the sold metal of the deep-skirted engine block. The design also provided a stronger mounting for the transmission. Pistons and compression rings were tin-plated to speed break-in, and lightweight aluminum-alloy pistons were reinforced with steel struts for extra strength and to control expansion and contraction. Two compression rings and one oil ring assured a tight seal.
The crankshaft was billed as the most rugged, best balanced in the industry, up to 20% heavier than those in competitive cars, with exceptionally large bearing areas to distribute load, and an effective, large vibration damper. Drop-forged connecting rods were stronger than the cast-steel connecting rods used by some competitors.
The carburetor included a special float to prevent flooding on turns. At low and medium speeds, only two barrels were used to minimize fuel consumption. Rear barrels kicked in at speeds above half-throttle. the choke acted quickly as the sensor was in the exhaust manifold crossover
Ram Induction D-500 engines
Ultimate power was developed with the 361 and two ram inducted 4 barrel carburetors that raised output to a claimed 310 horsepower. Dodge made the 383 cubic inch engine available in the Dart for Police Pursuit packages, only, supposedly. The 383 with a 4 barrel put out 325 horsepower. With the twin 4 barrel ram inducted tubes on the 383 it reportedly developed 330 horsepower. The 361 ram induction was also available as a Police Option. This was another bullet aimed at Plymouth.
Dodge Ram Induction used air pressures that are always present in the manifold to make the engine breathe efficiently. With a conventional manifold, opening and closing of the intake valves sets up an air pulsation in the intake passages. This pressure wave bounces back and forth and interferes with the fuel-air mixture. With Ram Induction, the length of each manifold passage was "tuned" (like a pipe organ) so the pressure wave was moving
away
from the intake valve when
no
fuel is needed - and
toward
the valve when fuel
was
needed. This ram effect had its peak effect over a wide range of engine speeds.
Two D-500 engines were available in 1960: the pictured model, optional on Dart Phoenix, and a more potent (330 hp, 460 lb-ft) 383 available on the Polara and Matador. Externally, there were few if any differences, and compression was identical.
Transmissions
The TorqueFlite automatic had three forward gears; the D-500 engine had a high-gear governor that raised shift points for higher performance. The six cylinder had a lightweight version that was similar in gear ratios and shift points. The two-speed PowerFlite automatic remained for Dart and Matador V8s. For safety, the car had to be started in Neutral; and if the car was moving at 10 mph or more, Reverse would drop the car into Neutral as a safety feature. Likewise, the low gear or 1 button would be ignored if the speed was already too high.
| | | | |
| --- | --- | --- | --- |
| 1960 automatic transmission tuning | TorqueFlite (V8) | TorqueFlite (I-6) | PowerFlite |
| Light throttle 1-2 shifts starting from... | 10 mph | 9 mph | 11 mph |
| Light throttle 2-3 shifts starting from... | 15 mph | 14 mph | No 3rd gear |
| Heavy throttle 1-2 shifts | 40 mph | 23 mph | 55 mph |
| Heavy throttle 2-3 shifts | 75 mph | 60 mph | No 3rd gear |
| Kickdown, 2-1, if speed is less than: | 25 mph | 22 mph | 50 mph |
| Kickdown, 3-2, if speed is less than: | 65 mph | 60 mph | |
| Low gear button operates at (maximum): | 25 mph | 22 mph | 50 mph |
Manual transmissions were all three-speed, with a heavy duty version for Polara; they had synchronized gears. The Dart and Matador V8 manual transmissions had a new semi-centrifugal clutch for easier, faster pedal action.
The drive train takes the power flow from the transmission through a propeller shaft. Dodge used ball-and-trunnion universal joint at the front of the shaft, and the cross-and-roller universal joint at the rear. "The rear axle hypoid ring-and-pinion gears give the greatest possible contact between driving teeth. Tapered-roller bearings insure precise alignment."
The Sure-Grip differential, called Posi-Track at GM, was available to prevent wheel-spin on loose surfaces. On curves, cornering ability was improved because the greater driving force is applied to the inside rear wheel. In case one rear wheel hit a soft shoulder, dangerous swerving of the car caused by off-wheel spin was minimized.
Options
The optional heater was pushbutton operated, with controls lit at night and vacuum-powered pushbuttons that required a light touch. Defrosting used six "scientifically placed" slots. Rear defrosting relied on a two-speed blower.
The air conditioning boasted of reducing interior temperature from 100°F to a comfortable level "in minutes." Air conditioning was filtered for dust, smoke, and pollen. Again, controls were vacuum operated and illuminated at night. A deluxe dual air-conditioning system was also available, with an additional evaporator and blower placed in the luggage compartment. Air from the car was drawn into the additional unit through vents in the package shelf, cooled, and then re-circulated through the vents. The unit was ceiling-mounted between second and third seats in station wagon models, and was standard on air-conditioned wagons.
Floor level outlets adjusted the flow of cool air up or down, automatically-still giving manual control if desired. A new outlet close to the driver had adjustable vanes.
Dodge radios were transistor based for longevity. The new Astrophonic offered was almost five times more powerful than the standard radio, and it had an extended range and better fidelity. It had three transistors and a rear-seat speaker, along with illuminated push-button controls. The new Dodge Music Master radio also had push-button controls.
Two manual antennas were available, mounted on the inside edge of the rear fender fin or on the right front fender. Dodge wrote: "The world of entertainment is at your finger tips with the ease and convenience of Dodge push-button radio control." The controls would be familiar to radio users for twenty more years, with rings for tone and balance and knobs for volume and tuning.
Optional Dodge swivel seats, billed as "the biggest step forward in automotive seating since they gave up the buggy seat," were now automatic; the front seat swung out automatically as you opened the door of the car; swung in as you closed it. The door would not swing if the seat was occupied.
Power windows were also available, complete with obstruction detection for safety. A six-way power seat helped the driver to be comfortable, using a single knob. Power locks helped keep the kids in, and Solex glass that cut out 55% of the sun's heat kept them cool. A more accurate digital (with circular numbered dials that revolved to show the time) clock was optional. The driver's rear-view mirror could be adjusted from inside with a spring/cable system.
Specifications
Rear Axle Assembly: Hypoid gear, semi-floating-type with tapered roller bearings throughout. Shaft: Special alloy steel with 30 rolled splines; shot­peened axle shafts; tapered-roller bearings throughout.
| | | |
| --- | --- | --- |
| Rear Axle Ratios | Standard | Optional |
| V8/Auto | 2.93 | 3.31 |
| D-500 | 3.31 | 2.93 |
| TorqueFlite Six | 3.31 | 3.54 |
| PowerFlite | 3.31 | 3.54 |
| Manual V8 | 3.54 | 3.31 |
| Manual Six | 3.54 | 3.90 |
Battery: 12-volt, 60-amp-hour rating on Super Red Ram and Ram-Fire; 50-amp-hour rating on Red Ram and Slant 6.
Oilite bearings in distributor, generator, starter and front suspension ball joints
.
Connecting Rod bearings: replaceable, precision type, lead-base babbitt on steel on Economy Slant 6, Super Red Ram and Ram-Fire; Bi-metal grid on Red Ram.
Main Bearings: Replaceable-type, lead-base babbitt on steel; No.3 is tin-base babbitt on steel. Five main bearings on all but slant six which had four.
Brake Lining: Bonded-rivetless type. 230 sq. in. of lining area on Polara and Matador; 207 sq. in. on Seneca and Pioneer wagons; 184 sq. in. on Dodge Dart models; 230 sq. in. on all D-500s.
Parking brake: two-shoe, internal-expanding type with automatic transmission; external-contracting type on models equipped with manual-shift transmission. Polara with manual used internal-expanding type.
Brake Cylinders: Two independent cylinders in each front wheel; single cylinder, dual piston in each rear wheel.
Camshaft: High-intensity, high-test special cast iron.
Camshaft Bearings: Five (four on slant six), lead-base babbitt-on-steel, replaceable-type.
Clutch: Single-plate, dry plate, sealed ball bearing. 11" diameter on Ram-Fire, 10.5" diameter on Super Red Ram, 10" diameter on Red Ram, 9.25" diameter on Economy Slant "6". Ball-bearing clutch release bearing, pre-packed, self-lubricated.
Piston Compression Rings: Two per piston, all engines, tin-plated; 6-cyl. upper-chrome plated; lower-tin-plated.
Connecting Rod Bearings : Replaceable, precision-type, lead-base Babbitt on-steel; bi-metal grid on Red Ram.
Connecting Rods: Forged I-beam section, high-manganese steel on Red Ram; drop-forged steel on all others.
Muffler and tailpipe: aluminized for at least double the life ex­pectancy of ordinary mufflers and tailpipes. Dual exhaust standard with D-500.
Gear Ratios, Manual-Shift Transmission All engines except 6-cyl. and Ram-Fire.
Gear Ratios
Manual*
Manual, 6-cyl
Ram-Fire
PowerFlite
TorqueFlite
First
2.12
2.50
2.49
1.72
2.45
Second
1.43
1.68
1.59
1.00
1.45
Third
1.00
1.00
1.00
1.00
Reverse
2.73
3.20
3.15
2.39
2.00
*
(except 6, Ram-Fire)
Rear Suspension: Outrigger, parallel-mounted leaf springs, 57" long, 2.5" wide on Polara, Matador, Seneca, and Pioneer Station Wagons; 55" long, 2.5" wide on Seneca, Pioneer and Phoenix models. Four leaves on Seneca and Pioneer 6-cyl.; five leaves on Seneca, Pioneer, Phoenix, Matador, and Polara V-8's; six leaves on all station wagons.
Piston Rings: 2 compression, 1 oil ring. On V8, Compression rings tin-plated; oil ring not plated. On six, compression ring No.1, chrome-plated; No.2, tin-plated; oil ring, 2-piece with chrome-plated rails.
Tires: 8.00 x 14" except Dart sedan/coupe/hardtop, 7.50 x 14". Phoenix D-500 had 8.00 x 14". All V-8 station wagons 24 lbs pressure; all sixes, 22 lb pressure (except wagon, 22 lb front, 24 lb rear); all V-8s, 24 lb front, 22 lb rear.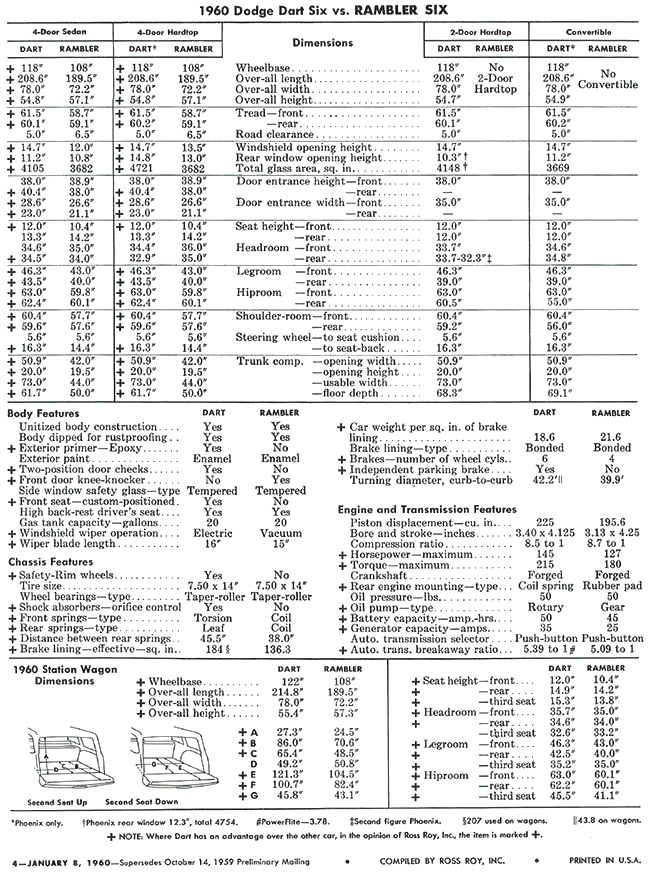 1960 Plymouth line
|
Other years
|
Other models
|
Trucks
|
Alternators
|
Unibody
|
TorqueFlite
|
TorsionAire
Chrysler Heritage
•
History by Year
•
Chrysler People and Bios
•
Corporate Facts and History
Home
•
Engines
•
Reviews
•
Chrysler 1904-2018
•
Upcoming
•
Trucks
•
Cars
Spread the word
via <!--
Tweet
or-->
Facebook
!
We make no guarantees regarding validity or accuracy of information, predictions, or advice - .
Copyright © VerticalScope Inc. All rights reserved. Dodge, Jeep, Chrysler, Ram, and Mopar are trademarks of Fiat Chrysler Automobiles.