1966 Chrysler Corporation cars
by David Zatz
In 1966, Chrysler was the sixth largest industrial company in the world, with factories on six continents.
Chrysler's various brands were in transition in the mid-1960s. Dodge, until then slotted between entry-level Plymouth and near-luxury Chrysler, was trying to build up a reputation for excitement and power, but its models ranged from the smallest car the corporation made, the
Dart
, all the way up to the big C-body
Polara
and
Monaco
.
Each carline included a number of models and variants; styling was more mainstream than in years past. The ads proclaimed the "Dodge Rebellion," though Dodge had little to rebel against - its position was most definitely favored at Chrysler, with Plymouths and Chryslers being badged as Dodges to that division's tastes.
As Dodge was reaching down, Plymouth reached up, in 1966 bringing out the
Belvedere
to compete with Dodge. Chrysler, too, had reached down, into the intermediates, crossing paths with Dodge. The proliferation of each brand into the others' turf would eventually result in a loss of the upper brands' price premiums, and the loss of the Plymouth brand; but for the moment, each introduction of a new out-of-class vehicle was greeted with strong sales, paving the path to perdition with good intentions.
In the midst was the rise of muscle and pony cars, and the noticeable styling transition from Virgil Exner to Elwood Engle.
Chrysler had the five year, 50,000 mile warranty for most vehicles (also limited to 1,500 hours of operation, though that must have been difficult to enforce). In some cases, particularly with regard to Dodge trucks, the warranty required oil changes and lubrication of various parts every two months or 2,000 miles; having various filters changed every other oil change or every 32,000 miles; and other frequent services, with customers stopping by the dealership to prove they had maintained the truck properly every six months. This warranty covered the
Perkins diesels
as well as Chrysler gas engines. Car owners had much easier 5/50 requirements.
For much more on Chrysler Corporation in 1966, read on past the cars to find domestic and international sales, international companies, expansions, air conditioning and marine divisions, defense and space divisions, and more.
As a corporation, Chrysler adopted an stock option plan for its leaders in April 1966, setting aside 1.5 million shares, which would last them until the plan was renewed in 1977. It also released
histories of each of its brands
, from Chrysler's birth to 1966.
The 1967 models were previewed in 1966, simple and distinguished in style; they met favorable public reactions.
Plymouth and racing information is from an article by Lanny Knutson in the
Plymouth Bulletin
and is available in more detail in our 1966 Plymouths page. For specifications on the Dodge lines, see our 1966 Dodge page.
Engines
1966 continued and expanded on Chrysler's incredible proliferation of engines, with two
slant sixes
(170 and 225 cubic inches), the
273 and 318 LA V8s
, the
361 and 383,
and the
440
engines as well as the first appearance of the 426 Hemi, available in Hemi and Street Hemi form. The 383 was available in two-barrel (regular gas) and four-barrel (premium) form; the 273 had a high-performance variant adding 55 horsepower via a higher compression ratio and four-barrel (rather than two-barrel) carburetor. Carter ruled the carburetor roost, with other brands only on the 225 (Holley single-barrel) and 318 (Stromberg two-barrel).
When comparing horsepower, remember these numbers are all gross, not net.
In standard trim, the Hemi had a 12:1 compression ratio, 425 horsepower at 5,600 rpm, and twin four-barrel carburetors with solid lifters. In Street Hemi trim, the compression ratio was dropped to a more manageable 10.25:1, but the horsepower rating was the same. Magazine testers fell over each other in testing the 426 Hemi, previously available only to the likes of Richard Petty. After looking over the inline 2-4bbl. carb set up and the cast iron headers civil enough to feature a heat riser valve, they found the Hemi docile under light use, brutal under full throttle, and having an appetite for oil and gasoline - and regular valve adjustments.
While Chrysler Corporation materials claimed hydraulic valves for the first Street Hemi, the reality appears to be that they retained their mechanically-activated valves until 1970.
Transmissions
3-speed manual (column mounted shifter)
3-speed TorqueFlite aluminum-housing automatic with internally actuated parking sprag; gearshift was column-mounted on most but was console-mounted for some vehicles.
4-speed manual with all forward speeds synchronized and positive reverse-lockout feature (new for 1966), console mounted.
Summary of the cars
1966 Dimensions
(except wagons)

Valiant
Dart
Belvedere
Satellite
Coronet
Wheelbase
106
111
116
117
Length
188.3-189.0
196.3
200.5
203
Width
70.2
70.8
75.5
75.3
Tread (max)
55.9
59.5
1966 Dimensions
(except wagons)
Fury
Polara
Monaco
Chrysler
Imperial
Wheelbase
119
121
124
129
Length
209.8
213.3
219-222
227.8
Width
78.7
80.0
79.5
80.0
Tread (max)
62.0
1966 Wagons
Dart
Coronet
Polara
Monaco
Wheelbase
106
117
121
Length
(2 seat-3 seat)
190
208
209
217
218.4
Front seatback to tailgate
84"
92"
96
Min width, wagon
43.5
45.3"
44.9
Max cargo
68 cu ft
88 cu. ft.
97 cu ft
Imperial
The Imperial, still its own brand and still unique in body and wheelbase, was near the top of its form; it was acknowledged at the time as one of the world's best cars. Sales were low for 1966, even by Imperial standards, falling from a recent 1964 high of over 23,000 to under 14,000 (in 1967, sales would regain some ground).
Imperial boasted a standard, single powertrain, 440 cubic inch V8 (350 hp @ 4,400 rpm) with TorqueFlite automatic transmission. The grille and rear compartment lid were restyled; the interior remained unstinting in its luxury, with comfortable seating and numerous standard features not available on other cars, including some in the Chrysler lineup.
Dodge Dart, Plymouth Valiant, and Barracuda
Valiant came with a standard 170 cid slant six, capable of 101 hp @ 4,400 rpm, unless you got the Barracuda, which came with a standard Super 225 producing 145 hp @ 4,000 through its single barrel carburetor.
Optional across the board were the Super 225, 273 V8 (180 hp @ 4,200), and Commando 273 V8 (235 hp) - except for wagons, which could not get the Commando.
Plymouth Belvedere
The Belvedere was restyled completely for 1966, though it continued to ride on the B-body platform.
Elwood Engel
had a free reign in designing on this chassis, and it displayed his penchant for long straight lines, including straight knife edge fender lines running uninterrupted from front to back. (Valiant, too, felt the Engel touch for 1966. Although in the last year of a long, long four year cycle, it got straight and squared-off new sheet metal for a one-year-only appearance.)
Like the 1965 Fury, the new Belvedere featured sculpted side panels and, like the 1965 Belvedere, and the 1966 had square surrounds for the single headlamps and a flatter, wider version of the distinctive triangular shaped C-pillars on the two-door hardtop. Plymouth advertising made much of the unique "ribbon style" taillights that wrapped around the knife edge crease that descended to the bumper. Although its wheelbase remained at 116 inches, the new Belvedere's overall length was reduced by three inches - with wagons lengthened by one inch. It was still a bit larger than the Fairlane and Chevelle.
The Belvedere model lineup remained the same as in 1965: low-line Belvedere I, midrange Belvedere II, and Satellite, which was available in convertible or hardtop form only. Reflecting their sporting nature, the Satellites were not available with Slant Six power, and featured the new dash with a sweep-style speedometer, plus a console and bucket seats with vinyl trim embossed to look like tooled leather. The Belvedere I and II were sold to fleets with a base 225 cid slant six, while even fleets could only get Satellites with the 180-horse 273 as their base engine. Optional engines were the 230 horsepower 318, 265 horsepower Commando 361, 325 horsepower Commando 383, and the massive 425 horespower 426 Hemi.
Dodge Monaco
The
Monaco
had been brought out in 1965 as a model of the Polara; in 1966 it became its own marque, albeit on the same basic body. At the top of the Dodge line was the "posh, power, and pizazz" filled
Dodge Monaco
, available as a hardtop, wagon, or sedan, topped by the Monaco 500. The Monaco 500 interior included deep-pile carpet, front bucket seats trimmed out in vinyl, a center console, and wicker inserts in the door panels; chrome was everywhere, tastefully applied to borders and edges. The standard engine was the four-barrel 383, though a two-barrel 383 which could take regular gas instead of premium was also available. All Monacos had a standard 383.
For fleet buyers, standard engine was the 383 (270 horsepower except on Monaco 500 which got 325 hp). Fleet buyers could get an optional 325 horse 383 or 350 horse 440.
Dodge Polara
The 1966
Dodge Polara
was nearly identical to the Monaco on the outside, with the most noticeable difference being the rear tail-lights: both had the same openings, but Monaco got full tail-lights (extending to the trunk area) while in the Polara, the tail-lights were confined to the body and the trunk lid got metallic fills instead.
A modern buyer could be easily forgiven for mixing them up. Interior were siimilar, with a standard 383 again (economy minded buyers could get a special Polara 318, with the smaller LA engine in place of the big, thirsty B engine; fleet buyers got a 318 on the four-door sedan and 270-horse 383 on all others, with the 325 horse 383 and 350 horse 440 as options - except for Polara 318 which always got a 318). A vinyl interior was optional in hardtops and the sedan, standard in the wagon and convertible; chrome was still much in evidence but not quite as prevalent as in the Monaco, and the standard seat was a bench, rather than buckets (buckets were available as an option). A Polara 500 was available, with standard front buckets. The automatic transmission had a console-mounted shifter.
Plymouth Fury
The Fury continued with Fury I, Fury II, Fury III, and Sport Fury models, adding VIP for 1966 to try, unsuccessfully, to match Ford's successful LTD (For more on the VIP,
click here
). The grille was replaced by horizontal bars within frames for a split grille effect; the taillights were moved to the upper edge of the trunk. On the Sport Fury and Fury III, the remainder of the panel was filled with brushed aluminum material. On the lower-level Fury I and II, the panel was just painted. Below the trunk, the upper edge of the bumper featured widely spaced "P-L-Y-M-O-U-T-H" letters.
The bottom edge of the speedometer was given a curve; a new console was added to the bucket seat Sport Fury, with a new automatic transmission lever with a reverse lockout button on the top. The desire for a reverse lockout on the four-speed manual cars led to the mighty Hurst shifter being replaced by a willowy Inland unit. On a more positive note, new options included a telescoping tilt steering-wheel, thin shell bucket seats, and four-passenger seat belts with front shoulder belts. The door handles were replaced by handles mounted at the front edge of the armrests, to reduce the chance of a door accidentally opening if the handle was caught on clothing or used as an unintentional hand grip.
The biggest underhood news was the introduction of a 440 cubic inch engine bearing 10:1 compression, dual exhaust and a single four barrel carburetor featuring a dual snorkel air cleaner to put out 365 horsepower. California cars got a Cleaner Air package, and emergency four-way flashers were introduced two years before they became mandatory. Fender tip external turn signal indicators -- standard on some cars, optional on others in all Plymouth lines -- were advertised as safety features.
Fury got a variety of engines; fleet buyers, though, had to choose between the 225 slant six and 230 hp 318.
Dodge Coronet
A huge number of Coronets were sold - more than two for one of any other car sold by Dodge, and, if you include the Charger model, more than half of all Dodges sold in 1966 (without the Charger, it was
almost
half).
Completely restyled for 1966 and fully under the control of stylist Elwood Engle, the Coronet was available with engines from the slant six to the 440. Standard on all but four-door sedans was an all vinyl interior with chrome trim; bodies included a two door and four door sedan, as well as a two door hardtop, convertible, and wagon. Styling was clearly related to the Monaco/Polara in back, but the grille treatment was more Chrysler-like. The Coronet 500 included bucket seats, deep-pile carpeting, a center console, and a standard V8 (the 273 was standard, but the 318, 361, and four-barrel 383 were also offered; fleet buyers got a standard 225 slant six with an optional 273). The automatic had a console shifter; a four-on-the-floor manual was available with the 361 and 383.
For 1966, performance buyers could get a Hemi-powered Coronet, with a full 425 horsepower on tap; thanks partly to the high price (which would be addressed in 1967 by making the 375 hp 440 available in the new Coronet R/T), fewer than 800 Hemi Coronets were sold, despite rather high sales of the 273 and 318 V8 models. There weren't any external indications of Hemi power, other than fender emblems; GM did far better with much more noticeable changes, which included new model names.
Considering its stiff competition from the Ambassador, Chevelle, Cutlass, LeMans, Skylark, Fairlane, and Comet, the Coronet did quite well in sales, thanks partly to its fresh new looks; most were sold with the standard 273 and 318 V8s. Very few Hemis were sold in Coronets, though they were available, replacing the 426 Street Wedge in the check-lists. The high cost and dual-four-barrel setup of the Hemi probably alienated some buyers, because the 440 Magnum V8 appeared again in 1967. GM made more of an impression on most people with their GTO and 4-4-2, both of which made it quite clear what was under the hood, and with more than small badges. Very few Coronets left the factory with anything bigger than the 361, while high-performance GTOs and 4-4-2 sold fairly well for muscle cars.
The Coronet was sold in Mexico, manufacturered by Automex (which was affiliated with Chrysler) to comply with a new 60% local-content rule, which demanded that the engine, transmission, and rear axle all be made in Mexico. All Chrysler vehicles sold in Mexico in 1966 therefore had the slant six as the only engine, since that was the only engine built in Mexico by Automex at the time. The only model was called the Coronet 440. About 26,000 vehicles were made by Automex in 1966, including the more popular Valiants and trucks.
Chrysler 300, New Yorker, and Newport.
New Yorker, 300, and
Newport
were all essentially the same vehicle, with different names and trim levels; all were unit-body in design with a front torsion bar suspension that offered similar comfort to competitors with substantially better handling, and a rear leaf-spring suspension matched to the engine.
The Newport had five feeet of shoulder room in front and rear; safety belts were standard for all seats (no shoulder belts). Options included bucket seats, front disc brakes, and vinyl tops; five body styles were available. The base engine was the 383 V8, with an optional higher-performance 383 or the 440. The New Yorker featured standard 440 engine, power steering, power brakes, automatic transmission, and choice of two or four door hardtops or four-door sedan, with the same engines.
The Chrysler 300 capitalized on the name of one of the world's best sport-luxury cars of the time, the 300 letter series; it provided a similar look and a similar name without the same unstinting attention to performance and luxury. The body ornamentation and tail-lights were different from the others; standard vinyl covered bucket seats conveyed a sportier image. The base engine was a 383 V8 with four-barrel transmission; a four-speed manual or 3-speed automatic were optional (base transmission was a three-speed manual), as was the 440. Two door, four-door, and convertible models were made. Options included tilt/telescoping steering wheel and six-way power seats.
The 300 came with a 325 hp 383 but could get a 365 hp 440. The New Yorker came with a 350 hp 440 or a 365 hp 440. The Newport came with the 270 hp 383, but could be purchased with the 325 hp 383 or the 365 hp 440.
Dodge Charger
The
Charger
was introduced in 1966 as an offshoot of the Coronet, with the same chassis but completely different bodywork and a unique, sporty instrument panel. Priced well above the Coronet, the Charger found little acceptance compared with other Dodges, not even matching the Monaco in its first year. It would carry on for on more year in the same body, with sales in 1967 plummeting further to half its 1966 sales, before a dramatic restyling that brought sales to roughly triple their 1966 level and added a legendary nameplate to Chrysler Corporation's short supply of well-known monikers.
The Charger body had a fastback roofline and a front clip with hidden headlight doors. A round Charger crest was featured in the center of the convex grille, and the Charger name was spelled in block letters across the full length of the single, full-width tail-light. The rear bucket seats - unusual at the time - folded forward individually - also unusual even for cars with bucket seats. The instrument panel was unique to the Charger (unlike the
current Charger
), featuring four large, round pods directly in front of the driver (like the new Charger). Both sticks and automatics got a floor shifter in a full-length console between the front seats.
The Charger came standard with a sturdy
318 V-8
, then still new and producing 230 hp (gross; about 170 net?) at 4,400 rpm. The 2bbl 361 and
4bbl 383
(325 hp) were also options; the Hemi came in mid-year. The 318 Charger came standard with a 3 speed manual, and the bigger engines came with either a 4 speed manual (with Sure-Grip differential) or the Torqueflite automatic. With the 318 as the base engine, the Charger seems to have emphasized the "personal luxury" aspect, with upscale trim set off by sporty looks.
The 1966 Dodge Charger was introduced on New Year's Day, 1966, and didn't appear in early literature at all.
Dodge Dart and Sportsman vans
The lowest priced Dodge was the
Dart
, now featuring V8 power from a 273 cubic inch engine as well as the 170 or 225 cubic inch slant-six. Three models were available, the Dart (170), 270, and GT, each with different options. The grille had a clear Coronet influence, while the tail was unique among the Dodges. The 270 was the most popular series, followed by the base model, wagon, and, trailing, the GT; only about 10,000 GT V8 models were made (along with fewer than 9,000 GT sixes). Outside of the GT, the sixes easily outsold the V8s, but the V8 was unquestionably popular. Just one year away was the first "muscle Dart" with the big 383 cubic inch engine shoe-horned under the hood, very good for straight-line acceleration but not so good for cornering.
The relatively low-cost Dart didn't catch on as well as the Valiant or Coronet, though it no doubt did much to lose Dodge's prestige as a near-luxury brand and hastened the then-inconceivable shutdown of Plymouth.
Two Dodge Sportsman vans were available in 1966, the Custom and standard Sportsman models. They were the only wagons in their class with V8 power, a full 174 horsepower; the standard engine was the 101 horse 170 slant-six, with an optional 140-horse 225 slant-six. They had easily removable second and third row bench seats, and could be customized into campers. An auxiliary rear heater was optional.
Sales
Plymouth remained the leader at Chrysler Corporation, with 687,514 sales, a comfortable lead. Plymouth's sales were a bit off this year, a 5.7% drop that could be expected, given the resounding successful year of 1965. However, Chevrolet and Rambler losses led to an actual increase of Plymouth's industry market share. Together, Chrysler and Plymouth held roughly even with 1965, thanks to a gain at Chrysler.
Dodge registered about double the sales of Chrysler (with its restricted, big-luxury-car range). Dodge had a decent enough year in 1966, with a total sales of 532,026; it maintained its position in seventh place.
| | |
| --- | --- |
| Valiant easily beat the longer-wheelbase Dart for 1966. The Fury range, though, was Chrysler Corporation's most popular, by far. | |
At this time, Dodge also sold a wide range of trucks, including light, medium, and heavy duty lines, campers, tractors, and motor home chassis; and Chrysler was just committing itself to a
profitable and reputable boat business
. The company sold nearly 120,000 A-vans in 1966, with production of around 150,000 units; Dodge ranked #4 in the truck industry, its best showing since 1952, according to
The Standard Catalog of Light-Duty Trucks;
even though its light duty trucks, except for the van line, came nowhere near modern sales figures
.
Two new L-series medium-duty tilt-cab models were brought out along with a D800 heavy-duty gas truck. Dodge Division set a retail record for 1966, with a 5% gain in cars and 1% gain in trucks to a record 119,777 units. (
1966 boat information is on our Chrysler Marine page
.)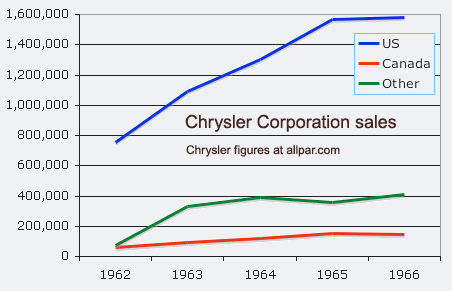 Chrysler saw higher net sales in 1966 than in prior years, with a steady increase in sales since 1962. Vehicles made within the United States declined somewhat from 1965 - 1,576,110 vs 1,612,321 - but both years were substantially higher than 1964's 1,363,827 vehicles.
A new high of 557,914 vehicles were made outside the United States, beating 1965's 464,202 which beat 1964 by around 20,000 vehicles. Worldwide, sales (as opposed to production) increased to a record 2,134,024 units, a hike of around 70,000 vehicles. 26% of sales were outside the United States, with Canada being the primary non-US outlet (Chrysler's exports from the U.S. exceeded its imports from 1955 through 1966).
Retail car sales in Canada were up 10% (truck sales up 9%), but total sales were down, presumably to losses in fleet sales. Retail car share (excluding imports from outside North America) in Canada was 22%, truck, share 13.5%. Starting in 1966, the U.S. and Canada modernized their local-content rules, increasing manufacturing efficiencies (with no more need to make small numbers of each vehicle in Canada).
Overall, Chrysler did fairly well in 1966 considering that U.S. retail sales fell 4% in that year on tighter credit, higher interest rates, the spectre of an income-tax increase, and unease over Vietnam; domestic market share (excluding imports) went from 15.7% to 16.7% (in Canada, 21.8%). Auto parts and accessories sales rose a full 22% over 1965, and fleet leasing increased from 20,930 vehicles to 31,716.
In Europe, SIMCA sales set a new record, shooting up from 249,252 sales to 279,461; four forge and foundry plants were acquired from Simca Industries S.A., in return for Chrysler exchanging its 24% of Simca Industries for Fiat's 8% holdings in Société des Automobiles Simca, increasing the latter to 77%. SIMCA started a 2 year, 60,000 km powertrain warranty in late 1966, the first of its kind in Europe, and opened six new factory-owned distributors and sales branches in France. SIMCA and Rootes together sold 25,592 vehicles in the US, nearly double their 1965 sales.
Rootes sold 215,380 vehicles in 1966, down mildly form 1965 due to local economic conditions; Chrysler agreed to put $48 million into expanding and modernizing Rootes, using Rootes Group debt (8% interest) and 50 million new shares in the British company. In exchange for that, Chrysler gained a majority voting interest. The U.K. government chipped in for 15% of both the loans and stock.
Barreiros Disel sold 60,665 vheicles, including buses, trucks, and tractors. Chrysler-Cummins Ltd., in the UK, sold 7,359 engines, a substantial increase over the prior year.
Countries with a heavy Chrysler presence included Australia (13.5% market share), South Africa (9.3%), and Venezuela. Valiant was the top seller in South Africa. Expansions were started in Venezuela, Peru, Colombia, the Philippines, and Turkey.
Compensating for the lower unit sales were higher per-unit prices, with net sales of $5,650 million ($5.7 billion) in 1966 beating 1965's $5,300 million and 1964's $4,287 million. Most Chrysler sales were at the retail level, with 1.4 million retail sales in the US - 2% above the 1965 record.
Air conditioning and power brakes went from being niche items in 1964 (16% and 23% of sales, respectively) to common options, ordered on nearly one third of 1966 models. Automatic transmissions rose to be ordered on 90% of cars, while power steering reached around three quarters of buyers (74%), up from 55% in 1966.
Production outside the U.S.:
Argentina: Valiant
Australia: Valiant, Hillman, Singer, Humber, Dodge trucks
Brazil: Simca Esplanada
Canada: Plymouth, Dodge, Dodge and Fargo trucks (Windsor produced two unique-to-Canada models, the Chrysler Windsor - identical to the U.S. Newport - and the 300 "Saratoga" (a sedan version of 300, without Saratoga badging).
Colombia: Dodge, Dodge trucks
France: Simca 1000, 1301, 1501
Mexico: Plymouth, Valiant, Barracuda, Dodge, Dart, Dodge trucks
Morocco: Simca 1000, 1301
Netherlands: Plymouth, Valiant, Barracuda, Dodge, Dart, Dodge and Fargo trucks, Kew trucks
Peru: Plymouth, Dodge, Simca 1000, Dodge and Fargo trucks, Kew trucks
Philippines: Valiant, Plymouth, Dart, Dodge, Simca 1000, Hillman, Dodge and Fargo trucks, Kew trucks
Rhodesia: Commer and Karrier trucks
South Africa: Valiant, Barracuda, Dodge, Simca 1000, Hillman, Humber, Dodge, Kew, Commer, Karrier
Spain: Dart, Simca 1000, Barreiros
Turkey: Dodge, Fargo, DeSoto, and Kew trucks
U.K.: Hillman, Sunbeam, Singer, Humber; Kew, Commer, Karrier trucks
Venezuela: Plymouth, Valiant, Barracuda, Dodge, Dart, Simca 1000, Hillman, Humber, Dodge and Fargo trucks, Commer
Racing
Section by
Lanny Knutson
. Copyrighted by the
Plymouth Bulletin
. Reprinted by permission.
Plymouth was reaching the zenith of its involvement in racing. Advertisements in enthusiast magazines were almost exclusively racing oriented, usually featuring Belvedere two-door hardtops. Modified Hemi-powered Plymouths and Dodges won 113 of 131 major stock car racers; 80 new records were set across five circuits. Plymouth won the top stock eliminator award at all four NHRA meets, while Dodge was national stock car points champion for NASCAR's drag circuit. In SCCA racing, the Dart and Barracuda succeeded as well, with the Dart GT winning Marlboro's endurance event (Barracudas took second and third place), while a Barracuda won the SCCA national and manufacturers' championships for the third straight year.
On the drag racing front, Plymouth remained as potent as ever. The availability of the Street Hemi made the hemi-powered Plymouth accessible to the ordinary guy. No Plymouths left the factory with altered wheelbases as in 1965. The funny car phenomenon was already turning to flip-up fiberglass facsimiles of production cars.
The Top Stock finals at the National Hot Rod Association Winternational and National meets featured 1966 Plymouths. At the former, Ken Heinemann's 1966 lost to Shirley Shahan's 1965 Plymouth. At the latter, Jere Stahl's 1966 Hemi Belvedere I beat out Grumpy Bill Jenkin's Chevy.
Although not a prestigious a being chosen Indianapolis 500 pace car, the Daytona pace car status given a Satellite convertible was enough of an honor for Plymouth to advertise it.
Richard Petty won his second Daytona 500 in three years and Plymouth went on to win five more major NASCAR races.
The season brought on a strange twist as Petty raced the Firecracker 400 in a 1966 Plymouth that looked like a 1964. With the introduction of its new fastback Charger, Dodge was expected to clean up the tracks. However, the sloping rook caused so much rear end lift at high speed that top Dodge driver David Pearson switched to a Coronet hardtop. Halfway through the season, Dodge engineers discovered that a simple rear spoiler solved the problem. After installing it on the requisite 500 production Chargers, Dodge introduced the spoiler on its race cars and promptly won its first race. Then it was Petty, who had been laughing at the previously ineffective Charger, who was crying the blues.
Since Petty was under sponsorship contract with Plymouth, he wasn't allowed to switch to a Charger. So, deciding that the 1964 Plymouth was more aerodynamic than the 1966, the Petty team replaced the 1966's sheetmetal with 1964 panels. (Some report that Lee Petty actually hammered the former into the latter!) Fortunately for Plymouth, who sponsored Petty to sell the new 1966s, the car crashed and the [mis]adventure came to an end.
Factories
The
Belvedere plant
opened; it was to build, among other vehicles, the Dodge/Plymouth/Chrysler Neon, and, after conversion to flex, the Caliber, Patriot, and Compass. For the 1960s, it would build the
Plymouth Fury
,
Dodge Monaco
, and
Dodge Polara
.
Production began at a large new foundry in Detroit, a new truck assembly plant near St. Louis, and a new parts machining plant outside Toledo, Ohio. Other plants received additions and modernization. New factories were opened in Colombia and Peru, with other expansions continuing in Canada, Australia, France, Venezuela, and South Africa. Chrysler was expanding and expected a bright international future.
Chrysler Corporation for 1966
George H. Love retired from his position as Chairman of the Board, though continuing as a director and head of the executive committee, at the end of 1966, to be replaced by former
President Lynn Townsend
, who remained CEO. V.E. Boyd was elected President.
Profitability was down thanks to higher costs, mainly due to increased numbers of employees; net earnings for 1966 were below the past two years, but were still respectable at $189 million. Chrysler had 183,121 employees in 1966 (a number that had increased by around 20,000 per year for the past two years) with a $1.3 billion payroll. Earnings were also hit by a paper loss on the Rootes investment, reflecting the lower value of the British stock, and by investments in the 1967 models that could not be passed along to customers.
Chrysler's non-automotive endeavors were doing well, albeit not as well as in 1965. Amplex, Airtemp, Chemical, and Marine and Industrial Products divisions reported sales of $195 million, down from $245 million a year before; and Chrysler could point with pride to the flight of the first three Saturn 1 launch vehicles, built by Chrysler.
Chrysler Credit was then a nearly new company, having finished its second full year of operation at the end of 1966, and helping to shield Chrysler Corporation from the tight credit markets. Chrysler Credit lent $1.1 billion in 1966, more than double the prior year. In dark times, this division would carry the rest of the company.
The Defense-Space group brought in $195 million, and was proud to report that the first three Saturn 1 S-1B launch vehicles it built were successfully flight tested; NASA's five-year flight record was 13 successful launches of 13 attempts, adding to the existing record for 80 successful Redstone, Jupiter, and Saturn launches. Defense reported $100 million in contracts for M-60 combat tanks with missile/gun launchers, along with continued production of the M-728 Combat Engineer Vehicle and Armored Vehicle Bridge Launcher chassis. Chrysler also built forklifts, modified Redstone missiles for anti-missile research in Australia, and provided ground support in Woomera.
The Diversified Products Group brought in record sales, increased by one third over 1965; Airtemp sales hit a record, with a 24% year to year gain, selling equipment for residential, commercial, industrial, military, and shipboard applications. A new plant in Toronto started construction. Meanwhile,
Amplex's Oilite powder metal products
sales increased 16%, and Chemical's sales (everything from drawing materials to brake pads) rose 16% with an expansion; licensing agreements were signed in the UK and Europe. Marine outboard engine sales were up 63%, with 14 new outboard models;
boat sales
were up 49%, with new Hydro-Vee hull models. Marine Engine sales rose 35%, with a new 335 horspower 440, new inboard/outdrive engines (including a 426), and an improved V8, with a new engineering test center opening on the St. Clair River near Marysville. Industrial Products also had an increase, of 53%, through a new series of 318 V8 industrial engines; a new four-cylinder Chrysler-Volvo engine; and a new 440 V8. A drop-in engine program for "repowering" 90 different models of trucks (of eight different makes) was started.
Safety
Harry Chesebrough, VP of Product Planning and Development, toured the nation to fight tougher safety rules stemming from Ralph Nader's
Unsafe at any speed,
suggesting among other things that customers could not be induced to wear seat belts. He pointed out that many accidents were the results of reckless drivers, and said that those who wanted to make cars safer "are saying that licensed but unskilled, irresponsible and drunken drivers are going to continue to operate improperly maintained vehicles on antiquated highways that are inadequately patrolled by law enforcement officials who know that lenient judges may undo their best efforts." (The idea of a multi-pronged approach does not seem to have occured to him.) Despite the auto industry's lobbying, however, Congress insisted on such radical and unreasonable rules as requiring shoulder belts for the front seats, a mere seven years later.
Safety rules would turn out to be lenient through the 1960s, and the industry started to think more about injury prevention and heading off new laws; 1966 saw new door handles that prevented accidental opening, and, in 1967, numerous safety options became standard features. For Chrysler brand cars, these included a remote-control rear-view mirror, better front and rear seat belts, and seat belts for the third seat on wagons. Primitive shoulder belts were an option; these folded into roof clips but did not adjust automatically, and restricted movement once in place. The bolts for these belts were added to each car, whether they were ordered or not, so they could be retrofitted. Center-seat belts were optional, but again the bolts were now put into each car so they, too, could be retrofitted. Other safety features on the Chrysler brand cars included a dual braking system with a warning light, inside rear-view mirror, four-way emergency flashers, and impact absorbing or breakaway gearshift knob, steering column, and instrument panel.
1966 might have been the first year of a new highway safety law, but it was also the first year of the most powerful engine ever made available in a passenger car, which was to maintain its unique status for over two decades. Despite the wild fears of many industry insiders, the safety advocates would not add 600-pound bumpers or speed limiters; and mandatory inspections in the 20 states that had them (in 1966) would not result in catastrophe.
Finally...
K.T. Keller, a great American patriot who put Chrysler into his country's service, foregoing personal and corporate profit at a time when at least one competitor was aiding the enemy and many were engorging themselves on Uncle Sam's much-needed resources, died in 1966, having seen Chrysler's military and space programs grow and flourish.
The Chrysler 300-X was shown, and the 15 millionth Plymouth and 4 millionth Chrysler were built.
Chrysler honks its horn
SOME FACTS ABOUT CHRYSLER CORPORATION
IN 1965
Two-thirds of Chrysler Corporation's
U. S. manufacturing and
assembly space was in the Detroit area.
There were 6,545 Chrysler Corporation
automobile dealers at the close
of 1965.
Car
sales doubled from 1962 to 1965.
Chrysler Corporation cars and trucks were marketed in more than 130
countries.
The
Company operated major plants in 12 countries outside the U. S. A.
Employment during 1965
totalled more than 166,000
people, of whom 126,000 were employed in the United
States.
Nearly 22,000 suppliers did business with
Chrysler
The Defense-Space Group operated four lease
and four government-owned
defense
plants in six states.
Amplex Division of Diversified Products group
was the oldest and largest
producer
in the powder metal field.
On May 13, 1965, the Lone Star Boat Company
of Piano, Texas, became
part of the Chrysler Boat
Corporation.
Chrysler
was the largest producer of tanks in the Free World.
Plymouth 1964 • Chrysler 1962
Chrysler Heritage
•
History by Year
•
Chrysler People and Bios
•
Corporate Facts and History
Home
•
Engines
•
Reviews
•
Chrysler 1904-2018
•
Upcoming
•
Trucks
•
Cars
Spread the word
via <!--
Tweet
or-->
Facebook
!
We make no guarantees regarding validity or accuracy of information, predictions, or advice - .
Copyright © VerticalScope Inc. All rights reserved. Dodge, Jeep, Chrysler, Ram, and Mopar are trademarks of Fiat Chrysler Automobiles.