1969 to 1973 Imperials: Imperial LeBaron and Crown
By Dr. David George Briant
. Abridged for Allpar. Courtesy of the
Walter P. Chrysler Club
.
"These are Chrysler Corporation's top-of-the-line models...Every Imperial we build has 12-15 miles put on it before it ever gets delivered. . . Our inspection includes over two hundred items. . . a 440 cubic-inch 4 barrel V-8 is standard. . . Air conditioning with automatic temperature control. . . It truly is the Imperial of luxury cars." - Chrysler Corporation
The Imperial name appeared very early in the Chrysler saga, and for many years, Chrysler Imperials were the most prestigious offerings. In the course of events, Imperial came to stand as a separate car line. From
1957
to
1966
, Imperials were a distinct entity, with separate bodies and styling.
Throughout those years, Imperials used the engines and transmissions from senior Chrysler models, with only minor differences. These systems were first rank, with exemplary performance wherever applied. For 1967 and after, Imperials became closer in appearance to the Chrysler brand and after the 1969 new bodies arrived, at least one fellow mistook the writer's brother's
1970 Plymouth
for an Imperial, wondering aloud how a state police officer could afford such a luxury car.
For the five years from 1969 to 1973, the large convex-sided "fuselage" shaped Imperials provided tremendous comfort and superior highway manners. They looked big, and they were! Those hood and rear deck sheet metal surfaces seemed to extend way out! However, a few minutes underway overcame, to a great degree, that immensity aura, as the car responded crisply to her controls, and moved out with alacrity. Detail changes to front and rear took place each year, yet the general overall theme was retained throughout. Underneath, all used the same basic unibody construction and
torsion-bar suspension
. [Editorial note: From 1975 on, the Chrysler New Yorker Brougham took the same basic body and made some of the standard features into options - and it sold far better.]
Cadillac and Lincoln were designed to the same scale, with Cadillac actually providing 472 and 500 CID engines in 1970. While imports grew, and domestic compacts became an important part of the market, there were still many buyers who wanted more car and paid for the pleasure. Even now, the streets and highways are heavily traveled by various vehicles more bulky and aggressive than any luxury machine of the past.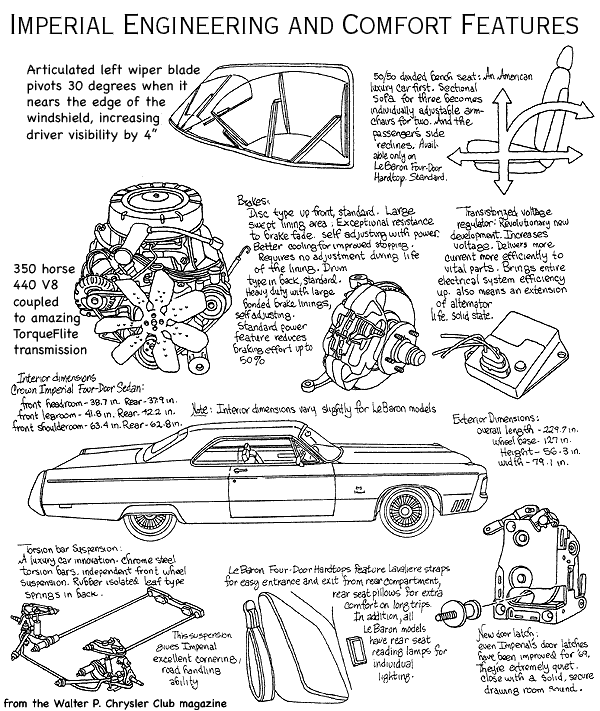 While impressive in any venue, Imperial came into its own as a vehicle in motion. The engineering/manufacturing team performed magnificently in designing and producing hardware that operated precisely in sync so as to provide an outstanding experience. Cruising at Interstate speeds found an Imperial virtually loafing, while the driver needed to pay attention to business, lest the hurtling package ease well beyond legal limits. The speed control option helped in this situation.
On the other hand, certain Western states still have highways that would tempt some folks to move mile after mile at 95 to 105 mph, particularly in places like Nevada, where visibility stretches for miles ahead. Participation in six Arizona Governor's Cup competitive highway events convinced the writer that Imperial's capacity is awesome, crossing finish lines without noticeable fatigue after a complicated day in the mountains, while performing to sport car type speed, distance, and timing rules.
Yes, of course, our magnificent
1993 Concorde
had already traveled (in May 2000) more than 261,000 miles and was still powerful and responsive. That is not the point. Granted, the Chryslers of the 1990s are competent and long-lived. But there is no replacing a certain volume and stance in creating and sustaining higher degrees of road travel comfort and confidence. The esteemed automobile tester "Uncle" Tom McCahill was convinced, usually choosing an Imperial to make his frequent cross-country trips.
Despite a few media scribes' occasional despair, these 1969 - 1973 Imperials still had it in those years, as proven many times over in subsequent decades of service. Potholes and equally poor and undulating surfaces were passed over with dignity as the suspension performed as designed -with apparent ease.
Those 1969 - 1973 Imperials were not noted for top speed in the same way as certain earlier Imperials, yet they handled any legal speeds easily and for as many hours as needed. Cruising above 75 mph can be assisted by changing over to a good dual-exhaust system. Ample torque, sustained over a wide band, was on hand.
The five years saw some 77,980 Imperials built, in total, capable of driving off with at least 467,886 full-sized people and their luggage. These beautiful behemoths from 1969 - 1973 were built with 127-inch wheelbases and were equipped with the magnificent 440 engines, albeit with reduced compression ratios from 1970 on.
1969
The 1969 model was energized by the
440 CID V-8
, rated at 350 GBHP (at 4,400 rpm), with a compression ratio of 10.1:1; premium fuel was required. Bore and stroke remained at 4.32 x 3.75 inches for all five years.
As force producers, these engines were quite remarkable. Torque gets the daily work done (and is defined as the force needed to impart to a mass of one pound an acceleration of one foot per second each second). The 440 provided a wide revolutions-per-minute (RPM) band wherein torque exceeded 400 foot-pounds with a peak of a whopping 480 lb-ft at 2,800 RPM. Moreover, as mated to the outstanding TorqueFlite automatic transmission, featuring an excellent torque converter (up to 2.2 multiplication), with three forward speeds (2.45, 1.45, 1.00), acceleration from rest or in motion was superb. Shifts from neutral at high idle were softened to prevent jarring the passengers.
Imperials received an improved insulated-brush-type alternator (both field brushes are insulated from the alternator housing), the first big change since introduction by Chrysler of the alternator in 1960 models, along with new transistorized voltage regulators for more constant power. The new alternator produced power even at idle.
Shipping weight was listed as ranging from 4,741 to 4,801 pounds (a certified scale weighing will be greater). Tires were 9.15 x 15. These Imperials featured an articulated left windshield wiper mechanism. As the sixteen-inch blade neared the edge of the windshield, it pivoted 30 degrees to increase swept area by an additional four inches.
LeBaron four-doors were privileged to have an American luxury car first -- a 50/50 divided bench seat featuring two individually adjustable armchairs, with the passenger side reclinable up to 22 degrees. Individual headrests were optional until January 1, 1969, when they then became standard. These comfortable seats could be ordered with optional six-way power, and moved forward, back, up, down, and tilted -- a long way from the early automobile fixed seating! The tilt-a-scope steering wheel tilted up out of the way for getting in and out; and had seven different tilt positions and a free telescoping range of 2.7 inches.
Interior dimensions included front headroom of 38.7 inches, rear headroom of 37.9 inches, front legroom of 41.8 inches, rear legroom of 42.2 inches, and front/rear shoulder room of 63.4 and 62.8 inches respectively. Overall Imperial length was 229.7 inches, width, 79.1 inches, and height, 56.3 inches.

Instrumentation included an ammeter, engine temperature gauge, fuel gauge, ribbon-type 120 mph speedometer, and clock, with warning lights for other issues. The gauges had simulated woodgrain backgrounds; at night, instrument markings and indicators were floodlighted, along with the ashtray. Rocker type switches, toggles, and thumbwheels were used for accessory controls; switches had woodgrain vinyl inserts. Round air conditioner outlets were built into the dashboard, on either side. Automatic speed control was on a stalk, with a resume and speed up/down feature.
Power steering had a fast-ratio steering gear requiring just 3.5 turns to go from one extreme to the other, with steering effort reduced by up to 80%. The 1969 steering pump developed higher pressure with less vibration, and a smoother, more constant power assist, with a free roller pumping action to increase its life. Front brakes were power disc, rear were power drum; safety features included dashboard design and padding, energy-absorbing steering column, day/night mirror, remote-controlled outside driver's mirror, warning flashers, padded sun visors, lap belts for all seats (shoulder belts for front driver and passenger), backup lights, and sequential rear turn-signal lights. Some luxury features included covered storage compartments in all doors, full interior lights, concealed headlights, bright pedal trim, front and rear center armrests, clock, power windows, power antenna, and carpeted trunk.
Options included fresh-air rear heater and defroster (air powered) with two speeds, thermostatic air conditioner (with a dial to choose the temperature), tinted glass, dual auto-temp (an additional air conditioning unit for the rear, for very hot areas), cornering lights, automatic headlights, automatic headlight dimmers (so people could leave the brights on and have them automatically dim when oncoming traffic was seen), fender-mounted turn signals, six-way power seat adjuster, power windows and power vent windows, electric locks, AM/FM stereo with tape player, AM/FM stereo with automatic seek, and remote-controlled trunk release.
Exterior colors included Spinnaker White, Formal Black, Deep Plum, Navaho Beige, Champagne, and a series of Metallics that included Midnight Blue, Jade Green, Aquamarine, Tuscan Bronze, Classic Gold, Platinum, Bahama Blue, Surf Green, Dark Emerald, Bronze Mist, Dark Briar, and Charcoal. Crowns offered an optional choice of Boar grain vinyl tops in Black, White, Champagne, or Dark Green. LeBarons had standard Levant grain vinyl-covered formal roofs in Black, White, Champagne, Dark Green, Dark Blue, or Dark Walnut.
Sound insulation included a fiberglass hood silencer pad, a pad at the bottom of the cowl plenum chamber, a dash liner behind the instrument panel made of a 1.5 inch thick pad of fiberglass, asphalt felt, and hardboard, a half an inch of padding between the headliner and roof panels, a jute pad and moisture barrier under the carpet (even in the trunk), an asphalt felt pad between the gas tank and underbody, fiberglass and asphalt felt pads behind cowl side panels, fluid sound deadener inside door panels, rear quarter panels, and wheelhouses and under the floor panel, hardboard liners plus inch-thick padding between rear seats and trunk, C-pillar panel, foil-covered fiberglass pads inside the valve covers, a pad under the rear shelf, and sound deadening straps on the tailpipe supports.
11,822 Imperials For 1970
Fuel averaged 36 cents per gallon.
Production totals in 1970 reached 11,816 (Flammang mentions an additional six Limousines for an estimated 11,822) in both Crown and LeBaron models. As in 1969, the top-of-the-line LeBaron Six-Passenger Four-Door Hardtop ($6,328) was best received, reaching 8,426 buyers versus 1,333 Crowns ($5, 956) in the same body style. The LeBaron Six-Passenger Two-Door Hardtop ($6,095) went to 1,803 destinations, while the Crown ($5,779) in this configuration moved just 254 units. Company leadership closed out the Crown line at this point.
Burton Bouwkamp
wrote:
From 1968 to 1975, I was Director of Product Planning at Chrysler. During that time, Styling (Elwood Engle) lobbied top management to put the antenna in the windshield
á la
GM
. I objected because of the loss in radio performance.
I had a simple test. My cottage in Mecosta, MI was 160 miles from Detroit and my favorite Detroit radio station was WJR. I could get WJR with a mast antenna from the cottage but not with a windshield antenna. I was worried that if the customer experienced this loss in performance that he would blame the reduced radio reception in his new car on the quality of the radio.
Finally in a showdown with Elwood I lost. Management made a compromise decision and that was to put the windshield antenna only on the
Imperial
- not across all car lines as Styling wanted.
After one year's field experience, the Chrysler/Imperial National Dealer Council formally recommended that we return to the fender mounted mast antenna. We did - but we built Imperials with windshield antennas for one or two years. Eventually, GM also discarded the windshield antenna.
We (Engineering) were not happy with the fragile nature of the telescoping antenna so the Radio Lab (Frank Jenkins, Manager) came up with a fixed length stainless steel mast antenna which was rugged and provided good reception. I can't remember the year that the stainless steel antenna entered production but it was when I was Director of Body Engineering (1979 - 1983).
The 1970 Imperial LeBaron stretched to an amazing 230 inches, with a 127 inch wheelbase -- the rear overhang was enormous. The car was 79 inches wide. Weights were reported as ranging from 4,610 to 4,805 pounds (as part of owner/vehicle partnership, become aware of true weights by means of a certified scale, and be careful not to overload the vehicle, while also making sure that the bias-ply L 78 X 15 tire pressures are proper). Another source listed weights as 4,640 to 4,785 pounds. Stability and control capabilities still led the field - there was no large luxury car at the time that could equal Imperial 's suspension system.
The ignition lock cylinder was moved to the steering column and a steering wheel lock feature incorporated.
The standard 440 CID V-8 was still rated at 350 GBHP, even though the compression ratio was reduced to 9.7:1 in response to emissions requirements (compression ratios were coming down across the industry). Actual maximum output probably was off 10 to 15 horsepower. Other corporate 440s had gross horsepower ratings of 375 and 390, while the 426 Hemi was listed at 425 (well below actual peak output). 1970 Imperials featured (as did the entire corporate lineup) a new isolated-field alternator teamed with a new 2-prong electronic voltage regulator making use of a zener diode.
In 1970, two more emission control-related systems appeared, in the form of a heated air intake system (which also helped the passengers to get warm air much faster) and an
evaporation control system
. In the latter case, the fuel tank received an overfill limiter tank of 1.4 USA gallon capacity, pressure-vacuum relief filler cap, vent lines, and separator.
Standard features for the Imperial LeBaron included an automatic transmission, air conditioning (according to dealer sheets), power steering, power windows, fender-mounted turn signal indicators, and cruise control. Unusual features included hidden headlights (with manual overrides), rear reading lights, vinyl covered pillows (four door), automatic doorway enlarger (two door), and power disc brakes.
Unusual (for the time) options included headlight washers and wipers (optional), a power operated sunroof, cassette stereo (or eight-track) with microphone, thermostatic air conditioning, dual air conditioner with thermostatic control, rear heater/defroster, automatic headlights, and cornering lights. Four interior seats were available: cloth-and-leather bucket-back bench seat or divided bench seat, and leather bucket or divided bench seats. The bucket seat had a passenger recliner, center cushion, and pull-down center armrest; power adjusters were used on both seats.
Not available on most Chryslers, but standard or available on the Imperial, were dual air conditioning, automatic temperature control, vacuum-based parking brake release, individual folding center front armrest, rear door armrests with storage compartment, antilock brakes, rear step pad bumper guards, and twin rear cigar lighters (a single rear cigar lighter was standard). Power windows were standard.
When gauges reached a danger zone, a check gauges light flashed to get the driver's attention. Center air conditioner outlets were flush with the rest of the instrument cluster. At night, the entire instrument panel was externally lighted.
As the vehicles continued to operate more and more quietly, via engine and running gear improvements, occupants became more sensitive to wind and air leak noises, previously unheard. Better body insulation, sealing, and weather stripping came along concurrently. Testing during the six-year development of the famed Airflow had demonstrated the effects of turbulence in the movement of air over the body of the vehicle. Chrysler Corporation Service Technicians (Master Technicians Service Conference Reference Book 70-7) in the dealerships were trained to evaluate unwanted sounds and check for any fit adjustments needed. As hardtops grew in popularity, they afforded greater sealing challenges.
A variety of wind noise and air leak sealing and diagnosis materials were used, including trace powder/syringe, trim stick, carpenters's chalk, rope-type sealer caulk, weather-strip adhesive, glass adhesive/sealer, closed cell foam double-faced strip adhesive, masking tape, and small-diameter hose (for noise pickup by listening through the hose).
Interior dimensions varied slightly from 1969, and were listed as follows for the LeBaron Four-Door Hardtop: front head room, 38.3 inches; rear head room, 37.2 inches; front leg room, 41.9 inches; rear leg room, 41.2 inches; front and rear shoulder room, 62.7 inches. The 1970 Imperial was announced as being 229.7 inches long, 79.1 inches wide, and 55.7 inches high (0.6 inches lower than the 1969 Imperial). Each door contained its own "glove" compartment.
Nineteen color choices were available in 1970: Formal Black, Platinum, Charcoal, Spinnaker White, Deep Plum, Navaho Beige, Champagne; Metallics were listed as Jade Green, Bahama Blue, Jubilee Blue, Dark Emerald, Satin Tan, Teal, Lime Green, Mystic Gold, Citron Gold, Deep Bronze, Walnut, and Burgundy.
A changed grille presented fewer vertical divider bars and eliminated a major center bar, thus yielding a bolder, simpler look. Rear bumper detail changed with the backup lights now positioned where the word Imperial had been in 1969.
The 1970 car had the name Imperial raised up and set out in larger block lettering. The clean flanks now could receive a degree of parking lot protection via an optional vinyl side molding.
11,558 Imperials In 1971
| | | | |
| --- | --- | --- | --- |
| LeBaron 4-door | 1969 LeBaron | 1970 LeBaron | 2007 300C |
| Front headroom | 38.6 | 38.3 | 38.7 |
| Rear headroom | 37.2 | 37.2 | 38.0 |
| Front legroom | 41.7 | 41.9 | 41.8 |
| Rear legroom | 41.5 | 41.2 | 40.2 |
| Shoulder room, F/R | 62.8/62.4 | 62.7 | 59.4/57.5 |
| Length | 229.7 | 229.7 | 197 |
| Width | 79.0 | 79.9 | 74 |
| Height | 55.7 | 55.7 | 58.4 |
| Wheelbase | 127 | 127 | 120 |
| Turning diameter | 44.9' | | |
| Luggage capacity | 17.2 cf | | 15.6 c.f. |
| Weight | ~4,800 lb | ~3,850 lb | |
<!--DWLayoutTable-->
Gasoline cost equaled 1970 at $0.356 per USA gallon. Production workers in the USA worked an average of 36.9 hours per week at $3.45 per hour, for an average weekly total of $127.31.
For 1971, only the LeBaron appeared, again in two and four door hardtops. The Six-Passenger Four-Door Hardtop went to 10,116 ($6,276) customers while 1,442 chose the Six-Passenger Two-Door Hardtop ($6,044), totaling 11,558. Weights ranged from 4,705 to 4,855 pounds riding on L 78 X 15 tires.
Imperial had a first in the form of an optional four-wheel anti-skid braking system ("Sure-Brake" by Bendix at $250 or $351.50; sources differ). A sensor at each wheel, an electronic controller, and three vacuum modulators detected impending wheel lockup and pulsed hydraulic pressure to the brake. Years ahead of the industry, the system featured an automatic functional check when the engine was fired, plus instrument panel lights to announce that the system was operational or that there was a problem.
The 440 CID standard engine in Imperials now was rated at 335 GBHP (compression ratio had now dropped to 8.8:1) while 440 CID powerplants throughout other lines ranged upward to 370 and 385 GBHP. Beyond these, the magnificent Hemi officially made 425 gross horsepower, recorded well below the actual peak power of the engine, for a number of reasons.
1971 TorqueFlites were altered to provide part throttle downshift capability (except high performance 440s and 426 Hemis). This change meant altering the valve body and increased need for precision in adjusting the throttle linkage.
Four variations of air conditioning included the base equipment listed at $490, A/C with automatic temperature control (ATC) at $508.45, dual A/C at $728.60, and dual A/C with ATC at $747.10. An extensive array of options meant that the astute buyer could equip the vehicle to suit both climate and personal taste. Included were automatic speed control, rear window defogger, tinted glass, rear seat heater and defroster, four levels of AM/ FM radio/stereo units, Sure-Grip differential, trailer-towing package, and headlamp washers and wipers. Standard features were the same as the previous year.
For more details on the 1971 Imperial, click here!
15,794 Imperials Brighten 1972
Production workers earned $3.70 per hour, drawing gross pay of $136.90 for an average 37.0-hour workweek. Fuel cost was averaging $0.365 per USA gallon toward the end of calendar 1972.
Imperial increased production to 15,794, including 13,472 six-passenger four-door hardtops ($6,762) and 2,322 (Flammang claims 2,332, p. 250) six-passenger two-door hardtops ($6,534). Both front grille and rear arrangements were altered. The name Imperial was removed from the leading edge of the hood, and replaced by the Imperial Eagle emblem.
Horsepower began to be stated in net terms with Imperial at 225 net horsepower (compression horsepower was now down to 8.2: 1). The well proven 440 CID engine was also used throughout other corporate car and truck lines with horsepower developed ranging over 225, 230, 235, 280, 285, and 330. Solid state electronic ignition systems arrived as standard equipment on 340, 360, 400 and 440 CID V-8s.
Improved Thermo-Quad carburetors entered the scene, featuring a molded plastic fuel bowl and a "suspended" fuel metering system. They were touted as running 200 degrees Fahrenheit cooler than all-metal carburetors by reducing head conduction. The 1972 version has a conventional, venturi-throated primary section, and straightbore, air-valve-type secondaries. Air was introduced after the fuel left the nozzles.
Standard equipment included power steering, power brakes, power windows, and air conditioning. Tires were L84 x 15 inch in size. Whitewall steel-belted radial tires were $79.70 extra. The sidestrip protective molding continued. A dual-control A/C was optional at $250.85. A radio of some type was installed in 99.5% of Imperials built. The anti-lock brake system was $334.00 extra. Power vent windows were $85.34 on four-door models. Bucket seats appeared on 11% of production, while the adjustable steering column reached 78.2%. Speed control appeared at a 83.8% rate. The power-operated sunroof was available at $584.75.
16,729 Imperials Close Out 1973
Production workers across the whole USA were paid an average $3.94 per hour, put in an average 36.9 hours and drew a gross of $145.39 per week. Gasoline at retail surged to $0.437 per USA gallon.
Capping the third year of increased sales found 16,729 Imperials rolling forward - including 14,166 Six-Passenger Four-Door Hardtops ($7,541) and 2,563 Six-Passenger Two-Door Hardtops ($7,313). The 1973 Imperial was impressive, considering that their engineering features included the best performing suspension design available on an American vehicle, a world-recognized automatic transmission, and a long-lived 440 CID engine, all served up in a sleek, well designed, and integrated body. Brakes were a combination of front disc (11.75") and drum rear (11" x 3 "). The overall power steering ratio was 19.1: 1
The Imperials now stretched a full 235.3" long - due to the government mandated extra-length bumper guards fore and aft. They were 79.6" wide and 56.2" high. Front track width extended 62.4" with the rear track exactly one inch wider at 63.4". Head room was 38.3" in the front seat and 37.0" in the rear. Leg space for front-seat occupants was 41.9", and rear, 41.2". Shoulder room was 62.7" in both front and rear areas. Seat height reached 9.0" in the front and 11.5" in for rear passengers. Knee room in the rear was 6.9".
Imperials received even more "quiet car components" in the form of roof silencer padding, improved door and window seals, a revised toe plate, rear defogger seal, seal at belt line, and a larger C-pillar barrier with sealed perimeter. A mastic and foam pad covered the entire floor area from dash panel to the "kick-up" over the rear axle to dampen floor pan noise and vibration. Wheelhouse silencer pads were added to eliminate road noise migration to the interior. A power plant "bending" damper was added to the transmission rear extension housing, to eliminate vibrations. The exhaust system featured a laminated muffler with three wrappings, plus laminated muffler end caps and exhaust pipe. In addition, the muffler interior was modified to promote quiet.
An improved deck lid lock cylinder featured a larger housing, designed to impede illegal entry. As of January 1, 1973, doors were equipped with side impact protection in the form of welded steel beams designed to increase resistance to passenger compartment penetration.
Exterior finish durability benefited by the use of thermosetting acrylic dispersion enamel, in line with Federal requirements to reduce photochemically reactive emissions. Seventeen colors were provided and included: Spinnaker White, Formal Black, Mist Green, Sun Fire Yellow, Honey Gold, Blue Sky, and Sahara Beige; Metallics included Silver Frost, Coral Turquoise, True Blue, Chestnut, Regal Blue, Burnished Red, Amber Sherwood, Forest Green, Tahitian Gold, and Golden Haze.
Windshield wiper blades were redesigned and featured dimples and shear claws in the blade structure to better conform to the windshield while preserving strength. Concurrently, a new "Z" spring release eased replacement of the blade assembly. Another industry first appeared in the form of a digital clock, now standard on Imperials.
The optional Security Alarm System activated flashing headlamps, tail lamps, and side marker lamps plus horn sounding at a rate of 50 to 60 times per minute. All these continued to operate until a door was opened using the door key. Should entry be gained by smashing a window, the alarm would not sound until the ignition key was turned. A "panic button" on the instrument panel would sound the alarm for three minutes per push. The Electric Deck Lid Lock System (optional) operated via a release switch located in the main glove compartment and required the ignition switch to be either in "accessory" or "run" position.
Spark plug cables were of the "glass filament" type. The cable core consisted of about 10,000 glass threads covered uniformly with carbon crystals. This core was then insulated with a glass and cotton basket weave braid held together by a thin layer of conductive neoprene. A second layer of glass and cotton basket weave braid surrounded the insulation for stretch control and strength. An outer jacketed cable of "Hypalon" were used on the front four cylinders of the engine while the higher temperature area of the rear four cylinders used silicone jacketing.
A more powerful starter was introduced, using a four-field coil connected in series-parallel and producing 33% faster turns at 700 F. In addition to application on 440s, it was used also on 360 and 400 CID engines. A new front accessory drive was introduced to improve both belt access and timing mark visibility. Those cars equipped with an air pump and/or power steering pump went to a shorter type oil filter.
An aluminum seven-blade thermal drive fan of 20" diameter (versus 15.5" previously) reduced underhood temperatures by 10-200 F. In addition, radiator frontal area was increased on A/C-equipped Imperials. A coolant reserve system included a 16 PSI radiator cap, and a plastic four quart reserve coolant tank. Company literature recommended that one to two quarts of coolant be maintained in the reserve tank (so marked) at ambient temperatures. In this system, coolant was added normally only into the reserve tank employing a fifty-fifty mixture of ethylene gylcol antifreeze.
Chrysler plants added eight new machines for use in induction hardening of exhaust valve seats. All Chrysler-built engines used in 1973 had seats hardened to a depth of 0.05 to 0.08 inch via application of 1,7000 F followed by ambient air cooling. This action brought the company's engines back up to where they had been formerly (using hardened exhaust valve seat inserts) for many years - able to use no-lead fuels!
TorqueFlite was standard, now driving through a 3.23 drive ratio, up from the 2.93s of the recent past and thus requiring about 9% greater engine turns than did the 2.93 drive ratio, to make up for reduced engine output. New Yorkers retained their 2.76 drive ratios. This effect of the higher ratio could be discerned when breaking away from a stop and in improved acceleration on the trajectory to cruising speed, as well as in a penalty at the fueling pump. Some owners would notice; others, most probably, would not.
Tires were L84 x 15s mounted on 6.011" Safety Rims. Any of the five years of Imperial discussed here would benefit by being treated to a high-quality set of radial tires. The writer's 14-year travel companion, Walter P. Chrysler Club member Nancy L. Martin, was killed in a five roll incident on May 28, 2000 when the tread separated from the right rear tire on a 1998 Ford Explorer, throwing the Ford out of control and collapsing the passenger-side roof to a point below the top of the seat back. Check your tires frequently.
Notes on owning a Chrysler Imperial
Most homes built in the 1970s and 1980s simply cannot contain an Imperial of this vintage. Moreover, those that would barely contain an Imperial did so without any room to pass in front of, or to the rear of, the vehicle. Carports, popular at the time, were too short as to prevent enclosure to create an adequate secured space. Only a custom-designed garage filled the need.
Preserving these beauties meant hand washing, polishing, and waxing, plus detailing crevices wherever situated. In the terrible summer heat of the Sonoran Desert, the writer garages and also covers each vehicle, in addition to maintaining a pail of water in the passenger compartment of each to provide a slight degree of humidity. Try to keep your Imperial away from bird attack, overly friendly dogs, vantage-seeking cats, expectorating greenery, tight parking spaces, and gum chewing or smoker passengers.
Many have written in the
WPC News
concerning the wisdom of making up a kit for carrying along on trips. Entry level support packages contain at least the following: basic hand tools, fire extinguisher, first aid packet, gloves, coverall, a spool of malleable soft "mechanic's" wire, coolant, drinking water, emergency tire inflator, shop manual, safety matches, roll of toilet paper, bar of bathroom soap, rubber hose, plastic bags of various sizes, transmission fluid, engine oil, one headlight, air filter, flares and/or reflectors, tail/stop lamp bulb, electrician's tape, duct tape, a clamp, gasoline container, current maps, compass, heavy duty flashlight, cellular telephone, and current membership in AAA or other map and travel guide service. A number of veteran Club Members take along a water pump, fuel pump, distributor, thermostat and other items. The Walter P. Chrysler Club News, Volume 30, Number 12 discusses more trip hints, designed to ease your way when the traveling is major caliber. Fortunately, these Imperials have ample space to swallow such a gathering without protest.
How should we regard the 1969 to 1973 Imperials today?
They were decidedly creatures of their time - an evolutionary set of vehicles stemming out of luxury offerings extending back to Packard, Peerless, Pierce, and others. For Chrysler Corporation, Imperials were usually top-of-the-line, although also offered as medium-priced units in 1937 and 1938. Their story is complex, but the 1969-73 vehicles provided a package that stood the test of time - a thoroughly proven, reliable, comfortable, excellent handling, large car.
Fuel consumption was competitive with any other vehicle near its weight during these model years. Depending on driver skill, they were capable of 15 - 16 USA miles per gallon, helped by radial tires at proper pressure, when out on an open highway. City traffic reduced miles per gallon to about ten or so. Higher compression Imperials of 1969 and 1970, using the 2.93:1 drive ratio, made upwards of 20 mpg on highway trips, even loaded to capacity. Unskilled or overly aggressive drivers would fall short. These Imperials were not as fuel efficient as the earlier
Hemi
Imperials, even though the 3.36, 3.18 and 3.07 drive ratios were mounted during their era. (These figures correspond with today's Expeditions and Suburbans.) Providing competent, timely service was performed, these cars were absolutely first-class in local and trip usage.
Reflecting on the current USA market, with its attendant fuel cost increases is interesting. The landscape has become replete with ever bigger and taller, less stable (rollover prone) vehicles of the SUV genre, fuel hungry four-wheel drive machines (the majority of which will seldom see four-wheel terrain), so that the large 1969 - 1973 Imperials have returned to respectability.
Driven skillfully, Imperials were never gas guzzlers. Proper maintenance easily kept them young and trouble free. Anyone preserving one or more today can hold her or his head high indeed! That is, if the Imperial driver and passengers ever concerned themselves with the Imperial's marvelous inner qualities while cruising along smoothly, and in great comfort.
Key links
Big-block engines
•
TorqueFlite transmissions
•
1966 Chryslers
•
1970 Chryslers
•
1971 Chryslers
•
1981-83 Imperial
•
Torsion bar suspensions
Home
•
Engines
•
Reviews
•
Chrysler 1904-2018
•
Upcoming
•
Trucks
•
Cars
Spread the word
via <!--
Tweet
or-->
Facebook
!
We make no guarantees regarding validity or accuracy of information, predictions, or advice - .
Copyright © VerticalScope Inc. All rights reserved. Dodge, Jeep, Chrysler, Ram, and Mopar are trademarks of Fiat Chrysler Automobiles.