1971 Chrysler cars: Imperial LeBaron, New Yorker, Newport, Town & Country
The 1971 Chrysler line remained big and proud, starting from the small Newport and moving on up to the massive Imperial / New Yorker. Each vehicle was made as a two door and four door hardtop; the
New Yorker
and Newport also came in four-door sedan form, and of course there was the Town & Country wagon, with two or three rows of seats. All but the wagon were basically the same car, with different front and rear clips and varying trim and powertrain levels; and all had the "streamlined" fuselage styling, now in its third model year (1969, 1970, 1971). The C-body architecture underlying that styling was also introduced in 1969.
By 1971, unibody was already old hat to Chrysler, and the vehicles were all unibody designs, with a subframe to support the engine, transmission, steering, and front suspension; this subframe was isolated from the body by thick rubber cushions to damp out vibrations. The unibody design allowed for more rear footroom, better rigidity, and better structural efficiency with lower weight; over 5,400 welds were used, and body flanges were designed to be extra wide to allow for larger weld nuggets than the industry standard.
Despite the lack of a frame, Chryslers boasted of a heavy duty steel-rail box section supporting the rear of the body, including the rear suspension and a separate box-section steel windshield header and pillars. Insulation and sound deadeners were applied in many areas including doors, roof, rear side panels, and hood; these included a half-inch-thick wood-fiber insulation blanket under the roof, and multilayer blankets of fiberglass, asphalt-impregnated felt, and hardboard in the dash and side panels. The Torsion-Quiet ride isolated the unibody from the suspension with rubber cushions and blocks. Critics of the time considered the comfort of the Chrysler lineup to be similar to competitors, but gave the edge on cornering, by a good margin, to Chrysler (and Imperial).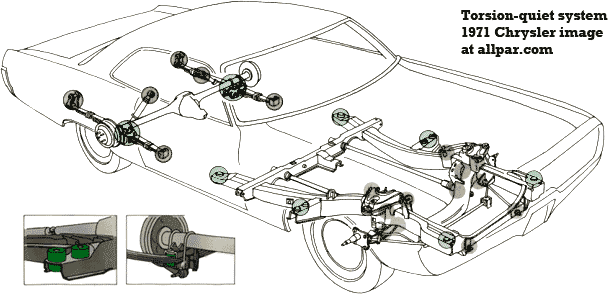 The
suspension
was, again, standard for Chrysler Corporation by that time, with independent, high-chrome-steel torson bar front springs; an antisway bar up front; shock absorbers in front and back; angled upper control arms to resist brake dive; diagonally mounted steel struts to reinforce and position front wheel lower control arms; widely spaced, off-center mounted rear springs to eliminate acceleration squat and resist brake dive; and a wide-track rear axle. Multileaf springs, fastened at two points, were used in the rear to cushion driving and braking shocks, and to adjust to varying loads. The result was surprisingly good cornering for a huge, comfortable car. (Click here for more on the
torsion-bar suspension
.)
Bodies were given a 7-step antirust treatment which sometimes worked, starting with a cleaning dip, then a first rinse, then a second rinse, then a phosphate dip, then a cold rinse, then an acid rinse (metal conditioner for paint adhesion), then a primer dip. After that each car got two coats of epoxy primer, which was oven baked, wet-sanded, and oven-dried; then two coats of acrylic enamel were applied and oven-baked.
Trailer towing, with the appropriate package and automatic transmission, was up to 5,500 pounds. The package included a larger radiator, seven blade fan with shrud, hood air seal, heavy duty suspension (springs, sway bar, torsion bars, shocks), auxiliary transmission oil cooler with 383 four-barrel engine, heavy duty electrical components and wheels, and 3.23:1 axle ratio. It required power disc brakes and larger tires on Newport and Newport Custom. Chrysler also recommended power steering, Sure-Grip differential, 50-amp heavy duty alternator (standard with air), 70 amp battery with rubber separators and heat shield, air conditioning, and cruise control. The Imperial had many of these items as standard features, and the tow package included heavy duty stop-light switch, turn signal flasher, and suspension; and the auxiiary transmission oil cooler.
The interiors had new instrument panels that stretched across the dashboard, with 120 mph speedometers and integrated radios that used two knobs; the panel was tilted to the driver for easy reading and fewer refelctions, and covered by a single brow to minimize sun washout. Numbers were white on black; at night, the entire cluster was externally floodlit. Gauges included alternator, gas, and trip odometer. Two ashtrays were provided. This was also one of the first years for the steering wheel antitheft lock: keys went into the wheel, and the wheel would lock into place without the keys in the Run position. The lock would only engage while in Park.
New for 1971 was the part-throttle downshift on the
TorqueFlite
automatic; it allowed the transmission to "kick down" one gear when the driver put their foot around a third of the way into the throttle. The result was less fuel usage than with the full-throttle kickdown, better engine response when needed, and smoother, quieter shifts. The TorqueFlite also boasted brazed torque converter blades (some competitors used tabbed blades that were less efficient and reliable), a liquid cooled torque converter, positive mechanical linkage from the transmission to the carburetor for kickdown, a full flow oil filter, lifetimeoil supply that supposedly did not need to be changed, testing of the housing and converter for every transmission, and cushioned clutches for gentle engagement into reverse and low gears.
For 1971, fuel evaporative emissions rules that had previously only been valid in California applied to cars sold anywhere in the United States and Canada. Chrysler responded with a
clever system that stored vapors in the crankcase
, to be pulled into the engine later; this was a two-year system (1970 in California, 1971 in the full US and Canada), replaced in 1972.
Imperial LeBaron by Chrysler
The top of the line for Chrysler, as usual, was the
Imperial
; what was new was the loss of the Imperial brand. For the first time since 1954, the big luxury yacht was a Chrysler Imperial rather than simply an Imperial. The result was a three-named car: Imperial Chrysler LeBaron.
The 1971 Imperial LeBaron stretched to an amazing 230 inches, with a 127 inch wheelbase - the rear overhang was simply enormous. The car was a full 79 inches wide. Despite all these dimensions, the 1995 Chrysler LHS was actually larger inside - but the LHS never came with a
440 cubic inch V8
that ran on regular gas, either.
Standard features for the Imperial LeBaron included an automatic transmission, air conditioning (according to dealer sheets; the
Standard Catalog of Chrysler
lists this at $490), power steering, power windows, fender-mounted turn signal indicators, and cruise control; unusual features included hidden headlights (with manual overrides), rear reading lights, vinyl covered pillows (four door), automatic doorway enlarger (two-door), and power disc brakes.
Unusual (for the time) options included headlight washers and wipers (optional), a power operated sunroof, cassette stereo (or eight-track) with microphone, thermostatic air conditioning ($508), dual air conditioner with thermostatic control ($747), rear heater/defroster, automatic headlights, cornering lights, and four-wheel anti-skid sure-brake system. Four interior seats were available: cloth-and-leather bucket-back bench seat or divided bench seat, and leather bucket or divided bench seats. The bucket seat had a passenger recliner, center cushion, and pull-down center armrest; power adjusters were used on both seats.
Not available on most other Chryslers, but standard or available on the Imperial, were dual air conditioning, automatic temperature control, vacuum-based parking brake release, individual folding center front armrest, rear door armrests with storage compartment, antilock brakes, rear step pad bumper guards, and twin rear cigar lighters (a single rear cigar lighter was standard). Dual air conditioners and automatic temperature control were available on the Town & Country wagon, but not the other Chryslers. Power windows were only standard on Imperial; rear shoulder belts were optional on all but Town & Country, where they were standard.
Though the Imperial was clearly linked to the Chryslers, it sold fairly well for a $6,000-and-up car in 1971, moving 10,000 four door hardtops and over 1,400 two-door hardtops.
Chrysler New Yorker, 300, Newport, and Town & Country
At each lower level of trim, the interior appointments dropped a bit in materials, the exterior dropped some chrome or swapped mouldings, the lighting package diminished a little, and other minor changes were made to alter the visible status of the car and to save some money here and there.
The 1971 Chrysler New Yorker was similar to the Imperial, with fewer features and a shorter wheelbase: gone were the covered headlights, two-spoke horn-on-rim steering wheel, and some of the other frills, but it was still clearly a luxury vehicle, with standard 440 and automatic, and similar seating choices but with vinyl replacing the leather. The wheelbase was 124 inches rather than 129, the length 225 inches (the overhang was the same), and the width still 79 inches.
On Imperials, when gauges reached a danger zone, a check gauges light flashed to get the driver's attention. Center air conditioner outlets were flush with the rest of the instrument cluster. At night, the entire instrument panel was externally lighted.
Just below the Imperial New Yorker was the Chrysler 300 - not a letter car - with the same drivetrain and basic dimensions, but a somewhat lower level of trim, and a Charger-like front clip with headlight-concealing grille. Interior trim on the 300 was another step down, with either vinyl or cloth-and-vinyl bucket seats only. Missing from the standard features was the folding center armrest in front and rear (not to be confused with Imperial's individual folding center armrests), and the trunk carpet and electric clock were optional; the carpeted spare tire cover was not available at all; and the three-speed wipers were replaced with two-speed wipers. Other features and options were similar. Possibly because the 300 was so similar to other Chryslers, it was dropped after one final year with under 14,000 sales.
The Chrysler Newport (and Newport Custom), again, was the same car with lower trim: most dimensions were the same, but the styling again was different in front and back, and a
383 cubic inch engine
was standard rather than the 440. The TorqueFlite automatic was optional on the Newport, instead of being standard as it was on the other Chryslers; interior choices were similar to the 300 but with bench seats instead of buckets, and an added 3-in-1 divided cloth-and-vinyl bench seat. The battery dropped down from 70 amp-hours to 59, unless the 440 was chosen, and the base engine itself dropped down from the 440 to the 383; otherwise features and options were similar to 300 and New Yorker. A Newport Royal subseries was also brought out in 1971, at the bottom price range; it was the only Chrysler to use the new
LA series 360 V8
(or, for that matter, any LA-series engine). The Newports, together, sold over 100,000 units, and were by far the most popular Chryslers, led by the four-door sedans.
The Town & Country was the wagon, and in 1971 it moved in step with the other models, gaining Torsion-Quiet Ride to become the quietest, smoothest-riding wagon in the industry; keyless door locks (not electronic, this allowed you to push down the familiar button to lock the door); ventless window glass; carpeted cargo floor; optional Strato Ventilation; lockable storage compartment beneath the cargo floor; optional cassette stereo with optional microphone; build in head restraints on the standard bucket seats; tilt wheel; power operated tailgate window; optional dual air conditioners; and concealed wipers. It also boasted a new woodgrained panelling that extended the full length of the wagon and across the tailgate, and was partly transparent to show the underlying paint color. Dual headlights and fender-mounted turn signals were standard, as was a rear air deflector that sent exhaust fumes and road dust away rather than letting it curl up in the vacuum of the rear glass when driving. A tailgate wiper and washer were optional, too, while the automatic transmission was standard. The wagon body had a 122 inch wheelbase, but was just .2 inches longer than the other Chryslers; width was the same.
Cargo space was large, with a minimum 48.5 inch wide (max. 54.5 inches) floor and the ability to lay a 4x8 panel flat with the gate closed and locked (if the rear seats were lowered flat into the floor). The dual action tailgate could either swing open from the side, or lift up like a hatch. Storage pockets were molded into the cover of the rear wheelhousing; the vertically mounted spare tire was on the right of the cargo floor, just ahead of the tailgate, for easy access. An optional third seat let two adults or three children ride, facing backwards, at the end of the wagon. The maximum height of the rear opening was 29 inches; the cargo floor stretched 63 inches from the back of the rear seat to the end of the closed tailgate, or 99 inches from the back of the front seat; and there were 104.2 cubic feet of cargo capacity. Over 16,000 Town & Country wagons were sold, over 1,000 more than the year before and solid performance for this type of vehicle.
Features and options
Standard on all Chryslers was strato ventilation, or fresh-air ventilation coming through the adjustable outlets in the middle of the instrument panel. Side cowl fresh air vents were also standard, near floor level. Dual air conditioners, optional only in Imperial, provided an extra cooling unit in the rear, and was an exclusive feature. Ventless door windows were standard - these are the modern kind, without the front triangle window;power front vent windows (triangle windows) were optional on New Yorker and Imperial four-door hardtops with the power windows.
Optional across the board were automatic headlights and tilt wheel, with seven different positions. In 1971, a new gear in the power steering unit improved road feel when straight ahead. Automatic temperature control used a dial with actual temperatures marked on it (in five degree increments) and could be set anywhere from 65 to 85 degrees Farenheight; the sensing and servo mechanisms were vastly improved in 1971 for more accurate controls.
All engines had hydraulic tappets, heated intake, low restriction intake manifold, and fast-action choke. The 440 TNT required an optional heavy duty TorqueFlite 727 transmission, and had oversized 2.5 inch exhaust pipes and 2 inch tailpipes, as well as a chrome plated oil filler cap. All the V8s had deep skirt engine blocks with block support below the crank and main bearings. Hydraulic tappets meant no need for valve adjustment. The distributor was always mounted in front for easier service. PCV and heated inlet air systems helped reduce pollution.
383 2-V
383 4-V
440
440 TNT
Available
Newport, T&C
Option:
Newport, T&C
Standard, others
Option: T&C
Option: Newport,
300, New Yorker
Gross Horsepower
275 @ 4,400
300 @ 4,800
335 @ 4,400
370 @ 4,600
Net Horsepower
190
250
220 @ 4,000
305
Gross Torque
375 @ 2,800
325 @ 3,400
460 @ 3,200
380 @ 3,200
Net Torque
305
325
350
400
Snorkel
Single
Single
Single
Dual
Exhaust
Single
Dual (exc. T&C)
Single
Dual
Compression
8.5:1
8.5:1
8.8:1
9.5:1
Gas
Regular
Regular
Regular
Premium
Bore x Stroke
4.25 x 3.38
4.25 x 3.38
4.32 x 3.75
4.32 x 3.75
Other
Special cam
Special cam;
High-lift cam
In addition to the excellent
Torqueflite automatic
with liquid cooled torque converter and new part-throttle downshifting was a fully synchronized three-speed manual trasmission, redesigned for 1971 with less of a tooth angle on the gear teeth for easier shifting; this transmission was, however, only available for part of the year, after which the TorqueFlite became standard.
Stopping was still largely accomplished via drum brakes, using bigger linings than competitors, and aided by finned front drums and flared rear drums which dissipated heat more readily; only manual drums were available, because when power was ordered, front discs were mandatory. The power front discs were standard on Imperial, New Yorker, and Town & Country, and optional on others. All brakes were self adjusting, and used a dual master cylinder (half controlling the front, half controlling the rear.)
The antilock brake system used on Imperial in 1971 controlled all four wheels, using an electronic controller; the Sure-Brake
system started out with the regular power discs, and added a sensor at each wheel, and three vacum power modulators (one for each front brake, and one for the rear brakes). When the sensors discovered a wheel suddenly slowing down at a rate that indicated a skid, it triggered the modulator, which reduced the hydraulic pressure on the wheel; then almost instantly restored ressure. The cycle repeated as often as needed, though only over 5 mph. An indicator light told the driver when it was action, and the entire system was checked each time the car was started with the brakes on.
Axle ratios were 2.94:1 on the Imperial, 2.76:1 with the 383-2-barrel automatic or New Yorker/300 with 440 (optional, 3.23:1), 3.23:1 standard and 2.76:1 optional on 440 TNT, 3.23:1 on manual-trasmission 383, and 3.23:1 (2.76:1 optional) on 383 four-barrel or Town & Country with 440. Brakes were 11 x 2.75 front, 11x2.5 rear, for 216 total effective area.
Weight ranged from just 4,190 lb on Newport two-door sedan to a whopping 4,975 lb on Imperial four-door hardtop, progressively increasing with trim level. Wagons were 4,695 lb with two rows of seats and 4,760 with three rows.
1971 Imperial
4-door
1971 Chrysler
4-door sedan
1974
Chrysler
2007 Chrysler
300C
Headroom: front/rear
38.3/37.2
38.7/37.9
37.9 / 37.0
38.7 / 38.0
Legroom: front/rear
41.9/41.2
41.8/41.5
41.6 / 39.7
41.8/40.2
Shoulder room: front and rear
62.7
63.3
59.5 / 57.7
Usable cargo capacity
17.8
21.2
(New Yorker, 19.2)
15.6
Weight
4975
4240-4455
3764
Wheelbase / Length
129 / 229
124 / 225
124 / 225
120/197
As one would expect, the basic chassis and driveterain of these cars was bulletproof, but some owners complained of squeaks and rattles as time passed. There were a small number of recalls, including one to the world's first production antilock brake system. David Ash's 1971
Automobile Almanac
noted the 300's "very solid handling" and called the Chrysler line's powertrains and suspension systems "top notch." The New Yorker was a "well engineered car that is the equal of anything in its class."
1971 Dodge squad cars
|
1974-75 Chryslers
|
1973 Dodges
|
1973 Plymouths
|
Other History Pages
Chrysler Heritage
•
History by Year
•
Chrysler People and Bios
•
Corporate Facts and History
Home
•
Engines
•
Reviews
•
Chrysler 1904-2018
•
Upcoming
•
Trucks
•
Cars
Spread the word
via <!--
Tweet
or-->
Facebook
!
We make no guarantees regarding validity or accuracy of information, predictions, or advice - .
Copyright © VerticalScope Inc. All rights reserved. Dodge, Jeep, Chrysler, Ram, and Mopar are trademarks of Fiat Chrysler Automobiles.