1971 Chrysler Corporation cars: Plymouth, Dodge, and Chrysler
by David Zatz, with sections based on a
Plymouth Bulletin
article by Lanny Knutson
1971 was a good year for Chrysler, as well as one the last years of the muscle car era. The hot Duster was in its second year, the 360 engine showed up to start a decades-long run, and the new B-bodies were launched.
For the first year, all engines were measured in net horsepower; the numbers were always lower than gross horsepower, because they included "accessories" (such as the water pump), but actual power was usually the same. Chrysler often provided both gross and net in 1971, and only in 1971, helping to decode the gross-vs-net mystery.
Chrysler was still riding high, with its history of innovation present in the form of Amplex, Airtemp, Chemical, Chrysler Marine, and space, defense, and industrial divisions; Chrysler made plastics and chemicals, sailboats and motorboats, outboard and industrial engines, tanks, space gear, powdered metal parts, and much more.
The smallest and biggest cars (A and C bodies) carried forward with few changes; the big-selling, profitable mid-sized B-bodies had just been redesigned. Now, midsized coupes had a shorter wheelbase than sedans and wagons; the height of the cars went up around two inches from 1970, while the rear track rose from 58.7 to 62 inches, and width expanded by 1.8 inches. B-body wagons gained a 3½" wider track, allowing for 48½ inches of storage between the wheelhouse, enough for a 4x8 plywood sheet.
While A-bodies sold quite well, they were not especially profitable. The B-bodies combined good margins with high sales, and as they went, in these years, so went the company.
Muscle cars continued to be available in numerous forms, from 340 Duster to Hemi 'Cuda, though high insurance costs were starting to hurt sales - which were never particularly high to begin with.
All domestic Chrysler Corporation cars used torsion-bar front suspensions, leaf-spring rear suspensions, rear wheel drive, and the same engines - slant six, 318, 340, 360, 383, 440, and 426 Hemi - backed by one of two
TorqueFlite three-speed automatic transmissions
or (for a mere 5% of buyers) various manual transmissions. The torsion bar front suspension provided a better combination of ride and handling than Ford and GM's spring-based front suspensions, a
nd while all three used leaf springs in back, Chrysler's was praised for its greater control under high acceleration, honed by engineer-racers over many years.
Plymouth had its continuing
Rapid Transit System
, while Dodge continued its
Scat Pack
of high-performance cars. At Plymouth, it was Road Runner, GTX, Duster 340, 'Cuda, and Sport Fury GT. At Dodge, it was
Demon 340
, Charger
Super Bee
, Charger R/T, and Challenger R/T. The Scat Pack Club included newsletters and other goodies; members got a free copy of the Direct Connection catalog, including "scat packages" of parts. For $3 a year, members also got a wallet card, patch, bumper sticker, 40-page guide to racing, and both monthly and quarter newsletters.
Across brands, wagons gained standard two-way tailgates that could open as a tailgate or as a door; three serat wagons had an automatic tailgate lock, activated when the ignition was turned on. An optional rear window air deflector was designed to keep the window clean.
For 1971, fuel vapor rules, previously only valid in California, spread to cars sold anywhere in the United States and Canada. Chrysler responded with a
clever system that stored vapors in the crankcase
, to be pulled into the engine later; this was a two-year system (1970 in California, 1971 in the full US and Canada), replaced in 1972. The 1972 system, still used by modern cars, took a huge amount of pollution from the air, with near total reliability, nearly no maintenance, and few, if any, side effects.
A-bodies: Valiant, Duster, Dart - and new Scamp and Demon
The A-bodies were Chrysler's biggest sellers, though, like their counterparts at GM and Ford, they sold near breakeven. The Plymouth Duster took 186,478 of the Valiant line's 296,081 cars, with the longer-wheelbase Scamp (Dodge based) soaking up another 48,253 sales; on the Dodge side, Dart Swinger dominated, with 102,480 of Dart's total 250,420 sales. Coming in second place was the Dodge version of the Duster, deemed Demon, with just about 80,000 sales.
The Plymouth Duster had shown up in 1970, a fastback version of the Plymouth Valiant, similar in concept and execution to the original Barracuda. Most buyers went for the inexpensive slant six, but the hot little 340 cubic inch engine made the splash that brought those sales.
Critics were less than kind to the shape, but all praised the performance; Duster carried the Road Runner concept to another level, by using a lighter, cheaper body. Duster sales were immense and put Plymouth back in the #3 U.S. sales position for 1970.
For 1971, the results of those sales came home to roost. An "all new" Valiant appeared; the Scamp was just a Plymouth-styled version of the Dodge Dart hardtop, traded for a Dodge version of the Duster, dubbed the Demon.
The Scamp had single-unit tail-lights, mounted in the bumper. For Dodge, the Demon turned out to be nearly as popular as the Swinger; the Scamp didn't make quite the same splash at Plymouth.
The 340 engine was treated to a Carter Thermo-Quad. The 340 Duster also got its own grille, described by Lanny Knutson as "a vast series of narrow vertical ovals that stretched from headlight to headlight and appeared to be made of cast aluminum, though it was really plastic." An optional flat black hood had huge 340 graphics.
The Duster Twister appeared; it had most of the Duster 340 "appearance items," with taped stripes and false hood scoops, but was powered by the slant six or 318. Dodge's version was the Dart Demon Sizzler, with racing mirrors, 8.95 x 14 whitewalls, Tuff steering wheel, carpeting, flat-black hood treatment, stripes, Rallye wheels, body-color grille frame, and decals; Dodge advertised "it won't bug you with high insurance prices," because it was just a standard Duster (okay, Demon) with an appearance pack... and the Tuff wheel.
The Plymouth emblem was dropped from the center of the Duster and some Valiants; and Valiant and Dart got new grille paint and tail lamps.
The Duster had aerodynamic improvements which would never make it to the sedan, which, along with the more modern (and often better built) tail, may have been one reason behind its higher sales: the interior was quieter, the trunk space was larger, and real world gas mileage was higher. When Plymouth launched a lighter version, it was the Feather Duster, not the Valiant Lite.
B-bodies: Satellite, Coronet
For 1971, nearly all Plymouth B-bodies were called Satellite - a name once used as a trim level of the Belvedere. The two door hardtop was on a 115 inch wheelbase, the four door sedan on a 117 inch wheelbase; and both had completely unique sheet metal.
Satellite trim levels were now Satellite (base), Sebring, Sebring Plus, Brougham, and Regent, with five hardtops, three four-door sedans, and five wagons. They boasted concealed wipers, flush door handles, and more aerodynamic rear windows than in the past.
Satellites had a standard 225 slant six or 318 V8 (depending on trim), with some levels having an optional 383 (two or four barrel), 440 (four-barrel or three two-barrel carbs), or 426 Hemi. Transmissions were the three-speed manual, four-speed manual, and three-speed Torqueflite automatic; most buyers opted for the latter. Floor mounted automatics had the "slap stick" shifter.
There were 18 Satellite paint colors including Bahama Yellow, Tor-Red, Sassy Grass Green, Curious Yellow, and In-Violet, with eight interior colors and 13 styles, and a new cloth and vinyl bucket seat. Brougham and high performance mid-sized cars used round gauges, the others had ribbon speedometers.
Road Runner and GTX buyers could choose their hood, with fake hood scoop and optional Air Grabber remote-controlled hood scoop. Other options for Road Runner and GTX included spoilers, small padded steering wheel, road wheels, elastomeric bumpers, dual racing mirrors, hood tie-down pins, and backlight louvers.
Road Runner came with a 340, 383, 440 (4 and 6 barrel), or Hemi; GTX had the 440 standard, but fewer than 3,000 of the high-priced cars, more suited to Chrysler than Plymouth, were sold. The optional Air Grabber hood used vacuum to pop open a hood scoop. Other coupes were available with slant six, 318, and 383 (two and four barrel). Instead of convertibles, Plymouth sold an optional power sunroof .
According to Plymouth ads, the 383 and 340 Road Runners received a standard insurance rating from most auto insurers, despite the four-barrel carb, heavy-duty brakes, and go-fast look; yet, the cars were quite potent.
At Dodge, the Coronet had a 118 inch wheelbase, with somewhat more rounded styling and a subtle "Coke-bottle" side. The Coronet was now four door or wagon only, and came with the slant six or 318; Coronet Brougham and Crestwood were the top trim levels for sedans and wagons, respectively. Coronet R/T and Coronet Super Bee were gone now (Super Bee had moved to the Charger body). Coronet sales were falling, and the name would soon be retired.
Charger was redesigned for 1971, on a 115 inch wheelbase, with six coupes and hardtops in three series; the hot and critically acclaimed styling of the late 1960s was dropped for a GTO-influenced look. Interior space was more generous than in the competing Chevy Chevelle and Ford Torino.
The top of the line was the Charger R/T with its standard 440 Magnum V8 rated at 370 HP. Optional were the 440 six pack and 426 hemi. The R/T used the same hood and tape side treatment as the Super Bee, but two additional stripes on each door simulated vents
The base models were slant six or 318 powered, but Charger went up to the Hemi, with popular options including Rallye suspension and instrument cluster. The Charger 500 was now a trim level rather than an aero/performance package. The Charger SE continued a base 318 and three-speed manual, but looked luxurious inside and boasted extra sound insulation, carpeted trunk, center armrest, concealed headlights, and wood-grain-style plastic.
The Charger Super Bee took over from Coronet Super Bee, imitating the Plymouth Road Runner; Super Bee had its own cartoon graphics, and the name itself was a play on the B-body designation. However, Super Bee never saw Road Runner sales figures, and would not return for 1972; instead, Charger gained the Rallye.
Dodge also advertised the "Charger Topper," a "custom-equipped economy Charger." Instead of a hot engine (it came with a 318), it had a vinyl roof, whitewalls, wheel covers, bumper guards, left remote control mirror, extra chrome, and fender mounted turn signals.
Just as Duster beat Valiant in sales, Charger easily beat Coronet. 1971 was one of Charger's better years - with its fourth highest sales year of the 20th century, practically doubling 1970's sales. (Perhaps in 1970 buyers were diverted by Challenger and Barracuda.)
C bodies: Plymouth Fury, Dodge Coronet
The big C-bodies, whose bodies were essentially shared with the Chrysler brand, were minimally changed. Fury lost its hood "power bulges," and the grille was altered somewhat. Polara and Monaco continued, with slight trim updates.
Fury was quite successful in sales, though there were numerous models: I, II, III, Sport Fury, Fury Custom, and Sport Fury GT (just 375 of these last cars were sold). VIP did not return for 1971. The lion's share of Fury sales went to the Fury III (167,960) and Sport Fury (84,922).
On the Dodge side, the C-bodies were Polara and Monaco; the lion's share (91,056) of sales went to the more reasonably priced Polara, but the high-end Monaco, which ran in Chrysler's turf, was responsible for over 25,000 high-margin sales. Polara and Monaco were similar in appearance to
Chrysler Newport
; and of course, all the C-bodies were similar under the skin, albeit with different levels of trim, options, and soundproofing.
These cars were larger than the B-bodies, with the same basic architecture; higher trim versions with extra sound insulation (in some cases) were sold as Chrysler cars from Newport to
New Yorker
, and, with numerous trim and equipment changes, as Imperial. For 1971, C-bodies gained Torsion Quiet Ride, described later as Torsion-Quiet, and the new 360 engine. Styling changes included ventless window glass, two different grilles on Fury, new tail lamps, and urethane covered rear bumper. The interiors featured deeply padded seats in Bedford cord and nylon.
E-bodies: Barracuda and Challenger
The
Plymouth Barracuda
had launched in 1964, but sales were eclipsed by the Ford Mustang (by around 10:1). While not as reliable, nor as capable around turns, the Mustang had a sportier appearance than the clearly
Valiant
-derived Barracudas.
Chrysler started working on changes in 1964, but the result, shown in 1967, still had a compact-sedan configuration, rather than the long hood, short deck of the 1967 Camaro and Mustang. Work immediately began on a new version, which launched in 1970; it had the long hood and short deck, and was far more attractive, visually, than the Ford and Chevy cars. Being based largely on the B-body, it also had much more room under the hood, and could easily hold the big Hemi or 440 engines; much of the running gear was adapted from the B-bodies, so the chassis was also capable of handling the load.
Many buyers opted for the 340, which struck a balance between raw power and light weight, helping the 'Cuda or Challenger to corner better.
The car had strong initial sales, but then GM launched their new 1970 Camaro and Firebird, borrowing heavily from the 1967 Barracuda fastback; and sales fell, never having come even close to product planners' estimates.
For 1971, Barracuda got a new grille designed to suggest barracuda fish teeth; both it and Challenger had quad headlights. Chrome simulated inset louvers were supposed to suggest gills. The tail and reverse lights were modified as well, and large, flat-black decals covering most of the rear quarter panels, wtih integrated engine size callouts on the doors, were optional; the shaker hood scoop was available on all 'Cuda models ('Cuda was a separate name for high-performance Barracudas).
1971 ended up being the last year for the Barracuda convertible; with just 1,385 convertible sales, one can see why. Overall, Barracuda production fell from 1970's 54,800 to a mere 18,690 cars.
Dodge Challenger
was similar to the Barracuda, but had a longer wheelbase and different styling. Both have been highly acclaimed and remain auction-valued at a rate that may lead Chrysler to wish it had kept half the production under wraps in an abandoned factory.
A new model for 1971 was the Challenger Deputy, a low-cost version with fixed rear side glass and a 198 slant six, joining the base, SE, and R/T models (R/T was the only model available with the 383). The slow-selling Challenger R/T convertible was gone for 1971.
Chrysler line
For full details and more photos of the 1971 Chrysler line, see our 1971 Chrysler page.
Four door sedans
1971 Imperial

1971 Chrysler

2007 Chrysler 300C
Headroom: front/rear
38.3/37.2
38.7/37.9
38.7 / 38.0
Legroom: front/rear
41.9/41.2
41.8/41.5
41.8/40.2
Shoulder room: front and rear
62.7
63.3
59.5 / 57.7
Usable cargo capacity
17.8
21.2
(New Yorker, 19.2)
15.6
Weight
4975
4240-4455
3764
Wheelbase / Length
129 / 229
124 / 225
120/197
The basic chassis and drivetrain of the 1971 Chrysler cars was bulletproof, though some complained of squeaks and rattles as time passed. There were a few recalls, including one to the world's first production antilock brake system. David Ash's 1971
Automobile Almanac
noted the 300's "very solid handling" and called the Chrysler line's powertrains and suspension systems "top notch." The New Yorker was a "well engineered car that is the equal of anything in its class."
The 1971 Chrysler line remained big and proud, from the Newport to the massive Imperial / New Yorker. Each car was sold as a two door and four door hardtop; the New Yorker and Newport also came in four-door sedan form, and there was the Town & Country wagon, with two or three rows of seats. All but the wagon were basically the same car, with different front and rear clips and varying trim and powertrain levels; and all had the "streamlined" fuselage styling and C-body underpinnings launched in 1969.
Chrysler cars were highly insulated, with a half-inch-thick wood-fiber insulation blanket under the roof, and blankets of fiberglass, asphalt-impregnated felt, and hardboard in the dash and side panels, among other measures; the new-for-1971 Torsion-Quiet system isolated the suspension with rubber cushions and blocks (the system was also used on Plymouth Fury and the big Dodges). Critics said Chrysler cars were as comfortable as competitors, but handled far better, with credit going largely to the torsion-bar front suspension (though the rear suspension was also well designed for its type).
Trailer towing went up to 5,500 pounds. The towing package included a larger radiator, seven blade fan with shrud, hood air seal, heavy duty suspension (springs, sway bar, torsion bars, shocks), auxiliary transmission oil cooler with 383 four-barrel engine, heavy duty electrical components and wheels, and 3.23:1 axle ratio.
New instrument panels stretched across the dashboard; the panel was tilted to the driver for easy reading and fewer reflections, covered by a brow to minimize sun washout. Numbers were white on black; at night, the entire cluster was externally floodlit. Trip odometers were included, along with two ashtrays were provided.
The top car was the Imperial, once again branded as a Chrysler. Just below it was the 1971
Chrysler New Yorker
, with fewer features and a shorter wheelbase: it had a standard 440 and automatic, and similar seating choices but with vinyl replacing the Imperial leather.
Just below the New Yorker was the Chrysler 300, essentially identical but with lower trim and a Charger-like front clip. Missing from the standard features was the folding center armrest in front and rear; trunk carpet and electric clock were optional; the carpeted spare tire cover was not available; and three-speed wipers were replaced with two-speed wipers. It was dropped after one final year with under 14,000 sales.
The Chrysler Newport and Newport Custom dropped the trim level again; the styling again was different in front and back, and the standard engine dropped to the
383
. The automatic was optional. A Newport Royal subseries was brought out at the bottom price range; it was the only Chrysler to use the new
LA series 360 V8
, which in addition to being smoother than the 340, could run on regular gas. The Newports, together, sold over 100,000 units, and were by far the most popular Chryslers, led by the four-door sedans.
The
Town & Country wagon
gained
Torsion-Quiet
to become the quietest, smoothest-riding wagon in the industry; it included a carpeted cargo floor, lockable storage compartment, head restraints in the standard bucket seats, tilt wheel, power operated tailgate window, optional dual air conditioners, and concealed wipers. A new woodgrained panel extended the full length of the wagon and across the tailgate, partly transparent to show the underlying paint color. Dual headlights and fender-mounted turn signals were standard, as was a rear air deflector that sent exhaust fumes and road dust away rather than letting it curl up in the vacuum of the rear glass when driving. A tailgate wiper and washer were optional, too. This is the car John Lennon owned until 1982.
Cargo space was large, with the ability to lay a 4x8 panel flat (if the rear seats were lowered). The tailgate could either swing open from the side, or lift up like a hatch. An optional third seat faced backwards. Over 16,000 Town & Country wagons were sold, over 1,000 more than the year before and solid performance for this type of vehicle.
Imperial LeBaron by Chrysler
The top of the line for Chrysler, as usual, was the
Imperial
; what was new was the loss of the Imperial brand. For the first time since 1954, the big luxury yacht was a Chrysler Imperial rather than simply an Imperial. The result was a three-named car: Chrysler Imperial LeBaron.
The 1971 Imperial LeBaron stretched to 230 inches, with a 127 inch wheelbase - the rear overhang was enormous. The car was 79 inches wide. Despite the huge footprint of the Imperial, the 1995 Chrysler LHS was actually larger inside.
Standard features for the Imperial LeBaron included an automatic transmission, air conditioning, power steering, power windows, fender-mounted turn signal indicators, and cruise control; unusual features included hidden headlights (with manual overrides), rear reading lights, vinyl covered pillows (four door), automatic doorway enlarger (two-door), and power disc brakes.
Unusual (for the time) options included headlight washers and wipers (optional), a power operated sunroof, cassette stereo (or eight-track) with microphone, thermostatic air conditioning ($508), dual air conditioner with thermostatic control ($747), rear heater/defroster, automatic headlights, cornering lights, and four-wheel anti-skid sure-brake system. Four interior seats were available: cloth-and-leather bucket-back bench seat or divided bench seat, and leather bucket or divided bench seats. The bucket seat had a passenger recliner, center cushion, and pull-down center armrest; power adjusters were used on both seats.
Not available on most other Chryslers, but standard or available on the Imperial, were dual air conditioning, automatic temperature control, vacuum-based parking brake release, individual folding center front armrest, rear door armrests with storage compartment, antilock brakes, rear step pad bumper guards, and twin rear cigar lighters (a single rear cigar lighter was standard). Dual air conditioners and automatic temperature control were available on the Town & Country wagon, but not the other Chryslers. Power windows were only standard on Imperial; rear shoulder belts were optional on all but Town & Country, where they were standard.
When gauges reached a danger zone, a light flashed for attention. Center air conditioner outlets were flush with the rest of the instrument cluster. At night, the entire instrument panel was externally lighted.
Though the Imperial was clearly linked to the Chryslers, it sold fairly well for a $6,000-and-up car in 1971, moving 10,000 four door hardtops and over 1,400 two-door hardtops.
Dodge trucks
The popular B-vans were launched for model year 1971. Chrysler's A-vans had been extremely popular, taking far more than the usual market share, and the company collaborated with customers on the next generation. The B-vans had a larger cargo area with higher capacity, engine access from under the hood (as well as inside the cabin), an independent front suspension, and a wider track, along with completely new styling and interiors, using car seats and gauges.
The unit-body design of the B-vans led them to have a tighter turning radius and lower load floor than competitors.
While the wheelbase expanded greatly (to 109 and 127 inches), overhang was slashed, so that the overall length only grew by five inches, to 176 and 194 inches, with 206 and 246 cubic feet of cargo capacity. The heavy vans had a standard 198 cid slant six, with engines topping out at the 318 V8. Standard features were sparce, with a single sun visor, two-speed wipers, single driver's seat, turn signals, heater, painted hubcaps, backup lights, and some other items considered essential today.
The B-vans were hot; 175,588 B-vans were made for the model year, far exceeding pickup production even in a record year. The vans would lead the industry in sales for some years, unusual for perennial-#3 Chrysler.
1971 was the final year for its ten year old pickups, which got cosmetic upgrades and an evaporative emissions system on D100. A new D100 Sweptline Special was also added, as a bargain model, with no options. There was also a Custom and Adventurer series, with Sweptline and Utiline models. Just 2,835 diesel trucks were sold -none with a Cummins engine, yet. The LoadFlite automatic, a TorqueFlite for trucks, had just been launched in 1970; and 1971 was the last year of the two-year
Dodge Dude
, a moderately embellished truck that paved the way for the 1978
L'il Red Trucks
and the 1977
Warlocks
.
The D100 pickups, available in Sweptline and Utiline models, had bodies ranging from a simple cargo cover of canvas or aluminum to stationary or collapsible slide-ons. Maximum payload with 1,400 rear springs and G78-15-D tires was 1,500 pounds. The D200 pickups were the most popular slide-on camper size due to their heavier capacity; they could take up to a 10.5 foot, cabover camper, and with special equipment, could handle a payload of 3,100 pounds. (A W200 pickup option was available with four wheel drive, and a maximum payload of 3,100 pounds; options on this included automatic transmission, front locking hubs, and a front winch with manual transmission.)
The D300 could also carry six passengers with four doors in the cab, taking the same length cabover unit but, when ordered appropriately could handle a payload of 3,295 pounds. Most slide-on interiors had a dinette, kitchen, water, and electric systems, and could sleep five or more people.
The D300 Chassis-Mount system had a three-man cab and provided more room than the largest slide-on campers; they were sent to a body builder for permanent mounting of the camper body, and, with the 159 inch wheelbase, could take a camper 12 to 14 feet long. A special equipment package with 165 inch wheelbase could go up to 16 feet long. These interiors had more floor space, sometimes had a pass-through to the cab, and generally had a side entrance; they also came with kitchens and dinettes.
Full-fledged motor homes were also available, using chassis built by Dodge, in wheelbases from 104 to 178 inches. Standard features included power steering, power brakes, three-speed automatic, and a 318 V8 engine (the 413, but
not
the 383, was optional). Most motor homes had a complete kitchen, a converting dinette, shower, and optional air conditioning and generator. The motor home chassis had heavy duty axles, and a rugged carbon-steel frame with deep, heavy-gauge straight side rails reinforced at stress points. Dual rear wheels were standard.
Also see: Dodge campers and motor homes • Dodge truck history
AMC
The highlight for the American Motors 1971 lineup was the Javelin's dramatic new styling, and moving the AMX to the Javelin line rather than selling it as a separate two-seat model. The AMC Javelin now had hump fenders, a twin canopy roof panel, and rear spoiler lip; inside, the Javelin was restyled with a "cockpit" feel and many upholstery options. The fiberglass/plastic hood was riased toward the windshield, and the cowl-air carburetor induction system was included with the optional "Go" package. A wire-mesh "full span" grille was standard, as was the functional rear deck "duck tail" spoiler and dual rearview mirrors. All Javelins were two door hardtops.
The Javelin had a one inch longer wheelbase and length, and was three inches wider (110" wheelbase, 192" length, 75" width). SST trim continued, and AMX was the top-of-the-line, complete with a unique dash appliqué and styled grille. The 232 straight six continued as standard on base and SST, with an optional new 258 cubic inch I-6 (1 barrel carb); AMX had a standard 360 V8, with a two-barrel carburetor (completely unrelated to the Chrysler 360). A new 401 cubic inch engine, with a four-barrel carburetor, was optional across the board, replacing the 390. Engine mounts were redesigned with metal stops to keep the engine from moving during emergency braking for light frontal impact, preventing radiator damage.
The curved cockpit dashboard increased visibility of controls, putting them within easy reach; the entire panel was padded, with the passenger side recessed for added knee room and safety. Four toggle switches at the base of the panel were used for headlights, panel lights, wipers, and washers, and four outlets were included for the air conditioner.
With a new grille, the big
AMC
Rebel became the Matador; the sporty Machine package continued, without 1970's scoop. The beefed-up 390 from 1970 was bored to 401ci, and was rated at 330 hp.
Gremlin
, launched in 1970 as the first American subcompact since the Metropolitan, was available with the "X" package.
The relatively small 2-door Hornet had an optional SC/360 package with hood scoop, special upholstery and wheels, and a stripe that ran along the fender and door tops and around the rear window.
Hornet had up to 360ci optional, and sporty "X" and "Rallye" packages that could be combined to make it one competitive compact. Also new was the Hornet "Sportabout" wagon with 57cu. ft. of cargo room. Javelin was the champion of SCCA Trans-Am racing, while Wally Booth's Gremlin X tore up the drag strips.
The Jeep line, not yet all-important to AMC, was pared from slow-selling 38 models to 22, cutting costs and allowing more investment in new models. The lineup included the Gladiator pickup, Wagoneer, Jeepster Commando, and CJ-5; AMC continued to improve the lineup.
All AMC engines but the new 401 cid V8 were designed to run on regular gas, generally through reduced compression. However, hardened valves do not appear to have been used; AMC required that drivers alternate leaded and unleaded, rather than using unleaded exclusively.
The 258 engine was essentially a long-stroke version of the 232, keeping the seven main bearing design; it was the largest displacement six of any American passenger car, with the largest horsepower (beating the slant six by just 5 hp despite having 38 more cubic inches displacement). The 401 was essentially a 390 with a longer stroke crankshaft, keeping the same piston bore and requiring premium gas; it included a new dual-snorkel air cleaner. New exhaust manifolds for all V8s reduced back pressure.
A new "Nitrox-TCS" system was required in California; it cut nitrogen oxide emissions through camshaft overlap and a transmission control spark device (TCS) which regulated spark advance. All 1971 cars got fuel tank vapor emissions controls - V8 automatics used a charcoal canister, while other engines vented fuel tank vapors into the air intake.
The cowl air system, optional on Javelin AMX with Go package, fed cooler, denser air to the carb via a higih-pressure air pocket at the base of the windshield. The Go package also included dual exhaust (standard anyway with the 401), ammeter and oil pressure replacing wraning lights, "Tick-Tach" combination tachometer and clock, 140 mph speedometer, black paint in the rear panel and upper bumper, hood T stripe decal, E60 white tires on 15x7 wheels, space-saver spare on regular wheel, ventilated rotor power disc brakes, handling package, locking differential, and heavy duty cooling. Most of these items were separate options as well.
1971 was the last year for the Borg-Warner "Shift-Command" automatic, which was replaced by Chrysler's Torqueflite ("Torque-Command") automatic. Even in its last year, the transmissions were improved for smoother shifting and greater reliability, especially on the big V8s in high performance conditions. Some late production 1971 rental cars got the Torqueflite a little bit ahead of the general market; police departments and other fleet buyers might have gotten a similar jump. The four-speed transmissions gained a heavier duty front bearing, and heavier duty, bigger 11" clutch; the 360 also got a new clutch with the AMX 360.
V8 cars could have either manual or power front disc brakes, with new Kelsey-Hayes ventilated rotors for less fade. Rear drums were used and power drums were optional on all models. Other Javelin changes included better shoulder belts, new two piece strut rod bushings, revised shock tuning, windshield washer bottle replacing the bag, greatly improved air conditioning, safety rails in the doors, higher intensity headlights, auto-headlights-off system, improved alternator and voltage regulator, new "sports console," and front bumper guards (optional).
| | | | | | | |
| --- | --- | --- | --- | --- | --- | --- |
| Javelin engines | 232 | 258 | 304 | 360 | 360 | 401 |
| Horsepower | 135 @ 4,000 | 150 @ 3,800 | 210 @ 4,400 | 245 @ 4,400 | 285 @ 4,800 | 330 @ 5,000 |
| Torque | 210 @ 1,600 | 240 @ 1,800 | 300 @ 2,600 | 365 @ 2,600 | 390 @ 3,200 | 430 @ 3,400 |
| Carb barrels | 1 | 1 | 2 | 2 | 4 | 4 |
| Transmissions | 1, 2 | 2 | 1, 2, 3 | 1, 2, 3 | All | 3, 4 |
| Compression | 8:1 | 8:1 | 8.4:1 | 8.5:1 | 8.5:1 | 9.5:1 |
| Bore/Stroke | 3.75x3.5 | 3.75x3.9 | 3.75 x 3.44 | 4.08 x 3.44 | 4.08 x 3.44 | 4.165 x 3.68 |
| Standard Axle | 3.08:1 | 3.08:1 | 3.15 (1) / 2.87 | 3.15 (1) / 2.87 | 3.15, 2.87, 3.54 | 2.87 (3) / 3.54 (4) |
| Opt. Axles | 3.31, 3.58 | 3.31 | 3.54, 3.15 | 3.54, 3.15 | 3.54, 3.15, 3.91 | 3.15, 3.54, 3.91 |
Transmissions key: 1 = floor shift 3-speed manual; 2 = column auto; 3 = console auto; 4 = floor shift 4-speed manual
B. Rabbit noted that the
Bricklin
sports car (1971-1974) used many AMC parts, mainly undercarriage, and for the first year and a half of production, the AMC 360 with four barrel. The 360 cars are desired by Brickophiles, because their performance is far superior to the later Ford-powered Bricklins."
Imports
Chrysler took advantage of owning Rootes Group, bringing in its first captive import - the
Plymouth Cricket
, to fit in with the rest of the Chrysler line, and boasting a quad headlight grille reminiscent of the 1970 Barracuda, and front-fender "mini-fins" similar to Valiant.
Factory driver Scott Harvey entered one in Michigan's "Press-on-Regardless" rally. He won, and Plymouth took out two-page magazine ads to celebrate. The Cricket was sold as a four door sedan until 1972, when it gained a wagon; but sales were low throughout its run, and quality issues were said to surround it.
Cricket had just a 98 inch wheelbase, and was only 167 inches long; it was 62.5 inches high, and its little 91 cubic inch engine produced 70 horsepower at 5,400 rpm, with 75 lb-ft of torque at 3,500. It ran on regular gas, with an 8.5:1 ratio. The car used 13-inch wheels; the rear seat could be folded down into a "sleeper position" leading to 80 inches of room. (In comparison, Satellite was 205 inches long, nearly 79 inches wide, and had a minimum 110 horsepower, 185 lb-ft engine.)
Dodge, meanwhile, brought out the Colt, competing against the Pinto, Vega, Gremlin, and Cricket; it was made by Mitsubishi (which was now 15% owned by Chrysler), and had a 98 cubic inch (1.6 liter) engine producing a respectable 100 horsepower (versus the 198 slant six's 125). All Colts had either a four speed manual or three-speed automatic.
While it didn't make any particular splash, the SIMCA 1204 also debuted this year. SIMCA was now owned almost entirely by Chrysler; the successful French automaker specialized in small cars, and would be instrumental in the creation of the Omni. They invented the front wheel drive, transverse engine hatchback segment that was later popularized outside of France by the
Volkswagen Rabbit
/ Golf (some claim that the famed Golf GTI was named after the Simca 1100 Ti - as in, "Golf Ti.")
The 1204 was a bigger-engined version of the Simca 1100, the most popular car in France. Launched in 1967, the SIMCA 1100, with a 1118 cc engine, was advanced for its time; it used disc brakes, rack and pinion steering, and a torsion bar suspension in both front and rear; fully reclining bucket seats were standard, as were radials. The 1204 had been brought to the United States in June 1969; with a 1.2 liter engine, it cost under $2,000, and had an optional three-speed automatic and air conditioning. It was praised but unsuccessful, with a 62 horsepower engine driving 2,025 pounds.
Torsion-Quiet system for C-bodies
The Torsion-Quiet system launched in 1971 described rubber cushions which isolated the subframe and leaf springs, reducing vibration and noise the same way that rubber engine mounts do.
Popular Science
's Jim Dunne agreed with Plymouth's description of it as the quietest-riding Fury every built, "and I can vouch for every Plymouth going back to 1946. ... The result: blissful silence of the big-car ride."
The problem, though, is that as isolation was added, stiffness was necessarily and by definition reduced, so that cornering was degraded - though it was still generally considered to be better than the cornering of similar Ford and GM cars, and most customers found it to be a more than acceptable compromise.
Mopar Action
editor Rick Ehrenberg often recommends retrofitting late-1970s cars with earlier suspension parts, to get rid of the extra isolation which seemed to have a greater impact on cornering than ride.
Rick Ehrenberg suggested a complete suspension check to make sure all components were in good shape, and adjusting the steering box to be as tight as possible; and aligning the front end. The specifications Rick provided for general street use were 1.5 degrees caster; -0.5 degrees camber; 0.1 inch total toe; and wheels and tires consisting of 15 x 7 inch wheels with 235R75 at minimum. A full description of how to set alignment without a shop is in the October 2009
Mopar Action.
Following this alignment, Rick recommend replacing the front sway bar with a stiffer one to take advantage of the better tires now available; in his project car, he went from the OEM 0.938 or 1 inch bar to a 1.25 inch bar, saying it made a tremendous impact. Further actions are in the same October 2009 issue, but in short, he then replaced the rear sway bar, rear springs, shocks, torsion bars (moving from 1.06 inches to 1.18 inches), and steering box (Firm Feel Stage 1).
Chrysler Corporation as a whole
Led by Lynn Townsend and John Riccardo, Chrysler sold a record 2.7 million cars in 1971, up from 2.5 million in 1970 and 2.4 million in 1969. That meant almost exactly $8 billion in net sales; with a net profit of $84 million (versus an $8 million loss in 1970 and a $99 million profit in 1969). The company had 227,397 employees, nearly unchanged from 1970, but downsized from 1969's 234,941 payroll. Economic turmoil had shut some dealers, and Chrysler had 5,744 at the end of 1970, down from 6,092 at the end of 1969.
Chrysler had a serious case of model proliferation in 1971: as Lee Iacocca was later to discover and declare, there were an incredible number of practically unique cars made each year, causing confusion on the assembly lines, an insane number of parts stocked for each car, and resulting in quality glitches quite aside from such common errors as having a racing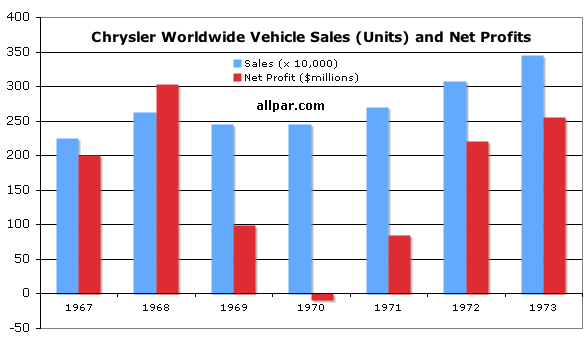 mirror on one side of the car and a luxury mirror on the other, or having Dodge badges on a Plymouth.
The Fury line alone listed 24 different variants, not counting options - and you could still choose your engine, transmission, and such. Some of these variants sold in low numbers - quite a few were below 5,000 units, with Sport Fury GT accounting for just 375! Satellite was split into 18 different models; GTX, Satellite Brougham, and Satellite Custom each sold fewer than 5,000 cars. There were nine different slow-selling Barracudas. The issues were similar, if not worse, at Dodge and Chrysler.
Along with model proliferation came brand dilution. Dodge ran nearly to the top with Monaco, which competed directly against Chrysler, and down to the bottom with Dart and Demon. Plymouth was out of its turf with the higher level Fury models; and the GTX was certainly not appropriate for a value brand (the market voted on that one but liked the Fury III and Sport Fury). Dodge had its greedy eye on the whole pie, and any Plymouth success was rapidly brought into Dodge's maw, including squad cars - which one would have thought would not be appropriate for a division supposedly aligned against Mercury and Buick/Olds/Pontiac, not Chevy and Ford. But Plymouth was also reaching upwards and Chrysler was, with the Newport, reaching down. There appeared to be no leader at Chrysler with a sense of what was right and wrong for each brand; instead the brands fought for the whole market, competing more effectively against each other than against GM and Ford and the increasingly popular (but still rare) imports, largely Volkswagens.
Sales outside the U.S. and Canada were also at a record high, of 898,633 units, 11% above 1970's level. Within the U.S., Chrysler had a 16.5% market share. Truck sales set a record, 168,734, representating an 8.4% market share. Canadian market share was at 24.4% for cars, while truck market share was 13.2%.
Most of Chrysler's sales were in the United States, but France and Britain were #2 and #3 (ahead of Canada) thanks to ownership of SIMCA and Rootes. France accounted for 439,543 sales, the best year ever for SIMCA by a large margin; Britain accounted for 298,506 sales, likewise a record. Chrysler also sold 49,731 cars in Australia, largely Valiants, a number consistent with the past six years. The #1 car line was, as it had always been since the birth of the brand, Plymouth; but Dodge, while 150,000 cars short of Plymouth, also sold 274,495 trucks. Chrysler accounted for 188,589 sales, and Imperial waltzed in with 14,332 (though technically 1970 had been its final year as a separate brand.)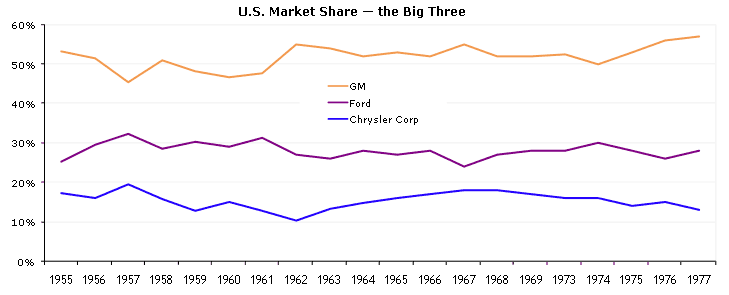 From a corporate view, Chrysler's major moves were increasing its equity in Automex to 91%, increasing its equity in Chrysler France to 99.4%, and increasing ownership in Chrysler UK to 93.8% of the voting stock, as well as buying 15% of Mitsubishi. The plan was to eventually own Mitsubishi outright, and import small cars from Mitsubishi rather than design their own (below the Valiant in size). Importing Chrysler U.K. cars had not worked out well; it would, however, be Chrysler France and Chrysler U.K. acting together with Detroit to build the Omni/Horizon that would land Chrysler its first small-car home run. Chrysler, by this time, owned or controlled Barreiros of Spain (trucks and tractors), SIMCA, Rootes Group (Hillman, Humber, Sunbeam), Commer, Karrier, and Fargo, along with its domestic brands of Chrysler, Dodge, Imperial, and Plymouth.
The hot Plymouths (chart)
Dodge cars were similar in most cases. Challenger had a longer wheelbase. Duster corresponded to Demon.
All had a Chrysler 8 ¾" rear axle with standard 3.23 ratio.
1971 Road Runner
1971 'Cuda
1971 Duster 340
1971 GTX*
1971 Sport Fury GT
Body Style
2-door hardtop
2-dr. hardtop
or convertible
2-dr. Sport Coupe
2-door hardtop
2-dr. hardtop
Wheelbase
115 in.
108 in.
108 in.
115 in.
120 in.
Overall Length
203.2 in.
186.6 in.
188.4 in.
203.2 in.
215.1 in.
Overall Height
52.7 in.
51.2 in.
52.9 in.
53.0 in.
55.0 in.
Overall Width
79.1 in.
74.9 in.
71.6 in.
79.1 in.
79.5 in.
Track (Front)
60.1 in.
59.7 in.
57.5 in.
60.1 in.
62.1 in.
Track (Rear)
62.0 in.
60.7 in.
55.5 in.
62.0 in.
62.0 in.
Standard Engine
383 CID V-8
383 CID V-8
340 CID V-8
440 CID V-8
440 CID V-8
Horsepower
300 gross, 250 net
300 gross, 250 net
275 gross, 250 net
370 gross, 305 net
370 gross, 305 net
Torque
410 gross, 325 net
410 gross, 325 net
340 gross, 310 net
480 gross, 400 net
480 gross, 400 net
Standard Transmission
3-speed manual, all synchro, floor-mounted shift
High-upshift TorqueFlite auto.
Torsion Bars
Heavy-duty 0.90" diameter (0.92 with 440 6-bbl. or Hemi)
HD 0.87"
HD 0.92"
Heavy-duty 0.98"
Rear Springs, Left
Heavy-duty 4 1/2 leaves
(Extra H-D 5 leaves + 2 half leaves with 440 6-bbl. or Hemi)
HD 6 leaves
HD 5 leaves + 2 half leaves
Heavy-duty 6 leaves
Rear Springs, Right
Heavy-duty 4 ½ leaves
(Extra H-D 6 leaves with 440 6-bbl. or Hemi)
HD 6 leaves
Heavy-duty 6 leaves
Heavy-duty 6 leaves
Stabilizer Bar Front
Heavy-duty, 0.88" dia.
Heavy-duty, 0.88" dia.
Heavy-duty 0.88" dia.
Heavy-duty 0.88 in. dia.
Heavy-duty 0.94" dia.
Front brakes
11" x 3" drums
11" x 3" drums
10" x 2 ¼" drum
11" x 3" drums
Power-assisted disc front/rear drum
Rear brakes
11" x 2 ½" drums
11" x 2 ½" drums
10" x 1 ¾" drum
11" x 2 ½" drums
Optional
Front disc, rear drum
Front disc, rear drum
Front disc, rear drum
Front disc, rear drum
Rim Size
14" x 6"
14" x 6" (15" x 7" w/Hemi or optional on 440/383/340)
14 x 5 ½"
14" x 6" (15" x 7" opt.)
15" x 6"
Tire Size
F70 x 14 (G70 x 14 std. w/440 6-bbl. or Hemi, opt. for 383)
F70 x 14 (F60 x 15 std. w/Hemi, E60 x 15 opt. for 440/383/340)
E70 x 14"
G70 x 14 (G60 x 15 opt.)
H70 x 15
* Dimensions were identical to standard 1971 Satellite two-door.
Pollution controls
A major factor in the future of American cars had been launched in 1970, with the Clean Air Act. Introduced by Republican Howard Baker of Tennessee, and signed by Richard Nixon, the law would bring serious changes. The 1971 cars produced 33% fewer hydrocarbons, 70% less carbon monoxide, and, in California, 33% fewer oxides of nitrogen than equivalent 1960 cars, according to Chrysler. A "Used Car Cleaner Air Package" could cut these pollutants in half in cars made before 1968; and over 90% of Chrysler engines could run well on regular low-lead gas.
While the catalytic converter was still in the future and gas turbines were always to be in the future, electronic ignition was unveiled in 1971 and installed on numerous cars in 1972.
Within the factories, Chrysler invested $15 million in converting powerhouses from coal to gas and installing emissions equipment on the remaining coal burners, also working on cutting water pollution; they also started incinerating VOCs from the
Los Angeles plant
(which was to close later in the year - because of the lack of rail support).
In February 1971, Chrysler announced its Safety Cushion System, which used a redesigned and padded instrument panel and a specially padded front seat to reduce injuries in both front and rear of the car.
Technology and general changes
Most of Chrysler's domestic cars carried over practically untouched, but the intermediates (the ever-popular B-bodies) were on "new" bodies, wider and with an inch longer wheelbase; their attractive "fuselage" styling now matched the full size line. The new Satellite (née Belvedere) won Car of the Year from
Road Test
.
New for 1971 was the part-throttle downshift on the tough
TorqueFlite
automatic; it allowed the transmission to "kick down" one gear when the driver put their foot around a third of the way into the throttle. This cut fuel usage, increased engine response, and resulted in smoother, quieter shifts. It was not, however, available with the Hemi or performance 440.
The synchronized three-speed manual trasmission was redesigned with less of a tooth angle for easier shifting.
To allow for running on regular gas, compression was dropped on the 318, 383, and standard 440 (from 8.8 to 8.6, 9.5 to 8.7, and 9.7 to 9.0 respectively). Performance engines remained high on premium, with compression from 9.7 to 10.3.
Emissions were cut by a new intake port in the heads of all 383 and 440 V8s, directing the fuel-air mixture toward the center of the cylinder bore and allowing leaning the mixture to cut emissions and raise mileage; camshafts in the six cylinder engines had increased overlap to reduce pollution. California cars got a nitrogen oxide reduction system, while the Vapor Savor (charcoal canister) system was put onto all 1971 cars, slashing fuel fume emissions with no adverse impact on power.
The new 360 V8 was launched in 1971, and would last for decades as a truck engine. In 1971 it was only used in the C-bodies; designed to run on regular gas with an 8.7:1 compression ratio, it was quieter than the 340, thanks partly to hydraulic tappets, had good low-speed torque, and had relatively (vs 383 w-barrel) good mileage with a Holley two-barrel carb.
Note: most sources claim 425 hp, net, for the 426 Hemi in 1971, and this may well be correct. The following numbers are from the 1971 Dodge and Plymouth brochures, issued by Chrysler Corporation in late 1970. It seems likely that the 426 Hemi numbers are understated; see the (gross) horsepower figures from a Chrysler dyno run.
Hot Chrysler Corp. engines (premium gas)
340
383
440
440 Triple Carb
426 Hemi
Gross Horsepower
275 @ 5000
300 @ 4800
370 @ 4600
385 @ 4700
425 @ 5000
Net Horsepower
235 @ 5000
250 @ 4800
305 @ 4600
330 @ 4700
350 @ 5000
Gross Torque (lb-ft.)
340 @ 3200
410 @ 3400
480 @ 3200
490 @ 3200
490 @ 4000
Net Torque (lb-ft.)
310 @ 3200
325 @ 3400
400 @ 3200
410 @ 3200
390 @ 4000
Bore
4.04
4.25
4.32
4.32
4.25
Stroke
3.31
3.38
3.75
3.75
3.75
Compression
10.3 to 1
8.5 to 1
9.5 to 1
10.3 to 1
10.2 to 1
Carburetor
4-bbl. Carter
4-bbl. Holley
4-bbl. Carter
3 2-bbl. Holler
2 4-bbl. Carter AFB
Air Cleaner
Dual Snorkel
Single Snorkel
Dual Snorkel
Unsilenced*
Unsilenced*
Exhaust
Dual/Free Flow
Camshaft Type
Hydraulic-High Lift/Long Duration
Cam Duration (intake/exhaust/overlap)
268˚/276˚/44˚
268˚/284˚/46˚
268˚/284˚/46˚
268˚/284˚/46˚
284˚/284˚/60˚
Intake and Exhaust Valve Diameter
2.02 x 1.60
2.08 x 1.74
2.08 x 1.74
2.08 x 1.74
2.25 x 1.94
Distributor breakers
Dual
Single
Single
Dual
Dual
Standard Transmission
3-speed man
3-speed man
TorqueFlite
4-speed manual or
TorqueFlite
4-speed manual or
TorqueFlite
Optional Transmission
4-speed man
or auto
4-speed man
or auto
4-speed manual
Other Chrysler-Plymouth and Dodge engines
| | | | | | |
| --- | --- | --- | --- | --- | --- |
| Regular gas engines | 198 Six | 225 Six | 318 V8 | 360 V8 | 383 V8 |
| Gross Horsepower | 125 @ 4400 | 145 @ 4000 | 230 @ 4400 | 255 @ 4400 | 275 @ 4400 |
| Gross Torque (lb-ft.) | [email protected] 2000 | 215 @ 2400 | 320 @ 2000 | 360 @ 2400 | 375 @ 2800 |
| Snorkels | Single | Single | Single | Single | Single |
| Bore x Stroke | 3.4 x 3.64 | 3.4 x 4.12 | 3.19 x 3.31 | 4 x 3.58 | 4.25 x 3.38 |
| Compression | 8.4 | 8.4 | 8.8 | 8.7 | 8.7 |
| Camshaft | 244-244-26 | 244-244-26 | 240-248-26 | 252-256-32 | 260-268-38 |
| Carburetor | Single barrel | Single barrel | Two barrel | Two barrel | Two barrel |
The 1971s had a modified power steering system for better road feel, improved brakes, lower wind noise; new door handles were used to prevent accidental locking, and head restraints were built into some bench seats.
Transmissions included a three speed manual with both column and floor shift, a four-speed manual, and the TorqueFlite three speed automatic, usually column shifted but given the "slap stick" shifter when ordered with a console in the B-bodies and E-bodies; the system was designed to quickly be "slapped" from first to second and from second to Drive without risking going into Neutral.
One of the most visible changes in 1971 was the switch to net horsepower ratings; Chrysler provided measures of
useable
engine power side by side with gross horsepower for a year, to ease "power shock." The 383 and 440 switched to different heads to meet emission strandards, and new 360, with a two-barel carb and single exhaust, appeared; the 360 was to be a very successful police car and, with the four-barrel, muscle Duster motor. Curtis Redgap wrote, "We also had some 1971 Plymouth Fury I patrol units with 360 V-8s, four barrel carbs, and dual exhuasts. They ran very well and were not far off the 440 time."
| | | | | | | | | |
| --- | --- | --- | --- | --- | --- | --- | --- | --- |
| Engine | 225 | 318 | 360 | 383 | 383 | 440 | 440 | 440 |
| Gross Horsepower | 145 | 230 | 255 | 275 | 300 | 335 | 335 | 370 |
| Net Horsepower | 110 | 155 | 175 | 190 | 250 | 220 | 250 | 305 |
| Gross Torque (lb-ft) | 215 | 320 | 360 | 375 | 410 | 460 | 460 | 480 |
| Net Torque (lb-ft) | 185 | 260 | 295 | 305 | 325 | 350 | 380 | 400 |
| Carburetion | 1 bbl | 2-bbl. | 2-bbl. | 2-bbl. | 4-bbl. | 4-bbl. | 4-bbl | 4-bbl. |
| Compression Ratio | 8.4 to 1 | 8.6 to 1 | 8.7 to 1 | 8.5 to 1 | 8.5 to 1 | 8.8 to 1 | 8.8 to 1 | 9.5 to 1 |
| Exhaust | Single | Single | Single | Single | Dual | Single | Dual | Dual |
| Fuel | Regular | Regular | Regular | Regular | Regular | Regular | Regular | Premium |
Features and options
Customers were increasingly demanding options; automatic transmissions were up to a stunning
95%
of sales, air conditioning was up to 60%, and, amazingly, vinyl roofs were purchased by 47% of buyers, at a time when many still ordered cars from the factory. Power brakes were only demanded by half of buyers - partly, one assumes, because they tended to lock up all too easily in those days - but the highly desirable disc brakes fared little better, demanded by just 49% of customers. The number of times "disc brake upgrades" has been covered by
Mopar Action
and
High Performance Mopar
shows that, perhaps, some of those customers should have ordered discs instead of vinyl roofs. Then again, perhaps it was dealers opting for the fancy roofs - because it's what customers saw before the test drive.
One new option was a stereo cassette player with optional microphone (it could record off the radio or the mic). While cassette players would become
de rigeur
in time, recording would take a long holiday, returning with the MyGIG hard drive based stereos.
Chrysler/
Plymouth
Standard
Engine
Transmission
Axle Ratio
Steering
Type & Ratio
Front Brakes
Rear Brakes
Tires
Rim
Valiant, Duster
198
318
Manual 3-spd
3.23
Man. 28.8
9x2-1/2
10x2-1/4

9x2
10x1-3/4
6.95x14
4.5J
Duster 340
340
Manual 3-spd
3.23
Man. 28.8
10x2-1/4
10x1-3/4
E70x14
5.5JJ
Barracuda
198
225
318
Manual 3-spd
3.23
Man. 28.6
10x2-1/2
10x2-1/2
D78x14
E78x14
D78x14 *


4.5J
5.0J
5.0J


'Cuda
383
Manual 3-spd
3.23
Man. 28.6
11x3
11x2-1/2
F78x14
5.0J
Satellite
225
318
Manual 3-spd
3.23
Man. 28.6
10x2.5
10x2.5
E78x14
F78x14
5.0J
5.0J
Satellite Wagon
225
318
Manual 3-sped
3.55
3.23
Man. 28.6


11x2.5
11x3


11 x 2.5

H78x15
5.5JJJ
Road Runner
383
Manual 3-spd
3.23
Man. 28.6
11x3
11x2-1/2
F70x14
6.0JJ
GTX
440
Automatic
3.23
Man. 28.6
11x3
11x2-1/2
G70x14
6.0JJ
Fury
225
318
Manual 3-spd
3.55
3.21
Man. 30.7
11x2-3/4
11x2-1/2
F78x15
5.0JJ
Fury Wagon
318
Manual 3-spd
3.23
Man. 30.7
11 x 2.75
11x2.5
J78x15
6.5JJ
Sport Fury GT
440
Automatic
3.21
Man. 30.7
disc
11x2-1/2
H70x15
6.0JJ
Newport
383
Manual 3-spd
3.23
Man. 30.7
11x2-3/4
11x2-1/2
H78x15
5.5JJ
300
New Yorker
440
Automatic
2.76
Man. 30.7
Power 19.0
11x2-3/4
Disc
11x2-1/2
H78x15
J78x15
5.5JJ
6.0JJ
Town & Country
383
Automatic
3.23
Power 19.0
Disc
11x2-1/2
L84x15
6.5JJ
Imperial
440
Automatic
2.94
Power 19.0
disc
11x3
L84x15
6.0JJ
* E78 X 14 on Gran Coupe.
Standard on all Chryslers was "strato ventilation," fresh-air ventilation coming through the adjustable outlets in the middle of the instrument panel. Side cowl fresh air vents were also standard, near floor level. Dual air conditioners, optional only in Imperial, provided an extra cooling unit in the rear, and was an exclusive feature. Ventless door windows were standard - these are the modern kind, without the front triangle window;power front vent windows (triangle windows) were optional on New Yorker and Imperial four-door hardtops with the power windows.
Optional for all Chrysler brand cars were automatic headlights and tilt wheel, with seven different positions. Automatic temperature control used a dial with actual temperatures marked on it (in five degree increments) and could be set anywhere from 65 to 85 degrees Farenheight; the sensing and servo mechanisms were vastly improved in 1971 for more accurate controls.
All engines had hydraulic tappets, heated intake, low restriction intake manifold, and fast-action choke. The 440 TNT required an optional heavy duty TorqueFlite 727 transmission, and had oversized 2.5 inch exhaust pipes and 2 inch tailpipes, as well as a chrome plated oil filler cap. All the V8s had deep skirt engine blocks with block support below the crank and main bearings. Hydraulic tappets meant no need for valve adjustment. The distributor was always mounted in front for easier service. PCV and heated inlet air systems helped reduce pollution.
383 2-V
383 4-V
440
440 TNT
Available (Chrysler brand)
Newport,
T&C
Option,
Newport, T&C
Standard except
Newport, T&C
Option: Newport,
300, New Yorker
Gross Horsepower
275 @ 4,400
300 @ 4,800
335 @ 4,400
370 @ 4,600
Net Horsepower
190
250
220 @ 4,000
305
Gross Torque
375 @ 2,800
325 @ 3,400
460 @ 3,200
380 @ 3,200
Net Torque
305
325
350
400
Snorkel
Single
Single
Single
Dual
Exhaust
Single
Dual (exc. T&C)
Single
Dual
Compression
8.5:1
8.5:1
8.8:1
9.5:1
Gas
Regular
Regular
Regular
Premium
Bore x Stroke
4.25 x 3.38
4.25 x 3.38
4.32 x 3.75
4.32 x 3.75
Other
Special cam
Special cam;
High-lift cam
Stopping was still largely accomplished via drum brakes, using bigger linings than competitors, and aided by finned front drums and flared rear drums which dissipated heat more readily; only manual drums were available, because when power was ordered, front discs were mandatory. The power front discs were standard on Imperial, New Yorker, and Town & Country, and optional on others. All brakes were self adjusting, and used a dual master cylinder (half controlling the front, half controlling the rear.)
The antilock brake system used on Imperial in 1971 controlled all four wheels, using an electronic controller; the Sure-Brake
system started out with the regular power discs, and added a sensor at each wheel, and three vacum power modulators (one for each front brake, and one for the rear brakes). When the sensors discovered a wheel suddenly slowing down at a rate that indicated a skid, it triggered the modulator, which reduced the hydraulic pressure on the wheel; then almost instantly restored ressure. The cycle repeated as often as needed, though only over 5 mph. An indicator light told the driver when it was action, and the entire system was checked each time the car was started with the brakes on.
Axle ratios were 2.94:1 on the Imperial, 2.76:1 with the 383-2-barrel automatic or New Yorker/300 with 440 (optional, 3.23:1), 3.23:1 standard and 2.76:1 optional on 440 TNT, 3.23:1 on manual-trasmission 383, and 3.23:1 (2.76:1 optional) on 383 four-barrel or Town & Country with 440. Brakes were 11 x 2.75 front, 11x2.5 rear, for 216 total effective area.
Car bodies
By 1971, unibody was already old hat to Chrysler, and all Chrysler, Plymouth, and Dodge cars were unibody designs, with a subframe to support the engine, transmission, steering, and front suspension; this subframe was isolated from the body by thick rubber cushions to damp out vibrations. The unibody design allowed for more better rigidity and structural efficiency with lower weight than body-on-frame designs.
The
suspension
was, again, standard for Chrysler Corporation by that time, with independent, high-chrome-steel torson bar front springs; an antisway bar up front; shock absorbers in front and back; angled upper control arms to resist brake dive; diagonally mounted steel struts to reinforce and position front wheel lower control arms; widely spaced, off-center mounted rear springs to eliminate acceleration squat and resist brake dive; and a wide-track rear axle. Multileaf springs, fastened at two points, were used in the rear to cushion driving and braking shocks, and to adjust to varying loads. The result was surprisingly good cornering for a huge, comfortable car.
Bodies were given a 7-step antirust treatment which sometimes worked.
Racing
Richard Petty
's famed #43 Plymouth brought him a third Grand National championship.
1971 was the last year racers (and anyone else) could buy a new
426 Hemi
. Sales were already quite low, due to the extremely high insurance costs involved, the need for careful tuning versus the 440, and the high expense of the largely handmade engine, which required special suspension treatments. Just 356 Hemis were sold in 1971, in Road Runners, 'Cudas, Challengers, GTXs, and Chargers.
In Trans-Am racing, AMC was as hot as Chrysler was not, with the Javelin racking up wins as it had in 1970.
Non-automotive: space, defense, boats, chemicals, analyzers, and more
The nonautomotive products group sold $323 million of goods and services, 2% higher than in 1970;
military and space
accounted for $135 million of this.
Airtemp
set new records, increasing sales by 7%; the division started production in a new plant near Bowling Green for large commercial and industrial equipment.
The
boat division (Chrysler Marine)
expanded with four new fiberglass sport boats, two outboard engines, an inboard-outdrive marine engine, and two industrial engines; the new entries included Hydro-Vee, Courier, Mutineer, and Charger boats. The new marine engines were a 150 horsepower racing motor and 130 horsepower top-end production engine. An exclusive Marine Division feature avoided fuel spillage by injecting it back into the cylinders. Marine Division sold 25 gas and diesel engines, including versions o fhte 273, 318, and 340 V8s; Industrial Products brought out new versions of the 360 and 400 V8 engines, and continued to sell gas engines from 225 to 440 cid, and seven diesels.
Chemical Division had 20% higher sales, including vinyl coated fabrics, film, and foam tape. New products included a polyurethane adhesive for attaching wood block flooring to concrete. Drawing materials were used by hot-rolled and cold-rolled steel plants; and the division launched a unique bond-cured shoe/lining brake program for mobile homes and recreational vehicles.
Amplex
sales rose 12%, and the company worked on developing a new forging process for powdered metal, which cut costs by reducing machining. New equipment for cold extrusion and ceramic magnets was added to the Van Wert (Ohio) plant.
At Huntsville, a new auto emissions analyzer, the first dispersive-type test system for the purpose, was launched; and Defense developed a CCTV system that worked in both day and night. Space Division developed a new anti-pollution system for dealing with human waste, using a reusable flushing fluid; this was installed at Mount Rushmore's visitor center and was meant for sea vessels. Defense also got $67 million in add-on contracts for the M-60 tank, keeping the Detroit Tank Plant open.
1971 Dodge squad cars
•
1971 Chryslers
•
1973 Dodges
|
1973 Plymouths
|
Other History Pages
Chrysler Heritage
•
History by Year
•
Chrysler People and Bios
•
Corporate Facts and History
Home
•
Engines
•
Reviews
•
Chrysler 1904-2018
•
Upcoming
•
Trucks
•
Cars
Spread the word
via <!--
Tweet
or-->
Facebook
!
We make no guarantees regarding validity or accuracy of information, predictions, or advice - .
Copyright © VerticalScope Inc. All rights reserved. Dodge, Jeep, Chrysler, Ram, and Mopar are trademarks of Fiat Chrysler Automobiles.