1974-75 Imperials: the final cars
The last Imperial brand cars, the 1974-1975 LeBarons were basically elevated Chrysler New Yorkers, with unique styling and unique features on a big, comfortable, powerful base. Imperial was still its own brand at the time - there was no "Chrysler Imperial" - but Imperials with unique bodies and styling had only lasted from
1957
to
1966
.
The Imperials remained more technologically advanced in their features and options than the Chryslers, and they were still assembled more carefully and tested more thoroughly. They were longer than the largest Chrysler, though the 1974-75 cars shared the same wheelbase (the 1967-73 Imperials had a three inch longer wheelbase than the largest Chrysler).
The 1974 Imperial was both old and brand new; Chrysler had re-designed all its full sized cars for 1974, including Gran Fury, Monaco,
Newport
, and New Yorker, but they used parts and technology from past years -
440 engines
,
Torqueflite three-speed automatics
with rear wheel drive,
torsion-bar front suspensions
, leaf-spring rear suspensions, unit-body construction, and such.
For 1974 Chryslers and Imperials alike, new rubber mounts were added to the suspension, part of the "Torsion-Quiet Ride." This added insulation from bumps and jolts, at the cost of some cornering precision - still delivering better cornering than equivalent Cadillacs and Lincolns.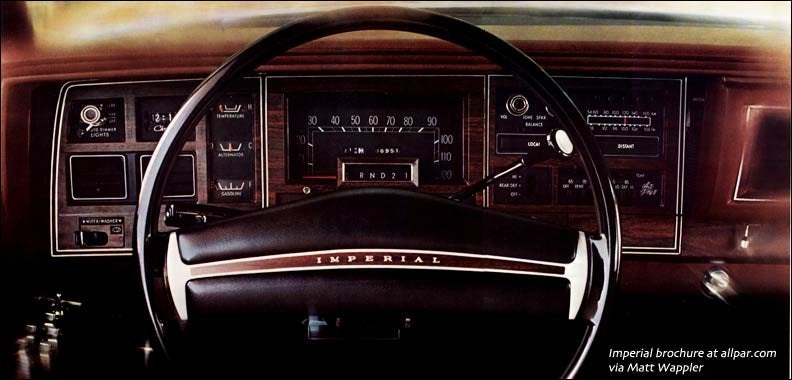 Chrysler was optimistic about "the first in a new generation of luxury motorcars," but between the oil crisis, higher prices, and a much better-advertised new Cadillac, Imperial sales were disappointing.
Visually, the main difference between the
1973 Imperial
and the 1974 models was a front grille similar to that of the Lincoln Continental, with turn signals at the front corners; its unique feature was a waterfall grille, made of different-width bars, which would be a Chrysler styling element through the 1990s. The tail and sides were also restyled, and the belt-line was lower, for a more spacious look inside.
As an existing model with a moderate restyle, Imperial avoided the tackiness that was becoming common: it had no opera windows, coach lights, or (following Cadillac) chromed plastic grilles, sticking with its chrome-plated zinc grille, gracious curves, and hardtop styling.
The company declared, in advertising literature:
These are Chrysler Corporation's top-of-the-line models...Every Imperial we build has 12-15 miles put on it before it ever gets delivered. . . Our inspection includes over two hundred items. . . Air conditioning with automatic temperature control... It truly is the Imperial of luxury cars.
Buyers got standard air conditioning, automatic transmission, power steering, power windows, and four-wheel power disc brakes (highly unusual for the time; the only other American car with that setup was the Corvette). Imperial retained their electronic ignition from 1972, and used the first standard 40,000-mile steel-belted radial tires in the industry. The digital clock was accurate enough to officially be called a chronometer, a rarity in those times; the glove box had an integral coin holder, the stereo had automatic search tuning, and the gas, temperature, and alternator gauges had warning lights.
The Imperial rode on the same 124-inch chassis as the much-cheaper Chrysler Newport, but had a 231 inch length, roughly the same as Cadillac Fleetwood Brougham and Lincoln Continental Town Car. Underneath, they used the same basic unibody construction and
torsion-bar suspension
as the other Chryslers, reportedly with more welds and different tuning.
Inside, Imperial had standard automatic climate control; the 1974 Imperials added two more cooling outlets in the dash and a stronger blower. The standard interior had velour upholstery, lighted vanity mirrors, power antenna and trunk release, rear seat lavaliere straps, folding armrests, individual reading lamps, and rear headrest pillows. Optional was tufted (buttoned) "Corinthian Leather" - the first car to have it, something many
Chrysler Cordoba
owners aren't aware of.
Interiors with red velour were especially luxurious, featuring a simulated Brazilian rosewood dashboard with silver accents. Buyers could also get power seats, tilt/telescope steering wheels, power sunroofs, alarms, heavy duty suspensions, leather, power trunk release, and a towing package. Nearly all buyers took the power seats, and most took the tilt-wheel.
The Imperial came with the
440 V8
(230 net horsepower), providing a wide power band with high torque, and the reliable TorqueFlite transmission was tuned for soft shifts.
There were three 1974-75 Imperial bodies: a four door hardtop, two door hardtop, and two-door Crown Coupe. For 1974, the four door was by far the most popular, with over 10,000 sold; it was also the cheapest, at $7,230 (keeping in mind you could still get a good car for under $3,000.) About half as many two-door hardtops were sold.
Midyear, Chrysler launched a LeBaron Crown Coupe, celebrating the brand's 50th anniversary, painted gold (with a gold interior of velour or leather) for the gold anniversary. The Crown Coupe had opera windows (for $527 extra), and padded vinyl in the front of the roof, rather than the back, added in by ASC (American Sun Roof Corporation). Crown Coupe sales were hardly worth mentioning in 1974 - just 57 were made - but it would be relatively popular in 1975.
Matt Wappler pointed out that 1974 Imperials had no grille extension cutouts or bumper cutouts; the grille had vertical lines grouped in sections, with some thicker than others but none protruding beyond the rest; a "hoop" design headliner (rather than vacuum-formed fiberboard covered in cloth, as was used in 1975); a 65 amp alternator on the right side of the engine; and a blower type rear defogger.
For 1975, air conditioning, tinted glass, and power disc brakes and windows were standard. New to Imperial was an automatic beam changer (like Smartbeam). An Imperial accessory group added things which should have been standard: floor mats, carpeted spare tire cover, and right outside rearview mirror.
Some added touches explained the high cost of the car versus a loaded Chrysler, such as a telescoping steering column and articulated left windshield wiper arms that, as they neared the edge of the windshield, pivoted to cover another four inches.
Writing for the
Walter P. Chrysler Club
magazine, Sandy Block pointed out that the 1975s had a revised grille with wider spacing between the bars, and which extended down to the bumper section for greater cooling; a new dark red color; a smooth brushed velour (replacing the ribbed velour of 1974); color-keyed (and smaller) steering wheels; and loop-pile carpet replacing the shag. A new standard feature was an illuminated vanity mirror in the passenger-side visor.
Functionally, 1975s had platinum-tipped spark plugs said to last 50,000 miles; a 500 amp battery (up from 440); an electric rear defroster; a standard 2.7:1 axle ratio (the old 3.23 was optional); a catalytic converter; no starter interlock; and a new automatic height control (which raised the rear of the car under heavy loads), standard. The price and weight both shot up possibly as a result of the height control, and possibly also due to inaccurate weight estimates in 1974 (or 1975).
A new option, reflecting the fuel crisis, was the fuel pacer system, which included fender-mounted turn signal lamps; the left-hand light would go on if you pushed the gas beyond a certain point to exercise the 440. This was available throughout the Chrysler/Plymouth/Dodge car lineup.
Even fewer 1975 Imperials were made, with roughly 60% as many four-doors, one-quarter as many two-door hardtops, and - oddly - 1,641 Crown Coupes, versus 57 in 1974. Most 1975 Imperials were made in 1974; production ended in June 1975. Only 3,921 orders for Imperials were from customer orders - the remainder were ordered for dealer stock. Canadian sales remained roughly the same as in the year before, while American sales took a hit.
Dr. David George Briant, writing in the
Walter P. Chrysler Club
magazine about the 1973 Imperials (which had the same powertrain and basic suspension architecture), said:
... the large convex-sided "fuselage" shaped Imperials provided tremendous comfort and superior highway manners. They looked big, and they were! ... the car responded crisply to her controls, and moved out with alacrity. ...

| | | |
| --- | --- | --- |
| | 1974 Imperial | 1975 Imperial |
| Price | $7,230 - $7,856 | $8,900 - $9,277 |
| Weight | 4,770 - 4,862 | 4,965 - 5,165 |
| Production | 14,483 | 8,830 |

While impressive in any venue, Imperial came into its own as a vehicle in motion. The engineering/manufacturing team performed magnificently in designing and producing hardware that operated precisely in sync so as to provide an outstanding experience. Cruising at Interstate speeds found an Imperial virtually loafing, while the driver needed to pay attention to business, lest the hurtling package ease well beyond legal limits. The speed control option helped in this situation. ... Potholes and equally poor and undulating surfaces were passed over with dignity as the suspension performed as designed - with apparent ease.
Motor Trend
found that the Imperial bested the Eldorado and Lincoln Mark IV;
Consumers Guide
found it to be the best American luxury car.
Jon Denson of the
WPC Club
wrote about some of the features of these Imperials and the later Chrysler New Yorker Broughams:
The concealed headlamps were another graceful addition. Some people even claim that the car looks better with the headlight doors open, to show the almost evil looking, piercing round headlights. It almost reminds some of the freestanding headlights on Imperials of 1961-1963.

The rear-ends were also highly styled, but with a mild elegance. The trunk-lid had a raised center, almost like a bustle-back, and the teardrop taillights were mounted vertically on both sides. The taillights were framed with thick chrome trim, which extended out at the top of the light. Silver accents lined the edges of the taillights.

Nothing could come close to the styling of these, fine automobiles, which were definitely way ahead of the competitors, in terms of luxury. It was the last Imperial, but it was worthy of the name.
Imperial fell for many reasons. Buyers had to go to the same showroom and service department as the lowly Plymouth, while other luxury car owners were coddled at specialty shops. Sales were low; the Cadillac Deville alone sold 170,000 units in 1974, priced the same as the top Imperial, so profits must have been slim at best. Chrysler was badly hurt by their large investment in big cars just before gas shortages made them hard to sell (Cadillac was apparently not affected by the fuel crisis) and could no longer afford to have a money-losing prestige division.
The 1975 Imperial was the final car, though the signs were on the wall in 1974, when a brochure listed the "Chrysler Imperial." The cars themselves carried on until 1978, rebadged as the "
Chrysler New Yorker Brougham
." The Chrysler cars had a lower base price, but many standard features were turned into options, so most buyers paid the same price in the end. Imperial itself would appear again - as a 1981 Chrysler - but it was never to stand on its own.
Imperial Club • 1969-73 Imperials • 1976-78 New Yorker Broughams
Home
•
Engines
•
Reviews
•
Chrysler 1904-2018
•
Upcoming
•
Trucks
•
Cars
Spread the word
via <!--
Tweet
or-->
Facebook
!
We make no guarantees regarding validity or accuracy of information, predictions, or advice - .
Copyright © VerticalScope Inc. All rights reserved. Dodge, Jeep, Chrysler, Ram, and Mopar are trademarks of Fiat Chrysler Automobiles.