1976 Chrysler, Plymouth, and Dodge cars, engines, and times
by Ewald Stein
Any year is important to the history of the world, yet some years are more conspicuous than others. What do we recall from 1976?
I turned 15 that year, and cars interested me more than anything else. My dream was designing cars, driving cars, owning cars. But living in a rural area in the south of the Netherlands before the Internet meant that information was hard to get, and that the places where things happened were far away.
1976 became an iconic year for me for several reasons. It started when the salesman of the local
Simca
garage one day turned up with a gold metallic
1976 Cordoba
with parchment velour interior and I was smitten: I had to have one.
Later, at the age of 22, I bought my first American car, a seven year old 1976
Dodge Coronet
Brougham, in LA2 Silver Cloud Metallic, with an E7 dark red vinyl roof and E8 similar red interior. It had a 225 slant six, automatic transmission, 60/40 front bench, and Rallye Road wheels, and it ran ever so smoothly.
Much later, I obtained a
1976 Plymouth Fury Sport
, which I sold in 1995 and bought back again in 2001. Before buying back the Fury Sport, I briefly owned a dark brown 1977 Cordoba which turned out to be rather problematic. Other 1976 cars I owned over the years were a
Simca
1100 Commerciale, a BMW 518, and a Ford Escort RS2000.
1976 was a turbulent year for the world. I will spare you the political details (there are encyclopaedias for that), but the supersonic Concorde entered regular service, the United States celebrated the Bicentennial, NASA's Viking One landed on Mars, and James Hunt became Formula 1 world champion. Amongst the famous who departed in 1976 were Agatha Christie, Field Marshall Montgomery, Howard Hughes, Man Ray, and Benjamin Britten. Abba broke through with "Dancing Queen," The Eagles' "Hotel California" was released, and a musical revolution was caused by Jean-Michél Jarre with the album "Oxygéne."
A
car radio
was still often an option, and a single-speaker radio was the standard in cars, although mostly with FM in Europe. Luckier people had a stereo cassette player in their cars. We looked with awe at Americans cars with 8-track systems with four (!) speakers - that was something exotic!
Of the many cars that appeared on the market in 1976, some became famous since whilst others, let's say, didn't. Aston Martin made a sensation with its wedge-formed Aston Martin Lagonda; BMW took off with the 6-series (E24); and the first Ford Fiesta appeared. Then there was the
Australian Chrysler Valiant (CL),
the Porsche 924 (always having an image problem due to its Volkswagen origins), the Dutch Volvo 340 (a DAF, rebadged after Volvo took over 1975), and the Rover SD1 (a great car but with sloppy quality). Another important new face in the road was the Mercedes-Benz W123-series, which since has become legendary.
Chrysler's Situation
1976 was a very difficult year for the Chrysler Corporation. It had made $255 million in 1973, but lost $52 million in 1974 and then $260 million in 1975. In 1976, Chrysler ended up making $423 million in profits, and employees and worldwide payroll both rose.
Volare/Aspen
sales were part of that success, but so was moving the Fury and Monaco names to newly-plushed-up B bodies.
Chrysler Canada did well in 1976, too, with more sales. Outside the US and Canada, there were mixed results, with slightly fewer sales and exports for Chrysler Australia. Chrysler France did very well (the new
Simca 1307
was a success) but Chrysler UK was still going through difficult times.
On a glance, things looked rosy, but given recent losses and the need to retool, quality suffered, with less extensive corrosion treatments and lower quality chromium parts. There wasn't money available for major innovations, let alone entirely new models, so product people had to be creative with bodies that had been developed before or during the fuel crisis. Cars were now judged on fuel consumption, and while Chrysler had not been able to create substantially more efficient cars, it did import small cars and rebadged existing models to claim that specific nameplates had become smaller and lighter.
The situation at Chrysler was bleak, but upper management spent huge sums of money on a new carline that was barely larger than the A series and barely smaller than the B series. What came out of this was the
R-body that would appear in 1979 - the Chrysler New Yorker and Newport, Dodge St. Regis, and Plymouth Gran Fury
. In reflection, one product planner wrote that they simply had tunnel vision and hadn't considered altering their existing, well-tested cars.
There was more bad news in 1976, including selling the historic
AirTemp division
, though this division had been losing money. Quality-orientated AirTemp, selling non-automotive air conditioning systems, had not found a way to cope with cheap, disposable competition. AirTemp was sold to Fedders, the epitomy of the philosophy of "low quality but cheap."
Less upsetting was the sale of the Big Sky resort, which had opened in 1973 as a real estate investment. The company also sold the New Stanton, Pennsylvania, plant. In the late sixties, there had been plans to build new Plymouth and Dodge cars on 3300 acres around the existing factory. But instead, the plant was sold to Volkswagen, made Rabbits there in 1978, closing the plant in 1988.
Improvements for 1976
For 1976, Chrysler's message to the press was that its cars aimed at "lower operating costs and improved serviceability." Chrysler had already lowered costs for owners through improvements like electronic ignition, but now the cars were made easier to work on, and maintenance intervals were greatly increased.
Press releases praised the new
Lean Burn electronic engine system
was a major innovation (it was, indeed, the world's first computer control of a car engine), scheduled for February 1976 as an option on cars with 400 cubic inch engines. In 1976, it controlled ignition timing; by 1979, it would also control the carburetor. Chrysler quickly improved the system, year to year, but it was likely pushed out too quickly, and many customers had problems with it. Technician training may have also been an issue.
There were other improvements, including moving the wiring with tilt and telescope steering columns on all models (easier access), redesigned parking brakes (easier to set), improved cooling (better materials, increased change interval), better exhaust systems (simplification, different materials), and a change in design that enabled the cars "to pass a full 360° roll-over without any fuel leakage."
Press releases put the emphasis on the
Volaré
and the many improvements and advantages in the way is was designed. However, nowhere in the press texts nor catalogues do I see any reference to rust prevention or improved building quality.
A big improvement here for 1976 was that the shoulder belts were finally made usable on most cars. In 1974, the old two-belt two-latch system had been replaced by the single-belt single-latch system; now the belts were easier to put on without having them lock up.
One easy to spot difference between the '75 and the '76 models was that the standard steering wheel with three spokes and two sections of chrome horn ring had been replaced by a more straight two-spoke model.
For the American-made Chryslers passenger cars and light utility vehicles, the 1976 line up consisted basically of seven model groups, referred to as "bodies." The cars were essentially in four groups - the A, B, C, and F bodies. Why "F" bodies? Because D had been taken years ago by the largest Chrysler cars and Imperials, and E had been taken by the 1970-74 Barracuda and Challenger.
Body
2-door
wheelbase
4-door
wheelbase
Cars
A
108"
111"
Dart, Valiant, Duster (outgoing compacts)
F*
108.5"
112.5"
Volaré, Aspen (new compacts)
B
115"
118"
Charger SE, Cordoba, Coronet, Fury
C (1)
124"
124"
Newport, New Yorker, Monaco/Gran Fury wagons
C (2)
122"
122"
Gran Fury and Monaco sedans
Confusing matters somewhat, in addition to the single letter body codes, the factory designation (used in the VIN codes and factory repair manuals) was completely unrelated to the body codes:
Body
Size/Type
Cars/SUVs
A
Compact
(L) Dart + (V) Valiant / Duster
F
Compact
(N) Aspen + (H) Volaré
B
Intermediate
(X) Charger SE + (S) Cordoba +
(W) Coronet + (R) Fury
C
Full Size
(D) Monaco + (P) Gran Fury +
(C) Newport and New Yorker
B-Van
Van
(DB) Tradesman + (PB) Voyager
-
SUV
(PD, PW) Ram Charger
(DD, DW) Trail Duster
-
Imports
Plymouth Arrow and Dodge Colt (Mitsubishi)
There were also numerous Dodge D-series trucks and cargo vans. Whether built for passengers or cargos, the vans were dubbed "B vans" as they were the second series of modern cargo vans. The "D" series for pickups and other trucks started out as the series - trucks started at A, went to B and C, and ended at D. Once they were coded "D," it eventually became "D for Dodge" (possibly because Ford used E for Econoline), and stayed there.
Chrysler NEW YORKER and NEWPORT
In line with its dire situation, Chrysler had a serious look at this model line and fewer versions with rearranged names went into the new model year.
The big and sad news for 1976 was that the prestigious Imperial brand had now disappeared. With hindsight, we know this was inevitable due to the disappointing sales volumes. In fact, there wasn't to be an Imperial even for 1974; but a last minute decision, after a discussion between styling vice-president Elwood Engel and Chrysler president John Riccardo, stretched the Imperial's life for another two years.
What in 1975 still had been the Imperial LeBaron now was the Chrysler New Yorker Brougham, apart from the Imperial's narrowed backlight. However, many features that before had been standard on the Imperial, were now optional for the 1976 Brougham.
To quote
Jon Denson of the Walter P. Chrysler Club magazine
: "Always overshadowed by their Imperial predecessors, the 1976-1978 Chrysler New Yorker Broughams were still the epitome of 1970s luxury. Loaded to the hilt, a New Yorker Brougham could cost well over $10,000 new, while the base price was in the modest $7,000 range. The main difference between the 1974-1975 Imperial LeBarons, and the 1976-1978 New Yorker Broughams was not styling - it was the standard equipment."
Changing nameplates turned out to be a big sales success.
To clarify the rebadging:
1976 Chrysler New Yorker Brougham (previously the 1975 Imperial LeBaron);
1976 Newport Custom (previously the 1975 New Yorker Brougham);
Newport and Town & Country wagon were unchanged.
The 1976 grille was slighty altered. They all carried the same roofline, but differed in front end and rear end styling. Available were 2-door hardtop, 4-door hardtop and 4-door sedan (not the Brougham). As a wagon there was the luxurious Town & Country, a really impressive appearance. One can not think of a more comfortable way of travelling to one's holiday destination or weekend house.... and John Lennon loved his '72.
The New Yorker Brougham was the top of luxury and refinement. If you are lucky enough to have a ride in a New Yorker Brougham nowadays, you will be impressed by the comfort, the silence, and the ride of such a 40-year old car. Also, you will be amazed by the ease and gentleness with which the car glides through modern city traffic. The New Yorker Brougham and Newport Custom fascinate by their refined lines.
These cars have to be driven in style, let's say chauffeur-like. They don't like hard cornering and when going over uneven roads too quickly, you have the risk of "bottoming."
1976 New Yorker and Newport range:
New Yorker Brougham 4-door Hardtop
New Yorker Brougham 2-door Hardtop
Newport Custom 4-door Hardtop
Newport Custom 2-door Hardtop
Newport 4-door Sedan
Newport 2-door Hardtop
Town and Country wagon
Options: Even with cars like these (or maybe
especially
- for those who could afford them), there remained additional wishes to be fulfilled. Individualizing wasn't something that Chrysler advertised much, but there was a range of options such as a choice of three air conditioners/heaters, LED warning lights on the dashboard (LEDs were still very new back then), electronic clock, and sunroof (for both 2-door and 4-door). Other options included the tilt and telescopic steering column, automatic height control, power seats, windows and locks, cornering lights, and various radios, including the radio with 8-track player with four speakers. The popular A16 wagon package added a roof luggage rack and interior assist handles.
One of the packages was the St. Regis Package (V4) for the both the 2-door models. It consisted of a padded vinyl roof and fixed formal opera windows. This vinyl roof could also be had in the special silver color. Please look further down this article for a basic list of packages.
Chrysler CORDOBA
In 1975, the Cordoba had been an instant success. In fact, as Chrysler stated, it had tripled its sales forecast in 1975. It was a well deserved success but it was bitterly needed too. But how to have the success continued in 1976?
To start with, old wisdom says that you shouldn't change what is good already, so the Cordoba went into new model year with only some subtle changes.
There was a new vertical fine line grille texture, seven new body colors, and now-standard deck-lid and body-side stripes. In the interior one noticed new instrument panel finishing and dial graphics, the new optional 60/40 front bench and some other slight alterations. There was a choice of four interestingly different interiors.
The 1976 Cordoba may have come in one model only, but there was a choice of two roof styles, giving different appearances. One was the (code V1) halo-style vinyl roof (basically a full-vinyl roof) and the other the (code V3) landau vinyl roof (only the rear part of the roof including pillars with rear side windows). Standard was the 400 CID 2-bbl engine but optional were 4 other engines ranging from 318 2-bbl to 400 4-bbl.
The Cordoba had a length of 215.3" on a 115" wheelbase. It handled very well but still had that big luxury car feel and ride.
Although very complete and well equipped in its standard form, there were still enough options available to make the car even more complete or refined, like a sunroof, tilt steering column, velour 60/40 split bench seat or "Corinthian" leather bucket seats, power items such as seats, door locks and deck lid release, 8-track radio or search-tune radio. Please look further down this article for a basic list of packages.
The Cordoba reached its all-time production peak in 1976, beating 1975 by roughly 10,000 cars; 1977 would also be a fine year. After that, sales dropped to practically nothing, in a straight line, from 1978 to 1981.
Dodge CHARGER
The
Dodge Charger SE/Daytona
(X-model) was almost identical to the Cordoba (S-model) and I don't blame anybody who can't tell them apart, definitely not from the interior.
But to give you some clues: the Charger SE/Daytona had a lower grille with horizontal mesh and wrap around rear lights with horizontal sections whilst the Cordoba that had a full height grille with vertical mesh plus a chrome strip on the hood and rectangular recessed rectangular rear lights with separate sidelights. The hood ornaments were also different.
The 1976 Charger SE/Daytona differed only in detail from the 1975 model: the grille was now divided into three horizontal layers with four compartments, each against the earlier four horizontal layers with six compartments each.
The Daytona version had more decorative trim items like two-tone colors and special striping, color-keyed side mouldings, dual sport mirrors, "Daytona" decals and black textured grille (instead of silver) with brightwork accents.
To complicate the name game, there was a third Charger. This was a rebadged Coronet Hardtop, as it been sold in 1975. Compared with the SE/Daytona, it had different body sheeting with the Coronet front and the Fury 2-door style rear end though with plain red taillight lenses and Cordoba-style bumper-mounted back-up lights. This third Charger was not a X-model but a W-model, being the Dodge version of the Plymouth Fury two-door hardtop. It was advertised as the "budget-minded Charger."
Product planner Burton Bouwkamp explained the Charger choices in his
Birth and Death of the (Original) Dodge Charger
.
1976 Charger models (all two door) were Charger SE, Charger Daytona, and Charger. The length was 213.7", the wheelbase was 115". Sales were nowhere near those of the classic 1968-69 design, but were considerably higher than the lows of 1974-75; however, they would not last, dropping in 1977 and falling, with the cancellation of the name, in 1978. The Charger name would come back in 1983, on front wheel drive cars, and more permanently in 2005.
Engines: Charger SE/Daytona: standard 318, optional 360 and 400, Charger: standard 225, optional 318, 360 and 400
The SE/Daytona could be had with most of the same options and packages as the Cordoba whilst the base Charger could be had with about the same options as the Fury 2-door. The SE/Daytona had attractive two-tone body-color schemes. Please look further down this article for a basic list of packages.
Dodge MONACO (full size)
The
1976 Dodge Monaco
was advertised as a "distinctive measure of what most people buy full-sized cars for." Well, that is a nice phrase! They were very attractive cars and worth their money but maybe not that conspicuous.
Together with Plymouth Gran Fury, they had appeared in their current form in 1974 (the name itself hailed from 1965), and had become quite popular with fleet owners. Unlike the Plymouth Fury and Gran Fury, the Dodge Monaco and Gran Monaco had the same bodies, with their differences being in the trim-level. For 1976 there were no real changes.
1976 Monaco models were:
Royal Monaco Brougham, two-door hardtop; four-door sedan; and wagon
Royal Monaco, two-door hardtop; four-door sedan; and wagon
Monaco: four-door sedan and wagon
Both the two and four door were 221.9" long, on a 121.5" wheelbase. The wagons were on a 124" wheelbase, and were 225.9" long, with 4.1 cubic feet of space (in two-seaters).
The standard engines were 318 2-bbl for the Monaco sedan, 360 2-bbl for the Royal Monaco and Brougham, 400 2-bbl for the wagons. Optional was the 440 4-bbl, depending on model.
The standard axle was 2.71:1, options were 2.45, 3.21, and Sure-Grip (locking differential).
Options and packages: There were beautiful interiors on offer with optionally a 50/50 front bench, power steel sunroof on the two- and four door models. One option was the Diplomat Package for the two-door Royal Monaco Brougham which had a full vinyl roof, two small vertical opera windows, and a polished metal roof band over the roof from one B-pillar the opposite one and no brightwork around the rear window. Please look further down this article for a basic list of packages.
Dodge CORONET
The
Dodge Coronet
(W-model) was the almost identical cousin of the Plymouth Fury (R-model); the name went far back, as the top Dodge, to 1949 (within a few years, it had moved to the bottom, no doubt infuriating some owners). The Dodge Coronet received minor improvements for 1976 and, like the Fury, can hardly be distinguished from the 1975 model. The Coronet remained popular with fleet owners.
1976 Coronet range:
Coronet Brougham four-door sedan
Coronet four-door sedan and wagon
Coronet Crestwood wagon
All had the same 117.5 inch wheelbase. The sedan was 217.4" long, while the wagon stretched to 225.6".
Engines ranged from the standard Slant Six 225 to the 400 4-bbl. The transmission could be 3-speed manual shift or automatic, both column shift.
Options were comparable to the Plymouth Fury. Please look further down this article for a basic list of packages.
Plymouth GRAN FURY and FURY
Rebadging always has been a favourite game within the Chrysler Corporation, but for the general public, it may have brought confusion.
After the oil crisis of 1973, downsizing was the word. The marketing department knew that, if you cannot downsize the car itself, then you can change its name. The Fury had been the full-size Plymouth, but now the Fury name moved down to the midsize ("intermediate") Satellite range; the name Satellite disappeared, after years of slow sales. What had been the Fury range before, now was cleverly renamed Gran Fury.
Despite their fine qualities, these cars did not really trigger the imagination of the public and many people seem to know the Gran Fury/Royal Monaco / Monaco and Fury/Coronet sedans only as taxis and police cars. This, with their rustability, means that relatively few good examples have survived to the present. They were popular in movies (e.g. "The Blues Brothers") and TV-series (e.g. the early eighties "The Dukes of Hazzard"), which also decimated their numbers.
For 1976, the Fury range consisted of two different types:
- the full size Gran Fury (internally coded as P, belonging to the C bodies),
- the intermediate size Fury (internally coded as R, belonging to the B bodies).
Both the Fury and the Gran Fury had an ongoing popularity amongst fleet owners like police, taxi-owners and fire chiefs.
GRAN FURY (full size)
Here Chrysler-Plymouth distinguishes per model name and not by body type, as with other cars. This "six adult size" model range was divided in the Gran Fury Custom and the more luxurious Gran Fury Brougham, both in two and four door versions.
These full-size models were new for 1974. In 1975, there had been eleven Gran Fury models: 2 two-door hardtops, 2 four-door hardtops, 2 four-door sedans, and 5 wagons with engines ranging from 360 2-bbl to 440 4-bbl (depending on model) and optionally the 318 2-bbl.
New for 1976 was the Gran Fury Brougham four-door sedan. In total it was:
Gran Fury Brougham: 2-door hardtop, 4-door sedan
Gran Fury Custom: 2-door hardtop, 4-door sedan
Gran Fury: 4-door sedan, wagon (two rows of seats)
Gran Fury Suburban (two or three rows) and Sport Suburban (three rows)

Wagons were 225.9 inches long, with a 124 inch wheelbase and, for two-row wagons, 4.1 cubic feet of cargo. The other Gran Fury models had a 221.9 inch length from a 121.5 inch wheelbase.
As in 1975, the Gran Fury came standard with the 360 2-bbl and the Brougham and the wagons with the 400 2-bbl. Other engines that could be ordered were the 318, 360, 400 and the 440.
Look further down this article for a basic list of packages.
FURY (intermediate)
For 1975, the faithful Satellite had received a facelift and the name "Fury," after poor sales in 1973 and 1974. There were four coupes, two sedans, and three wagons, with engines ranging from 225 single-barrel to 400 four-barrel, depending on model.
One of the '75 coupes was called a
Road Runner
, but that was just a special trim package. It had nothing special under the hood (standard 318 with 3-speed manual shift) nor a different suspension that would it have made deserve that cherished name. The press and potential buyers judged this '75 Road Runner to be a bit of a rip-off, so the Road Runner name was dropped after 1975, coming back later, and briefly, as a Volare option pack.
Because of Chrysler's hardships, there were fewer trim levels available for 1976 (the Custom was dropped), and the Fury remained virtually unchanged. There was a new standard steering wheel (code S86) and some trim details, but the minor changes make it hard to distinguish cars from both years. The cars were:
Fury: two-door hardtop, four-door sedan
Fury Salon: four-door sedan, wagon (two or three row)
Fury Sport: two-door hardtop
Fury Sport Surbuban: two or three row wagon
The coupe was just 213.7 inches long, with a short 115" wheelbase. The sedan and wagons both had a 117.5" wheelbase, and were 218.4" long (sedan) and a whopping 255.6" (wagon).
Engines ranged from the standard Slant Six 225 to the 400 4-bbl although the 400 is not mentioned in the Fury catalogues. The 318 CID V8 sufficed to make the Coupe a quick mover - even by todays standards - with a fuel consumption that can be surprisingly low. Transmission could be 3-speed manual column shift, automatic column shift or on the Fury Sport the automatic floor shift (bucket seats required).
Although catalogues speak of 14" wheels and optional 15" wheels, every Fury and Coronet moved to standard 15-inch wheels as of Janiuary 1st, 1976.
There was a long list of options with several packages. The 1976 coupe maybe best known for its louvered rear quarter windows. All coupes had standard roll-down rear windows. Louvered windows were an option on the Fury Sport and part of the new Exterior Decor Package A87. One gets the impression that nearly no one ever chose for the standard roll-down windows on the Fury Sport.
The optional floor shift and buckets seats would change a coupe's look from a family car to a much sportier car. Many body colors were on offer (four new colors for 1976) and vinyl roofs to combine. The four-door had one optional full vinyl roof (code V1), the two-door had the canopy vinyl roof (covering the front part of the roof, code V4), the same canopy vinyl roof with louvered quarter windows (code V5) and halo vinyl roof (more or less a full vinyl roof, also code V1).
There was great choice of interiors, like the Sun-Gold Trim (gold, black and white combination) for the Fury Sport. The 60/40 bench seat is definitely something to look for in a Fury sedan. To save money there was, for the Fury Sport and Fury Salon, the Credit Option Trim - a basic vinyl front bench seat with armrest and carpeted floor, the same combination as the base Fury.
The Fury Sport had striping, a real styling refinement, and there were several possibilities to choose from. For the cheaper standard 2-door hardtop there was optional striping on the side and the roof (code K3).
For more information on packages see list further down this article.
Dodge ASPEN and Plymouth VOLARÉ
The
Aspen and the Volaré
were the big news of the 1976 model year. Replacing the Dart/Valiant, Chrysler supposedly launched the Aspen/Volaré as a class of their own, above the Dart/Valiant. In reality, there was only a brief overlap as only a few 1976 Valiants and Darts were made, presumably due to delays in Aspen and Volare development. Those few cars turned out to be very fortunate for Chrysler...
A big plus for the Aspen/Volaré ranges was that it offered a wagon, something that had been lacking in the Dart/Valiant line up for many years.
Chrysler had high hopes of the new Volaré and its sister, the Dodge Aspen. The car market was in turmoil and Chrysler Corporation desperately needed them to be a success. Such was the pressure that the models were rushed on the market without sufficient testing. Grave quality problems, including stalling and rust, followed quickly, leaving the Volaré and Aspen with a highly doubtful image. They would become quite solid and reliable in 1978, but it was too late.
In Mexico, the cars were held until 1977, and then sold as the Dart and Valiant.
The cars had an upscale image and greatly improved interior design, as "plushed up" Valiants had proven quite successful among people downsizing from low-mileage large cars to compacts.
Dodge ASPEN
Aspen: Coupe, Sedan
Aspen Custom: Coupe, Wagon
Aspen Special Edition: Sedan, Wagon
The coupes had a unique wheelbase (108.5") and length (197.2") while both sedans and wagons had a 201.2" length and 112.5" wheelbase. The cargo volume was 71.9 cubic feet.
The pair were new, and the list of options wasn't that long. Still, coupe buyers could get the R/T package, bucket seats, floor shift, and, for the sedan, a four-speed manual transmission with overdrive. Specific Volare packages were:
A57 = R/T Package: E70x14 RWL tires, Rallye Road Wheels (less trim rings), black grill, decals, striping;
A21 = R/T Decor Group: chrome remote control mirrors, Rallye Wheels trim rings, wheel lip mouldings
For more information on packages see list further down this article.
Plymouth VOLARÉ
In the 1976 Plymouth press release, the Volaré was praised and recommended for its versatility, many models, and improved construction. It was designed for the big car ride, comfort, and convenience, in a small car.
The Volaré had a controversial, all-new front suspension. Instead of the Chrysler's traditional longitudinal torsion bars, there now was a system of two transverse L-shaped torsion bars.
It indeed was a well designed, comfortable and practical car, as many (ex-)owners may testify. Hadn't it been for the quality problems of the early models which left an image problem, the Volaré/Aspen might have been the big continuous success it in fact deserved.
When introduced, the Volaré was well received by the press and it was even awarded "Car of the Year 1976" by the Motor Trend magazine. The cars sold very well too, which turned out to be unfortunate.
As Jim Benjaminson wrote: "Volarés sold like hotcakes but recalls [Volare and its Dodge clone, the Aspen, set a record for the number of safety recalls, though this would soon be exceeded by the Ford Fairmont] and early rust problems soon found these same customers clamoring at Chrysler's doors. The rust problem was so bad, Chrysler was forced under government mandate to recall the cars to replace front sheet metal."
The sad thing is that the root of these problems may not have been in the design but in the quality control in the assembly line.
The Volaré only made it into 1980. An interesting fact is that the Volaré was used as the base for the sport/luxury
Monteverdi Sierra
.
Volaré: coupe, sedan, wagon
Volaré Premier: coupe, sedan, wagon
Volaré Custom: coupe, sedan
The coupes had a unique wheelbase (108.5") and length (197.2") while both sedans and wagons had a 201.2" length and 112.5" wheelbase. The cargo volume was 71.9 cubic feet. All dimensions were identical to those of the Aspen.
Options incuded a manual sunroof. Coupe buyers could get a floor shift, attractive 2-tone paint scheme, and the "Road Runner" package; sedan buyers could get a four-speed manual transmission with overdrive. Specific Volare packages were:
A57 = Road Runner Package: E70x14 RWL tires, Rallye Road Wheels (less trim rings), black grill, decals, striping and special Road Runner horn;
A21 = Road Runner Decor Group: chrome remote control mirrors, Rallye Wheels trim rings, wheel lip moldings.
HL29 = Super Pak (for the Road Runner). Spoilers front and rear, rear window louvers, Spitfire Orange paint, black and yellow stripes.
For more information on packages see list further down this article.
There was also a (rare) A38 police package, which appears to have seen heaviest use in Canada and the military, which appears to have been created in 1977 and included the 360 V8. It was a credible setup, presaging the 1980s Gran Fury, and replaced a similar Valiant package. This car (or one made up to look like it) was used in the movie
Strange Brew.
Engines were the 225 slant six (one barrel), 318 V8, and 360 V8.
Dodge DART and Plymouth VALIANT
The good old compact
Dart
and
Valiant
soldiered on in 1976. It was the general perception that the new Aspen and Volaré would replace them, and they did, midyear. There wasn't expected to be a Valiant/Dart at all in 1976. Still, about 68,000 Valiants/Duster and 53,500 Darts were produced.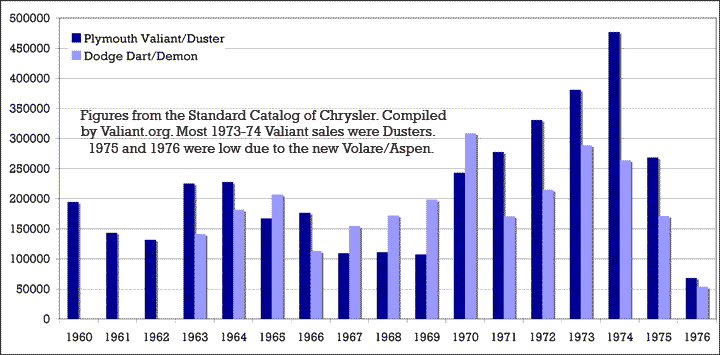 An attractive model was the Duster / Dart Sport, a good looking 2-door coupe that - with hindsight - looked a bit like an in-between model between the Aspen/Volaré and the Dart/Valiant range.
The standard engine was the 225 Slant Six with the 318 as an option. For the Dart Sport and Duster the 360 could be ordered. Thrifty buyers could get a special lightweight Feather Duster with some aluminum panels.
There was some shifting in trim names with all models but almost no external changes were made. There was
one
external change for 1976: the switch from amber parking lights with white lenses to white lights with amber lenses. Really.
Dodge DART
There were four Darts, the Dart Sport coupe (originally the Plymouth Duster), the Dart sedan, and the Dart Swinger/Dart Swinger Special hardtops. The Dart Sport had a unique length (197 inches) and wheelbase (108 inches), while both the two door hardtop and four door sedan were 199.6 inches long on a 111 inch wheelbase. These were the same dimensions as the Plymouth equivalents.
The image above is probably a 1975 model in the 1976 brochure, based on the parking lights.
There was many options to choose from, like a manual sun roof for the two-door models and 14" Rallye Road Wheels, but no power options apart from the power steering.
Specific Dart packages included:
A62 = Dart Decorator Package for the Dart Sport and Dart Swinger Special: beautiful interior package with low-back vinyl seats, Boca Raton cloth inserts, special door trim inserts, color-keyed shag carpeting, wood-grained instrument panel, deluxe steering wheel.
A31 = Dart Lite Package for the Dart Sport. It featured certain lightweight aluminium components in the engine and body to save weight, increased engine economy, 3-speed manual or 4-speed overdrive transmission.
A76 = Special Edition Package, bringing velour seats and other trim upgrades, since many people were trading in large cars for small ones and didn't want to lose the "luxury feel."
Please look further down this article for a basic list of packages.
Plymouth VALIANT and DUSTER
In 1975 there had been three Duster models: Duster Custom, Duster, and Duster 360.
For 1976, only the Custom remained.
One way to keep the Duster an interesting cheap car, was the new optional "Feather Duster" light weight package. Certain steel components were replaced by aluminium ones, saving 150 pounds of weight. Other engineering changes conspired to push the highway mileage rating up to 30 mpg.
A Silver Duster package replaced the old Gold Duster; it had red and black stripes to outline the lower body shape, with red vinyl or "Boca Raton" cloth and vinyl inside.
The Valiant had long been a sales leader, but it was also clear that range, with its last major revision in 1968, was aging.
In 1975 there had still been three Valiant sedans and two Valiant hardtops on offer, with 225 or 318 engines. For the last model year, only one Valiant sedan - simply called Valiant - survived, along with the Swinger-clone Scamp, a low-line economy model. It was cheap reliable transport, and good looking. The mildly slow-selling Scamp had come to Plymouth in return for Dodge taking the design of the runaway-success Duster.
The 1976 Valiant range was Duster Custom (coupe), Scamp (two-door hardtop), and Valiant (sedan). The Duster had a unique length (197 inches) and wheelbase (108 inches), while both the Valiant and Swinger were 199.6 inches long on a 111 inch wheelbase. These were the same dimensions as the Dodge equivalents.
Despite being in its last production year, the Valiants range offered a surprisingly long list of optional packages. Still, apart from power steering, there were no power items on the list, neither was an electric clock. But who wants a clock when cruising along in a Valiant?
Interesting Valiant packages included:
A31 = Feather Duster Economy Package: lightweight aluminium components and specially tuned carburetor for increased fuel economy (rated at 30 mpg highway). Came with a 3-speed manual or 4-speed overdrive transmission.
A55 = Radial Tire Roadability Package: Required with radial tires T27 and T65
A62 = Silver Duster Trim Package: choice of four paints, four vinyl roof colors and three interior colors, special stripings etc. When ordered with the Duster 360, it included a front anti-sway bar and a special body tuning system. The same code was, confusingly, used for the Dart Decorator package.
A68 = Custom Package (sedan only, not with Brougham Package): A87 and A88 packages, plus "Custom" nameplate on front fenders
A76 = Brougham Package (not available with A06 Easy Order, Custom or floor-mounted manual transmission): This package included a long list of extras which made the 1976 Valiant to the most luxurious one of all years, including plush velour seats; it was quite popular, possibly because many people were trading in large cars for small ones and didn't want to lose the "luxury feel," and partly because it countered the Valiant's fairly bare-bones interior styling.
C73 = Space Maker Option (Duster only): fold-down rear bench and extra carpeting.
Perhaps the most desirable package other than A76, the
A38
pursuit car could be ordered with a 360 four-barrel V8 engine, and had police extras in the suspension, steering, and overall sturdiness departments. A dual exhaust was standard on most, though the California emissions package limited it to a single exhaust. The A38 had extra cooling and brakes, a heavy duty suspension, much tighter steering, and a beefed up electrical system - but that wasn't the end of it (see
1976 Plymouth Valiant police packages
).
For more information on packages see the list further down this article.
Dodge RAM CHARGER
This pick up range split up in a passenger car segment and a utility segment. The Ramcharger was recommended if you looked for "truck toughness and car comfort." 1976 brought minor changes on the technical and the aesthetical level.
1976 models were the rear wheel drive DD100 and 4x4 DW100; both had a 115 inch wheelbase. The slant six or two-barrel 318 were standard, with an optional 360 two-barrel. DW100 buyers could also get the 440 4-barrel.
This article only covers Ram Charger passenger cars; utilities also had the D100 with 115", 131" and 149" wheelbase and the DW200 with 115", 131", 149" and 165" wheelbase.
Options included a hardtop or soft-top roof, different axle-ratios, several G.V.W.-packages, trailer towing packages, snow-plough package, and a choice of springs and transmissions.
The option packages for the Ram Charger were presumably the same as for the Trail Duster and with about the same numbers, but we could not find conclusive information.
Dodge TRADESMAN
The
Dodge Tradesman "B-van"
are still well-known and well-appreciated models. The model range was split in a passenger car segment and a utility segment. The Tradesman was recommended as the one to buy if you were "after a sports wagon."
There was no real news for 1976 for the Tradesman or similar Plymouth Voyager, other than an optional auxiliary rear airco unit.
Tradesman came with a 109 or 127 inch wheelbase; one 127 inch wheelbase option was an extra-long body that allowed 15 seats instead of 12. For the Tradesman and the Voyager, the designations B100, B200 and B300 designations were used to separate weight capacities. Engines were a 225 1-bbl or 318 2-bbl standard, with a 360 2-bbl optional for B200 and B300.
Options included double or single rear doors, right sliding side door (on long wheelbase models only), different seating plans, and trailer towing packages.
Theoretically, Tradesmen weren't sold as separate models, but now one ordered a base Tradesman with one of four trim packages (which filled the same roles as separate models):
Sportsman: Base model
Custom Sportsman Package: for short wheelbase models; included moldings packages and a basic trim.
Royal Sportsman Package: for long wheelbase 8-cylinder models (extra trim and equipment)
Royal Sportman SE Package: for long wheelbase 8-cylinder models (even more trim).
This package required the right sliding door and the single rear door.
With no further detailed information available, I can only assume the other option packages were about the same as with the Voyager.
Plymouth VOYAGER and TRAIL DUSTER
Their cousins Dodge Tradesman and Dodge Ram Charger maybe were better known, but Plymouth kept its own line of utility vehicles in more luxurious coats. Or, as Plymouth advertised, "Trail Duster: on-road comfort and off-road ruggedness" and "Voyager: the wagon for all seasons, all reasons." In the passenger car catalogues they appear as recreational vehicles.
The Voyager was classed as a compact wagon and the Trail Duster as a "Sports Utility."
In 1975, the separate Voyager Custom and Voyager Sport had been replaced by Custom and Sport packages, but their old names stayed in the new brochures.
TRAIL DUSTER
1976 brought just minor changes on both the technical and the aesthetical level. Models were similar to Dodge - PD100 for rear wheel drive, PW100 for 4x4. Engines were the same, a single-barrel slant six or two-barrel 318 standard, with a 360 two-barrel optional and a 440 four-barrel optional on PW100.
Options were also a hardtop roof, soft-top roof, different axles, several G.V.W.-packages, trailer towing packages, snow-plough package, a choice of springs and transmissions.
YF2 = Trail Duster Sport Package - a long list of items that made your Trailduster an eye catcher. Could be had without hardtop roof or with hardtop roof with or without rear bench.
YF1 = Convenience Package - rear vision mirror, glove box lock and light, ashtray receiver light, in cab-actuated hood release (include in YF2)
YC4 = Trailer Towing Package
YC3 = Heavy-Duty Trailer Towing Package
ME7 = Exterior Trim Package - some mouldings and extra bright work
YF8 = Protection Package - door edge protectors and front bumper guards
YC6 = PW100 Sno-Fiter Package - power lift power angling blade and 7-way control valve. It required a.o. increased cooling and plow light and the 6,100 pound G.V.W.-package YW5
YW1 to YW5 = G.V.W. Packages from 4,900 to 6.100 pound.
VOYAGER
For 1976 there were low-profile technical and minor esthestical refinements but interesting was an optional auxiliary rear air conditioner for the Voyager, handy for airport transports and the like. All Voyagers had 109 or 127 inch wheelbases, with a long-wheelbase, extra-long body.
The B100, B200, and B300 designations refer to weight capacities. The slant six and 318 were standard, the 360 optional on B200 and B300 - all with two barrel carburetors.
Options included double or single rear doors, right sliding side door (on long wheelbase only), different seating plans, trailer towing packages, school bus package, and camper body conversions. Some packages were:
KB4 = 8-Passenger Seating Package: one extra bench seat
KB7 = 12-Passenger Seating Package on 127" WB: two extra bench seats. Tinted glass required.
YD2 = 15-Passenger Seating Package for extended 127" WB only: three additional seats, tinted glass required.
Since 1975 the Voyagers weren't sold as individual models but instead one ordered a standard Voyager with one of the trim packages:
YP3 = Custom Package for short wheelbase models: included mouldings and some basic trim, and made it the base Voyager.
YP4 = Sport Package for long wheelbase V8 models: extra trim and equipment.
YP5 = Premium Trim Package for long wheelbase V8 models: even more trim (required the right sliding door and the single rear door.)
Other packages:
YD3 = School Bus
HK4 = Sound Control (80 dba noise level)
YD8 = Insulation
NB1 = Special keys for ignition and doors (presumably matching a master, for fleet use)
YC4 = Trailer Towing Package
Several G.V.W.-packages
Plymouth ARROW
Well, here is a new and different story. The other models mentioned above were the so-called "American" models, designed and produced by Chrysler.
The oil crisis of 1973 had upturned the car market. Public views and political consensus demanded quick adaptation from all car manufacturers. The old patterns and plans had to be overhauled. The horsepower race was off (and indeed had already been dying in 1971 due to low sales); fuel saving was the new word.
The standard American cars simply weren't economical - not by the rest of the world's standards at least. They were heavy, thirsty, and often had impractical space-wasting designs. Space saving spare tires meant only marginal improvements.
New political developments meant that car companies where judged on average fuel consumption of all the car lines on offer. Now there was a battle going on to offer cheap, economical (and practical) small cars. Nevertherless, American car companies had started already to look over the border before the fuel crisis.
Plymouth had been disappointed by the in-company Sunbeam Cricket, which was plagued by quality problems, whilst Dodge had success with their version of the Mitsubishi Colt. The Cricket was abandoned in 1973, but Plymouth had no replacement for it (except in Canada, where the Mitsubishi Colt was sold as the Cricket for Plymouth and the Colt for Dodge). Then in 1976, Plymouth entered a new chapter by introducing the Arrow.
This Arrow was a Mitsubishi Colt Celeste, which itself was new to the world in 1976; a sporty two-door fastback, it was rebadged Plymouth Arrow for the American market, and given a different front and rear end.
Public resentment for selling a Japanese car under an old well-known familiar name was feared and had to be overcome; generally, though, many people were simply happy to have found an economical, easy-handling car.
The Arrow debuted at the New York Auto Show in late January 1976. Three versions, the Arrow 160, Arrow GS, and the premium Arrow GT (1977 version shown below), targeted first-time buyers and families looking for a second or third car.
The Arrows were well equipped and technologically advanced, with reclining front bucket seats and fold-down rear seat. The standard engine was the four-cylinder 1600 cc (97.5 CID, 1.6 liter) with 83 HP. Optional for the GS and GT was the four-cylinder 2000 cc (122 CID) 96 HP. To distinguish what motor is in a certain Arrow, one usually finds the indication "160" or "200" added to the type.
The 2-liter engine is called "Silent Shaft" engine, meaning that two counter-balancing shafts, at different heights on either side of the crankshaft, were installed; these shafts rotated in opposite directions at twice the speed of the crankshaft to counter engine vibrations in the relatively long-stroke motor.
A four-speed floor shift transmission was standard on the 160 and GS whilst the GS with 2000 engine could optionally be had with a five speed - which was standard on the 200 GT. Another option was the Chrysler Torqueflite automatic transmission.
To introduce the Arrow, there was the GT available in a special copper metallic paint with a multicoloured up-and-over stripe, and a copper and white interior. Oddly, the Arrow showed up in neither the standard Plymouth catalog/brochure nor in the Plymouth Small Cars brochure (which covered the Valiant, Duster, and Volare).
The name "Arrow" would, oddly, later be used for Plymouth's version of the Dodge D50, which was, in turn, a Mitsubishi L200.
Dodge COLT
For 1976, Dodge continued with their version of the Mistubishi Colt and were successful with that, both in the USA and in Canada. Chrysler had brought over small cars from their European subsidiaries, but these were unpopular and unreliable. Finally, they created the 1971 Dodge Colt, a Mitsubishi with a Chrysler nameplate, and it was fairly successful. In Canada, the Mitsubishi-based Plymouth Cricket replaced a British car with the same name in 1974. That lasted until the Plymouth Arrow hatchback, based on the same car as the Colt but with a different body style, arrived late in model year 1975. The Cricket name was dropped, so that in 1976, US and Canadian buyers had a choice of Dodge Colts and Plymouth Arrows.
The well-made Mitsubishis did far better among American buyers than the SIMCAs and Hillmans imported earlier.
Both the Colt and Arrow had a small 98 cubic inch engine (1.6 liters), with a standard four-on-the-floor manual transmission (all forward gears were synchronized) and a two barrel carburetor. A 2.0 liter engine was optional (standard on Colt GT). The 2.0 raised the stakes to 96 horsepower and 109 pound-feet, allowing it the options of a three speed automatic and a five speed manual. The Colt and Arrow weighed around 2,100 to 2,300 pounds to the Valiant six's 3,140 pounds.
Valiant 225
Colt/Arrow 1.6
Weight
3,140 lb
2,200 lb
Power
100 hp
3.2 hp/100 lb
83 hp
3.8 hp/100 lb
Torque
170 lb-ft
5.4 lb-ft/100 lb
89 lb-ft
4.0 lb-ft/100 lb
Length
203"
171"
The wheelbase was 95 inches and length was 171 inches, so it was quite a bit smaller than even compact Dodges and Plymouths. They had standard bucket seats and rather neat engineering features; a single key had operated all locks as far back as 1971. These cars were all made in Japan.
1976 Colt sales were 48,542 in the US, so they weren't barn-burners; they also weren't cheap, starting at $2,585 for the coupe in 1974. Likewise, the Arrow cost over $3,000 (the GT started at $3,748), making it pricier than a Valiant, which may be one reason that 1976 sales stood at 30,430.
OPTIONS AND TYPICAL PACKAGES FOR DOMESTIC CARS
There was a long list of individual options, but to make the choice easier, Chrysler had put together packages with desired options, or those kind of options that otherwise customers might not order but would be happy with afterwards when finding them in their cars. These were among the last years that buyers could also simply pick and choose from extremely long lists; that practice was ended largely to cut costs and complexity, especially as German and Japanese cars relied almost entirely on packages.
To list all options and option packages per model would make this article too long, but these packages were generally offered for all American-built cars. The contents of the packages would differ per model but this list is to give an idea:
A01 = Light Package (e.g. fender mounted turn signals indicators, trunk light, map light, low fuel warning light.)
A03 = 3-speed windshield wipers, (sometimes) windshield washer fluid level indicator.
A04 = Basic Group (Chrysler) - A/C, Light Package, tinted glass, remote mirrors
A06 = Easy Order Package, such as vinyl roof, automatic transmission, power steering, WSW-tyre, left remote-controle mirror, bumper guards, protective strips, extra insulation, hood release, and, on wagons, a roof luggage rack. It often included A01, A03 and C17.
A07 = Dart Automatic Package
A08 = Luxury Package, often power items, "luxury" steering wheel, air conditioning, tinted glass, AM/FM radio, bumper guards, and many more of those lovely extras. A08 included other packages but was not available with some, e.g. A06, because of the overlaps.
A15 =Protection Group: inside hood release, glove box lock, door edge protectors.
A18 = Wagon Package: cargo compartment carpet, stowage lock, storage bin
A34 = Light Trailer Towing Package: not only the wiring, connector, load-carrying hitch, variable load turn-signal flasher but also heavy duty rear suspension consisting of HD rear springs, HD torsion bars and HD shocks. An automatic transmission was usually required.
A35 = Heavy Trailer Towing Package: high-capacity radiator, heavy duty suspension (as with A34), extra wide wheel rims, auxiliary transmission oil cooler, 3.21 axle ratio, trailer electric brake controller. Automatic transmission and front disc brakes were required. (Cars that only had one tow package, such as Volare and Valiant, had it coded as A34).
A87 = Exterior Decor Package; for example, on the Fury hardtop, it added a canopy vinyl roof with louvered quarter windows, and hood and rear deck striping.
A88 = Interior Decor Group: certain luxury items.
A91 = Insulation Package - extra insulation to make the car quieter inside
C17 = Deluxe Insulation Package: all kinds of additional insulation
C73 = Space Maker Pak: fold-down rear bench and extra carpeting. For this package the Volaré had to have the A57 Road Runner Package and D6 bucket seat trim. For the Dart Sport this package is referred to as the Dart Sport Convertriple and required the R/T package.
Besides the above packages, there was a program for fleet owners called "Special Fleet Equipment List." Three groups of fleet owners were considered: general, police and taxi.
Looking at the list for Chrysler and Plymouth models, one finds the following models listed per category:
Taxi: Valiant, Fury and Gran Fury
Police: Valiant, Fury, Gran Fury and Newport
General: Valiant, Volaré, Fury, Fury Salon and Sport, Gran Fury, Gran Fury Custom, and Newport
The list contains specific options like extra structural welds, special police firm steering and, on the (extremely rare)
Valiant Pursuit package
, a 360 four-bbl with double exhausts. That must have been a ferocious beast!
Original fleet owners' cars would carry in their VIN the designation "K" for police or "T" for taxi.
There were numerous radio options, with some features, such as electronic tuning, aided by
Chrysler's Huntsville electronics division
, which had created the telemetry for the moon rockets and was hard at work on M-1 tanks, among other things.
Engines
The following engines were made for American Chrysler, Dodge, and Plymouth cars for 1976, though not every engine was sold in each car. Truck engines were modified for the purpose with special high-endurance parts. The code is from the VIN (vehicle identification number). The carburetor is listed by the number of barrels (or venturies, or air-fuel entrances) in the carburetor. Generally, four-barrel carburetors were progressive (two barrels were always open, but the others were closed until needed) while two barrels were not (both barrels were always open). By 1976 the single-barrel carburetor was a Holley, while the two-barrel and most or all four-barrels was a
Carter Thermoquad ("TQ")
, which used a lightweight plastic body. The California emissions package took out 5 to 10 hp and 5 lb-ft of torque.
| | | | | |
| --- | --- | --- | --- | --- |
| Code | Size | Carb | HP | Torque |
| C | 225 | 1 | 100 | 170 |
| G | 318 | 2 | 150 | 255 |
| J | 360 | 2 | | |
| K | 360* | 2 | 170 | 280 |
| L | 360 | 4 | 220 | 280 |
| M | 400 | 2 | 175 | 300 |
| N | 400 | 4 | 210 | 305 |
| P | 400 (HP) | 4 | 240 | 325 |
| T | 440 | 4 | 205 | 320 |
| U | 440 (HP) | 4 | 255 | 355 |
For more: see
225/slant six
,
318-360 LA engines
,
400 B engines
,
440 RB engines
. Engine U power ratings are from the taxi/police spec sheet.
Factories
In 1976, eight factories were still active. The "Plymouth" and "Dodge" plant made other brands as well. By their VIN codes, these were:
A -
Lynch Road
("the Plymouth plant," Detroit; still exists but not as a factory)
B -
Hamtramck
("Dodge Main" in Detroit; demolished to make way for a Cadillac plant)
C -
Jefferson Avenue
(Detroit; demolished with a new plant nearby)
D -
Belvidere
(Illinois; still in use in 2016)
F -
Newark
, Delaware (demolished and now a University of Delaware campus)
G -
St. Louis
(demolished)
P -
Wyoming Avenue
, Detroit (for export; demolished in 1992)
R -
Windsor
(still in use in 2016; expanded)
Sales and Production
Chrysler did well in 1976. Their truck share rose from 12.7 to 14.1% in the US, and the car share rose from 14.9 to 15.9%. European sales were up 13%, and total ex-US sales rose 8%. Nevertheless, Chrysler Corporation's 16% domestic market share was nothing to be proud of when GM took 56% and Ford took 26%, especially when the company had done much better in the past.
Looking at individual brands, Chrysler only made it to a 3% market share (as did AMC) and Dodge and Plymouth each took 6%; Chevrolet and Ford had 24% and 26% respectively. Foreign car imports took only a tiny part in the market.
The chart below is taken from annual reports.
When we look in the
Standard Catalogue of Chrysler
, we see the following production figures for the individual models:
Plymouth Fury
- 36,922
+Fury Sport / Suburban - 44,790
+Gran Fury - 6,606 - and Gran Fury Brougham - 3,692
+ Gran Fury Sport Suburban - 1,794 = 93,804
Dodge Coronet
- 15,732 + Brougham - 12,831
+ Crestwood Wagon - 3,246 = 31,809
Dodge Charger
- 17,424 + 35,337 Special Edition
Total = 52,761
Dodge Charger + Coronet
= 84,570
Monaco -
4,283 + Royal Monaco Brougham - 8,505
+ Royal Monaco - 12,193 = 24,981
Valiant
- 32,901 + Duster - 26,688 + Scamp - 8,455
= 68,044
Dart
- 27,849 + Sport - 13,642 + Swinger - 8,937
+ Swinger Special - 3,036 = 53,464
Volare
- 89,874 + Custom 60,421 + Premier 104,713
= 255,008
Aspen
- 69,495 + Custom 49,696 + Special 70,709
= 189,900
Chrysler:
| | |
| --- | --- |
| Cordoba | 167,618 |
| New Yorker Brougham | 33,732 |
| Newport | 19,290 |
| Newport Custom | 19,800 |
| Town & Country | 4,498 |
Note: The Standard Catalogue of Chrysler states the production figures per model name, not by body type; e.g. the Fury Sport comprises of both the the 2-door model and the station wagon.
Catalogs and Publications
This is not a complete list, but just as far as could be established. Catalogues one finds more or less easy on fairs and meets, but data books, color and trim selectors, and price lists are collectors items that should be cherished for their research value.
Chrysler:
"1976 Chrysler Data and Selector" - a must-have item for those wanting to know what is original or not. This is a fairly thick, looseleaf bound book.
"1976 Chrysler New Yorker Brougham, New Yorker, Newport, Town & Country" 16 pages.
"1976 Cordoba; the small Chrysler" = 10 5/16" x 8 5/8", 8 pages.
Chrysler - Plymouth:
Press Kit
"1976 Chrysler - Plymouth" = 10 5/16" x 8 5/8", 20 pages.
Chrysler, Cordoba, Gran Fury, Fury, Volaré, Valiant, Duster, Voyager, Trail Duster
Plymouth:
"1976 Plymouth Fury" = 10 5/16" x 8 5/8", 12 pages.
"1976 small cars from Plymouth: Duster, Valiant" = 8 pages.
"1976 Plymouth Color and Trim selector"
"1976 Plymouth Prices"
Dodge:
"'76 Dodge - Aspen, Dart, Charger, Coronet and Monaco" = 10 7/16" square, 14-page catalogue for the with tasteful photowork is really something to have. One minor point is the cover: there seems to have been a lot of cut and paste going on and the illustrated Aspen Coupe is definitely taken from a different perspective..

"'76 Dodge Monaco - hardtops, sedans, wagons" = 6-page big size catalogue
"'76 Dodge Charger, four distinctive hardtops" = (big size square catalogue)
"'76 Dodge Coronet - sedans, wagons" = 10 7/16" square, 6-page catalogue
Other publications:
Annual Report: the 1975 report has photos of the cars and the 1976 report, issued in 1977, has information about the year.
1976 Service Manual (separated into body and electrical systems books)
Various MasterTech publications include annual change listings
Acceleration and Braking Data (16 page blue-and-white booklet issued by US dealers)
Scale models
Scale models of 1976 Chrysler are hard to find. Clever modellers can convert scale models of later years to 1976, but since this article concerns the years 1976 specifically, the list is limited to that:
Dodge Charger SE
from Lucky (Hong Kong), #3168, scale 1:29, white plastic.
Clearly intended as a toy, it is equipped as a police car (!) but with a bit of dedication, one could make a reasonable show-case car out of it.
Dodge Coronet 4-door sedan
1975-1976 from Williams Bros., Inc. (USA), #55500 (old #555), scale H0 (1:87)
This is a all clear plastic kit that an advanced modeller can make a serious scale model from.
The choice is to make it a civil car or (with the included light bar) the model can turned into a police or fire chief car.
Dodge W200:
Roco of Austria supplied two military versions of the W200 in HO scale (1:87); one is the standard pick up truck, the other is an ambulance. These are very fine, well-detailed and correctly proportioned models. A specific model year of the originals could not be established so to be sure they are listed here.
COLORS
As far as could be established, the colors as listed below were supplied in 1976, depending on model:
| | | | | | |
| --- | --- | --- | --- | --- | --- |
| Code | | | | | Exterior colors |
| Chrysler | Ditzler | Order | Paint | | Color name: |
| AY70lA2 | 2734 | LA2 | A2 | | Silver Cloud Poly |
| AY69KB1 | 2626 | KB1 | B1 | | Powder Blue |
| AY70LB2 | 2735 | LB2 | B2 | | Astral Blue Poly |
| AY69MB4 | 2850 | MB4 | B4 | | Big Sky Blue |
| AY70MB4 | 2851 | MB5 | B5 | | Jamaican Blue Poly |
| TY70KB8 | 2628 | KB8 | B8 | | Starlight Blue Poly |
| AY69FE5 | 2136 | FE5 | E5 | | Rallye Red |
| AY70ME8 | 2849 | ? | E8 | | Vintage Red Sunfire Poly |
| AY70LE9 | 2736 | LE9 | E9 | | Vintage Red Poly |
| AY70MF2 | 2852 | MF2 | F2 | | Jade Green Poly |
| AY70KG8 | 2631 | KG8 | G8 | | Deep Sherwood Poly |
| AY70MG9 | 2824 | ? | G9 | | Deep Sherwood Sunfire Poly |
| AY70LJ2 | 2730 | LJ2 | J2 | | Platinum Poly |
| AY70MJ5 | 2853 | MJ5 | J5 | | Tropic Green Poly |
| AY70LK3 | 2740 | LK3 | K3 | | Bittersweet Poly |
| AY69HL4 | 2427 | HL4 | L4 | | Sahara Beige |
| AY70LL5 | 2737 | LL5 | L5 | | Moondust Poly |
| AY69MR6 | 2854 | MR6 | R6 | | Claret Red |
| AY70LT4 | 2741 | LT4 | T4 | | Cinnamon Poly |
| AY70KT9 | 2590 | KT9 | T9 | | Dark Chestnut Poly |
| AY69MU2 | 2855 | MU2 | U2 | | Saddle Tan |
| AY70MU3 | 2856 | MU3 | U3 | | Carmel Tan Poly |
| AY70MU6 | 2857 | ? | U6 | | Light Chestnut Poly |
| AY69MV1 | 2858 | MV1 | V1 | | Spitfire Orange |
| AY69EW1 | 2033 | EW1 | W1 | | Spinnaker White |
| AY69TX9 | 9300 | TX9 | X9 | | Formal Black |
| AY69MY3 | 2859 | MY3 | Y3 | | Harvest Gold |
| AY69KY4 | 2635 | KY4 | Y4 | | Golden Fawn |
| AY69KY5 | 2636 | KY5 | Y5 | | Yellow Blaze |
| AY70LY6 | 2738 | LY6 | Y6 | | Inca Gold Poly |
| AY69EY7 | 81746 | (x) | Y7 | | Taxi Yellow |
| AY70LY9 | 2739 | LY9 | Y9 | | Spanish Gold Poly |
| | 8367 | | x | | Corporate White |
| | 71831 | | x | | Corporate Red |
| | 12785 | | x | | Corporate Blue |
Some of these colors are illustrated (to a degree) below:
The following interior colors, which were used for both fabrics and matching interior paints, were available depending on model:
| | | |
| --- | --- | --- |
| White | Dark Parchment | Dark Green |
| Black | Light Parchment | Light Gold |
| Dark Red | Medium Tan (Carmel) | Dark Gold |
| Dark Blue | Dark Chestnut | |
Vinyl roof colors were medium blue, medium green poly, silver poly, light gold, medium carmel poly, black, white, chestnut print, and parchment.
Colors for the recreational vehicles were:
| | | | |
| --- | --- | --- | --- |
| Ditzler | | Dodge and Plymouth | Looks like: |
| 8717 | | Bright Blue Poly | Jamaican Blue? |
| 8664 | | Light Blue | Powder Blue? |
| 6486 | | Bright Tan Poly | Dark Chestnut Met? |
| 6443 | | Medium Gold Poly | Inca Gold Met.? |
| 6442 | | Light Gold | Sahara Beige? |
| 7776 | | Dark Green Poly | Deep Sherwood ? |
| 7773 | | Light Green Poly | Jade Green? |
| 7807 | | Bright Green Poly | Tropic Green ? |
| 1417 | | White | |
| 5207 | | Sunstone | No matching color |
| 3418 | | Russet | |
| 3116 | | Bright Red | Rallye Red? |
| 9037 | | Silver Cloud Poly | Silver Cloud Poly |
| 2550 | | Yellow | Yellow Blaze? |
| 2245 | | Chrome Yellow | School bus only |
Acknowledgements
There is much more to know and to tell about the 1976 Chrysler model year. This article focuses on the American passenger-car models and market.
Most of above information comes from my own sources, but I owe many thanks to Dave Zatz (Allpar) and also to Lanny Knutson and Jim Benjaminson of the
Plymouth Owners Club
.
Another source was
The Standard Catalogue of Chrysler
by James T. Lenzke
For more in-depth information on specific models mentioned here, I suggest you have a look at
http://www.allpar.com/old/buyers-guide/ply-1975-1996.html
(there are also links in the text for specific pages devoted to the cars).
Additional information and stories from readers are always welcome.
- Ewald Stein
This article is based on an article by Ewald Stein originally written for The Plymouth Owners Club. By kind permission of the Plymouth Owners Club, it was adapted for Allpar by Ewald Stein and Dave Zatz.
Chrysler Heritage
•
History by Year
•
Chrysler People and Bios
•
Corporate Facts and History
Home
•
Engines
•
Reviews
•
Chrysler 1904-2018
•
Upcoming
•
Trucks
•
Cars
Spread the word
via <!--
Tweet
or-->
Facebook
!
We make no guarantees regarding validity or accuracy of information, predictions, or advice - .
Copyright © VerticalScope Inc. All rights reserved. Dodge, Jeep, Chrysler, Ram, and Mopar are trademarks of Fiat Chrysler Automobiles.