1977 Chrysler, Plymouth, and Dodge: cars and tech
The period between 1974 and 2004 tends to be dismissed by Mopar fans, being free of high-power rear-drive muscle cars, but it wasn't just an empty space between the 340 and the 5.7 Hemi. Indeed, 1977 wasn't a bad year for Chrysler, all things considered; the prior year had been disastrous, but now production was moving up, and the Volare/Aspen were starting to overcome their incredible quality problems.
Even at the time, Chrysler was working on a revolution in its product line which would result in some remarkable successes. It was also still drag racing its
"missile" cars
- in 1977, these modified Volares.
Chrysler's United States market share for cars was 13% in 1977 the lowest share the Corporation had held since 1963. Plymouth and Dodge each held a 5% share - far behind Chevrolet's dominant 25%. The company's share had been 15% just one year earlier.
Plymouth outsold Dodge, 458,717 to 406,683, though Dodge had two exclusive models (the Charger SE and Diplomat). Chrysler's mainstay was the relatively low-priced Cordoba, which yielded a Chrysler-total of 336,520 cars sold in the US.
Chrysler technology
Sunning rust issues on the Volare/Aspen brought the company to use a far more effective, "seven-stage" autophretic coating system starting in mid-1976. Parts were spray-cleaned and dipped, rinsed with recirculating and fresh water (both standard and de-ionized), then given an autophoretic chemical coating; after that they were dip-rinsed, given an autophoretic reaction rinse, dried in an oven at 220° F for 5-10 minutes, and cured at 275° F for five minutes. This process used less energy than asphalt-based rustproofing, cut fire hazards and pollutants, and was more effective; and Chrysler was the first domestic automaker to use it.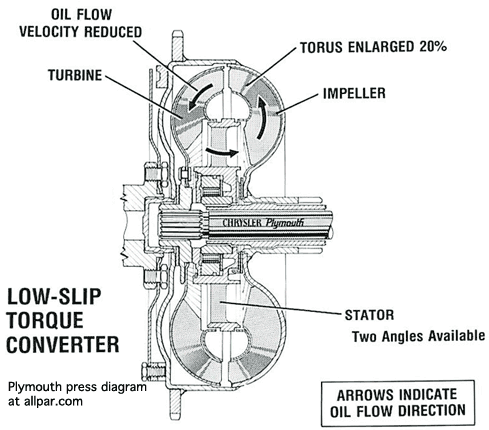 Engineers released a torque converter with a 20% larger torus for the
TorqueFlite automatics
, reducing slippage.
A new, efficient, miniature catalytic converter system was used on California-based six cylinder cars; its platinum catalyst was set up in a ceramic honey-comb monolith, wrapped in stainless steel mesh, and mounted in a stainless steel shell. An addition to the standard catalysts, they were placed very close to the engine for higher effectiveness.
A new three-way catalyst was used on Super Six models for California, to cut NO
x
, hydrocarbons, and carbon monoxide in both lean and rich mixtures.
1977 started a new wiring terminal system, with new female terminals and locking insulators, to reduce electrical problems. All cars also got a new double-contact starter relay, for more reliable cold weather starts; and an automated headlamp-aim testing system at the factory. Electronic ignition was still standard.
Batteries were upgraded on
slant six
and
318 engines
, with higher amperage (as a running change). The new batteries were smaller, weighed six pounds less, and had better cell connectors and vibration protection.
Weight reduction efforts brought lighter-weight materials; the four-speed manual transmission in other cars was 33 pounds lighter, thanks to an aluminum case, shift cover, and extension material (in addition, finer pitch gears made it quieter, and a reverse interlock was added.) All these changes could drop the weight of a car by a hundred pounds.
Plymouth: Chrysler's largest division
Plymouth Volare
The Volare
was the dominant car for Chrysler Corporation. In its second year, 139,865 base models were sold in the US - plus 112,514 Premiers and 75,360 Customs. The next best seller was its twin, the Dodge Aspen, with 109,674 base Dodges, 66,844 Customs, and 89,494 Special Editions. The closely related
Diplomat
added over 30,000 more, and the also-related leBaron added another 45,000 or so. The next best seller was the next smallest car sold by Chrysler - the Cordoba, with 163,138 sales.
The Plymouth Volare and Dodge Aspen had the usual Mopar unitized body, torsion bar front suspension, and leaf-spring rear suspension. There were three models, a four door sedan, four door wagon, and two door coupe. The cabin was a major upgrade from the old Valiant, and the body absorbed more vibrations and noise. All rear-drive Mopars of 1977 used a rubber piece between the spring perch for the leaf-springs and the frame, to cut vibrations; it was dubbed "Iso-Clamp."
| | | |
| --- | --- | --- |
| Volare | 2-Door | 4-Door |
| Wheelbase | 108.7 | 112.7 |
| Length | 197.5 | 201.5 |
| Width | 72.8 | 72.8 |
| Height | 53.1 | 54.8 |
The Volare and Aspen were powered by the 225
Slant Six
and the
318 and 360 LA V8s
, running only on unleaded fuel (a rumored "regular fuel" option for the 1976-77 318/automatic, substituting an air pump for the catalyst, could not be verified). The 360 engine was available with the bulletproof 727 transmission. Dual exhausts were not an option, because there was no room for the extra pipe.
The E85 edition, aimed at the police, had the 360 four-barrel, with roller chain, upgraded rings and valves, better cooled heads, orange silicone-rubber head gaskets, and other durability features. It had 230 horsepower at 4,400 rpm and 300 lb-ft at 3,600 rpm.
The big news for 1977 was the
Super Six
option, which was much more responsive than the standard slant six (see the engines section, below).
The 1977 Volare was identical to the 1976 in all visible aspects other than VIN code, but had numerous quality improvements. By the end of 1977, the Volare was, if anything, a better car than its competitors - but the damage had been done.
Plymouth Fury
Lanny Knutson wrote in the
Plymouth Bulletin
(reprinted by permission):
For 1977, the Plymouth Fury had minor styling alterations. Most notable were the latest fashion, rectangular quad headlights mounted in the already squared front fenders.

The grille texture and tail-light design were also changed, the coupe's backup lights were moved from the tail lamps to the bumper and the opera windows were changed from a dual to a single pane appearance. Amber turn signals were also introduced.

With General Motors downsizing all its "full-sized" cars to mid-size dimensions, the handwriting was on the wall for all land yachts, including the Gran Fury. Bowing out at the end of the 1977 model year, the big Fury spent its final season with with just two trim levels, basic and Brougham/Sport Suburban, and no other changes. Still, the 1977 Gran Fury outsold its 1976 edition, 47,552 to 39,510.
The Gran Fury was, simply, the old, full-sized Fury. The "plain Fury" was an intermediate sized B-body car.
Dodge cars for 1977
The
Aspen
continued as the Dodge version of the
Volare
. The
Diplomat
, a higher-end car based closely on the Aspen, launched this year; it had nearly the same mechanicals except for a base four-speed manual transmission instead of a three speed. Leather was optional, as was woodgrain trim for the sides, and the body was slightly longer than the Volare/Aspen.
The Dodge Monaco was a twin to the Fury, with standard power brakes, color keyed carpeting, day/night mirror, and radial tires. The Monaco Brougham was the ritzy version. Engines went from the slant six to 440 V8. The Royal Monaco was, in essence, the prior Monaco - a full sized C body similar to Gran Fury.
The
Charger
SE imitated the Chrysler
Cordoba
so precisely one wondered if they thought about sharing nameplates as well as sheet metal. Changes included bucket seats with thinner backs to increase passenger space, new colors, door-mounted courtesy lights, and recessed armrests. Every V8 was available, but the 318 went from a 3.2:1 rear axle to an economy 2.7:1 axle, raising gas mileage while cutting acceleration. T-bar roof and power sunroof were optional. The main difference between Charger and Cordoba was the performance suspension, which greatly increased cornering ability.
The Charger SE had a huge amount of standard equipment, and, in 1977, it was good for a little over 36,000 sales, around one third that of 1968 - but around the same as 1966 and
far
better than 1967.
The 1977 Chrysler cars
On every model, Chrysler cars had power front disc brakes and a
TorqueFlite automatic transmission
.
New to the Chrysler line was a Volare-based Chrysler LeBaron - the first Chrysler ever to be based on the smallest car in the corporation's domestic portfolio (even going back to 1924). It was similar under the skin to F-body Volare and Aspen, but had a more upscale look, inside and out. Chrysler always had the best seller in this grouping of cars.
While the LeBaron helped increase Chrysler sales, the big seller was the
Cordoba
. A small step up in wheelbase, but a big step in luxury feel, many changes took place under the Cordoba's skin in the name of saving weight. The wheelbase was a modest 115 inches, not much more than the "compacts;" but the B-body ride was far smoother.
For 1977, Cordoba added a chrome-plated grille, eight new body colors, new tail light lenses, deck lid lock cover and medallion, black and white checked cloth-and-vinyl seat covers, fifteen-inch glass-belt radials, a higher-capacity ignition switch, and a double-contact starter relay for better starting. New options included T-tops, a padded landau roof with an illuminated opera band across the roof and Frenched rear quarter windows, color-keyed body-side mouldings, side and deck stripes.
The Cordoba's sales were slightly down from 1976, but it was still a runaway success by Chrysler-brand standards.
The Town & Country wagon was on the big Newport platform for its final year; in 1978 it moved to the LeBaron platform.
The biggest Chryslers were the
Newport
and New Yorker Brougham, with their 124 inch wheelbase. These had different front and rear styling but similar sides; both continued with velour seats, dual folding armrests, reclining passenger seat, and optional leather. Only two and four door hardtops were available, the wagons having been dropped.
By far, 1977 was the Chrysler New Yorker Brougham's best year, bringing in hefty sales despite a hefty price - around $7,000 base, and, fully loaded (as many were), over $10,000. The main change was rubber-covered steel corner guards that allows the lower corners of bumpers to sustain a 3 mph collision without damage, and new rubber-covered steel front bumper guards.
The New Yorker Brougham had, until 1975, been sold as the Imperial LeBaron, with minor styling differences and the options made standard. New Yorker Broughams were, therefore, sold against the Imperial's more successful rivals, Cadillac Fleetwood Broughams and Lincoln Continental Town Cars. The New Yorker Brougham brought back the styling of an earlier time, instead of adopting opera windows and coach lights; and had a chrome-plated zinc grille while Cadillac had a chrome-plated plastic grille.
New Yorker Broughams came with the
440 V8
as standard equipment, and an optional 400 V8, except in high altitudes and California, where the
360 V8
was standard, with the 440 V8 optional. The New Yorker dropped in weight for 1977, from (four-door) 4,832 lb to a "mere" 4,739 pounds.
New Yorker Brougham was sold as a two-door or four-door hardtop, with an extra-cost St. Regis Edition on the two-door. The four-door was far more popular in each year, with more than double the two-door's sales; 1977 was by far the best year for either model, with sales topping 60,000 units, versus around 33,000 in 1976 and around 36,000 in 1978.
Chrysler New Yorker Brougham details
Dodge trucks
The 1977 trucks gained a new grille, upper body side moulding, two-tone instrument panels, seat trim, and optional
two-tone paint treatment. Trim levels were Custom, Adventurer, and Adventurer SE. Custom had vinyl seats with multi-tone stripe inserts; Adventurer seats were vinyl with embossed inserts, and Adventurer SE seats were cloth with vinyl inserts. Custom and Adventurer buyers could pay extra for plaid cloth seats with vinyl bolsters.
The 1977 Dodge Ramcharger had a new grille, which incorporated
rectangular parking lights, along with the new two-tone paints and optional upper moulding. Inside, the Ramcharger had the new two-tone instrument panel and new interior colors. The Ramcharger SE's interior had rosewood appliques.
In 1976 and
1977, new custom-van and "specialty truck" options were added
; 1977 saw minor changes. These Dodge-labelled "Adult Toys" included, for 1977:
the short wheelbase Warlock (a trick truck direct from the factory)
the Street Van, a special version of the best-selling selling Dodge Tradesman full-sized van for individuals who want to do their own customizing
Macho packages for the four-wheel drive Ramcharger and Power Wagon.
For much more, including vans and commercial trucks, see
our 1977 trucks page
.
Chrysler Europe
Chrysler U.K. launched the new
Chrysler Sunbeam
, despite a strike at its Linwood factory. The Chrysler Sunbeam was a
Cricket
/
Avenger
-based subcompact (smaller than Horizon and a 2-door hatchback) released in 1977, which gave rise to the 1980 World Rally Champion Sunbeam-Lotus with 2.2 Lotus Esprit engine. This project was one of the fastest ever seen for a new car at the time, taking only two years from green light to production; they kept rear wheel drive, though front wheel drive was used on the larger
Horizon
and
Alpine
.
Chrysler France added the
Simca Horizon
, a natural progression from the
Simca 1100
. The Horizon would sweep America by storm, after substantial changes for the market, and took France by storm at first, as well. In Spain, the Chrysler 150 (a
Simca 130x derivative
) was named Car of the Year, and Chrysler Australia launched a group of Mitsubishis under the Sigma name.
Import cars
Chrysler's small cars were Mitsubishi imports, pulled in to make up for the unusual and complete lack of fuel-efficient subcompacts. Chrysler had not had success with their own captive imports from Europe, though that would change with the
Horizon
.
The two-door
Plymouth Arrow
had sporty styling and the MCA-Jet system, which shot air into each cylinder at high velocity to make combustion more efficient. The Arrow GS and Arrow GT had an optional "silent shaft" (balance-shaft-equipped) overhead-valve 2.0 liter four-cylinder, with a standard five-speed manual transmission on the GT (four speed on GS) and an optional automatic. The base engine was a 1.6 liter version.
The Arrow could be purchased with full instrumentation, disc brakes, a center console, and a number of other options; the interior was every bit as fancy as considerably more expensive American intermediates.
Sharing the Arrow's drivetrain and chassis, the
Dodge Colt
(
Plymouth Champ
) had a 4.2 inch longer wheelbase. In Canada, Dodge sold the Arrow and Plymouth sold the Colt. The Mitsubishi versions of these cars were Mitsubishi Lancer and Lancer Celeste.
The
Plymouth Sapporo
/Dodge Challenger, a two-door subcompact based on the Arrow, rode on an extended wheelbase (99 vs 92 inches), with thet same height and another couple of inches of width (65.6 inches). The Arrow was 167 inches long, the Sapporo 183 inches.
Engines
As Detroit struggled to come to grips with emissions requirements, power levels sank, to the point where the 170 and 198 slant six were dropped, and the lone remaining in-line six was the
225
.
Developed by
Pete Hagenbuch
and his staff, the Super Six was a partial solution to the need for better mileage. The team substituted a Carter BBD for the one-barrel Holley 1945, increased the axle ratio from 2.76 to 2.94 on coupes and sedans, and added a 2 1/4 inch diameter exhaust pipe and larger air cleaner, using a revised intake manifold. The horsepower increased by 10, and the throttle response and driveability off idle were greatly enhanced. It was certainly worth the $40 or so Chrysler charged, and has been in demand to this day - to convert other slant sixes to two-barrel carbs. For many owners, it was an economical alternative to a small V8.
For 1977,
318
-powered F-bodies and B-bodies sold in high-altitude areas had altitude-adjustable carburetors; and the TorqueFlite torque converter was modified for better gas mileage and torque, with increased oil flow. The spark advance on these cars was also modified.
The 440 four-barrel (7.2 liter) remained, in California as well as regular trim; for 1977, the
Lean Burn
system made its appearance on the 440 "for better driveability and overall performance" (until the system stopped working properly.) The engine was standard on New Yorker Brougham and Town & Country, and optional on Newport, Gran Fury, and Monaco.
Briefly, Lean Burn used sensors (distributor pickup, magnetic timing pickup, inlet air temperature, ambient temperature, water temperature, and throttle position) to set the spark advance, often using vacuum for communication. Later, when the vacuum was replaced by solenoids and more sophisticated sensors, communication speeds increased and vacuum leaks stopped wreaking havoc on the signals, resulting in a far more reliable system. By then, fuel mixture was (via oxygen sensors) also being controlled. The idea was admirable, but not as well tested or developed as it should have been.
Lean Burn
was also set for a late launch on the 318 (except in California); this small V8 was Chrysler's perennial best-selling V8 engine, and was available on the Volare, Fury, Gran Fury, Cordoba, and their Dodge equivalents (not available in California on the largest cars or wagons).
1977 Chrysler brand net horsepower ratings (Dodge and Plymouth were similar)
| | | | |
| --- | --- | --- | --- |
| Type | Carburetor | Horsepower | Torque (lb-ft) |
| Federal 225 | Holley 1-bbl | 100 @ 3,600 | 170 @ 1,600 |
| CA 225 | Holley 1-bbl. | 90 @ 3,600 | 170 @ 1,600 |
| Super Six | Carter 2-bbl | 110 @ 3600 | 180 @ 2000 |
| 318 Fed. | Carter 2-bbl | 145 @ 4000 | 245 @ 1600 |
| 318 (CA) | Carter 2-bbl | 135 @ 4,000 | 235 @ 1,600 |
| 360 | Carter 2-bbl | 155 @ 3600 | 275 @ 2000 |
| 360 E58 | 4-barrel | 220 @ 4,000 | 280 @ 1,600 |
| 400 | 4-barrel | [email protected] 3600 | 305 @ 3200 |
| 400 HD | 4-barrel | 190 @ 3600 | 305 @ 3200 |
| 440 | 4-barrel | 195 @ 3600M | 320 @ 2000 |
Dodge B-Vans
Dodge, still the market leader, refreshed its 1977 vans with high-back swivel seats, upgraded carpet, quick-release bench seats, privacy glass, and the fuel pacer option; the Van Clan Club was created for owners, and a four-speed overdrive was optional on B100.
The popular single rear door was made standard, with the dual rear door now optional. Dodge added five new metallic colors and four straight shades to its five existing color choices. Maxiwagon and maxivan models continued Chrysler's exclusive 15-passenger capacity for wagons and the longest interior cargo length for vans.
1977 additions included swivel high back bucket driver and passenger seat option; a quick release for wagon bench seats; and better bench seats. Dark gray privacy glass (as well as normal tinted glass) was a new option, to increase privacya and reduce heat.
Perhaps more to the point for many people, the big
400 and 440 cubic inch V8
engines became optional (they would only stay through the 1979 vans). Fewer cars were being sold with those engines, and it's possible management wanted to increase their sales.
Suspension
The front torsion bars on all rear wheel drive cars had been used by Chrysler for decades; they were height-adjustable but reaching the limits of their design. One clever touch was raising the front pivot of the upper control arm higher than the rear, to prevent "brake dive."

In back, clever mounting of the leaf springs provided both roll stability and weight transfer that helped high-power launches.
During these years, Chrysler focused more on ride than handling, adding rubber isolation pieces throughout their suspensions.
Chrysler financials and corporate
Chrysler had net sales of $17 billion, with net profits of $163 million, and employed a quarter of a million people, though the fourth quarter had a $50 million loss due to Horizon launch expenses. They sold 1.3 million cars in the US retail market, with a 14.5% share, down from 16% in 1976; record retail truck sales of 468,161 trucks provided a 13.5% market share, down from 14%. Canadian market share was 25%, down from 27%, for cars; 14.5% for trucks.
Chrysler made 1.25 million cars in the US, and 480,296 trucks; as well as 217,936 cars and 105,977 trucks in Canada. The next largest number were built in France, 472,154, thanks to Simca. Mitsubishi-made cars accounted 207,428 more; and Rootes contributed 116,281 in England. Finally, Chrysler made 84,259 cars and trucks in Spain; 60,545 in Mexico; 21,840 in Australia; and 47,298 elsewhere.
Chrysler sold 1.8 million vehicles in the US, 253,000 in Canada, and 961,215 elsewhere (including 4,326 tractors presumably from
Barreiros
).
Chrysler U.K. - the former Rootes Group
- had a hard year, with a $36.6 million operating loss. A $17.6 million grant from the UK government, extracted in return for jobs, cut that loss nearly in half. Chrysler France saw lower sales but maintained a profit, while Chrysler Spain had better earnings; conditions in South America brought $35 million in losses there, far worse than 1976's $2 million loss.
Mound Road modernized their LA V8 line, added new lines, and increased floor space by 97,200 square feet; Kokomo tooled up for automatic transmission production with computer controlled equipment for full testing; Windsor added 136,000 square feet to build capacity for the 360; Missouri Truck added 102,000 square feet; Jefferson Avenue started converting from cars to truck and van production; and Huntsville added 176,000 square feet for making electronic components.
Chrysler was also working to build the
XM1 tank, the Army's first turbine powered main battle tank
, which had double the power, cross-country speed, and mobility of existing combat tanks. The first one would be delivered in early 1978.
1977 wrap-up
Though 1977 was hardly Chrysler's best year, it had some high points, and ended with profits. Plymouth dominated the police market; and engineers were finding solutions and creating new generations of cars. The Super Six combined of durability, economy, and pep, and the partnership with Mitsubishi no doubt brought in import-minded customers, some of whom left with a Volare or Aspen.
The resized Fury and Monaco were fine cars on their own merits, with a luxurious feel, better cornering and acceleration (assuming the same engine) than their larger brethren, and far better gas mileage. The muscle car era was not
completely
over for Chrysler; the short-run
L'il Red Trucks
and 360 Aspen R/Ts were still coming.
Engineers were starting to work on pollution systems that would help power and driveability; Lean Burn and electronic feedback carburetors ushered in higher-tech solutions that would bring 224-horsepower 2.2 liter fours and 380-horsepower 5.7 Hemis. Weight reduction was starting to take hold.
Chrysler Corporation was down, but not out, and its customers in 1977 could reasonably expect to get a durable, enjoyable vehicle.
Chrysler Heritage
•
History by Year
•
Chrysler People and Bios
•
Corporate Facts and History
Home
•
Engines
•
Reviews
•
Chrysler 1904-2018
•
Upcoming
•
Trucks
•
Cars
Spread the word
via <!--
Tweet
or-->
Facebook
!
We make no guarantees regarding validity or accuracy of information, predictions, or advice - .
Copyright © VerticalScope Inc. All rights reserved. Dodge, Jeep, Chrysler, Ram, and Mopar are trademarks of Fiat Chrysler Automobiles.