1978 Chrysler, Plymouth, and Dodge cars, engines, and technology
Sometimes, it seems as though Chrysler was only active for a few years in every few decades; entire clumps of years seem to be selectively ignored. The late 1970s and early 1980s were one of those eras, often dismissed by the single word "emissions" without much thought to the merits of the cars. There were some duds, but there were also successes, and the years were not just a waiting time between Hemi and K-car.
Chrysler technology advances
New for 1978 was a Chrysler's lockup torque converter system for the TorqueFlite automatics, a feature now used in most or all hydraulic transmissions.

Chrysler published this description: "When accelerating from a stop, TorqueFlite continues to use the torque converter ... until road speed reaches about 27 miles an hour for V-8 engines and 31 miles an hour for sixes-then, as the transmission upshifts from 2nd to 3rd gear, the new clutch locks up the torque converter so there is a direct mechanical drive through the transmission. Normal slippage in the converter is eliminated, engine speed is reduced and fuel economy is improved."



A new electronic tune radio was launched, with built in fine tuning, station search, and the ability to type in stations by frequency. "The search tuner can be set to receive only the strong local stations, or it can be set for distance to receive all stations within range." A floor switch could be used on some FM radios; it also drew in AM stereo.

Following the trucker craze, Chrysler provided a factory-installed CB transceiver that was integral with the radio, and shared the same face-plate and trim so it was not easily recognized as a conventional CB, reducing theft potential. The microphone could be stored in the trunk.

Still standard was the electronic voltage regulator. "Introduced in 1970, Chrysler's electronic voltage regulator eliminated the need for maintenance by eliminating moving parts. ... The electronic circuitry is sealed in tough epoxy, making it shock resistant, moisture resistant and extremely durable."


For 1978, Chrysler cars had door outer panels made of one-side galvanized sheet metal and have zinc-rich primer applied to areas around the rear wheel openings and quarter panels. LeBarons had full front-wheelhouse plastic splash shields and used one-side galvanized steel for front fenders. All vehicles used the famous
torsion-bar suspension with rear leaf springs
: "Long, multi-leaf rear springs help to provide a smooth ride. Off­center, forward mounting of the axle helps to minimize acceleration squat."
The company tried to save weight with items like an integral windshield washer tank and battery heat shield, but most of the time small-to-hefty weight savings were extracted from body panels, air conditioning systems, bumpers, and other areas; in the end, Chrysler saved an average of 300 pounds per vehicle.
Engines
As Detroit struggled to come to grips with emissions rules without spending money on fuel injection, power levels sank, to the point where the 170 and 198
slant six
were no longer viable and the lone remaining in-line six was the 225.
A new design 5-cylinder, swashplate drive air conditioning compressor was used with slant six-equipped cars to reduce engine shake.
Making the increasingly popular slant six much peppier and enjoyable was a two-barrel carburetion system known as the Super Six, which provided both better acceleration and better gas mileage.
Chrysler made just one six in North America, not a single four-cylinder, and a range of V8s. The
318
persevered, as did the
360
(both with two barrel carbs). The
400 V8
, based on the
B engines,
replaced the 440 in some cars. A four barrel 318 was sold in California, to counter the effects of less than ideal emissions reduction engineering, ironically providing more power than the two-barrel 360; and the 440 carried through on the
Chrysler Newport
and New Yorker, and as an option on Fury and Monaco
police cars
.
The 318's new carburetor, half a pound lighter than the 1977 version, fed a continuous stream of fuel to the primary discharge nozzles, which was mixed with air upon entering the nozzles. The "solid-fuel metering" increased driveability with lean fuel-air mixtures.
The 360 and 400-cubic-inch V-8 engines gained dual concentric throttle return springs in addition to a torsion throttle spring.
All the V8s came with
Lean Burn
, the revolutionary computer-controlled spark control system that was an idea ahead of its time. Materials technology eventually caught up, but many owners simply switched (and are still switching) to conventional carburetors. Chrysler boasted, "Electronic Lean-Burn System, with its electronic spark control, is one of the most important developments in engine control since the 1920s and early 30s. when manual spark control was replaced by the automatic spark advance. Eight sensors and an electronic computer combine to adjust spark advance correctly for all driving conditions." (This turned out to be true in the long term; every car currently made uses electronic spark and fuel control.)
V8 Chrysler models with an air conditioner and automatic transmission gained a fast-idle solenoid to speed up and thereby smooth out the idle; it increased the idle speed when the air conditioner was on.
A heat valve diverted hot gases to the floor of the intake manifold, helping to vaporize the fuel mixture when the engine was cold. A thermostatic spring allowed the heat valve to open to the exhaust pipe, so gas flow through the intake manifold crossover passage was decreased.
All 1978 Chrysler V-8 and 6-cylinder engines had a probe adapter for timing the ignition magnetically, but traditional timing marks were retained.
Electronic ignition was standard for all domestic engines. The automatic-transmission line pressure for reverse was modulated to a variable 150 to 260
pounds per square inch for 1978 from a
constant 260 psi, for greater reliability. At wide-open throttle, a regulator valve provided up to 260
pounds per square inch pressure for backing up steep grades or parking a heavy trailer.
The following chart provides horsepower ratings for each engine offered on a Chrysler brand vehicle (Dodge and Plymouth also offered a single-barrel 225 in Federal trim).
1978 Chrysler brand horsepower ratings (Dodge and Plymouth were similar)
| | | | | | |
| --- | --- | --- | --- | --- | --- |
| Code | Size-Carb | Bore x Stroke | C/R | Horsepower (net) | Torque (lb-ft) |
| E24 (CA) | 225 1-bbl. | 3.40" x 4.12" | 8.4 | 90 @ 3,600 | 160 @ 1,600 |
| E26 | 225 2-bbl | 3.40"x4.12" | 8.4 | 110 @ 3600 | 180 @ 2000 |
| E44 | 318 2-barrel | 3.91" x 3.31" | 8.5 | 140 @ 4000 | 245 @ 1600 |
| E46 (CA) | 318 4-barrel | 3.91"x3.31" | 8.5 | 155 @ 4,000 | 245 @ 1,600 |
| E57 | 360 2-barrel | 4.00" x 3.58" | 8.4 | 155 @ 3600 | 270 @ 2000 |
| E56 (CA) | 360 4-barrel. | 4.00"x3.58" | 8.4 | 170 @ 4,000 | 270 @ 1,600 |
| E55 | 360 2-barrel H.D. | 4.00"x 3.58" | 8.4 | 155 @3600 | 270 @ 2400 |
| E58* | 360 4-bbl H.D. | 4.00"x 3.58" | 8.4 | 175 @ 4000 | 260 @2400 |
| E64 | 400 4-bbl | 4.34"x 3.38" | 8.2 | [email protected] 3600 | 305 @ 3200 |
| E68 | 400 4-bbl H.D. | 4.34" x 3.38" | 8.2 | 190 @ 3600 | 305 @ 3200 |
| E85* | 440 4-bbl | 4.32"x 3.75" | 8.2 | 195 @ 3600 | 320 @ 2000 |
*E58 in CA: 160 hp, 265 lb-ft. E85 in CA: 185 hp, 310 lb-ft. E24, E46, E56 were California-only.
Other changes included a new fuse block-relay bank under the instrument panel, for all but the LeBaron.
Other 1978 Chrysler "bragging rights" (from their press materials)
100-ampere high-capacity alternator
. This was included with the optional electrically heated rear-window defroster on New Yorker Brougham, Newport, and Cordoba. Finned, nickel-plated copper heat sinks kept the diodes operating at proper temperatures even while conducting more current.
A 65-ampere alternator was used with the optional A36 Heavy-Duty Package and on LeBarons with the optional electrically heated rear-window defroster
325-ampere lightweight battery.
Stronger, six pounds lighter, and smaller than the battery it replaced, and used with single-barrel slant sixes and two-barrel 318s.
Chrysler's
Thermo-Guard battery shield
, used on all domestic engines, could reduce battery temperature rise up to 37% with the engine idling in city traffic.
Power steering
was standard on all Chrysler (brand) models along with front wheel power disc brakes; the New Yorker and Newport had a high ratio pedal in case the power failed. Rear drum brakes adjusted automatically when the brakes are applied while backing up.
Dodge B-Vans
T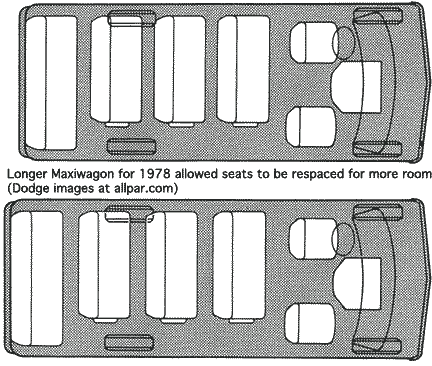 he
Dodge B-Van
refresh started in 1977 continued for 1978, with a rear and interior reskin. A lower beltline and moving the doors forward (on the 127 inch wheelbase vans) allowed for bigger windows; the new roof could have vents or a sunroof, and a new instrument panel with a spring-loaded swing-up glove compartment door and easier to reach fuse block were added. The optional air conditioning system now had integrated center and outboard outlets. A woodgrain appliqué was standard on high line and premium vans.
Nicer trim and seats, including a color-keyed formed-steel seat riser, and two-tone paint added to the package. Front door vent windows got a positive detent latch and release button.
Thanks to the noise reduction and ride improvement of 1976 and the 1977-78 refreshes, the B-vans were now much more civilized, and quickly became the institutional van of choice, seeing duty in hotels, churches, smaller schools, and other venues.
But they were also starting to be used as recreational vehicles, and Dodge helped by creating a "travel seat" option (to be resurrected for the 2008 minivans) for the Dodge Royal Sportsman. The second row seat could be faced front or rear, with an optional table between the second and third seat rows; the seats could be laid flat for sleeping, as well.
Those wanting to get in on the CB craze could do it with a choice of an AM-40 channel CB transceiver, or an AM-FM stereo 40-channel CB transeiver. Both used a digital vacuum-flourexcent display and a six-bar signal strength display. Those who did not care to converse with truckers could buy a plain AM or AM/FM radio, or opt for AM/FM stereo or the AM/FM stereo with 8-track tape player.
The Maxivan appeared, 220 inches long, with room for 15 people; and a new optional wraparound rear quarter window greatly increased rear visibility. Radio options were also expanded, and a 9,000 GVWR model was developed. The longer body allowed for respacing of the seats, and more usable space was provided for all 1978 wagons and vans by moving the passenger seat inboard by one inch; two new engine covers, each one four inches shorter, helped as well. The smaller cover (used on the slant six, 318, and 360) was also two inches narrower on the passenger side.
Plymouth: still Chrysler's largest division in 1978
Sadly, much of the early 1978 model-year news for Plymouth was rebadged Mitsubishis. The most popular new Plymouth for 1978 would, though, end up being a latecoming European-based Chrysler-engineered subcompact.
The two-door
Arrow
had sporty styling along the lines of other Japanese coupes, and boasted the MCA-Jet system, which shot air into each cylinder at high velocity to make combustion more efficient. The Arrow came as Arrow, Arrow GS, and Arrow GT; the GS or GT could be purchased with a "silent shaft" overhead valve four-cylinder of 2.0 liters, with a standard five-speed manual transmission on the GT (four speed on GS) and optional automatic. The 1.6 liter version of the same engine was standard on other grades, which made do with a four-speed manual transmission or automatic.
The Silent Shaft used a counter-rotating balance shaft on each side of the crankshaft to reduce vibration and noise. The Arrow could be purchased with full instrumentation, disc brakes, a center console, and a number of other options; the interior was every bit as fancy as considerably more expensive American intermediates.
The
Sapporo
, a two-door subcompact based on the Arrow, rode on an extended wheelbase (99 vs 92 inches), with thet same height and another couple of inches of width (65.6 inches). The Arrow was 167 inches long, the Sapporo 183 inches. The Sapporo was also sold as the Dodge Challenger in these years.
The
Volare
continued with few changes other than weight reduction across many systems (air conditioning, window glass, and body parts), with a 23 pound savings from the bumpers alone; better rustproofing; and an integrated CB transceiver.
Other news for 1978 were the Landau and T-Bar roofs, more color schemes, powerful and fast Kit Cars, and the Spectrum trim interior for the Road Runner option package; the biggest news might really have been the Super Six option, which provided greater economy than the standard slant six along with considerably more responsiveness, by using a two-barrel Carter carb and matched intake manifold.
The Gran Fury was no longer available, but the B-body
Fury
continued, with eight models (two door Fury and Fury Sport hardtops, four-door Salon, four-door sedan and Sport Wagon, and Suburban four-door wagon). The Fury was comfortable and quiet, with a popular option being a burgundy velour fabric. Any engine could be ordered with the Fury in 1978, from slant six to 400 V8; in 1979, the biggest engine would be the 360. Cornering of the Fury was surprisingly good for such a big car.
The
European Chrysler Horizon
was brought in after the model year had started (appearing in January 1978); it had been extensively Americanized and was popular from the start, using a Volkswagen engine (interestingly, with Chrysler's Lean Burn) while Chrysler worked on a four-cylinder of its own.
The first front-wheel-drive subcompact made in America, the Horizon was
largely designed by Chrysler Europe engineers
, who had made the SIMCA which Volkswagen imitated in its Golf/Rabbit line. The Horizon had a 99 inch wheelbase and 165 inch length, but the hatchback design and front wheel drive maximized interior and cargo space; cornering was good and ride was smoother than most competitors. The meager 2,167 pound weight allowed the 70 horsepower, 105 cubic inch engine to stay peppy.
Plymouth was still the #1 Chrysler division, turning in 96,000 sales for the new, part-year Horizon alone; with the big seller, as with Dodge and Chrysler, being the F-Body, the Volare, with nearly 218,000 copies being sold (the four doors sedan was a littel more popular than the wagon, which in turn was a little more popular than the coupe). F-body sales were the mainstay of Chrysler in this year, the most popular vehicle in the Dodge and Chrysler (including J and M bodies) lineups as well.
The Fury, though popular as squad cars, turned in a relatively meager 70,000 sales spread across Fury, Sport, Salon, Suburban, and Sport Suburban models. The Fury sedans weighed 3,600 to 3,900 pounds, light for the size and luxury; the Horizon was a mere 2,145 pounds, and the Volare spread between 3,100 and 3,300 pounds (wagons 3,400-3,500 pounds).
Plymouth sales remained fairly low; Volare sales dropped by nearly a third with the introduction of the competing but more upscale Dodge Diplomat and Chrysler LeBaron, and Plymouth as a whole ranked #7 among brands in American sales, a far cry from its traditional #3-#4 days.
Dodge cars for 1978
Dodge also got two Mitsubishi and one Chrysler europe imports, the Colt (Arrow), Challenger (Sapporo), and Omni (Horizon). See the Plymouth section for powertrain and other details.
The Aspen continued, getting a more upscale look, along with a Super Coupe package new for 1978 with black lower body paint and front and rear spoilers; there was also an R/T package with a number of cosmetic changes (
see our Aspen/Volare page for details on these packages
). Moving the spare tire increased the amount of useable trunk space. A digital clock was optional, as was the integrated CB.
The
Diplomat
, a restyled Aspen with more dignified and restrained looks - it could easily be mistaken for a Cadillac of similar vintage - continued from 1977 as a luxury version of the F-bodies (though no dimensions appeared to change, it was officially an M-body). Like the Volare, it was sold a 2-door sedan, four-door sedan, or four-door wagon, and had the same engine options except for a base
four
-speed manual transmission instead of a three speed; leather was optional; woodgrain trim was optional for the sides; and the body was slightly longer. Three Diplomats were sold, base, S, and Medallion, all with a choice of slant six and V8 engines. Weight ran around 3,300 - 3,600 pounds.
The Monaco continued as a twin to the Fury, with standard power brakes, color keyed carpeting, day/night rearview mirror, and radials. Monaco Brougham was the ritzy version. The two-door Monaco's 115 inch wheelbase was not much longer than Volare's; four-door models used a 117" wheelbase. All engines were available from slant six to 400 (possibly 440) V8. Electronically controlled intermittent wipers appeared as an option.
Charger
SE continued on, with a body that precisely imitated the Chrysler
Cordoba
due to lack of funds. Changes included bucket seats with thinner backs to increase passenger space, new colors, door-mounted courtesy lights, and recessed armrests. Every V8 was available but the 318 went from a 3.2:1 rear axle to an economy 2.7:1 axle. T-bar roof and power sunroof were optional. The main difference between Charger and Cordoba was the performance suspension.
The
Magnum
XE, which would replace the Charger SE, was essentially the same car, but with a considerably different front look, including headlights and taillights that slanted inwards; headlights were behind an aerodynamic flat plastic. The Magnum had front and rear sway bars and standard 15 inch wheels. Every V8 was available (the 400 V8 with option codes E64 and E68 - thanks, Tom Jablonowski).
The big seller for Dodge paralleled Plymouth: the Aspen, with 166,000 sold (roughly evenly split between coupes, sedans, and wagons). Diplomat was just starting to edge in, with about 50,000 sales across the three models. Among the intermediates, the Monaco, a popular squad car, had almost negligible sales of 37,000 across a wide range of models; the new Magnum XE in its single body style brought in nearly 48,000. Charger could not even reach 3,000.
The new Omni, in its first partial-production year, looked promising with 71,000 units sold, and no severe quality glitches surfacing, even if it was commonly thought to be a Rabbit imitator.
The 1978 Chrysler cars
Chrysler boasted newly designed thin-back front seats (used with low-back bucket and 60/40 rear seats) for easy entry to the rear and more kneeroom for rear-seat passengers; they were lighter than previous seats, with a soft appearance and feel.
The LeBaron (in two and four door versions as LeBaron and LeBaron Medallion, and in wagon form as Town & Country) had a 112.7 inch wheelbase.
A small step up in wheelbase, but a big step in luxury feel (since it was a completely different car, designed to be a mainstream midsize and not an entry level), was the Cordoba two-door hardtop, at 115 inches.
Finally, the biggest Chryslers were the Newport and New Yorker Brougham - once small for Chrysler - at 124 inches, the last of the large Chryslers. The interior space was not quite as differentiated as the overall length.
The LeBaron shared a basic body and wheelbase with Volare and
Diplomat
, but used a considerably more restrained exterior. The wagon had a liftgate counterbalanced by gas cylinders; the spare and jack were underneath a steel barrier in the floor. Reviewers praised the interior quality, ride, and handling. The Town & Country dropped down to the LeBaron platform for 1978, from the big Newport platform. LeBaron sold well, with over 118,000 sales, better than any other Chrysler - though it was essentially a gussied-up Volare.
Cordoba
continued as a personal luxury car with high sales, but many changes took place under the skin in the name of saving weight, and a power sunroof was made optional; only a single model, a two door hardtop, was sold. The base engine was a new 318 with four barrel carb and Lean Burn system, with the 360 optional (in both two and four barrel carb versions) as well as the 400 V8. The wheelbase was a modest 115 inches, not much more than the "compacts." Cordoba was popular, for a Chrysler, with 112,000 sales - which was well below its first three years of sales, but still well ahead of where it would be in 1979.
The big Chryslers were the New Yorker Brougham and Newport, with clearly different front and rear styling. Both continued with velour seats, dual folding armrests, reclining passenger seat, and optional leather. Only two and four door hardtops were available, the wagons having been dropped. Both were available with any Chrysler V8 and shared a 124 inch wheelbase, with a massive 227-231 inch length. These vehicles were in their last year, and sales fell by a third; they would be replaced by the R bodies in 1979.
Gas mileage for the Chrysler lineup ranged from the LeBaron Super Six (17 city, 25 highway) to the 440 powered Newport/New Yorker Brougham (10 city, 16 highway). Even a simple LeBaron with the smallest V8 (318) only got 15 city, 22-25 highway (with the manual transmission making the difference on the highway). These figures are based on very lenient EPA standards of the time, and most buyers would be unlikely to reach them.
Manual-transmission Chryslers
invariably
had the same city mileage as the automatics, though the automatics suffered on the highway by a consistent 3 mpg, presumably due to gear-ratio differences. Manuals were only available on the slant six and 318, and then only on LeBaron. California cars suffered absurdly bad mileage due to tacked-on emission controls.
| | | | | | |
| --- | --- | --- | --- | --- | --- |
| Chrysler | 225 | 318 | 360 | 400 | 440 |
| LeBaron (automatic) | 17/22 | 15/22* | 14/22 | | |
| LeBaron (manual) | 17/25 | 15/25 | | | |
| Cordoba | | 14/21 | 15/22 | 13/20 | |
| New Yorker | | | 13/20 | 11/18 | 10/16 |
EPA gas mileage - not directly comparable to modern figures - excluding California, where gas mileage was around 3 mpg lower. *LeBaron Wagon, 15/21.
Dodge trucks
When the fuel crisis hit, Dodge was not prepared, but they went to work fitting pickups with a Mitsubishi diesel; that model appeared around 1978, the same year the D-150 and D-250 were introduced. The diesel engine used in 1978 (and possibly later) D150s, D250s, and Power Wagons was the Mitsubishi 6DR5, 3950 cc (243 cubic inches), with 105 hp at 3500 rpm; it was reportedly virtually identical to the Land Cruiser diesel engine of the time. This factory option (VIN code H) was a straight-six and came without a turbocharger, providing good mileage (reportedly over 20 mpg) but limiting top speeds. These engines do not appear to be listed in the
Standard Catalog of American Light-Duty Trucks
but
are
in the 1978 Dodge truck brochure
.
The
L'il Red Truck
was introduced by Dodge in March 1978, following the release of such self-proclaimed
"adult toys" as the Dodge Warlock
. Engineered for speed, the Little Red Truck was built on the short-wheelbase (115 inch) Utiline-style half-ton D150 with a 6,050 pound gross vehicle weight, but the real attraction was the high performance 360 V8 breathing through a four-barrel carburetor.
Sound insulation
Electronic testing was used to help quiet the ride; experimental cars were driven while recordings were made of the internal noise levels in the front and rear seats. Major noise sources were treated, and comparisons were made with untreated vehicles to quantify the improvement.
All 1978 Chryslers used plastic-encapsulated door latch ratchets for quieter door latching. The encapsulating material was elastomeric thermoplastic polyester, a hard, durable elastomeric. An injection molding process bonded this material to the door latches.
Weight reduction
New window regulator sector gears - 1 pound
New shag carpeting for door trim panel and seat - 1 pound
Inner body panels have aircraft-type weight-reduction holes. - 3 pounds
Lightweight plastic bumper guard cushions and bumper rub strips. - 8.5 pounds
Windshield washer reservoir molded integrally with the Thermo-Guard battery heat shield. - 2 pounds
New parking brake actuator design. -about 2 pounds
New heavy-duty 10" x 2.5" rear drum brakes when 8%" rear axle is specified (replace 11" brakes with no loss in braking performance). - 8.8 pounds
Thin-wall die-cast headlamp bezels. - About 1 pound
New swash-plate-drive.compressor for air conditioner on six-cylinder models - 10 pounds
Redesigned window regulator arm for rears of four-door sedans - 2.5 pounds
New parking brake actuator - 2 pounds
Aluminum for trim panel supports - 2 pounds
New radiator, overflow bottle, and plastic engine compartment air seal for six-cylinder a/c cars: about 3-5 pounds
Redesigned headlining - 2 pounds
Redesigned calipers - 1 pound
New front door manual window regulator selector - 1 pound
New non-woven fabric and foam rubber trunk floor mat replaces rubber or vinyl
New high-strength steel rear bumper face bars. - 7 pounds

Previous weight-reduction features include:
Overdrive-4 manual transmission with aluminum case, shift cover and extension housing- 33 pounds
Thinner side window glass- 4.6 pounds
Sheet-metal gauge changes in New Yorker Brougham and Newport models - 10 pounds
1978 wrap-up
Though 1978 was hardly Chrysler's best year, the acquisition of Rootes and SIMCA, though both were to be sold for a single dollar, finally paid off in the first jointly designed car, the Horizon (Omni), which would be a Chrysler mainstay for years to come. Unlike earlier efforts, the Horizon succeeded because it was customized for the American market, with a bigger engine, and built in America, with higher quality than the SIMCAs and Hillmans actually made in their own factories. It included the world's first mass produced integral trip computer, produced by Huntsville (
see Allpar's story
for details on that and other aspects of the Horizon's birth). In fairness, most of the Horizon was developed by SIMCA, which had generally been profitable.
The year also saw a continued dominance of the police market by the B-body Fury-Monaco, a plush car with good cornering for the time. The Cordoba was popular and well-made, helping to erase some of the bad feeling from the first-year Aspen-Volare, and the Aspen and Volare themselves were now made with a high level of quality. Magnum may not have sold well, but it gained a number of hard core admirers. The lockup torque converter is still used.
Engineers were starting work on the company's saviors, the K-cars, and the 2.2 was on the drawing board; in the meantime, the Super Six provided an admirable combination of durability, economy, and pep.
Chrysler Corporation was down, but not out, and its customers in 1978 could reasonably expect to get a reasonably high quality, durable vehicle.
Chrysler Heritage
•
History by Year
•
Chrysler People and Bios
•
Corporate Facts and History
Home
•
Engines
•
Reviews
•
Chrysler 1904-2018
•
Upcoming
•
Trucks
•
Cars
Spread the word
via <!--
Tweet
or-->
Facebook
!
We make no guarantees regarding validity or accuracy of information, predictions, or advice - .
Copyright © VerticalScope Inc. All rights reserved. Dodge, Jeep, Chrysler, Ram, and Mopar are trademarks of Fiat Chrysler Automobiles.