1980 Chrysler (brand) cars: LeBaron, Newport, New Yorker, Cordoba
During the mid-1970s, big cars had been derided as boats, with demand slumping as gasoline grew costly and, sometimes, hard to buy.
Chrysler had downsized its cars dramatically; the massive C and D bodies were gone, and the largest cars in the corporation were now the
R bodies
. These were closely based on the old B bodies, but were slightly larger; they were moderately successful in 1979, with around 130,000 sales (mainly from the Chrysler brand). For 1980, the company added a Plymouth version, but sales plummeted to just over 40,000 across all brands.
Chrysler used two basic bodies in 1980, the aforementioned "R" and now the "J/M." The J and M were essentially lightly modified F-bodies - that is, Aspens / Volares with much higher-grade trim and different exterior and interior styling - and were sold as LeBaron (in two lengths) and Cordoba. (The main difference between J and M were the wheelbase). Like GM and Ford, Chrysler was now using its economy sedans with its upscale brands; Chrysler mostly gave the cars a surface treatment, with extra chrome and nicer trim.
During an era when complete redesigns were called for, a cash-poor Chrysler had mainly recycled the same old cars, upgrading their technology as they could. The result was, if sales figures are any indication, not appreciated by American buyers.
All Chryslers had
torsion bars up front, and rear leaf-springs supporting a live, solid rear axle
. The system was cheap, durable, easy to maintain and build, and worked well for a good smooth ride on big rear-wheel-drive cars. Chrysler used their styling cues and features to try to make once-entry-level cars seem more luxurious, but the differences between Plymouth (or Dodge) and Chrysler versions of the same car were not always obvious.
| | | |
| --- | --- | --- |
| Wheelbase | Series | Body Styles |
| 108.7" | LeBaron: Medallion, Salon, base | 2-Door |
| 112.7" | LeBaron: Medallion, Salon, base | 4-Door |
| 112.7" | LeBaron Town & Country, LeBaron | Station Wagon |
| 112.7" | Cordoba, Crown Cordoba | 2-Door Hardtop |
| 118.5" | New Yorker, Newport | 4-Door "Pillared Hardtop" |
Any car could have a special suspension and handling package with a heavy-duty suspension, wide wheels, large tires, and firm-feel power steering. Front fenders, door outer panels, quarter panels and body-side sills were galvanized steel.
Some common features included:
Scissors-type jack with flanges on the supports to stop the car or jack from slipping.

One stalk for turn signals, washer/wipers, high beams, and cruise control (driven by import custom).
A new assist spring for two-door cars with bucket seats, to move the front passenger seat all the way forward when access to the back seats was needed.
Front disc brakes, rear drums.
Electronic ignition.
Standard electronic voltage regulator. A 430 amp battery was included with V8s; a 370 amp battery with the slant six. Batteries had charge indicators.
Lockup torque converter (most models).
Optional halogen headlights.
Seven-step dip-and-spray anti-corrosion treatment.
As a corporation, Chrysler was slowly moving forward, but massive losses since 1978 sapped resources; not until 1982, buoyed by the K-cars (launched in 1981), would the company rise again. The writing was on the wall - the rear wheel drive cars they had relied on for so long were in the dumps, and the low-margin Horizon and Omni were selling like hotcakes. The Chrysler brand no longer had a car of its own, adding trim and features to Plymouths or Dodges. 1980 was arguably the corporation's lowest point, with net profits dipping to a nearly $2 billion loss
(see right hand scale, below)
.
Chrysler engines
The old crew, aside from the big B engines, soldiered on: the slant six (single barrel only) and the LA 318 and 360, both with two-and four-barrel carburetor options, were the only choices. (The 360 four-barrel was limited to the very few (around 17) Cordobas with the 300 package, and the police.) The four-barrel carburetor on the 318 provided a power boost that compensated for the pollution control devices, bringing it to just above its 1971 horsepower. The two barrel 318 and the 360 - regardless of carb - were unavailable in California. The other engines had identical power ratings in California trim. All engines had
Electronic Spark Control.
| | | | | | |
| --- | --- | --- | --- | --- | --- |
| 1980 | 225 Slant Six (3.7) | 318 (5.2) | 318 (CA) | 360 (5.9) | 360 |
| Horsepower | 90 @ 3,600 | 120 @ 3,600 | 155 @ 4,000 | 150 @ 3200 | 185 @ 4,000 |
| Torque | 160 @ 1,600 | 245 @ 1,600 | 240 @ 2,000 | [email protected] 2000 | 275 @ 2,000 |
| Carburetor | 1-barrel | 2-barrel | 4-barrel | 2-barrel | 4-barrel |
| Compression | 8.4 | 8.5 | 8.5 | 8.4 | 9.0 |
There were two
slant six
options, both apparently the same size and power; the "Super Six" had a larger air cleaner, a larger exhaust system with a tailpipe resonator for quietness, a larger starter motor and battery, a viscous drive fan, electronic feedback carburetor, and an underhood silencer pad; it was not available in California. This option should not be confused with the prior two-barrel Super Six, which was gone in the United States lived on in Canada.
The old
318
- Chrysler's most popular V8 - had a two-barrel carburetor, and was optional on all cars (standard on New Yorker), and not available in California, where buyers had to opt up to a four-barrel version. Moving up to the four-barrel 318, optional on LeBaron, Cordoba, Newport, and New Yorker, gave buyers drop-forged steel connecting rods and a more corrosion-resistant exhaust system, along with an extra 35 horsepower. The four-barrel had an electronic feedback carburetor in California.
The two-barrel
360
(5.9 liter) was, outside of California and high-altitude areas, optional on New Yorker and Newport. A much more powerful four-barrel, dual-exhaust version (E58) was available late, with the Chrysler 300 package, except in California; it had 55 horsepower more than the 2-barrel. The distributor had two magnetic pickups, instead of just one, to improve idle spark timing stability.
All the V8s had detonation sensors, which electronically retarded spark timing when knocking was sensed. The sensor was placed in the "valley," towards the front of the engine.
A new single-row core radiator was used with V-8 engines, cutting thickness by half an inch, cutting weight, and increasing efficiency. To add strength, the company used deeper solder welds, smaller tank cross-sections with additional ribbing, longer tanks, and high-lead solder on the core tubes.
Every 1980 Chrysler had a diagnostic connector to hook up to an analyzer, which could perform fifty tests in under five minutes. A revised spark control computer had one circuit board, which used sensor information to advance or retard timing.
Spool-type engine mounts with steel cores limited engine movements that could lead to damage during low-speed impacts; the mounts limited acceleration-based engine roll to a maximum of 3.0 degrees. If the rubber part of the mount failed, the engine and frame would maintain direct metal-to-metal contact.
All engines also had an adapter for a magnetic probe for more accurate timing (traditional timing marks were retained).
A long, flexible air-intake duct connected to the carburetor air intake got fresh air from the grille, lowering air intake temperatures by as much as 30 degrees.
Catalytic converters had a stainless-steel shell with a ceramic honeycomb monolithic element coated with a catalytic agent. The element was separated from the outside shell by a stainless-steel mesh which insulated heat and had a spring-type shock-absorbing mounting.
Tail pipes were welded to mufflers for better alignment-and to eliminate the heavy clamps.
Slip joints were used between the muffler and converter, and between the converter and exhaust pipe connections.
Exhaust pipes, mufflers, and tail pipes were made of aluminized steel to resist corrosion.
The California 3-way minicatalyst reduced nitrogen oxide emissions and oxidized combustible emissions as soon as they left the exhaust manifold; the second, larger converter further oxidized hydrocarbons and carbon monoxide emissions.
A thermally insulated battery shield (Thermo-Guard) was used on all batteries; 500-amp batteries used heavier plates, rubber separators, and protectors for the separators.
The 370- and 430-ampere batteries were sealed except for gas-venting ports at the top.
Air conditioning, heat, and radios
The bilevel heater system distributed 30% of airflow to the floor area and 70% through the air-conditioning instrument-panel outlets; all systems had a four-speed blower.
Air conditioning was available with automatic or manual temperature control. A new, lightweight, 6-cylinder swashplate compressor was more durable than the already-admirable compressor it replaced. An aluminum condenser had excellent heat dissipation through numerous thin cooling fins which were part of the metal exterior walls of the tubes.
The air conditioning automatically activated when the dehumidifier was used, partly to keep the system lubricated in winter, mainly to dehumidify incoming air.
Transmissions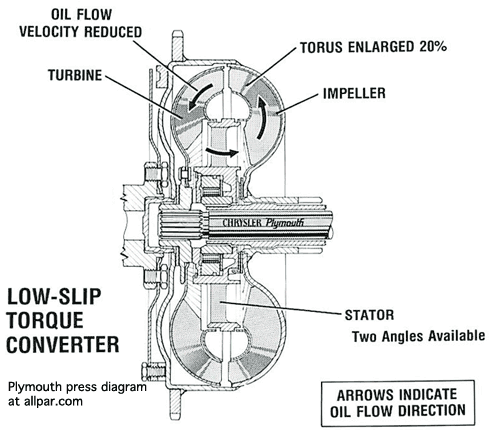 TorqueFlite automatic transmissions
had a lock-up torque converter, with a direct drive for fuel economy and power. It was used with all engines, except with the A36 Heavy-Duty Trailer-Assist Package, and in California with the slant six.
The converter was designed conservatively, only locking up in third gear, at around 35 mph (it locked up later with the slant six). That stopped normal slippage in the converter was eliminated. At higher road speeds, the clutch locked up immediately after shifting into third. It disengaged automatically during part-throttle or full-throttle downshifts, and when going below lock-up speed.
In addition to the lockup converter, six-cylinder cars saw new low-speed ratios for better acceleration with economy axles: the low gear ratio was changed to 2.74 to 1 (from 2.45) and second gear was changed to 1.54 to 1 (was 1.45).
The optional Sure-Grip rear differential had an internal friction device to increase torque to the slower-rotating rear wheel, so it would moving torque to the wheel with the better traction when one wheel slipped.
Brakes, steering, suspension
Car-height adjusters were built into all Chrysler front torsion-bar suspension systems. (Alignment was necessary after raising or lowering the front; many cars were given abnormally high lifts by shadetree mechanics as a way to avoid replacing parts, albeit at the cost of tire wear.)
New Yorker and Newport used
torsion bars
mounted longitudinally - front to rear - while LeBaron and Cordoba used
transverse-mounted torsion bars
. (Cordoba was no longer a comfortable, plush B-body, but was now based on the old Plymouth Volare). The combination of torsion bars and leaf springs, completely rubber-isolated from the car body, and a big 118" wheelbase gave New Yorker and Newport a luxurious ride, without making handling somewhat better than competitors, though not as good as in years before the rubber isolation reached so far.
The torsion-bar front suspension was resisted "brake dive;" the front pivot of the front-wheel upper control arm was higher than the rear pivot, so the control arm imparted a lifting force to the front of the car as the weight shifted during braking.
The LeBaron and Cordoba did not fare as well, with a stiffer, less forgiving ride than traditional Chrysler buyers would expect.
Diagonally mounted steel struts stabilized front-wheel lower control arms; widely spaced leaf springs at rear gave wide-stance support and cushioned the ride. The rear axle mounted forward of spring centers minimized acceleration squat.

Newport and New Yorker used two additional rubber cushions to isolate the torsion bar rear crossmember from the body structure.
Torsion bars, rear leaf springs, front-wheel control arms, shock absorbers, and anti-sway bars all had thick rubber cushions at their mounting points to reduce noise and harshness.
A flexible rubber coupling and a sliding "pot" coupling in the steering column isolated noise and absorbed vibrations; power steering was standard.
1980 Chrysler stereos
The optional
electronic search-tune radio
, created and built by Chrysler, was unusual for the time. It had a ten station memory which could mix AM and FM stations, with day and night brightness levels; stations could be typed in. Searching and traveler information service channels (AM 530 and AM 1610) were included. An optional 40-channel CB shared the FM stereo's faceplate and trim, with a microphone that could be stored in the glove box, both to deter thieves.
Four-speaker stereos included an eight-track and auto-reverse Dolby cassette system; two speakers were in the rear package shelf, two in the instrument panel. Mono AM and AM/FM radios could have an optional rear speaker on the driver's side of the rear package shelf (there was always an opening on both sides, and in many cars, there were two speakers, with only one wired up). A power antenna was optional on any radio but the CB.
1980 Newport and New Yorker
The Newport and New Yorker were based on the
R-body chassis
from 1979 to 1981, sharing bodies with the Gran Fury, St. Regis, Charger, and Magnum - though not at the same time, with the Charger and Magnum dropped after 1979, and the Gran Fury starting in 1980. The Cordoba started out on the R body in 1979 but moved to the modified Volare platform, known as M and J bodies, for 1980. The R-body itself was essentially a stretched B body, which took the place of the old, big C-bodies, providing six passenger accommodations with a relatively light weight. The "Fifth Avenue Edition" with opera lights was available on New Yorker, and would later lead to a separate Fifth Avenue model.
For 1980, 8 new body colors (and two two-tone treatments) were available, the
de rigeur
landau style padded roof and quarter window were standard on New Yorkers, and tinted glass was standard. A chrome-plated, swing-away grille was standard on New Yorker, to minimizes damage by swinging back under impact. Concealed dual headlamps were standard on New Yorker, with dual rectangular headlamps on Newport. Both got chrome-plated high-strength heat-treated stamped aluminum front bumpers (New Yorker used those in the rear, too).
New Yorker, as a near-luxury car, got standard FM stereo, air conditioning, 60/40 split-bench seat with cloth and vinyl trim, rear reading lamps, and folding armrests in front and back, power windows, a digital clock, trunk carpeting, and spare tire cover.
Both New Yorker and Newport had 21.3 cubic feet of trunk space, quite good compared with the F/J/M cars.
Options included an illuminated entry system, halogen headlamps, cornering lights, convex right remote-control mirror, lighted vanity mirror attached to driver's sun visor, larger whitewalls with a gold accent stripe, power glass sunroof, power windows and locks, six-way power seat, power deck-lid release, firm feel handling package, three-note horn, and forged aluminum wheels.
Warning lights were used to warn the driver of low fuel, high engine temperature, and low alternator output. The engine temperature and alternator lights were solid-state electronic diodes.
The left remote-control mirror was standard on New Yorker, optional on Newport; both had an optional right remote-control mirror, made convex to increase the field of vision to the rear. A power-operated, tinted-glass sun roof was optional, with tinted glass color-coordinated in bronze or smoke gray, and a manual sunshade.
Gauges covered the alternator, temperature, and fuel, with a light for oil pressure. A digital clock was standard on New Yorker, optional on Newport. New Yorker's rear-seat compartment was highlighted by lavalier straps, reading lamps, door courtesy lamps and reflectors, and a folding center armrest. Exterior door handles on New Yorker had a color-keyed insert.
Lightweight, semi-hidden windshield wipers and all-window tinted glass were standard (untinted windows were also available), with dual mirrors.
Left remote-control mirror was standard on New Yorker, optional on Newport. Inside, a day/night mirror was standard, along with an inside hood release.
Window systems had tubular guidance to minimize friction, whether manual (Newport) or power (New Yorker).
The four-door hardtop New Yorker with 318 weighed 3,920 pounds; the 360 added just 40 pounds.
The Newport weighed 3,654 pounds with slant six; 3,740 with 318; 3,806 with 360.
The 1980 Chrysler Cordoba
The Cordoba was no longer a B-body, but moved to the F/J/M body; its appearance was completely different. The wheelbase was dropped to 112.7 inches, length to 210 inches, and weight cut by an ample 400 pounds; but it had more legroom and rear hip room than in the prior year.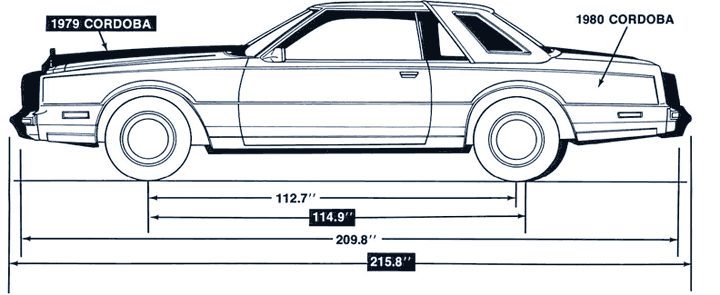 A new premium model was brought out, using an ex-Imperial name: Cordoba Crown. New Cordoba coin ornaments were added to the hood and body sides; forged aluminum wheels were made optional, along with a vinyl Landau roof, flag-type driver's outside mirror, opera windows, new tail lamps and colors, three two-tone paint combinations, and front and rear side marker lights and reflectors. Bright moldings were applied just about everywhere they could be on Crown. Tires were comfort-oriented P195/75R15 glass-belted radials with whitewalls; three new wheel covers were available. Halogen headlights were now standard.
The chrome-plated grille had a vertical texture, surrounded by a chrome-plated die-cast frame. Quarter windows, tinted glass all around, and chrome-plated stamped aluminum bumpers were standard.
A Corinthian Edition Package, with 60/40 cashmere leather seating, leather-wrapped tilt steering wheel, and many other luxury features was available; late in the year, a sporty Chrysler 300 package was added.

Inside, door trim panels had integral armrests and door pull handles with Cordoba coin insets. There were four interior color choices, an optional illuminated entry system, and a new Featherwood instrument-panel trim (rather obviously, not actually wood). A cloth and vinyl folding center armrest split-back bench seat, front and rear ashtrays, color-keyed molded headliner, and tinted glass, were all standard.
Features also included an inside hood release, bi-level heater-defroster, electric rear defroster, intermittent wipers, and alternator and temp gauges. Late in the year, an electric glass sunroof was added; and cornering lamps and leather seats were available, the latter only on Crown.
A new optional console (with bucket seats) was color-keyed to the interior. It had an air vent on the passenger side and a storage compartment with a push-button cover. The shift mechanism was console-mounted on vehicles with bucket seats and console.
The interior trim was called Featherwood; the dashboard pad was molded vinyl. The speedometer had a maximum speed of 85 miles per hour (with 55 highlighted in blue) and had smaller calibrations for kilometers per hour. An odometer and trip odometer were calibrated in miles.
A new power-operated tinted glass sun roof was optional, color coordinated in gray or gold, with an integral sun shade. The motor was located in the trunk, to avoid losing headroom.
Also optional were removable tinted glass panels on either side of the roof, which could be stored in the luggage compartment in a vinyl bag ("T-tops.")
Illuminated entry (optional) turned on the interior courtesy lights, and illuminated the door lock cylinders whenever either exterior door handle was lifted and released -even though the car doors were locked. All courtesy lights turned off automatically after 30 seconds or when the ignition switch was turned on.
The optional power seat adjuster let you adjust the seat 6 ways-up, down, forward, backward, plus tilting forward or backward. The power option was available on the driver's side with bucket seats or the driver's side of the 60/40 split-back bench seat. Tilting steering column was available, too.
A four-barrel, dual-exhaust version (E58) was available late with the Chrysler 300 package, except in California; it added 55 horsepower over the same engine with a 2-barrel carburetor and single exhaust system. This engine was also equipped with the Electronic Spark Control System. The distributor had two magnetic pickups-instead of just one-to improve idle spark tinning stability for better idle quality and improved fuel economy.
A new LS package later replaced the 300 package, and provided extra style but no more performance than standard Cordobas.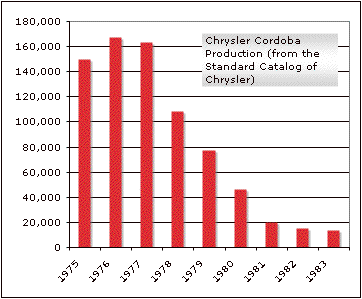 The new Cordoba weighed 3,362 lb, had a 40.7-foot turning diameter, and carried 18 gallons of fuel.
Windshield washer jets on wiper arms put four streams of washer fluid directly onto the windshield at each wiper blade for fast cleaning. The blade arms parked off the windshield below the hood line.
A compact spare tire was standard, with an optional full-size tire (required with the Sure-Grip differential).
The Cordoba was a hit for Chrysler when first launched in 1975, as a well-trimmed B-body - that is, as a well trimmed, mainstream mid-size car, on body dimensions that were shared with Plymouth and Dodge. In 1976 and 1977 it sold more than 160,000 units per year, but starting in 1978, sales fell rapidly.
The 1980 redesign continued the dropping-sales trend without a break - it has hard to say if sales were lower or higher than they would have been on the original body, but Chrysler only made 26,333 Cordobas, 16,821 Crowns, and 3,252 "LS" models in 1980. The car fell to niche status afterwards, and may have only been carried through to 1983 so Chrysler would have something to sell - and because the tooling still had so much life in it. Still, the 1980 Cordoba did not feel like a Cordoba...or a Chrysler.
1980 Chrysler LeBaron
Chrysler LeBaron was available in eight models for 1980: three 4-door models, three 2-door models, and two station wagons, including a new medium-price non-woodgrain wagon. Like Cordoba, LeBaron was a restyled Dodge Diplomat, as it had been since 1977 and would remain through 1981; but it was available in more forms, and had a more formal look.
Consumers Guide
gave it a good review on its debut, noting good braking performance, with a 145 foot stopping distance (from 60 mph) and little fade. They noted its "sumtuous interior, especially in the Medallion series." Handling was rated as not quite up to GM's newly downsized cars, but "much better" than the Ford LTD II or Mercury Cougar. They wrote, "LeBaron is one of the best cars Chrysler makes and one of the best values in the industry. It is competitive with General Motors' new downsized intermediates, and sells at a reasonable price." The magazine also noted its distinct resemblance to the Dodge Diplomat, shown below, which differed mainly in trim, front and rear clips, and what was standard vs. optional.
The Salon trim was most popular in 1980, with 21,55 made; the base model came next, with 18,256. Then it was down to 14,455 for Medallion, 6,074 Town & Countrys, and 3,139 Specials. All together, the company made 63,479 LeBarons - making it their most popular car for 1980.
For 1980, the car was restyled with new lamps, front and rear clips, and roof. Fourteen paint colors were available, with four two-tone combinations (except on wagon). The two-door Medallion got a padded landau vinyl roof with quarter window appearance, and a Frenched rear window; the roof was available in eight colors. LeBaron and Salon two-doors without LS package, and Medallion four-door, got a similar roof without the quarter window appearance.
More prosaic but more useful were the new scissor-type sill jack, lightweight inner and outer-hood panels, self-adjusting hood hinges, and high-strength steel front bumpers.
The Town & Country wagon got plastic replicas of teakwood and white ash body sides and liftgates.
Inside, door-pull straps were standard on all upper models.
A one-piece acoustical headlining covered with foam-backed, napped-knit nylon was used along with faux wood trim on the dashboard.
Medallions got a full lighting package with door lights, map lights, and a time-delay ignition switch light.
Chrysler used a bright Sherwood faux wood dashboard with recessed circular gauges and a English/metric speedometer with trip odometer. An inside day/night rearview mirror and remote hood opener was standard on all but the base models.
Opera lamps were used on LeBaron Medallion.
Wiper blades cleaned at least 95% of the significant viewing areas of the windshield, using a computer-designed wiper linkage in the plenum chamber.
The conventional spare was replaced on all but wagons with a compact spare. There were numerous options, including various consoles, bucket and bench seat arrangements, thermostatic air conditioner, illuminated entry, power bench or driver's seats, cornering lights, wiper/washer for wagons, electronically controlled intermittent wiper/washers, heated rear defroster (with alternator and battery upgrades), vanity mirrors, T-bar roof, various wheels and wheel covers, a chrome-plated luggage rack for wagons, and tilt steering. New for 1980 was a handling package with firm-feel power steering, a rear sway bar, and heavy-duty shock absorbers.
The four-door had a trunk capacity of 15.6 cubic feet and the two-door had a 14.8-cubic-foot capacity.
Hem flange adhesive bonding was now used to attach inner and outer sheet metal panels of trunk lids and liftgates, using a continuous bead of vinyl plastisol adhesive instead of welds.
The Town & Country wagon
The floor panel pivoted forward to fill in the gap between cargo floor and second seat, making the cargo floor continuous and gap free; the cargo floor and back of the second seat had stainless-steel skid strips. Two lockable stowage bins, molded into the cargo area trim panels, were standard on Town & Country wagon, optional on the base LeBaron wagon with cargo compartment carpet.
The liftgate used two gas cylinders to help raise the gate with little effort and to hold a position well above head level, making it easy to load and unload the wagon; red reflectors on the liftgate gave nighttime warning to traffic approaching from the rear when the liftgate was open.
Wagons also had a roof air deflector to help keep road dust and snow off the glass.
Wagon dimensions were:
Maximum height of rear opening 27.3"

Length, back of second seat to end of cargo floor 49.2"

Maximum cargo height 30.7"

Width of rear opening at floor 44.1"

Length, back of front seat to end of cargo floor 82.1"

Width between wheel housings at floor 43.3"

Cargo capacity (cubic feet) 71.8

Glass area, total (square inches) 4,990

Rust reduction and paint
All body structural members and body sheet-metal panels into a single unit, with a structural crossmember to support the power train and front suspension components (bolted on through thick rubber isolators). Galvanized steel was used extensively, with increased use for 1980.

Galvanized steel, two sides:



Rear outer wheel housings

Rear floor pan side extensions
Quarter panel rear extension (Newport, New Yorker)

Body-side inner sills
Body-side outer sills (Newport and New Yorker)
Rear underbody crossmember (Newport and New Yorker)


Galvanized steel, one side



Front fenders, door outer panels, quarter panels
Liftgate inner and outer panels (LeBaron wagons)
Lower deck opening panel (Newport and New Yorker)
Cowl top panel (Newport and New Yorker)
Body-side sill outer panels (LeBaron and Cordoba)
Deck opening upper panel (Newport and New Yorker)

Acrylic enamel was sprayed over epoxy primer (though some cars, including the 1979 Volkswagen Rabbit, had already moved to a superior clearcoat process). After the anti-corrosion treatments, each body was sprayed with two coats of tough epoxy primer, oven-baked and sanded, and sprayed with two coats of a new acrylic dispersion enamel, again oven-baked.
The front-suspension crossmembers in all North American-built Chrysler models were protected with Chrysler's autophoretic process, a series of metal-cleaning sprays and baths; followed by a series of cleaning rinses; followed by a unique organic/inorganic coating which was self-depositing through an ionic displacement process followed by a reaction rinse which increased corrosion resistance. The body had seven corrosion protection steps:

Cleaning dip: Body dipped, sprayed with cleaning solution, then drained.
First rinse: Dipped, sprayed in warm water to rinse off the cleanrng solution, dirt and impurities.
Second rinse dip: Dipped, and sprayed for thorough rinsing, then drained.
Phosphate dip: Dipped, and sprayed in corrosion-resisting phosphate, then drained.
Cold rinse: Dipped, and sprayed in cold water, then drained.

Acid rinse: Dipped, and sprayed in a conditioner rinse for best paint adhesion and corrosion resistance.
Primer dip: Dipped, approximately 22" deep, in corrosion-resistant primer. Primer flowed inside lower body panels
Weight reduction
1980 weight reduction features included:
New heater core with aluminum cooling fins (except LeBaron)-1 pound per car.
Changes to engine block for Slant Six engine - 4 pounds per car.
Changes to the block, camshaft, exhaust manifold and rear main bearing on the 318-4 pounds per car.
New one-piece plastic evaporator housing for air conditioner on Cordoba and LeBaron-3.5 pounds per car
Single-row core radiator for Cordoba and LeBaron with 318 -3 pounds per car.
Revised rear-seat center armrest pivot for Newport, New Yorker and LeBaron four-door-2.5 pounds per car.
Lightweight, carpeted optional floor mats - 5 pounds
Steel cargo compartment floor for LeBaron station wagons-4 pounds per vehicle.
High-strength steel for rear-seat filler panel and seat-back panel for LeBaron wagons-3 pounds per vehicle.
Some previous weight-reduction features:

Aluminum master brake cylinder with plastic reservoir -5.8 pounds per car.
Lightweight mastic and pad sound-deadeners on all Chryslers-about 25 pounds per car
Rotary, compressor with optional air conditioner-13 pounds per car
430-ampere battery on 360 engines-11.25 pounds over the old 440-ampere battery.
Maintenance reductions
TorqueFlite had no recommended fluid or filter changes in normal operation.
Only ball joints and steering linkage had lube fittings; other parts were permanently lubricated.
Electronic ignition and voltage regulator. Electronic Spark-Control System eliminated the mechanical spark-advance flyweight system.
A/C units had steel and/or aluminum nitrile-rubber-coated gaskets instead of O-rings to prevent leakage.
Modular instrument panels had easily removable sections.
Fuses, circuit breakers, flashers, and ignition key light timer could be checked by removing a snap-out cover.
Newport • New Yorker • Cordoba
Chrysler Heritage
•
History by Year
•
Chrysler People and Bios
•
Corporate Facts and History
Home
•
Engines
•
Reviews
•
Chrysler 1904-2018
•
Upcoming
•
Trucks
•
Cars
Spread the word
via <!--
Tweet
or-->
Facebook
!
We make no guarantees regarding validity or accuracy of information, predictions, or advice - .
Copyright © VerticalScope Inc. All rights reserved. Dodge, Jeep, Chrysler, Ram, and Mopar are trademarks of Fiat Chrysler Automobiles.