1981 Plymouth Reliant and Dodge Aries: the first year of the iconic cars
by Justin Paulson,
Chrysler K-Car Club
​
1980 was a ground breaking year for Chrysler, though the economy had entered a recession. In the fall of 1980, K-car #1 rolled out of the production plant - a tan 1981 Plymouth Reliant coupe, base model. These cars would, though none at Chrysler knew it at the time, become the basis for nearly the entire product line, spanning the gamut from
sport (G24 Daytona
) to
Eurosport (LeBaron GTS)
to
van
. [
Chrysler in 1981
]
"Floridaman2013" wrote: Lee Iacocca made design teams sit with engineers and maintenance to design vehicles that were easy to service, cut down warranty time, and simple to repair. The 1981 Reliant/Aries was so simple under the hood, except for the new feedback fuel system, it was refreshing.The new cars showed that Chrysler could move ahead with the times and make a formidable competitor, engineered in the United States, without relying on the work of
SIMCA
(which had been sold to raise money.) Indeed, Chrysler was so confident that they offered the car with a 30-day or 1,000 mile warranty; if buyers were not happy after that time, and the car was undamaged, the dealer would take the clear title and provide a refund, minus financ and insurance charges. (Those who traded in could find that the trade-in value had been adjusted.)
The K-car was the second family-sized front wheel drive American car, launched after GM's notoriously troublesome X-body, the Citation/Phoenix/Skylark/Omega.
For the first time in decades, a domestically-engineered car from Chrysler Corporation did not use torsion bars; the front suspension had more in common with imports and Chrysler Europe cars, using the now-
de-rigeur
MacPherson struts along with rack and pinion steering. Admittedly more suited to the size and weight of the car, these may have been chosen largely because buyers saw them as requirements and hallmarks of modern cars. In back, the leaf springs so familiar to owners were replaced by a beam axle with trailing arm rear suspension, using independently mounted dampers and coil springs. Standard front and rear anti-roll bars helped both ride and handling.
The car was front wheel drive, as the name badge proclaimed; the Omni/Horizon had been, too, but the Aries and Reliant were in a considerably larger size class, and were quieter, more comfortable, and more upscale inside.
This was first year for Chrysler's new overhead cam four cylinder engine; the company had been using a 1.7 liter Volkswagen engine and a SIMCA/Chrysler Europe engine (attributed to Peugeot) in its front drive cars, but the 2.2 was something else entirely. Created for American drivers and cars, it produced 84 horsepower and 111 lb-ft of torque, using an electronically controlled Holley 6520 carburetor. The optional engine was a Mitsubishi 2.6 liter MCA jet Hemi, badged 2.6 Hemi (since the combustion chambers were similarly shaped and the plugs were at the top).
The 2.2 had early head gasket issues, as many engines of the time did, but these were slowly addressed; driveability concerns tended to remain an issue for some years, until fuel injection finally arrived. Chrysler called this the most advanced transverse-mounted engine in its 2-liter class. Hydraulic valve lash adjusters kept it quiet and reduced maintenance.
Willem Weertman, lead motor engineer, said:
...we knew what size we wanted, in fact we had prior sizes that weren't as large as the 2.2, they were in the 2.0 liter range. But then in meetings with the other people in the Advanced Chassis and others, we would start to adjust the engines and it was adjusted up to the 2.2 liter size. ... we didn't know enough about fuel injection to think that it was even coming. We were with carburetors and that seemed like what we were going to have forever, at least on the highest volume of our engines. There is always going to be the super-high performance fringes which will run almost anything. Likewise we had no idea we would be putting turbochargers on that engine.

We weren't even too sure about future displacement changes from the 2.2 and it took some doing to get to the 2.5 when it finally came along. That required balance shafts that we had to put in place. We were very happy that we could add the balance shafts at the time and still get the engine into the compartment because that compartment was extremely tight since it was front-wheel drive and the engine was mounted transversely in it and we just didn't have any room to work with.

... When our 2.2 liter engine was tooled up there was no provision in the block line to have any balance shafts added to the cylinder block as Mitsubishi did. When we decided to make a 2.5 liter version of our own 2.2 liter engine and we needed balance shafts, we had to add them. ... There was only one place we could go and that was down below the crankshaft because it was the only room available. The problem was that below the crankshaft were the oil and the oil pump. We came up with a housing that had provision for pumping the oil out of the housing so that the balance shafts would be swinging around through air and not thrashing through the oil which would have been unacceptable.

...The 2.2 was designed much later than the Slant Six and the 2.2 had more emphasis on performance which it needed to be competitive. It had a big plus for that because it was an overhead camshaft engine compared to the pushrod engine of the Slant Six. It also had a better bore-stroke ratio than the Slant Six.
As to the reason for relying on Mitsubishi for the 2.6, Weertman said the main reason was to increase the quantity of engines without spending more on tooling up front; in addition, it provided an optional power upgrade. The K-cars never used the 1.7 liter Volkswagen engines or the 1.6 liter SIMCA/Peugeot engines.
0-60 times from
Motor Trend
were 12.5-14.0 seconds for the 2.2 automatic, and 12.4 seconds for the 2.6 liter automatic. The stick-shift dramatically reduced 0-60 times; the three-speed Torqueflite-based transaxle could not keep up with the manual, either in acceleration or gas mileage, but the powertrain was responsive under normal driving, especially when compared with some of the more anemic cars then being sold. Even a V8-powered Plymouth Volare took 10.7 seconds to do the 0-60 run.
Gas mileage with the 2.2/stick was rated at 29 city, 41 highway.
The A pillar on the new K body was designed to cut wind noise and improve visibility; the shape of the hood and grille reduced the drag coefient by 6%. The drag coefficient on the final car ended up being 0.43, similar to the later Sundance and Shadow, and identical to the Omni/Horizon, Audi 5000, and, oddly, the Chevrolet Caprice. At that, it beat the Honda Civic (0.50), Mitsubishi Colt (0.45), and Chevrolet Corvette (0.45) of the same year; and yet it was not quite as slippery as Chrysler's own Imperial (0.41).
Overall the K-car had a formal look, then in vogue partly because it allowed those who would normally spend more (say, on a Dodge B-body or even a Chrysler) to buy a smaller, less expensive vehicle; at Chrysler, the trend had started with the Valiant Brougham, and was exemplified by the 1976 Volare/Aspen, a low-end car with numerous higher-price cues.
Both inside and outside were nicely styled, and reasonably priced. For $5,880, you could get a new Reliant or Aries coupe with a front vinyl bench seat, 2.2 liter engine, AM radio, and newly-engineered A-460 four-speed manual with floor shift; power steering and power brakes were optional (this was normal for the time, especially on smaller cars that required less effort to steer and stop). Trim levels for both Plymouth and Dodge in 1981, were Base, Custom, and SE, and all were sold as four door sedans, two door coupes, and station wagons. Options (including cloth seats and the Mitsubishi engine) could be added to the base cars.
The Reliant/Aries Custom added a cloth front bench seat or dual bucket seats with vinyl backing; power seats are rare. Power locks were optional. Custom also had a special steering wheel. The top of the line SE model included a vinyl roof, deluxe wheel covers, white wall tires, cloth bench seat with an armrest, and digital clock.
Seven radios could be purchased: AM, AM/FM, AM/FM stereo, and AM/FM stereo with a choice of 8-track, cassette, or CB radio.
Wheels were the base "dog dish" hubcaps, a rally road wheel that could be painted in a body color to match the car, standard 13 inch hubcaps, and 14 inch hubcaps found mostly on SE models.
One year before the K-car, GM launched the Chevrolet Citation. Chrysler followed suit on Citation's non-roll-down rear windows, an unwelcome feature on 1981 models. Roll-down windows appeared on the 1982 models, due to the many complants from owners.
The early K-cars had many unique features, including the hood ornament on the Plymouth Reliant, a pentastar with the Plymouth badge inside it; after the 1981 model year, this was replaced with Chrysler's pentastar. The Dodge Aries did not have a hood ornament at all, relying instead on a badge placed on the grille, presumably a "sportier" way of doing it.
The Chrysler 2.2 engine looked different for the 1981 model year, too; this would be the only year for its particular color scheme, with the valve cover and block both painted the blue color previously used on the 318 engines. Along with the blue 2.2, the non-counterbalanced (prop-rod) hood was another 1981 only feature; while it was common among imports, it was new to American cars, and the following year Chrysler replaced the hood prop with a counterbalanced hood for easy opening.
Three types of steering wheels were sold, the two-spoke basic wheel; made of a rubber type material, an optional, rare "tuff" steering wheel like those of the 'Cudas and Challengers; and the luxury steering wheel of hardened plastic, comfortable on long drives and durable over the years. The latter had woodgrain embedded into the wheel, where it could not easily be worn out by handling. The only downfall of the luxury wheel as cracking in later years after heavy use.
Early K-cars were prone to rust in their later years, making it difficult to find one in good condition in salt-using climates. The rocker panels were doomed once the car got to be about 10 years old; some models like the SE had a silver rocker cover that hid the rust. Another problem area is the front floor pans, which typically fail due to water getting into the carpet, or if the car was not undercoated. New floors can be welded in.
Throughout the years K-cars got cheaper in trim, losing chrome around the fenders, losing the metal dashboard, and dropping unique options; this is what makes the 1981 model year it is, now rare, unique, and cheap fun for the entry level automobile enthusiast.
In later years, the K-car architecture proved to be eminently flexible, being
stretched, compressed, and reconfigured
to produce such diverse vehicles as the
famed minivan
, the
0-60-in-5.8 Spirit R/T sedan
, and the exotic two seat
Chrysler's TC by Maserati
grand tourer. Even the base K-car became the
Chrysler Town & Country wagon
. Most of that proliferation was not originally in the plans, which makes it all the more impressive.
Burton Bouwkamp, head of body engineering when the K car was designed
, wrote in 2009:
With a stick-shift, the K-cars were sprightly; and even with an automatic transmission, the fast-opening throttle and torque bias gave a feeling of power and responsiveness, even compared with some current cars boasting much more peak power. Gas mileage was identical (city cycle) with four-speed manual and three-speed automatic; as adjusted for 2008 standards, there was a 1 mpg highway difference.
(inches; sedans)
1980 Plymouth
Volare
1981 K
4-Door
1981 K
2-Door
2011 Dodge
Caliber
1980 Volare
Wagon
1981 Reliant
Wagon
Front headroom
39.2
38.8
38.5
40.0
39.2
38.6
Rear headroom
37.5
37.9
37.1
38.9
38.7
38.1
Front Legroom
42.7
42.6
42.6
41.8
42.7"
42.2
Rear Legroom
32.6
35.7
35.3
35.6
36.6"
34.9
Trunk (cubic feet)
14.8
15
15.0
18.5
? / 71.8
34.0 /67.7
Fuel
18 gallons
13 gallons
13 gal
13.6
19.5
13
Length
201
176
176.0
173.8
205.5
176.2
Turning Circle
34.3 feet
34.3
40.7
34.3
Width
72.8-73.3
68.6
68.6
72.8
68.6
Height
55.3
52.7
52.4
60.4
55.7
52.8
Cub Weight (lb)
2,338
2,332
2,966
2,402
Drag coefficient
0.43
0.43
0.375
EPA mpg (1981)
18/27
25/41
25/41
24/40
EPA mpg (adj for
2008 standards)
~16/24
21/27
21/27
23/31
21/26
Many people are caught up in the world of muscle cars and exotic cars; the little K-car gets swallowed up in the midst of all the high performance, but they served many owners and companies well through the years. The early K-cars are beginning to gain some respect from the public, and now that they are the rarest of the run, especially in the northern climates, the public is beginning to take another look on this piece of automotive history. "It's the begining of a new era, most people my age 18-20 can't afford a high performance muscle car, so what better than to bring back the 1980s and the cars that we once rode in as kids."

Other Dodge Aries and Plymouth Reliant pages
Launch photos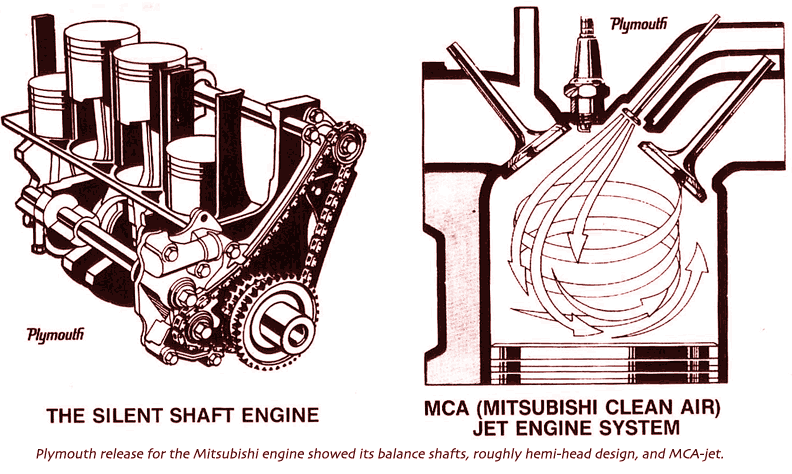 Home
•
Engines
•
Reviews
•
Chrysler 1904-2018
•
Upcoming
•
Trucks
•
Cars
Spread the word
via <!--
Tweet
or-->
Facebook
!
We make no guarantees regarding validity or accuracy of information, predictions, or advice - .
Copyright © VerticalScope Inc. All rights reserved. Dodge, Jeep, Chrysler, Ram, and Mopar are trademarks of Fiat Chrysler Automobiles.