1981 to 1983 Imperial cars: Cordoba based luxury
In 1981, the final traditional V8-powered Imperial was introduced.
Past Imperials had been based on Chryslers, with top of the line engines, and this one was no different, except that the basic body had not been designed for Chrysler; it was an adaptation of the F/M/J body series, sold in its most base form as the Plymouth Volare, and in its most plush form as the Chrysler Cordoba (not to be confused with the old B-body Cordobas).
Burton Bouwkamp wrote:
I remember the 1981 Imperial well because I was Director of Body Engineering from 1979 to 1983.

The 1981-1983 Imperial two door model was created by command of

Lee Iacocca

after he asked, "Where the hell is our Cadillac/Lincoln entry?"

The 1981 model was derived from the [second generation] Cordoba platform and had its own sheet metal, instrument panel, etc. It was a pretty good looking car. We built it but we couldn't sell it - so it faded out of production in 1983. I think we built a total of about 17,000 over the three years. (It seems that every time we got a new CEO we resurrected the Imperial. We had

buried the previous one

in 1975. Lee came to Chrysler in 1978.)

I also remember too well other times that we tried to be competitive in the luxury car market because I was Director of Product Planning from 1968 to 1975. It took more merchandizing and manufacturing and product commitment than the management was willing to spend to penetrate the luxury car market. Part of the problem was selling and servicing Imperials from the same dealerships as Plymouths. Imagine waiting in line behind several Plymouths to get your Imperial serviced - or being approached in the showroom by a "what do you want?" Plymouth sales person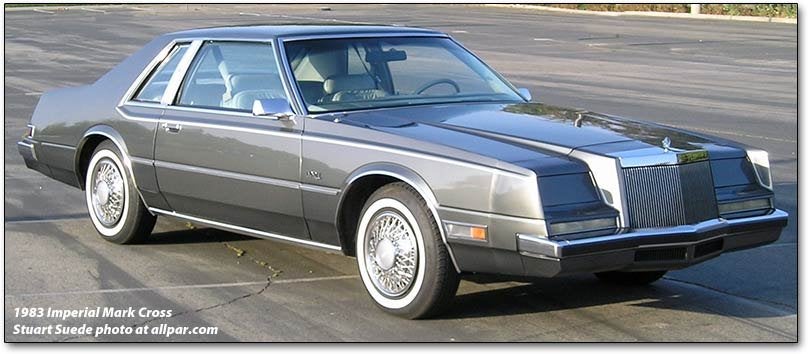 The Imperial was the highest nameplate ever assigned to a Chrysler Corporation vehicle. This final Chrysler Imperial V8 ran the economy
318
, with an early electronic fuel injection system, rather than the traditional big block engines.
The Imperial was billed as "a new kind of personal luxury car - smaller, more fuel efficient, technologically advanced, and built to a remarkably high standard of quality."
Each car went on a five-and-a-half mile test drive and had numerous checks by technicians before they were shipped out; but the electronic fuel injection system,
Chrysler's second
(
the first
appeared in
1958
and was very similar in design), was not known for its stalwart durability.
Fuel efficiency was a matter of perspective; the Imperial used a
318 cubic inch V8
, which may have gotten better mileage than the
fire-breathing Hemis
or
440 V8s
of
past Imperials
, but was not in quite the same class of power, while still not being able to claim to be fuel-efficient.
The modern look of the grille and the almost-unique trunk area had been penned back in 1977, when it was expected to be either the next-generation Cordoba or a new Chrysler called LaScala.
Each new 1981 Imperial came with a Mark Cross Gift Set, with a leather bound folder (including an embossed Mark Cross emblem), an umbrella with the emblem, a gold and leather key fob, and a spare uncut Cartier crystal ignition/door key. The CEO of Mark Cross appeared in advertisements for the car.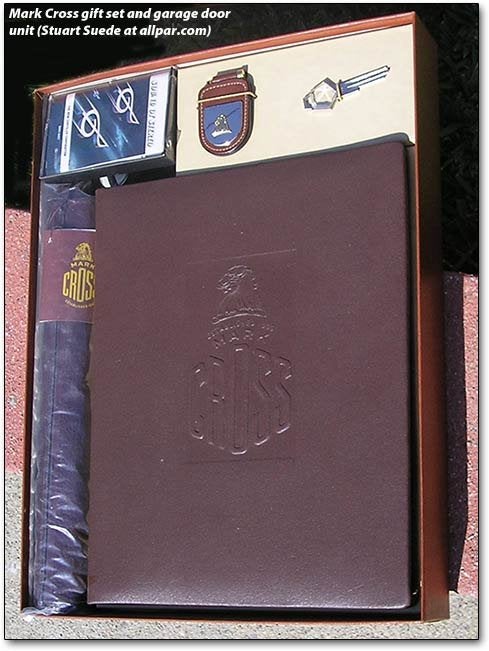 The Imperial was a two-door hardtop, two feet shorter and 800 pounds lighter than the 1975 Imperial two-door. It had a single factory option (unless you counted special editions): a power moonroof. Features included thermostatic temperature control, a garage door opener, heated remote mirrors, electronic gauges, trunk release, 500 amp battery, rear defroster, leather-wrapped steering wheel, dual-beam map/dome lights, cruise control, power windows and locks, and a powerful (for the time) 30-watt stereo.
Buyers could choose between chrome-plated wheel covers designed to look like wire wheels, or a cast aluminum road wheel; and they could choose between a cassette player (with Dolby noise reduction, of course), an 8-track, or the ever-popular CB radio, complete with microphone, digital tuner, and strength meter.
The Imperial was upgraded beyond the comfortable Cordoba with more acoustic control, heavier-gauge steel for the hood, deck, roof, and quarter panels, and a high trim level. Aerodynamic styling brought 14% lower wind resistance than "previous Chrysler cars of this class," for a .7 mpg gain over "these cars" as well as a quieter interior. (One can assume the "previous cars" refers not to the 1975 Imperial but to the 1980 Cordoba.)
Imperial was tested far more than most Chrysler Corporation cars, with a high pressure leak test, electronics check, underbody bolt torque inspection, engine check (while warm), front end alignment, and other tests and checks done to each and every Imperial coming down the line. These included a five and a half mile road test over varying terrain.
The warranty was also better than just about any other car - it covered every part, other than tires, for two years or 30,000 miles, whichever came first. The rust warranty lasted three years.
Electronic instrument clusters would become commonplace, eventually - indeed, even cars with "analog" displays are now electronically driven. The Imperial's, though, was unique, and showed off using digital readouts. Engineered by Chrysler and made in the
Huntsville electronics plant
(sold to Siemens under Daimler), the system was designed to provide reminders for washer fluid, oil pressure, temperature, door-ajar, brake problems, and low voltage; because these used ordinary lights, the cluster automatically checked for dead bulbs. Digital display graphics used blue-green vacuum-fluorescent tubes, with what may have been the first "square around the gear" PRNDL.
The gas gauge could read in terms of the expected range (miles left before empty), and the whole panel could be switched easily between English and metric. A microprocessor controlled displays for time, speed, distance traveled, fuel level, and gear, taking its information from a quartz crystal (for time), a reed switch in the speedometer cable, a fuel flowmeter and sending unit in the tank, headlight switch, and driver's seat switch. The fuel reminder was set to light when just two gallons were left in the tank. When the display switched to 0 gallons, there was still a reserve of around 5 liters. A trip feature showed the gas mileage since the last manual reset, or the instant gas mileage; both relied on the fuel flowmeter.
The electronic odometer read up to 199,999 miles; a trip odometer could go up to 2,500 miles. The digital speedometer was limited to just 85 mph (137 km/h) in the US and Canada, and up to 120 mph (193 km/h) elsewhere; speed was updated twice per second by a sensor that took readings every eight inches of vehicle travel.
The electronic chronometer was accurate up to 80 seconds in 30 days, within a temperature range of -40°F to 185°F; most auto clocks at the time were only accurate to 30 seconds per day. The chronometer could report on the month, day, and date, and had a 99 hour, 59 minute timer; it could be set to run only when the car was running.
The Imperial provided passengers with a perhaps more useful change from past vehicles: instead of merely buzzing as a warning, the Imperial provided chimes (for seat belts unfastened), beeps (for keys left in the ignition), or a continuous tone (headlights on while the driver's door is open).
The Imperial should have been a profit-maker, as an expensive luxury coupe based on an economy-car chassis and architecture, regardless of how many extra acoustic panels were installed. With two other vehicles were made on the same basic structure, it may have lost money anyway, but it kept the plant running as Cordoba sales fell and the Mirada flopped. Had the fuel injection system worked properly, the car may have been a boon to Chrysler's balance sheets; at $20,988 (list) it was the most expensive standard production car made by an American automaker in 1981. The power moonroof added $1,044.
The 1981-1983 Imperial may have been the first to run officially at NASCAR; Buddy Arrington (number 67), who also drove
Miradas
, used a 1981-83 Imperial
on superspeedways, due to its more aerodynamic body. However, the company that was first to the wind-tunnel and computer-aided design had not done enough drag-reduction to make up for the lower power and lack of Richard Petty, and the car's showing was lackluster.
Frank Sinatra edition: 1981 - 1982 Imperial FS
Burton Bouwkamp wrote, "To try to stimulate sales we even did a 'Blue Eyes' special model that was the color of Frank Sinatra's eyes [Glaciar Blue paint]. The buyer also got a console full of Frank Sinatra cassettes with the car. (Frank and Lee were buddies then and called each other 'Chairman.')" The Frank Sinatra edition was made in 1981 and 1982, costing a stunning $2,000 more.
The "FS" Imperials also included platinum-color carpet, sky-blue leather or velour, emblems, a console that held 10 cassettes, and a leather cassette carrying case. 278 of the special-order cars were made, a decent number considering the added cost of the car and the ready availability of Frank Sinatra cassettes.
Sales and product planning
Until 1979, the Cordoba had sold an easy six figures each year, but in 1981, with its new body and styling, just over 20,000 left the factory. Imperial's first-year 7,225 sales sound better in that context; but in 1983, with its run over, only 12,385 Imperials had been sold.
The later
front wheel drive Chrysler Imperial
managed over 13,000 sales in its first year alone, and it, too, was considered a failure.
As with the Volare, Mirada, and Cordoba, the Imperial had a transverse torsion-bar suspension and leaf springs in back. Product planners had, indeed, originally intended the Imperial design to be either the new Cordoba or a new "Chrysler LaScala;" Steven N. Bollinger's styling was essentially complete by 1977, including the bustle-back trunk later assumed to be an imitation of Cadillac's 1980 Seville. When the car was first put into clay, the big-car nameplates had just been brought down and re-applied to B-bodies, which were spruced up to match the names.
Imperial's unique electronic fuel injection system
While Volkswagen had started putting multiple-point fuel injection into its humble Rabbit in 1979, Chrysler engineers were probably leery of the system due to the disastrous
1958 DeSoto Electrojectors
and their Chrysler-branded brethren. Still, fuel injection adding power, smoothed the idle, cut fuel use, and made life much easier in cold weather, eliminating the choke and carb tuning, all while slashing pollutants.
Chrysler's new system - never used on another car - had a single fuel injector in the throttle body; based on information from numerous sensors, the computer altered fuel flow and spark advance (see details later). The 318 gained some horsepower, boosting it to an even 140, but Chrysler ended up replacing most of the systems with a two-barrel carburetor and manifold assembly from the Fifth Avenue, or providing repeated service until the warranties ended at 50,000 miles.
Garage door receiver (Stuart Suede photo)
Stuart D. Somers wrote, "The throttle body fuel injection gave a lot of trouble. Chrysler soon discovered that someone who could afford a $20,000 car could also afford an attorney! Instead of repairing the fuel injection, Chrysler replaced them with a carburetor. The kit included a new gas tank, complete exhaust system, and a new digital dashboard, and, of course, the intake manifold and carburetor."
Paul noted that many of the cars would run well until 25 mph, at which point they would stall; he said, "under the car, under the passenger's seat, is an assembly of fuel filters. It's just two regular filters connected in parallel with a metal Y at each end... the fuel system pumps a lot of fuel to cool the pump in the air-cleaner. Also, the engine computer is very picky about any air leaks."
Paul added, "Even with all the quirks of the 'hydraulic support plate' (that throttle-body fuel injection creature living under the air cleaner) it was, and still is, a head turner."
Ted Wozniak, owner of an Imperial dragster, wrote that each Imperial produced in the three-year run reportedly cost Chrysler over $10,000 in warranty claims. The free factory carburetor conversions were a $3,500 kit plus 50 technician hours, per car; Chrysler extended the EFI system warranty to 50,000 miles for all owners.
Ted bought a used 1983 Imperial that would sometimes shut down at random places, or fail to start; other times, it would be very smooth. Chrysler's Imperial EFI guru suggested taking the car to Marietta Chrysler Plymouth and letting Chuck, their foremost Southeast U.S. tech, check it out. The dealer changed virtually every component in the system - for no charge. Unfortunately, that didn't fix the problems.
Richard Samul
wrote:
In the late 1970s, I worked on Chrysler's first attempt [since

1958

] at electronic fuel metering. The project was started in a large tent at the north end of the

Highland Park Engineering complex

. This was the old outdoor styling department, a fenced-in area that had been used for publicity photos shoots in the past. ... Because this project was new technology -- and deemed a possible fire hazard -- initial testing took place outdoors.

This system was prone to magnetic fields generated by power lines along roadways. This caused the fuel system to go rich at partial throttle and affected drivability. ... Frank Sinatra was one of the customers who was not pleased.
Marcos wrote that the Imperial used a unique fuel injection system, in some ways unlike the 1958 Electrojectors or the later Chrysler TBI and MPI systems:
The Imperial fuel injection was a continuous-flow, electronically controlled system. A low pressure electric pump in the tank supplied fuel to a high pressure control pump inside the air cleaner assembly. The speed of the control pump determined the quantity of fuel injected and was controlled by the computer by varying the voltage supplied to it.

Fuel was injected by a spray bar assembly. The output from the control pump fed a regulator assembly that had 2 tubes coming out of it on each side, which jutted out over the throttle openings, and each bar had 2 fuel openings over each throttle plate (for a total of 8) There was a "low-speed" spray bar which worked up to about 30psi, and the fuel openings had brass nozzles on them to promote a fine spray. Above 30psi, the regulator opened to send fuel to the "high-speed" fuel bar. The openings were just pinholes, and delivered fuel in a stream, but it was said that the velocity of the air going through encouraged enough atomization.

In principle, it was a simple system. A mass air sensor determines the quantity of air being ingested. The computer drives the pump and an optical flow meter on the outlet provides a feedback signal to control the air fuel ratio. The

oxygen sensor

provides further feedback for fine tuning, and a means of calibration for open loop modes. These three sensor inputs were the main ones. Temperature sensors for the air and fuel provided adjustment as needed, and the distributor pickup, and

throttle position sensors

(with separate closed-throttle switch) provided for certain modes of operation.

Inside the computer are two separate boards. One is basically the electronic spark control computer as used on other models, with a second board for fuel control. Since there is no manifold pressure sensor, the fuel board calculates this and sends the load signal to the spark board. (A third smaller board is a calibration circuit for the fuel ratio, what we know today as long term fuel trim.)

This system was plagued by electrical issues, mainly due to the somewhat primitive design and crude components. The biggest complaints were stalling or no-start. The auto shutdown relay was its own module with its own inputs and was prone to being tripped by electrical noise. Also, due to being mass-air-sensed through the air cleaner snorkel, it was

very

sensitive to vacuum leaks. Corroded connectors and grounds caused lots of issues over the years.

When they run, they run very well, much better and smoother than the 2bbl 318s of the time. They incorporated several physical features around the throttle butterflies and throats to improve fuel atomization. These cars were capable of pretty decent fuel economy.
1981-1983 body codes
This Imperial was a J-body, the same as the Cordoba and Mirada, but the carline was Y, standing for Imperial in the VIN (they used Y instead of I to avoid confusion with the number 1). Gil Cunningham of the Chrysler 300 Club wrote that "As far back as October 5, 1978 the Y carline was included in the J body area of the [internal Chrysler] Model Chart. The name Imperial was added sometime between January 25 and September 10, 1980."
The 1981 service manual confused the issue somewhat by listing the Y as a separate body from the J (Mirada-X, Cordoba-S). If the service manual was correct, the Y-line Imperial was given a Y-body designation in 1981-83.
Also see The Imperialist
(Dave Duricy's site) and:
Also see:
1969-1973 Imperials
|
318 V8 engines
|
TorqueFlite automatics
|
Cordoba
|
Magnum
|
Volare-Aspen
Home
•
Engines
•
Reviews
•
Chrysler 1904-2018
•
Upcoming
•
Trucks
•
Cars
Spread the word
via <!--
Tweet
or-->
Facebook
!
We make no guarantees regarding validity or accuracy of information, predictions, or advice - .
Copyright © VerticalScope Inc. All rights reserved. Dodge, Jeep, Chrysler, Ram, and Mopar are trademarks of Fiat Chrysler Automobiles.