Discussion Starter
·
#1
·
Hi there,
we recently got ourselves a 1989 B350 Maxivan outfitted as an RV by MacDonald conversion group in Canada. (Full Intro here:
German Mopar fan says hi
)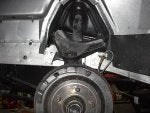 I decided it is time to start a new thread up here, even though hijacking Stephen's thread is quite fun as well (
1994 B350 for camper conversion?
)
There's a lot of things on the list that we want to get done on the car, the first will be to get the mechanics in order and add some convenience features (backup camera ...).
We have actually not slept a single night in it, when the decision was made to take the engine out to overhaul. I was suspecting a defective head gasket, which turned out to be wrong in the end. Apparently all the oil came out of a not so great valve cover gasket. That doesn't change the leaking core plug, 30 years of grime, a rather loose chain and other signs of wear (and possible gaps in the maintenance schedule).
I'll get right into the engine pics and questions in the next post (image count limit).