1989 Dodge Ram: launching the Cummins diesel powered pickups
Dodge pickup trucks, 1921-1953
•
1954-1960
•
1961-1979
•
1980-93 • 1994-2001
Dodge D-series pickups
were outdated and sales were falling rapidly in 1989; the bodies dated to 1972, with a 1981 refresh. Dodge's last-ditch attempt to save their truck business was shoving in a massive
Cummins turbodiesel
, meant for tractors and big rigs.
These straight-six monsters were far more advanced than the GM or Ford (Navistar) diesels, and engineers had to beef up the body and suspension. The trucks ended up with better cooling and electrical systems, heavier stabilizer bars and shock absorbers, a stronger body, an auxiliary oil cooler, and extra insulation in the hood, dash, and floor. Other standard features were a 30-gallon fuel tank, standard power steering, and an underhood reel-type light. With all these changes, they also launched a dual-rear-wheel Dodge Ram D-350.
The Cummins diesel was turbocharged, giving it more power and better performance in high altitudes; and it used direct injection, still unusual at the time. Neither Ford nor GM diesels had those features in 1989.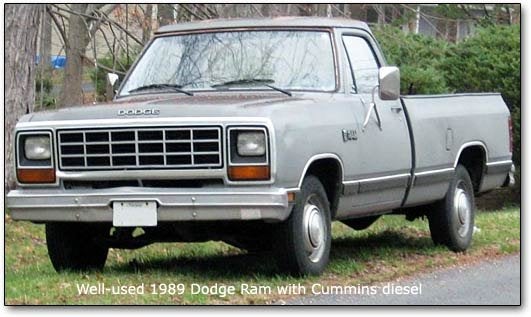 Product planner Burton Bouwkamp
wrote, "Some of my retired truck engineering friends were called back from
retirement to engineer the installation. Dodge Truck didn't have the
manpower available to do this additional job and Cummins did not have the
total vehicle experience necessary to do the job."
The overhead-valve Cummins engine was a hefty 359 cubic inches (5.9 liters); it only had six cylinders, for easier servicing. Horsepower was rated at 160 hp @ 2,500 rpm in 1989, with torque of 400 lb-ft at 1,700 rpm. The end result was a truck with 16,000 pounds of conservatively estimated gross cargo capacity. That number would rise as time went on. These massive engines created a niche market for Dodge pickups; before the 1994 Dodge Ram 1500 launched, Chrysler had just a seven percent market share, and half of those were diesels (which were
only
used in the medium duty trucks).
According to one retired truck-division insider, the Cummins diesel saved the Dodge pickup line. Management had already decided to leave the truck business entirely; after being a major player in the 1960s and 1970s, Dodge's share had fallen precipitously. With the Cummins diesel, heavy-duty Dodge pickups were suddenly competitive - many buyers said they were buying a Cummins engine in a Dodge wrapper. Perhaps, without those added sales and profits, the company would not have created its revolutionary
1994 Dodge Ram 1500
, followed by equally innovative heavy duty models...still Cummins powered.
According to Dodge, the market for diesel pickups and chassis cabs in their range was 80,000 trucks per year, with 15% going to business fleets and 15% going to government. Diesel buyers were generally older and more affluent than gasoline-truck buyers (not surprising given the added expense). Cummins diesels powered over half of all domestic Class 7 and 8 "on-road" diesel trucks at the time.
1989 Dodge Ram: press releases
These press releases were obtained from the
Detroit Public Library's National Auto Historic Collection at the Skillman Library
. The library needs and appreciates your support. (OCR was done by Allpar.)
Two big names in the truck business - Dodge and Cummins - will join to build one tough truck in 1989 as a new turbo diesel engine debuts on selected Dodge Ram pickup trucks and chassis cabs. Early Chrysler testing indicates that toughness story will be complemented by performance and durability, too.
"When we decided to put a Cummins-built engine under our Dodge hood, we wanted it for its toughness, durability and fuel economy," said Dale Dawkins, Dodge Truck General Product Manager. "And our testing has showed it's even better than we hoped."
Although lower than its competitors in displacement, the Cummins diesel puts out the highest torque while being in between on horsepower. Because output is important at low rpm, torque is what diesel buyers really want.
The Cummins diesel engine develops 160 hp at 2,500 rpm and will accelerate the Ram D250 pickup from zero to 60 in 11.8 seconds. Even at full GVW (gross vehicle weight), the Dodge hits 60 mph in 18.3 seconds.
"Buyers who operate their pickups in tough, work-related use will appreciate the engine's muscular power in the low rev range," observed Dawkins.
The Dodge diesel's pulling power-or torque- is rated at 400 pound-feet at a low 1,700 rpm, far better than any full-size diesel pickup on the market. GM's diesel equivalent reaches 246 pound feet at 2,000 rpm; Ford's 345 pound feet at 1,800 rpm.
Gross combined weight (GCW) rating on the Dodge has been set at 16,000 pounds for the standard five-speed manual transmission. This base GCW rating is a full two tons better than the nearest three-quarter ton competitor. The optional three-speed automatic on the Dodge is rated at 14,000 GCW.
In fuel economy, the Dodge Ram Cummins Turbo Diesel, a D250 with automatic transmission, rated 19 mpg in urban driving and 23 mpg in intestate, while averaging 55 mph. In a cross-country test run, a W250 with manual transmission loaded to 8,510 GVW, averaged 22.9 mpg.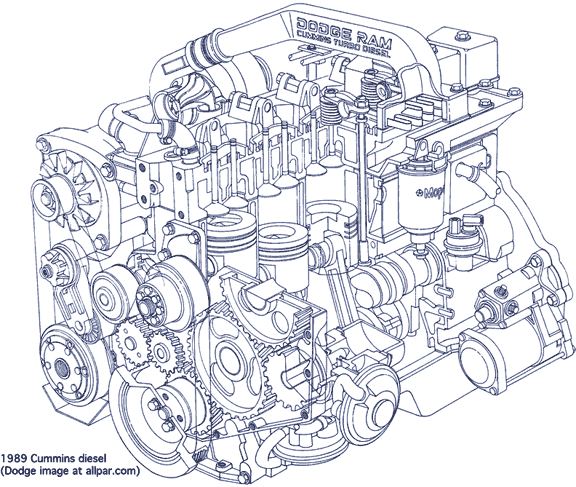 Dawkins credits the Cummins direct injection system as the primary reason for fuel efficiency.
"In direct injection, fuel is supplied directly into the cylinder at the moment of combustion," he said. "This design is more efficient than competitive engines, which inject fuel into a pre-chamber, where combustion begins prior to proceeding to the main part of the cylinder."
The new turbo diesel's in-line block is simpler and less costly to service than comparable Vee-type engines. There are 40 percent fewer parts providing faster maintenance and repairs when service is required.
"That translates into a cleaner installation, as well," noted Dawkins. "You have to pop the hood to appreciate the ease of maintenance. The cooling system is relatively small -17.1 quarts - which gives you more room to operate because you don't need a mammoth radiator. Because indirect injection systems lose more heat to the coolant, larger radiators are needed."
The turbocharger provides Dodge truck buyers with a distinct advantage in high-altitude performance, as well, because the turbocharger keeps the engine working efficiently at both sea level and at high altitudes.
Non-turbocharged diesels generally lose at least three percent of power for every 1,000 feet of altitude... at 10,000 feet, other diesels now on the market lose about 30 percent of their power. The Cummins turbo diesel loses only five percent.
The turbocharger comes from Holset, a Cummins subsidiary, and is produced in England. Holset turbochargers have helped power five of the last seven Indianapolis 500 winners, including 1988 Indy champ Rick Mears.
The Cummins-built engine is one of a family of diesels designed as a turbo powerplant from the block up. It was completed in 1983 after five years of intensive development and engineering and more than 3 million miles of rigorous testing in the laboratory and on the road.
The six-cylinder turbo diesel version that powers 1989 Ram pickups entered production in late 1984, successfully powering such heavy duty applications as combines, tractors, road graders, loaders, cranes and crawlers.
The engine has accumulated more than 11 million miles of testing in actual field usage and test cell operations.
Cummins builds the diesel engines at its Rocky Mount, N.C., plant and ships them to a facility in Redford, Mich., where they are dressed out to meet Dodge customer preference.
The engines also are coupled to either a new Getrag five-speed manual transmission with overdrive, which is standard, or a beefed-up version of Chrysler's Torquef lite heavy duty three-speed automatic. Engine and powertrain are shipped to Chrysler's Dodge City/Warren Truck (Mich.) Plant for final build.
The engine complies with current emissions regulations and is certified in all 50 states.
Dodge D-Series Trucks (Detail Pages): 1966 • 1975 • 1977 • 1983
Dodge pickup trucks, 1921-1953
•
1954-1960 Dodge trucks
•
1961-1979 D-Series
Home
•
2019 Ram
•
Repairs
•
Vans
•
Campers
•
Forum
CURRENT:
1500
•
HD
•
Power Wagon
•
Chassis Cabs
Vintage and special Dodge and Ram trucks
Trucks/SUVs
Jeep
Ram
Military
Engines
2015-2017
Forums
Home
•
Engines
•
Reviews
•
Chrysler 1904-2018
•
Upcoming
•
Trucks
•
Cars
Spread the word
via <!--
Tweet
or-->
Facebook
!
We make no guarantees regarding validity or accuracy of information, predictions, or advice - .
Copyright © VerticalScope Inc. All rights reserved. Dodge, Jeep, Chrysler, Ram, and Mopar are trademarks of Fiat Chrysler Automobiles.