1996-2000 Chrysler, Plymouth, and Dodge Minivans:
Caravan, Voyager, Town & Country
Why'd they do that?
Behind the engineers' choices
The 1996-2000 Plymouth Voyager, Dodge Caravan, and Chrysler Town & Country were the first generation to be built from the ground up as minivans - still, Chrysler's toughest benchmarks were the 1991-1995 vans, still based on the compact Plymouth Reliant. It took a lot of work for the new vans to beat the old ones, and some believe they never did.
The vans continued to have a panoply of powertrain options; front or all wheel drive, four or six cylinder engines, three or four speed automatics. The stick-shift versions were long gone, along with the turbo fours, but a brand new 2.4 liter "Neon based" engine joined the ranks. All the vans came with a 3/36 bumper-to-bumper warranty.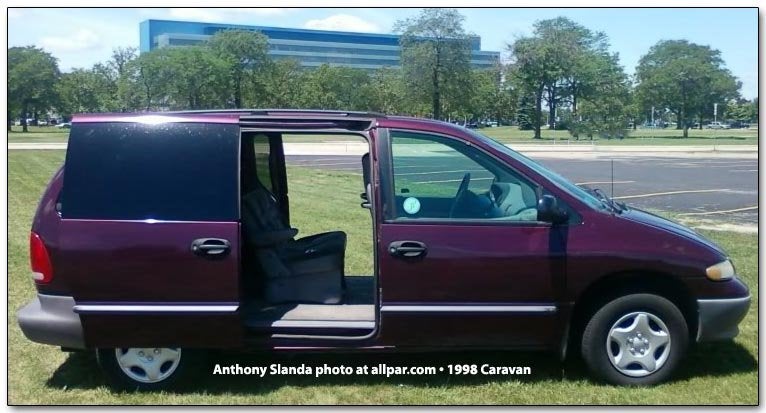 Chrysler had three brands, two wheelbases, three- and four-door setups, and eight different powertrains, including electric and compressed natural gas.
There was little competition for the iconic vans, and from 1996 to 1999, Chrysler sold a million minivans per year; yet, resale values remained high. Competitors had not yet figured out that the best way to compete with Chrysler's minivans was simply to copy them. When they did finally did that, with the Nissan Quest (Mercury Villager) being the first serious challenge - Chrysler leapfrogged them.
Minivan packaging efficiency
Chrysler continued to build the only minivan that could carry a 4x8-foot sheet of building material (on top of folded seat backs or with the seats removed; long wheelbase only) with the hatch closed.
The short-wheelbase van was 3.6 inches shorter on the outside than a Mercury Villager (Nissan Quest), but had 16% more cargo space. The contrast was even more stunning when compared with the long-wheelbase Ford Windstar; while the plain Plymouth Voyager was nearly 15 inches shorter (bumper to bumper), Voyager had more cargo space. The long-wheelbase version was 1.6 inches shorter than Windstar, but had almost 20% more cargo space.
The optional quad command seats could be lifted out, and there was a bench seating system to maximize space. "Easy-out" roller seats were an improvement over the older seats: when the handle was pushed down, the seat was lifted up on rollers that acted like a small landing gear. Both rear seatbacks folded forward.
Chrysler wrote that minivan owners asked for a second sliding door, but
Chris Theodore told us it was part of the original design
]. Both sliding doors had new handles for better control, along with a hill-hold latch and child protection doors, and a hidden door track design which integrated the hardware into the bottom edge of the quarter glass. An automatic fuel door interlock prevented the left-side sliding door from opening during refueling.
Chrysler could build minivan bodies with or without the fourth sliding door, in short- or long-wheelbase models, in any of three assembly plants.
The passenger air bag had a seamless door design; four-wheel anti-lock brakes were now standard, along with child protection rear door locks and five-mile-per-hour bumpers. Unibelt restraint systems were installed at all outboard seating positions, with shoulder belts in intermediate seats having height adjusters. Dual reclining child safety seats were optional.
Driving experience
The minivans started with a structure with high torsional rigidity for a tight, quiet and stable ride, and responsive handling, despite the new large door opening on the driver's side.
Chrysler's
Computer Aided Three Dimensional Interactive Application (CATIA)
system helped to boost torsional rigidity of the four-door version 50% above the old three- door minivan. The body did grow, partly from the need for extra strength, partly due to new features, to another hundred pounds over the '95s.
New minivan suspensions
The front suspension continued to use a fully isolated MacPherson strut system, with revised geometry. A new upper mount increased vertical travel and fore-and-aft compliance, to reduce harshness. The standard one-inch stabilizer bar was connected to the struts through spherical-jointed links to minimize friction and harshness.
The cast aluminum cross-member was the first high-volume application of this technology in a North American- produced vehicle.
The rear suspension had a tapered single leaf-spring configuration with a tubular beam axle and a track bar for lateral control. The team investigated other rear suspension configurations, even including a double-wishbone set-up, but found that leaf springs provided the greatest consistency of ride and handling across the spectrum, from unloaded to fully loaded.
Steering column stiffness and shake resistance were increased, with a resonant frequency 14% higher than the prior model. The body now had a one millimeter body build tolerance (less than .040 of an inch of variation).
The team reduced the turning circle by over three feet, by increasing the front track, so that it could turn well inside the circle of the Mercury Villager.
Ride height and packaging were major challenges, given the panoply of left- and right-hand drive, wheelbases,
electric vehicle
plans (to be assembled on the same assembly line), the three-or-four-doors options, optional all-wheel-drive powertrain, and
compressed natural gas minivans.
New engines
| | | | | |
| --- | --- | --- | --- | --- |
| Engines | 2.4 | 3.0 | 3.3 | 3.8 |
| Horsepower | 150 | 150 | 158 | 166 |
| Torque | 167 | 176 | 203 | 227 |
| Mpg (short, FWD) | 20/26 | 19/25 | 18/24 | |
| Mpg (long, FWD) | 18/25 | | 17/24 | 17/24 |
The brand new
2.4-liter four cylinder engine
, based on the Neon 2.0, was as powerful as the old V6 engine (150 horsepower), more fuel-efficient than the now-ancient
2.5 liter four
, and 8 dBA more quiet than the 2.5. It used balance shafts below the counterbalanced crankshaft to minimize vibration. The 3.3 and 3.8 liter V6 engines were quieter than before, with about a 4 dBA reduction in noise at wide-open throttle, with 5% better torque; and the Mitsubishi 3.0 liter continued, with more torque but the same horsepower as the four cylinder.
The four-speed automatic was optional on the 2.4 engine, standard on the 3.3 and 3.8; the three-speed was standard on the 2.4 and 3.0 engines.
Note: gas mileage figures on the chart are unmodified, using the optimistic pre-2008 standards. These are taken from EPA records which differ from the press releases. The AWD 3.8 minivans were reported at 16/22 mpg.
Minivan interiors
The dual zone comfort control was the first system of its kind available to minivan buyers, and produced a 100-degree difference (at the outlets) between the driver and passenger side.
A beloved addition for many years, ending under Daimler, was an electric windshield de-icer, with grids under the wiper blades' parked position to prevent them from freezing. The blades had a low profile and frames that minimized lift, even at high speeds. The wiper blades and cowl were developed in the wind tunnel.
1997 Changes
Four-wheel disc brakes became standard on the all wheel drive minivans, using a "drum in hat" design for drum emergency brakes. A new Teves Mark 20 four-wheel antilock brake system had quieter operation and less pedal feedback. Low-speed traction control (under 35 mph) was added to Town & Country as standard, and was optional on some other minivans (it used the ABS to detect wheelspin.)
Minivans got quieter, with foam in body cavities to cut noise, a spiral design on the antenna, and a retuned a/c suction line. Other minivan updates were better air conditioning outlets, Sport and Rallye packages on the long-wheelbase versions as well as short-wheelbase, and a standard driver-side sliding door on more models. Some models did get more sound insulation than others, including the Voyager SE (Family Value package or Rallye with V6) - at the time, Voyager SE was the top of the line rather than the base model, which was titled, "Base."
Why'd they do that?
Behind the engineers' choices
Town & Country models were switched to three models: SX (short wheelbase), LX (long wheelbase), and LXi (long wheelbase luxury). With leather seats, new front door trim panels with padded armrests, cupholders, and map pockets were used.
1996 Minivan Specifications (specs) / Dimensions
Towing: up to 1,000 lb with 2.4 / 3.0 and up to 2,000 lb with 3.3 and 3.8. Towing package brought that up to 3,500 lb with 3.8 and FWD.
2.4 liter Chrysler engine (based on Neon 2.0): 150 hp, 167 lb-ft, 87 octane, 20/25 mpg (US)
3.0 liter Mitsubishi engine: 150 hp, 176 lb-ft, 87 octane, 20/25 mpg.
3.3 liter Chrysler engine: 158 hp, 203 lb-ft, 87 octane, 18/23 mpg
3.8 liter Chrysler engine: 166 hp, 227 lb-ft, 87 octane, 17/22 mpg (16/21 with AWD).
Transmissions: three-speed automatic (2.69:1 to 1.00:1) and four speed automatic (2.84 to 0.69).
All wheel drive: variable torque split with viscous coupling and open rear differential.
Wheelbase: 113.3 inches (short), 119.3 inches (long). Track was 63.0 front, 64.0 rear. Width was 75.6.
Length was 186.3 (short), 199.6 (long). Ground clearance, 5.3 inches.
| | | |
| --- | --- | --- |
| | Short | Long |
| Cargo aft of second row | 50.8 c.f. | 62.3 c.f. |
| Cargo aft of third row | 15.9 c.f. | 23.7 c.f. |
| With no seats | 146.2 c.f. | 172.3 c.f. |
| Weight, base | 3,528 lb | 3,680 lb |
| Weight, SE | 3,969 lb | 3,766 lb |
| Weight, LE | 3,875 lb | 3,949 lb |
| Weight, LE w/AWD | n/a | 4,252 lb |
| Weight distribution, base/SE | 60/40 | 57/43 |
Frontal area: 30.15 square feet, with 0.35 feet drag coefficient (cD) and 20 gallon tank.
Brakes: front vented disc, rear drum. Vacuum power assist. 14 inch wheels on base, 15 on others. Optional 16 inch wheels.
2017 minivans
2011-16
2008-2010
2001-2007
1996-2000
1991-1995
1984-1990
Forums
•
Reviews
•
Electrics
•
CNG
Repairs and performance
•
Engines
•
Firsts
•
Factory
Home
•
Engines
•
Reviews
•
Chrysler 1904-2018
•
Upcoming
•
Trucks
•
Cars
Spread the word
via <!--
Tweet
or-->
Facebook
!
We make no guarantees regarding validity or accuracy of information, predictions, or advice - .
Copyright © VerticalScope Inc. All rights reserved. Dodge, Jeep, Chrysler, Ram, and Mopar are trademarks of Fiat Chrysler Automobiles.