2008-2014 Dodge Avenger cars: cheap, comfortable performance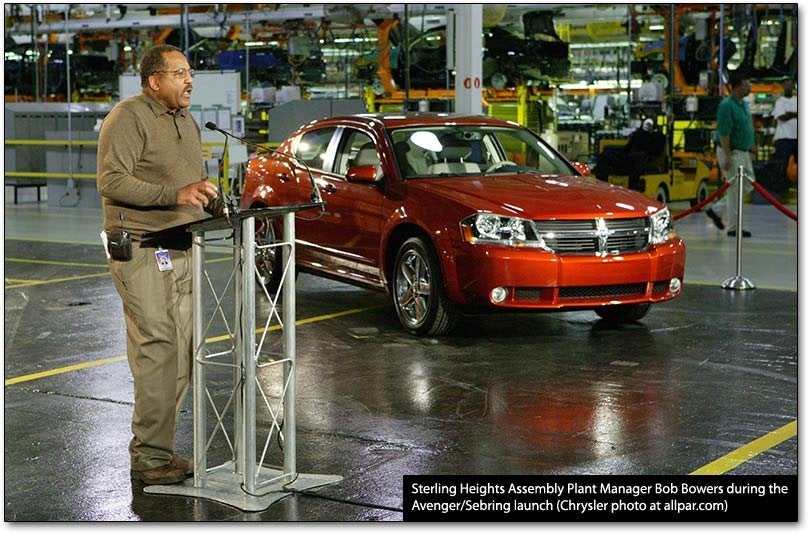 The 2008 Dodge Avenger replaced the popular
Dodge Stratus
, cutting the starting price to $18,895; it applied Dodge's current truck-like to a mid-sized car. The car had optional all wheel drive and stability control, and, originally, a cooled glove compartment, and a side profile similar to that of the Dodge Charger.
Sales of the Avenger never quite made it to Dodge Stratus levels; the Chrysler-engineered Stratus sedan maintained around 100,000 sales per year until its final year of production, when sales fell to half their prior levels, aided by widespread talk of Chrysler's financial woes. The first generation Stratus' best year was its first year on sale (2007), and from there it fell until a 2011 redesign.
Designer/stylist Ryan Nagode
said that part of the reason for the exterior resemblance to the Dodge Charger (from the side) was the desire to sell the Avenger in Europe; they wanted the Avenger to have clearly American styling when sold abroad. But, in the end, he said, "It's all about getting rid of the boring sedan."
Ryan noted that he was looking for a sinister, aggressive appearance, and was most strongly influenced by his sunglasses; the grille wraps all the way around the front of the car to the headlamps, providing a full graphic of the front end. The corners, he said, are like boxing gloves - protective forms in all corners.
Seven-day Dodge Avenger test drive results
.
Dodge Avenger forums
.
Ryan tried to move the headlight elements up to tuck the lights under the grille, and the linear lights beneath the dual headlamps added to the impression of height. Unlike typical Chrysler headlamps, the Dodge Avenger clearly showed both of the dual lamps. Ryan noted that the R/T used black headlight fills, while the other models used silver and chrome on the others; and in the grille, the base model was body color, while the others were chrome. That means any Avenger should be easy to differentiate from the front.
"Muscular rear shoulders" and a sleek rear spoiler were meant to show the "Dodge brand attributes of bold, powerful, and capable," according to press materials of the time. Avenger's greenhouse was meant to be visuaully lengthened by black appliqués on the B-pillars.
At launch, four models were sold in the United States: SE, SXT, R/T, and R/T AWD.
Ben S. Chang, senior designer, was lead stylist for the interior; he can be credited for the bright climate-control knob surrounds, which later spread throughout the Chrysler and Jeep lines.
The instrument panel top pad and center stack grain had a low-gloss finish to match the defroster grille and driver cubby. The center stack was supposed to have a ram's horn shape that surrounded the shifter bezel. Like the Caliber, Avenger had a chilled beverage storage bin that could hold and chill (if the air conditioning was on) four cans.
Drivers sat 2.5 inches higher than they did in the Dodge Stratus, and enjoyed 101 cubic feet of cabin space (7 cubic feet more than the Stratus). There were 2.5 inches more headroom, 1.2 inches more shoulder room, and an inch more hip room in the front seat. Luggage volume in the trunk was 13.35 cubic feet, and entrance/egress to the front and rear seats was easier than in the prior car.
Dodge Avenger engines, powertrain, and specifications
2.0 I4
2.4 I4
2.7 V6
3.5 V6
3.6 V6
Diesel
US hp
172
189
235
283
140
US torque
191
232
260
310
US mpg *
21/30
19/28
19/29
~ 29/40
Euro kW
115
125
138
103
Euro Nm
190
220
256
310
l/km
7.8
8.9
9.7
6.2
0-62 mph
10.8
10.4
9.0
~ 7.0
6.5 ***
10.5
80-120**
13.9
7.3
6.8
9.6
* 2008 figures, which are about 2-3 mpg lower than 2007
** Second from top gear *** 0-60
Avenger's all-wheel-drive system worked on demand, driving only the front wheels until power to the rear wheels is needed; AWD was on for dry-pavement driving between 25 and 65 mph to enhance handling.
Engines for 2008-2009 were the Hyundai-Mitsubishi-Chrysler "sewing-machine" 2.4-liter four-cylinder, the
flex-fuel 2.7-liter V-6,
and a detuned
3.5-liter V-6
; all V6 engines used a new six-speed automatic with AutoStick (a manual override). For 2010, the 2.7 was dropped, and for 2011, the 3.5 was replaced with a
3.6 Pentastar V6
boasting nearly 50 more horsepower.
Europeans did not get the 3.5 engine; their base engine was the 2.0 liter four-cylinder, with a five-speed manual transmission. They also had an optional 2.4, with the four-speed AutoStick; an optional 2.7 V6 with four-speed AutoStick (later replaced with the six-speed automatic); and a Volkswagen-supplied two-liter diesel, with a six-speed manual transmission.
Other Avenger features included:
A heated/cooled front cupholder (up to 140 degrees Fahrenheit or down to 35 degrees Fahrenheit)
YES Essentials® fabric-soil-repellent and anti-microbial
Heated cloth seats
An optional DVD rear-seat entertainment system with satellite radio
LED interior lighting with directional lighting in both the front and rear seats
MP3 play capability on all audio systems
Another option was the MyGIG™, with a 6.5-inch color touch-screen panel that could follow voice commands and included:
A 20 gigabyte hard disc drive that could be filled with music from CDs or USB drives, with Gracenote® for song identification
Playlist creation
Voice memo recording
Radio screen, which can display movies (when vehicle is not in motion)
SIRIUS Satellite Radio and UConnect® Hands-free Communication System
Dodge Avenger vs Chrysler Sebring, and other shared components
Automotive News
wrote that the Avenger and Sebring were identical under the styling, down to the suspension settings. The front dash panel, part of the rear floor pan, and other components were shared with the Caliber and Compass. Mercedes supplied the overly stiff seat structures and some electronics. The Sebring's JS platform was derived from the GS [Caliber/Compass/Patriot] platform, but was wider and longer; many parts were shared.
Ryan Nagode told Allpar that they had put a lot of time and effort into aerodynamics, especially as the Avenger is four inches taller and 1.4 inches wider than the Stratus. The corner shapes in front and rear, and the lean of the grille, were based on wind tunnel tests. Full aerodynamic testing was conducted on the vehicle with a large number of full scale and partial models. Though the recessed grille looks as though it would be a problem, they placed gaps only where needed for the air intake (which comes from both the top and bottom portions), and Ryan assured us that it was not an aerodynamic issue. They worked carefully with the hood to overshadow other gaps, so that there would not be large, noticeable gaps and to reduce wind resistance.
At launch in 2007, the $18,895 (including destination) 2008 Dodge Avenger SE had the four cylinder, a four-speed automatic transaxle, side-curtain and side seat-mounted air bags, Tire Pressure Monitoring (TPM), disc/drum brakes, power windows, doors and locks, tilt/telescoping steering column, driver seat with lumbar adjustment and manual height adjuster, CD radio with MP3 capacity, sliding front center armrest, upper and lower bin in the center console, 60/40 folding rear-seat with center arm rest, rear door map pockets with bottle holders and driver's side front-seat-back map pocket, remote keyless illuminated entry, theft-preventing "radio keys," and theft alarm. Outside, even the Dodge Avenger SE model had power mirrors, quad headlamps, and 16-inch tires with wheel covers. ABS, remote start, heated seats, and a power sunroof were among the options.
For around a thousand dollars more, buyers were supposed to opt for the Dodge Avenger SXT, which added ABS, a fold-flat passenger seat, power eight-way driver's seat, passenger seat back map pocket, chrome rings on the front speakers, silver accent cluster bezels, six speakers, chrome grille accents, body-color body-side molding, and 17-inch all-season tires.
Options included a 2.7-liter V-6 engine, with a four-speed automatic transaxle; stability control; MyGIG™; various stereos; heated leather seats; leather-wrapped steering wheel with audio controls; and more.
The Dodge Avenger R/T, starting at $23,545, included the 3.5-liter V-6 and six-speed automatic transaxle, sport-tuned suspension, performance steering, leather-wrapped steering wheel with audio controls, leather-wrapped shift knob, AM/FM six-disc CD radio, express up/down windows, automatic temperature control, and an automatic-dimming rearview mirror. The exterior had heated body-color folding exterior mirrors, automatic headlamps, fog lamps, 18-inch performance tires, a rear spoiler, and chrome-tipped dual exhaust. AWD added $2,000 and included stability and traction control.
For 2009 Dodge Avenger, ABS, a rear spoiler, leather-wrapped steering wheel with audio controls, and fog lamps were standard on SXT and R/T, 18-inch chrome-clad wheels were standard on Avenger R/T, and a trunk mat, sunglass holder, floor mats, cabin air filter, and deck lid liner became standard across the board. The silver paint was made lighter, and the two-tone gray interior was switched to "dark slate gray." The premium convenience group was expanded.
The 2010 Dodge Avenger continued with new active head restraints and exterior colors; a new instrument panel gauge cluster was used in all models, and four-wheel antilock disc brakes were standard across the board. 2011 would hold much more serious changes.
Engineering
The Dodge Avenger was front wheel drive with an all-wheel-drive (AWD) option; it had a four-wheel independent front suspension with MacPherson front struts and a multi-link rear suspension. The AWD set up was dubbed "electronically controlled coupling" and Chrysler claimed it was cheaper but more precise and easier to calibrate than viscous-coupling, Torsen®, or gerotor systems. The system activated automatically at times (including under full throttle, and between 25 and 65 mph) without needing wheel slippage. The AWD system had a rear drive bias at speeds over 25 mph and under high throttle to make handling more neutral.
Dodge claimed that Avenger had among the highest combined percentages of high-strength and ultra-high-strength, hot-stamped steel among production-volume vehicles on U.S. roads at launch. "By mass, Avenger's body structure is a combined 30 percent mix of hot-stamped and high-strength steel," said Dennis Krozek, Chief Engineer-Dodge Avenger. "Hot-stamped steel A-pillars, B-pillars and roof-rail reinforcements reduce upper body weight by 30 lbs. compared with traditional steel." Crash-test ratings were far above those of the Dodge Stratus.
Avenger had dual-phase steel in the rear rails, tunnel reinforcement, and sills, to manage impact energy, while still being relatively easy to stamp and control dimensionally. As many as four layers of metal were used for impact energy management. Larger sills helped make the body structure stiffer than its predecessor in bend and torsion. Components joined with structural adhesives improved stiffness and impact management, also creating a more rigid structure and minimize noises. The torsional (twist) stiffness was 17,925 ft.-lb./degree (32.2 Hz) and the bending stiffness was 66,703 lb./in. (26.3 Hz), 1.7 times stiffer in torsion and 1.6 times stiffer in bending than the Stratus - and the Stratus was considerably stiffer than the vehicles
it
replaced.
The Avenger used both pumpable and moldable sealers in the upper body to reduce noise; seam sealing was applied inside and outside the body. Avenger's doors were triple sealed to reduce wind noise. A continuous, one-piece channel-type weather strip mounted in a three-piece roll-formed channel in the upper door frames seals both sides of the windows to prevent wind noise and water leaks. Other steps taken to reduce noise and vibration included:
Acoustic engine covers, and tuned air induction and exhaust
Tuned powertrain and body mounts, and higher instrument panel stiffness
A tuned air induction system, accessory drive mounting, and exhaust system
Multiple rib-like indentations in the floor pan and applied mastic sound-deadening material to reduce boom
Dampers on the dash and the rear wheel houses (a layer of mastic between two layers of metal), adhesive-bonded to flat surfaces that might otherwise resonate
Doo-dads, gadgets, and trinkets
The satellite system supported real-time traffic and provided re-route navigation, with both 2D and 3D road views. The voice dialogue system recognized more than 100,000 words. The 20-gigabyte MyGig system held around 100 hours of music.
All the radios had a 3.5 mm audio input jack for MP3 players (such as iPods). A six-disc CD changer was optional, along with a rear-seat video entertainment system (VES) with a front DVD player, rear 7-inch LCD screen, battery-powered remote control, and two wireless, multichannel headsets. Auxiliary input jacks could show video directly from a video camera, and allowed for playing games from a portable console. The headphones could be tuned to two different sound sources at once.
Bluetooth® wireless phone connections allowed hands-free talking.
UConnect features for the U.S. included voice dialing, a 32-name audio address book, emergency calls, towing assistance, call transfers, three languages (English, Spanish, and French), and recognizing up to seven phones. A trip computer in the gauge cluster let owners personalize their settings and scroll through vehicle information (see our
2008
and
2011 reviews
).
More was added in the big 2011 redesign
2011: the huge redesign
[
Allpar test drive /car review of the Dodge Avenger
]
The Dodge Avenger was thoroughly overhauled in 2011 with a new interior, exterior, and stronger performance. All but the SE got a standard six-speed automatic, and a new 283 horsepower V6 dropped 0-60 times to 6.5 seconds (better than the first generation V8 Dodge Charger) - while boosting gas mileage to 19 city, 29 highway. Virtually every part of the suspension was redesigned, including 26 of 30 suspension bushings. The track was an inch wider, tire width increased from 215 to 225 millimeters, and the car dropped 12 millimeters in the front and 6 millimeters in the rear. There was less body roll, less shake, improved road isolation, better steering precision, response, and increased tire grip.
The standard 2.4-liter four-cylinder was recalibrated, and optionally mated to a new smooth-shifting six-speed transmission. The Pentastar V-6 engine generated a best-in-class 283 horsepower and 260 lb.-ft. of torque with competitive fuel economy.
Inside, customers had a new instrument panel, bezels, gauge faces, and steering wheel; upgraded seats with cushion material and revised spring geometry; and more soft-touch materials. New two-tone interior color schemes were added, along with new leather and cloth materials and accent stitching. The cabin was quieted with 45 new or upgraded sound-deadening treatments. The steering wheel had integrated controls for the radio, cruise control, and hands-free phone.
New to the exterior were LED tail lamps, front and rear fascias, noise insulation, and 18 inch wheels.
For 2011, gimmicky new model names were used; most were not continued for long. Pricing at launch, including destination, started at $19,995 for the Express; the Mainstreet cost $2,000 more, Lux cost $4,300 more, and Heat cost $4,500 more, topping out at $24,295. Few of the cars were the Express, which had no incentives on it; by comparison, other Avengers started out with $750 on the hood (or lease subvention, or low-interest financing from 0% to 3.9%); conquest buyers could get $1,500 in total (but not with a lease.) That brought the price of the Mainstreet down, for someone buying in from a competitor, to just $500 more than the Express.
The Express came with the four-speed automatic, 21/30 mpg, stability control, ABS brakes, power heated mirrors, new 17 inch aluminum wheels, trip computer, eight-way power driver's seat, automatic temperature control, and leather-wrapped wheel and shifter, putting it far above the old Avenger SE.
Moving up to the Dodge Avenger Heat, buyers got the new 283 horsepower V6, unique color scheme and appointments, cloth seats with red stitching, 18 inch bright silver aluminum wheels, dual exhaust with chrome tips, hard-drive stereo (430), spoiler, fog lamps, and remote start. The Dodge Avenger Lux model added heated leather seats, softer door trim, chrome-clad wheels, new headliner, UConnect, and express up/down windows.
Avenger was priced slightly lower than competing Ford Fusions; the Express was $425 less than Fusion S, the Mainstreet was $105 less than Fusion SE, and Avenger Heat was $95 less than Fusion SE V6. The difference was greater when one compared Avenger R/T to Fusion Sport ($1,085) or Avenger Lux Fusion SEL I-4 to ($825).
Despite the comfortable, quiet interior, smooth ride, and hot V6/six-speed combination, the Avenger was loaded with thousands of dollars in rebates, and still did not sell in quite the volumes of the old Dodge Stratus. However, in its final years, many buyers coming in for a Dodge Charger or Dart ended up leaving with a Stratus, having been offered "a deal they couldn't refuse." The after-incentives price of the Avenger provided a fully loaded midsized V6 sedan for around $24,000, lower than a stripped Charger or a loaded Dart.
2012 Dodge Avenger R/T
The Dodge Avenger R/T for 2012 used a retuned sport suspension and exhaust, also adding a unique interior, cloth/leather heated seats, red LED interior lighting, and a unique steering wheel; it was only sold in red, silver, white, and black. It had the same 283 hp V6 as other Avengers, but had a center-mounted tachometer, 18% higher roll stiffness, 17% higher spring rates in front, and 12% higher spring rates in back; strut damping rates were raised by 15% in front and 20% in back, and the rear stabilizer bar was boosted from 19mm to 21mm. It had the same mileage as ordinary Avengers. A 276-watt Boston Acoustics sound system with 30-GB hard drive and remote start were standard, along with unique 18-inch wheels.
Changes for 2013 and 2014
For 2013, there were wheel changes on all models, free fog lights and automatic headlights on SXT, optional leather and a cheaper V6 on SXT, cheaper "sun and sound" package, and a new Rallye group with a darkened grille and black and red momentum seats ($495). The new "Blacktop" model added gloss black 20-inch aluminum wheels, center caps, and grille, with a rear spoiler, paddle shifters, Sport Mode transmission, 3.06 rear axle, and Beats Audio, for an extra $1,800. The Avenger SE became four-cylinder only.
Dodge Avenger R/T price was cut by $500, with new optional black cloth seats with red accent stitching and leather bolsters. For color, Crystal Blue Pearl replaced Copperhead; True Blue Pearl replaced Blackberry; and Billet Silver Metallic replaced Bright Silver.
For 2014, there are few changes - but Dodge did add a claim that the Avenger R/T would run from 0-60 in just 6.3 seconds. A new SE four cylinder Rallye package added 18-inch wheels, body-color grille, tinted headlamps, and rear spoiler for under $600, and a new SE four-cylinder Blacktop version is similar with gloss black wheels and grille.
2014 was the last year for the Dodge Avenger; the Sterling Heights, Michigan plant dedicated itself to making the new Chrysler 200, with no Dodge companion.
Word has a new rear wheel drive Dodge Avenger in the works for roughly 2016-2017.
Safety
Avenger started out with Brake Assist, because, according to Avenger Chief Engineer Dennis Krozek, "Studies have shown that in an emergency, the average driver will not apply the brakes hard enough or quick enough to achieve the minimum stopping distance. Avenger's Brake Assist overcomes this tendency by using the ESP system to instantly apply the maximum available pressure to the brakes."
A pressure sensor in the ESP hydraulic module determined when the driver was making an emergency stop by measuring the rate at which the driver applies the brake. A high rate of pedal pressure application causes the ESP system to apply maximum hydraulic pressure to the brakes, stopping the vehicle as quickly as the available traction will allow. Traction Control helps the Avenger maintain traction by applying the brakes, and in some cases, closing the throttle to minimize wheel spin during acceleration.
The safety cage is constructed with dual-phase, high-strength and ultra-high-strength steel components.
Advanced Multi-stage Front Air Bags Front-passenger air bags that use unique shape, venting, folding patterns, advanced inflators or a combination of these four technologies to position and inflate the restraint properly for a belted passenger while also meeting federal safety requirements for out-of-position, small occupants and rear-facing infant seats. Occupants are advised to always sit properly in their seats with the seat belt fastened. Children 12 and younger should always be seated in a back seat, correctly using an infant- or child-restraint system, or have the seat belt positioned correctly for their age and weight.
All-speed Traction Control (included with ESP) senses drive-wheel slip and applies individual brakes to a slipping wheel(s), and can reduce excess engine power until traction is regained
All-wheel Drive (late availability) provides added grip and vehicle stability by sending torque to the rear wheels only when necessary based on throttle input or wheel slip
Anti-lock Brake System (ABS) senses and prevents wheel lockup, offering improved steering control under extreme braking and/or slippery conditions
Auto-dimming rearview mirror dims the light to ease headlight reflection in the driver's eyes
Auto-reverse Sun Roof advanced sensing system that automatically engages and reverses the sun roof (to the open position)
Auto-reverse Windows automatically engages and reverses the window (to the down position)
BeltAlert provides an audible and visual warning to alert drivers when their seat belt is unfastened
Brake Assist (included with ESP) ensures 100 percent brake efficiency during panic brake situations
Brake/Park Interlock Prevents an automatic transmission or transaxle from being shifted out of Park until the brake pedal is applied
Child-protection Rear Door Locks disable the rear doors' inside-release handle via a small lever on the door-shut face
Child Seat Anchor System (Lower Anchors and Tethers for CHildren [LATCH]) eases installation of compatible aftermarket child seats
Constant Force Retractors (CFR) distributes force or load exerted on a seat belt, and then gradually releases the seat-belt webbing in a controlled manner
Crumple Zones compress during an accident to absorb energy from an impact, decreasing transfer of that energy to the occupants
Daytime Running Lamps increase visual contrast between the Avenger and its surrounding environment
Electronic Stability Program (ESP) with Traction Control assists the driver in maintaining vehicle directional stability by applying selective braking and throttle control to manage oversteer, understeer and to maintain traction during acceleration on slippery surfaces
Energy-absorbing Steering Column utilizes two hydroformed coaxial tubes that can move relative to each other to allow the column to move forward for enhanced energy-absorption during a crash. The power-adjust steering column employs a calibrated bending element that deforms during column stroke for optimal energy management
Enhanced Accident Response System (EARS) makes it easier for emergency personnel to see and reach occupants in the event of an accident by turning on the interior lighting and unlocking the doors after air-bag deployment. Also shuts off the flow of fuel to the engine
Front-seat-mounted Side Air Bags deploy for enhanced thorax protection during a side impact
Height-adjustable Front Seat Belts allow the driver and front passenger to raise and lower the shoulder belt. Encourages seat-belt usage by offering a more comfortable fit
HomeLink Universal Home Security System Transceiver stores three separate transmitter radio-frequency codes to operate garage-door openers, security gates, security lighting or other radio-controlled devices
Inside Emergency Trunk Release, with a glow-in-the-dark release handle, can be activated in the event of an adult or child being inadvertently trapped inside the trunk
Interior Head-impact Protection includes interior pillars above the belt line and instrument panel including areas around windshield and rear window headers, roof and side-rail structures, as well as shoulder-belt turning loops specifically designed to limit head-impact force
Knee Bolsters in the lower instrument panel and the glove-box door are designed to properly position the occupant, enabling the air bags to work effectively
Remote Keyless Entry locks and unlocks doors, and turns on interior lamps. If the vehicle is equipped with a vehicle-theft security alarm, the remote also arms and disarms that system
Seat-belt Pretensioners immediately remove slack in the seat belts in a collision situation, thereby reducing the forward movement of the occupants' heads and torsos
Security Alarm blows the horn intermittently and flashes the turn signal lamps to deter vandalism and theft. It protects the vehicle from theft by monitoring both the door- and liftgate-ajar switches and the ignition circuit for unauthorized entry
Sentry Key® Engine Immobilizer utilizes an engine key that has an embedded transponder with a preprogrammed security key code to shut the engine off after a few seconds if the correct key is not inserted
Side-occupant Protection System includes side-curtain air bags with roll detection system that deploy in certain rollover situations and side-impact events. Utilizes information from multiple sensors to determine the severity of the impact
Supplemental Side-curtain Air Bags deploy from the headliner to provide two rows of side-impact protection to outboard occupants
Side Guard Door Beams in front and rear doors provide occupant protection during a side impact
Structural Safety Cage protects occupants by managing and controlling energy in the event of an impact
Tire Pressure Monitoring (TPM) System alerts the driver to low pressure tire(s) by a warning light in the instrument cluster. A premium system displays individual tire pressure, available with the Electronic Vehicle Information System
UConnect Hands-free Communication System uses Bluetooth technology to provide voice-activated wireless communication between the occupants' compatible cell phone and the vehicle's onboard receiver. The hands-free option promotes safety, freedom, value and flexibility
Manufacturing and production
Production of the 2008 Dodge Avenger began in the fourth quarter of 2006 at the
Sterling Heights, Michigan Assembly Plant
, alongside the Chrysler Sebring and Chrysler Sebring Convertible. Avenger's 173 horsepower 2.4-liter four-cylinder World Engine was built in Dundee, Mich. The 2.7-liter V-6 engine and the 3.5-liter V-6 engine were built at the Kenosha, Wisconsin Engine Plant, while the 3.6 engine was built in Trenton, Michigan and Saltillo, Mexico.
Sterling Heights, at the time, could vary its production mix between three product models and pilot a fourth. The company invested $278 million at SHAP to overhaul the body shop and improve the paint shop and assembly areas, including installing new tooling and about 620 new welding and material handling robots.
The SHAP Trim, Chassis and Final areas received a new glass-installation cell, windshield decking, chassis-insertion loop system, fluid-fill equipment and roll-test machines. Each of these contributed favorably to the plant's overall productivity and efficiency efforts.
Rumors and the final cars
oh20 reported - correctly and long in advance - the drivetrain choices and stability control package.
RedRiderBob and Michigan_79 stopped the clock on a Chrysler presentation and found the Avenger!
...and they did it six months before the September photos (clearly showing the same car, in silver) arrived.
The last Dodge Avenger was built on February 14, 2014.
Home
•
Engines
•
Reviews
•
Chrysler 1904-2018
•
Upcoming
•
Trucks
•
Cars
Spread the word
via <!--
Tweet
or-->
Facebook
!
We make no guarantees regarding validity or accuracy of information, predictions, or advice - .
Copyright © VerticalScope Inc. All rights reserved. Dodge, Jeep, Chrysler, Ram, and Mopar are trademarks of Fiat Chrysler Automobiles.