426 Hemi: the Mopar elephant engine used by Chrysler, Dodge, and Plymouth
Steve Boelhouwer, who wrote:
Other Hemi pages: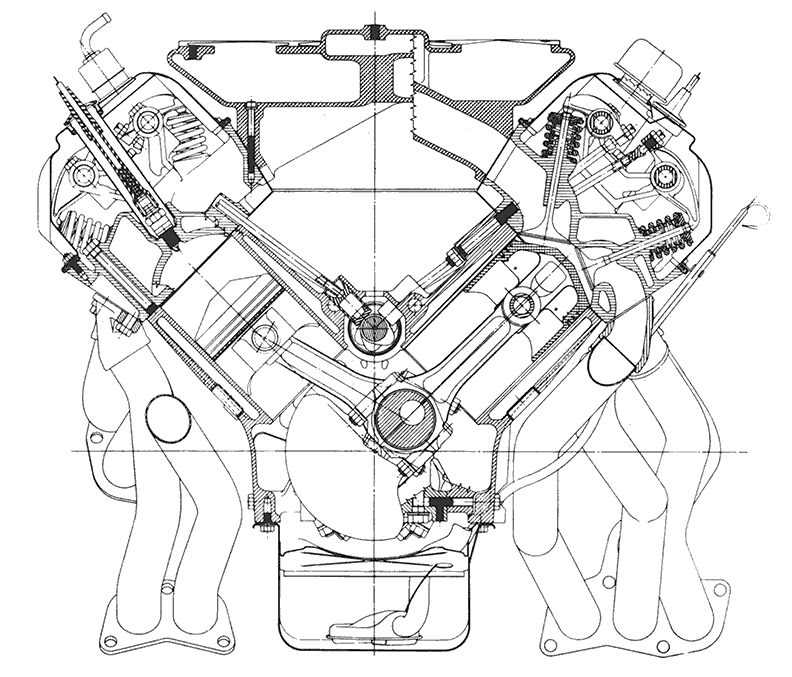 Bill Thomas noted: "There were Hemis in boats as well. Chrysler Marine in Marysville, MI made a lot of them years ago and some are still around. Mayea Boat Works, which builds some of the finest boats in the world (all custom, all wood) had Keith Black design manifolds and other parts for Mayea's Hemi marine engines. Today, they still build a few Hemis with the same components.
"A couple of years ago one of their customers brought his boat back to Mayea to be varnished and repainted. He asked to have the original Mayea Chrysler Hemis replaced with a pair of the new GM 502s. Larry Mayea was surprised, but agreed. When everything was
done, the boat was nine miles an hour slower with the 502s.
"These are not dragboat engines - these Hemis were made as dependable pleasureboat engines."
Tim Romig wrote: I am the current owner of the Al Corda Hemi Challenger, pictured above. This car was built to promote Hemi crate engines for Mopar Performance, and won the 1997 NHRA Championship in the Stock Eliminator class. I purchased the car in 2003 from pro wrestler Bill Goldberg through CIA Cars owner Bob Johnson. I also own a 1972 Plymouth Road Runner that was also sponsored by Mopar Performance in the Stock Eliminator class, which was driven and owned by Dave Hakim, who still works for Mopar Performance.
Home
•
Engines
•
Reviews
•
Chrysler 1904-2018
•
Upcoming
•
Trucks
•
Cars
Spread the word
via <!--
Tweet
or-->
Facebook
!
We make no guarantees regarding validity or accuracy of information, predictions, or advice - .
Copyright © VerticalScope Inc. All rights reserved. Dodge, Jeep, Chrysler, Ram, and Mopar are trademarks of Fiat Chrysler Automobiles.