I had two Acclaims - a '90 and and '92. Both had the 2.5L 4 cylinder/3 speed auto and both were "tanks". Between the two I racked up over 542,000 miles. The '92 we bought new in November of that year. Wanted a minivan (had two kids at the time) but we couldn't afford it. Settled on the Acclaim. I really wanted the Intrepid but it was out of our price range. Overtime I came to appreciate the Acclaim - easy and inexpensive to maintain and fairly decent fuel mileage. I usually observed 24-25 mpg in local driving. Best I ever did with either one was 30.5
After 302,500 miles the '92 decided to spring a heater core leak. I temporarily t'd the heater hoses together (meaning no heat) until I could decide what to do. Ended up finding a '90 Acclaim sitting in the back row of a local dealer. It looked to be in horrible shape - bad tires, peeling paint on the hood and trunk, but something told me to go further. Dealer had it listed for $400, but as soon as I asked about it he dropped the price to $300. I said, if we can get it started let me take it for a test drive. Got it started, running fine, but the CEL was on due to low battery charge and it was trying to charge it up quickly. Told the dealer if he would charge up the battery, I'd give him $100 to hold it and the balance in a week.
Got it home and transferred the good tires from the '92 to the "new" '90. Installed new plugs & wires, changed the coolant and topped off the transmission fluid. Kept that car up until 2 years ago. The '92 was hauled off the the scrap yard - I had neither the time or the money to fix it (labor $$$). The '90 had 110K miles on it when I brought it home and over 240K when I sold it. Over the time I had it I invested about $3500 in two sets of tires, struts, brakes, rear bearings, radiator, water pump, muffler, battery and various other maintenance and repairs. It was a solid car underneath and like the '92 was a tank in the snow. I never got stuck with either one of them.
I've been keeping an eye out for another one, but there's not many late 80's/90's FWD MoPars left road worthy in this area.
Here's a few pics of the '90: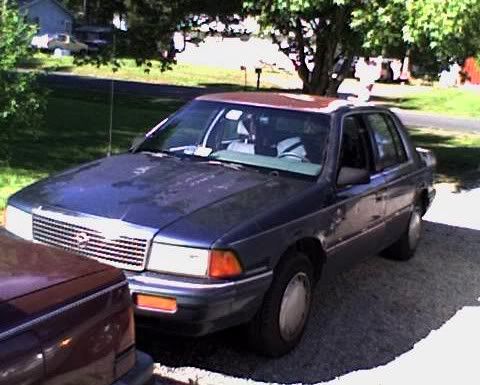 Side by Side with my 2006 Ram 1500 (Yeah it's got a Hemi)