AMC+Chrysler: the 1987, 1988, and 1989 Jeeps
Wrangler, Cherokee, Wagoneer, and Pickup
by
David Zatz
When Chrysler bought AMC in 1987, many were afraid that the venerable AMC plants would be closed and that Jeep would be bent out of recognition. Chrysler seemed to know what they were doing, though, aside from demolishing a parts depot; they invested in AMC's plants, and made no move to weaken Jeep.
Ironically, the redesign that would make Dodge a big player in pickups again was partly a result of Lee Iaccoca's unhappiness with Dodge trucks. He shifted engineering of the new big Ram to the new Jeep/Truck Engineering division, which combined AMC people with the Dodge Truck staff, resulting in the state of the art 1994 Dodge Ram.
The ancient
full-size Jeep pickups (J-10 and J-20, née Gladiator)
were dropped after 1988; likely unprofitable in any case, they both competed with the Dodge pickups and would have required heavy investments to become competitive, or even to stay even with new regulations. In their final year, they posted fuel economy ratings of 11 city, 13 highway, with their 144 horsepower V8; but mainly, their production space was needed for more profitable Jeeps.
Mostly, AMC replaced parts they had bought anyway with Chrysler stock. The troublesome GM 2.8 liter V6 engine was replaced in the XJ series (Wagoneer, Cherokee, Comanche) by an AMC-designed four-liter straight-six engine - based on a very old block, but with improved heads, big ports, and other features that gave it strong power without a serious gas-mileage hit.

The 4.0's Renault-Bendix fuel injection and electronic ignition developed a reputation for not being especially reliable (perhaps partly because of the lack of fault codes to indicate where problems were). Still, as Stephen Spann wrote, "the Renix system allows for more radical modifications than the Chrysler systems (it has a wide range of parameters); and they seem to get better gas mileage." It integrated a knock sensor and could retard timing when needed.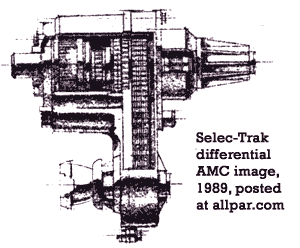 The fine durability of the straight six must have made AMC engineers proud and Chrysler warranty adjusters happy. It was the most powerful engine in the
Jeep Cherokee
's class, with 177 horsepower and 224 lb-ft of torque - beating the big old AMC V8 as well.
The AMC four cylinder pushed out 121 horsepower and 141 pound-feet of torque - far more than the Chrysler 2.5 liter engine that was to appear in 1989, with 100 horsepower and 132 pound-feet of torque.
The component changes started in 1988, increasing reliability; this process continued through to the 1994 model year, the first of the all-Chrysler interiors and components.
The Jeep Cherokee - created under Renault - was sold with two or four doors, rear or four wheel drive, and, if you chose four wheel drive, either of two systems - both shift on the fly. The Cherokee's base engine was the old reliable AMC 2.5 liter four-cylinder with throttle-body fuel injection. The 4.0 was optional. Transmissions were a four or five speed manual, or a
four-speed Borg-Warner automatic
(this was, coincidentally, the first year of
Chrysler's own, less-reliable four-speed automatic
).
The Cherokee was compact, but had 72 cubic feet of cargo space with the rear seat folded down, or room for five passengers. Its boxy design maximized interior space quite effectively, and it was a hot seller for over ten years, even selling decently alongside its replacement. A late-1987 Cherokee Limited series was expanded on the 1988 Cherokees to include both two and four doors. The Limited had gold cast aluminum wheels with P225/70HR15 Eagle GT radials, gold stripes, and other unique graphics, with a high end interior and the base six-cylinder.
The woodgrain-sided
Grand Wagoneer
was a completely different vehicle from the
Wagoneer
, riding on a body and chassis first launched in 1963; it was a full size vehcile, with standard Selec-Trak four wheel drive, and room for six passengers, 74.5 cubic feet of cargo space (with rear seat folded).
The 1988 Grand Wagoneer got a Jensen four-speaker stereo with a Dolby-equipped cassette player, along with an optional sunroof with an air deflector and venting. The base Grand Wagoneer, a slow seller, was dropped to make the Grand Wagoneer more upscale and exclusive.
The six-cylinder was dropped, since only 3% of buyers had chosen it, making the 144-horse AMC 360 V8 standard on 1989 models.
The Wagoneer was essentially a Jeep Cherokee four-door automatic, well-trimmed, with woodgrain sides (that could be left off) and a standard I-6. It had the same towing capacity (5,000 pounds) as the Grand Wagoneer.
Sharing much of the
Cherokee/Wagoneer XJ body
was the
Jeep Comanche
(MJ body), a light pickup with the optional Command-Trac four wheel drive system (base pickups were rear drive). It could shift on the fly from two to four wheel drive, at any speed.
The pickup had a standard six foot bed, with an optional seven foot long bed; towing capacity was raised in 1988 to 1,475 pounds. Early XJ and MJ models (mid-1980s) could have a Peugeot diesel (later a Renault diesel); a metric-ton (2,240 pound) payload package was available on the Comanche until 1990, with heavy duty U-joints and propshaft, Dana 44 rear axle, and heavy duty brakes. The Class 7 racing cars started out as metric-ton MJs.
The base engine on the Comanche was the XJ four cylinder, more powerful than any other compact pickup engine; the six was also available (standard on Eliminator models), making the Comanche quick indeed. The same transmissions were available. Comanche models were Base, Pioneer, Sportruck, Chief, and Laredo. For 1988, the Eliminator was added, with a standard 4-liter six and five-speed manual transmission, rear wheel drive, stripes, a painted grille, fender flares, and air dam, and silver painted bumpers. It was only sold in black, red, and gray metallic.
Despite the Comanche's success in beating competitors in capability and traction, they did not sell well, and ended up with option discount packages that built in savings of up to $1,200, a substantial amount at the time. The Cherokee, in contrast, was both popular and highly profitable, leading to the demise of the Comanche (often blamed on the Dakota).
The big news for 1987 was the launch of the first Jeep Wrangler (or, in Canada, the YJ); AMC took the old CJ and bound up the suspension to prevent rollovers, which were becoming a real problem as more people bought CJs for day-to-day driving. The off-road performance was hurt somewhat and the ride was harsher, but it solved the problem of inexperienced buyers flipping their cars
before
the media discovered the story. Jeep acknowledged that many chassis components were derived from the Cherokee, including the axles, steering system, brakes, and transfer case.
The Wrangler also adopted square headlights, as round headlights were "so mid-1970s." It had standard part-time, shift-on-the-fly four wheel drive, the 2.5 liter four-cylinder or an optional 4.2 liter six (the father of the 4.0), with a five-speed manual transmission. Standard wheels were 15 inch by 7 inch.
Buyers could choose soft or hard tops. The Wrangler Sahara came in 1988, with a khaki soft-top, bumper accessory package, dual outside mirrors, fog lamps, khaki spoker wheels, body striping, and spare tire cover. (The base model was called Base. There was also a Sport Décor and Laredo series; the Laredo was the top of the line).
For 1989, the Wrangler included the world's first light-truck four-wheel antilock brake system, made by Bendix; and a new Wrangler model, the Islander.
In
1976
, just 96,000 Jeeps were made, and the product line was similar - except without the Comanche or Cherokee. In 1988, Chrylser made 280,000 Jeeps. Jeep was in the right place at the right time, as customers ran to bigger and taller vehicles - partly the result of Jeep's trailblazing models of the past, which showed that you could have your ruggedness and comfort, too.
1988 Specs
Engine
MPG (Manual)
MPG (Auto)
Power
Torque
Wrangler
2.5
18/20
117
135
Wrangler
4.2
17/21
16/18
112
210
Comanche RWD

2.5
22/25 (4 speed)
21/24 (5 speed)
18/24
121
141
Comanche 4WD
2.5
20/23
18/23
121
141
Comanche 6
4.0
18/23 (RWD)
17/22 (4WD)
16/21
177
224
Cherokee RWD

2.5
22/26 (4 speed)
21/24 (5 speed)
18/24
121
141
Cherokee 4WD
2.5
22/25 (4 speed)
20/23 (5 speed)
18/23
121
141
Cherokee/Wagoneer
4.0
16/21
177
224
Grand Wagoneer
5.9
11/13
144
280
Jeep Pickups
4.2
16/19
112
210
Jeep Pickups
5.9
11/13
144
280
Note: 1988 fuel economy methods were more lenient and resulted in higher figures than current methods.
For more, see
our trucks/Jeeps page
and
Jeep Wrangler
•
Jeep Cherokee
•
Jeep Wagoneer
•
Comanche Pickup
•
4.0 engine
Trucks/SUVs
Jeep
Ram
Military
Engines
2015-2017
Forums
Home
•
Engines
•
Reviews
•
Chrysler 1904-2018
•
Upcoming
•
Trucks
•
Cars
Spread the word
via <!--
Tweet
or-->
Facebook
!
We make no guarantees regarding validity or accuracy of information, predictions, or advice - .
Copyright © VerticalScope Inc. All rights reserved. Dodge, Jeep, Chrysler, Ram, and Mopar are trademarks of Fiat Chrysler Automobiles.