Discussion Starter
·
#1
·
Sounds funny; but I AM "asking for a clergy friend".
I was a past owner of a 2010 V6 Challenger that had well-documented problems will blowing the front cylinders.
I had One replaced at Chrysler's expense.
Then I had a GWE 2011 SRT8 Hemi, that I did not have a lick of problems with in the 4 years I owned it! She was a customized beauty!
I have a minor clergy friend who has a V8 Challenger, looks like around 2010-12 (I forgot to ask), and in recent years has had all kinds of problems eating away his meager wallet.
He recently had a problem spewing coolant, that a local dealer said was a well-documented" problem of the electric fan disintegrating and blowing shrapnel into the radiator and around. THIS is his current big problem; but he says the car has had others, including body parts.
The local dealer wants around $2K to fix the fan, radiator, etc., just to fix the coolant problem.
They are asking $4K to fix all the problems.

This photo was my GWE SRT8...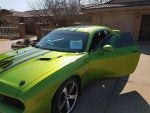 My questions:
1. Is this a well-know problem; and what others with the early V8 new body Challenger?
2. Was this ever a subject of a Chrysler Recall???
Thx