Chrysler's Chelsea Proving Grounds, Wind Tunnel, and Test Labs
The Chrysler Proving Grounds, built on 3,850 acres near Chelsea, Michigan, include some of the smoothest and some of the roughest roads around. At any time, day or night, a current or future vehicle is being put through its paces. Even in 1971, Chrysler Corporation's Chelsea Proving Grounds' test vehicles covered seven million miles.
Then as now, Proving Grounds were operated by the engineering department to find and fix issues of safety, performance, and endurance, before and after launch. Chrysler also uses the Proving Grounds to
show off its new vehicles to dealers, fleet buyers, and the press
, and the Michigan State Police uses the site to compare police vehicles in nationally-published tests.
Chrysler started out doing tests on public roads and at small factory facilities, but by 1938 the staff decided that a proving grounds would be needed, because:
They needed a wide variety of conditions, more than could be easily reproduced on public roads or in small plant facilities
Endurance testing is most effective when conditions are controlled as much as possible
Most of the vehicles being tested have not yet been unveiled, making secrecy important
Using rougher-than-usual roads and paths accelerates failures, reducing the time and fuel needed for testing
The surfaces can be changed as needed and stay under control
After World War II, Chrysler bought 52 parcels of farmland three miles south of Chelsea, around 55 miles west of Detroit; they included swampland, sandy hills, and flat stretches, in a three mile by two mile area. The company put up a As 100-by-600 foot garage and office building in 1952. The Proving Grounds' creation was led by
Allan B. "Tobe" Couture
, the last surviving member of the old Zeder, Skelton, Breer Engineering Company which was instrumental in creating Chrysler Corporation.
By the end of 1953, over 2 million cubic yards of dirt had been moved, and 60,000 cubic yards of concrete poured, for two straight roads and a six-lane, 4.75 mile long oval track; finally, on June 16, 1954, the Proving Grounds was dedicated. The very next day, a
Chrysler New Yorker
completed a record 24-hour endurance run with an average, AAA-certified speed of 118.18 mph for 2,836 miles.
When it opened, according to
Curtis Redgap
,
Chrysler's Chelsea Proving Grounds was unique [and] drew many a snicker from the automotive press. One wag suggested that such a magnificent facility could be rented out since Chrysler wasn't building anything that could get up to the top of the six-lane track. High banked corners, up to 31 degrees (the same as Daytona since that was the extent of the ability of contemporary pavement laying machines), led to turns being made like a spoon. You could let go of the steering wheel at speed, and the car would track itself through the corner. With six lanes in gradients, if you wanted to go faster, you just moved up a lane, until you were at the top.
Improvements continued to be made to support Chrysler's ever-widening interests, new demands, and new testing methods. In 1965, the floor area of the garage was doubled through an addition; in the late 1960s, the company added an impact simulator building, a wind tunnel, and an emissions lab. By 1971, the Proving Grounds had a crash-test site, skid-traction area, wind tunnel, and an emissions certification center
The Proving Grounds staff duplicates the kind of work their cars might be put to: long distance trips, short trips (e.g. to and from schools), etc. Data from fleet operators and dealers verifies that the Proving Grounds methods work effectively.
In 1988-89, Chrysler Corporation added a replica of some of the most challenging portions of the 22-mile Rubicon Trail, to test Jeeps more conveniently and quietly - and perhaps because the nature of the Rubicon Trail itself is constantly changing from natural forces and vehicle wear. Bob Sheaves wrote, "The Rubicon trail was measured with very accurate civil engineering tools; those measurements were duplicated under Craig Love, of vehicle development. As the terrain was duplicated
in concrete
, it matches to this day the conditions of the Rubicon in 1988 and 1989."
The new section included five of the most challenging portions of the Rubicon Trail, including Big and Little Sluice, in a 350-foot test course created with one thousand tons of rocks, 400 tons of boulders, and 500 tons of asphalt.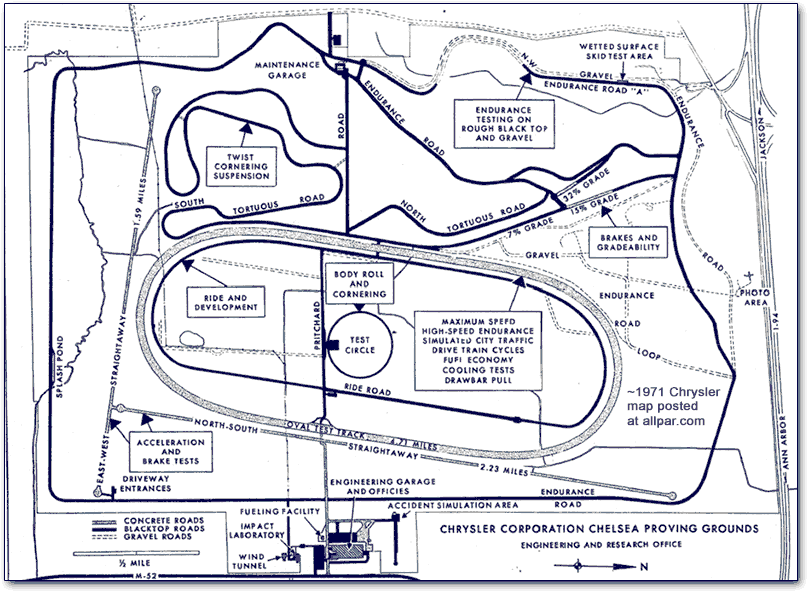 When it opened, the Proving Grounds were staffed by 150 people; by 1971, that number had grown to 515; and in 2005, 685 people were working there. 285 test and service vehicles cover over seven million miles a year, running 200 different tests.
Betty Skelton set the women's closed course speed record on the dedication day (at around 180 mph) and the public got to see both 1954 Plymouth turbine cars.
The roads had been expanded to over 9 miles of concrete pavement, six miles of gravel road, and over 2 miles of rough trail; the oval test track was nearly five miles long, and the two concrete straights remained. Additions for 1971 were over 15 miles of blacktop endurance road, nearly five miles of tortuous blacktop, over 4 miles of smooth and countoured road, a test circle, a 600-foot splash trough, and multiple paved and unpaved steep grades.
The Proving Grounds had also added special facilities for rolling vehicles, running them into barriers, torture-testing tires, and testing for salt-based corrosion.
In 2007, the Proving Grounds had 95 lane-miles of test roads, including the original Oval and straightaways, a skid traction facility, a 14 acre paved vehicle dynamics area with a three-mile oval, a handling and evaluation road, and several accelerated durability roads. The buildings covered around 750,000 sq. ft.
The 1971 report noted four different groups of tests:
Experimental for components, such as engines and brakes, installed in regular cars and put through special tests to discover the soundness of design, materials, and manufacturing
Prototype tests were run on hand-made cars around one year before the start of production
Current models were thoroughly tested before regular production began, as soon as they ran off the line
Competitive cars and trucks were purchased early in the model year and compared with Chrysler equivalents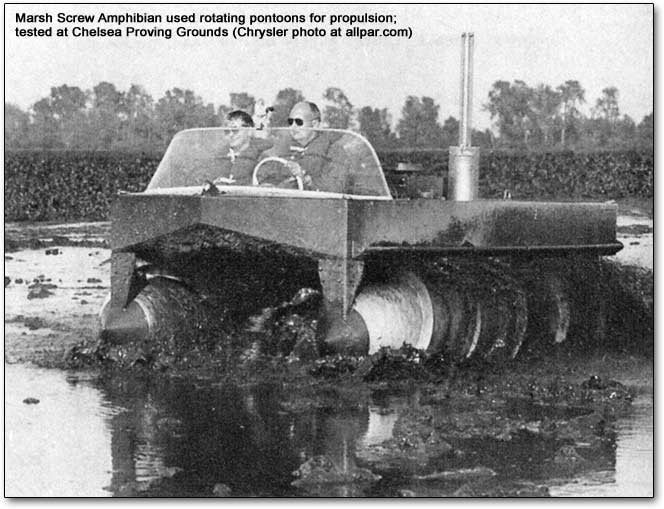 Parts of the Chrysler Chelsea Proving Grounds, circa 1971
The oval test track enclosed an 800 acre area, and was used for evaluations of fuel economy, brakes, tires, steering, axles, and lubrication, and endurance under severe driving conditions. It had two 3757 foot straight sections, a 2563 foot banked curve at each end, and four 3012 foot spiral transitions connecting the straights to the curves. Straight sections were 60 feet wide, fanning out to 64-foot widths at the curves. The curves were banked progressively from 2° at the inside lane to 36° at the outside lane, so that a car could be run at 140 mph in the outside lane without side thrust.
The entrance and exit roads were curved sharply, making vehicles slow down before entering the track. A guard rail at the top of the track, at bumper height, would deflect vehicles downward.
On July 20, 1969, Buddy Baker ran 203 mph in a
stock Dodge Charger Daytona
- the first time anyone had beaten 200 mph on a closed course in a factory-stock car.
The pavement was replaced in 2007, replacing the concrete poured in 1953. Chrysler removed the original concrete, ground it, and used it as the base for the new surface, allowing them to integrate drainage areas underneath the track, eliminating the old drainage ditches, which were a hazard for out-of-control vehicles. The new outer guardrails integrate rubber blocks and are now on the full track, not just the turns. Blacktop maintenance has to be done every few years.
On Feb. 2, 2004, Chelsea Proving Grounds hit the
Guinness Book of World Records
as the world's fastest production pickup truck, posting a two-lap average speed (in both directions) of 154.587 mph over a "flying kilometer."
Other roads

Two straightaways are used for acceleration tests, braking tests, wind-wander tests, and other evaluations. The two roads are at right angles to nullify the effects of wind on test data, or allow a test car to parallel to wind direction. Eighty-foot diameter U-turn pads at the ends were used to test wheels, tires, and steering by driving test vehicles in tight circles, as well as to turn the cars around.
One straightaway was 2.25 miles long, the other 1.5 miles; both were 24 feet wide, with their concrete divided into a pair of 12-foot-wide lanes. Both stayed level except the west end one straightaway, which rose 10 feet.
A 15-1/2 mile long network of blacktop and gravel
roads is
used for endurance runs, with one smooth lane and one
lane with long stretches of bumps, dips,
and ripples. The roads has many curves and turns, with carefully inconsistent elevations. One of the main gravel roads was designed as a typical country road, reproducing washboard surfaces, chuckholes, and sharp turns, while the other was wetted and salted to test body corrosion. In some sections, a single mile of travel equalled five public-highway miles for endurance.
The gravel Chalma Road simulates a real road in Chalma, Mexico; the 1974 Chrysler book noted, "The extremely poor road surface is valuable for accelerated testing of body structure, suspension, tires, and drivetrain components."
The "tortuous road" on the west side had many sharp curves and hairpin turns; with nearly five miles of blacktop, the road had one smooth lane and one with special waves, bumps and washboard surfaces.
The infield had a 4.3 mile road for looking at ride, steering, shake, noise, and vibration. The outer lane had an extra-smooth asphalt surface to cut tire noise, and the inner lane had a mile of crushed-stone surfaced asphalt (half with 5/8 inch crushed stone, half with 3/8 inch); a thousand feet of concrete sine waves; 500 feet of shorter concrete sine waves; and 2.75 miles of asphalt with wavy contours and varying surface roughness. The concrete sine waves were mainly used to test shake in the engine mounts and body.
Other features
Three precisely sloped, paved grades were used to test hill climbing, parking brakes, drivetrain endurance, and carburetors. These were a 1,403-foot 7% grade; a 455-foot 15% grade; and a 32% 266-foot grade. The latter is the same slope as San Francisco's Arguella Boulevard.
A splash trough at the far south end of the grounds was 600 feet long and 10 feet wide, with water between one and eight inches deep; corrosive salts and acids could be added to test body corrosion protection. Driving through tested vehicles' ability to withstand heavy soaking.
A 12-foot wide blacktop road curved into a 1,400 circle, with a 12-inch globe visible in the center; engineers could use it to measure body roll at different speeds and angular accelerations. A flat 200-foot square skid pad was marked off in lines, and was used for testing wheels, tires, and steering.
A skid-traction test area was actually covered with epoxy to simulate ice at all times of year; and water was available to completely flood the area, allowing for visual testing of glare and traction testing of wet freeway. Hydroplaning, reaction to brake soaking, and effectiveness of splash shields could also be measured. Jim Benjaminson wrote,
I took the Southern Michigan law enforcement driving course there. No high speeds, just maneuverability - plus the instructor could lock up one brake on you to put you into a skid at any unknown moment. At the end of the day you had a great appreciation for seat and shoulder belts. Michigan law enforcement people have to maintain 35 mph to pass the course. The best I could do was 33.

They have a portion of the grounds covered with an epoxy that when sprinkled with water is just like good old North Dakota ice. I did really good on that - too good. The instructor put me into a skid, I brought it out. He put me into a second skid, I brought it out. Then when I thought everything was cool, he put me into a third skird and around and around and around we went. He said I was too smug after bringing the car out of the second skid.
Several miles of rough trail roads were created, both paved and unpaved, with 35% and 45% grades; there were cordwood grades, loose dirt, mud, and other conditions used for testing trucks.
Jim Benjaminson wrote,
I've been there several times and driven on various courses. Back in 1985, they had a slalom course set up on Black Lake, complete with timer. Press people could choose their vehicle and see how quickly they could navigate the course. One hot dog who thought he was a driver grabbed something sporty but didn't do so hot - came back complaining the clutch wasn't working properly, etc. I took an

R body Fury police car

on the course and set the record for the day with it.

They had a LeBaron rigged up with 4 wheel steering. That was a blast to drive. A couple of years later the boys had a reverse steering Jeep - turn the steering wheel left, the tires went right, etc. No high speeds there, but a lot of cones got run over that day. First turn was easy as you had it in your mind to turn the opposite way that you wanted to go; by turn two or three, the logic had been forgotten and you were in the rhubarb!
Other vehicle testing
Chrysler Corporation's Defense-Space Group
used or commissioned the Proving Grounds for endurance tests, putting missile carriers, military trucks, cargo carriers, the amphibious, air-droppable Ram-I 1.25 ton 4x4, and the experimental Marsh Screw Amphibians through the tests.
The facilities were also used by Chrysler's various worldwide affiliates and divisions for vehicles including right-hand-drive models, SIMCAs and Rootes Group vehicles, a rear-engine bus for Mexico, the rugged XLV truck (produced in Turkey), and Mitsubishis destined for sale in the US under Chrysler brands.
Proving Grounds labs
While most of the development laboratories were in
Highland Park
, some were at Chelsea.
These included:
a ride-roll rig (to measure the spring rates and body roll)
a weight analysis facility (for front/rear and side-to-side weight distribution)
equipment for measuring and adjusting front wheel alignment
a shake analyzer with electric shakers that simulated and investigate the effect of vibration (at different frequencies) normally created by the road and drive train
two special chassis dynamometers for evaluation of emissions
a carburetor laboratory
and a brake laboratory
By 1971, the wind tunnel could test full-size cars and trucks for engine cooling, air conditioning, wind noises, and aerodynamics, simulating speeds of up to 120 mph for full sized vehicles and 150 mph for 3/8 scale models. A 600 hp electric motor drove a 12.5 foot fan, pushing 670,000 cubic feet of air per minute through the 280-foot-long tunnel, controlling temperature and humidity; overhead heat lamps simulated the sun. This was one of the first wind tunnels owned by an automaker, and it gave Chrysler an edge in racing.
The Vehicle Emissions Laboratory provided tests on experimental exhaust, evaporative, and nitrogen oxide control systems. In 1969, it was expanded from 3,000 to 12,600 square feet; in 1971 it had three chassis dynamometers (eight by 1974), test-temperature soak rooms, and a glass-enclosed control room. Temperature and humidity within the laboratory were closely controlled, and EPA gas mileage figures could be calculated in the same facility.
The mileage accumulator was, in 1974, a 12-car open-air garage with chassis dynonometers, designed for either drivetrain endurance or emissions certification tests. Computer controlled sequences ran the cars at speeds up to 100 mph, with 24-hour operation. Another test area nearby had four carburetor flow stands, to help optimize fuel-flow parameters.
The impact lab had an impact sled and considerable electronic instrumentation; in 1974, the system worked in reverse of a standard accident, slamming the simulated car into reverse hard enough to throw the test-dummy occupants against the vehicle interior while high-speed cameras recorded the event. (Shoulder belts became mandatory in 1973 but were not yet in common use; not until 1974 were the modern "one-piece" belts mandatory.) Then the "car" was slowed down.
Another lab conducted government crash tests, using a bank of lights to aid high-speed photography; the lights were an automotive first.
A Dodge Commercial Traveler held recording instruments during impact tests, taking 15 channels of piezoelectric acceleration recordings and 14 channels of strain gauge recordings, on magnetic tapes and an oscillograph. In a typical barrier-impact test, a 200-foot cable connected the van to the test vehicle; the van accelerated with the vehicle up the test speed, then stopped as the test vehicle struck the barrier. A similar process was used for vehicle-to-stationery-vehicle collisions, but rollovers and vehicle-to-vehicle collisions couldn't be instrumented until radio transmission of data was set up, years later.
In 2013, the commpany added a "Lateral Load Test Track" simulate the suspension stresses a car gets after years of hard driving on twisty roads; Chrysler 200s were run through the new track approximately 40,000 times, to re-create the effect of millions of rigorous miles.
Other locations
Hot-weather testing was conducted in the
Arizona Proving Grounds
.
A cold weather headquarters Sault Sainte Marie, Michigan, provided frigid test temperatures; the test vehicles traveled in a caravan through Michigan's Upper Peninsula, experiencing freezing rain, icy roads, subzero temperatures, and snow drifts.
The company also used public roads. High altitudes were tested on Pikes Peak and Mount Evans; brakes on Jerome Grade in Arizona and Newfound Gap in the Smoky Mountains; air conditioning in the high-temperature and humidity conditions around New Orleans; and engine cooling on the California mountain grades in the vicinity of Apple Valley, Lake Arrowhead, and Huntington Lake.
Support operations
Around 80,000 square feet of the main Proving Grounds building was a garage, with stalls for 62 cars and 16 trucks, a car wash, lube racks, and parts. The garage also had an area for hand-building prototypes of new trucks; experimental parts were attached to handmade bodies, with hand-hammered steel panels for rigorous testing.
Some of the equipment was off-the-shelf, but some was specially designed by Chrysler engineers. This included an acceleration data system where pulses from a fifth wheel and time pulses from an electronic oscillator were recorded on a tape to be fed into computers. A special dyno truck towed by test vehicles could measure towing power and vary its drag on the tow vehicle.
Environmental friendliness
In 2008, a 26-story meteorological tower was built at Chrysler's Chelsea Proving Grounds, so that energy experts could see if high-level winds at the site are suitable for generating electricity. Details are at the
Washtenaw County web site
.
In 2007, Chrysler planted 44 acres of the Proving Grounds with soybeans, which were harvested and sold without profit for use in alternative fuel (
biodiesel
) research. Huehl Acres, a local company, farmed the soybeans.
Arizon Proving Grounds
|
Chrysler's Chelsea Proving Grounds - Official Site
Chrysler Plants
CTC (HQ)
Proving Grounds
All Facilities
Flex
Labs
Techs and Workers
Allpar Home
Home
•
Engines
•
Reviews
•
Chrysler 1904-2018
•
Upcoming
•
Trucks
•
Cars
Spread the word
via <!--
Tweet
or-->
Facebook
!
We make no guarantees regarding validity or accuracy of information, predictions, or advice - .
Copyright © VerticalScope Inc. All rights reserved. Dodge, Jeep, Chrysler, Ram, and Mopar are trademarks of Fiat Chrysler Automobiles.