Chrysler 300 Letter Cars: Racing at Daytona Beach, 1955-1961
by
Burton Bouwkamp
, former Chrysler Director of Product Planning, courtesy of the
Chrysler 300 Club
; from a
Chrysler 300 Club
talk.
My talk will be about the Chrysler 300 at Daytona Beach from 1955 to 1961. I was an observer in 1956, a consultant in 1957, and the man in charge of our Speed Week effort in 1960. My recollections are dimmed somewhat by more than 40 years.
I met Brock Yates in February 1957, when we were both working out of Brewster Shaw's San Juan Motors (a Chrysler dealer) in Daytona Beach. I was there to help Chrysler 300 owners run fast on the beach - a stock Chrysler 300C turned 134.1 MPH.
Brock was there with a supercharged 1957 Plymouth Fury to set a flying mile record in the experimental class. They did - at 159 MPH. Their car (named "Suddenly," I think) was sponsored by
Hot Rod
and was driven by Wally Parks. Brock was only about 26 years old then; I was 33.
Ed Mason (Chief Engineer of Research) and Bob Graham (research engineer) were also at Daytona Beach in 1957 to run an experimental Chrysler 300. I arranged for their driver; it was first Buck Baker, but when he "stood us up" on the day of the run, I hired Vicky Woods. She didn't even finish the first North-South run because the clutch disk failed because of a centrifugal force failure. Warner Clutch said the clutch had to have turned 10,000 RPM to have failed that way. We never blamed Vicky.
Ed and Bob's expectation was a two way average of 150 MPH - but that would still have been 9 MPH short of "Suddenly."
After graduating from
Chrysler Institute
with a Masters Degree in Automotive Engineering in 1951, my first job assignment was as the coordinating engineer on the
Dodge 241 cubic inch Red Ram hemi engine
.
My job was to schedule the prototype engine build and the test and development activities and maintain the records on about 25 prototype engines. For example, if we changed the metallurgy of the tappet face, which we did several times, my job was to see that all the prototype engines were updated. After a year and a half, the Dodge V8 went into production, and my assignment was over.
I had an urge to see how cars were built, so I asked management to send me to a manufacturing plant. I ended up at the new
DeSoto Warren Avenue Plant
, helping this new engine plant build the 276 cubic inch DeSoto V8 Hemi engine, called the Firedome.
DeSoto manufacturing personnel had not built an engine before, and neither had I. It was the "blind leading the blind," but I learned a lot about how to machine and assemble a good engine. I often think that I am probably one of the people that made DeSoto what it is today.
In 1954, the Resident Motor Engineering job opened up at the
Chrysler Division Jefferson Plant
, and Bob Rodger offered me the position. I jumped at the chance to work with the "pros" at Jefferson in building the 331 Firepower engine. The C300 was already in the pipeline, so my first involvement with the Chrysler 300 was as the Chrysler Division technical contact to Carl Keikhaefer, who had decided to race Chrysler 300s in the AAA (later called USAC) and NASCAR oval racing circuits. Carl was a rich and capable tyrant and his drivers and cars dominated both circuits. Chrysler's PR contact with Carl was Frank Hedge. One time Frank told me that he thought my initials were "golly dear" because he said Carl always referred to me as "that God Damn Bouwkamp."
I could tell you a lot of stories about Carl, but one story says it all. Carl had been lobbying (bullying would be more descriptive) USAC to let him use a manual transmission (
á la
NASCAR) on the track, even though it was not a regular production option. The automatic transmission was presenting some durability problems on oval racing, probably due to transmission temperature, because the torque converter and pumps absorbed more than 25 hp at racing speeds and acceleration off the turns. NASCAR finally said "Okay," which Carl had anticipated because he already had the transmissions, clutches, linkage, etc. in Wisconsin for conversion of his NASCAR race cars.
Carl got the okay while his Twin Beech was at Detroit City Airport He called me and said he wanted Gene Carr (my assistant) in Oshkosh that night to help them convert the race cars to manual transmissions. He said that Gene could ride back to Wisconsin on their company plane and they would buy Gene whatever clothing and toilet articles he needed in Oshkosh. Gene agreed to go with about five minutes notice. Carl then called his pilot at City Airport to tell him to bring Gene.
We found out later that the pilot told Carl that he could not bring Gene on this trip because they had taken all the seats out of the plane to accomodate the parts. Carl's response is classic Keikhaefer: "Send the co-pilot back on a bus because I want Gene Carr in Oshkosh tonight." The rest of the story is that both Gene and the co-pilot ended up in Oshkosh that night because the pilot was able to borrow a Twin-Beech seat from General Motors Air Transportation, which at that time was based at City Airport.
Carl's decision to make Chrysler 300s into rolling billboards for Mercury Outboard Motors was tremendously successful on the race track. He put lots of money and energy into the project and he demanded perfection of his drivers and mechanics. He instituted many arbitrary rules including that drivers couldn't sleep with their wives or girlfriends the night before a race.
In 1955 and 1956, he won 62 out of 101 NASCAR races that he entered, 51 with a Chrysler and 11 with a Dodge. He was even more successful in AAA (later named USAC) circuits. Chrysler 300 drivers won the NASCAR and USAC chamnpionships in 1955 and 1956. Then Carl abruptly quit stock car racing! I don't know exactly why, but knowing Carl's personality, I think it was because he was mad at someone. Some say Carl quit because he sensed the resentment of the race fans to his success, and was concerned that it might affect his outboard motor business.
We are indebted to Carl Kiekhaefer. I doubt that you could hire talent as cabable and dedicated. Carl started car racing in the early '50s in the Mexican Road Race using specially prepared Chrysler Saratogas. That evolved to oval racing of Chrysler 300s in 1955 and 1956. Carl Keikhaefer contributed significantly to the Chrysler 300's performance image.
(Photo not available.)
This is a picture of Carl with the trophies that his cars won in 1956. The car in the foreground is the 300B that Tim Flock drove to win the Flying Mile at 139.37 mph.
The car in the background is an Imperial Ghia limousine, which Carl thought he wanted to take his wife and his mother-in-law for Sunday drives. I arranged for him to get the car; it took some inside help because the limousines were built in Italy and were in short supply. After a few weeks, Carl called me and told me to come and get the Ghia because it did not have enough driver's leg room. He hadn't realized that the front seat travel of limousines was restricted because of the power operated window between the passenger and drivers compartments. Carl never paid for the car but when he returned it that was no longer an issue.
Here are the top speeds for the 300s that competed in the Flying Mile in 1955 through 1961, which was the last year of the Beach Trials. We were "top dog" in four of the seven years and second overall in 1957 - but in 1957 we were first in Class 7 (over 350 cubic inches). On this chart, red is first and blue is second.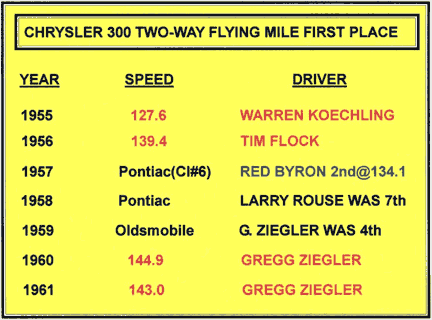 There was also a Mile Acceleration competition each year, but that did not get as much publicity as the Flying Mile so my information is sketchy. In seven years we finished first three times and second twice. We should have run 90 mph in 1960 but the best we did was win Class 7 with Brewster Shaw at 88.2 mph. Five more
300F
s were right behind Brewster.
Tom McCahill wrote in
Mechanics Illustrated
that the 300Fs did not run quicker because they ran with low rear tire pressure. I did advocate 20 psi rear tire pressure to get a bigger tire footprint for the driving wheels to launch the car. I knew that how rapidly the car accelerated in the first 500 ft was far more important than top speed in measuring elapsed time over one mile. The drivers were reluctant to accept my recommendation because it was an untested theory, so Warren Koechling and I tested it by comparing acceleration times over 1/8 th mile with 60, 40, and 20 psi in the rear tires. Our test was interupted by the police. With the aid of the clip board and stop watch - and a lot of technical conversation - we convinced the officer that we were dedicated competitors and were not nuts and had not been drinking. He gave us a warning and let us go. So the theory was still untested.
Gregg Ziegler lowered his rear tire pressure to 20 psi for the run but I don't know who else, if anyone, did. Greg said the car was hard to handle and that he almost went into the ocean.
Rear tire pressure might have cost us 2 mph, but even if we recorded 90 mph, it would not have beat the 93.8 mph average turned in by Bob Pemberton in an Air Lift sponsored Class 6 Pontiac. This remarkable run is one of the mysteries of the Daytona Beach Trials because:
The next fastest Pontiac recorded 84.5 mph - 9 mph slower than Pemberton.
The next year (1961) Pemberton turned 87.8 mph in a Pontiac - 6 mph slower than 1960.
Let's look at the 2-way Flying Mile results a year at a time. Chrysler 300s placed first, second and third in 1955 with Warren Koechling, an Eastern Airlines pilot, fastest at 127.6 mph which raised the record by 10 mph.
Brewster Shaw, owner of San Juan Motors, our Chrysler-Plymouth dealer in Daytona Beach, set the old record in a New Yorker and was second in 1955. Vicki Wood was third and was a hired driver. These were automatic transmission cars, which is significant because a manual transmission car is probably more than 5 mph faster.
In 1956, Bob Rodger sent me to Daytona as an observer, with no official duties except to help the Chrysler nameplate, with automotive writers for example, and help Chrysler drivers, like Brewster Shaw of San Juan Motors, in any way that I could, and to liaison with Carl Kiekhaefer. We knew that Carl was going to run cars in the Sunday oval race but we did not know that he was preparing a car for the beach trials to be driven by Tim Flock the NASCAR Grand National Champion.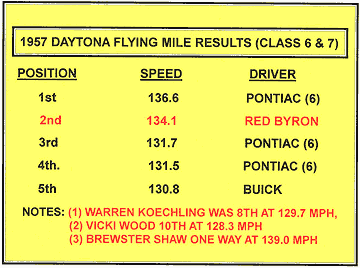 These are the results for the 1956 Flying Mile. Tim Flock raised the record by 12 mph! The car had a manual transmission and was prepared to perfection by the Keikhaefer organization. Carl had the car painted with the Mercury Outboard logo because he knew that he was going to win, and set a new record doing it. He wanted to show up the factory effort - and he did!
I can't explain Warren's and Brewster's speeds of 10 and 12 mph slower, because that's a difference of at least 100 hp at the rear wheels. I am tempted to say that they were standard production automatic transmission 300Bs, but two automotive journalists road tested Brewster's car and reported that it had a manual transmission. This remains one of Daytona's mysteries.
Vickie Wood drove the Tim Flock car to a new ladies' speed record of 136.1 mph.
After Tim Flock's two-way run of 139.4 mph, Gene Carr and I went over to the Armory to observe the inspection. NASCAR specified removal of the intake manifold and one cylinder head so that they could measure carburetor and port sizes, bore, stroke, valve sizes, piston head height and cylinder head combustion chamber volume to assure that the vehicle was within specifications. Without this inspection, the results were not official. We waited - and waited - and waited but Tim Flock and the car did not show. NASCAR gave us a time deadline to produce the car at the Armory or else so Gene and I went over to the Keikhaefer rented facility and there was the 300B.
Carl said he wasn't interested in the inspection because he said that he proved what he wanted to prove. After some intense discussion, Carl said, "take the car." We did and we made the deadline at the Armory - but we did not have any mechanics to disassemble the engine. Gene and I were capable of doing it but we didn't have any tools. We borrowed tools from mechanics working next to us but it was obvious that that wasn't going to work because we needed the same tools and were interfering with their work. So I called Carl and told him that we needed his help. He went through his standard dissertation that his efforts were not appreciated by Chrysler - but within a ten minutes Carl came marching in through the open Armory garage door carrying a tool box in each arm and with two mechanics trotting behind him. We were the last ones out of the Armory that evening but the engine met all specifications and we had the official record.
I was at San Juan Motors in 1957 to help 300C owners run on the beach. Overall top speed honors went to John Zink in a Class 6 (305 to 350 cubic inches) Pontiac. Two 300Cs stood out in these trials because we built two cars with the limited production 390 hp package for Daytona. These cars had manual transmissions, manual steering, mechanical lifters, more aggressive camshaft, and limited slip rear axles. One car went to Brewster Shaw and one went to Red Byron (a semi-retired stock car racer).
We sent the 390 hp cars to Daytona but we were worried whether NASCAR Chief Inspector Norris Friehl would let us run these cars because they were limited (two or three at that time) production. NASCAR approved the 390 hp optional package because it was a publicized 300C option, even if we had not built very many. Brewster Shaw and Red Byron ran identical speeds (139.0 mph) downwind, but Brewster did not make the upwind run. I can't remember - and I have not been able to find out - why not. Brewster did come back to win the mile acceleration trial at an average speed of 86.9 mph.
The automatic transmission equipped 300Cs driven by Warren Koechling and Vicky Wood were about 5 mph slower than the manual transmission cars and finished 8th and 10th overall.
To hype the 300Cs performance reputation, we made and publicized a high speed run of the 390 hp package at the Proving Ground in November 1956. I remember that we were disappointed in the initial results so we removed the exhaust system, air cleaner, and then used clay, tape, and cardboard to reduce aerodynamic drag and ran again.
With these changes we recorded 145.7 mph for one lap. I don't remember the first speed but it was below 140 mph. We publicized this high speed run through our Public Relations agency (Ross Roy).
Here is Bob Rodger congratulating the driver. Another publicity event was planned for Daytona with the run of a 300C in the flying mile Experimental Class, using a fuel injected engine of over 400hp prepared by our Research Office. This project was derailed by two unexpected events:
We hired Buck Baker, a prominent NASCAR driver, to drive the car. We agreed to pay him $1,000. On the day before the event, Buck signed to drive for Chevrolet and was a "no show." While the car was waiting in line to make its official run, we hired Vicky Wood to drive it.
During the first run the clutch disc exploded. Later examination showed the failure to be due to centrifugal forces caused by the high rotational speed of the clutch disk. We never blamed this failure on Vicky; the clutch disk would have failed no matter who was in the driver's seat.
Had the clutch held together we would have exceeded 150 mph, but it is unlikely that we would have topped Hot Rod Magazine's 1960 Plymouth Savoy with a fuel injected and modified Chrysler Hemi engine. That car, driven by their editor, Wally Parks, recorded 159.9 mph.
1958 was an all-Pontiac show. They swept the first six places. This was the last year for the 392 Hemi engine. 300Ds came in 7th and 8th about 10 mph slower than the first place car. These 300Ds were probably standard production automatic transmission models. We were not involved because of an industry agreement in 1957, commonly called "the AMA agreement," not to promote or support vehicle performance or racing.
The 1959 results as reported by the Daytona Beach Morning Journal were a little better for Chrysler, but only because the top five Pontiacs were disqualified. These runs were made on Feb 15th and reported on the 16th. A technical problem arose at the post race inspection and five Pontiac drivers (including former 300E drivers Larry Rouse and Vicky Wood) were disqualified for verbal abuse of Norris Friehl, NASCAR's Chief Inspector. Bill France confirmed their disqualification. So - an Oldsmobile was first, followed by two Pontiacs. Fourth place went to Gregg Ziegler in a 300E at 124.4 mph. Two more 300Es were 6th and 7th. These were undoubtedly standard production automatic transmission models.
There is confusion about the 1959 Flying Mile results because on Feb 28th NASCAR reported these results for runs made on February 23rd. The results are different and the date is eight days later. Since these Pontiac drivers were disqualified on the 15th, I wonder if NASCAR reran the event?
These three years set the stage for 1960. In the spring of 1960 my boss Bob Rodger assigned to me the job of planning, preparing, and executing a winning 1960 Daytona Beach effort. We had nearly a year to get ready for next February.
We planned a 400 hp model with a husky four speed manual transmission from Pont -A- Mausson, a French manufacturer who had designed it for the Chrysler V-8 powered
Facel Vega sports car
.
The transmission did not fit under our floor pan, so we had to cut a hole, add a floor reinforcement, and then install a unique floor pan cover and reinforcement made by prototype methods in our engineering garage at the
Chrysler Jefferson Plant
after the car was built.
Our engine people found that we could increase horsepower by tuning the long branch ram manifolds for power instead of mid-range torque, which took reducing the ram tubes from about 30" to 15" (removing 15" of an internal web between ports). By doing this we ended up with a 15" plenum chamber and a 15" ram manifold, which increased power at 5000 rpm. The engine wouldn't run this fast with hydraulic tappets, so we built the engines with mechanical tappets, which allowed us to go to a more aggressive camshaft profile. We got more power but to get it we sacrificed low speed torque and idle smoothness. We also raised compression ratio to 10 to 1, from 9.25 to 1.
For the 390 hp engine, we designed and built exhaust headers and a low back pressure exhaust system to further increase power. We also blocked carburetor heat to simplify the exhaust header design and to lower the carburetor temperature. These cars would not have run very well on a cold winter day in Bemidgi, Minnesota.
We had the full cooperation of our Jefferson Plant engine building personnel and they built the engines with upper limit clearances for bearings and pistons to minimize friction.
Perfect Circle - our piston ring supplier - provided low tension piston rings and Goodyear supplied low power absorbing Bluestreak tires by reducing tread thickness and stiffer sidewalls. This was before radial tires. A bias ply tire at normal inflation pressures absorbed 15 hp at 100 mph. Bluestreak tires absorbed about 10 hp. The special tires for our Daytona cars were better than that.
We prepared the cars in our Engineering Garage. We built five cars for Daytona plus an Engineering prototype car.
I had to decide who was going to buy and drive these cars. Brewster Shaw, the Chrysler dealer in Daytona, would get one or two. Co Monroe of Monroe-Zeder Motors in Miami would probably want one and have his friend Warren Koechling drive it. To find the other owners we scanned the Chrysler 300 entries from previous years and I called them to see if they would like to buy and drive a competitive car at Daytona. Gregg Zeigler says that he will never forget that phone call. To him, it was like winning the lottery.
After completing the cars, we tested and broke in the cars with about 500 miles of high speed driving. A lot of it was at 100 mph, but we did not run them at top speed. Some drivers picked their cars up at the factory and Gene Carr and Carl Pruehs drove two of the 300Fs to Daytona.
At Daytona we worked out of San Juan Motors. The cars were ready to run so we did not have a lot to do. We fixed any problems noted on the drive to Daytona and we changed the spark plugs and inflated the tires to 60 psi.
We swept the first seven places in Class 7 and the first six places overall. The front page headline on the February 8, 1960 Daytona Beach Morning Journal said "CLASS 7 BEACH RECORD FALLS."
These are the Flying Mile results. Notice in the third column that I have also shown the downwind/upwind speed differentials. Gregg was fastest at 143.9 mph and Brewster was second, 1 1/2 mph slower. Bud Fauble finished third but was not in my overall plan. He was the Sales Manager for our dealer in Chambersburg, PA and drove to Florida with three friends to drive his
Chrysler 300F
on the beach at Daytona and then go on to Miami and Cuba (before Castro) for some fun in the sun.
Bud wanted us to prepare his car for the beach run. I tried to disuade him because I knew he would not average 130 mph and I was afraid it would tarnish our effort. Bud was determined to run so I told him he could drive our engineering prototype car if he would promise to withdraw if he won. You withdrew by not showing up at the Armory for inspection after the run. I stipulated these conditions because if Bud won it would not have been fair to the drivers and owners that bought their cars. Bud agreed.
Fourth place went to Danny Eames, a professional driver, but I can't remember whether he drove a second car for Brewster Shaw or Dick Dice's car from Birmingham, AL. Fifth place went to Warren Koechling who drove for Monroe-Zeder, a Chrysler dealer in Miami.
Larry Rouse was there every year - sometimes in a Pontiac but this time in a 300F.
R. C. Wooten drove a standard 375 hp automatic transmission 300F. Notice his south to north speed difference. Wooten went nearly as fast into the wind as he went down wind. It tells us that air resistance was not what was limiting his top speed. It's probable that with the standard 3.31 axle ratio he was experiencing "hydraulic tappet pumpup" which acts like a governor and limits engine top speed.
Danny Eames' south/north speed difference of 11.9 mph is remarkable. I can't explain this.
Gregg's car was inspected at the Armory and passed. Gregg said that during the inspection they discovered that one cylinder bank had Champion spark plugs and the other had Autolite. Either is legal but it's unusual to have two types of plugs in one motor. Gregg said that this happened because Autolite and Champion wanted to have their plugs in the fastest car. Gregg said he installed new plugs in his engine nearly every day and he and Carl Pruehs (the engineering garage head from my office) apparently selected different brand plugs when they were working on opposite sides of Gregg's car.
I was not at Daytona Beach in 1961 which was the last year that Speed Trials were held on the beach. In 1960, the Corporation removed Manufacturing from the carline divisions and centralized it into CATAG (Car and Truck Assembly Group). The car divisions became responsible for only merchandizing, selling, and servicing the product, and a new centralized Product Planning function was formed at
Highland Park
.
I had to choose whether to go to Product Planning or Manufacturing; when Bob Rodger asked me what I wanted to do, I said "I will go with you." He was slated to be Chief Engineer of Chrysler and Imperial in the centralized Product Planning office, so I became manager of Chrysler Product Planning at Highland Park with the responsibility of determining the Product Plan for the 1963 Chrysler (a reskin) and the 1965 Chrysler (an all new car).
In 1968 I became Director of Product Planning for all carlines and Bob Rodger worked for me. I tried to be as good as boss as Bob Rodger was to me. In 1971 Bob Rodger died of leukemia - a great loss to the Corporation and to me.
We used the same performance package in 1961, except that a corporate three speed manual transmission replaced the four speed Pont-a-Mousson transmission. Pont-a-Mousson wanted to sell hundreds of transmissions to Chrysler each year, not just a handful.
Gregg Ziegler finished first at 143 mph; 300Gs would have finished 1, 2, 3 and 4, but windshield moldings blew off three of the cars and they were disqualified. You have to finish the run with all the parts. The 5th and 6th place cars were probably standard production automatic transmission 300Gs.
The Daytona Beach Speed Trials were fun and helped Chrysler establish the performance reputation for the cars that you own. We let the 300 image tarnish in 1958 and 1959 but we polished it bright and sparkling in 1960 and 1961.
Doing the research for this was therapeutic for me. I thoroughly enjoyed reading the 1955 - 1961 newspapers now on microfilm at the Daytona Beach Public Library. It stimulated my mind into remembering things that I had forgotten. Merle Wolfer, Gregg Zeigler, and Bob Graham were also helpful in providing information.
Home
•
Engines
•
Reviews
•
Chrysler 1904-2018
•
Upcoming
•
Trucks
•
Cars
Spread the word
via <!--
Tweet
or-->
Facebook
!
We make no guarantees regarding validity or accuracy of information, predictions, or advice - .
Copyright © VerticalScope Inc. All rights reserved. Dodge, Jeep, Chrysler, Ram, and Mopar are trademarks of Fiat Chrysler Automobiles.