Chrysler Corporation 1962: the right cars for the wrong time
The 1962 Chrysler products fiasco and Flite Wing - What might have been
by John Samsen
After Virgil Exner had returned (after his heart attack) and Bill Schmidt had left, we Desoto designers began work on the all-new models for 1962. I was unhappy with the "canted" headlamp styling on the
1961 Desotos [and Chryslers],
and was hoping to do better on the new designs.
Exner showed us his latest concept car, named Flite Wing. I liked this design better than those Exner had been doing previously. Ex told us to incorporate the basic theme of this design into the new Desoto. The design had a flat "wing" shape that flowed from over the headlamps back into the front door, and a somewhat similar shape in the rear quarters. (This was the theme he had previously used on the 1960 Valiant).
I did some sketches and a more finished rendering of my concept, and some of these ideas were incorporated in the full size clay. The designs for all the Chrysler products were about finished and presented in the show room with large black-paper renderings for company execs; then we were told to stop work. Chrysler's president, William Newberg, had overheard a GM executive talking about a smaller Chevrolet for 1962, and had demanded that a downsized Plymouth and Dodge be created.
I was assigned to John Schwartz' Dodge Studio, and we worked in shifts around the clock to produce a smaller Dodge clay. We tried to incorporate the Flite Wing theme, but the shortened design would not look as good as the full size one had. We had to use flat side glass instead of the curved glass that had been designed into the full size proposals (that were now scrapped). The new designs were finished in record time, and, as is well known, were not received enthusiastically by the car buyers. Chevrolet and Ford presented full-size models for 1962, as well as mid-size ones.
It was decided to end the Desoto line, and I was then assigned to the Valiant-Lancer a/k/a Dart Studio for a short time, working on 1963 models, and then to the Plymouth Studio, where we worked on an extensive facelift for the 1963 Plymouth, trying to make the cars look longer and wider. Exner was still directing the design department at that time. I clearly remember Exner gathering the studio designers together and telling us that the cars of the future would be wedge-shaped, with high, short rear decks, and exposed wheels. I think he would have been pleased to see how cars had evolved by the 1990s and into the new millenium.
In 1961, Exner was suddenly removed from the Styling department. I was told his car was stopped at the security gates, and he was not allowed into the building. His personal possessions were brought down to him. We heard that he had been fired; years later, I learned that he had been given a room in another building, and had several years left on his contract. We designers were unhappy that he had been the scapegoat for Newberg's folly, as we understood it.
Chrysler Corporation: 1962
by David Zatz (updated/corrected by Daniel Stern)
Modern readers may be surprised to know that the company had a large business outside the automotive industry. The defense and space business, including M-60 tanks and Saturn rockets, racked up $252 million in revenue, a 39% increase over 1961. The Diversified Products Group included
Airtemp
,
marine products
, chemicals, and Amplex powdered metals, and racked up a 45% sales increase.
1962 saw the birth of the pentastar logo, spurred by
Lynn A. Townsend
[
the full Pentastar story
]; it first appeared in model-year 1963 cars, though early-production vehicles didn't have it unless installed later. The big advance, though - overlooked in the furor over 1962's styling changes - was the move to the next phase in unit-body construction, namely using a front subframe that was bolted to the body and welded to the cowl; this saved 350 lb, but was much stiffer than the past designs. Using body jigs for welding raised chassis stiffness by an amazing 30%; the new design and construction method together made the Chrysler bodies far better in cornering, ride, and durability.
Defense and Space
Chrysler Corporation was undeniably the most patriotic of the Big Three during World War II, and they maintained their defense and space capabilities until forced to divest them in the Iaccoca years. In 1962, the company made
military vehicles including tanks
and
space components including booster rockets
, and helped with space research. Chrysler produced M-60 combat tanks in Warren, and
Airtemp
made fire control systems.
Production of 21 Saturn S-1 boosters began in New Orleans under a $223 million contract signed in July, with the first delivery scheduled for 1964. The Saturn rockets would become well known for their reliability. They would be built in a huge plant in Michoud, since the massive Saturn rockets would not fit in Warren.
The
M-60A1 combat tanks
started production as well, under a contract which stretched into 1964. Fire control equipment for the tanks was made by
Airtemp
. Other projects included:
The 25-ton Mobile Floating Assault Bridge Ferry, which formed a bridge or ferry as needed
Marsh Amphibian, a limited warfare vehicle designed for the Navy that could move over snow, swamps, or marshes, running on two pontoons with spiral blades
XM-410E1, a prototype successor to the XM-410 truck
Light Armored Car, a mobile 7.5 ton vehicle
Various Dodge military trucks
Research by the Missile Division included programs for tactical and intercontinental missles, reentry vehicles for the Air Force, a Navy sea launch program, and electro-optical systems.
Other divisions
The
Marine and Industrial Products
division had a sales increase of 82% over 1961, resulting in a large backlog; the annual report even showed their "Mobile Lounge," made for at least one airport.
Airtemp
hit record sales with aggressive sale and marketing efforts and a new, greatly improved reciprocating chiller. Metallurgy pioneer Amplex and the Chemical Division also increased sales.
1962 Dodge trucks
A bewildering variety of Dodge trucks was made in 1962 - especially bewildering because total production of the
141 separate models
from half a ton to five ton capacity, all made in Warren, Michigan, totaled a mere
66,214 vehicles.
There were 59,118 U.S. sales, with the rest going mainly to Canada. Some trucks were also made outside the United States by various affiliates, but they were very limited in number.
The 1961 trucks were still fairly new, and their appearance would remain essentially the same until 1971, except for a one-piece steel grille on normal-cab models (chrome plated on the Custom trim line). D models (e.g. D100) was rear wheel drive, while W models (e.g. W300) were four wheel drive; the numbers indicated the capacity in a relative sense. Pickups went with Sweptline and Utiline styles; utility bodies were dubbed Tradesman. Town Panel was the name for panel trucks; Town Wagons would be familiar to Wagoneer buyers, though far less luxurious. Transmissions were a selective sliding gear three-speed manual with a column or floor shift, and an optional three-speed automatic. Transfer cases had two speeds.
Pricing started at a mere $1,459 for a D100 chassis-cowl body, and at $1,800 or so for pickups, and went considerably higher. Some options were an oil bath air cleaner, power brakes and steering, 40-amp alternator, four-speed manual transmission, and three-ton hydraulic jack.
Power Wagons were still the military style, though moving to body-colored fenders in 1962; they kept the old 250 cubic inch L-head engines pumping out 125 hp (gross) at 3,600 horsepower; they did have 216 lb-ft of torque at a low 1,600 rpm, matching the new 225 cube slant six engines. The 200 horsepower version of the 318, with 286 lb-ft of torque, was optional on the Power Wagons and most other trucks (W300 models got a heavier duty 318 with 2 more horsepower and 2 more pound-feet of torque).
New for 1962 were a wiring protection package, a wide, easy-to-read speedometer (on conventional cabs), better engine bay sealing, and the 5/50 warranty, as of August; on some heavy-duty models, the warranty was extended to five years and 100,000 miles. Also coming out midyear was a medium-duty six-cylinder
Perkins diesel engine
, which found 1,000 takers - whether on the LCF tractors of pickups is unknown but it was more likely just the big commercial trucks, not pickups.
The D100 Town Panel and Town Wagon got multispeed electric windshield wipers, replacing vacuum-powered wipers. A new half-ton Forward Control chassis and a four-door, six-passenger crew-cab truck were added. On four wheel drive vehicles, closed crankcase ventilation was made standard.
On most trucks, a 10% heavier duty LoadFlite automatic transmission was available; and the company moved to ventilated points and a new condensor, which together doubled point life. Dodge (and of course Fargo) also added heavy duty starters to all but the Power Wagon. A heavy duty 225 cubic inch slant six engine was available midyear on most models.
Conventional cabs had a tough, each to clean vinyl seat as standard equipment. Generally, trucks were very Spartan, especially by later standards, with features that were standard on economy cars coming in as extra cost options on lower ranges.
1962 Dodge cars
For cars, there were three Dodge bodies, one borrowed from Chrysler and one from Plymouth: the mid-sized Dart, the full-sized Custom 880 introduced midyear, and the small Lancer (Valiant). The Dart had a totally new body shell, ten inches shorter than in 1961; around 95,000 were sold, over half with six cylinder engines. Dart models started at the plain Dart, moved up in trim to the 330 and 440, and ended with the Polara 500, the top of the line, with a standard 361 cubic inch V8 engine. Backup lights were optional until you reached the 440 model, where they were standard; trim changed as you moved up the line, with the 440 having optional Sportsweep trim resembling the Polara. (The numbers were presumably chosen for how they sounded; there was no 330 or 500 cubic inch engine, and the 440 was still in the future.) On the Dart 440 wagon, a power tailgate window was standard.
| | | | |
| --- | --- | --- | --- |
| | Wheelbase | Length | Wagon Length |
| Lancer | 106.5 | 188.8 | |
| Dart/Polara | 116 | 202 | 210 |
| Custom 880 | 122 | 213.5 | 215 |
Dart styling was a bit odd, with "reverse tailfins" and headlights which one writer commented looked as though flashlights had been added to the fenders, with other lights mounted more traditionally in the grille. Buying these must have taken some courage.
The Polara was the Dart's top trim level, with no Dart badging at all, and featuring bucket seats, carpet, dual exhaust, padded instrument panel, standard driver's-side exterior mirror, and two-tone exterior trim. A sedan, cupe, and convertible were all sold; the sedan and coupe were both hardtops.
The Custom 880, brought out in January 1962 to bolster Dodge sales, was essentially a
Chrysler Newport
body with a Dodge front clip; only 16,000 were sold, though the body styles included a four door sedan and hardtop, six and nine passenger wagons, two door hardtop, and convertible. Then again, they also had Chrysler sales of the same body styles, which must have lowered the overall cost.
| | |
| --- | --- |
| | At the bottom of the Dodge line, and in its final year, was the Lancer, a Valiant clone available only with a slant six - which explains why overall Dodge sales included so many sixes, when V8s were more popular on the Dart and standard on Polara and Custom 880. The base Lancer was the 170, with a 170 slant six; the Lancer 770 was a higher trim level, and Lancer GT had a 225 slant six. The Lancer GT was only sold as a two-door hardtop coupe, and it was the only two-door hardtop coupe of the Lancer line. The Lancer carried a lot of chrome, and sold fairly well overall, with over 64,000 moving out the door, mostly in four-door sedan form. There were also two door sedans and two door wagons. |
Before getting excited by the prices shown on the following chart, keep in mind that, in 1962, the minimum wage was $1.15 per hour; median income was $5,956 (in 2005, it was $56,194). In addition, 1962 cars
generally
did not have features Americans now take for granted, like stereos, radios, air conditioning, backup lights (on lower models; higher models came with these), shoulder belts, all-season radial tires, rear window defrosters, intermittent electric wipers, airbags, crumple zones, absurdly big wheels, bucket seats, halogen headlights, remote trunk releases, power locks, passenger side mirrors, day/night mirrors, or fold-down rear seats.
| | | | | |
| --- | --- | --- | --- | --- |
| | Starting Price | Min. Weight (Six) | Min. Weight (V8) | Weight Range (Wagon) |
| Dart | $2,297 | 2,970 | 3,435 | 3,270-3,435 |
| Dart 330 | $2,375 | 2,965 | 3,482 | |
| Dart 440 | $2,584 | 3,025 | 3,205 | |
| Polara 500 | $2,960 | | 3,315-3,430 | |
| Custom 880 | $2,964 | | 3,615-3,705 | 4,025-4,055 |
| Lancer 170 | $1,951 | 2,495 | | 2,685 |
| Lancer 770 | $2,052 | 2,520-2,560 | | 2,705 |
| Lancer GT | $2,257 | | | |
Chart and some details from the Standard Catalog of Chrysler, which has many more details.
Chrysler and Imperial
Chrysler cars included the 300H, Newport, 300, and New Yorker, while Imperials were the LeBaron, Custom, and Crown Imperial. New Yorkers had a 126 inch wheelbase and a 219.3 inch length; all other Chryslers had a 122 inch wheelbase and 214.9 inch length.
Curtis Redgap noted that "
1962
was a good year for the Chrysler marque cars. The Lynn Townsend-ordered facelifting of the 1961 models resulted in one of the best designs of the entire decade." Unfortunately for the auto enthusiasts who (in very small numbers) bought the premium 300 letter cars - considered by some to be the world's best - 1962 also saw the introduction of the brand-diluting 300 Sport Series, which looked the same as the 300H outside except for badging and a four-door hardtop option; these were basically upgraded Newports, but not quite as upgraded as the 300 letter cars. Around 24,000 were produced, compared with a mere 558 300H models. The 300H came with standard tan leather, and had several engine options though the base motor was quite strong, the new 413 with fancy intake manifold and dual four-barrel Carter AFB carburetors, pushing out 380 hp (gross) and a whopping 485 lb-ft of torque at a low 3,200 rpm.
The Newport itself was now finless; it had the last TorqueFlite transmission with a built in parking brake, but now the TorqueFlite had a lighter, smaller aluminum case. This, combined with better engine efficiency, resulted in a 7% gas mileage hike. The Newports were fairly massive but not as hefty as one might think, weighing in at 3,705 - 3,780 pounds (wagons were 4,125 - 4,185 pounds). Around 55,000 four-door sedans were sold, as well as nearly 12,000 coupes and a decent scattering of other body styles.
The New Yorker continued on its long wheelbase, selling 19,000 units or so, mostly four door sedans; it was similar to the prior year except for a new, 300-like grille. These long vehicles weighted in at nearly 4,000 pounds, with the wagon topping 4,325 lb; only 728 six-passenger wagons and 793 nine-passenger wagons were sold.
Over at Imperial, the body still had flying, separate headlights and taillights, the latter set up on small fins; it was a striking and unusual design, to say the least. The Imperial Custom got a new hood ornament and grille, with power brakes and power steering standard; the 4,620-4,640 pound cars sold for a stunning $4920 and up. Over 3,500 of the premium four-door hardtops were sold, as well as 826 two-door hardtops.
Imperial Crowns were renamed Crown Imperials, as the limousine that had used that name was dropped. Options included power windows, power six-way driver's seat, and badging. These started at $5,400 with the convertible at $5,770. Sales nearly reached 8,000 for the roofed cars, plus 554 convertibles. 613 Imperials were exported.
The Imperial LeBaron, the top of the line trim level with a formal roof to set it apart, sold at $6,422 and weighed in at a stunning 4,725 pounds. Like all other Imperials, it was powered by a 413 cubic inch V8 pushing out 340 horsepower, and rode on a 129 inch wheelbase. The Imperials had 8.2 x 15 inch wheels; a mere 14,337 were sold in 1962, and that was a 17% increase from 1961 (which explains why the Imperials eventually ended up as higher-trim Chrysler bodies). 95% of buyers chose power windows, 60% chose air conditioning.
DeSoto
According to Curtis Redgap, "For a time, the board looked at a possible revival of
DeSoto
, but the design was based upon the same "S" series as the current 1962 Plymouth and Dodge. The board decided that two wrongs couldn't possibly become any more of a hit than a third bizarre design as Exner had laid out. That was the final chapter in DeSoto's history."
The 1962 Plymouths
Plymouth related sections by Lanny Knutson; courtesy of the
Plymouth Bulletin
.
It was really quite embarassing. I wanted to like the car. I really did. After all, it was the all-new Plymouth. But I was having trouble. Then
they
entered, three adolescent boys with no predilection to like any Plymouth, let alone this Plymouth. One of them pointed out the little headlight in the big bezel and they all laughed. Then they chortled over the center windsplits on the hood and deck, and guffawed at the slab sides. "Look, they don't even put chrome around the windows," said a second, assuming it was a cheap cost-cutting move by Chrysler instead the first frameless hardtop window glass that was to become an industry standard. After they had a chuckle over the funny rear bulge around the license plate, they noticed the unusual rear window, V-shaped like the windshield, and shook their heads in mock disbelief. Looking inside, they made fun of the "far-away" dash on the passenger side that left just the instrument panel out in front of the driver. Then, as an intended coup de grace, one said to anybody who would hear, "look, it's even got old-fashioned round gauges!" Then they all marched out the door.
Virgil Exner had intended 1962 as his second major onslaught on dull Detroit conventionality. The first, his "Forward Look" cars of 1955 and 1957 had set American automotive styling on its ear and competitors scrambling to catch up. Exner had gone to that finned look twice too often, producing ungainly 1960-61 models. Now he was set to take the styling initiative once again with a combination of themes from the asymetrical XNR show car - to have the new Plymouth oriented off-center towards the driver - and to apply "Forward Flair," a European look of long hood, short deck, flush C-pillars with no belt line and a close-coupled passenger compartment.
Valiant
. But he was to discover that what looks good on small cars does not necessarily look good on larger cars.
Meanwhile, on the cocktail circuit, a Chrysler official heard that Ford and Chevrolet were coming out with smaller cars. That was true; the smaller cars were to be the Fairlane and Chevy II. What the eavesdropper failed to hear was that both makers continuing their full-size models; but based on this rumor, Chrysler scratched the well-advanced plans for a full-sized 1962 Plymouth, and styling studios were put on double shifts to narrow the car by four inches, and shorten the wheelbase by two and the overall length by a full seven-and-a-half inches.
(Curtis Redgap added: Even as they struggled to downsize the 1962 models, the head office demanded they design the car so that Plymouth, Dodge, Valiant and Lancer could all share the same body shell! It is a good thing that the guys at the studio were as good as they were because the 1962 models could have ended up looking even more ugly than they were. An order came to eliminate curved side glass along with subjecting the cars to a certain total for all the glass area. Bumpers were to be short and not wrapped around. For the first time in all of its history, Chrysler Design went to double shifts! Hours of design were junked when the metal prototypes were brought in and then rejected, time and again. Then just like the 1961 models, time ran out. There wasn't any more time. They were forced to go with what they had!)
Newly appointed president Lynn Townsend took one look at Exner's driver-oriented wind splits, rear license plate location and one-taillight-on-the-left/two-on-the-right asymetrical styling. Thinking it too radical, he ordered everything centered in the conventional pattern.
Long-lead automotive journalists were enthused about Plymouth's new look, which they called unique, handsome, and sophisticated. Those were to be about the last positive words spoken on the styling of the '62 Plymouth. It was much like modern art, exciting "those in the know", but leaving ordinary persons scratching their heads.
Ordinary buyers often didn't even scratch their heads. They just went to buy Chevys and Fords. Plymouth gained 6.7% in sales that year, but it was a far cry from the 16% and 35% gains registered by Ford and Chevrolet, and Plymouth fell from seventh to eighth place.
Elwood Engel
was hired away from Ford to replace Exner as styling chief, and immediately began to conventionalize the 1963 models.
Plymouth had to make the best of a bad situation. In January, the
Sport Fury
returned after an absence since 1959. A special interior featuring bucket seats and console, a partially blacked-out grille, and two extra taillights (bringing the total of rear lights up to six) enhanced the car. Later, at dealers' insistence, all Furys received a belt moulding spear that ran unbroken from the front of the car to the rear. The flush C-pillar and slab side drew the eye to the vertical plane, not the horizontal, thus making an already smaller car look stubby; the spear visually lenthened the car.
Beneath its unique styling was Plymouth's first
fully
unitized body/chassis. The bolted-on subframe introduced on the 1960 unitized car was eliminated. The change helped the new Plymouth shed 200 pounds in weight and maintain as much interior room as the 1961 even though exterior demensions were reduced. The new, aluminum-cased
Torqueflite
transmission was 60 pounds lighter than its cast iron predecessor, and smaller, allowing a lower transmission hump. The two-speed
Powerflite
was history. For the manual transmission there was a new tubular linkage, concentric with the steering column.
The 1961 engine lineup continued, for the most part: 225 slant six, two and four-barrel 318s, and a higher performance 4 barrel 361. The long-ram 383 was discontinued, since the manifold would not fit the smaller bodies, but in midyear, the company launched a short-ram 413 engine that would establish Plymouth as the drag racing force it was to remain for years to come.
Only two engines were available on Canadian Plymouths: the 225 slant six and Chrysler Canada's unique 313 V8.
Unique features included self-adjusting brakes, foot pedal operated rear drum parking brakes, lube-sealed 32,000 mile suspension fittings, printed circuit dash wiring, and the "Hamtramck Hummingbird," a new reduction gear starting motor that would come to signal by sound alone the starting of any Chrysler product on any parking lot anywhere.
For all its engineering features, the '62 Plymouth will be remembered for is controversial styling. A good number find it attractive, pointing to a purity of comprehensive design that, though unconventional at the time, was nevertheless well carried out.
Though a sales flop, the '62 Plymouth bore styling features that would show up for years to come on competing makes who would often call them "new." Ford's Mustang would make the long-hood/short-deck styling theme an instant success and a "must" to be copied. The 1968 GM midsized cars would feature flush C-pillars. Pontiac would offer a close-driver-side/far-passenger-side dash. Like the Airflow, the 1962 Plymouth was too far advanced in an unattractive sort of way. The right car at the wrong time.
Turbine cars
Chrysler engineers' third generation turbine was put into a new, Elwood Engel-designed car as well as a 1962 Dodge truck. It also went into a modified 1962 Dodge called the Dodge Turbo Dart. Styling was adapted to reflect its power plant; the bladed wheel motif of the grille and wheel covers reflected the appearance of the vital components of the gas turbine.
The car left New York City on December 27, 1961, to begin a coast-to-coast engineering evaluation. After traveling 3, 100 miles through snowstorms, freezing rain, subzero temperatures and 25 to 40 mile per hour head winds, it arrived in Los Angeles just four day slater.
The turbine exceeded expectations; every part of the engine was in excellent condition, and gas mileage was better than the "chase" car.
1962 Plymouth Valiant
Entering 1962 with its third version of the original 1960 design, Valiant appeared basically unchanged. Yet, this year's model had more unique features than either of the two predecessors, including a new grille and grille shell bearing the Valiant name, wider side trim, and new round taillights residing below the capped-off canted "fins" which had previosly housed taillights. The fake spare tire impression on the deck lid, one of Virgil Exner's trademarks, was replaced by a large circular "Plymouth" nameplate. In Canada this plate read "Valiant." Since the car was also sold by Dodge dealers, the Plymouth name appeared nowhere on the car.
A new Signet 200 two-door hardtop was added, to compete in the sporty compact market pioneered by Corvair's Monza; the Signet featured bucket seats and upscale interior trim. To give a sportier exterior appearance, the grille was blacked out with a Valiant emblem mounted in the center and echoed on the trunk. A special contrast paint-insert side trim replaced the usual wide mouldings to present a cleaner, sleeker appearance. Special wheelcovers rounded out the package.
A new instrument panel using printed circuits was used, as on other Chrysler models. The floor shift was replaced by a new concentric column shift. Engines remained the 170 and 225 cubic inch slant sixes, but the 225 was also available with an aluminum block; they are rare finds for a collector today. (While faster to machine, the aluminum raw die castings had a much higher rejection rate, according to
Willem Weertman
). With the slant six in great demand, management decided early in the 1963 model year to increase production rather than save weight. Buyers generally did not know what they were getting until it arrived, and many probably did not care one way or the other.
Fargo for 1962
Fargo
, along with its big brother Dodge, entered the second year of its Exner styled truck. As controversial as the 1962 Plymouth, it did not sell well in 1961. A simple grille change for 1962 cleaned and brightened up the front end considerably, to the point where the truck remained unchanged in appearance the next four years.
1962 engines and transmissions
The bewildering array of V-8 engines used in years past had settled down considerably; there were no Hemis, and the slant six was on its way to completely replacing the old flat-head six that had served Chrysler for so many years. The smallest engine was the 170 slant six; the bigger 225 slant six had just been brought out in 1961. V-8 engines started with the A-type 318 (the lighter LA 318 was still two years away); the 313 was likely available in Canada. The 361 was the next big step up, then the 383, with the 413 standing at the top of the heap - in both standard and Ram-Charger form, the former used in the bigger luxury cars, the latter as a performance option. All but the slant six and 413 used hydraulic lifters to reduce maintenance.
Carter supplied most carburetors, with few exceptions; most were the Ball & Ball (BBD and BBS) lines - Ball & Ball had worked with Carl Breer, and was later acquired by Carter. All four-barrel carbs were AFBs, including those used in dual-carb setups.
The Ram-Charger Max Wedge 413 featured shorter (15") intake manifold runners, engineered to refocus the peak power range to a more street-usable rpm band, and to get the engine to fit under the hood; it presumably cost less too. The intake and exhaust ports were both made 25% larger than in 1961.
With few exceptions, all cars came with a three speed manual transmission, with an optional three speed Torqueflite (or, in trucks, LoadFlite) automatic. Some cars - not many - had an optional four speed manual transmission.
| | | | | | | |
| --- | --- | --- | --- | --- | --- | --- |
| Size | Compression | Horsepower | Torque | Carburetion | Notes | Usage* |
| 170 | 8.2 | [email protected],400 | 155 | BBS 1-barrel | | Dodge, Plymouth |
| 225 | 8.2 | [email protected],000 | 215 | BBS 1-barrel | 140 hp in trucks | Dodge, Plymouth |
| 225 | | 140 | 215 | (BBS?) 1-barrel | | Dodge trucks only |
| 250 | | [email protected],600 | [email protected],600 | 1-barrel | L-head! | Power Wagon only |
| 313 | ? | ? | | (BBD?) 2-barrel | | Canada only |
| 318 | ? | 200 hp | [email protected],400 | BBD 2-barrel | Option | Dodge trucks |
| 318 | ? | 202 hp | [email protected],400 | BBD 2-barrel | Heavy duty option | Dodge trucks |
| 318 | 9.0 | [email protected],400 | [email protected] | BBD 2-barrel | Not the LA-type 318 | Dodge, Plymouth |
| 318 | 9.0 | [email protected],400 | [email protected] | AFB 4-barrel | | Dodge |
| 361 | 9.0 | [email protected],400 | [email protected] | Stromberg 2-bbl | standard, Newport+880 | Chrysler |
| 361 | 9.0 | [email protected],800 | [email protected] | AFB 4-barrel | | Dodge; Sport Fury |
| 383 | 10.0 | [email protected],600 | [email protected] | BBD 2-bbl | standard, Chrysler 300 | Chrysler |
| 413 | 11.0 | [email protected],400 | [email protected] | 2x4 barrel | Ram-Charger option | Dodge/Plymouth |
| 413 | 13.5 | [email protected],400 | [email protected] | 2x4 barrel | Ram-Charger option | Dodge/Plymouth |
| 413 | 10.0 | [email protected],200 | [email protected] | 2x4 barrel | standard, 300H, Imperial | Chrysler, Imperial |
| 413 | 10.1 | [email protected],600 | [email protected] | AFB 4 barrel | standard, New Yorker | Chrysler |
| ? | ? | ? | | ? | Perkins six-cylinder diesel | Dodge trucks |
* We probably missed some optional usages. This list may have errors and should not be used as a definitive guide!
Engineering improvements
Curtis Redgap wrote:
Chrysler made some engineering refinements for the 1962 models. The Torqueflite transmission was built with an aluminum case, finally matching Valiant and saving 60 pounds. Finally, the Torqueflite got a parking position. By pulling a small lever alongside the push buttons, internal fingers locked into the main spline shaft to keep the car from moving.

A new heating and ventilation system provided outside air, even when the car was not moving. Body jigs for welding improved the chassis stiffness by some 30%. Chrysler also adopted a front clip "sub frame" that was bolted onto the body, then welded it to the cowl. It resulted in a 350 pound weight saving, yet was stronger torsionally than anything prior. Tie rods, ball joints, and steering elements were now all factory sealed, resulting in a 32,500 mile stretch before they needed lubrication.

Plymouth and Dodge also received the Valiant-derived Bendix brakes. They were self adjusting by means of a lever and prawl that worked when the car was backed up. The system allowed Chrysler engineers to move the parking brake to operate off the rear wheel shoes, instead of the driveshaft where it had been for close to 30 years! However, instead of making the brakes bigger, the engineers made them smaller; the cast iron drums were flanged to maintain their rounded shape and finned to dissipate heat quickly, but at 10 inches by 3 inches wide, they were barely adequate. The Pursuit package had 11 inches by 3 inches, which was better, however, they also had the non-organic lining, so they would handle any sort of punishment you could throw at them and still keep on stopping. But, they were not

great

brakes. The scary thing is that both the Ford and Chevrolet cars of larger proportions and greater horsepower had smaller brakes!
1962 Chrysler Corporation financials and sales
The company hindered by the styling of the 1962 models; but still gathered in $2.4 billion in revenues (compared with $2.1 billion the year before), with 892,299 vehicles sold worldwide, over 90,900 more than in 1961. Retail market share for cars in the US hit 12.0% in the fourth quarter, though it was 10.3% for the full calendar year. (Sales reported below are by calendar year, so 1961 sales include roughly one quarter of 1962 models, and 1962 sales include some 1963 models. Note that the non-restyled Chrysler brand vehicles showed a steady progression while other brands peaked in 1960 and fell dramatically in 1961).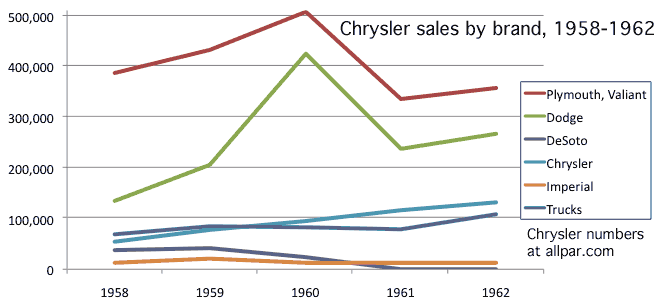 Dodge trucks sales rose sharply to 108,244 units, the best performance since 1956, partly due to the company's announcement in May 1962 that improvements would be made as they were developed, rather than waiting for new model years.
The Chrysler Leasing Corporation was created in September 1962, leasing directly to national, regional, and local fleet operators and individuals.
Airtemp launched its new 35,000 BTU room air conditioner, designed to cool entire houses.
Profitability for Chrysler Corporation was surprisingly high, with net earnings of $65.4 million - far above 1961's $11.1 million, despite a higher payroll, now at $588 million (for 77,194 employees), probably due to the increase in sales as well as ongoing programs to increase organizational effectiveness, reduce costs, and make better use of facilities. The wealth was shared with employees, who got a 2.5% of 6 cents per hour raise (whichever was higher), as well as extra cost of living allowances. 13,000 employees were part of a stock ownership program. Financially, despite the disaster of the 1962 medium-and-big cars, 1962 was a great year for the company, with bigger profits than seen since 1957 (the year that may have permanently killed Chrysler's once premium reputation for quality).
Chrysler was expanding internationally, especially in Latin America and Australia, but just 75,778 vehicles were sold outside the U.S. and Canada, a 5% increase over 1961. Construction of a new plant in Turkey, owned by Chrysler and its distributors, began to sell trucks in Turkey, and an associated company in Mexico started expanding its slant six production facilities. Funding was approved for a
domestic Australian-design car
which was to become legendary.
Within Canada, sales expanded to 62,372 units, over 9,000 more than in 1961. Most vehicles sold outside North America were compacts, which did not suffer from the styling problems of the bigger cars, so sales outside the U.S. did not suffer unduly.
Chrysler owned 25% of Simca Automobiles of France (it would expand that to 63% in 1963) as part of its strategy to increase European sales. Simca produced 252,800 sales in 1962, 20% more than in 1961, and employed 23,000 in its state of the art plant in Poissy.
International operations included Chrysler International S.A. in Geneva; assembly plants in Australia, England, Venezuela, Netherlands, South Africa, and of course Canada; parts depots across Caanda, in South Africa, and in Belgium; and associated companies in Mexico, France, Argentina, and Turkey. Defense and space plants were in Sterling Township, Michigan; Warren, Michigan; Eynon, PA; Huntsville, Alabama; Florida (for Cape Canaveral); New Orleans, LA; and Center Line, Michigan.
To boost sales, the company brought out a five year, 50,000 mile powertrain warranty for its 1963 models.
The fleets (by Curtis Redgap)
Most of the taxi specials were made by Plymouth. They were rugged, reliable, economical, and comfortable. The Torsion Bar suspension was unbeatable in any application. They still had the $70 reduction per unit if you bought 5 or more (unlike Dodge).
The 1962 Chevrolet had a 409 4 barrel package with 380 rated horses. Troopers could also order the twin 4 barrel 409 that put out the now famous 409 horses. Chevy also had a pair of 327 cubic inch V-8s that were good, at 250 and 300 hp. Ford's Police Interceptor model was the 330 horsepower 390 with Cruise-O-Matic and a positive lock 3.50 ratio rear end.
After the State Police evaluation process, the Troops stayed with Plymouth! The 1962 Savoy with the 361 4 barrel V-8, Torqueflite, positive traction 3.21 rear gears, full load of fuel and two officers on board, leapt out to 60 miles an hour in 7.2 seconds, consistently! It poured through the quarter mile at 92 miles an hour in 15.9 seconds. Top speed was 122 miles an hour. Chevrolet had sent a 380 horse 409 Biscayne model. It was quicker to 60 at 6.6 seconds. However, it lost out in the quarter mile due to the two speed Powerglide transmission, taking 15.7 seconds at 89 miles an hour. Top speed was 124 miles an hour. It truly went bad on the braking tests. While it had non-organic linings, it did not have the brake drum size necessary to pass the brake performance tests. The 1962 Ford Interceptor was disqualified from entering bids due to deficient brakes!
California Highway Patrol settled for over 1,000
Chrysler Newport-based "Enforcers."
Several other states also bought into the Newport Enforcer. It would be its heyday.
In an economy effort, the Valiant/Lancer sized 170 cubic inch six was offered across the entire board, including Police units. It was not offered after 1962 in that area.
At the Races in 1962
Plymouth had begun encouraging drag racing of its cars in 1957 when its
Fury
engine was made available across the lineup, including the light Plaza business coupe; Plymouth ran a series of ads showing Chevy and Ford drivers scratching their heads as a trophy was being presented to the winner and his Plymouth. Greater success came in 1960-61 with the long-ram manifold 383-powered cars. Yet, Plymouth still did not achieve the high performance mystique of Ford and, especially Chevrolet. Not until 1962, that is.
At the start of the year, the biggest engine was the four-barrel 361, since the smaller bodies were too narrow for the long-ram manifolds. (Someone
did
manage to stuff one such engine in a downsized Dodge for the '62 Winternationals.) By May they had a short ram manifold that gave the natural supercharging benefits of the long-ram units, yet it would sit clear of the valve covers. It topped not the 383 as in 1961, but the 413 engine once exclusive to Chrysler and Imperial. Installed in the lighter weight bodies, the engine made Plymouth an immediate drag racing hit, with the Ram-Charger engine powering Chrysler vehicles to four NHRA records (set by Dick Landy and
Bill "Maverick" Golden
, among others).
The favorable power-to-weight ratio of the new downsized bodies enabled the rising star who had yet to win a major race, Richard Petty, to beat all the higher-powered Pontiacs at the 1962 Daytona SOD except the one driven by Fireball Roberts. In just two years, Petty would have absolutely no concerns about being underpowered!
Internal turmoil
Lynn A. Townsend had been named president in 1961, after a corporate scandal forced William Newberg to resign after a mere 64 days; he was replaced by his predecessor, Tex Colbert, who resigned again in July 1961. When Lynn Townsend took over, in the words of Curtis Redgap, "he was horrified at the shrunken, truncated appearance of Plymouth and Dodge for 1962. ... Townsend was an accountant by trade, however, he was also an administrative vice-president, and he was a car guy." Curtis continued:
Lynn Townsend lent an air of quiet fortitude to the Presidency of Chrysler. Townsend was responsible for the emergency facelift of the 1962 model Chrysler, the quick make up of the Dodge 880, and the restyle of the Imperial. While the big car was still garish, it lent an air of subdued power, even given its quirky stand free headlights and tacked on taillights. He also looked at what was proposed for the 1963 models and ordered up a complete remake of the 1963 models! Again, Design was tasked to the limit. Without a break, the lights stayed on in the studios for double shifts.

Four new vice presidents were elected; Virgil Boyd was put in charge of sales (he came from a similar job AMC), David Kendall was put in charge of legal affairs (he came from a law firm), William Blakeslee was in charge of Defense and Space, and William O'Brien was Director of Industrial Relations (he became Director of Personnel in 1963).
During 1962, the organizational structure was studied, resulting in 1963 changes which emphasized staff and line functiaonl relationships; the number of executives reporting directly to the president was cut from a hard-to-manage 14 down to 9. Most likely due to the poor sales of the first three quarters (and the fourth quarter of 1961), numerous studies of dealer coverage, processes, and marketing were undertaken with improvements made in numerous areas. Inventories of parts were increased across the 110 wholesalers and at parts plants. Advertising was expanded to cover the new warranty.
Engineering and employee satisfaction
Chrysler wrote in its annual report:
The year 1962 was one of progress and change for the Engineering Staff. The dominant objectives continued to be: reducing operating costs and increasing efficiency, while strengthening product design and quality to improve market coverage and customer satisfaction.

Throughout the year, emphasis was placed on practical engineering undertakings that relate directly to motorist satisfaction. As a result, many improvements were made in all functional aspects of the company's products. Components such as engines, ignition systems, transmissions, body hardware, and interior trim have benefited from dozens of engineering improvements.

In creating new models each year, engineers work closely with chemists and metallurgists in selecting more than 3,000 different types of materials which are used in a car. Experimental components are tested

first in the laboratory, and then are installed on automobiles for further testing at the Chrysler Engineering Proving Grounds. Here, 200 vehicles log over six million miles each year, while 200 different types of tests are being performed.

During the past year, a design and development program for a limited-production gas turbine-powered automobile, scheduled for introduction in 1963, was a notable activity of the staff. In addition, a six-man crew cab truck was released for production, a new low production volume truck body was designed for marketing abroad, and work was performed on a wide range of special vehicles.

Research operations are a vitally important facet of the Engineering Staff's activities. Emphasis is on long-range product improvements and progress in basic sciences-physics, chemistry, and metallurgy. The work undertaken during the year in physics and instrumentation included such diverse investigations as development of special instruments, use of radioactive materials in new analytical techniques, and control methods based on solid-state circuitry.

In chemistry and metallurgy, projects included new adhesives, fuel cells, new types of materials for gas turbine engines, electro-chemical studies, and vacuum evaporation phenomena. Studies were also conducted on new types of engines and transmissions, as well as new configurations of brakes and suspension systems.

In carrying out its responsibility for design and development of passenger cars and trucks produced by the company, the Engineering Staff utilizes a work force which totals 4,400 people. Included are: over. 1,000 scientific and engineering personnel,· 1,000 designers and draftsmen, 700 technicians and mechanics, 800 secretarial and clerical employees, and nearly 900 craftsmen, half of whom are engaged in building the experimental cars and components used to prove the soundness of proposed designs.

In total function, the Engineering Staff comprises a very large scale activity. Its centralized organization provides flexibility for prompt action, effective internal communications, close working relations and high utilization of facilities. Operations are conducted under a system of broad delegation of responsibility that fosters creativity and productivity.
Also see:
Chrysler Heritage
•
History by Year
•
Chrysler People and Bios
•
Corporate Facts and History
Home
•
Engines
•
Reviews
•
Chrysler 1904-2018
•
Upcoming
•
Trucks
•
Cars
Spread the word
via <!--
Tweet
or-->
Facebook
!
We make no guarantees regarding validity or accuracy of information, predictions, or advice - .
Copyright © VerticalScope Inc. All rights reserved. Dodge, Jeep, Chrysler, Ram, and Mopar are trademarks of Fiat Chrysler Automobiles.