Dodge campers and motor homes
by David Zatz, based on
materials
provided by J.P. Joans
There was a time when Chrysler Corporation was a full-line maker of nearly every type of vehicle. They built tanks, cars, rockets, buses, heavy and medium duty trucks - and campers and motor homes.
mytravco.com
(whose history is abstracted here) noted that
nationwide
sales of "house cars" began with the Frank Motor Home, a venture of Dodge and Ray Frank's company (started in 1953, with the creation of a motor home on a Dodge Truck chassis). Made of wood and aluminum, the Frank Motor Home was built in 20 foot, 23 foot, and 26 foot lengths, priced from $6,500 to $7,300.
Dodge's engineering contributions grew over time, and the Frank became a Dodge in 1962. It wasn't just a name change. Dodge built a new, streamlined prototype, with a steel frame and molded fiberglass body, in 1962; production started by 1963. It sold for under $11,000, fully equipped, and included a sewage incinerator, with a chass re-engineered for motor home use (not merely a stretched truck chassis).
The engine was a 200 horsepower (gross) 318 V8, with a pushbutton automatic transmission (for two years, after which a conventional shifter was used.) These motor homes were reputed to be well made, and while the lack of sway bars and the undersized engine were problems, it was a strong seller.
The Frank family sold their new company (with Dodge's help) in 1965, due to the financial strain of developing the fiberglass body - which would become the standard for motor homes. The new owners, Peter Fink and Ken Robertson, renamed it to Travco, partly to avoid conflicts with other body makers using the new Dodge chassis. (Thanks, Tim Massey). This plan worked well, as Dodge chassis were used by numerous motor home makers through the 1970s.
Frank himself created a new, smaller motor home, the Xplorer 21, to fit in a standard seven foot garage and to be more aerodynamic; the Xplorer was a runaway success.
Chrysler had to leave the motor home business in 1979, in a time of bankruptcy avoidance and fuel crises. Travco had made numerous questionable decisions from 1973 onwards, and the company was later sold to Foretravel at public auction.
In 1970, Dodge had numerous options for upfitters. The Sportsman van-based conversions were the most popular, due to their low cost; companies converted the
Dodge vans
to campers which would feed and sleep up to five people, yet double as a second car. The Sportsman A100 interior included a range, icebox or refrigerator, sink, water tank, canvas bunks, and dinette table and seats that converted to a double bed. Standard engine was the 198 slant six, with an optional 225 slant six or 318.
The A-vans and B-vans both supported Class C van-cab chassis, sitting between the chassis-mount motor homes and full-size class A campers.
The D100 pickups, available in Sweptline and Utiline models, ranged from a simple canvas or aluminum cargo cover to stationary or collapsible slide-ons. Maximum payload with 1,400 rear springs and G78-15-D tires was 1,500 pounds.
The D200 pickups were the most popular slide-on camper size due to their heavier capacity; they could take up to a 10.5 foot, cabover camper, and with special equipment, could handle a payload of 3,100 pounds. (A W200 pickup option was available with four wheel drive, and a maximum payload of 3,100 pounds; options on this included automatic transmission, front locking hubs, and a front winch with manual transmission.)
The D300 could also carry six passengers with four doors in the cab, taking the same length cabover unit but, when ordered appropriately could handle a payload of 3,295 pounds. Most slide-on interiors had a dinette, kitchen, water, and electric systems, and could sleep five or more people.
The D300 Chassis-Mount system had a three-man cab and provided more room than the largest slide-on campers; with the 159 inch wheelbase, it could take a camper 12 to 14 feet long. A special equipment package with 165 inch wheelbase could go up to 16 feet long. These interiors had more floor space, sometimes had a pass-through to the cab, and generally had a side entrance; they also came with kitchens and dinettes.
Pickup based campers usually had a standard 225 slant six engine, with an optional 318 or 383 (258 horsepower). The interior had vinyl covered seats, keyed to the exterior colors, though beige or black could always be ordered, and blue and green were available with some paints. The custom interior included three-tone upholstery in vinyl and nylon with full-foam seat cushions and foam back pads, extra sound insulation, color-keyed trim, foamcore headliner, and molded, bright door moldings.
The Adventurer was designed to be "comparable to that of a fine passenger car" with color keyed carpet, full foam seat cushions, wood-grain appliques, and bright door sill plates. Bucket seats were available on conventional cabs, with a center console.
Full-fledged motor homes used, as noted, specifically designed Dodge chassis, in wheelbases of 104, 125, 137, 159, and 178 inches. They included power steering, power brakes, "LoadFlite" three-speed automatic, and a 318 V8 engine (the 413, but
not
the 383, was optional). The motor home chassis included special springs and shock absorbers, front and rear, heavy duty axles, and a rugged carbon-steel frame with deep, heavy-gauge straight side rails reinforced at stress points. Dual rear wheels were standard.
Most motor homes had a full kitchen, often with a double stainless steel sink, converting dinette, and sometimes a permanent bedroom; most had a shower and optional air conditioning and generator.
For most of the 1970s, the 440 was
de rigeur
for full-sized motor homes, complete with the 727 automatic transmission. As one might expect, the 440 in a motor home provided not muscle-car performance, but acceleration more like a slant-six powered Valiant.
Motor home chassis had a 3,800 pound front axle (the 178 inch wheelbase had a 4,000 pound axle), with a 7,500 pound capacity rear axle (10,000 on 178" wheelbase). Brakes were a dual-system with power assist (single system on 178" wheelbase). Power steering came via a Garrison link-type system. The gas tank was 25 gallons, outboard right on all but the longest wheelbase, which had a 35 gallon rear-mount tank. Wheels were 7.00 wide by 16 inches diameter, except the 178 inch wheelbase, which has 7.5 x 17 wheels - with dual rear wheels. Standard alternators were 50 amps.
Most body builders supplied heavy duty wipers, two exterior mirrors and one interior mirror, safety glass on all windows, rear wheel mud-flaps, backup lights, clearance and highway lights, 12 volt and 110 volt lighting systems, right and left sun visors, heater and defroster, refrigerator, gas furnace, gas range, water heater, and disposal tank, with optional air conditioning, stereo players and televisions, and other comforts.
The standard transmission with six cylinder A100, D100, and D200 (except crew cab) was the A250 three speed manual; with the V8, the A230 three speed manual (which was also standard on W200). The D300 included the New Process NP435 wide-spaced four-speed manual; the NP445 close-spaced four-speed manual was optional in all but A100 and motor homes. Three-speed automatics were common (stnadard on motor homes).
Sweptlines with the camper package had an "easy-off" tailgate for dual-use pickups (slide-on campers removed for everyday work). D100 and D200 had a front stabilizer bar. The camper wiring harness was shipped in the glove-box.
Options included a 23 gallon auxiliary gas tank, with a valve under the bed to actually move from one tank to the other; exterior compartments; power steering and brakes; and AM radio.
The company built a large run of 440 V8 engines to keep their motor home line going, before discontinuing the big engines; when those ran out, around 1980, they used the International Harvester 446 V-8 in their Class A chassis.
Nick Dalzell had a 1973 Dodge Escapade, 440 powered, with a body by Escapade Motor Homes in California and a custom interior from SkylineRV. The Escapade was a budget model, on an 18-foot chassis, sleeping four people in two beds, with a rear bed that converted to a dinette. A single-piece shower/toilet was standard; a radiant propane fired Coleman heater, stove, and three-way refrigerator were standard, along with provisions for a single optional A/C outlet. His had dual air conditioning, a generator, and the 24 foot chassis with a separate dinette. Construction was mainly lightweight plywood with rubber coverings. The gas crisis and reliability problems with the body and appliances finished off the Escapade after the 1976 model-year.
Update: Ram ProMaster based campers
The Fiat Ducato was popular in Europe as a motor home base; it was no surprise when the beefier Ram ProMaster was put into recreational vehicle ("RV") form in the US. Winnebago was first to show off a prototype.
The 2014 Winnebago Travato is a Class B motor home, twenty feet long, with swivel cab seats, navigation, split dinette, and rear access double doors. The price was roughly $85,000 at launch, with the gasoline engine. Features include a corner double bed (a portion of which flips up for bicycle storage), full-height bath door, automatic entrance step, wet bath, wardrobe, and full galley. It is designed for two people.
In the 1970s, Winnebago, instantly recognized by the huge "W" stripe on the side, usually used Dodge chassis for Class A motorhomes; their Class B models were cutaway Dodge B vans. Both of these were wood framed bodies mounted to the chassis.
The Trend is the second ProMaster-based RV announced, with Winnebago showing it on their web site in February 2014.
1970 Dodge camper specifications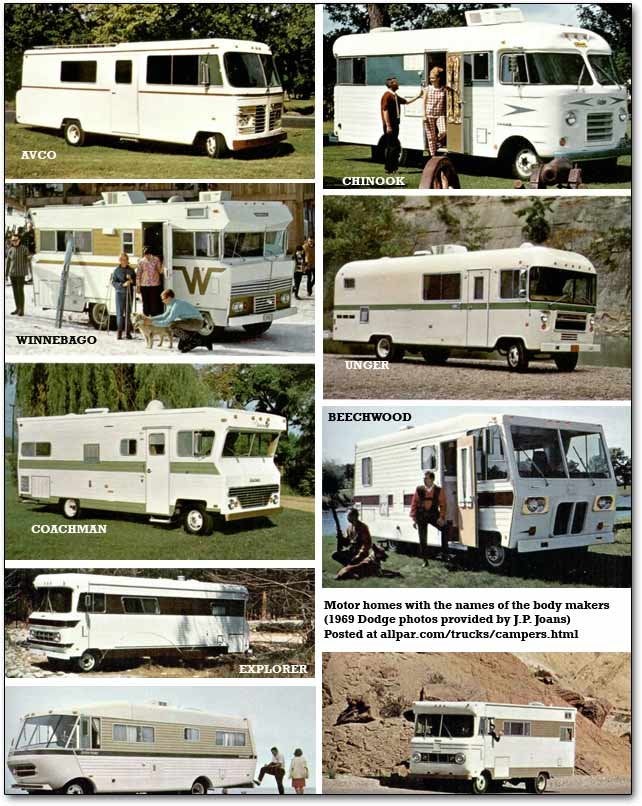 Trucks/SUVs
Jeep
Ram
Military
Engines
2015-2017
Forums
Home
•
Engines
•
Reviews
•
Chrysler 1904-2018
•
Upcoming
•
Trucks
•
Cars
Spread the word
via <!--
Tweet
or-->
Facebook
!
We make no guarantees regarding validity or accuracy of information, predictions, or advice - .
Copyright © VerticalScope Inc. All rights reserved. Dodge, Jeep, Chrysler, Ram, and Mopar are trademarks of Fiat Chrysler Automobiles.