Dodge Dakota mid-sized pickup trucks, 1987-1996
by David Zatz |
Dodge Dakota 1997-2004
|
2005-07
|
2008+ Dodge Dakota
|
2012 Ram Dakota
The 1987 Dodge Dakota burst onto the scene in 1986, styled like the full-sized Dodge Ram. Created to fill a space between the imported, compact Dodge Ram 50 (an un-altered Mitsubishi pickup) and the Dodge Ram, the Dakota came with two Chrysler-built engines, a 2.2 liter four-cylinder and a specially created 3.9 liter V6. The Dakota would eventually get both a V8 and a convertible version.
The Dakota was supposed to have most of the fun-to-drive aspects of a compact pickup and good fuel efficiency, with most of the utility and ruggedness of a full-sized pickup. The concept worked well: in its first year, over 104,865 Dakotas were sold in the United States, beating every other Dodge truck (including the
entire
range of Dodge full-size pickups, including diesels and heavy duty models, which, combined, came close to 100,000 sales). It also beat the Ram 50, which had sales of less than 77,000 units, and the Ram Vans, at under 70,000. Sales declined somewhat after the first year until 1992, the first-generation Dakota's best year, with a massive increase to over 132,000 pickups sold. But no year did as well as the second generation did from 1998 to 2001.
Sales were good in the first year, falling somewhat despite the addition of fuel injection to the V6, a four-speed automatic and bigger four-cylinder, a Club Cab, and a V8. The Magnum V8 seems to have captured buyers' imaginations and checkbooks. A limited run of Shelby Dakotas with 318 V8s was sold in 1989.
At launch, the Dakota had a choice of 112 inch or 124 inch wheelbases, with a 6 ½ foot or an 8 foot cargo box; rear and four wheel drive were both available. Payloads in 1987 ranged from 1,250 to 2,550 pounds, with trailer towing up to 5,500 pounds. The long bed was specifically designed to carry 4x8 panels with the tailgate closed (unlike S10 and Ranger); it had provisions for stakes and tie-downs. The tailgate was easily removed for longer loads.
The front suspension on rear drive models was fully independent, with coil springs and upper/lower control arms, while leaf springs were used in the rear. The Dakota was the first American-made pickup with standard rack and pinion steering. Power front ventilated disc and rear self-adjusting drum brakes stopped the truck.
The 4x4 models used a shift-on-the-fly with no need to stop and lock the front hubs. They substituted torsion-bar front suspensions, which gave them a good ride with decent handling; 4x4s also used parallelogram steering rather than rack and pinion. (Thanks, Bob Lincoln).
Payload was 925 pounds more than the 1987 Chevy S10 and 795 pounds more than the 1987 Ford Ranger. Rear wheel drive models could tow 400 pounds more than either the Ford or Chevy. Dodge also claimed, credibly, superior handling.
Cloth seats with vinyl trim were standard, and the wide cab could hold three passengers, unlike the Ranger and S10); seat backs tilted forward to reveal a storage area. A cupholder pulled out of the center stack. Dual mirrors came standard, along with 14 inch wheels (15 inch on 4x4s).
The Dakota had a stainless steel exhaust and the highest percentage of corrosion protection material ever used on a Dodge vehicle, helping to support a five-year, 50,000 mile warranty. The
Dodge City manufacturing plant (Warren, Michigan)
had an automated sequence of over 11 miles of conveyors, optical gauging to monitor dimensional integrity, over 695 industrial computers, automatic welding for 99.6% of the welds, and robot-assisted painting.
A former Chrysler engineer told us that while the engine was developed within Chrysler, the Dakota itself was engineered by Aero-Detroit, a contract house; some Chrysler engineers were sent to the firm to work with them on the design. The first mule, according to this source, used a Chevrolet S10 body shell. The dimensions of the Dakota were similar to the 1976 International Harvester Scout II Terra, but the Dakota had a separate bed.
Variations: Shelby Dakota, Dodge Dakota Convertible
In 1989, a
Shelby Dakota
was created to increase visibility. It used the 175-hp 318 V8, shoehorned into the engine bay two full years before it would become a normal Dakota option. The engine, producing 270 lb-ft of torque, required a new cooling system, with an electric fan forward of the radiator (other Dakotas used an engine-driven fan between radiator and engine). Chrysler provided a new heavy-duty four-speed automatic transmission with an auxiliary transmission cooler and high-stall-speed torque converter with 3.90:1 axles for faster takeoffs. Cornering was aided by nitrogen-charged shocks and hollow-spoke-style 15x6-inch aluminum wheels with P225/70R15 Goodyear Eagle GT+4 radials. The truck ended up weighing 3,610 pounds, and could do an 8.0 second 0-60. The Dakota, which came with the usual Shelby markings, sold for under $16,000.
The Dodge Dakota convertible, according to forum poster "dakotaquadsport," was the result of a 1988 contract with ASC, the American conversion shop later tapped for the highly successful Chrysler Sebring (when Sebring stopped using ASC, sales plummeted). They used a manually operated top.
In 1989, Dodge sold 2,842 Dakota convertibles, but that apparently saturated the market; just 909 were made in 1990 and
eight
in 1991, made to fulfill the contract with ASC. The convertibles came in 4x2 and 4x4 varieties, with standard five-speed manual transmission, fog lamps, padded rollbar, velour seats, power windows and locks, rear anti-lock brakes, full gauge package, 3.9 V-6, tilt wheel, and cruise control. Air conditioning and an automatic transmission were the only options.
"valiant67" added: For 1989, all Dakota convertibles were based on the Dakota Sport, and were painted red, white, or black; for 1990, there were Dakota SE models with blue available, and "supposedly four cylinder five speed trucks available." One person claimed to have a black 1990 Dakota SE V6 Dakota convertible without power options.
Powertrain
A new five-speed manual transmission was standard, with a three-speed TorqueFlite automatic available with the V6.
The now-tried-and-tested
2.2 liter engine
was adapted for rear wheel drive; its 96 horsepower was not exceptional for its class, but its 121 lb-ft of torque was (and was needed for the added weight). This engine would be replaced in 1989 by a long-stroke version, the 2.5, which had a single fuel injector and produce 100 hp and 132 lb-ft of torque.
The new
3.9 liter V6 engine,
based heavily on the LA-series V8s, was standard with 4x4, and optional otherwise. It was required for the 2,550 pound payload package. The 239-cubic-inch V6 pushed out just 125 horsepower at 4,000 rpm, but its 195 lb-ft of torque at 2,000 rpm, with a 9.2:1 compression ratio, was far above the four. It also easily beat the 1987 slant six's 95 hp and 170 lb-ft of torque (though the slant six could have been given a two barrel carburetor, it was too long for the vehicle).
Willem Weertman, then head of Chrysler engines, wrote
:
They wanted to have both fours and sixes for [the Dakota]. So we had the challenge of taking the 2.2 4 cylinder engine which had been designed for only an East-West or transverse location; we redid it and installed it in what is called the conventional drive line, or the North-South driveline, for the Dakota small truck. And they wanted to have an upgrade power plant from the 4-cylinder so the V-6 was designed as a way of furnishing a V-6 for the least possible tooling costs.

Because of capital investment, we didn't want to get into a whole new engine. We just wanted see what we could do with what we had and that caused us to look at the V-6 version of the Mound Road Engine [the 318]. ... The engine had to be shorter than the V-8 in order to fit into the compartment. It was only in later years that enough space was found in order to be able to put the V-8 into place.

We had a challenge on the V-6 because the crank-pins had to be split in order to get away from the very unequal firing if we had only 3 crankpins, each crankpin having two of the connecting rods as is V-8 practice. The reason is that the engine would be rather badly out of balance and would have not been acceptable even in a truck engine. So we had to do some redesigning of the bottom end in order to split the crank pins and make the firing order a little more uniform and it seemed to have worked out ok.
Engineer Pete Hagenbuch added:
The 3.9 was built in Mound Road, on the Mound Road machining equipment which included a 90 degree bank angle, and it was another one of those boom-boom, boom-boom type engines. I had two of them, both automatics, and it didn't bother me a bit, but the manuals were awful, especially if you lugged them down in speed. It set off all kinds of sympathetic vibrations, just an awful way to build an engine. And Chrysler at that time had principles; we didn't build engines that way. I'm confident that it went through the top and came back down with the message that "no way, you can't do that it's not commercial." Then years later we had already admitted that automatic Tempests and F85s were acceptable as long as you didn't watch them idle under the hood where they were just thrashing around. With the vibration absorption you get in a torque converter they were okay as far as driving was concerned.
The 3.9 liter V6 was created for the Dakota, but a single year after its launch, it replaced the venerable slant six in the full-sized Ram trucks as well. The engine may have been less than ideal in smoothness, but thanks partly to fuel injection, it had a real edge in horsepower over the smooth, durable slant six, and would establish a good record for reliability.
V8 power arrived in 1991, with the 318 (5.2 liter) V8 getting shoehorned into the engine bay. The 318 was, for this one year only, producing 170 hp and 260 lb-ft of torque.
For 1992, the V6 got the Magnum treatment, dramatically raising horsepower and torque; the major changes were sequential multiple port fuel injection, which increased responsiveness across the full range of engine operation, airflow, and head design. 80% of the prior components were redesigned, stopping oil leaks, slashing pollutant emissions, and increasing durability while finding more power. The 1992 V6 now produced more horsepower than the 1991 V8 (though not as much torque). Dodge claimed a 0-60 time of 8.3 seconds for the V8 and 9.3 seconds for the V6.
In 1993, a new manual transmission was made available for easier shifting. Trailer towing was boosted to 6,400 pounds with the V8 Club Cab and 6,900 pounds on the V8 regular cab, with appropriate options and equipment.
In 1994, the exhaust manifolds were shrunk to 1 5/8" and the exhaust was reduced to 2.5" from 3", eliminating five horsepower but no doubt saving some money; the torque curve was also adjusted via cam timing. In 1996, EGR was eliminated, through better fuel injection controls.
While the V6 and V8 stayed the same in displacement and family, three different four-cylinder engines were used. The AMC four was far more desirable than the Chrysler 2.2 or 2.5, with both greater horsepower and more torque, partly due to its multiple port injection.
| | | | |
| --- | --- | --- | --- |
| Engines | 2.2 | Chrysler 2.5 | AMC 2.5 |
| Years used | 1987-88 | 1989-1995 | 1996 |
| Horsepower | 96 | 99-100 @ 4,500 | 120 @ 5,200 |
| Torque | 121 | 132 @ 2,800 | 145 @ 3,400 |
| Fuel | Carb | Single injector | 4-injector |
In 1996, two manual transmissions were available: the AS82 and the
New Venture Gear NV3500
. Axle ratios were 3.21, 3.55, and 3.90. The automatics were both four-speeds, 42RE and 46RE, differing in capacity.
Fleet buyers could get a compressed natural gas version of the 318 engine. In 1996, this version produced 200 hp and 250 lb-ft of torque, with a gasoline-equivalent gas mileage of 11 city, 14 highway.
Changes
In 1988, the 3.9 V6 gained single-point fuel injection and a roller camshaft, the latter for durability; power remained at 125 hp and 195 lb-ft of torque but driveability improved. A
four-speed automatic-overdrive automatic
, based on the
TorqueFlite
, replaced the three-speed Torqueflite itself as the optional transmission.
In 1989, a chassis cab was added; rear-wheel antilock brakes were made optional; and a full-size spare was also used instead of the original donut. The 99-horsepower, fuel-injected 2.5 liter four, with 132 lb-ft of torque, replaced the 2.2. Sales fell somewhat from 1988, but remained strong compared with other Dodge trucks. A convertible was introduced.
The Dakota grew again in 1990, with the addition of Club Cab models; the cab was extended by 18 inches to make the addition of two standard forward-facing seats possible. Club Cabs had optional front bucket seats, with 25.2 cubic feet of room behind the front seat and six passenger seating (by 1993 this was 19.5 cubic feet).
The big change for 1991 was a
V8 engine, the 318
, producing 165 horsepower and 250 lb-ft of torque for 1991, via a single fuel injector. The Club Cab was available with four wheel drive; the hood was extended to fit the V8 engine, and the front appearance was upgraded somewhat.
For 1992, the engines were given the Magnum treatment for a substantial power boost (see the engines section) and better gas mileage and driveability, which may explain the sudden sales boost that lasted for several years.
In 1993, the Dakota's bucket and bench seats, and their seat belts, were redesigned for greater comfort. Four-wheel ABS was made optional (it was originally rear-wheel ABS); a new work package was set up for long-box 4x2 models, grab handle access was improved, a quieter five-speed was used with the four-cylinder, a full stainless steel exhaust system replaced the older one, and the power window and lock switches were moved to be more accessible.
For 1994, the high-mounted rear brake light was added, a driver's side airbag was made standard, and a new cam improved low-end torque on both V6 and V8 engines; the V6 exhaust manifolds were shrunk to 1 5/8" and the exhaust was reduced to 2.5" from 3" to cut weight, but bends were made smoother and the pipes were straightened, leading to similar performance but with a five horsepower drop.
Returnless fuel injection was used on the V6 and V8 for the first time; this was an innovation first made on the LH series of cars, which cut the fuel line going back to the tank by regulating fuel pressure in the tank rather than under the hood. The camshaft was revised to broaden the torque curve of both V6 and V8 engines, with the 318 boosted to a whopping 295 lb-ft of torque.
Ram 50 was dropped, but Dakota sales seemed unaffected by that.
Other changes for 1994:
An adhesive-bonded rear window had a tighter seal and added structural strength to the roof; glass was encapsulated in a RIM urethane frame. A bead of semi-liquid urethane sealing material was applied to the frame and the assembly was pressed into the back window opening of the body.
A driver airbag and knee bolster passive restraint were made standard
The unpopular chassis cab and short-wheelbase cab were dropped.
A high performance evaporator and new expansion control system gave the Dakota air conditioning system a 10-15% improvement in performance, despite switching to R-134a refrigerant in the same year. Expansion was controlled by an orifice tube inserted in the condenser outlet line, simpler and more reliable than the thermal expansion valve.
Electrically driven speedometer and odometer (no cable drive).
The switch turned on the parking lights when the fog lights were activated. Previously, the headlights were automatically lighted.
An optional Dakota overhead console included reading lamps, an electronic compass and outside temperature display, and two storage compartments.
New seating surface fabrics on all Dakota seats started with cloth, rather than vinyl; cloth was also used on the standard cab cloth bench seat option. The center-arm-rest bench seat on regular cabs used "Prism" cloth, the same material as the club cab premium seats and optional sport high back bucket seat trim. The standard cab base seat had a new, better-feeling heavy-duty vinyl.
Minor cosmetic and feature changes were made for 1995, including a standard rear step bumper and aero headlights on some models. Power steering became standard; and fleet buyers could get natural gas versions of the V8 on some models. Manual transmissions had to have a clutch-starter interlock.
In 1996, the Dakota entered the final year of its first generation, looking very much like the first 1987 model - now clearly different from the revolutionary 1993 styling. EGR on the V6 was dropped as fuel injection was improved; a special JTEC (Jeep-Truck) computer replaced the old one. Wheels, colors, and decals were changed, bucket seats were upgraded, and the automatic transmission was made smoother. OBDII diagnostics were implemented for all engines; and four-speed automatics gained electronic governors.
Perhaps most significantly, the 2.5 liter engine was replaced with the AMC four-cylinder that upped power to 120 hp and 145 lb-ft of torque (partly through multiple point fuel injection). This engine would remain with the Dakota as long as it had four-cylinder engines. The engine mounts were improved to deal with the higher power at the same time.
In 1996, the "Baby Ram" 1997 Dodge Dakota
was brought out. The body used the same box floor and powertrain choices, except for the four-cylinder, which went from a 2.5 Chrysler engine to a 2.5 AMC engine witih multiple-point injection. This Dakota would be more successful than the original, with sales peaking in 2001.
1987 Dodge Dakota specifications and such
| | | | | | |
| --- | --- | --- | --- | --- | --- |
| | Chevy S10 | Ford Ranger | Dodge Dakota | Chevy C10 | Ford F150 |
| Gas mileage* | 23/27 | 26/29 | 22/27 | 18/20 | 17/18 |
| Max payload, lb | 1,625 | 1,760 | 2,550** | 2,525 | 2,490 |
| Max towing, lb | 5,000 | 5,100 | 5,500** | 6,000 | 7,700 |
| Warranty | 2/24 | 2/24 | 5/50 | 2/24 | 2/24 |
* EPA city/highway miles per gallon
** By 1996, this had increased to 2,600 pounds payload and 7,100 pounds towing.
Gas mileage did not vary much by year, despite major power boosts and technology changes. In 1987, the four-cylinder was the 2.2 and the V6 had a carb; in 1990 the Chrysler 2.5 liter four was used (complete with a motor mount bracket for front-drive cars!), and the 3.9 V6 had fuel injection. Magnum power for the V6 and V8 engines did not affect their gas mileage; but by 1996 it had risen by a full mile per gallon on these engines. The 1996 four-cylinder was unique to that year.
| | | | |
| --- | --- | --- | --- |
| Gas mileage | I-4 | V6 | V8 |
| 1987 | 22/27 | 18/24 | - |
| 1990 | 21/28 | 16/22 | - |
| 1991 | 21/27 | 16/22 | 14/19 |
| 1992 | 21/26 | 16/22 | 14/19 |
| 1996 | 21/25 | 17/23 | 15/20 |
* EPA city/highway, RWD with manual transmission except V8 (automatic)
Front axle capacity was 3,300 pounds across the board; rear springs were dual stage on all but the lightest RWD model. Disc brakes were 11.4 x .87 inches, except on the base rear-drive model, which used 10.7 x .87 brakes; most models got 9 x 2.5 inch drums (2,550-pound-payload RWD and 2,000-pound-payload 4x4s got 10 x 2.5 inch drums). All had a 10.6 inch diameter vacuum power brake booster.
78-amp alternators were standard in 1987; the following table shows some other 1987 Dodge Dakota specifications.
| | | | | | |
| --- | --- | --- | --- | --- | --- |
| Type (Payload/Drive) | 1,250 RWD | 1,800 RWD | 2,550 RWD | 1,450 4x4 | 2,000 4x4 |
| Rear axle capacity | 2300 | 3650 | 3650 | 3650 | 3650 |
| Standard axle ratio | 3.55 | 3.90 | 3.55 | 2.94 | 2.94 |
| Battery | 335 am | 335 amp | 500 amp | 400 amp | 500 amp |
| Front spring capacity | 2400 | 2500 | 2600 | 2680 | 3000 |
| Rear spring capacity | 2400 | 3000 | 3700 | 3000 | 3700 |
Curb weight in 1987 ranged from 2,825 pounds all the way to 3,658 pounds (for the eight-foot-bed 4x4); most models were under 3,000 pounds. By 1996, the lightest model was 3,042 pounds (short-bed standard-cab light-duty models with four-cylinder engines); the heaviest was 4,044 pounds (Club Cab 4x4 SLT V8). 4x4 added around 360 pounds; the V6 added around 250 pounds, and the V8 roughly another 110 pounds over that. Going to an eight foot bed added around 100 pounds. The Club Cab added around 230 pounds. Going to a higher trim line or greater payload also added weight.
By 1996, the standard alternator produced 81 amps, with a 136 amp optional; the standard battery was 600 cold cranking amps, with a 750 CCA battery optional. Gas tanks were 15 or 22 gallons. Vented disc brakes were 11.3 x 0.9 inches; rear brakes were 9.0 x 2.5 inches with passive ABS. The total swept area was 369 square inches. Optional brakes boosted rear drums to 10 x 2.5 inches.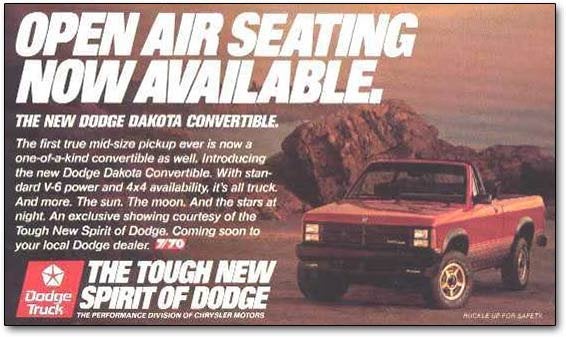 For rear wheel drive, ground clearance was at least 6.5 inches for all models, with a 28.5° approach angle; the ramp breakover angle went from 13.1° for the club cab to 15.8° for the short-box regular cab. The drag coefficient was 0.49 for the short box regular cab (other models were within .01 of that), little emphasis having been put on aerodynamics. Frontal area was 25.23 square feet.
For 4x4 models, wind resistance was higher, with the drag coefficient at .56 (except club cab, where it was .52). Ground clearance was 6.3 inches on regular cab, 6.9 inches on club cab. Approach angle was at least 35.2° on regular cab; breakover angle and departure angles were 15.7 for the short-box regular cab and 13.8° for the long-box regular cab. Frontal area was 25.84 square feet.
| | | | | | |
| --- | --- | --- | --- | --- | --- |
| Type (Payload/Drive) | 1,250 RWD | 1,800 RWD | 2,550 RWD | 1,450 4x4 | 2,000 4x4 |
| Rear axle capacity | 2300 | 3650 | 3650 | 3650 | 3650 |
| Standard axle ratio | 3.55 | 3.90 | 3.55 | 2.94 | 2.94 |
| Battery | 335 am | 335 amp | 500 amp | 400 amp | 500 amp |
| Front spring capacity | 2400 | 2500 | 2600 | 2680 | 3000 |
| Rear spring capacity | 2400 | 3000 | 3700 | 3000 | 3700 |
The following figures are all from 1993:
| | | | |
| --- | --- | --- | --- |
| | Regular Cab | Club Cab (Front) | Club Cab (Rear) |
| Headroom | 39.6 | 39.8 | 38.5 |
| Hiproom | 56.1 | 56.2 | 53.4 |
| Shoulder room | 58.7 | 58.7 | 58.0 |
1987-96 Dodge Dakota
•
1997-2004
•
2005-07
•
2008-11
•
Future Dakota
•
Forums
Reviews:
https://www.allpar.com/reviews/2008/dakota.html
Dakota Sport
(2000) •
Dodge Dakota
(2006) •
2008
Trucks/SUVs
Jeep
Ram
Military
Engines
2015-2017
Forums
Home
•
Engines
•
Reviews
•
Chrysler 1904-2018
•
Upcoming
•
Trucks
•
Cars
Spread the word
via <!--
Tweet
or-->
Facebook
!
We make no guarantees regarding validity or accuracy of information, predictions, or advice - .
Copyright © VerticalScope Inc. All rights reserved. Dodge, Jeep, Chrysler, Ram, and Mopar are trademarks of Fiat Chrysler Automobiles.