Early Moparbishi: Dodge Colt / Champ and Plymouth Colt
by Sean Cappuccio
(appended over time by the Allpar staff and Jay David Schuck)
The Dodge Colt was an import from Mitsubishi, which began selling in the last quarter of 1970 (1971 model year) and kept going for over two decades. Plymouth owners waited to get a similar car; in Canada, the British import dubbed Plymouth
Cricket
switched to the Mitsubishi in 1974.
In 1971, Chrysler noted that the Colt had standard front bucket seats with reatable vinyl (except in the coupe); the seats could move forward and backward by five inches, with reclining backs (except in the coupe). Tilt wheel was standard on all models, along with flow-through ventilation. The standard transmission was a four-on-the-floor with all forward gears synchronized; ratios were 3.53, 2.19, 1.44, and 1:1, with a reverse gear of 3.87 to 1. It was made by Mitsubishi and had a 98 cubic inch (1.6 liter) engine producing a respectable 100 horsepower (versus the 198 slant six's 125).
The wiper/washer controls were at the end of the turn signal stalk, along with the headlight dimmers. A single key operated all locks. Station wagons had an antenna that could be locked into the full-down position; radios were optional. The company wrote, "We're anticipating 60,000 Colts in 1972, nearly twice as many as the 36,000 we marketed in the nine-month period in 1971...by 1975, Dodge expects to be receiving 125,000 Colts."
Changes for 1972 included noise reduction by reducing the drive-shaft diameter, increasing brake efficiency by adding cooling scoops to the front wheel disc brakes, and enlarging rear drum cylinders. Self-adjusting rear brakes and larger front disc brakes were added for 1972.
The following photos are from a modified 1974 Dodge Colt:
Jim Benjaminson wrote in the
Plymouth Bulletin
:
In 1976, Plymouth's import stable included its long-awaited Mitusbishi product. The Colt had been in Dodge's stable since 1971 when Chrysler answered the sub-compact challenge of Ford's Pinto and Chevy's Vega with captive imports. (Chrysler had purchased financial interest in Mitusbishi in 1971.) Dodge had an instant hit with its Japanese built Colt. Plymouth had gotten the short end of the deal when given the British-built

Cricket

.

When the plug was mercifully pulled on the Cricket in 1973, observers assumed Plymouth would get its own version of the Colt. That's exactly what happened in Canada, but not stateside where Plymouth had to carry on with no subcompact offering. Finally, it was 1976 and Plymouth had its Mitsubishi import. Rather than a version of the Colt, it was another single-body-style offering, a very attractive fastback coupe that offered a more sporting flair than Colt's hardtop.

Called the Arrow, it fit in with Plymouth's Barracuda heritage with its roof line and folding rear seat.

Chrysler Canada gave the

Arrow

to Dodge dealers and the newly-redesigned Colt to Plymouth dealers. Both were the same car except for the nameplates. From 1973-75 the Cricket nameplate had been shifted to a version of the Colt for Canada's Plymouth dealers. A bit more than mere "badge engineering," it also involved unique grille and taillight trim. In its first year alone, Canada's Japanese Cricket doubled the sales of the British version. But once 1976 arrived, the Cricket name was gone for good.
In 1978 Chrysler introduced another captive import, the Dodge Challenger and Plymouth
Sapporo
.
The 1977 Colt Coupe M/M ("Mileage Maker"), with a 1.6 liter engine and four-speed manual transmission, boasted a whopping 29 city, 45 highway miles per gallon, partly stemming from 200 pounds of weight reduction and nine inches of length reduction. Standard features all Colts included a trip odometer, carpeting, tinted glass, vinyl front bucket seats, locking gas cap, tilt wheel, power front disc brakes, and an electric rear window defroster. A Mileage Maker sedan was also sold. Air conditioning was standard on all models, using built in ducts. FM radios were optional.
Two Colt engines were available, both with Silent Shaft technology (essentially, a vibration-reducing reciprocal mass system), displacing 1.6 and 2.0 liters. The 2-liter engine was available on Colt Wagon, Carousel, and GT. Transmissions included a four speed manual on Mileage Maker, five speed manual on other models, and a three-speed automatic. Both engines were similar in design; they had hemispherical heads, two-barrel downdraft carburetors (the 3.7 liter slant six got a two-barrel in 1977 for the first time in many years), and a fairly conventional design other than the counter-rotating balance shafts. Four different gear ratios were used, starting with 3.31:1 (coupes with manuals), 3.55:1 (automatics), 3.89:1 (2-liter with manual), and 4.22:1 (1.6 liter with manual).
The transmission was a Chrysler design - the TorqueFlite automatic, "Proved in cars over billions of miles on American roads." The automatic had a console shift with a sporty wide handle.
Front brakes were nine inches in diameter; drums were in the back. Steering had a recirculating ball design.
The 1977 Colt GT included a rallye cluster with 8,000-rpm tachometer, fuel and temperature gauge, and woodtone panel. The steering wheel had a lock-to-lock of three and a half turns. Again, the interior included vinyl bucket seats, but the exterior got exclusive side and rear stripes and a blacked out grille; tires were 165 wide radials, wheels were 13 inches. The GT came standard with the 1.6 liter Silent Shaft engine, with the 2.0 being optional.
1977
Coupes
1977
Carousel/GT
1977
Wagon
1980
Hatch
1980
Wagon
1980
Challenger
Wheelbase
92.1
95.3
95.3
90.6
99
99
Length
162.6
171.1
172.1
156.9
179.3
183.1
Width
60.4
63.6
62.8
62.4
65.2
65.9
Height
53.5
54.4
55.7


50.6


52.4
51.8
Max track
50.6
51.8
51.8
53.9
53.9
53.9
Headroom (F)
38.8
36.9
38.2
36.8
37.2
36.8
Headroom (R)
36.8
35.5
37.3
36
36.2
35
Legroom (F)
40.0
42.7
42.7
40.6
41.7
41.7
Legroom (R)
30.5
30.5
30.5
29.7
32.3
31.3
Shoulder room
48.8
50.0
50.0
51
52.8
51.2
Hip room
50.2
51.2
51.2
51.6
53.3
52.8
Trunk capacity
6.0 cf
6.0 c.f.
58.8 c.f.
6.5 / 27.4
57.9
10.9
Gas mileage, manual
(1.6 liter, Federal)
29/45
Gas mileage, auto
1.6 liter, Federal)
26/35
Weight (lb)
1800
2741
2700
Colt Carousel had a special denim color scheme setting off the two-door hardotp design; a five speed manual, with all forward gears synchronized, had a fuel-saving .85:1 fifth gear, and a "faux wood-free" light blue applique on the instrument panel.
Finally, the 1977 Colt Wagon had a cargo area of 58 cubic feet, with the rear seat folded - around six feet long by three feet wide - with a counterbalanced liftgate that was easy to lift up. The Estate Wagon Package added a clock, sport steering wheel, roof-rail grips, armrests, woodtone trim panels, and carpeting with skid strips in the cargo area. Upholstery was still vinyl; the spare was underneath the car on a swing-away holder.
In 1979, the Colt was redesigned and the Champ was introduced. Chrysler also brought out the Mitsubishi-designed and built
Ram D50
and Arrow minitrucks that same year. The Arrow coupe was eliminated after 1980, and the
Sapporo/Challenger
were eliminated after 1982 (the trunk was made deeper in 1982, their final year). The Arrow pickup also disappeared in the early 1980s.
A 4-door hatchback was introduced in 1982 as standard. The prices ranged from $4995 to $5995. For 1982, the fuel tank was made deeper, so it could hold 13 gallons, 10 liters more than the prior design. Liftgate outlets improved airflow, especially in back.
1983: Plymouth Champ disappears, replaced by Plymouth Colt
The Champ nameplate was changed in 1983 to Colt.
These two cars were equipped with MCA Jet Valves available on two engines, the 1.4L (1410 cc) and the 1.6L (1597 cc). The 1.4L was standard with 4 speed manual transmission & manual dual mode (power/economy) transmission. The 1.6L was an optional engine with an optional automatic transmission or standard 4 speed. Turbocharging was introduced in 1984.
The Colt was made by Mitsubishi, and sold by Chrysler in hatchback form. The unique manual transmission, the Twin-Stick, operated like a 10-speed bicycle, with a low and high gear and a set of standard gears. The GTS Turbo was a pocket rocket with stunning acceleration, and the GTS provided good handling and a sporty image without the cost of the turbo. The Colt E was Economical, and the DL provided various comfort and convenience features. All were front wheel drive. The GTS Turbo was new for 1984, and a number of other minor changes were made for the year.
Other options included A/C, am/fm 4 speaker stereo, power mirrors, roof rack, rear wiper with defroster, cloth seats, ashtray light, larger fuel tank (13.2 gal), tachometer with trip odometer and warning lights including low fuel.
The fuel economy was impressive with both engines and transmissions. The 1.4L with 4 speed got 28/37 mpg and the optional 1.6L with automatic got 27/35 mpg.
During the 1980s, Mitsubishi built cars with Hyundai on the same platform as the Colt and Champ. The Hyundai Excel shared many parts with the twins like brake drums, CV axles and shafts, oil filter, air filter, transmission filter, fuel filter, spark plugs, and PCV valve. An entire exhaust system from the twins was used for Hyundai, from the manifold to the tailpipe.
The 1980 models used the 1.6 liter MCA-JET engine across the board, except for the hatchback with manual transmission; that had the 1.4 liter version, still with MCA-JET, coupled to a Twin-Stick manual that made the most of the little engine. The Colt wagon and Challenger had a standard five-speed manual standard, with an optional automatic.
For 1986, an upshift light was made standard on non-turbo models with the five-speed; the turbo package was revised, and the GTS dropped; 5-mph bumpers were standard on sedans, and a third brake light was added; new 14 inch aluminum wheels were optional on GTS Turbo, and standard on Premier; a manual remote driver's side mirror was added to DL; a new deck lid luggage rack became optional; red and blue interiors were added, along with cloth seat and door inserts on DL; and an electric rear defroster was made standard on DL. In this year, three trim levels were available (E, DL, and Premier), all except Premier available as a two-door hatch or four-door sedan. Premier was only available as a sedan. The hatch on two-door hatch models held 6.2 cubic feet of cargo with seats up and security panel stretched out, 26.4 cubic feet of cargo with the rear seats folded down; the trunk on sedans held 10.9 cubic feet.
The four-door Colt Vista wagon was closely related to the Colt, but was arguably one of the first crossovers; it was taller than a standard Colt or wagon, and had optional all wheel drive. Powered by a 2-liter engine with two-barrel carburetor, driven by a five-speed stick-shift, the Colt Vista attracted a small but hard core group of owners who kept their cars visible for many years, partly due to the 64 cubic feet of cargo space (with second and third row seats folded) and seating for seven - an even more parkable
minivan
, one might say.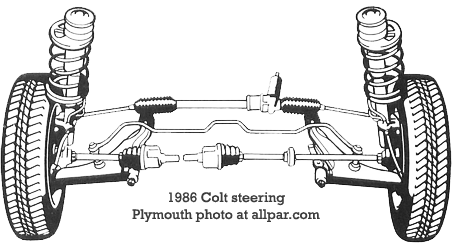 Chrysler wrote in 1988:
MacPherson-type strut front suspension with shock absorbers mounted within coil springs is standard on all Colt models. Lower control arm rear bushings have asymmetrical spring characteristics for stability and an excellent ride. Colt's rear suspension is "U" shaped with two trailing arms and struts (shock absorbers)-with improved rubber bushings and progressive rate springs for a compliant ride. The trailing arms carry the spindles for the rear wheels. The struts are mounted adjacent to the coil springs with lower mounts bolted to the trailing arms and upper mounts bolted to the car structure. A Sport Suspension with higher rate springs, front and rear antisway bars and gas-pressurized front shock absorbers is included in the Turbo Packages avail­able on the Colt DL 3-door hatchback and on Colt Premier 4-door sedan.

Although designed for different purposes, Colt and Colt Vista both have versions of strut and coil spring indepen­dent front suspension and trailing arm rear suspension with coil springs and shock absorbers. Both vehicles have front and rear antisway bars to add stability to the ride.

The new Colt DL 5-door station wagon featured an exclusive 3-link rear suspension with two trailing arms, track for coil springs and shock absorbers.

| | | | | | |
| --- | --- | --- | --- | --- | --- |
| 1988 Vehicle | Engine | Manual Trans. | Automatic | | |
| City | Hwy | City | Hwy | | |
| Colt Base Hatchback | 1.5L 2-bbl | 34* | 38* | NA | NA |
| Colt E Hatchback | 1.5L 2-bbl | 34* | 38* | NA | NA |
| Colt E 4-door Sedan | 1.5L 2-bbl | 32 | 37 | 30 | 32 |
| Colt DL Hatchback | 1.5L 2-bbl | 32 | 37 | 30 | 32 |
| 1.6L Turbo | 25 | 31 | 24 | 26 | |
| Colt DL 5-door Station Wagon | 1.5LMPI | NA | NA | NA | NA |
| Colt Premier Sedan | 1.5L 2-bbl | 32 | 37 | 30 | 32 |
| 1.6L Turbo (ECI) | 25 | 31 | 24 | 26 | |
| Colt DL 4-door Sedan | 1.5L 2-bbl | 32 | 37 | 30 | 32 |
| Colt Vista 2WD | 2.0LMPI | 23 | 29 | 23 | 24 |
| Colt Vista 4WD | 2.0LMPI | 21 | 27 | NA | NA |
Review: Living with a Dodge Colt or Plymouth Champ
Today, I drive a 1982 Plymouth Champ with all the options including the 1.6L automatic. I have 134,000 original miles on the engine and transmission. We had to replace the cylinder head once already because the car couldn't run on 3 cylinders any more. The alternator was changed as well as the starter, water pump, timing belt with tensioner, and an entire exhaust system from a dead Hyundai Excel. I even put two Hyundai alloy wheels on the back of the car. The parking is great because I park anywhere no one else can park. The fuel economy is great whether it's city or highway driving and it runs on cheap $1.00 gas. I qualify for a Florida "Collectible" tag in 3 years.
[David Rosicke wrote: the Plymouth Cricket was imported to the US and Canada for 4 years - 1970 to 1973 with some models sold into 1974. It was a re-badged Sunbeam/Hillman Avenger - British make. The Colt came over in 1971 - a Mitsubishi product from Japan. It had a larger motor but less interior space and harsher ride.]
Plymouth Champ review by Roger Lister
From September 1982 until December 1986, I owned a 1982 Plymouth Champ that I bought after test driving the
Ford
Escort, the Mazda GLC (later became the 323), and the Chevy Chevette. The Chevy was out of the picture. The GLC handled better than the Escort. But when I drove the Champ, I couldn't believe it was a 4 cylinder. The car I bought was a 2 door, 1.6 liter motor with the optional dual stick 4 speed. Two ranges were available, Power and Economy. The Power mode was essentially an underdrive. I will say that in Power mode, you could smoke the front tires. Surprised a few muscle car folks with that trick.
I had two major problems with my Champ. Clutches and brakes. I had to replace the disk pads twice before I hit 20,000 miles. This problem was due to the non ventilated disks never cooling down. To say the least, my driving style is still a bit aggressive. This problem was later solved by replacing the non ventilated rotors, and struts with the same components from the later Colt Turbo. Those Turbo disks were slightly larger diameter, had better calipers and were ventilated.
Second problem was the clutch. Again, I solved that problem with the clutch from the Turbo car. The car put out more power than stock due to a Weber 2 bbl downdraft carb, K&N filter, John Baker cam, complete Mallory ignition system, and a custom built exhaust header and 2.25" exhaust system with no catalytic converter and a Thrush Turbo Muffler. I had a set of Toyota Celica GTS/Supra wheels with 50 series BF Goodrich tires. I had to modify a set of Datsun 240Z rear fender flares to keep the rubber inside the fenders, and had the front fenders "stretched" to keep the tires under as well. I had performance product stickers in the rear window, just like the muscle car guys, including one HUGE Direct Connection sticker. Does that count as riced out?
While the stickers didn't add anything to the performance of this car, the products they advertised certainly did... Oh, wait, that was before the current import trend...
I truly enjoyed that little car. It was fast, good on gas and handled very well. I traveled a lot at night and had 4 250,000 candle power lights on the front bumper. I could melt the brass buttons on a troopers coat at 50 yards... Every problem that I had with this car wasn't covered under the additional warranty I bought. Go figure.
If I had kept that car, I was going to get the roof cut off and make it a roadster. I already had the sources lined up to reinforce the chassis. When I say fast, I got a ticket in Texas "In Excess of 115 MPH". Not bad for an economy car. In fact, I got more tickets in that car than any TWO cars I ever owned.
I last saw this car in 1994 running around San Diego, California. I hope it still lives...
| | |
| --- | --- |
| | Robert Marks' Champ is now officially registered as a Florida antique car. |
May 2008 addition: Robert Marks still owns the 1982 Champ pictured above. It now has 182,000 miles and runs only on 93 octane gas. The state took away the collectible license plates, but in 2012 the car will get the 30 year plates. Robert believes it's the only Champ left in south Florida.
Plymouth Colt notes
James Schueller wrote:
My first car is a 1986 Plymouth Colt. It has a 1.5L 68hp engine, 4-spd, 2-dr. It has seen its better days. It has 128,000 miles and uses a quart of oil in 150 miles. I got the car after my sister had it for her first car. She did not take good care of it at all. She never checked the oil in it. Never let it warm up on a cold day. The list goes on. She also drove it with the oil light on... TWICE!!! So it is a miracle that it still runs.
It seems to be a depenable car for how much it has been neglected. I was stranded only once cause of it and that was due to a flat tire. The thing we had replaced on the car is crankshaft seal, camshaft seal, valve cover gasketket, and the fuel. There are quite a few more seals that we need to replace on it. But we don't bother with it cause the car is only worth $200.
The body is full of rust. I'm suprized that water dosen't come in when it rains!!! The interior is shot. There is no room in there if you are a big person. The radio dose not work. The best thing about the car is the fuel mileage. It gets 30mpg on average. The best I have saw it was 36mpg. The car work just good enough to get me where I want to go.
Canadian Cricket
Mike Sealey wrote:
Chrysler Canada marketed a badge-engineered Colt as a Plymouth Cricket after they stopped bringing the Avenger-based (UK) Cricket over. (This was the 2nd generation Colt with dual headlights rather than quads, possibly best remembered in this country in its cute 2-door hardtop version. An interesting note is that the Plymouth equivalent to the Colt GT was another A-body model name revisited; "Plymouth Cricket Formula S"!


The Japanese Cricket (1974-76?) had different grille and taillights from its Colt sibling, unlike Canada's "Dodge Arrow" which as far as I remember only differed in emblems.

Lar Kaufman wrote:


I have a Chrysler service manual entitled "1976 Colt Service Manual" and the title page "Service Manual Sub-Compact 1976" covers Dodge Colt, Plymouth Colt, and Plymouth Cricket for Canada, United States, and Puerto Rico.

The vehicle identification chart lists the car as sold in all three markets in 1976 as the Dodge Colt in Canada, as the Plymouth Colt (some models), and in Puerto Rico as the Cricket (a subset of the Canadian Plymouth Colt models). I conclude that the Cricket was not a Canadian brand for 1976. (The body work section shows no differing headlights and grille for the Cricket.)

The 1976 Cricket (Puerto Rico) was offered only as "Custom" and "Super Deluxe" sedan models (types 6H41K and 6P41U) and corresponding station wagon models (6H45K, 6H45U) with manual or automatic transmission, and were apparently the same as the corresponding US 49-state versions of the Dodge Colt.

The Canadian Plymouth Colt lineup offered the same models as the Puerto Rico Crickets, plus a "Special hardtop" model (5S23K) in manual or automatic.

The Dodge Colt was offered in the US, Canada, and Puerto Rico in the same versions as the Canadian Plymouth Colt, plus "Coupe" (6M21K), "Super Deluxe hardtop" (6P23K and 6P23U) models. The Canadian Plymouth Colt models parallel the Dodge Colt models, but have a "5" prefix whereas the Dodge models have a "6" (e.g. 5S23K, 6S23K). The VIN code scheme used distinguishes between Canadian and US models, but not between Canadian Dodge and Plymouth offerings. Again, the Puerto Rico Cricket models are the same as their U.S. 49-state Dodge Colt counterparts.

The "Body and Sheet Metal" chapter of the manual shows that the coupe and hardtop shared chassis components; the hardtops are identified as "CAROUSEL" and "GT" styles for purposes of locating trim tape (remember the vinyl trim tape?).

Dodge Colt specifications
1970 Valiant
1972 Colt
1987 Colt
4-Door
1993 Colt
2-Door
1993 Colt
4-Door
Wheelbase
108
95.3
93.7
96.1
98.4
Max Track
57.4
50.6
54.7
57.5
57.5
Length
188.4
160.6
169.1
171.1
174
Width
71
61.4
63.8
66.1
66.1
Height
53.7
53.6
50.8
51.4
51.4
Turning circle
n/a
30.2 ft
30.5 ft
Shoulder room f+r
55.4
50.2
52.8/52.6
53.9/54.1
53.9/53.5
Headroom f/r
38.4/37.3
37.8/37.0
37.7/37.0
38.6/38.4
38.6/36.2
Legroom f/r
41.7/34.5
42.7/30.5
40.6/30.7
42.9/31.1
42.9/33.5
Trunk (cu ft)
9.0
10.9
10.5
10.5
Tires
6 x 13
P175/70R13
P175/70R13
Horsepower
115 @ 4400 (base)
85 @ 5600
92 @ 6,000 or
113 @ 6,000
92 @ 6,000 or
113 @ 6,000
Torque
155 @ 2400 (base)
90 @ 3600
93 @ 3,000 or
115 @ 4,500
93 @ 3,000 or
115 @ 4,500
Compression
8.5 (base)
8.5
9.2:1 / 9.5:1
9.2:1 / 9.5:1
Bore/stroke
3.4 x 3.125 (base)
3.03 x 3.39
Displacement
170 cid (base)
95.7 cid
1.5 - 1.8 liter
1.5 - 1.8 liter
Canadian Ad
(sent by Lanny Knutson)
From Plymouth
From Dodge
From Japan.
Plymouth Cricket. Dodge Colt.
Engineered and built in Japan.
Sold and serviced by Plymouth and Dodge dealers across Canada
Cricket and Colt may be small cars but they're big in a lot of ways. and that includes model choice.
Both are available in coupes, hardtops, sedans, and station wagons. Plus there's a sporty new GT available in the Colt line. So if you want to go small, you can choose the little Cricket or Colt that's exactly right for you. And no matter which model you choose you're going to get a lot of car in the bargain because that's the way the Japanese build a small-economy car.
Standard equipment on Colt and Cricket includes some features that are options on big cars. Like an adjustable steering column that lets you set the steering wheel to your most comfortable driving position. And high-back bucket seats (backs recline in all models except coupe). Now if that's the way Cricket and Colt treat you and your passengers, imagine how great the rest of the features must be. Or better yet, find out for yourself at your Plymouth Cricket and Dodge Colt dealers.
Home
•
Engines
•
Reviews
•
Chrysler 1904-2018
•
Upcoming
•
Trucks
•
Cars
Spread the word
via <!--
Tweet
or-->
Facebook
!
We make no guarantees regarding validity or accuracy of information, predictions, or advice - .
Copyright © VerticalScope Inc. All rights reserved. Dodge, Jeep, Chrysler, Ram, and Mopar are trademarks of Fiat Chrysler Automobiles.