Discussion Starter
·
#1
·
Hey guys, here is an article I published for my business. It reminds us that automakers were able to turn around the sporty coupe category, which was headed for extinction fifteen years ago. Hopefully, understanding how the domestics turned around the coupe category sparks some ideas on how to turn around sedans.
I shared this with my contacts FCA and seems to have been well received; it generated a good back-and-forth:
https://www.linkedin.com/pulse/coupe-dead-again-aldo-martin/
For those who do not have a LinkedIn account, below is the text of the article.
Feel free to comment and ask questions.
Enjoy!
IS THE COUPE DEAD, AGAIN?
By Aldo Martin, EVP - Panalytics Research Group
Fifteen years ago the sporty coupe was given for dead. Chevrolet had discontinued Camaro a few years prior, and Dodge hadn't offered a proper sporty coupe in decades. But everything changed when Ford launched the 2005 Mustang. "Retro" styling struck a chord with coupe buyers. As sales started to rebound, Dodge and Chevrolet responded with coupes of their own, reviving a category many had written off.

Soon enough higher-performing variants were being added, once more gracing the covers of magazines. Coupes were cool again. Even young Millennials were blogging about their favorite coupe and posting homemade reviews on social media.

But as Q1 2018 closes and the sales numbers get tallied, the story of how the dying coupe was revived and flourished for over a decade, is getting lost among headlines of the crossover vehicle (CUV) taking over the market from sedans.

Sales show that the sporty coupe category is down 12% compared to Q1 last year (from 60,600 in 2017 down to 53,400 in 2018). But notice that this decline is not affecting all coupes equally.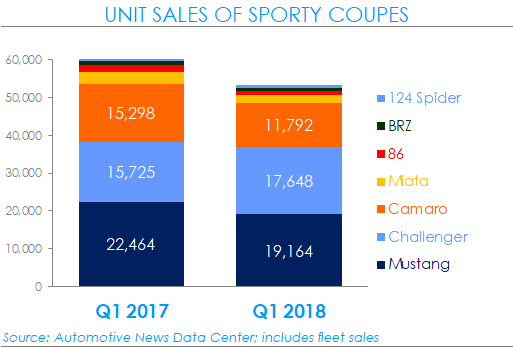 First let's understand how coupe demand works:

In general, practicality is one of the most powerful determinants of vehicle demand. This is the reason 4-door vehicles are much more popular than 2-door vehicles –usually at a 10-to-1 ratio.

Coupe demand, in particular, is the result of a tension between practicality on the one hand, and a want for more attractive styling and higher performance on the other. This tension has traditionally pulled 2-door coupes away from practicality, resulting in low sales. Nevertheless, recent history shows sporty coupe can be a dynamic and profitable category.

Combined sales of the top-3 selling sporty coupes, Mustang, Camaro and Challenger, have ranged between 150,000 and 220,000 annual units. Despite obvious differences, these vehicles are usually seen as direct competitors. But sales of each model show different patterns: while Camaro and Mustang sales show instability, Challenger sales show a sustained growth pattern. Below are trended annual sales for the top-3 selling coupes: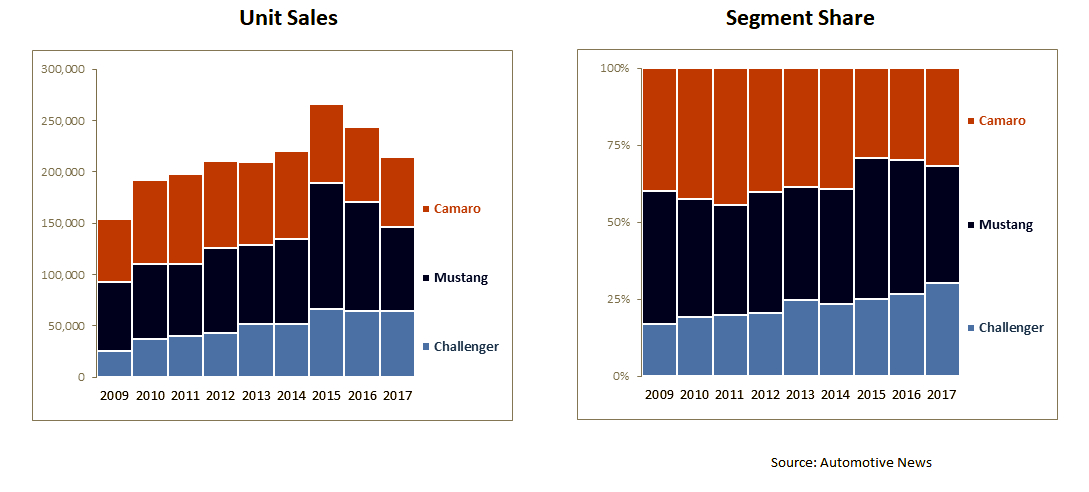 There are a million different variables impacting sales of each model, including the current market shift from cars to CUVs and trucks, demographic forces like Millennials starting their own families, and the product and marketing strategies each automaker chooses to follow. But we know that, ultimately, this tension between practicality vs. styling and performance determines the bulk of sales for the category as a whole.

Using this framework we can assess –qualitatively or quantitatively—how each of these automakers has tackled this tension, and see the result on the market.

STYLING
Styling is one of the key reasons to buy a coupe. The 2-door configuration requires such significant compromise in comfort and everyday practicality, that styling needs to stand out sufficiently to overcome this lack of practicality.

There's no doubt that "retro" styling helped revive this segment. The reason why retro styling worked needs further investigation. My hypothesis is that "retro" styling that has "heritage" is distinctive –in a positive way—which offers value to consumers.

The issue with "retro" styling, though, is after one or two product generations, it confines designers into a box. Because of this, Camaro and Mustang are trying to evolve their styling from that confinement into more globally-accepted designs, but sales —in North America at least— are being negatively impacted. Meanwhile Challenger has stayed truer to its iconic look, and buyers are rewarding it with their purchases.

Mustang and Camaro styling is trying to evolve from the confinements of "retro"



PERFORMANCE
Performance is another key reason to buy a coupe. Mustang and Camaro have raised their traditional muscle car performance cred to a global standard. The two are getting compared against world-class sports cars with long pedigrees and showing favorable reviews.

Meanwhile, Dodge has been content with expanding Challenger's performance credentials around the traditional definition of the muscle car. No doubt adding the 707 horsepower Hellcat and 840 horsepower Demon variants cast a halo to the rest of the Challenger lineup, but despite its remarkable performance, Challenger retains a more traditional muscle car path.

PRACTICALITY
This is another area where Challenger has carved its own path. The same size and weight that hinders Challenger's performance numbers, gives the coupe more comfortable front and rear quarters, a more usable trunk and greater visibility.

It is because practicality is such a powerful driver of demand, along with styling that has remained iconic and distinctive at the same time, that Challenger has been able to carve a more sustainable sales path despite lacking world-class performance.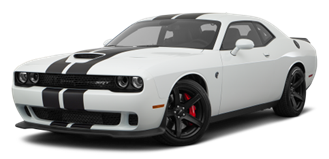 Performance is hindered by larger size and weight, which ironically, result in Challenger's greater practicality –and road presence
THE PUNCH LINE
Sporty Coupes reveal that automakers have the power to revive a declining category. Just like with coupes, maybe understanding what drives demand for 4-door cars, and uncovering the underlying tension, can help turn around the ongoing decline in sedans.