K-Cars: Plymouth Reliant, Dodge Aries, and Chrysler LeBaron
​
Based on an article
by Aaron Gold.
The original K-cars, the Plymouth Reliant and Dodge Aries, brought traditional engineering to the front wheel drive layout. They were not as modern as the company's own
Horizon and Omni
, but they had a more solid feel, a smoother ride, and a more American flavor. Many Volare and Aspen buyers found the K-cars to be an upgrade; and they were better suited to American roads and tastes than most imports of the day.
The public snapped up hundreds of thousands of the "K-cars" in their first year, despite lingering doubts about Chrysler. From 1981 to 1988, they sold over 300,000 K-cars per year.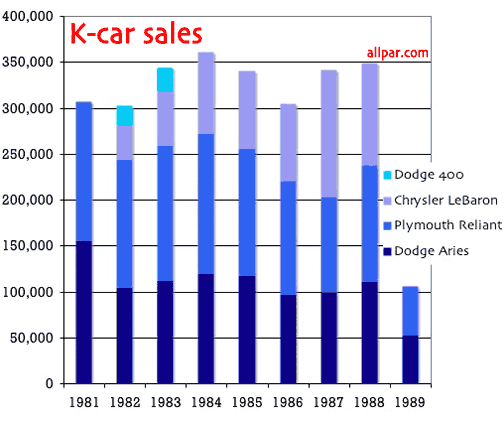 The cars themselves merged the modern European style (pioneered by
SIMCA, Chrysler's subsidiary in Europe
) - rack and pinion steering, MacPherson front suspensions, and transverse-mounted four-cylinder engines with front wheel drive - with Chrysler's traditional solid-beam rear axles, sedan form, torque-weighted engines, and (on some cars) bench seats.
The K-car platform was eminently flexible, and it was
stretched, compressed, and reconfigured
into the
famed minivan
, a
0-60-in-5.8 Spirit R/T sedan
, and even the
Chrysler Town & Country wagon
.
Because of their importance, the company worked on every detail of these cars; for example, they had the least door closing effort of any Chrysler vehicle, regardless of price. An electric fan replaced the engine-driven models of past models. Lee Iacocca personally pushed the manufacturing people into much higher standards than they were used to, shredding the complacency that had taken hold of some executives even after the Volare/Aspen debacle.
Over 320 hours of wind tunnel testing helped designers to cut drag by 20% from the original designs, cutting back on wind noise and wind resistance, and helping highway mileage.
Thomas Mize wrote that the 1981-82 Reliant and Aries both had a factory sunroof option, though production numbers are unknown; he asked for people to contact him (or us) if they have information.
The Ks bowed for 1981 as the Dodge Aries and Plymouth Reliant - and, in Mexico, the Dart - with a two door coupe, four door sedan, and four door wagon. The car did 0-60 in the 13 second range [typical for the time].
A 2.6 Mitsubishi motor was optional, and cars bearing this motor - for 1981 at least - were adorned with the badge "2.6 HEMI," reflecting their hemispherical head design. The relatively high torque of the 2.2 four-cylinder (and the 2.6) stood in stark contrast to the Escort, Corolla, Datsun B210, and other competitors; and while gas mileage was not as good, the driving experience was far better.
By 1982, Plymouth had the Reliant patrolling the streets of America in full police car trim. Reviving a term used in the past, it was called the Reliant Scout Car; it joined the midsized Gran Fury Pursuit and the Voyager van in law enforcement.
(Thanks, Jim Benjaminson)
While the K-car eventually ranged from sporty compact to minivan, most of that proliferation was not originally in the plans, which makes it all the more impressive.
Burton Bouwkamp, head of body engineering when the K car was designed
, wrote in 2009:
The Reliant, Aries, and LeBaron never got any powerplant more powerful than the 100 horsepower 2.5 liter single-injector four; even those, with a stick-shift, were quite sprightly. A fast-opening throttle gave automatic transmission cars a feeling of power.
Performance and drivetrains
2.2 liter: originally 84 hp, 111 lb-ft. Went to 94/117 in 1983, then to 93/122 with fuel injection in 1986.
2.2 liter compression ratio: 8.5:1 (1981-82), 9:1 (1983-85), 9.5:1 (EFI) 1986+
Standard axle ratio: 2.78 (station wagon/optional ratio: 3.02)
2.6 liter Mitsubishi engine: 92 hp and 132 lb-ft(?) and 101 hp and 140 lb-ft
2.5 liter: 100 hp and 135 lb-ft.
0-60 times (collected by Mike Swern)
| | | | | | |
| --- | --- | --- | --- | --- | --- |
| Year | Model | Transmission | Engine | 0-60 | Source |
| 1962 | Valiant | 3-Speed Manual | 3.7 | 13.0 | Home Mechanix |
| 1986 | Aries LE | Auto | 2.5 | 11.4 | Home Mechanix |
| 1982 | Aries SE | Auto | 2.2 | 16.0 | Consumer Reports |
| 1982 | Aries SE | Manual (4) | 2.2 | 12.2 | Car & Driver |
| 1988 | Reliant SE | Auto | 2.2 EFI | 12.9 | Home Mechanix |
| 1981 | Reliant | Manual (4) | 2.2 | 12.5 | Motor Trend |
| 1981 | Reliant | Auto | 2.2 | 14.0 | Motor Trend |
| 1981 | Reliant | Auto | 2.6 | 12.4 | Motor Trend |
| 1988 | Reliant | Auto | 2.2 EFI | 10.6 | Car & Driver |
| 1985 | Aries | Auto | 2.6 | 13.8 | Consumer Reports |
| 1985 | Reliant LE | Auto | 2.2 | 13.4 | Popular Science |
We have no tests of the fastest Reliant (five-speed manual transmission and 2.5 liter engine); and these times have to be considering in the context of straight-six Fords and Chevys, as well as tiny-engined Nissans, Datsuns, Hondas, and Toyotas.
Thanks to the Reliant's and Aries' light weight, none of the engines felt sluggish with the three-speed automatic; hill climbing (gradability) was better than most competitors. Gas mileage with the stick-shift (26 city, 41 highway, sedan; 26/40, wagon) made it America's highest-mileage six-passenger car.
To keep costs down while providing a bigger-car ride, the rear suspension was not fully independent, but had a new flex arm system; the front suspension used struts with rack and pinion steering, finally leaving the torsion bar suspensions Chrysler had used since 1957.
The K's boxy shape was functional; in a shot at the Japanese competition, Chrysler ads boasted that the K's front and rear benches seated "six Americans." The trunk was decently sized. Gauges were minimal, with a square speedometer and idiot lights.
Steering was light; handling was nimble if dull. With their function-over-form exteriors and their mundane mechanicals, the Ks were worthy sucessors to the 1970s
Darts and Valiants
, even if they were not quite as bulletproof.
All original Reliants and Aries had a 100.1 inch wheelbase. The overall length of the two and four-door models was 176 inches. The wagon was 0.2 inches longer. The vehicles had a 13-gallon fuel tank. The coupe and sedan had approximately 15 cubic feet of luggage space; the wagons, 35 cubic feet with rear seat up and about 70 feet when folded.
Wagons were on the same wheelbase as other cars, keeping their weight down so acceleration was sprightly and gas mileage was surprisingly good; these were some of the last wagons made by Chrysler until the ill-fated Dodge Magnum, with their place taken first by minivans and then by crossovers. The Reliant wagon was stylish and, with a stick-shift, fleet. Rear seats folded down to form a level platform and to increase cargo space from 35 to 68 cubic feet. On a less critical note, the Reliant LE station wagon had wood-tone bodyside and liftgate appliques with woodtone surround moldings (these could be deleted from a buyer's order if they were not wanted.) The interior boasted cloth and vinyl bench seats, with stalks for wash/wiper and headlamps.
Changes to the Plymouth Reliant, Dodge Aries, and Chrysler LeBaron
Two new electronically tuned radios made by Chrysler in Huntsville were optional on all Chrysler, Plymouth, and Dodge cars and trucks for 1982. These were the Quartz Lock radios, which some claim had a high defect rate; they had numerous grounds to the radio chassis designed in, making them harder to work on. (
See the kronology page for more 1982 changes
).
The Chrysler LeBaron version, essentially a higher trim Plymouth, was added to the lineup for 1982.
Numerous improvements to the sound insulation and feel were made in 1983. Then, for 1984, the Reliant and Aries were given a minor facelift, without losing their squarish looks; the upgraded interior gained a new instrument panel with gas, temperature, and voltage gauges, and a trip odometer; color-keyed seat belts; molded trunk carpet; and another 7.5 inches of front seat travel.
The SE provided more upscale interior appointments (cloth seats and center armrest, generous standard equipment).
The Town & Country
, a high-end K-car wagon spurred by Lee Iacocca himself, hit the market.
In 1985, the K cars were once again facelifted, this time gaining a rounded front fascia, smoother hood, and bigger taillights, which brought the car more into the now-fashionable "curvy look." A fuel injected 2.2 arrived at last, followed by the
2.5 liter engine
, which replaced the Mitsubishi 2.6. Rear windows used a light plastic gear, saving 60% of the weight of conventional manual height assemblies. The hood used counterbalance springs rather than a prop rod.
1986 was a fairly major year for Chrysler engines: both the 2.2 and 2.5 fours gained roller camshaft followers, for much better durability. The rollers improved idle quality and fuel economy by reducing friction between the camshaft and the older followers, and increased engine life, especially in colder climates (or with owners who put in lower-quality oil). The company also hit an industry first by post-hardening its nodular iron cam. Together, the steps cut friction by 20% and increased city driving economy for both engines by 3%-4%.
Sound deadening steps led to molded air intakes on both 2.2 and 2.5 engines, and a power hop damper on the 2.2 turbo with manual transaxle. Engine mounts and exhaust hangers were also improved to quiet the cars; and the carbureted 2.2 got lighter connecting rods, while all 2.2s got lighter piston pins, to reduce second-order vibrations.
Chrysler Corporation keys moved to the modern look, with a plastic cover over the top and teeth on both sides; Reliant and Aries gained "precision-feel power steering;" and the mandatory third brake light was implemented. Reliant/Aries also got more ergonomically designed switches, computer engineered to be more comfortable, with less travel and surface variations to help people to use them without looking at them. Halogen headlights became standard.
The popularity of the "K-cars" led to the letter K being added to the decklid; and these cars got the fuel injected 2.2 and the brand new 2.5, though they were among Chrysler's least expensive cars. The close-ratio five speed manual became standard; a 90 amp alternator was now standard; and a new five-stud wheel mounting was used on all models.
New 14 inch Sport wheel covers became standard on the LE, while a new cloth with vinyl center armrest interior became standard on SE sedans. New packages included Protection and Popular Equipment Discount; neither was available on the base model, which also made do with fully manual rack and pinion steering (not a major drawback on this light car). Every model came with power assisted brakes, disc in front, drum in rear. Standard tires on all base-model body types were P175/80R13, for a smooth, comfortable ride; better cornering could be had with the optional P185/70R14 radials (standard on LE).
The Reliant/Aries' replacement came on-line in 1987: the
Plymouth Sundance and Dodge Shadow
, styled to look like the upscale
Chrysler LeBaron GTS and Dodge Lancer
. However, high demand for the K-cars kept them in production for two more years; they gained a stainless steel exhaust (a corporate standard now) and standard front bucket seats. The mid-range models were dropped (SE for Plymouth), but the top and bottom levels remained.
For 1988, the Reliant and Aries had a redesigned roll-down window mechanism for rear doors. A new "Reliant America" series (along with Horizon/Omni America) added normally-optional features at a rock-bottom price, attracting economy buyers; the strategy was later applied to the Plymouth Sundance. The Chrysler LeBaron version was dropped at the end of the year.
For 1988, Chrysler made many changes to their entire lineup. The battery was upgraded to 400 amps; an electromechanical lockup torque converter was included; idle speed noise and vibration were cut; a stainless steel exhaust became standard. The base model was dropped, along with the woodtone appliqué on wagons.
For 1989, the front suspension was improved by using larger bushings on the lower control arm, and a position-sensitive strut design. New underhood service identifiers were added for fluids. There were also new stereos, and new steering wheels. Perhaps the largest change was dropping all models
except
the Reliant America and Aries America.
Drivetrains
One reason for the cars' success was the well designed
2.2 liter (135 cid) four cylinder
powerplant. Except for head gasket issues in early years, common to four cylinder engines of the day, the 2.2s were reliable and had decent torque at low speeds. Unlike many small overhead cam engines, it is a noninterference design, so if the timing belt slips or breaks, the pistons and valves do not thrash each other into oblivion. Aside from the starter's location (under the back side of the block), routine repair and servicing was relatively easy.
Unlike
the slant six
, still in production at the time, the 2.2 was not starved by a "cost conscious" carburetor. Instead, the company sprang for a modern two-barrel electronic feedback carburetor with a progressive opening - opening the secondary bore only when needed - churning out 82 hp when launched. Two computers (designed, built, and calibrated by Chrysler itself) controlled the electronic ignition, spark timing, and electronic feedback carburetor.
Transaxles were a 4-speed floorshift manual or a 3-speed automatic. The automatic transaxles, beefed-up versions of the
Omni/Horizon
TorqueFlites, were fairly rugged; when they were used with fuel injection, they had a steep throttle "tip-in." The five-speed's abrupt clutch made driving smoothly somewhat difficult at first. Gear ratios for the Torqueflite were 2.69:1, 1.55:1, and 1.00:1; reverse was 2.10:1. Overall top gear ratio was 2.69 for the manual, 2.78 for the automatic.
A 2.6 liter four made by Mitsubishi was available as well; it tended to have issues with the valve seals and an overly complex, expensive Mikuni carburetor. The balance shaft chain made timing chain replacement more complicated, as well. It generated 92 hp and 131 lb-ft of torque. The clever MCA-Jet system increased efficiency and performance; hemispherical combustion chambers with top-mounted spark plugs and facing valves also helped efficiency, and Chrysler put "2.6 HEMI" badges on the side of some 2.6-equipped cars, causing some amusement. Still, other than the carburetor and seals, they tended to be fairly long-lived.
The early 2.2s often had cam problems,
resolved by valvetrain redesigns [see the story
]. The feedback carburetors could be temperamental, especially on a cold motor (a problem on most vehicles of the period).
The first 2.2 used a cast iron block with aluminum pistons, overhead camshaft and valves, and an aluminum cylinder head. Just one year after its launch, numerous tuning changes were made, so that the 1982s had the underhead flast removed from exhaust valve, with different cam centerline and sprockets and exhaust valve seats; the new "D" intake manifold, with shorter runners and a larger plenum, was phased in as a running change. Stock was added to the block between the cup plugs, below the manifolds, and they switched to the "teacup" oil filter. The 2.2 still made 84 horsepower in 1982, but there were many differences from the first to second year.
When the 2.2 gained fuel injection, it used a single-point throttle-body fuel injector, though multiple-point fuel injection had become common by then, to cut costs. This version turned out 93 hp (129 lb-ft); more important, it solved the starting and idling woes of carbureted versions, as well as the inability of some spark-control computers to hold the timing steady as they aged.
A 2.5 version of the motor, always fuel injected, put out 100 hp (135 lb-ft) - more power and torque than the Mitsubishi. Its balance shafts made it somewhat smoother and quieter than the 2.2, but it was only available with the automatic at its launch in 1986.
K Chrysler LeBaron
Burton Bouwkamp wrote: "The Chrysler K car and E Body were high trim level Plymouths, but it was the only way we could afford to give the Chrysler brand a new car. The alternative was to carry over the rear-wheel-drive car for the Chrysler nameplate, which was judged to be less desireable." (The K-LeBaron outsold the rear wheel drive Chrysler New Yorker throughout their time together.)
based on writing
by Anthony Forte
The 1982-88 Chrysler LeBaron shared nearly all of its parts and engineering with the Dodge Aries and Plymouth Reliant. Chrysler made it look different by using a revised front clip with four headlights (instead of two), adding chrome, upgrading the wheel covers, changing the tail-lights, and putting on a vinyl roof.
They also made it quite different to drive, by retuning the suspension and adding in a turbocharged liter engine - making it the only K-car with turbo power. That added half again the normal horsepower, or 146 hp (with the 2.2), with 170 pound-feet of torque - a good engine for a light car. The 2.2 and 2.5 liter turbos were both available, depending on year, hooked up to a five-speed manual transmission or a less desirable, but more popular, three-speed automatic. If 146 hp seems low, consider that the V8 in the 1981 LeBaron had produced 130 hp (and 230 pound-feet of torque), with much more weight to pull.
The LeBaron name had fallen from being on the top-of-the-line Chrysler Corporation car - the 1975 Imperial LeBaron was the last time it would see such heights. By 1981, the LeBaron name was on
a car derived from the Volare
.
The 1982 Chrysler LeBaron was sold as a sedan, wagon, and coupe; a
convertible
version followed shortly after, mostly for publicity. The K-car LeBaron coupe and convertible were dropped at the end of the 1986 year - or, depending on one's persective, given a different body for the 1987 model year. (See the
full story on the Chrysler Town & Country coupe and convertible
)]
The 1985 LeBaron had a minor freshening; the 1988 LeBaron's power steering ratio went to 16:1, tires were upgraded, and some options were made standard. That would be the car's last year, but the name would continue with the LeBaron coupe and convertible - now on a different body, with essentially the same basic engineering - and in the
LeBaron GTS
five-door hatchback, also based on the same principles, and similar to the
Dodge Lancer
.
Plymouth Relient and Dodge Aries Overview
Even at the end of its run in 1989, the Reliant and Aries were pleasant cars to drive; LE models had plush cloth interiors, good sound insulation, nice digital radios, and, frequently, the 2.5/auto combination. They were quiet, plush and smooth-running, compared to the early models. And the prices were still rather cheap.
The Ks were great products. They were cheap, reasonably reliable, and delivered economical transportation for six people.
The value, especially when compared with traditional rear wheel drive compact cars, could not be denied: acceleration was similar to the 318-powered Gran Fury, and though they were a full two feet shorter on the outside, legroom was only about two inches less (combining front and rear), hip room was higher, and headroom was under an inch less; the trunk was nearly as large. In short, for much less money, one could have a vehicle only a little smaller than the "now big" Gran Fury, with similar performance and interior space but considerably better gas mileage -indeed, for many, gas mileage would double with the move to the "four bangers."*
The K platform spawned almost all of Chrysler's products for the 1980s, and sales of the car were strong enough to bring Chrysler back from the brink of bankruptcy. They were simple and humble but they did their job. And in the wake of the rather disastrous tenure of GM's X-bodies, they led the American automotive world into an era of small, space- and fuel-efficient FWD cars, a tradition that continues on GM,
Ford,
and Chrysler showrooms today.
Two of the more interesting facets of the K line were the
Executive Sedan and Limousine
... (not to mention the planned turbine version).
Looking at the wagons, one can see that the K-car was not much smaller inside than the F-body wagons. Legroom around 2 and a half inches less generous in back; hip room was one inch less in front; and cargo capacity was off by four cubic feet. In return, drivers got a car two feet shorter, bumper to bumper, making parking easier; and roughly doubled their gas mileage.
1980
F-Car Wagons

1984
K-Car Wagons
Wheelbase
112.7"
100.4
Overall length
205.5"



179
Overall width
74.2"
68
Track-Front / Rear
60.0"/59.5"
57.6
Turning diameter (curb-to-curb)
40.7'
35.2'
Legroom-Front /Rear
42.4" / 37.4"
42.2 / 34.8
Hip room-Front /Rear
56.8" / 56.6"
55.6 / 56.2
Cargo capacity- [cu. ft]
71.8
67.7
Comparison to other Dodge and Plymouth cars of the time
The K-cars provided nearly the same interior space and ride as the M-body Gran Fury and Diplomat, at much lower cost, with much better mileage; and they afforded a five-speed manual transmission option to get quicker acceleration and even better gas mileage.
The Gran Fury was a full two feet longer, but legroom was only 1.5 inches better in the rear seat, and a mere .3 inches longer in the front. The trunk capacity was similar - .6 cubic feet better in Gran Fury. The Gran Fury was actually narrower inside than the K-car, while managing to be four inches wider outside. And the K-cars didn't have transmission humps inside.
Yes, the Gran Fury had its strengths - a tough structure, torque, and a plush, attractive interior - but its dated engineering, which dated back to the 1950s with major updates roughly every ten years until the mid-1970s, and the basic architecture limited its attractiveness to the average buyer, as did the unaerodynamic shape.
Specifications and comparisons
(inches; sedans)
1972 Plymouth
Valiant
1986 Plymouth
Reliant
1987
Ford Tempo
1987 Nissan
Sentra
Body Type
A
K
Front headroom
38.7
38.6
Rear headroom
37.3
37.8
Front Legroom
41.5
42.2
41.5
41.8
Rear Legroom
34.7
35.4
36.0
31.4
Trunk (cubic feet)
14
15
12.9
12.3
Fuel
16 gallons
13 gallons
Seat height (f/r)
8.6 / 11.1
Length
199.6
178.6
Turning Circle
38.3 feet
35.2 feet
Base engine
100-hp 3.7
97-hp 2.2
86-hp 2.3
70 hp 1.6
Base mpg
n/a
25/35
25/34
28/35
Opt engine
150 hp V8
100 hp 2.5
23/26 mpg
none
none
Comparing the wagons:
| | | |
| --- | --- | --- |
| 1987 | Plymouth Reliant | Chevy Celebrity |
| Legroom | 42.2 / 35.7 | 42.1 / 35.6 |
| Max cargo | 67.7 | 75.1 |
| Base engine | 97-hp 2.2, 24/32 mpg | 98-hp 2.5, 22/32 mpg |
(inches unless noted; 1986 figures)
Two-door
Four-door
Wagon
1982 Reliant
1986 Gran Fury*
Wheelbase
100.3
100.3
100.4
99.6
112.6
Length
178.6
178.6
179.0
176
204.6
Width
68.0
68.0
68.0
68.6
72.4
Height
52.5
52.9
53.2
52.3 - 52.7
55.1
Track (max)
57.6
57.6
57.6
57.6
60.5
Turning diameter
35.2'
35.2'
35.2'
34.6
40.7'
Headroom, F/R
38.2 / 37.0
38.6 / 37.8
38.6 / 38.5
39.3 / 37.7
Legroom, F/R
42.2 / 35.1
42.2 / 35.4
42.2 / 34.8
42.5 / 36.6
Hiproom, F/R
55.7 / 54.3
55.6 / 56.2
55.6 / 56.2
53.5 / 53.2
Trunk capacity, cubic feet
15.0
15.0
34.9
15.0/34.2**
15.6
Cargo, second seat down, c.f.
67.7
69.2
Gas tank (gallons)
13
Gas mileage (2.2 manual)
25 mpg city /35 highway*
29/41**
16/21*
Power, 2.2 liter engine
(Gran Fury: 318)
97 hp @ 5,200 rpm
122 lb-ft @ 3,200 rpm
84 hp @4800
111 lb-ft @2,400
[email protected],600
[email protected],600
Power, optional engine
(
1986: 2.5 / 1982: MMC 2.6)
100 hp / 136 lb-ft
92 hp @4,500
131 [email protected],500
* 25/35 corrected for 2008 standards = 22/32!
16/21 corrected for 2008 standards = 15/20 - required premium!
** 15.0 for sedans, 34.2 for wagon. 40 mpg highway for wagon.
Reliant and Aries trim levels
1981-1984: standard, custom, special edition.
1985: Base, SE, LE.
1986: Base, LE.
1987-88: America plan (fewer options, lower price, more standard features).
1989: America only; no wagons
Thanks to Michael Swern, Stephen Lyons, and Anthony Forte.
1981 Reliant and Aries K-cars
(with competitive comparisons)
Kronology: Changes to the K-car
Home
•
Engines
•
Reviews
•
Chrysler 1904-2018
•
Upcoming
•
Trucks
•
Cars
Spread the word
via <!--
Tweet
or-->
Facebook
!
We make no guarantees regarding validity or accuracy of information, predictions, or advice - .
Copyright © VerticalScope Inc. All rights reserved. Dodge, Jeep, Chrysler, Ram, and Mopar are trademarks of Fiat Chrysler Automobiles.