Discussion Starter
·
#1
·
Hey All,
Permit me to introduce myself, I am JC Allison, 73, caretaker, and caregiver of Lorrie Van Haul, a 1967 Dodge P200 Postal Van that came to live with me after being retired from delivering mail for the USPS in Houston, Texas, in 1975.
This is how Lorrie presently looks: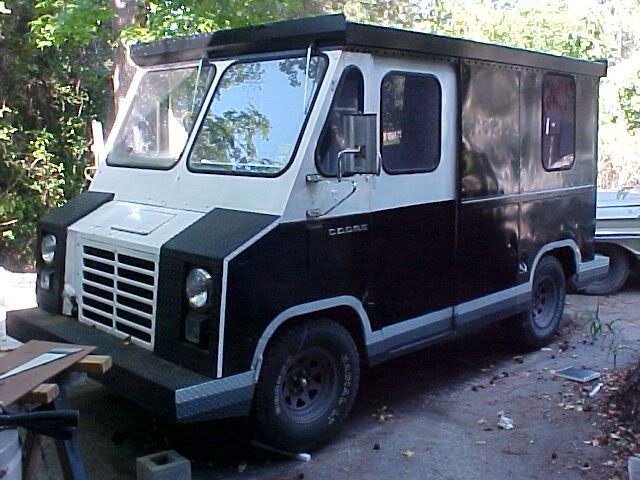 Lorrie is just weeks away from being finished after a two year refurbishment. Everything that could be fixed was fixed.
After retiring from her career with the USPS, Lorrie got into Show Business, serving as the equipment truck for the "AllisonWonderland Concert Lightshow".
On September 3, of 1996, she was driven to Onalaska, Texas from San Marcos, Texas where she had just finished a gig a the Aquarena Center, and was parked. And she hasn't moved since. Her caretaker became very ill, and was given only five months left to live on December 1, 1998, and was preoccupied with surviving to keep Lorrie from having to be let sit.
Having finally had the illness go into remission, he decided that it was time to get Lorrie back up and running, and so in October of 2009 the refurbishment of Lorrie began.
A week ago today, Lorrie's mighty 225 Slant Six was started for the first time in sixteen years. It ran for about one minute, and then the Holley 1920 Carburetor started leaking from the Float Bowl Gasket.
Lorrie was shut down, and the Gasket Leak was attempted to be repaired.
Lorrie was then started again, and this time ran for five minutes before the 1920's Float Bowl Gasket once again started to leak.
Lorrie was shut down, and upon inspection, it was decided that the poor old Holley was toast.
A search was begun for a NEW Carburetor, and one was found in Richmond, BC, Canada. It is an NOS Bendix Stromberg Model W, with no Gaskets below the Fuel Level.
http://slantsix.org/forum/viewtopic.php?p=81395#81395
Anyway, Lorrie is a Model 28, Slant Six, Built in Warren, A727 Torque Flight Transmission, No. 39, Model RA36 Rear Axle, and has Right Hand Steering (thus the name: Lorrie).
Lorrie has a bright future ahead as the Chase Truck for Ms. American 3.14159, the ONLY 1964 Ford Galaxie 500, Four-Door, Hard-Top, Fast-Back, Police Interceptor that Google finds on the whole World Wide Web who is slated for a major refurbishment. Ms. American was bought NEW by my father, and was my mother's daily driver till June of 1986, when my mother could no longer pass her driver's test. In order to keep her from driving without a license, my father called me and said: "You've always liked this old Ford, if you want it, come get it. It's yours for a buck."
For more pictures of Lorrie, click here:
http://msamericanpi....t.com/dodge.htm
For pictures of Ms. American 3.14159, click here:
http://msamericanpi....om/galaxie.htm.
NOW, have a question:
Lorrie's Serial number starts with a 28. Have been unable to find any VIN Decoder that lists a 28. They all jump from 25 to 29. Lorrie is a P200. and here is her Warranty Plate: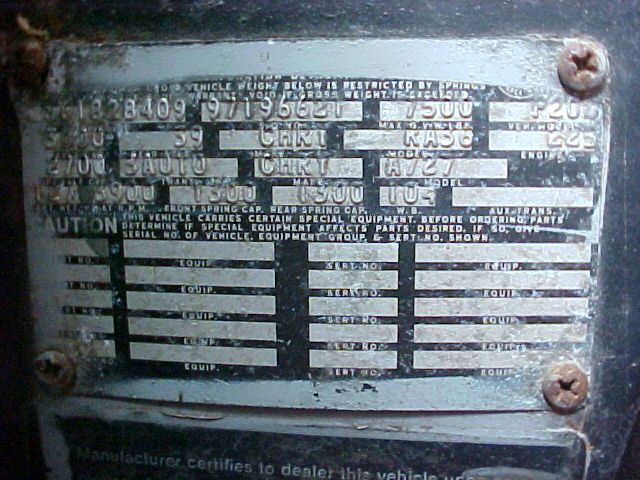 You can't see the 28 in the upper left hand corner, but trust me, it's there. Would like to know what that denotes. Am suspecting that it is a "fleet" designation, but would like to know for sure.
Would love to hear your comments, and will answer any and all questions.
Anyway, thanks for reading, and hope you all are well.
JC Allison