New Venture Gear / Magna T355 Five-Speed Manual Transaxle
Used in the Jeep Compass, Jeep Patriot, and Dodge Caliber, the T355 manual transmission was created by New Venture Gear. By the time the three cars were actually made, Daimler had sold New Venture, so the T355 was made by Magna Driveline, built in the old New Venture / New Process factory in Syracuse, New York.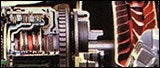 One source wrote that the cost to the factory was originally $700, but Magna demanded $1,700 for a final run in 2012 due to the cost of keeping the plant open to build that one unit. The historic Syracuse plant would then be closed, replaced by Magna facilities in Mexico and Munice.
| | | |
| --- | --- | --- |
| | T355 | T350/T350HD |
| 1st | 3.77 | 3.54 or 3.50 |
| 2nd | 2.16 | 2.13 or 1.95 |
| 3rd | 1.41 | 1.36 |
| 4th | 1.026 | 1.03 or 0.97 |
| 5th | 0.72 | 0.72, 0.83, or 0.81 |
Reverse was set at 3.417:1. The final drive ratio as installed in the 2012 Jeep Patriot was 4.12, with an overall top gear ratio of 2.97:1. The cable-operated transmission was coupled to a three-plane shifter; it was synchronized in all forward ratios.
The T355 was derived from the
T350 and T350HD used in the Neon
, which had garnered praise for its smooth operation, low cost, and durability. Like the T350, it had a single spider gear set and open differential. However, the case and transmission mounts are different enough that it is not interchangeable; and the first gear is lower, for better launches (or to overcome low-end torque gaps). Unlike the Neon's transmission, the T355 used a hydraulic throwout bearing, combined with the slave cylinder.
Trucks/SUVs
Jeep
Ram
Military
Engines
2015-2017
Forums
Home
•
Engines
•
Reviews
•
Chrysler 1904-2018
•
Upcoming
•
Trucks
•
Cars
Spread the word
via <!--
Tweet
or-->
Facebook
!
We make no guarantees regarding validity or accuracy of information, predictions, or advice - .
Copyright © VerticalScope Inc. All rights reserved. Dodge, Jeep, Chrysler, Ram, and Mopar are trademarks of Fiat Chrysler Automobiles.