Discussion Starter
•
#1
•
Ford is in the process of developing a redesign for its Mustang, one that will see the car move to a modular platform now that the Blue Oval is shrinking its
platform count to just five
.
Automotive News
(subscription required) reported Monday that the redesigned Mustang, the seventh generation of a nameplate that has spawned more than
10 million sales
to date, is expected to arrive in 2021.
Ford in early 2017 confirmed that a
Mustang Hybrid
will be launched in 2020, though it isn't clear whether the automaker will base the gasoline-electric car on the current Mustang or the redesigned one. Given the expectation of the redesigned Mustang in 2021, it's likely we'll see the Mustang Hybrid form part of the current sixth-generation lineup.
What's sure to irk some fans is Ford's decision to move the redesigned Mustang onto a modular platform, likely the rear-wheel-drive (with available all-wheel drive) unibody platform debuting in next-generation versions of the
Ford Explorer
and
Lincoln Aviator
.
Speaking with
Automotive News
, Mustang chief designer Darrell Behmer said fans have nothing to worry about.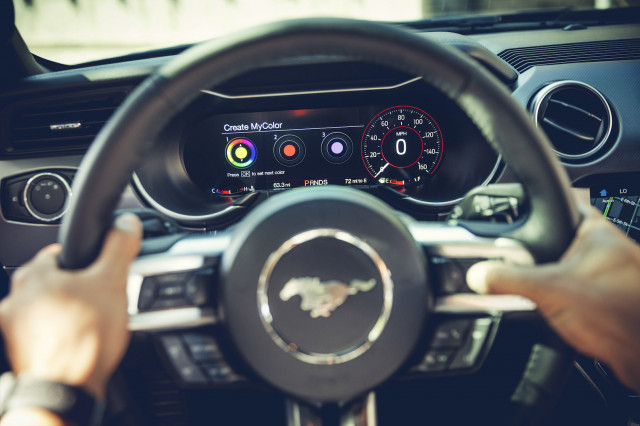 "Mustang is still going to be a strong, well proportioned vehicle," he said. "The modular architectures will still give us flexibility; it's not going to bastardize Mustang."
It's a theme backed up by the car's chief engineer, Carl Widmann, who told
Automotive News
that moving from the current car's dedicated platform to a modular design for the new Mustang won't fundamentally change the car.
"The general layout of RWD has morphed over time, but it's still the general architecture that it has been," he said. "In the architecture world of a RWD—which you're going to end up with a RWD architecture—I think these pieces of it are pieces that will always work. As you tune it and put a top hat on it, you can get different combinations and can define a lot of the emotion."
Both the Chevrolet Camaro and Dodge Challenger already feature modular platforms.
A bonus is that the move will allow Ford to offer an all-wheel-drive option on the Mustang, something that should appeal to northern buyers looking for a car that can be used throughout the year. Currently only the Challenger offers the option.
Next Ford Mustang said to be coming in 2021, and with available AWD (at https://www.motorauthority.com/news/1118467_next-ford-mustang-said-to-be-coming-in-2021-and-with-available-awd )