Discussion Starter
·
#1
·
I have actually only done this on about half my PT Cruisers.
In this case, with the new to me Convertible, the calipers were really dirty and RUSTY after 100K.
My son was supposed to media blast them for me, but failed to show.
So, since I had 2 warm days in a row, I decided to press on myself, rather than wait
I disassembled them, and scrubbed them down with gasoline and wire brush.
Then sprayed with brake cleaner.
Then rubbed own well with Acetone.
Mistake
: The goal was to use a Duplicolor "Metalcast" Anodized Purple.
WHAT??? ME READ SPRAY CAN LABELS??? Nah! Why??
So the calipers simply turned out purple.
What I didn't read on the can was, that if I wasn't starting out from chrome or polished SS, I needed to use "Metal Cast Ground Coat" first.
THAT made a big difference
.
To correct my mistake, I simply reassembled the calipers, and lightly oversprayed the "Ground Coat" on what surfaces would be visible looking at the wheel.
Then, a light coat of the anodized purple, and clear over top.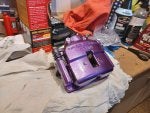 The Anodized Purple is a great compliment-match to the Deep Plum body color.
Will do the rears soon too.