Plymouth 1946-1948: An Incredible Seller's Market
by
Jim Benjaminson
. Copyrighted by Jim Benjaminson. Reprinted by permission.
Originally published as a print book by Motorbooks International
As the war in Europe wound down, the U.S. government slowly began allowing the automobile industry to return to the business of making cars. It had been four years since any new cars had been built, and those cars still on the road were beginning to show their age.
Driving had been curtailed during the war, but each motorist had been rationed a few gallons of gas per week, so the nation's automobile fleet was aging. According to Fortune, of the 29.6 million cars on the road at the start of World War II, only 22 million were still in use when the war ended, and half those cars were more than ten years old. Although the economy had grown in the immediate prewar years, there were still many people who had been unable to afford a new car then.
"A majority of the hungriest prospects will not have 1942, 1941 or 1940 models to offer in trade but rather 1939s, 1938s and 1937s," wrote James Dalton, editor of
MoToR
magazine. Surveys taken showed a large percentage of the population intended to buy a new car when they again became available, some analysts predicting sales of 6 million vehicles per year for at least three years to catch up to the demand. "Car sales," Dalton wrote in the March 1946 issue, "were not likely to exceed 2.5 million unless existing materials shortages and other obstacles are eliminated much
sooner than now seems likely ... Scarcity of steel, castings and textiles for body upholstery, will hold operations to 70 percent of prewar 'normals' even if no new difficulties develop."
Dalton's predictions proved to be accurate as final 1946 calendar year sales came to only 2,149,000 cars, according to Automobile Manufacturers Association figures. The years 1947 and 1948 would be better (3.5 and 3.9 million cars, respectively), but shortages and strikes continued to keep the numbers down.
Chrysler Corporation was late in returning to the automobile business as it was committed to complete several government contracts, at the expense of civilian car production (Chrysler was the largest builder of tanks during not only World War II but Korea and Vietnam as well).
Ford enjoyed an early start, partly due to a commitment made to it by the government. Ford Motor Company was floundering and on the verge of bankruptcy during the war, largely due to a lack of management. Henry Ford's active participation in the company was nil, the old man having suffered several strokes. His only son, Edsel, died early in 1943, leaving the company in the hands of a group of henchmen led by the ruthless Harry Bennett. In reality, the company was running on its own momentum.
The U.S. government needed Ford's manufacturing facilities for the war effort so badly they pulled Henry Ford's grandson, Henry Ford II, out of the Navy and placed him in charge of the company. After the war, Ford received preferential treatment (as did Kaiser-Frazer) in receiving steel allotments to begin building automobiles once again. Of the total cars actually built in 1945, Ford Motor Company totals-Ford, Lincoln, and Mercury- accounted for 49.7% of industry production compared to GM's 33.5%.
Chrysler Corporation's production was so minuscule that Nash moved up, if ever so briefly, to third place for 1945. Chrysler would not return to building automobiles until October. Plymouth production got off to an equally slow start, shipping just 684 Deluxe and 86 Special Deluxe cars in December. These 770 cars (not even half of one day's output before the war) were still good enough to rank Plymouth twelfth in sales. In 1945, 420 Dodges, 368 DeSotos, and 322 Chrysler Sixes brought Chrysler Corporation's total output to just 1,880 units. For Chrysler's 10,515 U.S. and 1,475 Canadian dealers, it would be an agonizing period waiting for new cars to arrive in their showrooms.
Before Plymouth could begin building new cars, the company faced the enormous task of converting the factories back to civilian use. The giant Lynch Road plant had been gutted of all auto-making machinery, which had to be rebuilt and installed. Over 18,000 prewar machines were rebuilt, 20,000 machine tools set in place, over seventy miles of conveyors, 3,100 linear feet of spray booths, and one and a half miles of drying ovens reinstalled before production could begin.
Plymouth's new models for 1946 were once again offered in two series, the P15S Deluxe and P15C Special Deluxe. Deluxe body styles included a four-door sedan, two-door sedan, club coupe, and business coupe. Special Deluxes added a convertible coupe and wood-body station wagon to the lineup. Dealers were advised in January 1946, "Panel Delivery and Express Commercial Cars are not included in the Plymouth line at present," nor would they be at any time in the future.
Pent-up demand and material shortages would see the P15 series built virtually without change until the early months of 1949. What cars had been built in 1945 were considered 1946 models; cars built after January 1, 1947, were considered 1947 models, as those built after January 1, 1948, were considered 1948s. Cars built after December 1, 1948, were considered 1949 models. These 1949 P15 models are also known as the "First Series" 1949s, being replaced by all new models in March.
Despite speculation as to what the new cars would look like, they did not, at first glance, appear much different than the 1942s. Wartime government restrictions on the auto companies had prohibited development work on new models. Some work was done, of course, but the only real improvements made during the war years came from technologies developed for the production of war goods. There was little time-or need-to design completely new automobiles after the war. Any car that could be built was sold as soon as it left the factory doors, regardless of who the manufacturer was.
In an effort to curb inflation, the government, through the Office of Price Administration, dictated the prices that could be charged for new cars. No restrictions were placed on used cars, and their prices soared. Even as late as 1948 as production levels began to catch up with demand, prices of used cars were frequently higher than the advertised prices of new cars. The author's father purchased a one-owner 1940 Plymouth Deluxe two door in August 1948, paying $1,050 for it ($30 more than the original owner paid in 1940!). List price for a 1948 Special Deluxe two door was $1,392.
Waiting lists were common at dealerships. Those wanting a new car placed their name-and often a cash deposit-with the dealer. Customers hoped that as new cars became available, they would move up the list until it was their turn to take delivery. Car buyers with their name on every dealer's list in town were not uncommon; reports of money paid under the table were common, as were scalpers who would put their new car on the market at a price considerably higher than they had paid for it. Because the dealer's price was regulated by the government, many dealers loaded the cars up with every accessory possible to increase the profitability of the unit.
W.B. Rice, Plymouth's director of service, realized the seller's market wouldn't last forever. In a letter to dealers in June 1947, he wrote, "Barring the atomic bomb, flying saucers, and international complications, we'll soon find ourselves in a buyer's market." Rice's prediction for the future did come true, but during the lifetime of the P15 models it remained a seller's market. To capitalize on the seller's market, Plymouth began advertising the new cars before the first one had even been built-the first ad appearing in the September 6, 1946, issue of
U.S. News
.
The first post-war Plymouth, a P15S Deluxe, came off the line October 22, 1945. Special Deluxes would follow four days later. Bodies for the P15 Plymouths were virtually unchanged from 1942, with only minor trim differences. Plymouth literature claimed fifty improvements over the prewar cars; many were of little significance but were changes nonetheless.
In profile, the cars looked much the same. It took a frontal view to see the differences in the new cars. The grille followed the same design motif used since 1939, only now the bars were no longer divided across the front of the car; they fell in an alternating wide and narrow pattern. The oblong parking lamps were moved to a spot directly below the headlights and were incorporated into the ends of the third wide bar. A new ship emblem, set in a heavy chrome molding (and no longer enamel) was attached to the lower end of the hood. The word "Plymouth" was mounted in stainless block letters between this emblem and the top grille bar. The hood ornament was changed but still employed a plastic insert with the ship outline molded into the plastic. The front bumper now wrapped around the fender to the wheel opening-two bumper overriders were standard on all Special Deluxes and optional (until April 7, 1947, when they became standard) on Deluxes. Adding to the clean looks of the car was the omission of the "air scoop" under the front bumper.
All side trim including front fender, body side, and rocker panel moldings were wider and smoother, eliminating the grooved trim used in 1942. The front fender molding was shorter than before, and the rear fender molding was eliminated entirely. There were cars fitted with rear fender moldings, but these were aftermarket items, or Dodge/DeSoto rear fender moldings added by the dealers. The rear fenders had a smaller wheel opening cutout than before, though the fender shape was unchanged (and could be interchanged with the 1942).
None of the closed cars used window reveal moldings, as the 1942 Special Deluxe had; the P15 Special Deluxe used a bright metal windshield surround and center divider bar, and Deluxe cars used a rubber surround and painted divider. At the rear the only changes were in the stop and tail lamps. The central stop light was enlarged and raised higher on the deck lid. A separate ship emblem was eliminated, being molded instead into the glass of the stop light lens. The tail lamps protruded slightly more, with die-cast bezels rather than stainless steel. The license plate bracket was separate and no longer mounted on the base of the stop light molding. Again, most cars were fitted with two bumper overriders.
Mechanically there were few changes. The 217 ci engine was still rated at 95 hp, attained at 3600 rpm instead of 3400 rpm. The compression ratio was reduced from 6.8:1 to 6.6:1 (export cars had compression of 5.6:1 due to poor gas quality abroad in the postwar period). An economy engine package using a smaller intake manifold and carburetor with 1 inch bore returned to the option list. The rear end ratio on cars equipped with this engine was 3.73:1. Manifold heat shields and a hardened steel throttle stop could also be added to the economy package.
Aluminum pistons replaced the cast iron ones that had been mandated during the war. Like many vendors, Carter couldn't supply enough of their model D6G 1 carburetors to meet Plymouth's production demands; Stromberg, which normally supplied Ford, provided its model 3-84 carburetor. The Stromberg carb required a different fuel line as it fed on the right side rather than from the front like the Carter. During this period, Carter substituted its model 574-S, a small bore carburetor with 1- 1/4in diameter, in place of the normal 1-1/2in throat.
Cars built up to November 1946 used "cross and roller" universal joints at the rear of the propeller shaft in place of Chrysler's usual "ball and trunnion" type. When ball and trunnion u-joints were again available (with Special Deluxe car number 11603698 and Deluxe number 15189401) they were again used.
Replacing the disposable oil filter was a new cleanable canister that contained a replacement cartridge. A heavy-duty (removable cartridge) filter was available as a dealer-installed kit.
Engine dust pans marched into history October 15, 1946. In the early days they had been a selling point with the promise of keeping the engine compartment clean. Their elimination was claimed to provide better underhood cooling.
Plymouth's normal clutch plate supplier, Borg & Beck, was unable to satisfy demand so some cars used Auburn clutches instead. "Power Matic" shifting was no longer catalogued as a regular accessory though it could be special ordered, along with such driving aides as a vacuum clutch for disabled veterans.
Vendor strikes plagued the industry, forcing changes in specifications and equipment. Engines built during October 1948 had to be fitted with steel camshafts rather than the normal cast iron shafts. Hardened steel oil-pump drive-gears were necessary with the steel camshaft. When the steel camshaft was replaced the valve tappets did not have to be replaced, but if the tappets were replaced, the camshaft also had to be replaced, along with the oil-pump drive-gear. Cars fitted with the steel camshafts had the letter "S" following the engine serial number.
Another unseen change came in December 1948 when a narrow ring gear replaced the old wide-style gear. The new gear could be used on old flywheels, but the older ring gear would not fit on the new flywheel.
A change appreciated by most drivers was the switch from the foot-operated starter pedal to a push button on the dashboard. Previously, stepping on the starter pedal had manually engaged the starter gear with the flywheel, at the same time engaging the switch to start it turning. The dash-mounted button activated a solenoid, which in turn engaged the starter. For the first time since 1928 there was no provision made to manually hand crank the engine. The coil was moved from its familiar firewall location to a position on top of the spark plug wire loom, shortening the coil wire considerably.
Cars built up to August 1946 used the same coil springs as in 1942, until Special Deluxe 11507116 and Deluxe 15157509, when the left front spring was changed to compensate for the weight of the car with a driver on board. These new front springs, rated at an extra 65lb load carrying capacity, carried the same part number as the right front spring. Identification between the two springs was by five hash marks on left springs and four hash marks on the right. At this same point a switch was made from synthetic BUNA rubber tubes to synthetic BUTYL rubber. The BUTYL tubes could be identified by a 3/8in blue stripe around its circumference.
Two months later, the link-type sway bar, used since 1942, was replaced by a solid bar, effective with Special Deluxe 11513634 and Deluxe 15158443. All eight rear spring leaves were tapered on Special Deluxe cars, with only the second and third leaf (of seven) tapered on Deluxe models.
The standard tire size was 6.00x16in on all body styles. The diamond pattern tread used on rear tires prior to the war was discontinued, replaced by a rib tread used on all four tires. If a car was to be fitted with 6.50x16in tire, it was mandatory that 4-1/2in wide rims be used in place of the standard 4in rims.
The only noticeable change in the P15 Plymouths came late in November 1947. Beginning with Detroit-built Special Deluxe 11851594 and Deluxe 15251917, the factory began switching to 15 inch wheels and Goodyear Super Cushion 6,70x15in tires.
Los Angeles
- and Evansville-built cars didn't make the switch until December; Los Angeles with Special Deluxe 25036148 and Deluxe 26010991, and Evansville with Special Deluxe 20234249 and Deluxe 22063548.
Several tire manufacturers began offering a 6.70x16in tire about this same time, a tire Plymouth engineers found acceptable for all models except the station wagon. Government regulations dictated that spare tires and tubes could not be shipped with cars, including dealer drive-aways, a regulation that was lifted in December 1946. New car prices were adjusted accordingly when the spare again became standard equipment.
Restrictions also made whitewall tires unavailable, so all cars built from July 1946 on were equipped with either white plastic wheel covers to simulate the look of a whitewall, or stainless steel wheel rings. These wheel covers fit under the regular hubcap and covered all of the wheel-the "whitewall" rings had a black stripe next to the hubcap itself. Effective September 8, 1947, all cars equipped with plastic wheel covers had the wheels painted one solid color instead of body color with paint striping, as had been done previously. These wheels were painted in Ecosheen (gray) enamel on Detroit- and Evansville-built cars, and black on Los Angeles-built cars. Wheels on cars equipped with stainless steel trim rings would still be painted body color and striped.
Interior changes were minimal. A new pattern of wood graining was used on the dash and garnish moldings in a lighter shade than in 1942. The Safety Signal speedometer colors were more intense and both the speedometer and gauges used an almost black background. The top molding of the dash was smooth, rather than ribbed, and curved around the ends to meet the lower molding, which was still ribbed. The areas to the left of the speedometer and the glovebox door were painted brown. The panel to the left of the speedometer held the starter switch button.
A plate was added above the radio grille on Special Deluxe models, using the same brown color flanked by two chrome end caps. The word Plymouth appeared in the brown center section. The ship emblem was removed from the top half of the radio grille and a round plastic emblem was used on the lower half of the grille bearing the words "Special Deluxe." Deluxe models did not come with a radio grille unless a radio was installed, in which case the grille had to be installed as well.
All control knobs remained in the same position as 1942 and were finished in oyster white. The knobs were now wedge shaped rather than concave. Exterior and interior door handles and window handles were the same as 1942. Escutcheons for the handles were of a slightly different pattern. Steering wheels were also brown to match the dash color; the finger grips used in 1941 and 1942 were eliminated. Special Deluxe cars had a full-circle horn ring with "Plymouth" and the Mayflower sailing ship in the middle.
The same two basic upholstery patterns used in 1942 were continued, with slight variations. One was a pin-striped broadcloth and the other a pile fabric. Broadcloth seems to have been used more than the pile. Each came in blue-gray or gray-green colors, the upholstery color generally matching the exterior paint color. Deluxe models had only one pattern, which differed from the Special Deluxe cars. Door panels on early models used the same material in the lower portion of the door as the seats, with a harmonizing solid color in the top part separated by a sweeping bright molding. Later models used a solid color on the panel. The lower portion of the seats; as well as the doors, utilized a red simulated-leather scuff panel. Deluxe buyers had to settle for a manually controlled dome lamp (it was automatic on Special Deluxes) and do without a glovebox lock, horn ring, front door armrests, door checks, assist straps, coat hooks, simulated rear floor carpeting, rear ash tray, and fixed quarter windows. A single windshield wiper was standard on the Deluxe line, but all cars were factory equipped with two wipers, unless the buyer specifically asked for it to be deleted.
Rear seat robe cords on four-door sedans were eliminated in 1946 as the supply on hand ran out, and in June 1948 "Airfoam" seat cushions were installed on all Special Deluxe business coupes, club coupes, and two- and four-door sedans. The airfoam cushion was factory installed at an additional charge to the buyer of $7.50 for front seats only and $15 if installed on the rear cushion as well. Airfoam cushions were not available on the Deluxe. Special Deluxe buyers could have them deleted on special order. The lack of heater fan motors found cars fitted with the optional, dual heater MoPar All Weather Aircontrol System equipped with just one motor, in the right hand unit. Heaters shipped after July -1947 were supplied with both motors, with a service package released in September to retrofit heater motors already in the field. The service package was treated as an option and not as a recall.
U.S. Body & Forging continued to supply Plymouth with wood-bodied station wagons as it had since 1934. Buyers still had a choice of light maple or mahogany side panels (first offered in 1942). Seat upholstery was now leatherette, with real leather an extra cost option. All wagons came with three seats, the rear two removable and interchangeable. The spare tire was carried in a special holder built into the rear of the driver's seatback, severely cramping the legroom of the passenger directly behind the driver. Standard station wagon color was Cruiser Maroon, with Battalion Beige optional. Plymouth's other colors "may be ordered for shipments later," according to a factory bulletin. Two-tone paint jobs on regular models, which had been optional in both 1941 and 1942, were no longer offered.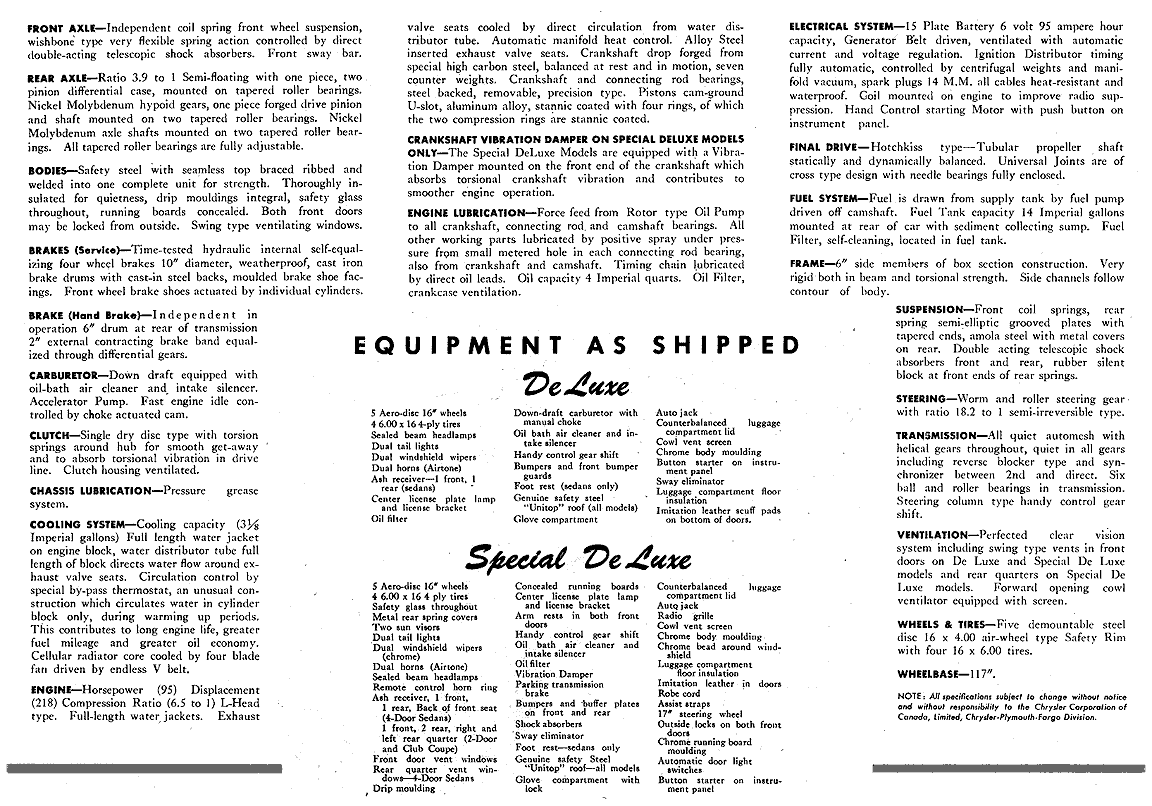 The convertible coupe was one of the last American-made cars to have a "Victoria"-style top without a rear quarter window (the other two were Nash and Lincoln). It was also the last Plymouth convertible to use vacuum cylinders to raise or lower the top. The control switch for the top was mounted on the far right side of the dashboard, presumably so the driver couldn't operate the top while the car was in motion. The standard top color was black with light gray optional at no extra cost.
Plymouth continued to be a popular supplier of taxi cabs, offering two packages to the trade. Package one, which retailed at $25, included commercial duty springs front and rear, special firm-ride shock absorbers, an 11 inch clutch plate and one-half gauge heavier seat cushion springs. Package two, at $15, included everything in the previous package with a 10 inch clutch plate. Leather upholstery, which had long been offered as an option on all models, was now a $70 option aimed specifically at the taxi market, available only on four door sedans.
During the P15's lifetime only one other noticeable exterior change was made, but you had to be sharp eyed to notice it. The door lock cover was changed in mid-1946, from the smooth Hurd-style used in years past to a spring-loaded (and heavier) cover shaped somewhat like a bell.
More than one million P15s were manufactured between October 22, 1945, and January 28, 1949, when the last car was built. Shipments of P15s in stock continued through March, the January shipment of 35,586 Special Deluxe cars (along with 5,676 Deluxes) setting the sixth highest single month's shipment in the P15's history.
February's shipment dwindled to 1,445 Special Deluxe and 307 Deluxe cars, with the last 15 cars (all Special Deluxes) shipped in March. Plymouth's market share had eroded slightly each year since 1940 but not enough to nudge Plymouth from its traditional third place.
Prices, despite government controls, had continued to escalate to the point where the price asked for the most expensive P15 in March 1946 would not buy the least expensive model in August 1948. Despite price hikes, steel shortages, and labor strikes it still remained very much a seller's market.
1945-1948 Chrysler Corporation Cars
Chrysler Heritage
•
History by Year
•
Chrysler People and Bios
•
Corporate Facts and History
Plymouth 1946-1959:
Introduction
•
Turbines
•
Diesels
•
Christine
•
Dream Cars
•
Print version
1924-1945
•
1946-48
•
1949
•
1950
•
1951
•
1952
•
1953
•
1954
•
1955
•
1956
•
1957
•
1958
•
1959
DeSoto and Plymouth Buyers' Guide
:
DeSoto 1929-39
•
DeSoto 1940s
•
DeSoto 1950s
• Exports
Plymouth
1928-29
• 1930-34 • 1935-39 • 1940s • 1950s • 1960s • 1970s • Valiant/Barracuda
Acknowledgements
•
Introduction
•
Top Ten Lists and Clubs
Home
•
Engines
•
Reviews
•
Chrysler 1904-2018
•
Upcoming
•
Trucks
•
Cars
Spread the word
via <!--
Tweet
or-->
Facebook
!
We make no guarantees regarding validity or accuracy of information, predictions, or advice - .
Copyright © VerticalScope Inc. All rights reserved. Dodge, Jeep, Chrysler, Ram, and Mopar are trademarks of Fiat Chrysler Automobiles.