Plymouth Belvedere and Plymouth Satellite
Originally written by Jeremy. Primary source:
The Complete History Of Chrysler Corporation 1924-1985
by Richard M. Langworth and Jan P. Norbye. Some changes by Paul Roberts and numerous additions by the Allpar staff. Also see
Running amok with a borrowed Hemi Satellite
and
reviews of a 1958 Belvedere model.
In 1951, Plymouth introduced the Cranbrook Belvedere. The Plymouth Belvedere became a separate product line in 1954; from 1954 to 1959, the Belvedere was considered a unique Plymouth model, but was essentially a trim-line of the basic Plymouth car, along with the Plaza, Cambridge, and Cranbrook. (
Plymouth Belvedere 1951-1959
).
Belvedere and Satellite forums
In late 1959, the Plymouth-Desoto division became the Plymouth-DeSoto-Valiant division. A new car, the Valiant, appeared - first branded simply Valiant, then, in 1961, falling under the Plymouth umbrella. This revolutionary new car would be wildly popular, drawing buyers from the "standard" Plymouth line. It would also be the first time in many years that Plymouth sold two very different cars with completely different bodies.
The new 1960 Belvedere had no Mayflower emblem, ending a tradition which stretched back to 1928 (with the exception of 1958); unibody construction tightened the structure and improved cornering and comfort; and the slant six engine replaced the ancient flat-head six.
In 1965, a new Belvedere Satellite model appeared. The line went from the Belvedere I to the II, and then to the Satellite. The body could be a hardtop or convertible; both had bucket seats. The front end was simple: a single headlight on each side, a grill divided into 4 thin rectangles laid horizontally (akin to the Fury).
Plymouth designer/stylist John Samsen wrote, "At the time we designed these cars [1964 to 1966 Fury and Belvedere], the guidance from Sales was to make the cars look as wide as possible, front and rear. Quad lamps were mandated on all but the A body cars at that time. Being smaller than standard lamps, they were easier to fit into the grilles."
The floor pan for the four door and two door are the same, except that the console shifter opening is oval on 4-doors, round on two-doors (James Arens via the National B-Body Association).
In 1966, there was a re-skinning, and the 1965 Belvedere I Super Stock ($4671) was dropped along with the dual headlamps. As a consolation, the top-of-the-line Satellite model got an optional
Street Hemi
-- for $1105 extra, with quarter miles in 14.5 seconds and 0-60 in 7. The Street Hemi had two Carter AFBs (4 barrels each) with 10.25:1 compression. Styling for the 1966 was clean, and sleek. The rear bumper was smooth, with no cut outs for lights (just for the license plate). Taillights were sectioned horizontally. The front end grill work was softened a bit, with the 4 section grill changed to that of horizontal slats (tiered from the middle out). The 1966 Satellite hardtop coupe listed for $2695.
Lanny Knutson of the
Plymouth Bulletin
wrote about the
1966
models:
For 1966, the Belvedere's body was the first that Elwood Engel had a free reign in designing on this chassis without having to redo Virgil Exner's unpopular original 1962 design. The new 1966 Belvedere displayed the Engel trademark for long straight lines. Most notable were the straight knife edge fender lines running uninterrupted from front to back.

Like the 1965 Fury, the new Belvedere featured sculpted side panels and, like the 1965 Belvedere, and the 1966 carried on the themes of square surrounds for the single headlamps and a flatter, wider version of the distinctive triangular shaped C-pillars on the two-door hardtop. Plymouth advertising made much of the unique "ribbon style" taillights that wrapped around the knife edge crease that descended to the bumper.

Although its wheelbase remained at 116 inches, the new Belvedere's overall length was reduced by three inches, a reflection, perhaps, of its new status as a mid-sized car. It was still a bit larger than its Fairlane and Chevelle competitors, but while Plymouth was reducing, they were growing.

(See much more in our

1966

page)
1967 Plymouth Belvedere and Belvedere Satellite
The five year, 50,000 mile powertrain warranty was in effect for 1967, but it required oil changes every 4,000 miles and considerable additional maintenance.
Marc Borza's 442,572-mile
1967 Plymouth Satellite
For 1967, the Belvedere I came with a standard slant six or 273 cid V8 and three-speed manual transmission; it could be ordered as a two-seat wagon or sedan, with an optional 318, 383 two-barrel, or 383 four-barrel engine, and the usual
TorqueFlite automatic
. The interior was cloth and vinyl, with vinyl covered doors and spare tire under the trunk mat. A single rear view mirror was on the left, with an optional mechanical remote control. Standard features included front and rear seat belts, padded instrument panel and sun visors, hazard flashers and backup lights, and heater/defroster. A new option across the line was front shoulder belts - mounted on the ceiling and manually adjusted. For those carrying three passengers per seat, center belts were optional. Radio options included AM, AM/FM, and "Stereo 8 tape cartridge" (eight-track). Anything other than AM was dealer-installed.
Just above the Belvedere I was the Belvedere II, with similar powertrain and body choices, except that it was also sold as a convertible and three-seat wagon. When buyers opted for the II, they got deep loop carpeting, and cloth-covered interior parts (seats were vinyl); a vinyl roof was optional even on the sedan. Generally, the higher the trim level, the better the sound insulation and the fancier the interior and better the options list. Still, even with the Belvedere II, power steering, power brakes, and power windows were all optional.
At the top of the line for regular buyers was the Belvedere Satellite, with a standard V8, sold as a two door hardtop or as a convertible; and the similar
Belvedere GTX
. The latter was, at least in 1967, the only way to get a Plymouth with a Hemi engine; its
standard
engine was the
440
, in its first mid-sized car placement. Thanks to heads designed for bigger valves, the 440 - released in 1966 for full-sized cars - was bumped from 365 to 375 gross horsepower.
The Satellite model started out with the little 273 cubic inch V8 and made its way up the 383 cubic inch V8, with four barrel carburetor; the base transmission was a three-speed manual, with an optional four speed. Cosmetic enhancements included fender-mounted turn signal indicators, upper body accent stripes (with five color choices), and silver Aluma-Plate cladding the full length of the lower body.
For more, see the
Plymouth GTX page
.
Belvederes were longer and wider than their "biggest competitor," for 1967; Plymouth claimed the wagon was the largest in its class. The wagons' second and third row seats could fold flat to provide over ten feet of unobstructed cargo space; an electric tailgate window was optional, with switches built into the rear lock and the dashboard. A hidden, locked storage compartment was standard underneath the cargo area surface; and all wagons came with right-side rearview mirrors.
Convertibles got a new air-tempered glass backlight in 1967, replacing the plastic ones used in past years.
Richard Petty won the Grand National championship in NASCAR this year, in a Hemi Belvedere.
1967 Belvederes, including the GTX, had standard dual hydraulic braking, with one system for the front and another for the rear; front disc brakes were optional. Standard brakes for the Belvedere V8 were 10-inch self-adjusting drums, 2.5 inches wide, with bonded linings; a separate mechanical foot operated parking brake acted on each wheel. For GTX, drums were bigger: 11 by 3 inches, with 11 x 2.5 in the back. GTX got wider wheels - 14 inches, along with every other Plymouth, but 5.5 inches wide. (5.5 inch widths were also used on wagons, trailer towing packages, and any car with a Hemi.) Standard GTX tires, optional on some other models, were 7.75 x 14 Red Streaks.
Though the
Standard Catalog of Chrysler
shows this as the first year for the 318 engine, the
Motor Trend
World Automotive Yearbook for 1967 notes a 60-pounds weight loss for that engine, indicating that it had been around in 1966 (we were alerted to this by BC's Brock McLellan, whose family had a Canadian-issue 1966 Plymouth Belvedere II with a 318, complete with 318 script on the side and a 318 hood ornament). The answer is probably that they used the A-engine 318 until 1967, when they switched to the LA-family 318 - which was over 50 pounds lighter than the A (LA stands for "lightweight A.")
See this page for details
. Also see our
general 1967 changes pag
.
Details on the 1967 Plymouth GTX, Belvedere, and Satellite
.
1968 coke-bottle restyling
In 1968, the line was restyled. The most noteworthy difference was the roofline, which was changed to follow the Charger. 1968s and 1969s had flip out rear quarter windows. The new "Coke bottle styling" was attractive and eye-catching, and quite a departure from past models.
| | | | | |
| --- | --- | --- | --- | --- |
| 1968 Specifications | Fury | Belvedere, Satellite | Barracuda | Valiant |
| Wheelbase | 119 | 116 | 108 | 108 |
| Track, front | 62 | 59.5 | 57.4 | 57.4 |
| Track, rear | 60.7 | 58.5 | 55.6 | 55.6 |
| Length, overall | 213.1 | 202.7 | 192.8 | 188.4 |
| Width, overall | 77.7 | 76.4 | 71.6 | 71 |
| Height, overall** | 56.3 | 54.7 | 52.6 | 53.7 |
| Head room, front | 39.5 | 38.6 | 37.4 | 38.4 |
| Head room, rear | 37.7 | 37.4 | 35.8 | 37.3 |
| Leg room, front | 41.8 | 41.9 | 41.7 | 41.7 |
| Leg room, rear | 37 | 36.3 | 30.2 | 34.5 |
| Shoulder room, front | 60 | 58.1 | 55.4 | 55.4 |
| Shoulder room, rear | 60 | 58.1 | 55.4 | 55.4 |
1968 Plymouth Satellite
(sent to us by Matt Moffitt)
This car has 53,492 original miles, with a tuned 318 an Edelbrock 600cfm 4 barrel carb, a/c, 727 torqueflite, two bench seats, four doors, all of the original parts. It had optional shoulder belts, a/c, power windows, and AM/FM radio. A rear window defogger and rear speaker were optional, although if both were installed, the speaker went on the left, while the defogger core was on the right. There was a also a reverberator upgrade.
My car was offered with speed control, a tachometer, and a clock (notorious for breaking). The car came with self adjusting brakes, and one could have power and/or front disc brakes and child door locks from the dealer. On the station wagon, a rear window washer was available, concealed in the tailgate, and one had to lower the glass to wash it.
The styling changed from the 1966s and 1967s, things got more curvy, and muscular looking. The interior also changed, and mine has the deluxe dress up package. Base price was $2,640, and the window sticker says that the cost of mine was $3,775 but the actual invoice says that $3312 was paid. There were 42,309 four doors made, and of those, 20,330 were like mine. Largest engine was a 383 4 bbl. and only 99 were made. Mine also came with the "landing lights" on the hood.
Click here for 1968 details.
Sport Satellite
(With a nod to Dana Merian; information from the
Standard Catalog of Chrysler
). The Sport Satellite came out in 1968, just a year after the Satellite became its own model. Available as a two-door coupe, two-door convertible, and wagon, the Sport Satellite came with a 318 V-8 as well as cosmetic touches. Over 20,000 of these were made in 1968 alone. This series continued through to 1970. In 1971, the Satellite Sebring, Custom, and Regent Wagon were introduced instead (also replacing the Satellite GTX).
In 1969, the Roadrunner convertible was available for the first time. The Super Commando 440 came out (6bbl). Front ends on the Satellite/Belvedere followed those of the Coronet.
Tom Murden
wrote: the Road Runners were just Belvederes with police packages. Take the Satellite, add more frills, stick a 440 in it, with police and taxi options, only nicer [and earlier] than the Road Runner - the GTX! One of the plain nastiest HP machines of its time...375 (claimed) horses moving 3200 lbs through a base of 3.23 gears, good for quarter mile times of 14+ seconds with [then-standard] tire compounds.
1970 brought a new grill and rear end treatment for the same basic body style on the Satellite line, and was the last year for the Belvedere, though the Satellite and Road Runner, ironically, carried on. The Sport Satellite package was available with either two or four doors.
1971 was a big body style change. The
340
was now offered on the Satellites, which included the Sebring and Sebring Plus (two doors), GTX, and Roadrunner. Sedans and wagons came in base and Custom models. Nice sedans got Custom Brougham. The top wagon was called the Satellite Regent.
The new look for 1971 was a continuation of the fuselage style, aircraft motivated - swoopy lines and big loop bumper/grill pieces. The two-door hardtop version was on a 115 inch wheelbase, the four door sedan on a 117 inch wheelbase; and both had completely unique sheet metal. There were a full 13 models: five hardtops, three four-door sedans, and five wagons. They boasted concealed wipers, flush door handles, and more aerodynamic rear windows.
Satellites had a standard 225 slant six or 318 V8 (depending on the model) with options including 383 (two or four barrel) and 440 (four-barrel or three two-barrel carbs). The 426 Hemi was also optional -- and pricey. Transmissions were three-speed manual, four-speed manual, and three-speed Torqueflite automatic. Floor mounted automatics had the "slap stick" shifter. There were 18 paint colors including Bahama Yellow, Tor-Red, Sassy Grass Green, Curious Yellow, and In-Violet, with interiors coming in eight colors and 13 styles, with a new cloth and vinyl bucket available. Road Runner and GTX buyers could choose their hood, with fake hood scoop and optional Air Grabber remote-controlled hood scoop. Other options for Road Runner and GTX included spoilers, small padded steering wheel, road wheels, elastomeric bumpers, dual racing mirrors, hood tie-down pins, and backlight louvers.
Mike Baker wrote:
In 1971 there was a model of the top of the line wagon offered, a 9 passenger (RH46) with woodgrain, Magnum 500 wheels, 383 4 barrel 4 speed with pistol grip shifter, bucket seats, and dual exhaust. I used to work at Kalamazoo (Mich.) Chrysler-Plymouth, did the final wash on this car when it was delivered to the customer, (a lady in her late 50s, she is still alive), and when it was traded in in 1975, there was an actual drawing as to which employee of the dealership would be able to purchase the car. This was a special order car, as she needed a station wagon, and did not want an automatic transmission. [New: Mike Sealey wrote that this "was a Satellite Regent. I would be astonished if more than one was built with a 4-speed, regardless of engine choice."]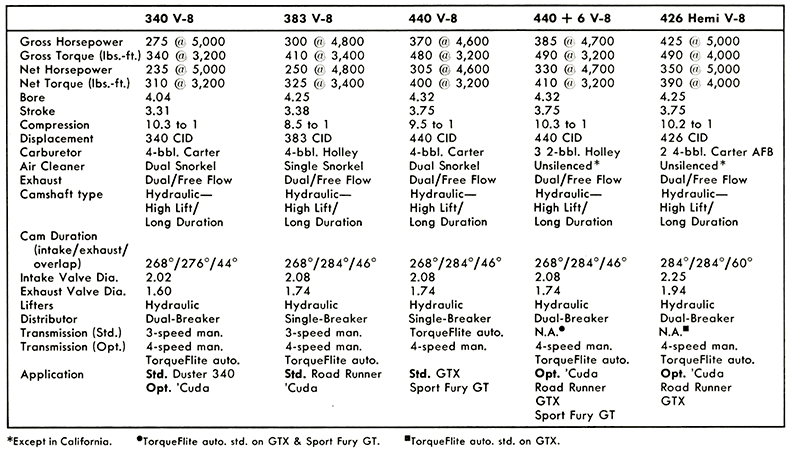 1972 saw the end of the GTX as its own model; it was made into an option on the Road Runner. The base price for a Satellite Sebring Plus hardtop was $3127. $20 more got you the Road Runner with a standard 400 [not for everyone's insurance or gas budget]. The 340 was an option that year as was the 440-4. Changes were fairly minor, with optional electronic ignition on the Road Runner 400 four-barrel, and on the 318 and 400 2-barrel on other Satellites. Deluxe wheel covers became standard on Satellite Sebring Plus and Satellite Regent wagons.
| | | | | |
| --- | --- | --- | --- | --- |
| (inches; sedans) | 1972 Fury | 1972 Satellite | 1972 Valiant | 1986 Reliant |
| Body Type | C | B | A | K |
| Front headroom | 38.8 | 38.6 | 38.7 | 38.6 |
| Rear headroom | 38.4 | 37.3 | 37.3 | 37.8 |
| Front Legroom | 41.8 | 42.3 | 41.5 | 42.2 |
| Rear Legroom | 38.0 | 36.5 | 34.7 | 35.4 |
| Trunk (cubic feet) | 20.4 | 16.5 | 14 | 15 |
| Fuel | 23 gallons | 21 gallons | 16 gallons | 13 gallons |
| Seat height (f/r) | 9.2 / 11.6 | 8.6 / 11.3 | 8.6 / 11.1 | |
| Length | 217.2 | 204.6 | 199.6 | 178.6 |
| Turning Circle | 42 feet | 40.8 feet | 38.3 feet | 35.2 feet |
1973 Plymouth Satellite, Road Runner, and GTX
by
Lanny Knutson
. Copyrighted by the
Plymouth Bulletin
. Reprinted by permission. Abridged from
this original article
.
Plymouth lopped off the loop bumpers in favor of the more conventional grille-over-bumper arrangement due to government requirements for energy absorbing bumpers.
The Satellite coupes received new front sheet metal. The window edge of the C-pillar was moved into a nearly vertical position. The lower body character ridge was eliminated. The taillights still resided in the rear bumpers, but as inset ovals.
The Road Runner had a large "power bulge" with simulated vents on the forward corners. Stripes on the sides identified the engine size. Although the separate GTX model was dead, its name lingered as the 440 engine package for the Road Runner, whose engine selection ran from the 318 through the 340, 400 and 4 and 6 barrel 440s - most of which had lower power than in prior years due to cobbled-together emissions work and insurance concerns. All used regular gas except the six-barrel 440. [Note: sources claim the 400 two-barrel gained horsepower though it lost torque.]
| | | | | | |
| --- | --- | --- | --- | --- | --- |
| Engines | 1972 net hp | 1973 net hp | | 1972 torque | 1973 torque |
| 225 slant six | 110 @ 4000 | 105 @ 4000 | | 185 @ 2000 | 185 @ 1600 |
| 318 2V V8 | 155 @ 4000 | 150 @ 3600 | | 260 @ 1600 | 265 @ 2000 |
| 340 4V V8 | 240 @ 4800 | 240 @ 4800 | | 290 @ 3600 | 295 @ 3600 |
| 400 2V V8 (a) | 190 @ 4400 | 175 @ 3600 | | 310 @ 2400 | 305 @ 2400 |
| 400 2V V8 (b) | 190 @ 4400 | 185 @ 3600 | | 310 @ 2400 | 310 @ 2400 |
| 400 4V V8 | 255 @ 4800 | * See below | | 345 @ 3200 | 335 @ 3600 |
| 440 4V V8 (c) | [email protected] | 280 @ 5800 | | 380 @ 3200 | 380 @ 3200 |
(a)
As used in Charger and Satellite. (b) As used in Fury, Satellite, and Chryslers. (c) As used in Charger and Road Runner. Fury and Chrysler had different versions of this engine with lower power ratings.
* Standard Catalog of Chrysler and Ultimate American V8 Engine Data Book: 260 hp. Ryan wrote: 250 hp. Charger, Satellite only.
Different sources tend to give different ratings within a 5-10 horsepower range. Factory brochures we have seen do not provide horsepower ratings, generally - presumably because they were not available in time, or were not seen as selling points in 1973.

The Satellite sedans were given a new grille inset for a more formal appearance. The backup lenses were altered into a rectangular pair per side. Flanking the license plate were heavy rubber bumper guards.
[Webmaster additions until the end of this section.] For reasons best known to Plymouth, the sedans and coupes had very different grille treatments (as shown in these illustrations); they looked even more different in person.
1973 shows a "woody" Satellite Regent station wagon (top-options). 5 mph bumpers went on the Satellite this year, and a new egg crate grill appeared. The 318 became standard for the Road Runner.
There was also a Satellite Sebring two-door hardtop package, which did not raise performance. The Satellite Sebring started at $3,024, and included dual horns, carpet, drip rail and wheel lip mouldings, a day/night inside mirror, front disc brakes, and bright body side moulding with black paint fill. A vinyl bench seat added $25; the light package (with a map light, glove box and ashtray lights, trunk light, fender-mounted turn signals, and ignition switch light with time delay) was a bargain at $31.
| | | | |
| --- | --- | --- | --- |
| | 1972 Sebring | 1972 Satellite | 1973 |
| Wheelbase | 115 | 117.0" | 117.0" |
| Track, Front / Rear (Rear 6-cyl) | 59.7/62.0 | 59.7" / 62.0 (61.6) | 61.9" / 62.0 |
| Overall Length x Width | 203.0 x 79.1 | 204.6" x 78.6 | 213.3" x 78.6 |
| Overall Height | 52.2 | 54.0" | 53.7" |
| Turning Circle, Curb-to-Curb | 40.8 | 40.8 ft. | 42.0 ft. |
| Seat Height, front / rear | 8.6 / 10.6 | 8.6" / 11.3 | 8.6" / 11.4 |
| Headroom (Effective) Front / rear | 37.3 / 36.4 | 38.6" / 37.3 | 38.5" / 37.3 |
| Legroom, Front / Rear | 42.3 / 33.9 | 42.3"/ 36.5 | 41.9" /36.7 |
| Trunk Capacity | 14.3 | 16.5 cu. ft. | 16.5 cu. ft. |
| Coolant with heater (quarts) | 4 (440, 6) | 13Q 6 / 16Q V8; add 1Q for a/c | Same as 1972 |
| Tire Size* | Up to G70 x 14 | E78 x 14, 4 P/R; F78 x 14, 4 P/R | E78 x 14 (6 cyl), F78 x 14 (V-8) |
| Station Wagons Tire Size* | | H78 x 14, 4 P/R | H78 x 14 |
| Tire Pressure (E78 x 14) | 26 | 26 lbs. | 32 lbs. |
| Tire Pressure (F78 x 14) | | 26 lbs. | 28 lbs. |
| Tire Pressure Front (H78 x 14) | 26 | 22 lbs. | 22 lbs. |
| Tire Pressure Rear (H78 x 14) | | 32 lbs. | 32 lbs. |
| Fuel Tank Capacity | 21 | 21 gals. | 19.5 gals. |
Power disc brakes, always nice on a 3,000 pound vehicle, were $44, and floor mats an extra $14. The E44 318 was standard, but the TorqueFlite would set you back $211. Other options were tinted glass ($42), racing mirror with left remote ($16), rear window defogger ($31), three-speed wipers ($6), FM stereo ($209), power steering ($114), vinyl roof ($100), bigger wheels and tires (F78 x 14, $31), and those infamous full-size wheel covers that liked to move around and chop off the extra-long air valves ($27 - more than the remote mirror!). The total on my own 1973 Satellite with these additions, as purchased from Marong Chrysler-Plymouth in Orchard Park, NY, was a whopping $3,990 - not much of a bargain.
Standard features on all Plymouths and Dodges in 1973 included a driver's side mirror, two-speed windshield wipers and washers, energy-absorbing steering column, three-point front belts, sun visors, cushioned dash, recessed door and window controls, front head restraints, heater and defroster, four-way hazards, turn signals with lane change feature, dual hood latches, self-adjusting brakes, and dual master cylinder brakes with warning lights. (Safety features back then weren't what they are today.) Electronic ignition was standard on most Chrysler engines; it had yet to be introduced on any other automaker's products.
*
Road Runner
**
Regular = Leaded: 89 octane
1974 Plymouth Satellites: the last year
1974 shows a Satellite Custom, as well as a Sundance option with Aztec Gold Metallic or Spinnaker White colors, a canopy vinyl roof, "premier" wheel covers, gold/black/white upholstery, and a sunburst roof stripe. The most popular seller was the Satellite Custom 4 door sedan, priced at $3329. However, due to poor overall sales, the Satellite ended mid-year.
Josh Breitag added:
"I own a 1974 Satellite Sebring
Sundance
. Plymouth came out with three models of the Sebring in that year: Satellite Sebring, Satellite Sebring Plus, Satellite Sebring Sundance. The Sundance had different interior and came with decals of a sun. The Sundance has a 318 while the Sebring Plus came with a 360...Plymouth came out with this model (Sundance) for only one year."
Laramie9 provided this press photo of the Sundance:
Feedback
Steven Rush has a 1966 Plymouth Satellite Commando which came stock with a 383 Commando and a few frills, basically the same as the 1967 Fury. He believes there were around 250 produced.
Donald M. Snider told us that the Belvedere first appeared a hardtop in the Cranbrook line in 1951, continuing as the top-of-the-line hardtop model through 1953.
Matt Moffitt wrote: A family down the street from me [has a 318 Satellite]. This car is geared high, giving it almost sluggish starts. This boy tried to kill the engine to get a new car, he wanted a 1966 or 1967 Charger, but no such luck, because even with 189,000 miles, he couldn't kill the 318. His interior, although torn up, still showed signs of its original olive drab, and has two bucket seats, a center console, and a automatic transmission, also bulletproof. The exterior has very wide doorsills, with chrome moulding. 13,139 of these were made, total number of Satellites that year was 35,399, all were V8s, and a mere 27 were
Hemis
.
Relevant links
Plymouth Road Runner Page
|
Belvedere and Satellite forums
|
Marc's 442,000 mile Plymouth Satellite
Home
•
Engines
•
Reviews
•
Chrysler 1904-2018
•
Upcoming
•
Trucks
•
Cars
Spread the word
via <!--
Tweet
or-->
Facebook
!
We make no guarantees regarding validity or accuracy of information, predictions, or advice - .
Copyright © VerticalScope Inc. All rights reserved. Dodge, Jeep, Chrysler, Ram, and Mopar are trademarks of Fiat Chrysler Automobiles.