Plymouth cars of 1956: The ship becomes a plane?
by
Jim Benjaminson
. Copyrighted by Jim Benjaminson. Reprinted by permission.
The 1956 Chevrolet, Ford, and Plymouth cars were all mildly restyled facelifts of the new 1955 cars. Ford and Chevy mainly used side trim, grilles, and taillamps to set them apart; Plymouth used new quarter panels to dramatically change the overall shape of the body to what Exner called "airfoil" styling.
Longer, slimmer, and taller, the airfoil fenders trailed off into space, "leaving no question that the car is racing forward," according to the data book. Slashed at a steep angle, the fenders gave the car a "flying away" look when viewed from the side or the rear.
Airfin taillights, slim and tapered to emphasize the height and sweep of the rear fenders, a "jet-like tub" back-up lamp housing, and new body moldings (especially on Belvedere) all emphasized the aeronautical theme of the car. Topping off each rear fender on the Belvedere and Sport Suburban was Exner's new Forward Look emblem.
Gary Whitehead added: "The 1956 Plymouth Convertible was also available as a six cylinder in Canada. The Belvedere convertible of 1956 is the V-8 and the Savoy convertible of 1956 is the six; both were made in Canada, for Canadian sale. I had one, a rare Canada-only car, a plain looking convertible; most were one-tone because of the skimpy chrome."
Front sheet metal was not changed much, but the design complemented the extended rear quarters. The fenders thrust forward, canting back as they fell closer to the bumper. A slightly revised grille bar used a grid pattern in the center, adorned with a gold V when the car was equipped with V-8 power. Trusting that everyone knew what make of car it was, the word Plymouth appeared only on the hood.
The new design broke with tradition in two ways; for the first time since Plymouth was created in 1928, the Mayflower sailing ship did not appear on the front of the car, replaced by what appeared to be a jet-plane hood ornament - a pair of wings added to the abstract boat used in 1955. (Hemi Andersen wrote that the wings were "the breaking wake extending out from the bow.")
Plymouth's "coat of arms" was added to the bottom of the hood and the deck lid ornaments. The deck lid ornament continued to use two styles, a V for cars with V-8 engines and a straight bar for 6-cylinder cars.
There were also new pull-type exterior door handles, replacing 1955's one-year-only push-button handles. An unseen selling point were new safeguard door latches that moved a U-shaped striker on the door pillar into an interlocking U on the door latch, to prevented fore/aft separation in crashes.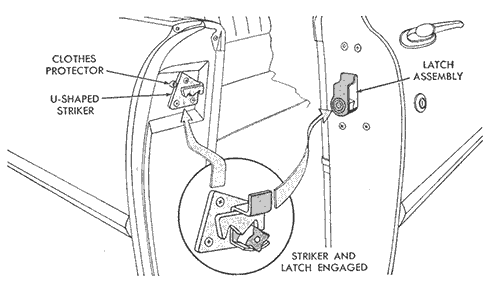 The Plaza and Savoy side trim was virtually unchanged from 1955. The rather busy and unusual Belvedere side trim had a straight spear running from the leading edge of the front fender to the rear edge of the front door. Several inches below this another straight spear ran from the center of the front door back to the backup light housing. The two were connected by a dog-leg horizontal piece and a heavy name-badge medallion; overall, it provided the basis for Sportone two-tone paint combinations.
By October, MoPar had released a Sportone molding package for in-field installation on all Plaza and Savoy models. These moldings differed only in not having the model name on the side medallion, retailing for $16 and $27 per package depending on body style. (Mike Riebe wrote: "this is my 1956 Plymouth Savoy two-door hardtop. Note the Belvedere-like Sportone trim. The chrome plate on the door has slashes in place of the word "Belvedere.")
Plymouth engineers had been busy with the car's interior. Answering complaints about the placement of the oil pressure and temperature gauges in front of the passenger, Plymouth moved them in front of the driver, but changed from gauges to lights because there was no room for the gauges in front of the driver.
The 1955 Plymouth had shocked the motoring world by sticking the automatic transmission control lever through the dashboard near the driver's right knee cap. For 1956, Plymouth drivers had to learn to use their left hand for this operation as Plymouth (and the rest of the corporation's cars) went to push-button shifting on automatic cars. to move the transmission there, Plymouth had to move the heater-defroster controls were moved to the passenger side, adding a new inconvenience; they had been mounted on the lower left corner of the dash, where the transmission controls now lived.
Pushbutton transmissions were the rage during the late 1950s-Mercury, Edsel, Rambler, and Packard all had their fling with push-button controls. Of the lot, only Chrysler's was mechanically controlled and virtually trouble free; but they were still a love it or hate it proposition. The push-button transmission would remain a Chrysler hallmark until 1965, when it was abandoned in favor of (and under government edict to standardize shift quadrants) the normal shift lever on the steering column.
Plymouth entered 1956 with virtually the same model line-up as 1955. 6-cylinder cars were coded as the P28 series, V-8 cars as P29s. Again, the suffix number indicated the car's model. Plazas were either P28-1 or P29-1, Savoys P28-2 or P29-2, and Belvederes P28-3 or P29-3.
At the top of the line was the Belvedere, as a four-door, club sedan (two-door), sport coupe, or convertible coupe. New for the year was Plymouth's first Sport Sedan, a true four-door hardtop. Plymouth stressed this new model was full size, giving front and rear seat passengers the same room as a sedan in an open model. To get there, they made the rear window was a complicated two-piece affair; when the window was being opened, the rear section arced forward and down, while the front section moved rearward slightly and then straight down. The Sport Sedan still managed to outsell only the convertible in the Belvedere line
up.
Other than the V8-only Belvedere
convertible, every Plymouth had either 6- or 8-cylinder power. Savoy buyers had the choice of a four-door sedan, club sedan (two door), and a sport coupe. Plaza buyers had the choice of a four door, club sedan (two door), or business coupe. Like the club sedan, the business coupe was a two door designed for the traveling salesman, and came without a rear seat.
Station wagon buyers were given four choices as wagon sales continued to grow (to better than 14% of total 1956 production). Corresponding to the Belvedere line was the Sport Suburban four door wagon. Next in line was the Custom Suburban, again a four door. The Custom Suburban line
also included a two-door wagon, as was the bottom-of-the-line Deluxe Suburban wagon.
Chassis and powertrain
Under the skin, the 1956 Plymouth was essentially a clone of the 1955s. Six-cylinder cars were fitted with 10 inch brakes front and rear, V-8 cars got 11 inch brakes on the front only, and station wagons wore 11 inch brakes all the way around. Gear ratios were 3.73 on standard transmission and PowerFlite 6-cylinder cars, 3.54 on PowerFlite V-8s, and 4.1 with overdrive.
Plymouth continued to mount its parking brake on the transmission, relying on the external contracting brake band on standard shift cars. PowerFlite, due to its method of construction, had an internal expanding parking brake.
Power brakes continued to be a popular option, with Plymouth offering two versions, including a new air-suspended system for PowerFlite cars (with an 8 inch wide brake pedal sitting 4-1/2 inch above the floor) and the old vacuum-suspended type for standard transmission cars (with a pedal 6 inch off the floor to match the clutch pedal height). The PowerFlite brake system included a reserve tank mounted on the left fender-well under the hood.
The big news under the hood was Plymouth's new Hy-Fire V-8-this time its own engine designed and built by Plymouth. In many respects the new engine was much like the old one and even looked the same (the new engine was most identifiable by its saw-toothed valve covers). Plymouth engineers made the block slightly longer, with more "meat" between the cylinder bores, installed a larger crankshaft with larger bearings, and enlarged the valve ports for better breathing.
The new
277 cid 187 hp engine
was exclusive to Belvedere and Sport Suburbans and had a bore and stroke of 3.75x3.13 inches; the
old "Dodge" 270ci 180hp Hy-Fire
was carried over for use in Plaza and Savoy models.
Both engines shared an 8:1 compression ratio and developed their maximum horsepower at 4400 rpm. For those wanting more power, the 277 was available with a power pack that included a four-barrel carburetor and dual exhausts and developed an even 200 hp.
Later in the model year, a potent 303 cid engine would make its appearance in the Fury. This engine, which had grown to 318 cid by 1957, would continue in use through 1967 before seeing any major revisions. (Hemi Anderson added: The LA, or lightweight "A," series 318 wedge-head engine was introduced in all 1967 B-body cars - the Belvedere and Coronet lines; only the Canadian built C-body cars continued using the 318 Poly engine in 1967.)
By year's end, fully 60% of Plymouth's 1956 production would be fitted with V-8s. The new V-8 made its first public appearance three weeks prior to the unveiling of the new models at the NHRA Nationals held in Great Bend, Kansas. Plymouth offered a special prize of a brand new 277 cid V-8 to the hot-rodder posting the fastest time with a Plymouth.
The tried and true 230 cid "PowerFlow" six was shared with Dodge. The Dodge version, with a two-barrel carburetor, pumped out 131 hp at 3600 rpm. Plymouth's single-barrel version could muster only 125 hp, but Plymouth sold a Power Pack with a Stromberg dual throat carburetor, special intake manifold, larger air cleaner, and a 3.9 rear-axle ratio, which raised power to the Dodge level. Sought after by today's enthusiasts, the 6-cylinder power pack is very rare.
As the demand made by more electrical accessories grew, it became apparent the old 6-volt system could no longer suffice; for 1956 it was abandoned in favor of 12-volt electrics. An increased capacity generator and new starting motor were part of the system. Long-reach resistor spark plugs, a single-point distributor, and weatherproofed ignition helped ensure reliable performance of the system during wet weather conditions.
Power steering, power brakes, and air conditioning were becoming more common, but highlighting the accessory group was "Hiway Hi-Fi," a record player for a car. Hiway Hi-Fi originally required ordering the new Electro Touch-Tune Model 916 radio. Later, the system would work with any 800 or 900 series radio offered in any Chrysler product.
With special 16 2/3 rpm records and a needle that wasn't supposed to skip on rough roads, the $56.95 (which included six records) system, requiring $2.55 more for the mounting bracket, wasn't terribly expensive, but the market for a car record player never really existed, making Hiway Hi-Fi units extremely rare today. The same unit was available across the board for all Chrysler cars and lasted through the 1960 model year before being discontinued.
Taxi and police use
Plymouth continued to use special packages for police use, and added specially prepared sales catalogs for the taxi market for 1956. As usual, these packages included heavy-duty chassis springs, heavy-duty shock absorbers, heavier gauge wire springs in the seat and seatback cushions, battery heat shields, and a 70 amp-hour battery.
Straight stick cars with PowerFlow used a 10 inch clutch plate, while V-8 cars used an 11 inch clutch. All 6-cylinder taxis fitted with the heavy-duty clutch also received a special cylinder head raising compression to 7.9:1 (this head, part number 1676377, replaced the regular head part number 1616823).
Individual items available at extra cost on these packages included a rear-seat ashtray on Plaza and Deluxe Suburbans, 11 inch front brakes on 6-cylinder taxicabs, two special Carter carburetors on 6-cylinder cars (Carter models 2063 S or 2063 SA and Carter 2062 S and 2062 SA) for city traffic, a 20 gal capacity gas tank (recommended for use only on taxis), a Handy governor on 6-cylinder cars, automatic dome light switches on rear doors, and a variety of heavy-duty generators for police work.
The Plymouth Fury
Things were changing at Plymouth. The image of the old maid's car was being turned around, helped by the
1956 Plymouth Fury
-an egg-shell white two-door hard top car, garnished with gold anodized aluminum.
The pictured car is a 1957, which has a slightly different color.
Curtis Redgap wrote:

The big 1956 Chrysler 300B blew everything else off the beach, including the stock Chevrolet Corvette and Ford Thunderbird. It set a two way record of 139.373 miles an hour. ... It was screaming over the sand so fast, that to look at it was almost like a distorted picture. You couldn't quite focus fully on it. It was moving like the wind! ... With a resounding boom and a flash of gold, it was gone, the engine defiantly pounding out its deep belly staccato tune with bass notes better than any musical orchestra. ...
143.596 miles an hour!
The fastest Plymouth ever built in history. And even faster than the 300B.
... Then the big Fury started back. ... About halfway through the run, approaching the timing lane, the engine started to die. ... It broke the timer at 129.119 miles an hour. ... A defective fuel cap had caused a vacuum in the fuel tank and starved the engine for gas. The next day, with a new cap, and without NASCAR sanctioning, the big Fury roared through the timer on a third run at 147.236 miles an hour. On the return trip, it broke the lights at 149.124 miles an hour!
The hood nameplate and ornament, grille insert, and turbine-style wheel covers were gold. Even the interior wore the theme; the seat insets had a golden metallic thread against white bolsters, with window garnish moldings in shiny chrome plate. The gauges were based on the Belvedere sport coupe, adding a small 6000 rpm tachometer by the ignition switch.
Under the hood was a Canadian-sourced 303 cid V-8 pumping out an honest 240 hp at 4800 rpm. Air and fuel were mixed by a Carter WCFB 2442 S four-barrel carburetor. Reinforced dome pistons, a high-performance camshaft, high-load valve springs, balanced connecting rods, and high-speed distributor rounded out the engine package. Horsepower reached the road through either a standard transmission backed by a heavy-duty 10 inch Borg & Beck clutch and pressure plate, or a heavy-duty PowerFlite automatic designed for use in big Dodges.
Furys rode on 7.10x15 inch 4-ply nylon cord black sidewall tires mounted on 5-1/2 inch rims. The standard rear-end ratio was 3.73 with options of 3.54, 3.9, 4.1, or 4.3:1. Heavy-duty (six leaves) springs were fitted front and rear. Eleven-inch brakes at all four corners brought the car to a halt, and heavy-duty sway bars helped the big Plymouth track a straight line down the road. The Fury sat one inch lower than its Belvedere stable mate, giving the car a leaner appearance.
Unlike the Chrysler 300 "letter cars," which cleaned up at the nation's race tracks during 1955 and 1956, the Fury achieved little racing success, despite setting a one-way record of 143.598 mph on January 7 during the annual Daytona Beach Speed Week with a two-way average of 136.415 mph. (Contradictory speeds were reported, ranging from 123.440 to 124.611 for the two-way average speed. While some cars that had participated were later declared illegal, the Fury's record was upheld when the car was certified legally stock.) Regardless, Plymouth had shattered the record previously held by Cadillac at 112.295 mph.
Plymouth released a dealer-installed High Performance Package in the spring of 1956. For $746.90, the kit included dual four-barrels, special air cleaners, an aluminum intake manifold, high-performance camshaft and tappets, a hand choke assembly, and linkages to hook everything up. This kit was available for both the 277 cid Belvedere V-8 and the Fury 303 cid V-8. The kit raised the 277's horsepower to 230 while upping the Fury's to 270 hp.
Performance testing the 1956 Plymouths
Motor Trend
put the new Plymouths to the test, pitting a 277 cid Belvedere against a Fury and a Belvedere club sedan with a McCulloch supercharger (not standard equipment by any means). The regular Belvedere ran 0-60 mph in 11.9 seconds, the Fury in 9.5 seconds, and the supercharged car in 8.2 seconds. In the ¼ mile, the normally aspirated Belvedere reached 76 mph in 18.9 seconds, and the Fury hit 83.5 mph in 16.9 seconds; the supercharged Belveredere ran 84.8 mph at 16.7 seconds.
Further
Motor Trend
tests found the Belvedere would deliver 16.6 mpg at a steady 60 mph, the same as a Chevrolet Bel Air; both bested the Ford Fairlane's 16.1 mpg. The only cars with higher mileage were the Studebaker Champion with overdrive (21.7 mpg), Rambler Custom (19.9 mpg), Oldsmobile Super 88 (l7.6 mpg), and the Studebaker Golden Hawk (16.7 mpg).
In top speed testing, Chevrolet took top honors at 108 mph, followed closely by the 107.1 mph Belvedere, Ford was way behind at 100.2 mph.
Early in March,
PowerFlite
transmissions changed from malleable iron to aluminum carriers with transmissions date coded C-7-56 and later; aluminum carriers had to be fitted with proper replacement parts, which did not interchange with the iron carriers. About the same time PowerFlite and overdrive deck lid nameplates were discontinued on all models.
Paints and cabins
Upholstery continued to change
; Belvederes seats were upholstered in key-pattern Aztec cloth, with seatback inserts of pleated satin vinyl. The pleated vinyl was
an insert in the all-vinyl side trim with
floors covered in carpet. Belvedere convertible buyers had the choice of Aztec cloth and satin vinyl or
all vinyl upholstery. Convertible tops could be had
in white, black, blue, or green.
Belvedere interiors came in four "fashion-matched" colors, including two-tone green, two-tone blue, brown with
cream, black and rose, or black cloth with white vinyl and a gray headliner. Belvedere Sport Sedans had an exclusive pattern of Mosaic Weave with Satin vinyl bolsters, repeated on the door panels with harmonizing floor carpeting. Sport Sedan combinations included two-tone green, two-tone turquoise, black with rose, brovm with cream, and black and white.
Savoy upholstery included Sorrento Stripe cloth in combination with Satin vinyl bolsters. Door and side panels featured a central insert of pleated vinyl with satin vinyl above and below, while floors were covered in a color-matched rubber mat. The Savoy line offered four color combinations of two-tone green, two-tone blue, brown with cream, and gray with charcoal. Plaza buyers were offered just three color combinations- two-tone
green, two-tone blue, and light gray with silver "Plazacord" accented by satin vinyl bolsters on seat cushions and seatbacks. Door and side panels were finished in matching Satin vinyl floors covered with black rubber mats. Plaza and Savoy club
sedan and four-door sedan buyers (along with Plaza business coupe buyers) could opt for a tan all-and-leatherette at additional cost.
Sport Suburbans had seats upholstered in Sportspun Tweed enriched with metallic threads on the seatback inserts and central side panels. Seatbacks, seat cushion facings, and lower door panels were of Stardust Vinyl, with headliners of Royalite. Cargo areas were covered with ribbed Vinoleum (a vinyl coated linoleum). Front floors were covered with a tan rubber mat. This brown-beige seat and door panel combination was featured in all Sport Suburban models with garnish moldings and instrument panel painted in green, turquoise, brown, or black to match the exterior color of the car.
Custom Suburbans, in either two- or four-door body styles, had completely different patterns in Ventilating Vinyl, a woven cloth faced with vinyl in a "golftee" pattern. Door panels were also all vinyl with Satin vinyl in the upper section and pleated vinyl below. Floors were covered with either black or tan mats while the cargo area was covered with beige Vinoleum. Upholstery colors included brown with cream, two-tone green, and black with silver. Headliners were again of Royalite in either beige, green, or gray.
Reflecting its bottom-of-the-line status, two-door Deluxe Suburban buyers were given a single charcoal-gray textured vinyl upholstery with bolsters of silver-gray satin vinyl in a distinctive V pattern. Door and side panels were also textured vinyl while the headliner was gray Royalite. Unlike the other wagons in the line-up both the floor and cargo areas of the Deluxe Suburban were covered with black rubber mats.
Specials
Shortly before the end of the model run, "as a signal honor to St. Louis Plymouth dealers and salesmen whose records stand high among the nation's sales," Plymouth put out a car with a new color scheme: the St. Louis Blues Special was painted white on the upper body, with a Gazelle blue on the lower body and roof of the car, and Sportone trim. The car was like any other Plymouth with the exception of the paint scheme, which could not be ordered anywhere else in the U.S. Made in Evansville, the St. Louis Blues Special retailed for $1,776, including heater, whitewall tires, two-tone paint, and Sportone trim.
In another paint-related episode, Detroit's Petzold Motors gained national attention by announcing that they would paint 100 Plymouths in glow-in-the-dark colors at no extra cost for two weeks. The 3M glow-in-the-dark paint was sprayed over the regular finish. Available in green, blue, brown, and Magenta Red, the colors were claimed to be visible 1500-1700 feet away at night compared to less than half that distance for normally painted vehicles. How many people took up Petzold on the offer was not noted, and 3M's luminous paint never caught on, at least in the automobile industry.
The end of the model year was marked by an industry-wide downturn from the record year of 1955. Plymouth sales were off 37%, dropping from 1955's 743,000 cars to 571,000. As in 1955, Plymouth found itself in fourth place, trailing Chevrolet, Ford, and Buick. Nonetheless, one new Plymouth still rolled off the assembly line every 20 seconds (total assembly time per car was just 53 minutes). Airfoil styling had come to Plymouth, pointing the way into the future-just how far into the future was just around the corner.
Chrysler Heritage
•
History by Year
•
Chrysler People and Bios
•
Corporate Facts and History
Plymouth 1946-1959:
Introduction
•
Turbines
•
Diesels
•
Christine
•
Dream Cars
•
Print version
1924-1945
•
1946-48
•
1949
•
1950
•
1951
•
1952
•
1953
•
1954
•
1955
•
1956
•
1957
•
1958
•
1959
DeSoto and Plymouth Buyers' Guide
:
DeSoto 1929-39
•
DeSoto 1940s
•
DeSoto 1950s
• Exports
Plymouth
1928-29
• 1930-34 • 1935-39 • 1940s • 1950s • 1960s • 1970s • Valiant/Barracuda
Acknowledgements
•
Introduction
•
Top Ten Lists and Clubs
Home
•
Engines
•
Reviews
•
Chrysler 1904-2018
•
Upcoming
•
Trucks
•
Cars
Spread the word
via <!--
Tweet
or-->
Facebook
!
We make no guarantees regarding validity or accuracy of information, predictions, or advice - .
Copyright © VerticalScope Inc. All rights reserved. Dodge, Jeep, Chrysler, Ram, and Mopar are trademarks of Fiat Chrysler Automobiles.