Plymouth, Chrysler, and Dodge cars of 1986
by David Zatz
Chrysler Corporation: 1986 overview
Chrysler Corporation provided a lot of variety in 1986, with the
SIMCA
-based
Horizon
in economy and sport models, the latest iteration of modified
Valiants
*, sport and economy
Mitsubishis
, the
Reliant and Aries K-cars
in sedan and wagon form, and descendents of the K-cars in
minivan
, upscale, sports, and Eurosport forms.
* The M-bodies were barely-modified Volares; the Volare itself was based on the Valiant, with the largest change being the switch to "sideways" torsion bars up front.
The range of cars was almost as amazing as what they had in common. The domestics nearly all shared the
2.2 and new 2.5 liter engines
, even the Horizon, created by transatlantic teams building on SIMCA (Chrysler France) engineering.
Perhaps the biggest news of the year was the new
Dodge Lancer and Chrysler LeBaron GTS
. These cars, essentially the same ("H body"), were based on the
Reliant
, but were carefully tuned for a European blend of luxury and performance. They succeeded beyond any reasonable expectation, and sold moderately well in Germany at over $30,000; in the United States they became fairly common sights for many years afterwards. The 2.5 liter
turbocharged four-cylinders
blended the good off-the-line response of the long-stroke engine with the high-end power of a turbo; while not as quick as the 2.2 intercooled models, nor as high-revving, they were an ideal blend for spirited road driving.
Quality concerns were being rapidly addressed, and a 7/70 powertrain warranty helped allay customer concerns. Customer satisfaction rose steadily on internal surveys, climbing from a (standardized) 100 in 1980 to 109 in 1986.
Chrysler Corporation's sales rose to 2.2 million cars, profits were $1.4 billion, and payroll stood at 115,074 employees - slightly higher sales and slightly lower profits than in 1985. Worldwide sales hit a record $22.6 billion, and U.S. retail sales were the highest in the company's history; market share was 11.5%, for the sixth consecutive increase. Chrysler had a North American truck market share of 12.3%. The only real losers in the product line, sales-wise, were the
rear wheel drive M-bodies
, the last vestige of half a century of steady progress in that type of car, hobbled by engines patched and prodded into obeying emissions rules. The fuel injectors and head updates that could have given the cars serious performance improvements were years away.
Chrysler's slogan was "The competition is good, we had to be better;" Plymouth's was "born in America," and Dodge's was "setting new standards of performance" for cars and "Ram tough" for trucks.
Major investments for 1986 were:
Non-automotive divisions included Chrysler Financial, which acquired parts of Westinghouse Credit during 1986; and Gulfstream Aerospace Corporation. The CEO was a
Lee Iacocca
in the prime of his career, and the Chairman of Chrysler Motors was Gerald Greenwald.
Chrysler, Plymouth, and Dodge engines for 1986
Chrysler's
four-cylinder engines
gained new heads, a new stroked motor replacing the
Mitsubishi 2.6
, and electronic fuel injection on every car other than the L-bodies
(Omni/Horizon/Turismo/Charger).
The new four-cylinder heads were called either "fast burn" or "swirl port," and created extra turbulence by swirling the air/fuel mixture as it came in through the intake port, increasing combustion speed and efficiency. A new automatic idle speed motor was also used in this year, to provide much more accurate control of the idle speed.
Turbocharged engines had been launched in 1985; during 1986, Chrysler sold four times as many turbocharged engines as GM and Ford combined. Thanks to the front wheel drive/four cylinder strategy, Chrysler was also the
only
one of the Big Three to meet the 1986 Federal car gas mileage standards. A grateful President Reagan retroactively rolled back the standards so GM and Ford would not be penalized for their lapse.
The new 2.5 liter engine came with a standard single fuel injector and counter-rotating balance shafts. Because the 2.2 engine had not been designed for balance shafts (or, for that matter, stroking or turbocharging), the engineers cleverly added a housing in the oil pan, which was pumped free of oil when the balance shafts were operating to avoid drag and oil aeration. The eccentric shafts were connected by gears and driven at twice the speed of the engine by a short chain from the crankshafts. Swirl-port heads, used on the 2.2 as well, allowed the engines to achieve high compression on regular gas.
The fuel injection computer on both TBI and turbo models detected problems and reported them through a scan tool or
by moving the ignition key back and forth and watching the engine light
. For 1986, a new "labyrinth" distributor was smaller, had fewer parts, and easy to service; it also allowed for fuel injection synchronization, via both Hall Effect and turbo-sync connnectors.
Sound deadening steps led to molded air intakes on both 2.2 and 2.5 engines, and a power hop damper on the 2.2 turbo with manual transaxle. Engine mounts and exhaust hangers were also improved to quiet the cars; and the carbureted 2.2 got lighter connecting rods, while all 2.2s got lighter piston pins, to reduce second-order vibrations.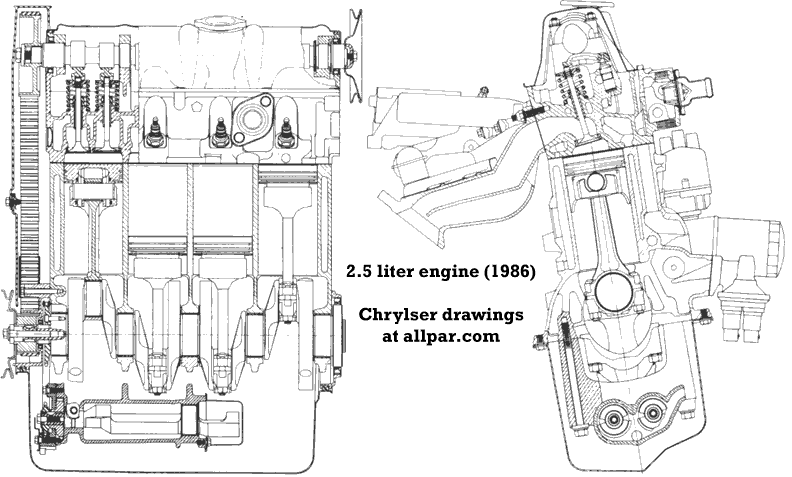 Over at Dodge, turbocharged engines with multiple-port fuel injection (that is, four separate injectors rather than just one, firing into the intake ports rather than the throttle body so fuel would stay atomized and time delays would be minimized) continued on the
Daytona
,
Omni
,
Lancer
, and
600
; and on the Plymouth side, the
Caravelle
. Unlike some MPI systems, Chrysler's did not spray fuel into all cylinders at once, but alternated the injectors to avoid wasting fuel. This also allowed the turbocars to avoid the aspirator or air pump.
The fuel injection systems were controlled by a pair of computers; the logic module controlled ignition timing, the air/fuel ratio, emissions control devices, and idle speed, while the power module translated the logic module's demands for air/fuel ratios and timing into signals sent to the fuel injector and the distributor. Input from the knock sensor allowed the computers to retard timing to avoid damage to the engine with low-octane fuel (on turbocharged engines, engine knocking was dealt with both by reducing boost and by retarding timing for the knocking cylinder - and
only
that cylinder). The logic module was adaptive - it could compensate for changes in operating conditions, including altitude changes (this had been introudced in 1982).
On turbocharged engines, the computer controlled the wastegate, which opened to allow exhaust gases to power the turbocharger. The system allowed overboost during "snap acceleration" for up to ten seconds, and tried to keep a balance between engine responsiveness and gas mileage/engine life. It used an air pressure sensor in the manifold to measure boost (until 1988, when the sensor was moved).
The turbocharger was cooled by the fresh oil circulated through its bearings, a water jacket around the bearings and turbocharger itself, and by the air flowing through the engine compartment.
The electronic fuel control system used on carbureted engines, including the 318 and 1.6 liter ex-SIMCA four, measured engine speed and load, starting condition, coolant temperature, throttle (open or closed), ambient air temperature, and output from the oxygen sensor to control ignition timing and adjust the air-fuel mixture at the carburetor. Engines with the 2.2 cut fuel during deceleration for better gas mileage, using a solenoid-controlled valve that opened during deceleration to allow more air into the idle system.
Mitsubishi engines and 318 used a distributor with a gear-like reluctor (with a tooth for each spark plug) that rotated through the field of a magnet, creating a small current in the magnet's pickup coil that signalled firing of the coil. Other engines used a similar system, with an electromagnet replacing the standard magnet, and rotor vanes rather than a reluctor.
Fuel injected engines came with a standard 90 amp alternator; Colt used a 50-amp alternator, Gran Fury and Voyager a 60-amp alternator; the others used a 65 or 78 amp unit. A 335 amp battery was standard on most domestics, with a 400 amp battery standard on Caravelle and Gran Fury, and 500 amp optional.
Other common features
One optional radio was electronically tuned, with a cassette player; a the joystick speaker control made it easy to direct sound to one particular speaker, but hard to make fine adjustments. It had an ambient sound feature (to emulate the feel of a concert hall or other room), and a five-band equalizer, and was designed by be operated by touch. This was one year before the Infinity system debuted.
Anticorrosion treatments included extensive use of galvanized steel, zincrometal, zinc-plated steel, fiberglass, urethane coatings on the lower body, and special paints and primers.
Chrysler built two basic types of manual transmissions - four speed (with 0.88:1 overdrive) for base-engine Horizon and Turismo, and five speed. The five-speed used on Voyager had a 0.72:1 ratio, and a 3.29:1 first gear. Mitsubishi vehicles used their own transmissions. All domestic cars used Chrysler TorqueFlite automatics, with three speeds; in 1986, these were modified by:
using four bolts instead of three to connect the drive plate to the torque converter
using a new computer-designed impeller blade for a better fit to the impeller shell
a new shouldered impeller to front joint cover prevented weld spatter from being blown into the converter during construction
a wide-ratio gear set was used on some models to lower first and second gears, increasing performance without affecting economy.
Only the Gran Fury got a lockup torque converter in 1986, according to Plymouth literature. The company still maintained that no fluid changes or adjustments were necessary under normal service, a boast that was probably foolish for owners to adhere to.
Chrysler Corporation keys moved to the modern look, with a plastic cover over the top and teeth on both sides (except Horizon/Turismo/Omni/O24); front-drive cars gained "precision-feel power steering;" and the mandatory third brake light was implemented. Reliant/Aries and Caravelle/E Class got more ergonomically designed switches, computer engineered to be more comfortable, with less travel and surface variations to help people to use them without looking at them. Halogen headlights were standard now.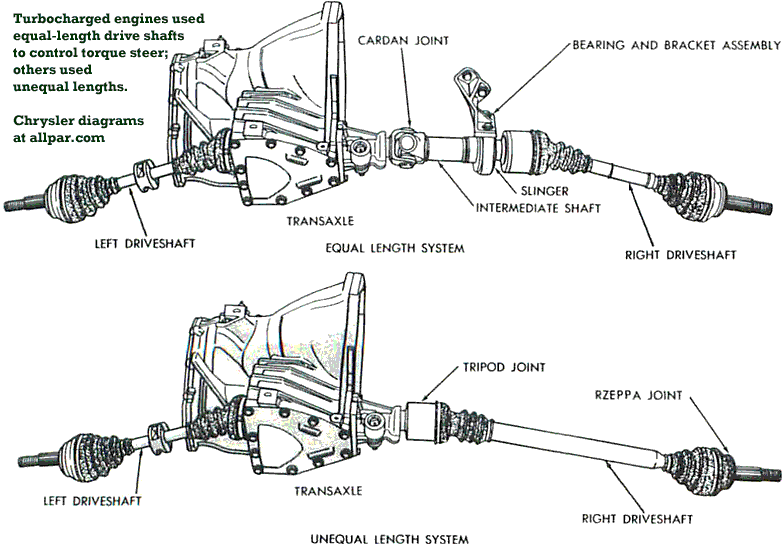 Air conditioners for most domestic vehicles used a six-cylinder, swashplate-driven compressor, with a pressure-activated clutch switch and a cutout switch that disengaged the compressor during wide-open throttle for quicker acceleration. An efficient aluminum condensor was used, with heat dissipated through numerous, skived (partially peeled from the exterior walls of the tubes) cooling fins. A higher capacity crossflow radiator and larger cooling fan with a shroud were used on cars with air conditioning.
At this time, the Gran Fury was the only vehicle left with an engine-driven cooling fan; the others, including the Mitsubishis, all used electric fans. Fuel pumps were electric on the TBI cars.
K-cars: Reliant, Aries
The new
Sundance and Shadow
were being prepared for their 1987 launch, and the larger
Caravelle
had already arrived, but the K-cars were still going strong in 1986, and they were still being kept fresh. The popularity of the "K-cars" led to the letter K being added to the decklid; and these cars got the best, newest engines available, the fuel injected 2.2 and the brand new 2.5 (though the turbocharged 2.2 would have made the light Reliant and Aries hot indeed, it was never used.) The base models had an old-fashioned vinyl bench seat (with a split back on two-doors), while the next model up added cloth and vinyl seating with a folding center armrest; bucket seats were also available.
| | | | | | |
| --- | --- | --- | --- | --- | --- |
| Reliant-Aries engines | Compression | Horsepower | Torque | Mpg, Stick | Mpg, Auto |
| 2.2 liter, TBI | 9.5 | [email protected],200 | [email protected],200 | 25/35 | 24/28 |
| 2.5 liter, TBI | 9.0 | [email protected] | [email protected] | | 23/26 |
| Caravelle engines | Compression | Horsepower | Torque | Mpg, Stick | Mpg, Auto |
| 2.2 liter, TBI | 9.5 | [email protected],200 | [email protected],200 | | 24/27 |
| 2.2 liter, turbocharged | 8.1 | [email protected] | [email protected] | | 20/24 |
| 2.5 liter, TBI | 9.0 | [email protected] | [email protected] | | 23/25 |
The Reliant was now a comfortable, reliable car that provided excellent value and surprising zip when equipped with the optional 2.5 liter engine, or the base 2.2 with a five-speed stick-shift; the strong torque and light weight of the K-cars gave them good performance. Three models were available: Reliant, SE, and LE. All were available as a two-door sedan, four-door sedan, and wagon (except the base model, which had no wagon).
The close-ratio five speed manual became standard, the base 2.2 liter engine gained fuel injection, and the aforementioned 2.5 liter engine was made optional; a 90 amp alternator was now standard; and a new five-stud wheel mounting was used on all models. New 14 inch Sport wheel covers became standard on the LE, while a new cloth with vinyl center armrest interior became standard on SE sedans. New packages included Protection and Popular Equipment Discount; neither was available on the base model, which also made do with fully manual rack and pinion steering (not a major drawback on this light car). Every model came with power assisted brakes, disc in front, drum in rear. Standard tires on all base-model body types were P175/80R13, for a smooth, comfortable ride; better cornering could be had with the optional P185/70R14 radials (standard on LE).
As in years past and future, these vehicles (and the Caravelle) used a rear suspension using spindles, beam, trailing arms, coil springs, shock absorbers, a track bar, and a torsion-tube anti-roll control. The front suspension was the Iso-Strut design, with dual path upper mountings - an independent coil spring and strut design with an integrated, linkless antisway bar, completely rubber-isolated from the body. Rack and pinion steering was used on all front wheel drive models, while the Mitsubishi Conquest and Plymouth Gran Fury used recirculating-ball steering.
Using the 2.2 liter engine, the Reliant boasted gas mileage of 25/35 with stick, along with sprightly acceleration (similar to a base 2007 Mazda3). The wagon knocked 1 mpg off the highway mileage with the automatic but was identical with the stick. For a five passenger sedan or wagon, those were admirable numbers.
Wagons were on the same wheelbase as other cars, keeping their weight down so acceleration was sprightly and gas mileage was surprisingly good; these were some of the last wagons made by Chrysler until the ill-fated Dodge Magnum, with their place taken first by minivans and then by crossovers. The Reliant wagon was stylish and, with a stick-shift, fleet. Rear seats folded down to form a level platform and to increase cargo space from 35 to 68 cubic feet. On a less critical note, the Reliant LE station wagon had wood-tone bodyside and liftgate appliques with woodtone surround moldings (these could be deleted from a buyer's order if they were not wanted.)
The Reliant and Aries remained stunningly popular; in the meantime, the Volare-based (some would say Valiant-based) Gran Fury, moved dramatically upscale, moved barely over 10,000 units in the United States. Indeed, the trio of K-cars (Aries, LeBaron, Reliant) sold over 300,000 units in the US in 1986, in a
bad
year for the trio.
The K-cars provided nearly the same interior space and ride as the M-body Gran Fury and Diplomat, at much lower cost, with much better mileage; and they afforded a five-speed manual transmission option to get quicker acceleration and even better gas mileage. The Gran Fury was a full two feet longer, but legroom was only 1.5 inches better in the rear seat, and a mere .3 inches longer in the front. The trunk capacity was similar - .6 cubic feet better in Gran Fury. The Gran Fury was actually narrower inside than the K-car, while managing to be four inches wider outside. And the K-cars didn't have transmission humps inside. Yes, the Gran Fury had its strengths - a tough structure, loads of torque, and a plush, attractive interior - but its dated engineering, which dated back to the 1950s with major updates roughly every ten years until the mid-1970s, and the basic architecture limited its attractiveness to the average buyer, as did the frankly unaerodynamic shape.
Plymouth did not get a version of the sporty cars, in keeping with its "value/economy" niche; the
Daytona
stayed with Dodge and (as the Laser) with Chrysler, while the LeBaron GTS found a home at Dodge as the Lancer. The Daytona was considered a serious contender for the Mustang and Camaro, and indeed it could easily outhandle either one while the turbocharged version kept it competitive in a straight line as well; gas mileage was clearly superior. The Lancer and LeBaron GTS were both surprisingly comfortable and capable, with superior cornering and smooth, quick acceleration from the turbocharged engines. This would get even better with the 2.5 liter turbo, which had stronger low-end torque. Fittingly, Lancer and LeBaron GTS (which was very different from the K-car LeBaron) came with a standard five-speed stick-shift.
EEK: Plymouth Caravelle
Caravelles were essentially the same as K-cars, with upscale styling, features, and a three-inch-longer wheelbase that was used mainly to make the trunk larger (legroom got 1.3 inches of the added length, but the trunk expanded by 2.1 cubic feet). Compared with the Gran Fury, Caravelle offered an interior that was not quite as ornate, but was still attractive and upscale; it also was roomier inside in nearly every dimension, the sole exceptions being half an inch of front hiproom and an immaterial 0.1 inches of rear legroom, both adequately compensated for by the lack of a hump.
The interiors were considerably more upscale in appearance, and used a new electro-mechanical instrument panel that had gauges for voltage and coolant temperature rather than warning lights. Aluminum was used extensively to lighten up the dash and radio, compared with the Reliant's black motif. A trip odometer ws standard, and the odometer went up to 85 mph (137 km/h). The front seat could actually be moved a full 7.8 inches from front to rear, moving higher as it went forward to accommodate shorter people.
The larger Caravelle (Dodge 600), only available with an automatic, got 24 city, 27 highway with the base 2.2 - nearly the same as the Reliant - with the turbo dropping around 4 mpg, and the 2.5 dropping around 2 mpg. The three-speed automatic transmission was the main culprit of the relatively poor mileage; owners of stick-shift turbos (and standard engines) got substantially better numbers. Unfortunately, only Dodge and Chrysler owners were able to get a turbocharged engine with a five-speed. The old reliable Torqueflite, with its three gears, was engineered for different engines; a new transmission, revolutionary in design, was in the works, but would not show up until, half-baked, it popped out in 1989 and pounded the nails into the coffin of Chrysler's general-public reputation for quality.
Two Caravelles were sold: base and SE. The SE brought a nameplate, exterior left remove and right manual mirror (black), bright wheel opening and sill moldings, upper body stripes, remote trunk release, special wheel covers, standard AM/FM stereo, and split cloth front seats with dual armrests and storage pockets on the seatbacks (base models got a cloth bench seat with vinyl trim).
Horizon and Turismo
While Dodge got the hot Omni GLH, Plymouth made do with the ordinary, grocery-getter Horizon, devoid of turbocharging or Shelby stripes; both got coupe versions (Turismo and Charger). These were, ironically, the only Chrysler vehicles to have semi-independent rear suspensions; the Caravan and Gran Fury used standard four-leaf spring rear suspensions, and the Reliant and Caravelle used a trailing-arm rear suspension.
The Omni/Horizon, the pair from Europe (and Auburn Hills) that had sustained Chrysler in the early years, were the non-imported entry-level cars, and a new bargain-priced America series swelled sales dramatically, to the point where the company would eventually sell the Sundance America to try to repeat history. Part of the attraction may have been the 2.2 liter engine's speed in the light car, which also brought gas mileage of 26 city, 36 highway with a stick (for Turismo, 22 city, 30 highway, due to more aggressive gearing). Buyers who stuck with the 1.6 liter engine got even better mileage, 31/39 with the stickshift.
Though the Horizon was the entry-level value car, it could be equipped with similar radios as higher-end vehicles, and came with electronic spark and fuel control. Base models had a speedometer, voltmeter, and fuel gauges, with dummy lights for other functions, but an optional instrument panel was identical to the attractive, high-end design used on Turismo. In a break with the past, the wipers/washers were on a stalk.
For 1986, there were three Turismos: base, Duster, and 2.2, and all of them were three-door hatchback versions of the Omni. The Duster added special bucket seats, wheels, and trim; and Turismo 2.2 added an air dam, side sill spoilers, sport suspension, close-ratio five-speed manual, performance exhaust, decals, and high-performance version of the 2.2 liter engine. Only the 2.2 came with fourteen inch wheels; the others came with 13 inch wheels (though 14 inch wheels with P195/60R14 tires were optional on non-2.2 models). The main change for 1986 appears to have been anti-rattle pads added between the jack and spare, and between the lug wrnech and floor of the spare tire.
There was also a Dodge Rampage pickup version, which did not sell especially well despite a sporty Shelby version.
All Turismos got a standard Rallye instrument cluster with a large tachometer and speedometer, and smaller gas, temperature, voltage, and oil pressure gauges, as well as odometer and trip odometer. The glove box was designed to hold cassettes and maps. Unlike most imported cars, the Turismo (and Horizon) used a conventional American-style steering column, with the hazard flashers on top of the column rather than on the dash.
The under-nose air dam of the Turismo provided a 3.5% drag reduction, while increasing the radiator airflow; the standard rear spoiler cut drag by 9%.
Overall top gear ratios on the automatic were 3.02 or 2.78; on the manuals, 2.69 (4-speed), 2.20 (five-speed), or 2.78 (Turismo 2.2 only).
Dodge Daytona and Chrysler Laser
The
Dodge Daytona
had a decent sales year, with around 45,000 of the front-wheel-drive sporty cars moving off American dealer lots; three engines were offered, one of which let the Daytona live up to the promise of its looks. All provided good off-the-line grunt when equipped with a stick-shift; and the Daytona, while pricey, was also unusually comfortable, with well designed seats, a nicely damped suspension, and good sound insulation for the time.
Most Daytonas left the factory with the base 2.2 liter engine, running at 97 horsepower; the 2.5 liter only made 96 horsepower in 1986 (its first year on Daytonas), but would soon move up to 100 horsepower (and had more torque, at lower rpm, than the 2.2 - 136 lb-ft at 2,800 vs 122 @ 3,200). The enthusiast engine was the turbocharged 2.2, putting out 146 horsepower and 170 lb-ft of torque (at 3,600 rpm), without an intercooler. Chrysler claimed the turbocharged Laser XT ran from 0-50 in 5.5 seconds, beating (by USAC tests) the Camaro Z28, Toyota Supra, Pontiac Trans Am, and Nissan 300ZX. The Laser checked in at $9,364 (plus destination), and numerous owners reported getting 30 mpg on a routine basis. To reassure buyers, Chrysler included a 5/50 powertrain warranty.
1986 was the last year Dodge shared the Daytona with Chrysler; the Laser name would be gone in 1987, and would reappear as the Plymouth version of the Mitsubishi Eclipse in 1990 (two unaccountable decisions in one). Chrysler customers were expected to migrate to the new, classy
Lebaron coupe
. Multiple styling changes were made, with revised front and rear fascios, new nerf extensions, and integrated body side moldings. The Turbo Z had wrap-around front and rear fascias which extended to the wheel openings; accent tape striping; and Turbo Z nameplates on the tail lamp lenses. Tinted glass and new 14-inch cast aluminum wheels were standard, and a new center brake light was integrated into the rear spoiler.
New standard features included four-way adjustable head restraints (standard on Turbo, optional on base with low-back seats); low travel switches in the optional power locks, power windows, rear defogger, and a new fixed intermittent rear wiper/washer system.
1986 was the first year to offer the C/S (Carroll Shelby
Competition Series
)
package on the Turbo Z model. Carroll was not directly involved in the
design of this package, which cut 220 pounds of weight and added increased front and rear suspension roll rates by 10% and reduced roll angle in cornering by 10%. The package included performance struts and shocks, a 32 mm front sway bar (vs 27 mm), 28 mm rear bar, and new wheels with then-exceptionally-low-profile 225/50VR-15 unidirectional Goodyear Gatorback tires mounted on unique 15 x 6.5 inch cast aluminum wheels
Chrysler LeBaron GTS and Dodge Lancer
| | | | | | | |
| --- | --- | --- | --- | --- | --- | --- |
| USAC numbers | 0-50 | Slalom | Cornering | Braking | MSRP | |
| Chrysler LeBaron GTS | 5.63 | 6.20 | 0.861 g | 136.25 ft | $12,000 | |
| Mercedes 190E | 6.83 | 6.35 | 0.829 g | 137.87 | $23,700 | |
| BMW 528e | 7.14 | 6.56 | 0.814 g | 140.18 | $26,280 | |
The Dodge Lancer and Chrysler LeBaron GTS were surprisingly well-tuned variants of the
basic extended K-car platform
, sold from 1985 to 1989. These cars felt tight and cornered surprisingly well, winning the hearts of many Americans - and, as a
Business Week
article would later note with surprise, many Germans, despite selling at the equivalent of $30,000 in Germany.
Chrysler used United States Auto Club tests to show how the LeBaron performed against cars that sold for twice the price. Unlike many comparisons of this type, it really was apples to apples; the LeBaron GTS and Lancer boasted a fine, smooth ride, comfortable seats, the normal features and options for the class, equivalent build quality, and good sound insulation. This was not a case of "Road Runner vs Jaguar."
To achieve this level of handling and ride, suspension components were engineered to make the car more responsive and more maneuverable, requiring much less driver activity. Control was more precise. The firm suspension provided a better feel for the road than the "cushy" ride in traditional American sedans. But this firmness didn't punish the rider. The Dodge Lancer was a quiet and comfortable sedan with chassis dynamics equaling more expensive import sedans.
The Lancer and LeBaron GTS were sold only as four-door hatchbacks; they were based on the
Daytona
to have the needed performance and feel, but were lengthened to create the needed interior space. In 1986, the 2.5 liter four-cylinder (with 100 horsepower and single throttle-body fuel injector) became available as an option to add a bit more low-end torque; it continued through to the end. For more details, see the
Lancer / LeBaron GTS page
.
Gran Fury, Diplomat, Fifth Avenue, New Yorker
With a bit over 10,000 units sold, it was clear that the
Gran Fury (and its brethren)
, descended directly from the economy
Valiant
, was living on borrowed time. A vehicle from another time, with a carbureted 318 unable to get by the gas guzzler requirement or to provide much excitement in the 3,600 pound car, the Gran Fury was smaller inside than the cheaper Caravelle, yet two feet longer outside; the 318 was rated at 140 horsepower at 3,600 rpm, with an admirable 265 lb-ft of torque, but gas mileage was just 16 city, 21 highway.
The front suspension remained the famous, easily adjusted
torsion bar
setup, while four leaf springs were used in the rear. The only tire choice was 205/75R15 whitewall radials.
The attractive interior brought some people in, augmented in 1986 by new 50/50 pillow-style front bucket seats (standard seats were cloth, leather was optional), but relatively few civilians bought
Diplomats
and Gran Furys. Most of the Dodge and Plymouth M-bodies went to fleets and police departments (which seemed to favor the similar Dodge Diplomat), with civilian buyers opting for the Chrysler New Yorker/Fifth Avenue.
For 1986, the wagon form (still named Chrysler Town & Country, for the last year a car, rather than a minivan, would carry that name) gained an automatic load leveling system, using a height sensor linked to the rear suspension track bar. Air was pumped into or released from rubber bladders on the rear dampers to keep the vehicle attitude correct and maintain the ride. The system was also available on Chrysler New Yorker.

The 1986 models were very similar to 1985, though the Ultimate Sound radio with cassette and five-band equalizer was now available; radios came with either black faceplates and chrome trim, or metal faceplates with chrome trim. A third brake light was not added, in compliance with Federal law, and a 400 amp battery and 60 amp alternator were standard, along with power brakes, power steering, an automatic, and of course the V8. All FM radios included AM stereo. Only a single model, the Salon four-door, was available; it came with bright moldings on the windshield, roof (drip), belts, rear-door glass division bar, rear window, sill, and wheel openings, dual horns, bumper guards, and numerous other features.
Like other Plymouths, the air conditioner had a six-cylinder compressor; the automatic temperature control was set via a slider above the vent pushbuttons. Fans had a traditional control switch with four speeds (with the automatic temp control). Other options included tilt wheel, warning lights in the alternator, fuel level, and coolant guages, illuminated entry, intermittent washer/wipers, electric rear defroster, cruise, power deck release, power windows, bigger battery, and a large variety of radios.
Plymouth Voyager / Dodge Caravan
Just one year away from two breakthroughs - engines that had more than 100 horsepower and the long-wheelbase Grand Voyager - the
Plymouth Voyager
continued to be a runaway best seller for the company. Called "a Reliant on stilts," the combination of the short bumper-to-bumper length, low overall height, big sliding door, and massive, reconfigurable interior made the Voyager the van to get, particularly for those who had a small garage or who would never consider a big, clumsy, uneconomical van.
Gas mileage was better than the Gran Fury, yet the interior was far bigger in terms of usable space, and parents could get into the van and walk around, fastening child seats and cleaning up. The squarish shape made the van noisy at highway speeds - though no noisier than the late A-bodies had been - but it also maximized interior space and provided excellent headroom in every row.
For 1986, electronic cruise control was added, with a speed range of 25 to 80 mph and a 2 mph "tap up" feature; safety features included cutoffs for rapid deceleration and wheelspin. All wheels moved to the new, superior five-stud mounting, an outside lock was added to the sliding door, and a fixed intermittent feature was added to the liftgate wiper/washer. Towing remained at 1,000 pounds (2,000 pounds for the 2.6 engine). Three new colors were added, and a new fully integrated air dam helped aerodynamics slightly. Two new interior colors, almond and cordovan, were added. The overhead console with compass, temperature, and gas mileage was standard on Voyager LE. AM Stereo was added to the base FM stereo.
Transmissions for 1986 were the five-speed manual overdrive, today sought after by die-hard minivan owners, and the three-speed wide-ratio TorqueFlite automatic, which tended to make the mini seem sluggish on the highway. Options included bi-level air conditioner, cruise, intermittent wipers, dual remote control mirrors, tilt wheel, privacy glass, electric rear defroster, tonneau security covver, roof luggage rack, forward locking console, power doors and locks (with new switches), power windows, six-way power driver's seat, power liftgate release, bigger battery, remote rear vent windows, Converta-Bed, and the usual large variety of stereos. Standard features included a message center, remote gas cap release, tethered gas cap, front seat storage drawer, bi-level heater/defroster, power brakes (drum rear, disc front), and liftgate wiper/washer.
Seating had already set the standard for minivans, with a folding third seat on an adjustable track, and a quick-release mechanism for easy removal of bench seats.
The cargo-van version of the Dodge Caravan minivan had its own name, Dodge Mini-Ram Va; it had a glass-free sliding door, no rear seats, and no rear side glass. The interior could hold 133 cubic feet of cargo, with a height up to nearly 49 inches, and a width of 49.2-64.3 inches (tighter at the wheel housings).
The full-sized B-vans
B-vans were "facelifted" somewhat for 1986, with a new grille using rectangular slots, the Dodge name in the middle of the lower hood, a revised front bumper (to hold a license plate in the middle), and a new rear bumper. A Long Range Ram Van came with a 35 gallon gas tank, and extra chrome, with halogen headlights. While Dodge did not break out Mini Ram Vans from Caravan production, it did break out B-van production, at least between vans and wagons (the weight classes, B150, B250, and B350, were lumped together): 66,595 vans were made, with 37,594 wagons. Together, the B-vans nearly hit the production of the Caravans - but, of course, minivans were also sold under the Plymouth name, and Plymouth was still a serious volume division.
Ram engines started with the 95-horsepower slant six, still soldiering on with a single one-barrel carburetor; and the 318 with two-barrel carburetor. Maxi-Ram models, with gross weight ratings of over 7,500 pounds, came with a four-barrel 360, which was otherwise optional on B250/B350.
The Ram trucks
Dodge still had a fairly full truck lineup, though nowhere near as comprehensive as it had been in the 1960s and early 1970s.
All Rams, including Ramchargers, got a new grille and front and rear bumpers for 1986; the grille was a "crosshair" design, setting off the rectangular headlamps. The base engine remained the trusty slant six, tuned for torque and boasting a bare 95 horsepower. Models started with D for rear wheel drive, W for four wheel drive; classes were 100, 150 (similar but with up to a thousand pounds higher payload), 250, and 350. Separating the models were axle and springs capacity, manual transmission "beefiness," power brakes booster size, and brake size, possibly along with other differences (e.g. frame or body changes).
Body styles were Sweptline and Utiline, with short and long bed lengths. Starting with the 250s, buyers could get those bodies along with chassis-cab options. Option packages included Power Ram, Royal, and Royal SE.
The 150 series was most popular, with nearly 65,000 D150s and over 23,000 W150s made. Just 23,386 D250s and W250s (roughly evenly split) were made, and the 350 level was just 7,543 D350s and 744 W350s.
4x4 models used a fully automatic inner shaft engaging mechanism, so the driver could shift into and out of four wheel drive at normal driving speeds by pushing a lever. The gear shift lever and transfer control lever connected directly into the gearbox. This system had been launched in 1985.
The Ramcharger soldiered on with fewer than 21,000 produced in standard and 4x4 models. They were powered by the 318 two-barrel, with 120 horsepower, which had to push 3,664 or 4,065 pounds of truck (depending on whether four wheel drive was ordered). Savvy buyers probably went with the 360 four-barrel, unless they lived in California, where it wasn't available. There were numerous option packages, including the Royal SE (mainly a cosmetic group with extra chrome, ram hood ornament, center console, color-keyed interior items, and minor trim upgrades); heavy duty package, a suspension upgrade not reaching to the brakes; power and convenience packages; and Prospector, which added cosmetic, convenience, and trim upgrades.
1986 domestic car specifications: Chrysler, Dodge, and Plymouth
Chrysler
LeBaron
E Class
Fifth Ave
Laser
LeBaron GTS
Dodge
Caravan
Reliant/Aries
600
Diplomat
Charger
Omni
Daytona
Lancer
Plymouth
Voyager
Wagon
Sedan
Caravelle
Gran Fury
Turismo
Horizon
Wheelbase
112
100.4
100.3
103.3
112.6
96.5
99.1
97.0
103.1
Length
175.9
179.0
178.6
187.2
204.6
174.8
163.2
175.0
180.4
Width
69.6
68.0
68.0
68.0
72.4
66.1
66.8
69.3
68.3
Height
64.2
53.2
52.9**
53.1
55.1
50.7
53.0
50.3
53.0
Track (max)
62.1
57.6
57.6
57.6
60.5
56.1
56.1
57.6
Turning
diameter
41.0'
35.2'
35.2'
36.2'
40.7'
36.4, left
38.2, right
37.2, left
39.1, right
36.2
Headroom,
F/R
38.9
38.5
38.6
38.5
38.6
37.8
38.6
37.4
39.3
37.7
37.2
34.4
38.1
36.9
38.3
37.9
Legroom,
F/R
38.3
36.1
42.2
34.8
42.2

35.4

42.2
36.7
42.5
36.6
42.5
28.7
42.1
33.3

41.1
42.2
Hiproom,
F/R
55.6
56.2
55.6
56.2
52.9
53.5
53.5
53.2
Cargo,
cubic feet
34.9
15.0
17.1
15.6
10.7 cu.ft.
10.5 cu. ft.
18.3
Cargo, rear
seat down
125*
67.7
32.4-34.3 cf
36.6 cu.ft.
32.8
42.0
All numbers are in inches unless otherwise noted.
* Rear seats removed.
** Two door: height, 52.5; headroom, 38.2 / 37.0; rear legroom, 35.1; hiproom, 55.7 / 54.3
Trucks
| | | | | |
| --- | --- | --- | --- | --- |
| | Length | Wheelbase | Width | Height |
| B Ram Wagon | 197 | 127.6 | 79.8 | 79.6 |
| Dodge Kary Van II | 159 | 122.9 | 79.5 | 12 feet |
| Ram D-150 Pickup | 210.8 | 131 | 79.5 | 73 |
The imports: Mitsubishi Colt, Conquest, and Ram 50
In 1986, Chrysler owned a hefty chunk of Mitsubishi, and quite possibly the company was still planning to buy the rest. All the Mitsubishi engines used in "Plymouths" other than the 2.0 liter on Colt Vista had the MCA-Jet system, essentially a third "jet" valve in the combustion chamber that opened with the intake valve to feed a very lean mixture of fuel and air into the combustion chamber when the engine was at low speed with the throttle nearly closed. This leaned the fuel-air mixture and caused more swirling in the combustion chamber for better burning and gas mileage. At higher engine speeds, air going through the jet valve moved slower (it went faster than the speed of sound at idle) and normal combustion took place.
Ram 50
Ram 50, a light truck from Mitsubishi that competed in what was then a hot field, continued to fill in for Dodge's missing compact pickup. The midsized Dodge Dakota, around the size of the International Harvester Scout, was in the works and launched late in 1986 (as a 1987 model), but while both used four-cylinder base engines, they probably attracted different buyers. Ram 50 was entirely a Mitsubishi model, with a base 2.0 liter four and optional 2.6 liter four, both using carburetors and MCA-JET system; the base model weighed 2,518 lb, supporting a box that was 81.5 inches long, 64.2 inches wide. Maximum payload was just over 1,500 lb. The overall length of the D50 was a modest 184.6 inches, close to the Colt wagon; the width was just 65 inches, narrower than the Colt wagon. Inside, the two-passenger D50 had 4.6 cubic feet of storage behind the seat.
For 1986, Dodge refreshed the Ram 50's grille, but it was otherwise fairly unchanged.
Plymouth Colt
For 1986, an upshift light was made standard on non-turbo models with the five-speed; the turbo package was revised, and the GTS dropped; 5-mph bumpers were standard on sedans, and a third brake light was added; new 14 inch aluminum wheels were optional on GTS Turbo, and standard on Premier; a manual remote driver's side mirror was added to DL; a new deck lid luggage rack became optional; red and blue interiors were added, along with cloth seat and door inserts on DL; and an electric rear defroster was made standard on DL. In this year, three trim levels were available (E, DL, and Premier), all except Premier available as a two-door hatch or four-door sedan. Premier was only available as a sedan. The hatch on two-door hatch models held 6.2 cubic feet of cargo with seats up and security panel stretched out, 26.4 cubic feet of cargo with the rear seats folded down; the trunk on sedans held 10.9 cubic feet. Colt gas mileage was 36/41 on E, 33/39 on DL with stick (29/32 with automatic), and 24/31 with the Premier and turbo engine (24/26 with automatic).
The four-door Colt Vista wagon was closely related to the Colt, but was arguably one of the first crossovers; it was taller than a standard Colt or wagon, and had optional all wheel drive. Powered by a 2-liter engine with two-barrel carburetor, driven by a five-speed stick-shift, the Colt Vista attracted a small but hard core group of owners who kept their cars visible for many years. Perhaps that's because gas mileage was 24 city, 29 highway (with the stick; automatics were 23/24, or, with AWD, 19/25).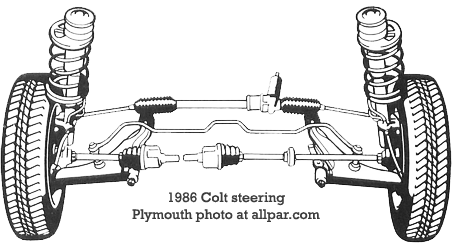 Mitsubishi Conquest (sold as Plymouth and Chrysler)
The Conquest (Mitsubishi Starion) was an exciting and moderately pricey sports car with an electronic dashboard and a 2.6 liter turbocharged engine that generated 145 horsepower and 185 lb-feet of torque - making it competitive with Chrysler's own 2.2 turbo, at least until Chrysler added an intercooler - but still getting 19 mpg city, 24 highway, regardless of whether it was fitted with a manual or automatic transmission. Mitsubishi used a small turbocharger to lower lag; and it worked along with the MCA-Jet system. Hemispherical combusion chambers with center-mounted spark plugs helped efficiency and airflow. Transmissions were a five-speed with 0.856 fifth gear and 3.369 first gear, and a four-speed with 0.68 fourth gear and 2.45 first gear; the high gearing on the four speed hurt performance a bit, but increased gas mileage nicely so it was similar to mileage with the stick-shift (both were rated at 19 mpg city, 24 mpg highway). The sole axle ratio was 3.545:1; turning diameter was a tight 31.5 feet; and the entire package weighed 2,820 pounds.
The Conquest included an optional automatic air conditioning system which measured temperature at both the ceiling and the floor, with a photosensor to compensate for sunlight. Like the domestic models, it had an electronically tuned AM/FM stereo option with a five-band graphic equalizer, cassette, and six speakers, but this unit was completely different from the ones used in the domestics, and had digital controls (with somewhat less convenience.) Remote liftgate and gas-cap releases were standard and cable-operated; power window controls were in the center console.
The Technica package included an electronic instrument cluster,
electronic voice alerts
, and of course a nameplate. The dashboard included a digital odometer and climate control readout, bar-chart tachometer, gas, temperature, voltage, boost, and oil pressure gauges (the tachometer and boost gauges were horizontal, the others vertical), and a large digital speedometer readout. Even without this package, the modern dashboard was oriented towards the driver.
The front suspension was a standard MacPherson strut type, with stabilizer bar and recirculating-ball steering; the rear was independent with a stabilizer bar. Gas-charged shocks were used in both cases.
Chrysler Heritage
•
History by Year
•
Chrysler People and Bios
•
Corporate Facts and History
Home
•
Engines
•
Reviews
•
Chrysler 1904-2018
•
Upcoming
•
Trucks
•
Cars
Spread the word
via <!--
Tweet
or-->
Facebook
!
We make no guarantees regarding validity or accuracy of information, predictions, or advice - .
Copyright © VerticalScope Inc. All rights reserved. Dodge, Jeep, Chrysler, Ram, and Mopar are trademarks of Fiat Chrysler Automobiles.