Plymouth Road Runner: lightweight, cheap muscle
The 1968 Plymouth Roadrunner was a first in American automotive history: a high-power, but budget-priced muscle car, with light weight and strong engines. They were based on the mid-sized "B-body" cars (
Belvedere / Satellite
), but were lighter and cheaper. To get the maximum performance at the lowest cost, the Roadrunner slashed non-performance amenities like carpet.
The Roadrunner was not fragile. Unlike many sports cars, it was built for serious street work, which might be why so many survived. The Roadrunner was reportedly a favorite of moonshiners, faster than most police cars and tough enough to take a pounding.
The idea behind the Road Runner had been running around Highland Park for a while, but management had turned it down. Reportedly, it was pushed through "despite" upper-management opposition, and on a minimal budget.
["Father of the Road Runner" Jack Smith's story of the birth of the Road Runner.]
The Road Runner name was indeed based on the cartoon; hence the horn that went beep beep! and an ad campaign featuring Wiley Coyote. Many had steering wheels with a little Road Runner logo, and air cleaners with the logo "Coyote Duster." The Superbird put a huge, helmeted Roadrunner onto its massive rear spoiler.
In 1968, the base engine was a specially modified
383 V8
, with heads, intake, cam, and exhaust manifolds from the
440
Super Commando. Those changes made it the fastest 383 ever, with 335 horsepower (gross). Rather than the usual three speed manual transmission, the Road Runner had a four-speed. There was minimal glitz and chrome, to cut weight and cost.
Though its $714 cost was quite hefty in 1968 and 1969, many still opted for the ultimate street engine: the
426 Hemi
.
The Road Runner idea was good enough for Dodge to steal, without giving Plymouth a single unchallenged model year. The
Dodge Super Bee
started at just over $3,000; the name was a play on the
B-Body
on which both Road Runner and Super Bee were based (
Belvedere
and
Coronet
, respectively).
The Plymouth's emblems were decals, but the
Dodge Super Bee
had snazzy 3D die-cast medallions. Dodge created it much the same way as Plymouth had developed the Road Runner: by taking the Coronet and swapping in better suspension and braking parts, and a different hood. Since the Coronet was an inch longer in wheelbase than the Belvedere from which the Road Runner had grown, the Super Bee was longer than the Roadrunner, and 65 pounds heavier.
The Super Bee also came better equipped, with the more upscale
Charger
's gauge cluster and a Hurst Competition Plus shifter and linkage. The Road Runner made do with a cheaper Inland setup, which did not garner favorable reviews.
1968 Super Bees came with just two engines - a 383 Magnum, the workhorse engine with 335 hp, and the 425-hp 426 Hemi. The latter also had beefed-up suspension components, and needed them.
Plymouth sold 44,599 Road Runners in 1968 - far, far better than the 18,940 GTXs that rolled out, or the 31,987 Barracudas. Indeed, Road Runner outsold the Belvedere itself.
Product planner Burton Bouwkamp wrote:
The Road Runner sold so well because of clever marketing, but a more important reason was that it was the first performance car that was based on the lowest-price "B" body Plymouth. Prior to the Road Runner, [at Plymouth,] you had to buy a premium level car (GTX) before you could get a big engine. For example, in the Pontiac carline, you had to buy a Pontiac LeMans' level of trim/features/price before you could get a GTO.
Before the Roadrunner, performance models were derivatives of the premium [or at least midline] model. Roadrunner was a derivative of the base (lowest price) model. A Roadrunner with a "B" engine was probably more than a $1,000 less than a Satellite GTX with the same engine. [It was, however, not much less than the GTO.]
In 1969,
Ford
responded with the Cobra (a Fairlane with a 428), but the Road Runner kept going to win
Motor Trend
's Car of the Year award; the 1970 440 6-barrel option helped, providing Hemi-like acceleration with a much lower price tag. The 440 four-barrel wasn't available in 1969, though; as K.C. wrote:
Many people back in the day ordered 440 emblems and installed them on Road Runners and Super Bees because we didn't like telling people we had a 383. It was common. Used car lots did it too because a 440 car sold faster!

Many Mopar guys today argue that they owned a 1969 440 four-barrel Road Runner or Super Bee. They bought them used, and the seller/car lot told them it was original. This is also backed up by

Paul Herd, who wrote the B-body Bible

you must have to restore these cars.
Joe's 11.8-second daily-driver Road Runner 440.
The
440 cubic inch, triple-carburetor (two barrels each)
, 390 horsepower Road Runner took the concept to its natural conclusion, even eliminating hubcaps. The Super Bee, meanwhile, added the Ramcharger air scoop on the hood; unlike many scoops, this one was functional and standard with the deep-gulping Hemi. The Plymouth "Coyote Duster" air induction hood was matched by a less graphically adept Dodge version; Super Bee also got a hardtop model to join the original.
| | 383 Magnum | 440 SixPack | 426 Hemi |
| --- | --- | --- | --- |
| Carburetor | 4-barrel | three 2-barrel | two 4-barrel |
| Compression | 9.5:1 | 10.5:1 | 10.25:1 |
| Air Cleaner | dual snorkel | unsilenced | unsilenced |
| Gross horsepower | 335 @ 5200 | 390 @ 4700 | 425 @ 5000 |
| Torque (lbs-ft.) | 425 @ 3400 | 490 @ 3200 | 490 @ 4000 |
Wheels were moderately large for the time, at 15 x 6, albeit laughably small by 21st century standards.
Dodge sold 27,800 Super Bees in 1969 - a far cry from Plymouth's stunning 84,420 Road Runner sales. There was clearly something to the Road Runner concept which was missing from the pricier Dodge or, for that matter, the upscale GTX.
John Belbas pointed out that the 1968 Road Runner had the 383 or Hemi; the 1969 and 1970 Road Runner had the 383, Hemi, or 440 triple-twin-barrel.
1970: Road Runner Superbird
1970 Road Runners and Super Bees both gained a new grille; the Plymouth grille was shared with Belvedere, and was both moderately aggressive and neat. The more complex Super Bee front end had a twin-loop design. Whether due to the looks, changing times, or, the cheaper-but-still-potent
Plymouth Duster 340
, sales of the Road Runner fell lower than they had been in 1968, to 43,404. (They sold 24,817 Duster 340s in the same year, and an astounding 192,375 Dusters without the 340; a recession may have pushed many buyers to the cheaper Dusters.)
Galen Govier, as quoted by the
Standard Catalog of Chrysler,
wrote that there were 1,268 Super Bees with the 440 Six-Pack, and 36 with Hemis - .
In 1970, the Road Runner added the Air Grabber hood, which was remote controlled from the passenger compartment. Press a button, and you have a scoop. Press again, and you have a normal hood.
Dale Mathews wrote: "The blue 70 Road Runner was original white car [shown above] and is the 1970 Pilot car, a Hemi, the first 1970 Road Runner made, and believed to be the car in the press release photo for the 1970 Road Runner as well as the car used in Rapid Transit advertisements in 1970. The wagon is a 1961 plymouth bought from original 87 year old owner in 2000, and is powered now by a 413 long ram."
New for 1970 was the
Plymouth Road Runner Superbird
, an astonishing car with a remarkably slippery shape, largely due to wind tunnel design. It was inevitable that when Dodge had developed their Charger Daytona for NASCAR speedways, that Plymouth would demand their own, for the same purpose. Both spent time in wind tunnels; the Plymouth was somewhat more challenging due to the original shape of the car. Top speed on these cars, equipped with either a 440 or 426 Hemi engine, was reputed to be over 150 mph as they arrived at the dealer, and over 180 mph with relatively minor modifications; Chrysler itself set a record of over 200 mph.
1971 Plymouth Road Runner and Dodge Charger Super Bee
The Super Bee well and truly changed in 1971, its final year, moving to the
Charger
platform. Only 5,054 were made, roughly one third of 1970 production; Super Bee maintained its traditional "roughly one third of Road Runner" production, as well. Galen Govier, as quoted by the
Standard Catalog of Chrysler,
wrote that there were just 99 Super Bees with the 440 Six-Pack, and 22 with Hemis.
1971 brought the first major changes, including what Plymouth called "an all new body;"
John E. Herlitz
's groundbreaking styling featured swoopy lines, and large, looping bumper/grill assemblies. There was an optional Air Grabber hood, which used vacuum to pop open a hood scoop. There were no mid-size convertibles for the first time, and Plymouth sold an optional power sunroof instead.
The Road Runner's wheelbase went down from 116 to 115 inches, and the engines were changed to meet emissions standards; the 383 went from 335 to 300 hp, and the 440+6 went from 390 to 385. A new
340
cubic inch engine option was added, giving a few buyers a much better weight-balanced car but less usable torque. The Hemi continued to be rated at its original 425 hp (sources vary on net horsepower; Chrysler appears to have deliberately under-rated the Hemi.
We have corporate documentation showing over 460 hp
).
Advantages of the 1971 redesign include a three-inch wider rear track for better handling, flush door handles and ventless side glass for better aerodynamics (higher top speeds and lower noise), and options such as sun roofs, "tuff" steering wheels, functional air-grabber scoops - a highly desirable option now, especially since they could be opened or closed at the press of a button - and more features.
Plymouth Road Runner sales plummeted down to 14,218 for 1971, possibly the victim of high insurance surcharges, possibly due to the styling change. Duster 340 sales also fell dramatically, down to 12,886 - around half of 1970's total. (Overall, Duster sales were 173,592, so the issue was not the car itself, but the performance variant of it.)
According to Plymouth ads, the 383 and 340 Road Runners received a standard insurance rating from most auto insurers, despite the four-barrel carb, heavy-duty brakes, and go-fast look; yet, the cars were quite potent.
1972: Road Runner is still potent, but Hemi and Six-Pack are gone
Pete Hagenbuch
wrote: I drove a 1972 Road Runner 340. For driving pleasure that was my favorite muscle car. With anti-sway bars [roll bars] front and rear, the car was as light on its feet as most sports cars. My commute was a joyful dash in that car.
In 1972, the Hemi and 440 six-barrel dropped out of the picture, and the 383 was bored out to become the 255-net-hp 400.
The 1972 Road Runners gained standard electronic ignition, a Chrysler invention, cutting tuneup costs and increasing consistently usable power. The Plymouth Road Runner was still well-endowed with power, but the in 1973, the shape of things to come appeared: the mild-mannered but indestructible
318
, with 170 hp, was the standard base engine, make standard Road Runners more cosmetic packages than moonshine delivery vehicles.
1972 would not bring a sales respite, with only 7,628 sold.
Finally, in 1973, the
Plymouth GTX
- which started as the only
440 powered
Belvedere - was dropped, and the GTX name, associated with a high-end, feature-laden muscle car, was fastened to the Road Runner, known as the budget-performance muscle car. The 280 horsepower four-barrel 440 (net rating) was only available as part of the GTX option package, which essentially consisted of that engine, various suspension and brake upgrades, and three glued-on emblems.
The 1974 Road Runner was, as one might expect, a virtual clone of the Plymouth Satellite coupe, at least on the outside. Under the hood lurked a big block engine, still; and a Hurst edition was still available. Dan Diehl, for example, owns a 1974 Plymouth Road Runner Hurst edition, with a four-speed transmission connected to the
400 cubic inch B engine
. The car was luxurious for a Road Runner, coming with air conditioning, a rear defroster, FM stereo, interior hood release, and hood pins. The 340 was gone, a similar 360 taking its place.
For 1973, sales had gone back up again, to just over 19,000, but 1974 saw them fall right back to 11,555.
For 1974, the 440 V8 engine was also available in the Plymouth Road Runner. "plybirdman" wrote that there were 388 such cars made in 1974.
The end of the road
1974 was the final year for the Belvedere/Satellite-based Road Runner ... in one sense. In 1975, Plymouth "downsized" the C-body
Fury
and dropped Belvedere and Satellite. It would be equally valid to say that they merely renamed the B-bodies to Fury. In any case, the appearance of the Plymouth Road Runner changed again, this time matching the
1975 Plymouth Fury
. 1975 sales, just over seven thousand, were a new low point, and it should come as no surprise that there was no 1976 Road Runner.
The Road Runner package did come back, switching to the
Plymouth Volare
, but no sales figures are available for those. See
Fury and Volare based Road Runners.
Instrumentation
The 1968 and 1969 Road Runners had the same speedometer as the basic Belvedere, while the Sport Satellite and
GTX
had a special 150 mph speedometer. The "Rallye" dash with round gauges, used by the Charger and Super Bee since 1968, finally came to the 1970 Road Runners; prior 'Runners had the standard midsize Plymouth dash, which was similar to the 1968-69 GTX.
Plymouth's ad copy, 1968
Until now, there were two distinct type of stock cars. There was street stock. And, indeed, it was just that. Despite the acquisition of big-displacement engines and ferocious nicknames, it was basically just a boulevard car. The emphasis was on luxury: expensive interiors, lavish adornments, and lots of brightwork.
Then there was the other type - the Grand National stocker. You couldn't buy it, and even if you could, your name would have to be Petty or something to get it started on a cold morning. Nevertheless, it was infinitely attractive - the low silhouette; the super-wide tires; the stovepipe exhausts; the absence of chrome; the Spartan cockpit - sort of brutally good-looking.
Obviously there was a need for a car that combined some of the creature comforts of the street stock with the integrity of the Grand National type. So we created the Missing Link. It's called the Road Runner, and you'd better believe it's one hairy-idling, stiffly-sprung, squat-sitting, wide-tired, de-chromed automobile.
Unlike most stocks, Road Runner doesn't sport an interior of hand-rubbed, fake Ukembeki wood. It doesn't even have Buck Rogers signature-model seats. Like a real stocker, it's all business inside: a couple of gauges, a bit Hurst gear lever and clutch, brake and accelerator pedals. The exterior is similarly functional.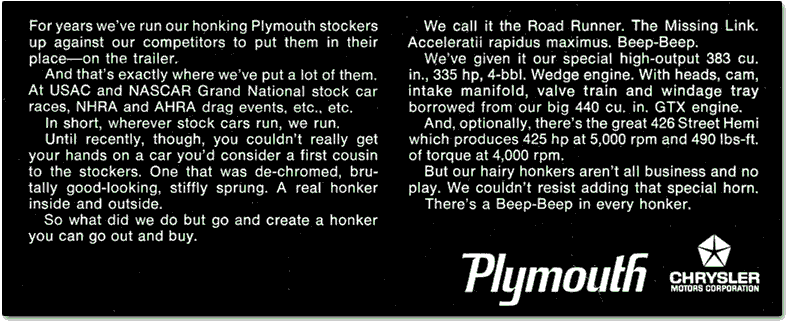 The standard engine is an exclusive high-output version of Plymouth's 383 cubic inch V8. Optional, and very fitting, is the big 426 Hemi.
The body is a two-door coupe with a hardtop roofline, and it's rigid as only a stocker can be. The suspension is completely heavy-duty, front and rear. The only real concession to the boulevard is the addition of a horn, and even that has character, it goes "beep-beep!" just like the bird in the cartoons.
Oh, yes - and the doors work. On Grand National cars they're welded shut.
The original source for this page was an April 1993 article in
Mopar Muscle
by Tom Shaw. lio45 and others have added/updated since then.
Road Runner forums
•
Super Bee
•
Road Runner creator Jack Smith
•
Fury and Volare based Road Runners
Home
•
Engines
•
Reviews
•
Chrysler 1904-2018
•
Upcoming
•
Trucks
•
Cars
Spread the word
via <!--
Tweet
or-->
Facebook
!
We make no guarantees regarding validity or accuracy of information, predictions, or advice - .
Copyright © VerticalScope Inc. All rights reserved. Dodge, Jeep, Chrysler, Ram, and Mopar are trademarks of Fiat Chrysler Automobiles.