Plymouth Scamp and Dodge Rampage: economy car based pickups
Developed largely by
the former SIMCA, with some American engineering and Rootes Group styling, the Plymouth Horizon and Dodge Omni were hugely popular. Chrysler tried to capitalize on their success with the Plymouth Scamp and Dodge Rampage, pickups based on economy cars.
The Omni and Horizon earned the Europe's Car of the Year award in 1978, but Chrysler was not done. In 1979, they launched hatchback coupes based on the Omni and Horizon, called
Dodge O24 and Plymouth TC3
(they would later be renamed
Charger and Turismo
, respectively).
Burton Bouwkamp wrote:
The Turismo and O24 were done at the instigation of Lee Iacocca, and were styled and engineered in-house.

The first Rampage, though, was created by a custom body shop
under the direction of Hank Carlini, Lee Iacocca's special assignment
man on product. (Hank came from Ford with Lee, and was in Lee's Friday night
poker club.) When Lee saw the Rampage model he said, "Do it."
We (Body

Engineering) were assigned the production engineering job, which turned out

to be bigger than it looked because the prototype Rampage was built with a

Turismo/O24

windshield and four-door sedan front doors. They did not fit

together, which meant that we had to design new door glass, door seals, and

glass drop mechanisms to make it work.
The suspension design was carried over from Omni/Horizon, with MacPherson struts and a linkless sway bar in front. In back, leaf-springs were used with "sea-leg" shock absorbers; the leaf springs' shackle angles helped side-to-side stability.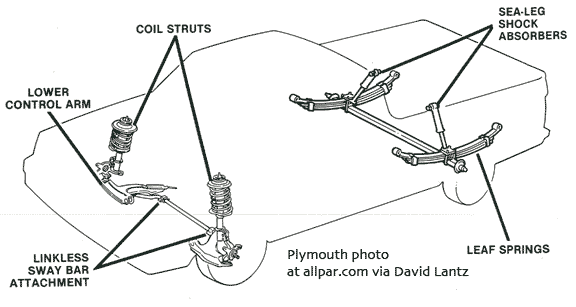 The Rampage and Scamp were the first front wheel drive pickups from Detroit.
The little Dodge and Plymouth were well-equipped for the time, with a four speed manual transmission (five speeds starting with the 1983s), interior hood release, power disc brakes, tinted glass, remote driver's mirror, color-keyed steering wheel, dual horns, radio, day/night mirror, and high-back bucket seats, covered in vinyl.
The Rampage Sport and Scamp GT came with two-tone paint and tape, a lower-sill blackput, 14 inch color keyed wheels, raised-white-letter tires, cloth covered bucket seats with adjustable backs, special trim, tachometer, and clock. A
three-speed TorqueFlite automatic
was optional, as were air conditioning, intermittent wipers, heavy duty cooling, road wheels, dual remote mirrors, and various radios.
All used the 84 horsepower four-cylinder 2.2 liter engine with two-barrel carburetor; this provided quick acceleration for the day, and the torque bias of the engine helped responsiveness with a loaded bed. The single-piece tailgate had a center release lever; support cables were covered and concealed when the gate was up. A body-color front bumper was backed by a steel bar. Halogen headlamps were standard; for 1982 and 1983, a five speed manual was optional(standard on Sport/2.2/GT). The base payload was 1,145 lb.
Optional axle ratios were 3.02 (automatic), 2.69 (four-speed manual), 2.20, 2.57, and 2.78 (five speed).
Dodge Rampage, 1982-1984
The 1982 Rampage and Scamp weighed just 2,246 pounds (2,293 in Sport trim) and started at around $6,700. Sport added around $500. Thus, they weighed somewhat less than the Ram 50, but costs were fairly similar - Ram 50 started lower but finished higher. In this first year, 17,636 Rampages were made, compared with 34,615 Ram 50s; neither came close to the D-series but both outsold Ramcharger.
For 1983, Rampage 2.2 replaced Rampage Sport - before making assumptions based on that name, recall that
all
Rampages were 2.2-equipped.
The Rampage 2.2 added new graphics and a fake hood scoop in addition to the prior-year Sport additions. Weight and price were similar to 1982, except on Rampage 2.2, which gained around 18 pounds over Rampage Sport, and cost around $50 more. Rampage 2.2 seats were either black or black with a wide red stripe. The EPA claimed 28 mpg city, 47 mpg highway - astonishing gas mileage, but the criteria were fairly loose at that time, and average buyers might see highway mileage in the high 30s. (With California emissions, EPA rated the Rampage at 27/45. This included the five-speed manual transmission, which was the most popular one.)
1983 Rampage sales fell to 8,033, partly, it seems, because of competition from Plymouth's 1983-only Scamp and Scamp GT.
Despite extremely low sales, Dodge tried again in 1984, switching to a new, sportier grille and new hood treatment. The weight went up again, with Rampage going to 2,293 lb and 2.2 going to 2,357; the price jumped a bit, to around $6,800 for Rampage and another $500 for Rampage 2.2. Power remained the same at 84 hp. Rampage sales jumped back slightly to 11,732, presumably due to the loss of the Plymouth Scamp; but this was the final year for the Rampage. The only way to get one after 1984 was to buy the Shelby version.
1983 Plymouth Scamp
For 1983, the Scamp name was moved forward from a two-door
Valiant
derivative (the
Plymouth
version of the
Dodge Dart Swinger
), creating a Plymouth clone of the Dodge pickup; Plymouth was already selling their version of the Mitsubishi-sourced Dodge D-50 as the Arrow Pickup.
Plymouth Scamp and Scamp GT were a single-year model, in retrospect not worth the tooling and development costs, minimal though the latter must have been. The front was taken from the Plymouth Turismo; functionally, the Scamp was identical to Rampage. Scamp GT, like Rampage 2.2, added a false hood scoop, tachometer, trip odometer, stripes, 14-inch argent silver steel wheels with trim rings, and five-speed manual, with a choice of cloth and vinyl reclining bucket seats (black with wide red stripe or just black). Prices were similar to the Dodge, at around $6,700 and $7,200; weight was somewhat and inexplicably greater, at 2,305 and 2,340 pounds for Scamp and Scamp GT. Scampt GT did boast a higher payload, 2,110 lb
At the end of the year, Plymouth had sold a mere 2,184 Scamps and 1,380 of the marginally more profitable Scamp GT. around a third of the Scamps and around a quarter of the GTs had the automatic; most Scamp buyers opted for the five speed manual, with the four speed being least popular. Stripe packages were very popular on the base Scamp; around one fifth of buyers opted for two-toned paint. Tonneau covers went to around 15% of Scamp buyers and nearly half of Scamp GT buyers. In those days of aftermarket stereos, it should not be surprising that nearly half of Scamps came with the radio delete; half of the remainder came with stereo.
Shelby and Rampage and Scamp
Carl Raupe wrote:
In 1982, Chrysler introduced the Dodge Rampage and the

Plymouth Scamp to compete with import trucks. Both were based on the

Omni/Horizon platform with the wheelbases extended to 109 inches,

beefer rear springs, and a pickup bed carved just behind the two front

seats. Even with its diminutive size the little truck had double wall

bed construction with galvanized steel.

Everything from the front seats

forward is straight off the shelf

Omni/Horizon

. As with other car/truck vehicles they will carry

neither a large load of passengers or cargo. But they will do darn near

anything in a pinch. I live on a ranch in Texas. My Scamp with 278,000

miles serves me well every day...on the ranch or over Texas highways.

It's the only truck I have every seen that gets such good gas mileage

(43 mpg) you think it's making gas while you drive it.
In 1983, with the Rampage still fresh, Carroll Shelby said, "We are going to do a Rampage or a Shelby Street-Fighter version of the Rampage." It did not appear until 1986, three years later, and two years
after
the last Dodge Rampage had been produced. Just
218 California Shelby Rampages
were made; they looked like Shelby Chargers in front. Many know them as the "Direct Connection Rampage."
Gary Howell of Howell Automotive wrote this about his own Rampage:
The Rampage has had several carburetors on it. The one that I liked the best was the Holley 2305 series progressive two-barrel. Vibration destroyed several of them. The carburetor on it now is a reworked factory 5200 series Holley; Barry Grant fuel systems did a stage 3 rebuild on it. They wouldn't give me any flow numbers on it, but it should be in the low 400 cfm range.

The basement of the engine is pretty much stock 1984, the cylinder head is G casting with a good 3 angle valve job. Cam is a .460 lift 288 duration. TRW followers and lifters. Stock lifters are the weak link in the valve train the ring are the protruding part is crimped on and doesn't live long above 7,000 rpms.

Mopar Performance intake, not much different than stock. Hedman Hedder with 2.5 in exhaust, no cat, and a turbo muffler. Sound like a angry swarm of wasps.
Power put to the ground through a MP clutch and pressure plate, and a Shelby 5-speed with 3.85 gears. The secret to the low elapsed time is the body. Rampage is a pick-up, i.e. no weight in the bed, front wheel drive, hook and gone.
| | | |
| --- | --- | --- |
| Specifications | Inches | mm |
| Length | 183.7 | 4666 |
| Wheelbase | 104.2 | 2647 |
| Height | 51.7 | 1314 |
| Width | 66.8 | 1696 |
| Box length | 63.7 | |
Trucks/SUVs
Jeep
Ram
Military
Engines
2015-2017
Forums
Home
•
Engines
•
Reviews
•
Chrysler 1904-2018
•
Upcoming
•
Trucks
•
Cars
Spread the word
via <!--
Tweet
or-->
Facebook
!
We make no guarantees regarding validity or accuracy of information, predictions, or advice - .
Copyright © VerticalScope Inc. All rights reserved. Dodge, Jeep, Chrysler, Ram, and Mopar are trademarks of Fiat Chrysler Automobiles.