The Chrysler Cordoba, (and 300): "Personal Luxury"
by David Zatz
updated 2/9/17
The Chrysler Cordoba first appeared in 1975, along with a twin, the
Dodge Charger SE
.
It was a much-needed hit, as the Chrysler brand's full-size cars had suddenly become unpopular.
Over half of the Chryslers built in that first year were Cordobas; for just over $5,000, a buyer could say with pride that they owned a Chrysler, in the days when Chrysler ranked with Lincoln and Oldsmobile.
Despite the Chrysler name, the Cordoba did not appear in many Chrysler brochures, showing up either in its own booklets or in combined Chrysler-Plymouth catalogs. Still, product planner Burton Bouwkamp told us it started as a Chrysler, to better compete with the Thunderbird, Riviera, and Grand Prix competition. He wrote, "This upmarket specialty segment was stable and profitable, so the 'beancounter' management finally agreed that we needed to be there. ... By that time, Chrysler and Plymouth were combined into one division, so C-P dealers had a luxury specialty car in the Cordoba."
The Cordoba name was first used in 1970, as a special model of the Chrysler Newport with much use of gold and the Aztec eagle.
The Cordoba was a
B-body
in its first years, like the humble Dodge Coronet and Plymouth Satellite, but given the Chrysler sound-insulation and luxury-feel treatment, it sold in vast numbers. The wheelbase was a modest 115 inches, not much more than the compacts, but the B-body ride was far smoother than the F-bodies, and cornering was not compromised.
All Cordobas were two-door coupes.
In February 1975, PR man Frank Wylie bragged in a press release, "Already Cordoba is #3 among the specialty cars. It is outselling such established cars as Gran Prix, Cougar, T-Bird, Toronado, and Riviera (January 1-February 20 sales showed Monte Carlo at 23,838; Ford Torino X at 10,752; and Cordoba at 10,445. Gran Prix followed at 7,983; the Cougar, Thunderbird, Toronado, and Riviera were all below 5,000.)
Chrysler sold 150,000 Cordobas in 1975.
When launched in 1975, buyers found a standard
360
cubic inch V8, with an optional
318 V-8
for fuel savings, and an optional
400 cid V-8
for more power; the 400 could be specified
with two or four barrel carburetors
, and dual exhausts. Each came with the
TorqueFlite automatic
.
All had electronic ignition and electronic voltage regulators.
The suspension used longitudinal front torsion bars with lower trailing links and an anti-sway bar, coupled with semi-elliptical rear springs and a rear anti-sway bar. This provided the large, heavy car with surprisingly good handling.
With its 400 cid engine, the Cordoba easily beat the Buick Century Regal and Ford Granada in acceleration (based on
Car & Driver
which recorded a 0-60 time of 9.3 seconds), with a 17-second-flat quarter mile; but gas mileage suffered accordingly. It was priced between Regal and Granada, and the interior was quieter than either of those competitors. Performance wasn't bad for the time, and strong torque meant instant acceleration at highway speed.
Standard equipment included the hood and wheel medallions, color-keyed stripe, 15-inch wheels with radial whitewall tires, wheel covers, the opera roof, velour seats, carpeted trunk, a lighting package, digital clock, 2.45:1 "economy" rear axle ratio, and 25.5 gallon tank with an LED low-light warning in addition to the gauge. Buyers also got power steering and front disc brakes.
Options included the halo and landau vinyl roofs (which kept the opera window), wire wheel covers, urethane-covered road wheels, Fuel Pacer System (using fender-mounted turn signal lights), power controls, cruise, air conditioning, and 8-track.
There were some recalls on the 1975s: the 360 with cruise and two-barrel carb could stay in wide open throttle if the control linkage stuck. The EGR could start up prematurely, and the carburetor accelerator pump seal could distort.
The 1976 Chrysler Cordobas
There were few changes for 1976. A GM-sourced tilting steering wheel became optional on January 1, 1976.
The A-727 transmission gained redesigned splines and other internal changes for greater durability; and a new A-999 was created for the 360 engine, essentially the old A-904-LA with some heavier duty parts.
Late in the 1976 model year, the
electronic Lean Burn spark timing system
became standard on the 400 V8, designed to improve efficiency and reliability, but launched without sufficient testing.
(Source: several people and the
Standard Catalog of Chrysler).
The Standard Catalog of Chrysler
claimed that the standard engine was now the
400 V8
, with the 360 and 318 available at no charge.
The brakes were improved, with a new master cylinder and new 11.5-inch Bendix single-diaphragm booster (there was a recall on some of these); starting January 1, 1976, the front rotor diameter was increased by one inch, mandating 15" wheels and tires. The parking brakes were changed to require less effort, as well, with a new pedal mechanism.
On the safety side, all cars were designed to pass a full 360° rollover fuel leakage test, so the Cordoba got a rollover valve in the fuel tank vent line, and check valve, and a liquid-vapor separator in the fuel tank.
A new filter-drier replaced the old receiver-drier in the air conditioning systems; and, inside, buyers found a new steering wheel with a medallion.
The Cordoba reached its all-time production peak in 1976, beating 1975 by roughly 10,000 cars.
The 1977 Chrysler Cordoba
The Cordoba was still the big seller for Chrysler in 1977, with many changes taking place under the skin to save weight.
Visually, the sheet metal was the same, but the 1977 Cordoba added a chrome-plated grille, eight new paint colors, new tail light lenses, a deck lid lock cover and medallion, black and white checked cloth-and-vinyl seat covers, low-slip torque converter (with the 400 V8 engine), suspension crossmember rustproofing ("Autophoretic Paint System"), more weight reductions, glass-belt radials, more reliable wire terminals, higher-capacity ignition switch, and double-contact starter relay for better starting.
New options included T-tops, a padded landau roof with an illuminated opera band across the roof and Frenched rear quarter windows, color-keyed body-side mouldings, and side and deck stripes.
While engineers worked on the lockup torque converter for the
TorqueFlite automatics
, they released a torque converter with a 20%-enlarged torus; this both increased gas mileage and torque capability by reducing slippage and wasted energy, as the transmission fluid created less friction when moving between stator, impeller, and turbine.
The 1978 and 1979 Cordoba: sales stumble
The 1978 Cordoba brought the first major appearance change so far, with stacked headlights and the squarish look that had become popular. It also saw many weight-saving changes under the skin, and a power sunroof was made optional.
The
Standard Catalog of Chrysler
wrote that the 400 V8 was standard, with an optional 318 (two barrel carb; four barrel in California and high altitude), now with
Lean Burn
. The 360 was optional in both two and four barrel carb versions. A 1979 Cordoba brochure shows the standard engine as being the 318 two-barrel (four barrel in California). "valiant67" wrote that the 400 remained standard except in California and high altitude locations, where the 360 four-barrel was used - the 400 was not available in California.
Buyers could save $200 by opting for the "S" model; around 8% of them did.
A lockup torque converter also showed up on the 1978s, and by 1979 was on most cars. The company also added an electronic-tune radio, apparently built by Delco to Chrysler specs, with a floor switch on some FM units. Following the trucker craze was a CB transceiver. There were
many minor engine, powertrain, and carburetor changes (described in our 1978 page).
Power ratings were:
| | | |
| --- | --- | --- |
| Engine | Horsepower (net) | Torque (lb-ft) |
| 318 2-barrel | 140 @ 4000 | 245 @ 1600 |
| 318 4-barrel | 155 @ 4,000 | 245 @ 1,600 |
| 360 2-barrel | 155 @ 3600 | 270 @ 2000 |
| 360 4-barrel. | 170 @ 4,000 | 270 @ 1,600 |
| 400 4-bbl | [email protected] 3600 | 305 @ 3200 |
Buyers of the rear window defroster got the famed Mopar 100-amp alternator, a rarity today. The base alternator generated 60 amps.
Cordoba was still popular for a Chrysler with 112,000 sales in calendar-year 1978 (108,000 of the 1978 Cordobas were made), but that was quite a drop for a car that had beaten 160,000 for two years in a row. Later, Chrysler brand leaders no doubt looked back on six-figure sales with sad nostalgia.
The sales drop was addressed in the 1979s with a new grille, though the basic design was similar. The Cordoba gained a high-low heater/defroster, optional thermostatic air conditioning, optional aluminum-alloy wheels, and a suspension package that included a rear sway bar; buyers could also get new two-tone paints and halogen headlamps, and a power sunroof, among many other options. There were numerous functional upgrades, including more powerful air conditioning.
The 318 was now the standard optional, with an optional 360; the last 400 cubic inch engine had been made in August 1978, and was no longer available at all on the Cordoba.
The late-production Cordoba 300 package was a late insult to the fabled
300 letter cars
, essentially adding white paint, striping, sport mirrors, fender louvers, decals, white bumper guards, red leather bucket seats, and various interior trim changes. Its basic contribution to performance was GR60 aluminum wheels shod in radial tires, and a retuned suspension for better handling. 3,811 of these were sold, which puts them on par with the real 300 letter cars. Around 73,000 1979 Cordobas were built.
The Downsized 1980 Chrysler Cordoba
The original Chrysler Cordoba ended with the 1979 model year, but its name continued on a different body and platform. The restyle of 1979 had hurt sales; the body change crushed them.
The 1980 Chrysler Cordoba, Chrysler LeBaron, and
Dodge Mirada
all shared a "new" chassis, dubbed the J-body, which was extremely similar to the M-body Diplomat and F-body Volare-Aspen. As the name was moved, so was the base engine - now a slant six, unavailable on any past Cordoba. The 400 and 360 were things of the past; buyers could opt for a 318 two-barrel (in California and high-altitude locations, a 318 four-barrel).
The new car had some of the look of the past Cordobas. The new Corinthian Edition had 60/40 cashmere leather seating, leather-wrapped tilt steering wheel, and many other luxury features. The enw Crown model added a padded Landau vinyl room, "Frenched" rear window, opera lamps, and chrome just about everywhere they could put it.
| | | | |
| --- | --- | --- | --- |
| 1980 | 225 (3.7) | 318 (2-bbl) | 318 (4-bbl) |
| Horsepower | 90 @ 3,600 | 120 @ 3,600 | 155 @ 4,000 |
| Torque | 160 @ 1,600 | 245 @ 1,600 | 240 @ 2,000 |
New Cordoba "coin" ornaments were added to the hood and body sides. Options included a flag-type driver's outside mirror, opera windows, and two-tone paint. Tires were, again, P195/75R15 glass-belted radial whitewalls. Halogen headlights and tinted windows were now standard. The chrome-plated grille was surrounded by a chrome-plated, die-cast frame, and accompanied by chrome-plated aluminum bumpers.
The change in wheelbase was slight - two inches - and around six inches was cut off the length; the new car weighed around 400 pounds less, which would have made it faster if the old engines had been kept. It was still roomy, with more claimed leg and rear hip room than in 1979, but the ride suffered. As with the Volare, Aspen, and Diplomat, the new Cordoba had a transverse torsion-bar front suspension rather than the traditional torsion bars.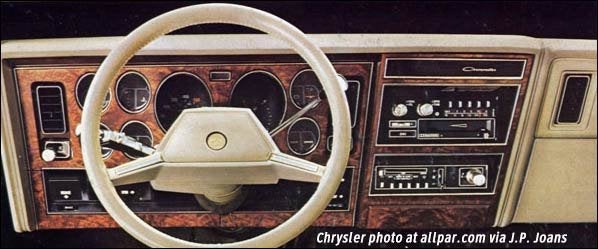 Inside, there were many Cordoba coin insets, four color choices, an optional illuminated entry system, and a new "Featherwood" false-wood instrument-panel trim. Standard seats front were dual bench, cloth and vinyl, with a folding center armrest.
Options included an inside hood release, electric rear defroster, intermittent wipers, and cornering lamps.
Removable tinted "T-tops" (glass panels on either side of the roof) could be stored in the luggage compartment.
The sun roof was color coordinated in gray or gold; the motor was in the trunk, for improved headroom. Buyers could opt for a six-way power seat adjuster.
A four-barrel, dual-exhaust version (E58) 360 was available late in the year, but only with the Chrysler 300 package.
Chrysler's modular instrument panel made it easier to service bulbs, switches, and such, all removable from the cabin. A trip odometer was standard.
For many more details on the 1980 Chrysler Cordobas, including radio options and such, see our main 1980 cars page.

Sales plummeted even further, making the car (and the Chrysler brand) niche players. Still, Cordoba managed to outsell the Dodge Mirada and Chrysler Imperial.
Chrysler Corporation sales exploded in 1981 with the launch of the new K-cars; over 300,000 of the Plymouth and Dodge front-drivers changed hands in that year alone. The Cordoba was still around, though interest had dropped; there were numerous technical updates and upgrades, including a new 1.8 horsepower starter that lost the old "Chrysler sound."
The Cordoba and its companion, the Dodge Mirada, gained upgraded interiors, with an optional four-way passenger seat, new bucket-seat cushions, a polished steering wheel, and a stereo upgrade. The Corinthian was gone; the LS model had an odd Dodge-like grille, the "added sportiness of a classic convertible-style top," the "quiet surge of an improved 225 CID one-barrel six cylinder engine," and standard high-back vinyl bucket seats. It essentially replaced the 300, and even had the 300's red white and blue stripe on the side, and a place on the grille for a round 300 medallion.
The 1982 cars brought better rustproofing and, finally, clearcoat paint, three years behind the American-made Volkswagen Rabbit. The LS continued, with the optional fake-convertible "cabriolet" roof and 300 design cues. The design was essentially the same as in 1981.
The 1982 brochure was a bit less aggressive than the 1981 had been; the tagline was "sized and designed for contemporary automotive needs," and stated "Cordoba has adequate power for its size, and a little something in reserve. The engine is the famous 3.7 slant six..." The 318 V8 was still optional. The 1983 brochure went to "Uncompromising!" - going back to the hard sell. The LS seems to have gone, with the Cabriolet roof package moving to the standard model.
The 1983 Chrysler Cordoba was the final stop for that car; it had gone from a 160,000-sale success to a barely-moving "Volare with frills" in less than a decade.
For more details, visit our
Dodge Mirada,
Magnum
, and
Charger
pages.
One Cordoba is a Canadian dirt-track champion.
1976 Details from Rich Hutchinson
In small print above the year in "1976 Cordoba," the brochure said, "The Small Chrysler." Standard seating was a "cashmere-like knit cloth and vinyl" bench seat with center armrest; the uplevel was the velour 60/40 seat configuration. Top of the line was the famous Corinthian leather.
The dashboard was traditional 1970s Chrysler, with a three spoke wheel. The climate controls were hidden to the left of the steering wheel like they were on the Omni/Horizon, and for all of the cars' beauty, that's still a foolish place to put them.
The (optional) power window controls were mounted flush against the door panel, likely in the same spot the standard crank was. The optional sunroof was manually operated. It featured the Chronometer clock on the passenger side of the dash.
My folks had a 1976 Cordoba, and I've got great memories of it. It was burgundy with white leather and a white landau roof (even though the brochure doesn't list that as a possible combination) and the 400. My dad always raved about the handling, and I still think it's one of the most beautiful cars they came up with, a very classy looking vehicle, especially before they did the stacked headlights.
The Cordoba-based Chrysler 300 (Bob Downard)
I owned two of these great cars in the early 1980s while working at a Chrysler dealership, and can attest that the performance of these rare machines was on par, if not beyond the Z-28, Firebird and even the heavily smogged up Corvettes of the day! [
Reference
]
Here in Canada these cars usually came fully loaded, with beefy rear sway bars, a factory tach, and brushed trim standard on the dash. With the
360
four-barrel W2 premium motor from the Li'l Red Express pickup, a stout
Torqueflight
, and 3:21 final drive, mine would pull to the red line in 3rd gear. I bought my first from Chrysler Credit as a repo. The price was low and with a little help from a buddy in the parts department, (and the fact the car had several months warranty left on it), we rebuilt the motor, trans and rear end just full of Direct Connection parts. I paid the difference between stock and my employee price, warranty paid the rest!
As a result of this overhaul, my 4400 lb leather and air conditioned "Cordoba" 300 would sit and smoke the tires nonstop from a start and give a nice spin and step sideways into second gear. I ran it once at the drag strip, and despite my inexperience, recorded a 14.7 in the low nineties.
More 1980 Chrysler Cordoba details
1982 Chrysler Cordoba
For 1982, halogen headlamps became standard; a new rear suspension anti-sway bar became optional, along with a new high-altitude emissions control; and precoated steels, painted with a zinc-rich primer, were used to prevent rust. A new formal vinyl roof without opera windows became standard; clearcoat paint finally became available; dual remote control sport mirrors were standard; and body-side, hood, and decklid stripes became available as a single option. Otherwise these models were essentially a carryover of 1981.
Standard features included a wide-ratio TorqueFlite automatic transmission, power steering and brakes (disc front, drum rear), and P195/75R15 glass-belted radials. A variety of steering wheels and wheel covers were available, along with three vinyl roofs - cabriolet (simulated convertible), padded landau vinyl, and non-padded landau vinyl.
Engines were now down to the trustworthy
225 slant six
with single-barrel
electronic feedback carburetor
, and the
318 V8
with two-barrel carburetor (four-barrel in California only). A compact spare was standard, a standard spare was optional (along with larger 7.0" JJ wheels that accommodated 205/75 or 215/70 radials).
The instrument panel, with brushed-aluminum trim, was made of injection-molded plastic with a vinyl trim pad. A trip odometer was standard. Remote outside mirrors were standard, using wire/spring connectors, as was tinted glass.
Luxury features included a semi-automatic climate control, with a slider that would set the temperature anywhere from 65 to 85 degrees (Farenheit). A vent feature (push Norm in and then pull it out) allowed for use of the fresh-air vents without air conditioning. Another option was the electric rear defroster, which came with a 78-amp alternator. Other options included tilt wheel, T-bar roof, intermittent wipers, automatic cruise control (on the stalk), digital clock, power windows, six-way power seat, 60/40 split-bench power seat, power locks and deck-lid release, illuminated entry system, and cornering lights.
Radio options included the standard AM unit as well as a digital quartz-lock seek-and-scan FM stereo; 8-track or cassette with AM/FM stereo radios; plain AM/FM stereo; CB radio; power and standard antenna; and premium speaker packages.
Chrysler Cordoba feedback and other information
Tannon Weber wrote:
About a year ago, I purchased a '78 Chrysler Cordoba, with a little over a hundred-thousand miles on it. I've put into it a new radiator, new muffler, some new exhaust hangers, the standard tires/brakes, a new master cylinder (replacing the original), and some easy to reach gaskets, and I rebuilt the front-end. I also replaced the lean-burn ignition with a stock electronic ignition.
Since completing the work that I have, it feels like an almost totally different car. The front-end is tight, and the steering is amazingly responsive. Replacing all of the ball joints, rubber (with polyurethane), and tightening up the steering gearbox helped with that immensely. Removing the lean-burn seemed to give me tons of extra power. Rebuilding the front-end also allowed for a proper alignment, and I went from getting nine to ten miles per gallon with this 2-barrel 360 to fifteen, in the city.
Rebuilding the front-end worked wonders on the rattles. The car is quiet when the front takes bumps, and I can definitely tell that the springs in back need replacing. Fortunately, St. Regis police cars had compatible rear-ends, with some different mountings and springs, and it looks like I can put a much beefier rear-end, with better handling characteristics, on the Cordoba.
Specifications
1977
1978

1979
1980
1982
Wheelbase
114.9" (2.9 m)
<
<
>
112.7"
Length
215.3"
215.8
<
209.8
209.6-210.1"
Width
77.1"
<
77.3"
>
72.7"
Height
52.6"
53.1
<
53.3
53.2"
Max track
62.0"
<
<
60"
Turning dia.
41.2'
(38.6' in 1975)
>
40.7'
Weight (V8)
3,786
3,362 (6)
3,403 - 3,460
Headroom F/R
37.7 / 36.6
<
<
>
37.5 / 36.5
Legroom F/R
42.4 / 32.4 ('77)
41.9 / 33.9 ('75)
42.6 / 32.1
43.7 / 35.2
Hip room F/R
55.8 / 57.0
<
<
55.5 / 57.0
Shoulder room
58.0 / 61.0
<
59.2 / 61.0
58.8 / 59.3
Trunk capacity
16.3 cubic feet
<
<
>
16.7 cubic feet
Alternator
50 - 100 amp
60
60 - 78 amp
Rear axle
8.25"
7.25" or 8.25"
Axle ratio, 225
n/a
2.7 Fed
2.9:1
Axle ratio, 318
Unknown
2.2:1
Front sway bar
0.94" diameter
<
?
1.0" diameter
Rear stabilizer
0.86" diameter
Rear leaf springs
57" x 2.5"
4 leaves
(5 leaf optional)
58" x 2.5"
4 leaves
(5 leaf opt.)
Engines
318, 360, 400
318, 360
<
>
225, 318
Transmissions
3-spd auto
<
<
>
3-spd auto
Tires
GR78x15, 360
GR70x15, 400
Opt HR78x15
P195/75R15
Home
•
Engines
•
Reviews
•
Chrysler 1904-2018
•
Upcoming
•
Trucks
•
Cars
Spread the word
via <!--
Tweet
or-->
Facebook
!
We make no guarantees regarding validity or accuracy of information, predictions, or advice - .
Copyright © VerticalScope Inc. All rights reserved. Dodge, Jeep, Chrysler, Ram, and Mopar are trademarks of Fiat Chrysler Automobiles.