The Dodge Mirada: Volare-based sporty cars
The rear-wheel-drive Dodge Mirada followed decades of Chrysler tradition, with a unibody design and a choice of slant-six or "LA" series V8 engines. The car grew out of the F-body
Volare/Aspen
; dubbed a "J body," it sat on the F body platform and used its
transverse torsion bar suspension
, with a new "top hat" (whose basics were shared with the 1980
Chrysler Cordoba
and, after one year, the
1981-83 Imperial
.)
Dodge may have chosen a new name for the car, as David Lawrence wrote, because the name "Magnum" suggested a level of performance
that the car was not able to back up at the lights. Equally likely, they liked the name - and it
was
a new car. The Magnum had not sold especially well, regardless. The Cordoba
had
sold well, and so Chrysler re-used its name for their version of the car.
In the market, the Mirada replaced the "B body"
Dodge Magnum XE
; but the Mirada was six inches shorter in length and 400 pounds lighter. Buyers who got the CMX package could step up to the 360 cubic inch V8 engine; just 5,384 Miradas got the CMX package, and a mere 76 opted for the 360 (thanks, valiant67). Buyers could also get a convertible-imitating roof (936 people did). The most popular engine was the economical if slow
slant six
.
CMX package was mainly cosmetic (though it allowed buyers to go to the 360 engine), with a special wheel covers, dual remote mirrors, and P205/75R15 whitewall radials. It also had color-keyed roof accent moldings, bumper strips, door handle inserts, stripes (tape, not paint), and ten-spoke aluminum wheels.
Jim's father bought this 318-powered Mirada new in 1981; the sticker was $10,927. "I get lots of looks, and people ask, 'What is that?' It's like being in a parade all the time, and requires me to look my best just to get gas," said Jim.
Since the J-bodies were all fairly upscale (Cordoba, Imperial, Mirada), Chrysler Corporation worked hard at turning the pedestrian Volare/Aspen architecture into something more luxurious. They isolated the front and rear suspension more effectively, used a vibration absorber in the propeller shaft, added insulation to the doors, quarter panels, floor, roof, and package shelf, and updated the door, window, and steering column seals. The goal, presumably, was to at least equal the B-body Cordoba and Magnum.
The Dodge Mirada was one of Chrysler's first cars to feature a scissor jack, a safer and easier design than the old "stick jack." The gas caps were modern - threaded; new rear defroster switches integrated the timing circuit and relay. The company used lighter-weight components than in 1979 cars, from the fuel filler tube to the engine, and adhesive-bonded many panels rather than welding them.
Inside, buyers found (optional) AM/FM stereo cassette decks with Dolby noise reduction, power lock and window switches (where purchased) in the doors, and, if they got bucket seats, a color-keyed center console with an air vent on the passenger side.
An optional electric sunroof was available, tinted gray or gold, with an integrated sunshade and a switch on the instrument panel. Its motor was trunk mounted, using a drive cable, to allow more headroom.
At its launch, Mirada cost $6,364; the
TorqueFlite three-speed automatic
was standard, and the V8 added $230. All Miradas had a 2.7:1 axle ratio (2.9:1 with air conditioning); the standard tires were P195/75R15 glass-belted whitewalls, with front disc brakes (the rears were drums). The car weighed around 3,380 pounds.
The Dodge Mirada was trying to appeal to buyers who had seemed to want personal luxury coupes with decent gas mileage and a smooth ride; but the Mirada didn't seem to hit the perfect spot. Quite aside from image issues, the car's high price was likely a problem. The sporty looks were belied by relatively mild powertrains and a ride-tuned suspension; and it was easily beaten in sales by its sibling, the better-established
Chrysler Cordoba
.
| | | | | | |
| --- | --- | --- | --- | --- | --- |
| | Carburetor | Federal hp | Fed. torque | CA hp | CA torque |
| 1980 Six | 1 barrel | 90 @ 3,600 | 160 @ 1,600 | same | same |
| 1981 Six | 1 barrel | 85 @ 3,600 | 165 @ 1,600 | 90 @ 3,600 | same |
| 1982 Six | 1 barrel | 90 @ 3,600 | 160 @ 1,600 | same | 165 @ 1,600 |
| | | | | | |
| 1980 318 | 2 barrel | 120 @ 3,600 | 245 @ 1,600 | - | - |
| 1980 318 | 4 barrel | 155 @ 4,000 | 240 @ 2,000 | 155 @ 4,000 | 240 @ 2,000 |
| 1981-82 318 | 2 barrel | 130 @ 4,000 | 230 @ 2,000 | - | - |
| 1981-82 318 | 4 barrel | - | - | 165 @ 4,000 | 240 @ 2,000 |
| 1980 360 | 4 barrel | 185 @ 4,000 | 275 @ 2,000 | - | - |
1980 source: Chrysler dealer data book
.
1981: Brochure.
1981 slant six double-checked.
The 1981 Dodge Mirada had better seat cushions and tilt steering, with new steering wheels; the "simulated convertible" Cabriolet package was made standard. The ancient slant six finally gained hydraulic lifters, ending the need for manual valve adjustments; and the 318 was given a three-way catalytic converter and electronic feedback carburetor. The rear bumper went from aluminum to high strength steel; buyers could no longer get the 360.
For this year, the CMX package included the "cabriolet" roof, wider (205 vs 195) tires, different wheel covers, and color keyed door door handle inserts. A new S package had cloth bucket seats, a sporty steering wheel, exterior stripes, and dual remote-control mirrors. Buyers could also get Sport Handling and Roadability packages.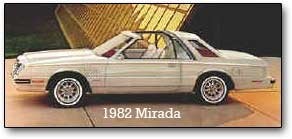 By 1982, options included a "luxury" two spoke steering wheel, electronic search/tune AM/FM stereo with CB or cassette (with Dolby), aluminum alloy road wheels, semi-automatic air conditioning, cruise, illuminated entry system, and electric rear window defroster. Standard on any model were high-backed bucket seats, covered in cloth, vinyl, cloth-and-vinyl, or leather-and-vinyl. T-bar roofs were available along with tilt steering, leather-wrapped two-spoke steering wheel, ten-spoke road wheels, power antenna and deck release, cornering lights, and a three-toned horn.
For suspension information, including common issues and repairs, see our transverse torsion bar suspension page.
NASCAR Miradas
by David Lawrence
Dodge Miradas did not have much success at NASCAR. The main Mirada driver was Buddy Arrington (number 67), who carried the Dodge flag in NASCAR after Petty Enterprises went to GM. He mainly used the Mirada as a short-track car, running a 1981-83 Imperial
on superspeedways because of its better aerodynamics.
At one point, Arrington ran the Mirada with a 1980s Cordoba nose piece. J. D. Stacy, Phil Good and Maurice Randall drove Miradas in NASCAR
as well.
Sales figures and details
* Actual sales figures are, according to the
Standard Catalog of Chrysler
as acquired by Chris Rocen:
1980 Mirada - 27,165, 1980 Mirada "S" - 1,468, (5,384 Miradas in 1980 had the CMX package).
1981 - 11,899 (1,683 with CMX option).
1982 - 6,818 (1,474 with the CMX Package).
1983 - 5,597 (1,841 had the CMX package).
Total Mirada production from 1980-1983 was 52,947 cars - fewer than the 1979 Cordoba run.
Servicing the instrument panel was easier than on many prior models due to a common support with module components; the single piece glove box and door could be removed, as could the cluster and center stack.
California cars got a vapor containment door (V8 engines) on the air horn which closed when the engine was shut off, to prevent vapors from escaping; along with a carbon particle filter element. California cars used a feedback carburetor with a heat shield on six cylinder models; a two-way bowl vent; non-wicking gasket; and special hose material. V8s had a detonation sensor, and all engines had both front and rear catalysts, and an air pump.
Dodge Mirada Specifications

Dodge Mirada
1980-81
LeBaron
2-door

1980
Diplomat Sedan
1986
Gran Fury
2015 Charger


Wheelbase


112.7


108.7"


112.7"
112.6
120.2


Overall length


209.6


201.2"


206.1"
204.6
198.4


Overall width


72.7


74.2"


72.8"
72.4
75


Overall height


53.2


53.4


55.1
58.5


Track-Front / Rear


60.0 / 59.5


60.0"/59.5"


60.0"/ 59.5"
63.8 max


Turning diameter


40.7'


39.5'


40.7'


Cargo capacity- [cu. ft]


16.7


14.8


17.0
15.6
16.1
Weight
3,380
3,309 - 3,375
3,600 lb
3,934
What's a Mirada? (Stuart D. Somers)
I was at the Dodge dealer, handing over the keys to the service writer, when he asked, "What's a Mirada?"
I suppose I shouldn't be too surprised.
Ford
sold 110,000 Edsels and
AMC
sold 300,000 Gremlins. Dodge sold 52,947 Miradas.
My Mirada is a 1983. I chose the Slant Six; while its acceleration is underwhelming, it makes up for it by being extremely smooth and durable. You cannot feel it idle. I must have tried to start the car dozens of times when it was already running. Ouch!
I have driven this car the distance from the earth to the moon (238,000 miles) with no major repairs. I still marvel at the way the
torsion-bar suspension
gives the car an excellent ride without being bouncy. My only regret is: I should have bought two!
Home
•
Engines
•
Reviews
•
Chrysler 1904-2018
•
Upcoming
•
Trucks
•
Cars
Spread the word
via <!--
Tweet
or-->
Facebook
!
We make no guarantees regarding validity or accuracy of information, predictions, or advice - .
Copyright © VerticalScope Inc. All rights reserved. Dodge, Jeep, Chrysler, Ram, and Mopar are trademarks of Fiat Chrysler Automobiles.