The Dodge Omni and Plymouth Horizon
Turismo, TC3, O24, Duster, Charger
The Omni/Horizon was a hit car in North America and Europe; mostly
designed by Chrysler
Europe
(the former Simca and Rootes Group), it was widely seen as a Volkswagen imitation, though its predecessors were the cars the VW Golf/Rabbit were copying.
The Omni and Horizon were the first North American mass-produced cars with a transverse mounted engine, and the first front-drive subcompact four-door hatchbacks made in America; they were also the first front wheel drive US-made Chryslers of any kind, and the first to use a semi-independent rear suspension (with trailing arms and coil springs). Construction was unibody, with an independent spring-and-strut front suspension.
Full development story as told by the design team
.
In 1990, there was a 1" diameter front stabilizer bar, with no rear
stabilizer bar. Rack and pinion steering was available in both manual
and power versions. Base wheels in 1990 were 13 inches, not unusual for
the day, with ride-oriented P165/80 tires softening the stiff suspension.
While the American Omni/Horizon started out with European engines - some designed by Chrysler Europe, but officially called "Peugeot" because Peugeot had purchased Chrysler Europe; others were designed and sold by Volkswagen. Most Omnis were eventually equipped with the standard corporate 2.2, once production got up to speed.
With fuel injection, the
base 2.2
generated (depending on the year) about 93 horsepower with peak torque of 122 lb-ft at only 3,200 rpm. The Volkswagen engines, at 1.7 liters, were modified versions of the Golf/
Rabbit
/Jetta powerplant. The three sets of engines - VW, "Peugeot," and Chrysler - all had different displacements.
Omni-Horizon-TC3-O24-Charger-Turismo-Duster engines.
In Europe, Chrysler and Talbot Horizons used Simca engines, in 1.1, 1.3, and 1.4 liter sizes through their full lifespan.
The Omni/Horizon were internally labelled L-bodies (A included Valiant and Duster, B included Belvedere and Charger, C included big Chryslers, E was Challenger/Barracuda, etc.)
Geoffrey Lee noted: "This car helped pull Chrysler from the edge of oblivion. However, in crash tests, this car did not fare well. If you were involved in a front end collision of any type, survival stats were not that great, and crash-ability tests were one of the factors that lead to the decision to close this model down."
History of the Dodge Omni and Plymouth Horizon
The year is 1978. Chrysler Corporation attempts to stay alive,
making marketing changes in their product line. Chrysler continues to
offer larger cars in weakening economic times. On November 2, 1978, the
new Chrysler president, Lee Iacocca, replaces chairman John Riccardo.
The first front-wheel-drive subcompact car ever to be built in
America hits the showroom...the Dodge Omni and Plymouth Horizon. Based on the Horizon of
Chrysler
Europe
, the Omni/Horizon would help to save the
corporation from bankruptcy. For once, Chrysler displayed a product
that was right for the times.
The Dodge Omni and Plymouth Horizon were probably the first
economical cars Chrysler had ever produced. Similar to Volkswagen's
trend-setting Rabbit, these were four-door hatchback models that
offered an enhanced sense of practicality, roominess, and softer ride.
Powered by a 4-cylinder (VW) 1.7-liter overhead-cam engine, it
developed 75 horsepower at first.
Ed Poplawski wrote, "When they did the American version, Chrysler bought 79 Volkswagen Rabbits for all the departments to get ideas from and to see how they were made. We used to all laugh at the amount of Rabbits running around Highland Park. Talk about rabbits multiplying...it was quite a joke at the time."
Consumers were eager, buying 189,000
total in its first year introduction - mostly Plymouth Horizons, with
relatively few Omni moving out the door. The 1978 Horizon had a mere 99 inch wheelbase and 165 inch length, but the hatchback design and front wheel drive maximized interior and cargo space; cornering was very good and ride was smoother than most competitors.
The meager 2,167 pound weight, while still much heavier than the Corolla, allowed the 70 horsepower, 105 cubic inch engine to stay peppy and helped gas mileage. A year later, the Horizon TC3 would join the standard Horizon.
The stunning success of the Horizon didn't surprise Burton Bouwkamp, one of its creators. He wrote, "We knew it was a great car and attractively priced. It ran eleven
years with very few changes. We must have built around 2,500,000 Omnis and
Horizons. It's still a good car. If we had modernized and improved it I
think it would still be around."
Chrysler Alpine: the European-American small car that never got a chance
(by Burton Bouwkamp)
The boss (President) in 1974 was Lynn Townsend. He sent George Butts (Vice President of Product Planning), Len Piconke (Director of Marketing), and I (Director of Product Planning) to Europe to find a small car for Chrysler USA. We worked Monday through Thursday at the Chrysler-Europe Technical Center at Whitley near Coventry, England, flew home on Friday, and worked Saturday and Sunday at Highland Park on the presentation for Monday morning.
We recommended that Chrysler build the Chrysler-Europe C6 in the USA. After our presentation, Lynn said, "I sent a bunch of high priced executives to Europe to find a subcompact and they come back with a stupid blankety-blank recommendation like this!" He never explained why he felt that way - too expensive and not profitable enough I guess.
The C6 (Chrysler Alpine) was only a clay model in 1974, and it won Europe's Car of the Year award in 1976 - beating out BMW, Ford, VW, etc. It was the right product for Chrysler America!
In 1975, I was made head of the Whitley Technical Center and we did another European Car of the Year in 1978 - the Chrysler Horizon. Lynn Townsend had retired and Chrysler decided to build that design in the USA. The American version (Dodge Omni/Plymouth Horizon) was
Motor Trend's
Car of the Year in 1978. Between Europe and the USA we built more than 3,000,000 Horizon/Omnis over the next ten years. Chrysler USA could have had a winner two years earlier.
European Horizons
and how the
Volkswagen Rabbit
imitated the Horizon's predecessor
The Omni and Horizon were in production between 1978 through
1990. Throughout the eighties, Omnis never sold even nearly as well as
the Horizon.
In 1979, a sunroof became available for both models.
In 1981, a new
2.2-liter, 84 horsepower 4-cylinder
became available and the term "Miser" was mentioned for the basic model with 1.7 engine,
presumably to compete with the new, cheap Ford Escort. Throughout 1981
and 1982, an extremely limited number of Euro-models were offered with
blackout trim in the package. The Custom package replaced the Miser and Euro
models.
In 1979, the sportier-looking
Charger/Turismo
was introduced (also known as TC3 and 024), the first car to use the
Charger name since the 1970s muscle car was dropped. Popular Mechanics
would later test the new Shelby Charger against the original.
For 1981, electric-fan airflow was improved with a fiberglass-filled propylene fan, with a 1 inch larger diameter; the radiator was enlarged in frontal area and thickness.
For 1982, a linkless sway bar was used: this essentially used rubber isolators to hold the sway bar to the lower control arm and crossmember. Chrysler claimed this reduced body roll when cornering, and made the ride more comfortable.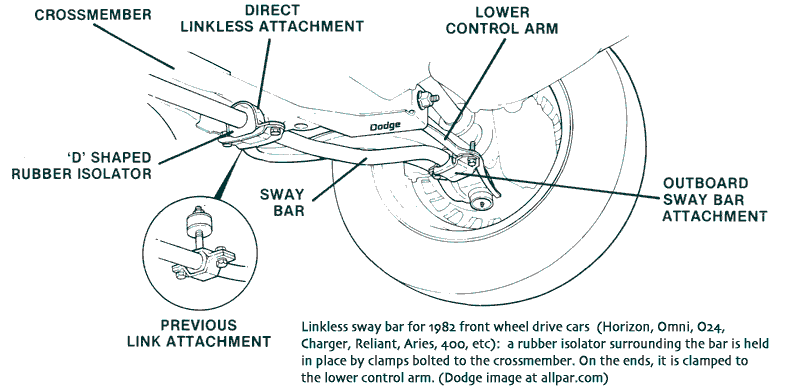 In 1984, an SE (sport-edition)
model was created with two-tone coloring available, and the basic styling that would continue until 1990 was put into place. The instrument cluster was revised, and blackwalls became standard. Most significantly, 1984 brought the new Omni GLH - for "Goes-Like-Hell." This lightweight Dodge Omni had the 2.2 liter engine with turbocharged power.
Omni GLH and GHL-S page
.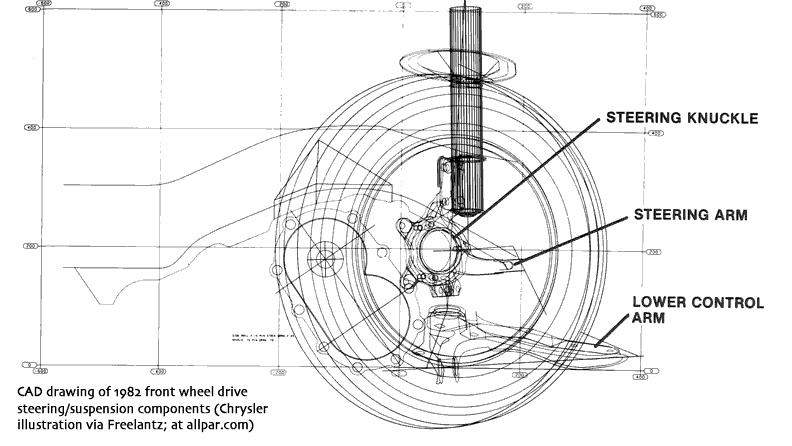 For 1984, the Horizon was aimed at domestic buyers looking for a small-but-not-too-small car, and import buyers. It arguably offered the best value for the money, with a good level of performance, gas mileage, and interior space. The Horizon, even in base model (with "blackout" exterior), was more than entry-level transportation. New features included a five-speed stick, 165/50R13 tires standard, various cosmetic changes inside and out (with new gauge cluster), Rallye instrument panel option with full gauge cluster, new seats, and four-spoke steering wheel. A "Shelby" version of the 2.2 was available with 110 hp.
1986 simply brought about a center-mounted stop-light. Dodge again got the hot Omni GLH, Plymouth the ordinary version; both had coupe versions, the Turismo and Charger. These were the only Chrysler vehicles to have semi-independent rear suspensions; the Caravan and Gran Fury used standard four-leaf spring rear suspensions, and the Reliant and Caravelle used a trailing-arm rear suspension.
The 2.2 liter engine made the Omni and Horizon quick, but still turned out 26 mpg city, 36 mpg highway (with manual transmission). The base 1.6 engine beat that with 31/39. Radio options were similar to the brands' top of the line cars; electronic spark and fuel control were standard. Base models had a speedometer, voltmeter, and fuel gauges, with dummy lights for other functions, but an optional instrument panel was identical to the attractive, high-end design used on Turismo. In a break with the past, the wipers/washers were on a stalk.
1987 brought the "America" program, which improved
quality of production and helped cut costs by offering a single price
with limited options (in Canada, the Omni America was called the Omni Expo). The instrument cluster was revised with
tachometer, oil pressure and voltage gauges added. The 1.7-liter was
dropped; only a Chrysler-built 2.2-liter with 96 bhp was offered. The Omni America was the lowest-priced car in its class in America.
In 1988, fuel injection on all Omnis and Horizons was standard, with the 2.2 engine producing 93 bhp - the rating it would keep for the next six years.
1989 brings some changes to the engine
which allow for quieter and smoother running. Major service pointers
were highlighted with paint for checking fluid levels.
Finally in 1990, the America edition was dropped. In its last year, a
driver-side airbag was added, along with rear-seat shoulder belts and a
revised climate-control system.
The Omni GLH and GLHS
Also in 1984, a new model called the Omni GLH arrived. Appropriately
named "Goes-Like-Hell", this Dodge Omni was created with Carroll Shelby. We now have a
separate page for the Omni GLH and GHL-S
.
The Scamp and Rampage
Full Horizon development story, as told by the design team
.
Carl Raupe wrote:
In 1982 Chrysler introduced the Dodge Rampage and the
Plymouth Scamp to compete with import trucks. Both were based on the
Omni/Horizon platform with the wheelbases extended to 109 inches,
beefer rear springs, and a pickup bed carved just behind the two front
seats. Even with its diminutive size the little truck had double wall
bed construction with galvanized steel. Everything from the front seats
forward was straight off the shelf Omni/Horizon.
Links:
Rampage and Scamp
/
Shelby California Rampage Section
/ a
customized Dodge Rampage
The Turismo, Charger, TC3 and O24
These sporty derivatives were light-weight contenders which, due to
their light weight, packed a punch as heavy as the Neon's from 0 to 60
(with a five-speed). They had a sporty look, but never quite caught on
(even the Shelby models) in the waning days of the V-8.
Turismo, Charger, TC3 and O24 pages
The de Tomaso sports car that never was
Chris Theodore said,
I worked on a great show car with Ken Mack - sort of an underground program. It's still in the basement at Highland Park. It was going to be a de Tomaso 2-seat sports car - long before the one that we all know. I still love that show car. We built it from the ground up from an

Omni

chassis and put a turbocharged motor in it, yet it looked mid-engined.

It's got a low dropdown beltline with gull wing windows. It was designed by Steve Bollinger [who styled the

1981 Imperial

, and I believed worked on the original Ford GT40], a really neat looking car.

But that one got killed when Iacocca brought Don DeLaRossa over from Ford design. He didn't like it and killed that program, replacing it with the

Dodge Daytona

.
Common Repairs
These have been moved to their
Omni-Horizon and other L-bodies common repairs.
Engines
These have been moved to the
Omni, Horizon, and other L-bodies engines page
.
Dodge Omni and Plymouth Horizon specifications and competitive comparisons
Specifications
(inches except
as noted)
1986
Reliant
Aries
1986
Turismo
Charger
1990
Horizon
Omni
1986
Horizon
Omni
1987
Chevette CS
1987
Tercel Hatch
1987
Escort GL
Hatch
Wheelbase
100.3
96.5
99.1
99.1
97.3
93.7
94.2
Length
178.6
174.8
163.2
163.2
Width
68.0
66.1
66.8
66.8
Height
52.9
50.7
53.0
53.0
Track (max)
57.6
56.1
56.1
56.1
Turning
diameter
35.2'
36.4, left
38.2, right
37.2, left
39.1, right
Headroom, F/R
38.6 / 37.8
37.2 / 34.4
38.1 / 36.9
Legroom, F/R
42.2 / 35.4
42.5 / 28.7
42.1 / 33.3
42.1 / 33.3
41.7 / 34.0
40.2 / 32.1
41.5 / 35.1
Hiproom, F/R
55.6 / 56.2
52.6/46.4
Cargo, cub. ft.
15.0
10.7
15.6
10.5
9.7
13.0
16.4
Cargo, rear
seat down, c.f.
32.4-34.3 cf
36.6 cu.ft.
28.8
37.8
37.5
Std Engine
96-hp 2.2
65-hp 1.6
78-hp 1.5
90-hp 1.9
MPG, std engine
25/34
26/35
28/34
29/34
(?)
Gas tank (gals)
13
Weight
2,296 lb
Racing - Plymouth Horizon, Dodge Omni GLH
Angelo Taylor wrote that he has a "1984 high output 110 hp
Horizon. Matchbox has won most of my championships
....no longer close to being my quickest car, but
it is the winningest! Car now has a 3 speed automatic with COAN 3500
stall converter and weight of only 1900 lbs and street driven. Car has
248,000+ miles."
"[I also have a] 1985 Omni GLH turbo converted to a Turbo II. This car has
my own nitrous set up on it that is based on the base EFI NOS kit from
NOS....When the car was a T1 with 16 psi of boost it was running only
14.0s....but the extra 175 - 200 hp of nitrous I put through it made it
run in the 11s....11.89 at 118 being the quickest. I even ran Super Pro
with it once and won 5 rounds before I red lighted...car IS NHRA legal
with 8 point roll bar and 4 point harness. Three speed automatic with
COAN 4000 stall converter. 2400 lbs. Car has 210,000+ miles."
Stefan Mullikin wrote:
For the Omnis, 1988-90 had throttle body injection and are easier to
convert to turbochargers. If it's a very early Omni/Horizon with the 1.7L VW Rabbit motor
then you can upgrade it to a 1.8T or 2.0T if you were willing to do the fab work (the earlier 1.8L GTI drivetrain fits
just fine). To upgrade to the 2.2 turbo from the standard 2.2, you can do the following:

Drill block for oil return and water outlet
Turbo pistons and rings (forged is best); turbo (5-bolt) oil pump
Turbo exhaust valves, cam and followers (you can buy complete turbo
heads pretty cheaply)
Turbo exhaust manifold (you can add a
turbo flange to the stock N/A manifold and make more HP)
Garrett turbochargers are best for overall power, Mitsubishi
turbos for getting off the line.
Turbo intake manifold (The 87 2-piece units is best, but expensive. The
88 and later works fine to about 300+hp)
Swap to a turbo or HD Minivan 3-speed transmission or mod your existing unit
Turbo forward clutches; use an external transmission cooler

Suspension: take all parts from turbocharged cars except the bushings and strut tower braces -
21mm master cylinder (24mm for 60mm calipers/drums or D-150
1-1/8" for 4-wheels discs)
54mm front calipers (or 84-90 Minivan 60mm calipers)
220mm rear drums (or rear discs from a Daytona, Lebaron or Neon)
14:1 power steering rack
Turbo or Quickor sway bars
Front wheel bearings/hubs
Quickor poly bushings (front and rear)
Neon strut tower braces

Chassis:
Front core support bracing to handle the extra torque.
2.5 or 3" exhaust (FWDPerformance.com sells all the pieces for that)
Turbo fuel system (tank, pump, lines), electrical system (interior and under hood), vacuum system, motor mounts (Quickor.com's Poly units are wonderful), radiator (a Shelby GLH-S radiator and intercooler will drop right
in.)

Now when all is said and done, assuming you use the right pieces, you
could have a 300+hp Omni that handles on rails and stops on a dime.
If you really want to have fun, grab a Neon, Stratus or PT Cruiser
2.0/2.4L DOHC cylinder head, a Mexican Stratus R/T turbo manifold and a
Spirit R/T turbocharger and put the DOHC head on the 2.2/2.5 motor and
make lots and lots of HP and torque!
Rallying on the Horizon
After Chrysler sold its European operations to PSA (Peugeot-Citroën), PSA renamed the brands to Talbot in both England and France, and used motorsports to garner publicity. In Formula One, PSA became the Ligier team's title sponsor, rebranding it as Talbot, with Matra V12 engines. In rallying, Talbot put its finances behind the Sunbeam-Lotus project, which had already been under development.
The Formula One project failed, but the
Talbot Sunbeam-Lotus
was a stunning success in 1980. However, the Sunbeam was not planned to remain in production after 1981. Lotus began work on a "silhouette" Horizon, using a Lotus slant-four engine behind the front seats. The Horizon Group B was the result, but only two prototypes were built before PSA canned it. In 1981, Audi exploded onto the rally scene with its Quattro, and teams realized that they would need four wheel drive. Peugeot took over the project, and by 1984, it had produced the mid-engined, four wheel drive 205 T16.
Relevant Local Pages
Home
•
Engines
•
Reviews
•
Chrysler 1904-2018
•
Upcoming
•
Trucks
•
Cars
Spread the word
via <!--
Tweet
or-->
Facebook
!
We make no guarantees regarding validity or accuracy of information, predictions, or advice - .
Copyright © VerticalScope Inc. All rights reserved. Dodge, Jeep, Chrysler, Ram, and Mopar are trademarks of Fiat Chrysler Automobiles.