The Dodge Scat Pack: 1968-71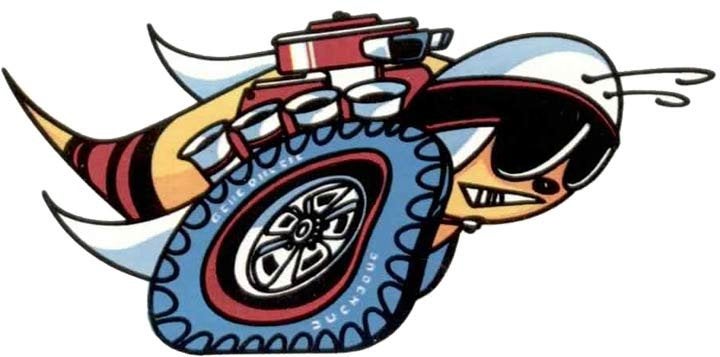 Back in 1968, Dodge and Plymouth ruled the streets in power, but not in muscle car sales. Dodge tried to fight that by creating the Scat Pack, quickly copied by Plymouth as the
Rapid Transit System
.
The first Scat Pack held the
Charger R/T
,
Coronet R/T
,
Dart GTS
, Swinger 340, and
Super Bee
, surrounded by print ads, brochures, wearables, and decals.
The only change to the cars were a decal and emblem on the
Super Bee
, and a twin "bumblebee" stripe that could be deleted by the buyer.
In 1970, the Scat Pack cars were the Dart Swinger 340, Coronet Super Bee,
Challenger
and Charger R/T, and
Charger Daytona
. In 1971, the Charger Super Bee replaced the Coronet version, and the
340 Demon
was added to the list; that was the last year of the promotion.
Dodge created a Scat Pack Club in 1970; members paid $3 per year ($20 in 2017 dollars) for a Mopar Performance catalog, wallet card, jacket patch, bumper sticker, forty-page racing guide, the monthly
Dodge Performance News
, and the quarterly
Dodge Scat News
, which seems like a good deal even with inflation.
BMW would later enroll its new owners in the (separate, nonprofit) BMW club, and send them racing and product news - going so far as to fly amateur reporters to races and new car launches. The idea may or may not have come from Dodge's efforts; Dodge did not sustain its efforts long enough to increase customer loyalty, though, while BMW did.


Dodge also set up "Scat Packages" in 1970: the Showboat (dress-up), Read-Out (gauges), Kruncher (drag/strip), Bee-Liever (manifold, carb, cam, headers), and Top Eliminator (Six-Pack setup, electronic ignition, electric fuel pump, and cool can.)
See Allpar's list of
authorized Scat-Pack dealers
, a
full brochure
, and the
1970 Scat Pack newsletter (#4).
More:
Newsletter
|
Brochure
|
Dealer list
|
Coronet and Super Bee
|
Charger
|
Swinger
|
Charger Daytona
|
2014 Scat Pack
|
Plymouth Rapid Transit System
Home
•
Engines
•
Reviews
•
Chrysler 1904-2018
•
Upcoming
•
Trucks
•
Cars
Spread the word
via <!--
Tweet
or-->
Facebook
!
We make no guarantees regarding validity or accuracy of information, predictions, or advice - .
Copyright © VerticalScope Inc. All rights reserved. Dodge, Jeep, Chrysler, Ram, and Mopar are trademarks of Fiat Chrysler Automobiles.