The New Venture Gear NV3500 at a glance
by Michael Dickens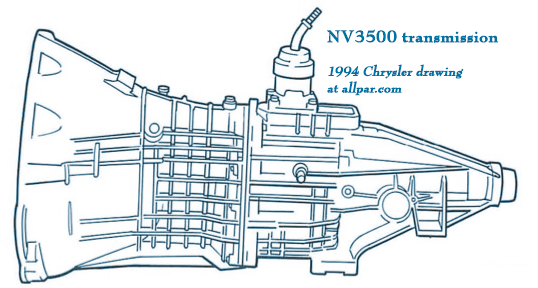 The New Venture Gear 3500, a medium duty five-speed overdrive manual transmission manufactured by New Venture Gear, was used in General Motors and Dodge compact and full-size light trucks.
The NV3500 can be identified by its two-piece aluminum case with an integrated bellhousing and top-mounted tower shifter. Jeep bolted the bellhousing to the transmission case; Dodge did not.
The fully synchronized NV3500 manual transmission was first available to Dodge buyers in the
1994 Dodge Rams
and
Dakotas
, as a replacement for the
NV4500
; it had an two-piece, aluminum-casting, split-case design that weighed less and had less noise than cast iron. Its internal components were also lighter, resulting in easier shifts and a total 100 lb weight savings.
In the 1994 Dodge Ram and Dakota, NV3500 was paired with
3.9-liter V6 and 5.2-liter V8 engines
and was available in two- and four-wheel-drive versions. For two-wheel drive, it had a long output shaft and rear case; the four-wheel-drive version had a short output shaft and rear case. Jeep used it later with its legendary
4.0 liter I-6
engine.
For 1997, refinements in the NV3500 manual transmission improved shift quality and reduced gear noise. To make engagement of the first and second gears easier, the 1-2 synchronizer had a dual-cone design that reduced shift effort by up to 40%. The force reduction resulted from addition of a second friction load path.
The shift pattern was a conventional "double H" setup with Reverse at the position where sixth gear would be, if there was a sixth gear - right and down, but and slightly further to the right than fifth. A special synchronizer, different from the others, was designed to clash if the driver tried to get into reverse at a speed over 5 mph - perhaps by forgetting that it was a five-speed and not a six-speed.
Quieter operation resulted from a change to finer pitch gears for third and fifth speeds. Finer pitch placed more teeth in mesh at the same time, distributing the loads to reduce noise.
For 1997 Dakotas, a high-efficiency clutch hydraulic system provided smoother pedal operation, using higher internal pressure for greater precision, reduced hysteresis (the difference in operating force between release and engagement), and started engagement closer to the floor.
For the 2005 model year, Chrysler stopped using the New Venture Gear 3500, moving to the Getrag 238 six-speed gearbox (3.7/4.7 engines). Whether this was due to Daimler desires or functional considerations is unknown.
Troubleshooting
Leaks can be caused by overfills as well as by seal issues. If a leak shows up at the rear of the extension or adapter housing, it is likely from the housing seals; if it shows up at the front, it could be the front bearing retainer or the retainer seal. Other leaks, where components meet, could be due to problems with the sealer or incorrect bolt tightening. Leaks can cause extensive damage if not fixed and can destroy the clutch.
Normal noises include an audible whine at extreme speeds; other noises are usually due to lubricant issues. Hard shifting, noise, wear, and internal binding are usually caused by lubricant issues - dirty gear oil, low levels, or the wrong lubricant. Hard shifting can also be caused by clutch maladjustments or damaged clutch components.
Worn synchro rings can result in gear clash when going into forward gears (though they can stick somewhat in new or recently rebuilt transmissions, leading to hard or noisy shifting, which gets better as the rings wear in).
Chrysler and GM, respectively, recommended Mopar Manual Transmission Lubricant (4874464) or GM Synchromech Transmission Fluid (US 12377916; Canada 10953465). Less expensive alternatives certified to meet Chrysler MS-9224 and GM 9985648 include AMSOIL Synthetic Synchromech Transmission Fluid (MTF), Pennzoil Synchromesh Fluid, or Royal Purple Synchromax. Its capacity is 4.2 pints dry, which is stated in the owner and service manuals. (
See Vince Spinelli's gear oil article
)
5W30 engine oil does not contain additives for the use in manual transmissions. Also, additives in the standard gear and the axle lubes will etch the bronze synchronizers and 80W oil does not flow properly into the NV3500 bearings. The use of regular gear and axle lubricants in this transmission can cause destruction.
NV3500 transmission features and engineering
Gear noise was reduced with the use of constant-mesh, helical-type gears. A reverse synchronizer and a slight offset between two shift gates prevented shifting to reverse while moving forward; it used a nine-degree cone angle and would clash if a shift to reverse about 5 mph was attempted. Three shift-fork assemblies were controlled by a single rail in the NV3500, and the shift forks each controlled shifts in two different gears. The NV3500 used three synchronizer assemblies that were on the output shaft assembly: 1-2, 3-4, and 5-reverse.
Three different selectable snap rings were used in the constant-mesh transmission; they adjusted gear and end-play clearances. In the constant-mesh transmission, all gears were constantly in mesh with each other, but none transmitted torque until a synchronizer was engaged - no need to move gears together to engage.
A hydraulic actuation system (clutch master cylinder, fluid lines, and slave cylinder) and mechanical clutch system (flywheel, clutch disc, and pressure plate) made up the clutch assembly. The transmission had a clutch-starter interlock system to prevent the engine from starting while the clutch was engaged; it had a non-adjusting clutch pedal position switch on the clutch master cylinder push rod and was wired in series with the ignition switch and starter relay coil. The clutch master cylinder used DOT 3 brake fluid. The NV3500's slave cylinder assembly was on the outside of the front case.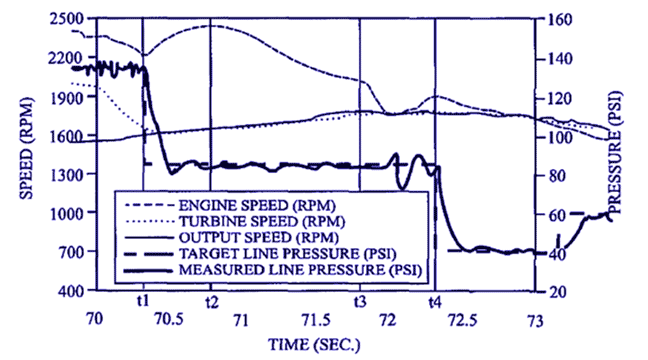 The NV3500's flywheel and pressure plate had machined smooth surfaces facing the transmission and engine, respectively, since it made contact with the clutch disc friction material. The four-pocket, dual-damper spring clutch disc had non-asbestos friction material and was about 11 inches in diameter. The fewer springs allowed the springs to be longer and dampen vibrations better, reducing gear rattle.
Weight was further reduced with the use of a one-piece, aluminum-casting clutch housing and front case. The vented clutch housing reduced heat and improved clutch life; it had a machined notch for the crankshaft position sensor.
One of two rear case housings were used depending on if the vehicle was two- or four-wheel drive. The same applied to the output shaft bearing retainers - one of two were used (for two-wheel drive, bolts were inserted through the outside of the case and threaded into the retainer; for four-wheel drive, bolts were inserted from the inside and threaded into the case). The output shaft assembly also transmitted input torque either to the propeller shaft (two-wheel drive; shaft was longer than four-wheel drive's and had vehicle speed sensor drive gear attached) or the transfer case (four-wheel drive).
On the Dodge Ram, the shift lever extension had a square bore that snapped over the transmission shift lever when pressed down. The Dakota's shift lever extension was round with a threaded bore that screwed onto the shift lever. Between the shift lever and the extension, a rubber isolator kept transmission noise and vibration from entering the passenger compartment.
On the transmission's bell housing was an identification tag with bar code, assembly part number, and serial number.
NV3500 Specifications and gear ratios
Single shift rail
Distance between the centerline of the mainshaft and the countershaft is 85 mm
Fully synchronized forward and reverse gears
Two-piece aluminum housing with no access plates
Shift tower mounted shift leaver
Dodge order code DDC (GM RPO Codes: wide-ratio MG5, close-ratio M50)
Rated for 310 ft-lb of torque (in 1994)
Weight: 110 pounds, dry
| | | | | | | |
| --- | --- | --- | --- | --- | --- | --- |
| | 1st | 2nd | 3rd | 4th | 5th | R |
| GM Silverado | 4.02 | 3.21 | 1.49 | 1.00 | 0.73 | 3.55 |
| GM S/T, Ram 2500* | 3.49 | 2.16 | 1.40 | 1.00 | 0.73 | 3.55 |
| Dodge Ram 1500, Dodge Dakota** | 4.01 | 2.32 | 1.40 | 1.00 | 0.73 | 3.55 |
* Source unknown and possibly unreliable
** As of 1994, as per Chrysler tech and press materials. May have been different in later years. V6 Dakotas used the AS82 five-speed transmission which had a narrower range.
Applications
Important: These are believed to be the applications but some of these vehicles may have variants, e.g. NV3550, and may not be interchangeable. A wrecking yard or dealer should have an interchange guide.
1993 - 1998: Chevrolet and GMC CK with Vortec 4300
1999 - 2006: Chevrolet Silverado 1500 and 2500LD
1999 - 2006: GMC Sierra 1500 and 2500LD
1993 - 2003: GM S-series (S10 etc.) trucks with 4.3L engine
1994 - 2001: Dodge Ram 1500
1994 - 1995: Dodge Ram 2500 Light Duty
1994 - 2004: Dodge Dakota V8
2000 - 2001: Jeep Cherokee with 4.0L/AMC 242 I6
2000 - 2004: Jeep Wrangler TJ and LJ with 4.0L/AMC 242 I6 (Note: This was actually the NV3550, according to John Robertson: "The starter is on the wrong side because the NV3550 uses a bolt-on bellhousing.")
Trucks/SUVs
Jeep
Ram
Military
Engines
2015-2017
Forums
Home
•
Engines
•
Reviews
•
Chrysler 1904-2018
•
Upcoming
•
Trucks
•
Cars
Spread the word
via <!--
Tweet
or-->
Facebook
!
We make no guarantees regarding validity or accuracy of information, predictions, or advice - .
Copyright © VerticalScope Inc. All rights reserved. Dodge, Jeep, Chrysler, Ram, and Mopar are trademarks of Fiat Chrysler Automobiles.